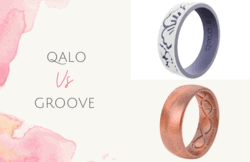 In the jewelry industry, there's an ongoing argument surrounding metal vs. silicone rings. So, if you're a jewelry fanatic (like us),  you've probably heard lots on either side. However, if we look from the perspective of an active person, silicone rings have no contest. They're usually pliable, stretchy if needed, they allow the skin to breathe better, and silicone doesn't interfere with everyday activities.
So, the real question floating around the silicone ring industry is: which brand is better?
Of course, this hinges on personal preferences – after all, who knows your needs better than you do? But, in this review, we'll try to shed some light on two of the biggest brands of silicone rings: Qalo and Groove.
Each boasts its own perks and downfalls, so hopefully, we'll h
Continue reading