Latest posts by Jeanette Kierstead
(see all)
When it comes to the wedding party, the bridesmaids will likely come in all shapes and sizes. There will be cousins, friends, sisters, and new sister-in-laws to consider when you're thinking about a bridesmaid dress that will fit everyone. There's a trend currently of picking a color swatch and allowing each bridesmaid to purchase her own dress in a style she loves.
Unfortunately, that leaves your bridesmaids with questionable choices if they don't listen. Its often better to control all aspects of the bridesmaids dresses, with their input, of course.
Where to Start Picking Bridesmaids Dresses
We've helped with some great choices. Many of them are convertible, so they can be adjusted and changed to fit and flatter all the varied shapes of your bridesmaids. Whether it's a halter, cap sleeve, twisted strapless, or cutout, the convertible bridesmaid dress has a style for everyone. You can choose the color and allow them to wear the dress in a manner that works for their body type and style.
Mermaidtalee Women's Long Tulle Convertible Bridesmaid Dress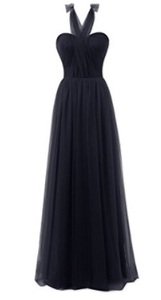 This beautiful, floor-length tulle gown has tulle straps that can be changed to suit the woman wearing it. It has a sweetheart neckline that will flatter many women. As far as colors, there are 18 colors, so you're bound to find a good fit for your wedding colors. From navy to plum for winter weddings to blush or mint for spring nuptials, you should be able to find the perfect shade for all the women in your party. The dress is fully lined with a built-in bra. It comes in sizes ranging from 2 through 26 plus.
---
Satisfaction 100 Long 5 Convertible Bridesmaid Gown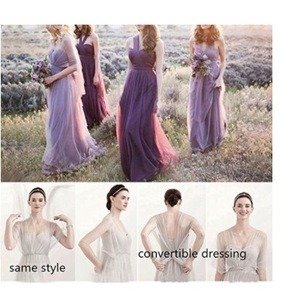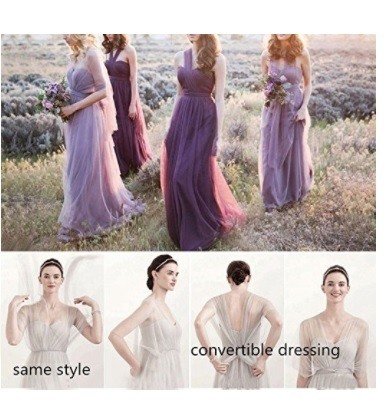 This A-line tulle gown is perfect for every body shape in your party. It can be easily turned into different styles over the sweetheart neckline. It can be an off-the-shoulder one strap, front halter, or tied sleeve. It can also be truly strapless with the extra material tied around the waist. It comes in white, purple and light purple. You could choose to have both purples in your wedding party. It comes in sizes 2 through 24 plus. You might also choose to have the dresses custom made for sizes that are not included.
---
Vivicastle Women's Multi Way Wrap Convertible Infinity Long Maxi Dress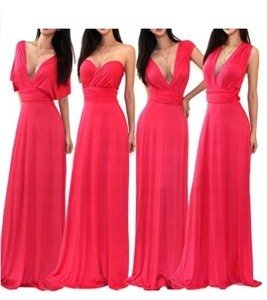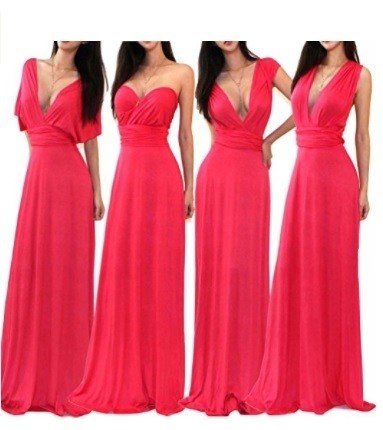 This dress has an infinite number of possibilities when it comes to styles. It can be worn as a halter or strapless with everything in between. It's great for any mature wedding party members whether bridesmaids or the maid of honor who wants to cover her arms. Unfortunately, this is only available in three basic sizes of small, medium, and large, but you can take this to a seamstress for alterations quite easily. The dress is rayon and spandex. It comes in a variety of colors; coral rose, black, dark teal, mauve, off white, mocha, royal blue, yellow, and storm blue.
---
Dearta Women's A-Line Scoop Neck Knee Length Chiffon Dress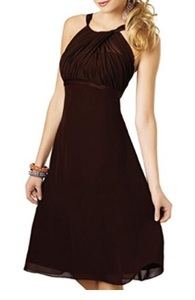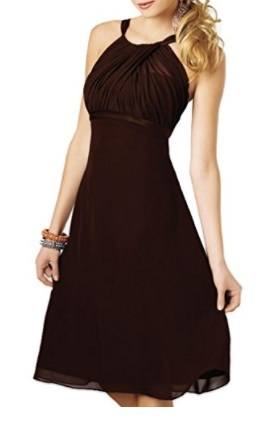 This flattering dress isn't a convertible style, although, with the right tailoring it could be given tulle sleeves quite easily. It's available in a chocolate brown that will look unique and stylish in your evening wedding. After the wedding, this is a dress that your entire wedding party can wear again. They'll appreciate that detail since nobody wants to purchase a dress they can only wear once; unless it's the bride. The halter is a scoop neck with straps in the back that lead to a darling bow in the square dipped back. The belt is secure and the dress has built-in bra pads. It's available in sizes 2 through 16 or it can be custom ordered in a size you desire.
---
Wrap Magic Women's Convertible Navy Blue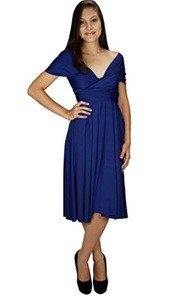 The last dress on this list boasts over 100 looks with the same dress and material. The straps are 90 inches, which means you can truly do so much with them. They can cover most of the arms, twist to wrap around the neck in a halter top, or drape over one shoulder. When you purchase this dress, you and the bridal party can play around with the look and style until you find one that fits the woman beautifully. It comes in one size that will fit sizes 0 through 16. The dress is make of 80% polyester and 20% spandex, which will give it a bit of stretch for sizes a bit larger than 16. The knee length is flattering to many women, too.
---
Picking Bridesmaids Dresses – Final Thoughts
The dress you choose for your wedding party should be one that will flatter the many shapes, sizes, and ages of the women you've chosen to be part of your big day. If you choose a convertible dress, you're able to let each woman pick a style she loves. Even if you don't let her pick the color or dress, at least she can wrap the top the way she wants.
Read Next: