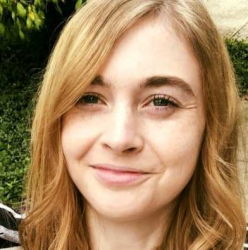 Latest posts by Erin Jamieson
(see all)
Own a diamond watch that you don't wear? Now's the time to find the best places to sell it online and take advantage of the surge in consumer demand. But doing your research can make the difference between selling your diamond watch for a great price– and losing out.
Diamond watches and luxury watches, in general, have been fashionable for some time. But if anything, the demand has only increased. In fact, in a report by the Wall Street Journal, investors were warned against the challenging market. Yet that problem may be the very reason to consider selling your diamond watch online in 2021 and 2022.
The problem? Demand for luxury watches, especially Swiss made watches, is exceeding supply. Watches of Switzerlands' produced soared 13 percent in sales for May alone. It seems that luxury and diamond watches are more popular than ever.
But the pandemic has greatly exacerbated supply chain management. Consumers are having trouble getting their hands on these striking watches, forcing them to wait, often with less choice and higher prices.
It's a phenomenon that's hitting other industries, including electronics. But it's particularly strong for luxury watches and diamond jewelry. In other words: if you have a watch to sell, you likely have many potential buyers– and potentially higher bids– than in previous years.
But it's one thing to think about selling your diamond watch online, and another to do it. In this short guide, I'll take you through step by step how to evaluate your watch for yourself and the pros and cons of selling online vs in person. I'll finish with my picks for the best places to sell your diamond watch to, all from the comfort of your own home.
Should I sell my diamond watch?
Selling your diamond watch can help you earn a little extra money on the side. Of course, if you're not wearing your diamond watch, selling isn't your only option. You can also give your diamond watch to a loved one, or potentially donate it– though there aren't many places that are seeking diamond watches for donations. If you feel you need a little money and have no one to give it to, selling you a diamond watch is a great idea. And now's the time to do it.
Is there a market for diamond watches?
While luxury watches have been popular for some time, 2021 may be one of the hottest years yet. There certainly is a market, and most data shows that there are more willing buyers than there is stock in the United States. In fact, diamond and luxury watches have driven a $20 billion second-hand market, according to a CNBC report. I'd say that's a pretty strong incentive to sell your diamond watch online this year.
How much is a diamond watch worth?
Before you start selling, however, it's a good idea to get a reasonable sense of how many diamond watches are worth. This allows you to go in with reasonable expectations so you don't accept a low quote, but also so you don't expect too much. The more knowledgeable you are about the market, the more likely you are to have the optimal selling experience.
Do diamond watches hold value?
Diamonds generally hold their value, as do watches. The condition of your watch greatly affects its value, as does the quality of the diamonds. Thus, diamonds can either increase or decrease the value of your watch. While value holds, resale value is a little trickier. But, for the most part, you can expect that the value of a well-cared watch will hold.
Which watches will increase in value?
While many watches can increase in value, sought-after designers have the greatest potential to increase in value. Those include Rolex, Patek Philippe, Omega, Audemars Piguet, Blancpain, IWC Schaffhausen, Jaeger-LeCouture, Chopard, Cartier, Montblanc, and others. You can read a list of the hottest 55 luxury watch brands here. All of these have potentially excellent resale value, and having official paperwork with them will increase the potential for high prices even more.
How do you know if a watch is valuable?
Aside from the brand, consider the condition and quality of the diamonds, as well as current market demand. For diamonds, colorless diamonds of high clarity will always be worth far more than those with a yellow tint and noticeable inclusions. If you don't have paperwork, you may not know, but it's also important to keep in mind that lab-grown diamonds are less valuable than natural diamonds. If the jewels on your watch sparkle rainbow, they are not true diamonds, but either moissanite or a stimulant.
Yellow gold and platinum watches typically have a higher resale value than wide gold. The higher the carat the gold and diamonds, the more you'll be able to fetch. Compared with other diamond jewelry, it's easier to get an idea of how much your watch is worth. Chrono 24 offers a Free Watch Appraisal with One Click. It's an estimate, but it can give you an idea of what types of offers you should or shouldn't accept.
How do you sell a diamond watch?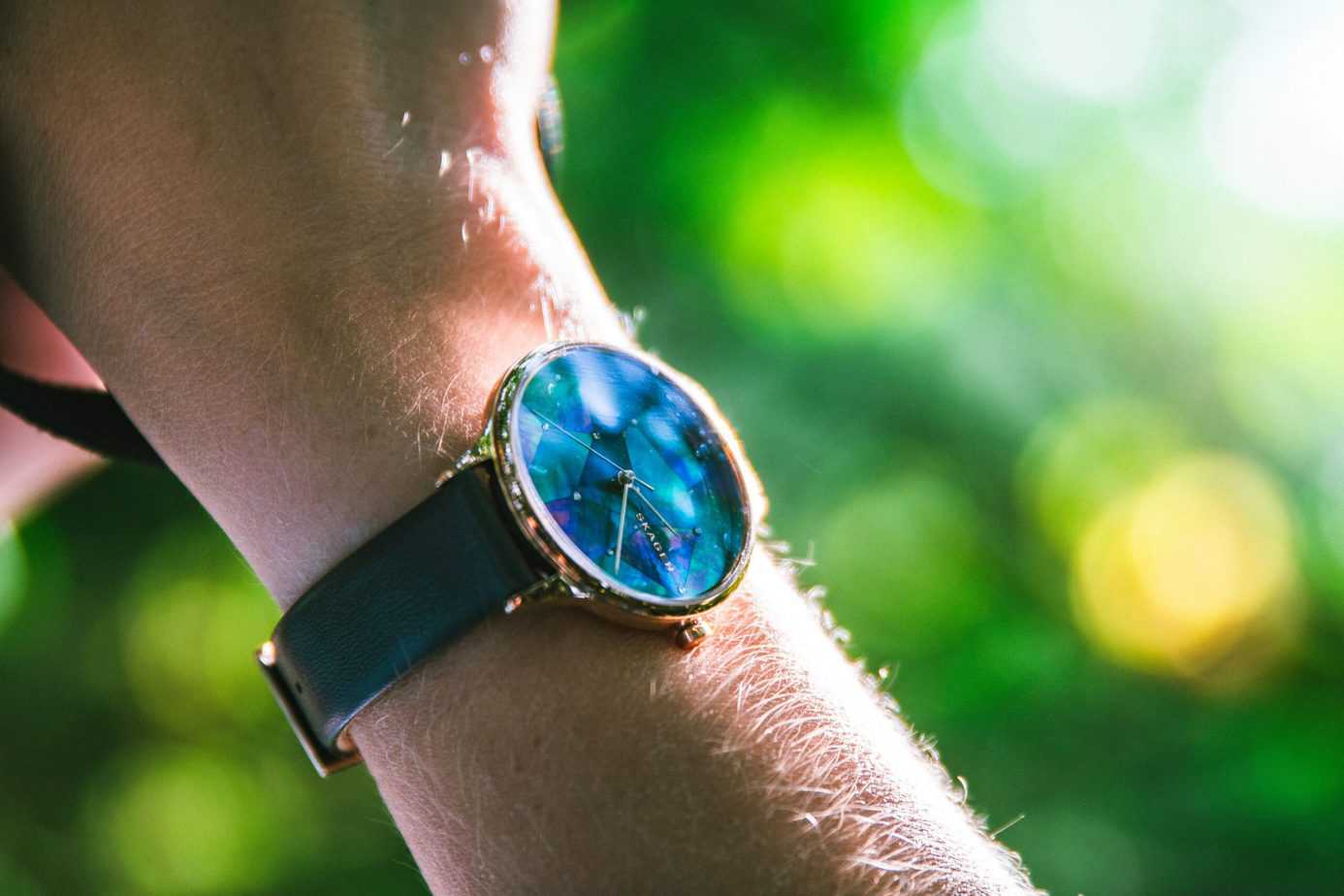 Selling a diamond watch means deciding where and whom to sell to. As you can imagine, no option is perfect, so you need to decide what's the wisest and most practical option for you and your unique situation.
Can you sell a watch to a jeweler?
One possibility is checking with a local jewelry store. Not all jewelers accept pre-owned accessories, and not all are looking to buy a diamond watch. It never hurts to reach out and ask. Many will want to see you and the watch in person. I'd recommend contacting them and making an appointment, as opposed to walking in. Be prepared by understanding your diamond watch's worth. It may be a good idea to get quotes elsewhere. A plus is you know your sale will be secure, and you can have a personal meeting. You'd also be working with a reputable professional jeweler hopefully. The biggest downside to selling a diamond watch this way is that resale value can be below. Traditional jewelers may mark up the watch for sale anywhere from 50 to 200 percent.
How much can you sell a diamond watch at a pawn shop?
Pawnshops are another option for in-person selling. Pawnshops are a better option if you want a high price. That's because pawn shops cut out middlemen. This allows them to pay closer to the market price. Of course, you need to be careful and choose pawnshops, and they don't necessarily specialize in diamond watches.
How can I sell my diamond watch online?
Selling online has many advantages. You can more quickly compare prices, negotiate for better deals, and you have more options in general. Selling a diamond watch online has the potential to reach larger and wider markets. Of course, you'll have to deal with shipping and make sure you're dealing with a reputable business. If you're selling on your own, there are many challenges to getting your listing noticed.
Why is selling a diamond watch on the internet difficult?
Selling a diamond watch online is difficult if you're trying to sell it by yourself. That is, some list their watches on Etsy or eBay. There's nothing wrong with this inherently, but it requires you to be knowledgeable about pricing, as well as SEO (search engine optimization) practices. You need professional (or nearly) photos, a detailed description, strong keywords, and the ability to adjust as you need to. But selling directly to a company that buys diamond watches tends to be relatively easy. It's just finding the best place and negotiating for the best price.
What is the best way to sell a diamond watch on the Internet?
I recommend selling to a company that specializes in one of the two: either luxury watches or diamond jewelry, with a demand for watches. Selling to a general jeweler may not be the best pick. You want a company that understands diamond watches and has experts on board. You also want a company that has a secure website, secure payment methods, and easy-to-follow selling. Finally, only sell to a company that has a great professional reputation and doesn't hold you to accepting a bid once you ask for a quote.
Where to Sell Your Diamond Watch Online: My Picks
To select the best places to sell your diamond watch online, I wanted to focus on companies that are transparent and provide an easy way to sell. I also made sure these companies have a high level of standards for customer service and who are respected within the industry. Of course, not all companies that allow you to sell jewelry online are looking for diamond watches, so that also was a factor in my search.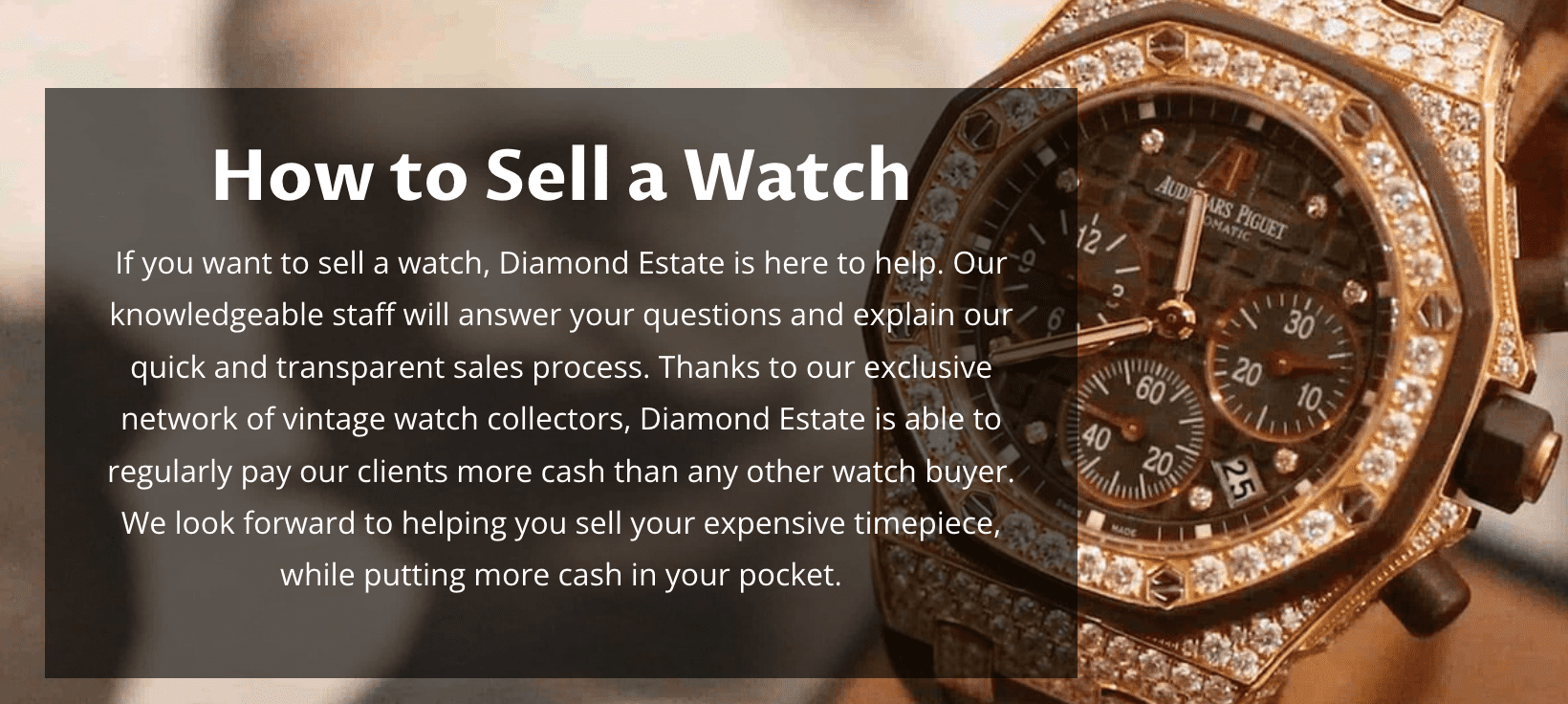 Diamond Estate is an excellent company with expertise in antique and luxury jewelry– including an invested interest in fine diamond watches. They pride themselves on integrity, customer service, and honesty. Aldo Broussard, the owner, has developed a reputation as one of the top luxury jewelry buyers. He's passionate about estate jewelry, diamonds, and luxury watch brands like Rolex. With his vast knowledge of vintage and luxury watches, there's no doubt that there will be special attention given to any watch offers. They also offer options for seller protection by partnering with the GIA and offering full insurance through Lloyds of London.
What's the selling process like?
The selling process is straightforward and secure. The process starts with a free estimate. Fill out as many details as you can via their online form (you can also call and speak with someone). The form will ask you for the product type and a description.
Next, you'll receive a free consultation via phone or in a physical office. This is a more personal approach than some other places you can sell to. All of their offices are located in California. You can choose to proceed or decline at this point.
You'll be asked to ship your diamond watch. This is done via insured FedEx overnight shipping and covered through their insurance. After Diamond Estate receives your watch, you'll be given an offer within 24 hours. You can accept or decline. If you decline, your diamond watch will be shipped back using the same secure method.
How does payment work?
If you accept an offer, payments are made within 24 hours. Your choices are direct bank transfer, cashier's check, or via Western Union.
Are there any fees associated with selling?
There are no fees associated with any part of the process. All quotes and consultations are free, and shipping and insurance are also covered.
What's so special about Diamond Estate?
Diamond Estate is one of the few places that truly specialize in luxury watches. They also charge no fees and have some of the quickest turnaround times on the internet.
How do I get started?
To get started, Click Here to Request a Free Quote. Scroll down until you see an orange button "Sell Your Watch." You should see a window pop up, as indicated above.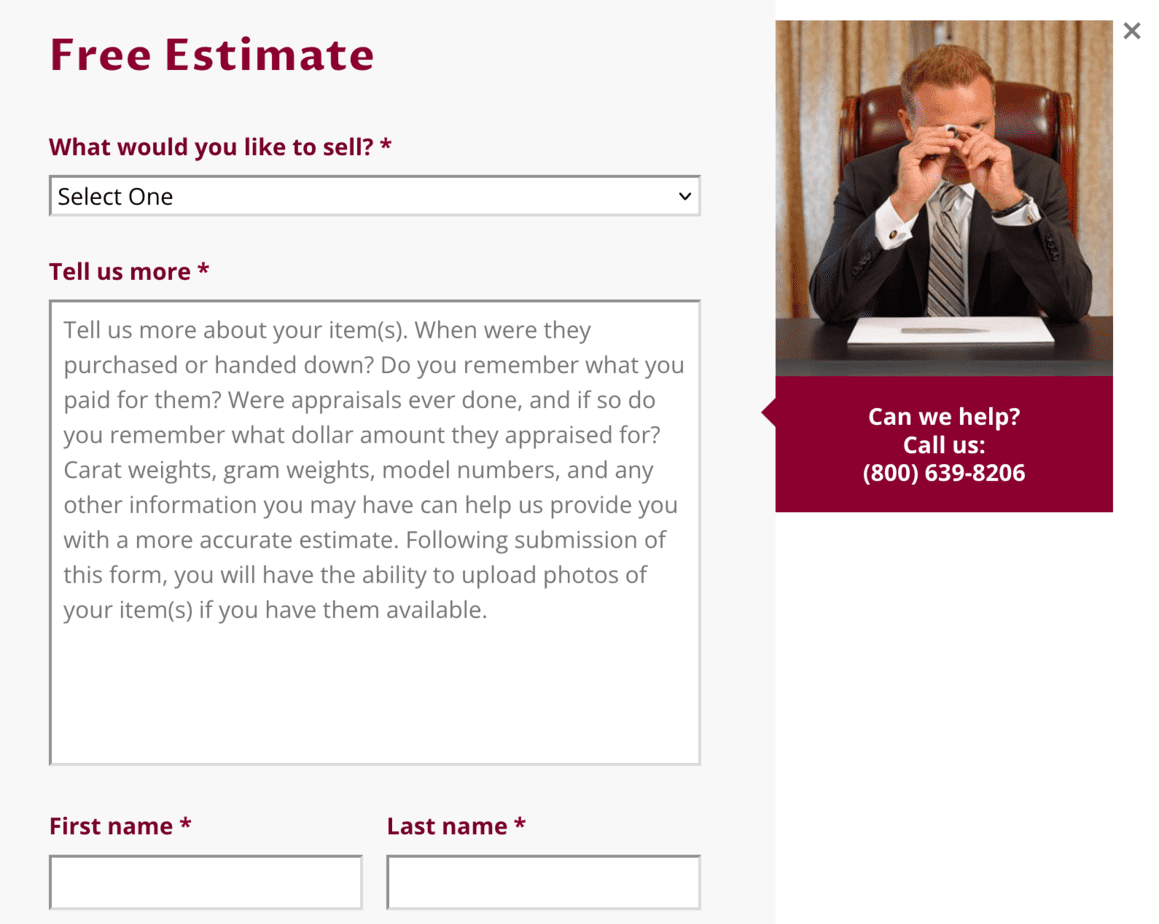 Best For Trusted Expertise: Diamond Banc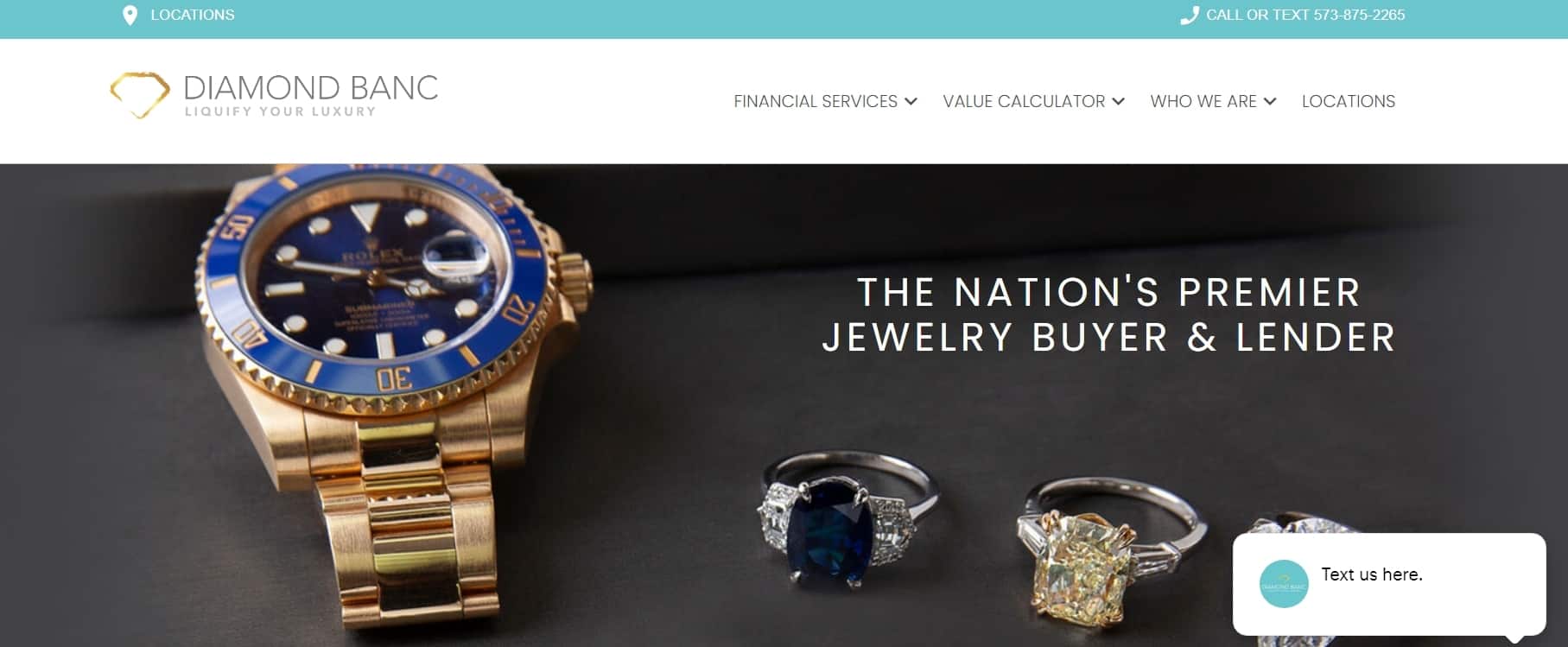 One reason why many may feel uncomfortable with selling online is that many companies are newer. And while there's nothing necessarily wrong with newer companies, there's something to be said for companies with an established reputation and years of experience under their belt. Diamond Banc first opened its business way back in 1896. Founded by a third-generation jeweler, the company hasn't strayed from its dedication to professionalism, integrity, and expertise. The acclaimed company has connections with Jewelers Mutual and the GIA. It's also been featured in prominent outlets such as Forbes, Nasdaq, Yahoo Finance, and others.
What's the selling process like?
Diamond Banc buys a variety of fine jewelry and also loves luxury watches. Their process is a little different and requires you to know a little about the worth of your diamond watch. For the savvy seller, this could be a plus, by providing you a little more control. You start by filling out a simple online form where you describe your item, upload an image, and request a desired amount. You can also call or email them.
You'll receive a quote within 24 hours– another one of the fastest and most responsive in terms of your options for selling online. This free quote you can accept or decline. If you're interested, you'll then ship your diamond watch via insured overnight shipping.
You'll receive a final offer. If you decline, it'll be shipped back securely without any fees.
How does payment work?
If you choose to accept an offer, payment will be sent via check or wire transfer, normally within that same business day.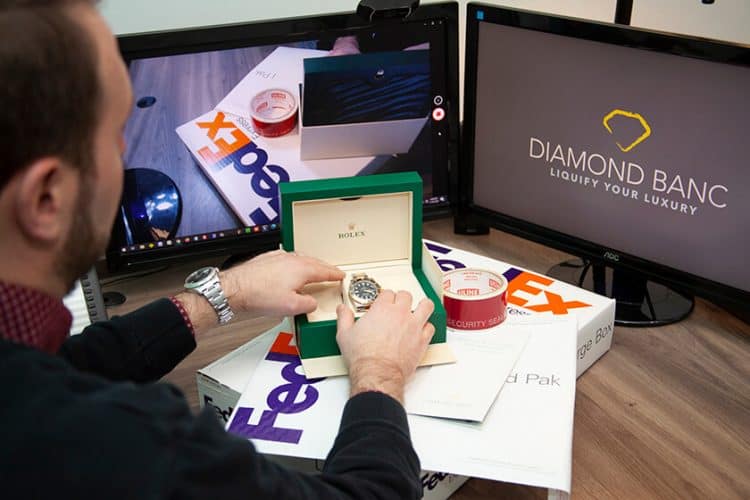 Are there any fees associated with selling?
There are no fees for any part of the process with Diamond Banc. As is the case with Diamond Estate, shipping is free and secure, and quotes are free too. There is no obligation to accept a final offer.
What's so special about Diamond Banc?
Diamond Banc has been serving customers for far longer than almost any competitor who offers online selling. They have developed an excellent reputation and provide secure and insured shipping, with excellent turnaround times.
How do I get started?
To get started selling your diamond watch, Click Here To Request a Free Quote. There will be an online form at the top of the page, as indicated above. You can also email them or call directly.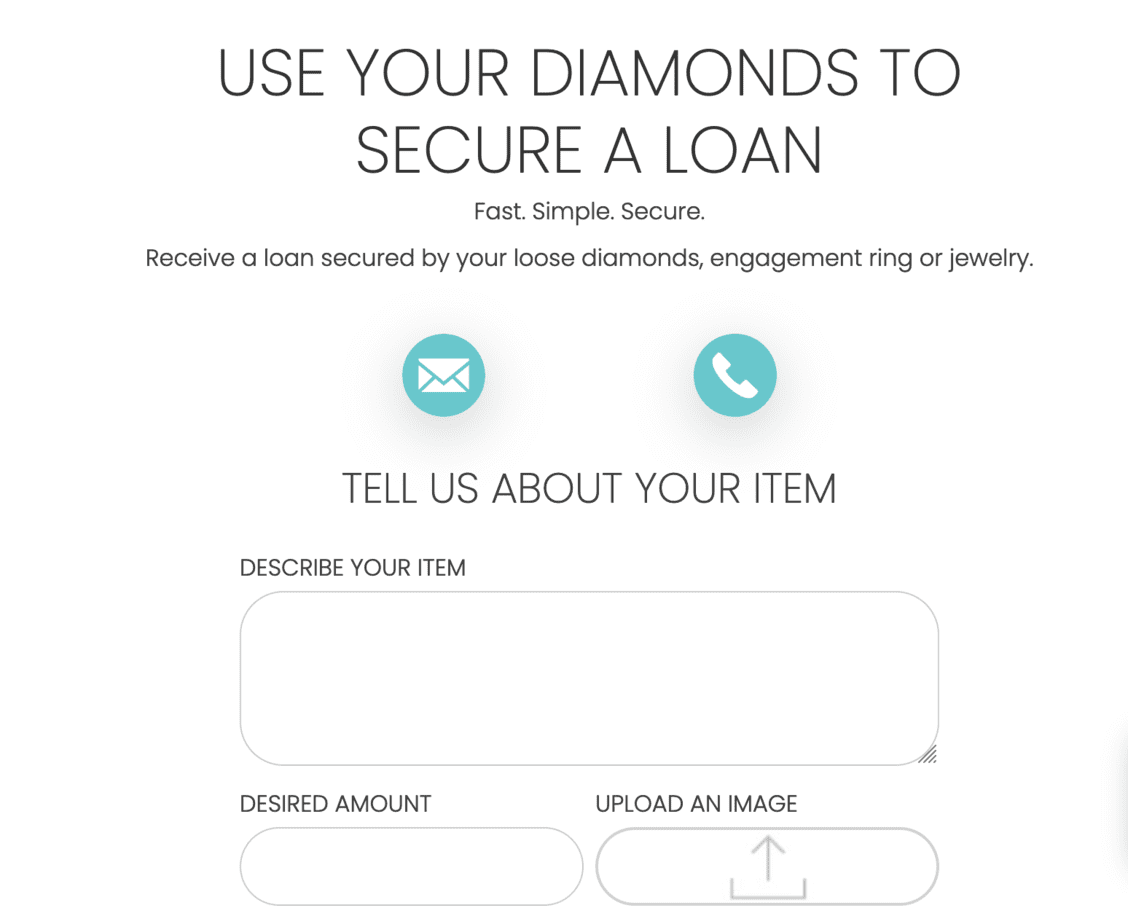 Frequently Asked Questions
Question: What is the world's most expensive watch?
Answer: The most expensive luxury watches are worth even more than you might imagine. Many point to the Graff Diamonds Hallucination watch as the most expensive watch in the world, worth an estimated $55 million. This watch is set in platinum and features 110 carats of fancy colored, rare diamonds, with varied exquisite cuts. It's truly one of a kind.
Question: What is the rarest watch?
Answer: The rarest watches include vintage watches from designer and luxury brands. Topping the list are Rolex 4113, Patek Phillipe Ref, Patek Philipe 3974, and Vacheron Constantin Chronometre Royal Ref.
Question: Why is Patek Philippe so expensive?
Answer: Patek Philippe watches are popular and in high demand. They don't come with a cheap price tag either, with so-called entry-level watches priced around $19,000 to $20,000. The innovative designs, meticulous craftsmanship, exclusivity, and the name itself are all factors. These watches can even increase in value.
Final Thoughts & Honorable Mention
Selling a diamond watch online gives you at least a chance at fetching the best price possible. Instead of settling for one quote, I recommend comparing quotes from at least a few reputable companies. You can also inquire about price matching, which a few offer.
If you're determined to sell it on your own, be prepared to put in the research and effort to fetch the best price possible. Click Here for Tips on How to Sell Fine Jewelry on eBay.
Honorable Mention: WP Diamonds
As an honorable mention, I'd like to point you to WP Diamonds. This company also allows you to sell luxury jewelry, including diamond watches. They'll submit payment for any accepted offer within 24 hours and offer free secure shipping via FedEx. Request a Quote Here.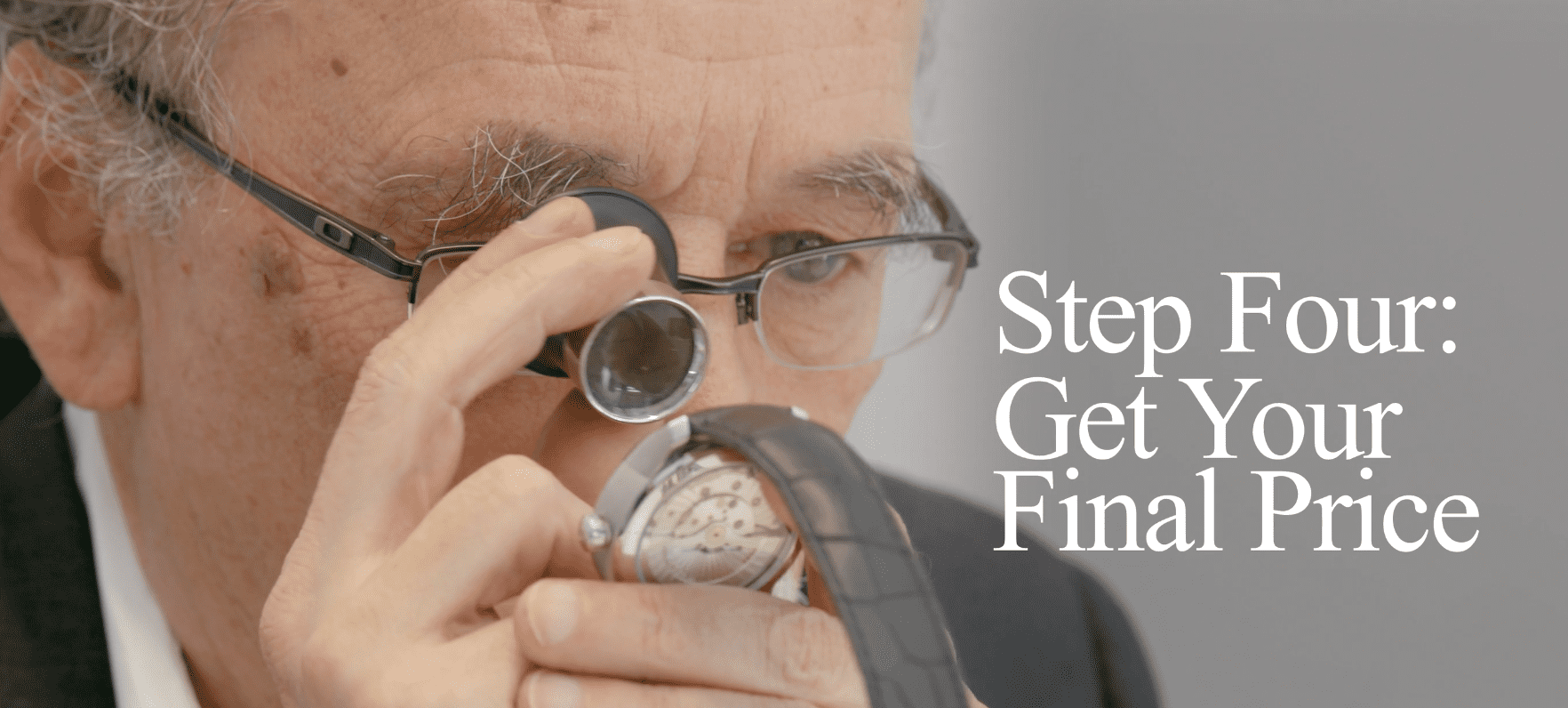 Final selling Decision
And if I had to select just one of these places to sell online? I'd have to go with Diamond Estate. With secure shipping, an easy price, and great average offers, it's a winner in my book.
Looking for more interesting readings? Check out: