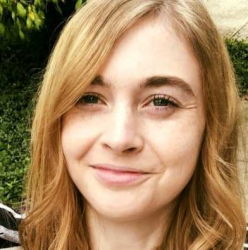 Latest posts by Erin Jamieson
(see all)
Earrings are the perfect finishing touch for casual outfits to something as formal as a wedding. But for many who don't have their ears pierced, magnetic back earrings may be the best way to accessorize.
While clip-on earrings used to guide the way for earrings styles without piercings, now magnetic back earrings are taking over. Even some who have their ears pierced are opting for magnetic backs, just to try a new look.
In an interview with Bustle, Diana Zola, the founder of Zola Jewelry explained why magnetic back earrings are gaining traction amongst all types of Americans in 2021. According to Zola, magnetic earrings are easy, and carefree, allowing people to "forgo the need to have [their] body pierced."
It's perhaps not surprising that magnetic back earrings are popular. They follow alongside other trends, like temporary tattoos, that are more versatile and allow more creative expression without commitment. Zola also points to workplace regulations, where many are not allowed to wear piercings. Magnet backs allow those Americans to still express themselves when off duty, without risking going against a dress code.
And while it's true that magnetic earrings offer flexibility, but are they right for you?
In this short guide, I'll address the pros and cons of magnetic back earrings. I'll also tell you how to best wear them, and give you some ideas for my favorite magnetic earrings you can buy online.
TL;DR Summary of the My Best Picks At a Glace:
Magnetic Earrings: My Picks
Need some inspiration?
Here are some of my top recommendations for magnetic back earrings.
Each pair of earrings is highly rated by customers and offered by a reputable seller.
While a few other places sell magnetic earrings, I chose to focus on Amazon and Etsy.
By doing so, I was able to find magnetic back earrings made with more durable materials, in a range of styles, and still at a fantastic price.
Best Amazon Magnetic Back Earrings Ideas
While I wouldn't recommend looking on Amazon for fine jewelry, Amazon does have some great options for magnetic back earrings.
Modern, sleek, and minimalist, you can find stainless steel, plated silver, and even earrings with cubic zirconia. Cubic zirconia, a stimulant, is durable than many other stimulants and reflects colored light. Shop All Amazon Magnetic Earrings Here.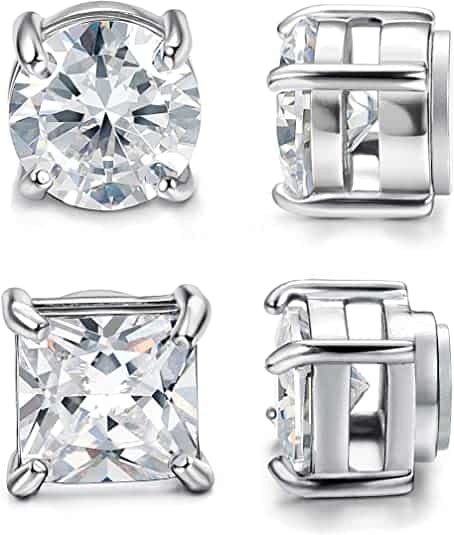 Add a touch of sparkle to your formal and everyday outfits. These bestselling magnetic earrings feature AAA round cubic zirconia stones.
This ensures a high level of clarity and a colorless appearance, and, of course, plenty of sparkles. 316L stainless steel is even more durable and resistant to chemicals than 304 stainless steel. 4 pairs are priced at just around $13.99; Buy Here.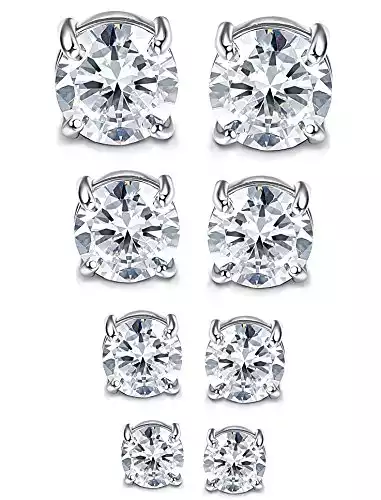 JSyle Stainless Steel CZ Studs | Amazon
4 pairs a set, all in round earrings, from 4mm to 7mm, AAA+ quality sparkle square CZ, elegant and fashion, perfect jewelry for both men and women. Be different every day!
Buy at Amazon.com
We earn a commission if you click this link and make a purchase at no additional cost to you.
11/30/2023 03:10 pm GMT
Need something simple? These stainless steel stud earrings come in silver, black, blue, and multicolor, as well as gold tones.
Made with surgical stainless steel, these hypoallergenic earrings are resistant to corrosion, rust and won't discolor. They also offer a 100 percent guarantee– this is not only for 30 days but beyond to ensure that they fit the way you want them to. Priced at around $10.99; Buy Here.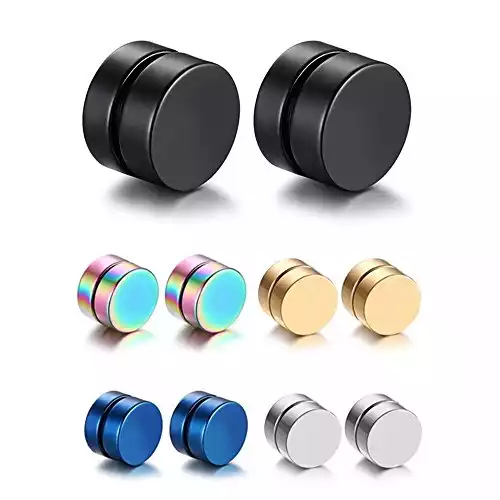 Paxuan Round Monotone Studs | Amazon
Made from the permanent magnet, strong enough to stay. Perfect for non-pierced ears and also suitable for children.
Buy at Amazon.com
We earn a commission if you click this link and make a purchase at no additional cost to you.
11/30/2023 03:14 pm GMT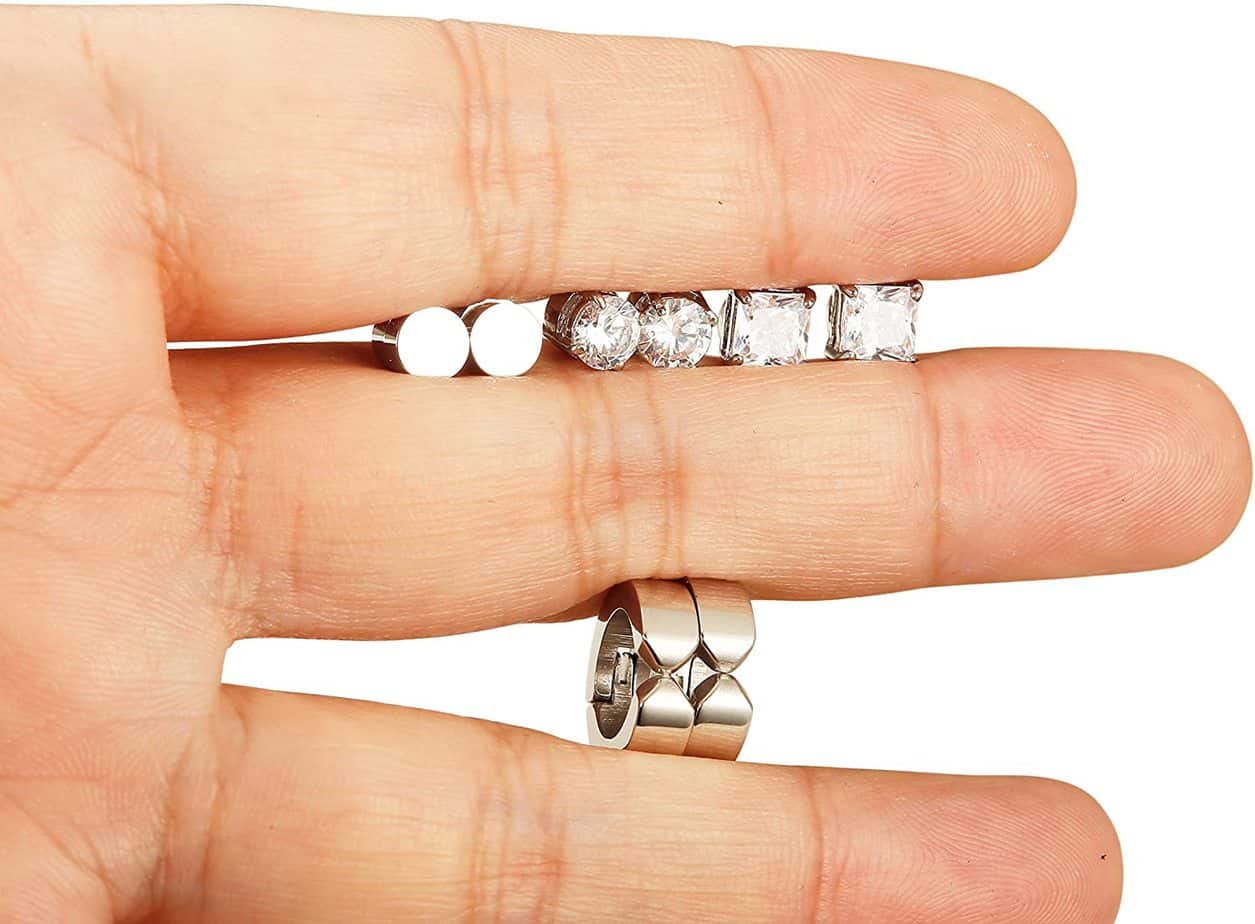 This four-pair set of magnetic earrings provides a nice sample of different styles. This includes a minimalist disc stud, two pairs of cubic zirconia earrings (round and square), and mini hoops.
All earrings are crafted with durable stainless steel. The cubic zirconia is AAA+ quality for beautiful, multi-colored shine. Priced at around $12.99 for four pairs; Buy Here.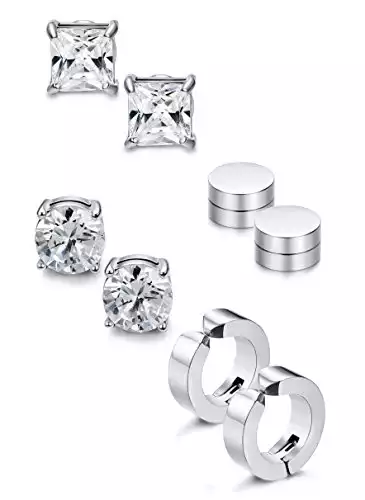 Jstyle Stud Combo Pack | Amazon
Shiny clear cubic zirconia, suit for men and women of all ages. It is perfect for everyday jewelry and a gift for your loved one.
Buy at Amazon.com
We earn a commission if you click this link and make a purchase at no additional cost to you.
Best Etsy Magnetic Back Earrings Ideas
I love supporting smaller jewelry-making shops. I also love that Etsy offers minimalist but appealing magnetic back earrings. You'll find more options for magnetic earrings designed to be worn for other piercing types, such as high cartilage Some earrings also have gold and silver accents.
I do recommend staying away from anything with gold or silver plating normally– though if you're spending under $15 on a pair of earrings, it's not that concerning if they may tarnish within a few years. That choice is up to you. Shop All Etsy Magnetic Earrings Here.
These sparkling minimalist cubic zirconia minimalist earrings are also available in clip-on versions and gold-tone finishes.
The sparkling round stone provides modern shine. Handmade and highly rated, these versatile earrings are priced at around $16; Buy Here.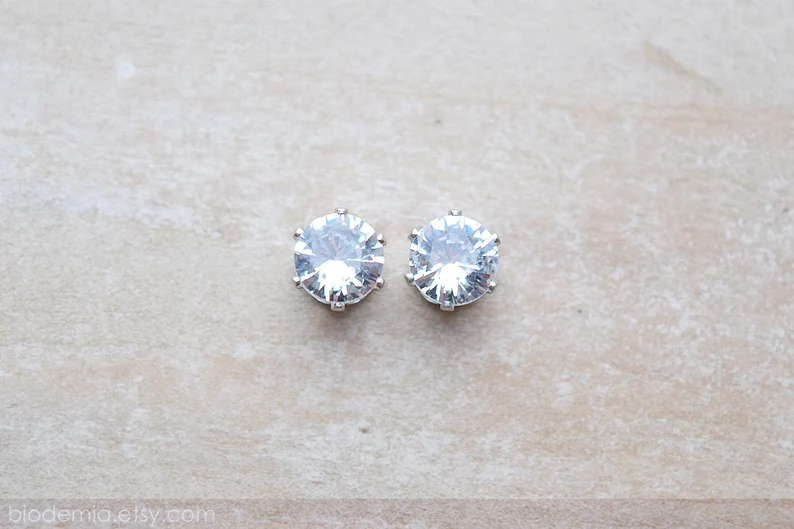 Magnetic Round CZ Studs | Etsy
These sparkly minimalist zirconia magnetic studs are backed with a strong neodymium magnet and make a classic and beautiful fashion statement.
Check Price
We earn a commission if you click this link and make a purchase at no additional cost to you.
What a great find! These gorgeous magnetic earrings are beautiful enough to wear with a wedding dress or as a gift to bridesmaids.
Genuine white freshwater pearls create a classic allure, paired with your choice of magnet backs, postbacks, or clips. All orders can be customized. Magnetic back earrings are priced at around $28; Buy Here.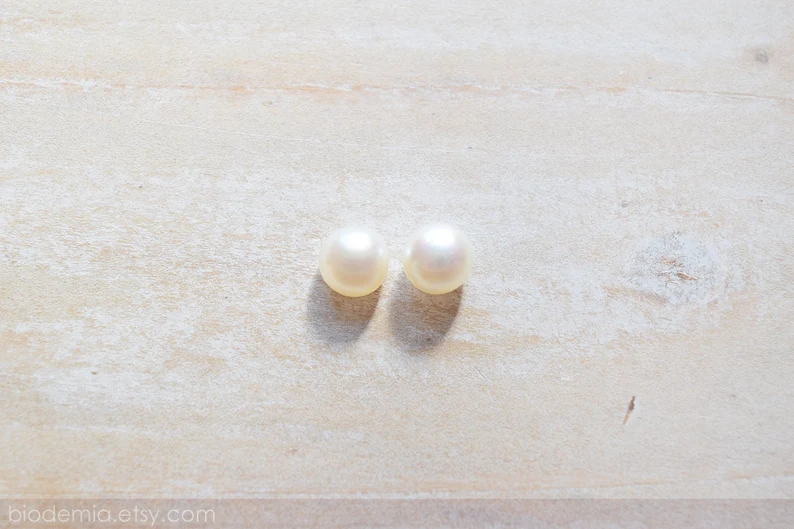 Biodemia Pearl Studs | Etsy
These classic ivory white genuine cultured freshwater pearl studs are backed with a strong neodymium magnet and complement all skin tones beautifully.
Check Price
We earn a commission if you click this link and make a purchase at no additional cost to you.
These stainless steel earrings feature a minimalist, black disc style. Sleek and stylish, the 316L stainless steel won't rust, tarnish or fade. Also available in a silver finish and two sizes, these earrings are handcrafted and made to order. Priced at $10,95 to $11.95; Buy Here.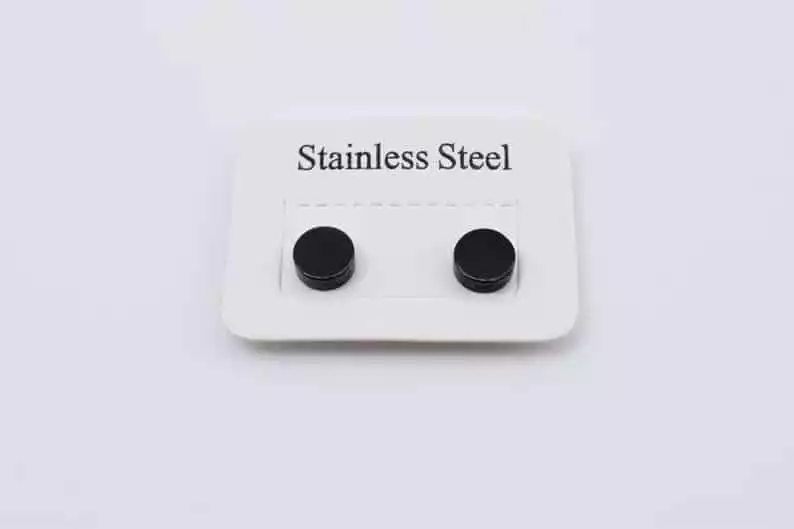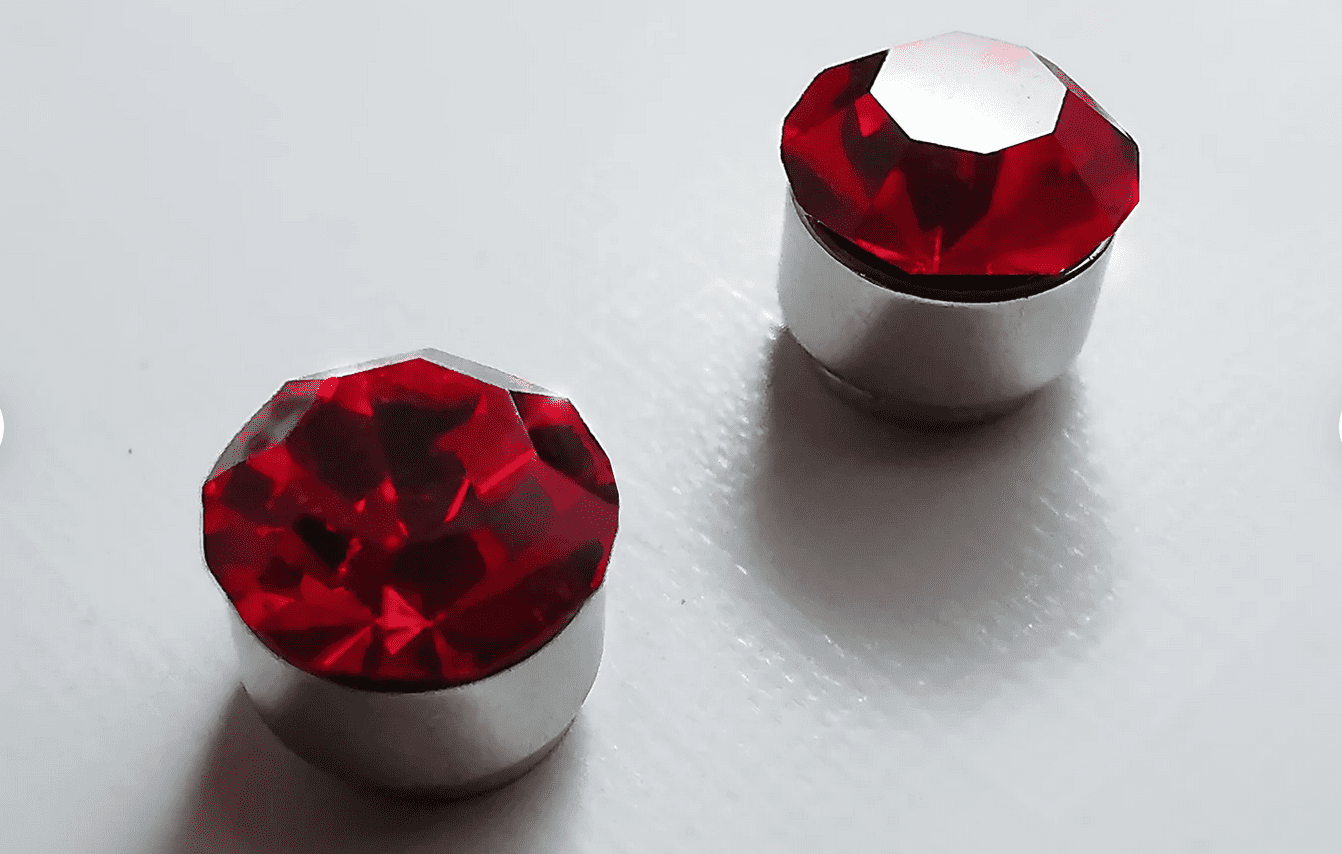 These playful earrings are priced at just around $6.58 for an affordable pop of color. The simulant crystals may not be fine jewelry, but they're spirited and suited for dressing up an outfit. Right now, red, silver, and champagne are available.
Sold-out colors (keep a lookout for them to return) include: blue, aquamarine, cherry blossom, black onyx, and crystal white. The faceted crystals are set on simple stainless steel magnetic backs. Buy Here.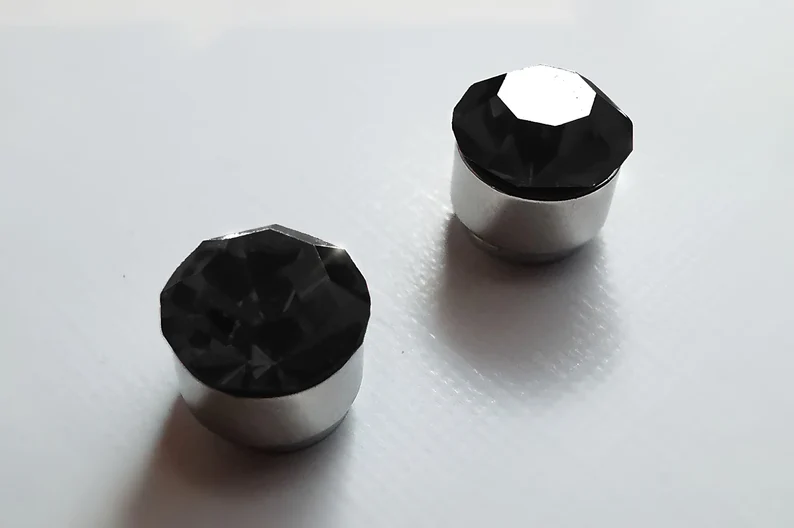 JSMDesign Australia Color Studs | Etsy
Designed to prevent holes in your ears and your pockets by wearing earrings that connect by magnetic power. Perfect as a Valentine's Day and Mother's day gift.
Check Price
We earn a commission if you click this link and make a purchase at no additional cost to you.
While advertised for kids, these earrings, according to customers, suit any age. The playful array of colors adds a bright touch to your day. I love that you can select your colors to create a set of 6 earrings– all for just around $28.50.
Opt for dressy metallics or swirled pastel hues, for a total of 24 colors to select from. Matte, metallic and sparkling finishes give you many options. The smaller size also is perfect for pairing with other accessories, or gift-giving. Buy Here.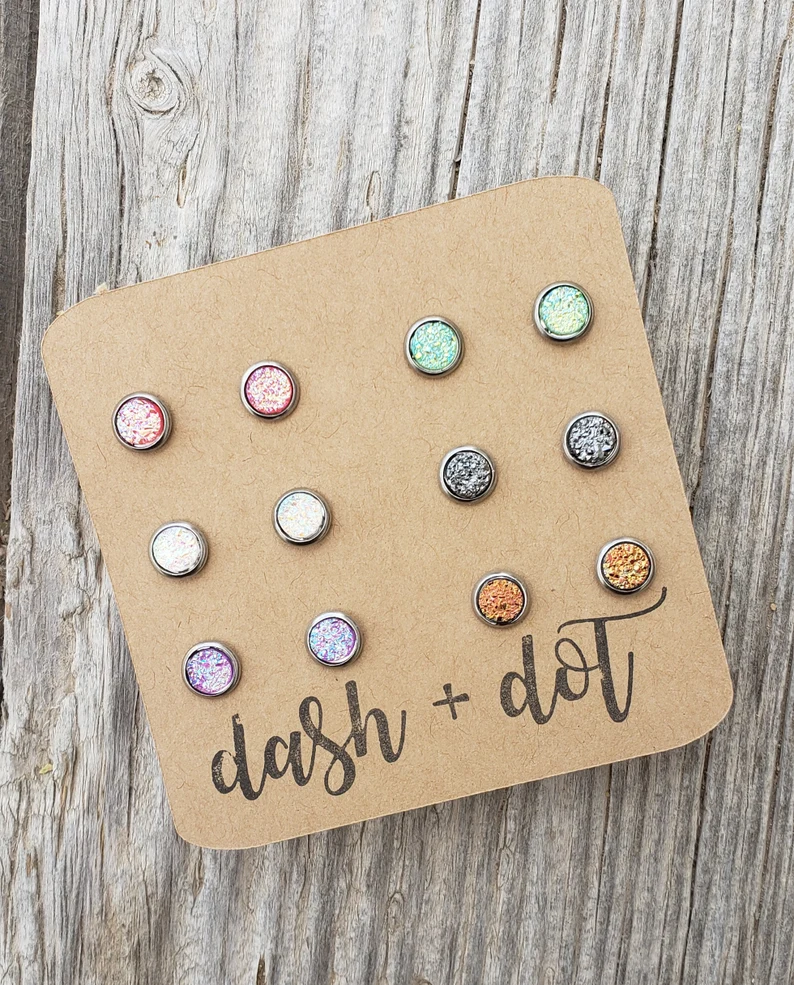 DashDottie Sparkling Studs | Etsy
These hypoallergenic earrings can be worn for a long period of time and comfortably sleep in them without irritation.
Check Price
We earn a commission if you click this link and make a purchase at no additional cost to you.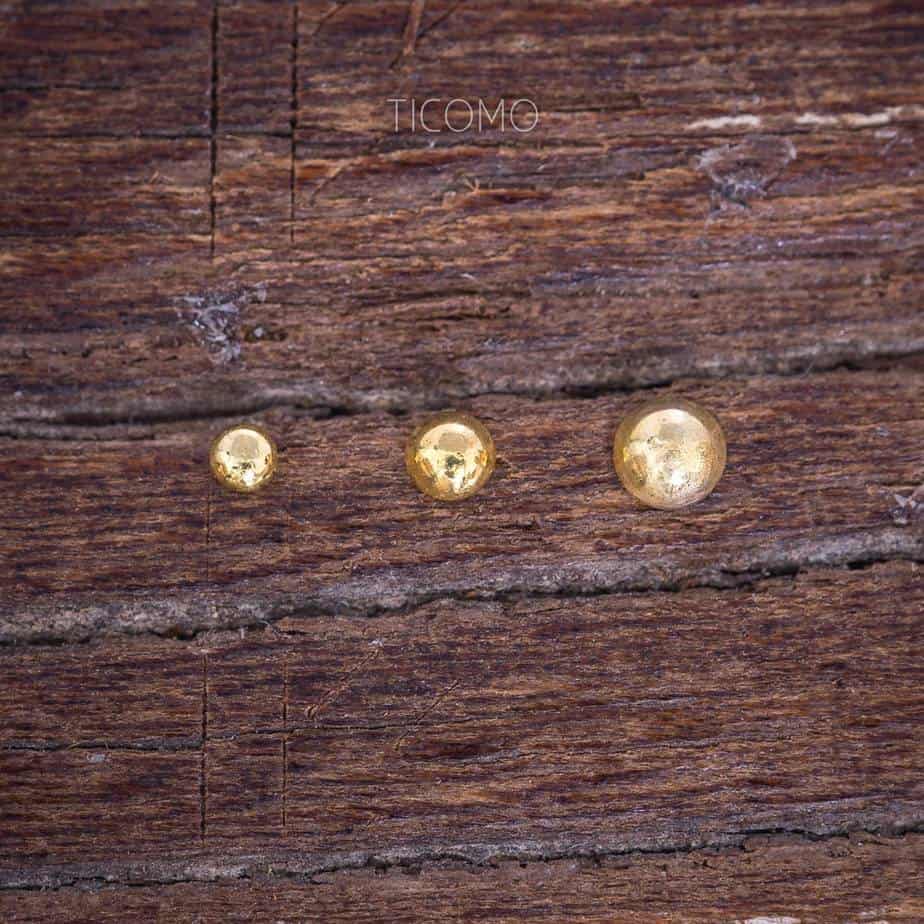 Available with a gold or silver finish, these simple stud earrings are suited for wearing anywhere along with the ear. The minimalist, round balls suit any style or purpose and are a practical choice.
Crafted in stainless steel and available in two sizes, these magnetic earrings come packaged in a gift box. These handmade earrings retail for just around $6.30; Buy Here.
Ticomo Cartilage Studs | Etsy
These simple magnetic studs are perfect for people with unpierced ears that would occasionally like to wear earrings or just to try if the new style would suit them before actually piercing their ears.
Check Price
We earn a commission if you click this link and make a purchase at no additional cost to you.
Are magnetic earrings worth it?
Versatile and usually cheap, it should come as little surprise that magnetic earrings are attractive to many. Yet at the same time, many are equally hesitant. From not being sure about the style to if they even work, there are many reasons why it's normal to question whether they're worthwhile.
Are magnetic earrings attractive?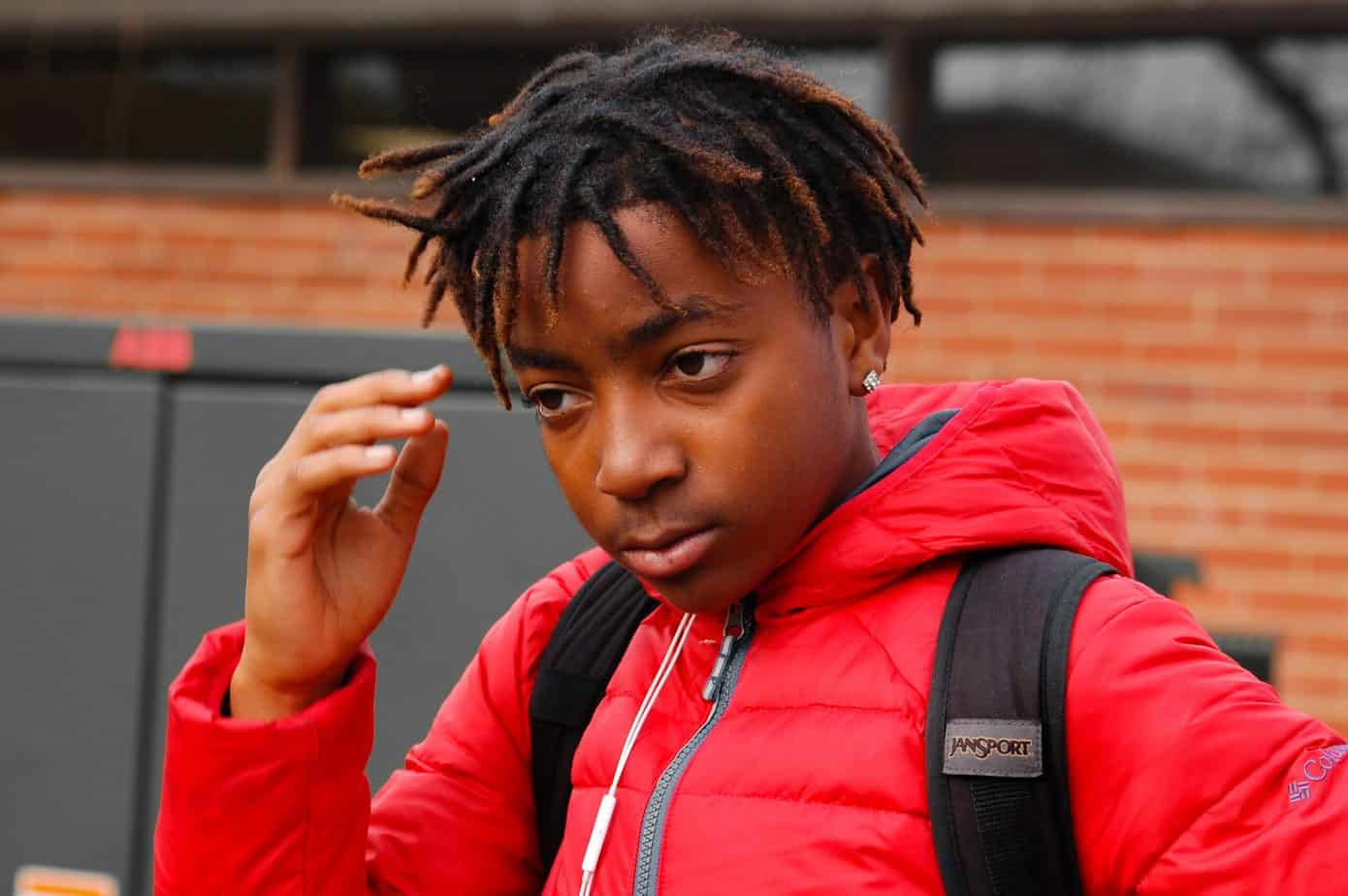 Fashion of all kinds really is subjective, and that's also true for earrings– magnetic backs included. The truth is, there's nothing inherently attractive or less attractive about magnetic earrings.
The specific pair of earrings you're looking at can range greatly in style. Magnetic earrings can be attractive, and they can also look cheap– it also depends on what you buy.
Do magnetic earrings work?
Magnetic back earrings that are made well do work. Strong magnets can supply a secure fit and a comfortable one as well. Of course, some dirt-cheap magnetic earrings have weaker magnets.
These may have a less secure fit. But the good news is that there are magnetic earrings that are made well– at a low cost.
What are the pros and cons of magnetic earrings?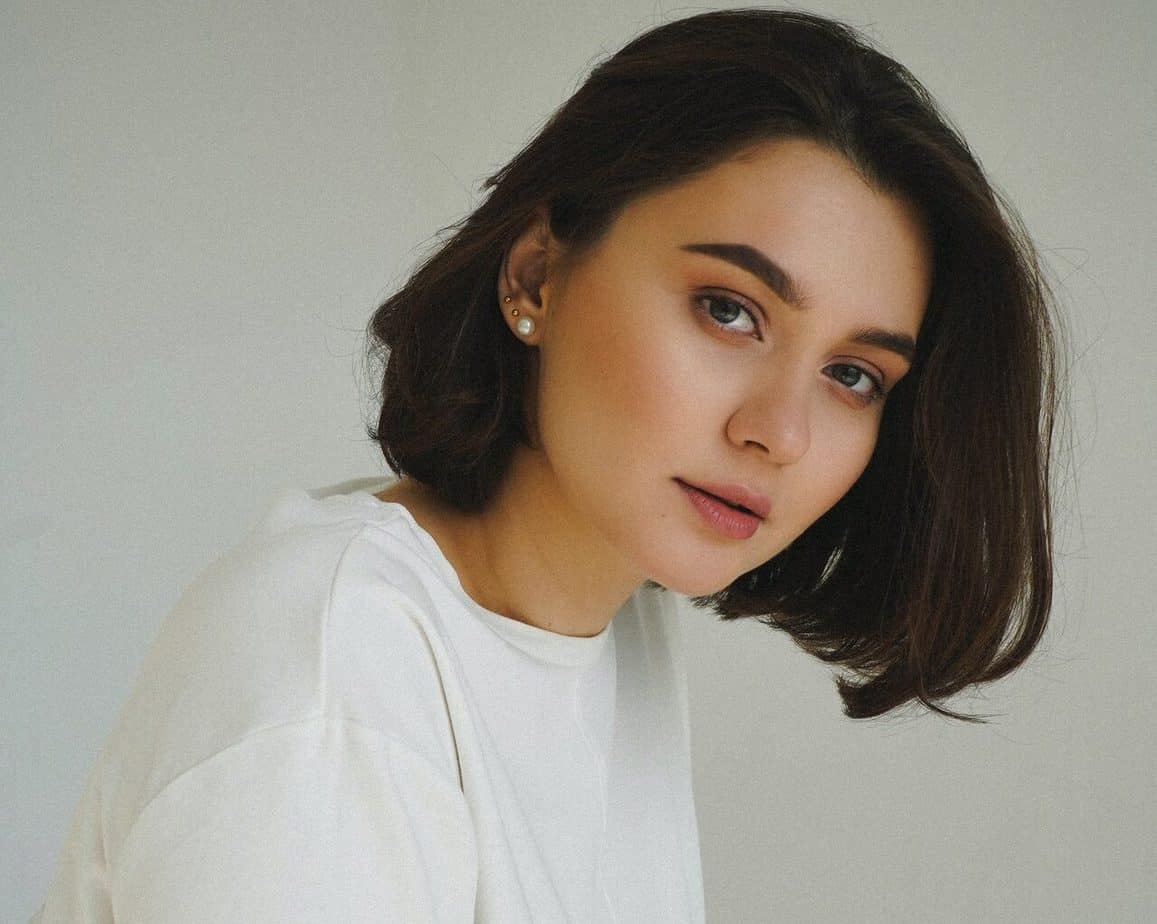 Are magnetic earrings painful?
Magnetic ears are not painful– at least in comparison to clip-on earrings. For most, magnetic earrings are painless to wear even all day. Magnetic earrings are often selected for kids instead, as piercings can be extra tender for young ears. The one exception would be if you try to use magnetic earrings on new piercings– which isn't advisable anyway.
Can magnetic earrings damage your ears?
There is no evidence that magnetic earrings can damage your ears. They're safe for most people, and you can find them in hypoallergenic metals as well. So long as they are worn properly, there is little chance they will cause any harm.
Are magnetic or clip-on earrings better?
The other obvious alternative to magnetic earrings is clip-on earrings. Like magnetic earrings, clip-on earrings can be used regardless of if you have any piercings. This poses the same benefits for versatility and the ability to express yourself without needing a piercing. At the same time, there are pros and cons to clip-on earrings vs magnetic earrings. Magnetic earrings are much more comfortable–are less noticeable– than clip-on earrings. Of course, clip ones are more reliable– there's a bigger chance that your magnetic earrings won't have a secure fit vs clip-on earrings. That's why it's important to be selective.
Do magnetic earrings fall off easily?
Magnetic earrings can fall off if they aren't made properly. However, some of the best earrings can provide a secure fit. The magnets can wear off over time– especially if they're exposed to high levels of moisture and heat.
What are the biggest cons to magnetic earrings?
Magnetic earrings can wear out. They also can be unreliable. While this is not universally true, it can be tricky to find great magnetic earrings. Most will not last as long as other earrings. There are also fewer options for metal types and styles vs traditional and clip-on earrings.
How do you wear magnetic earrings?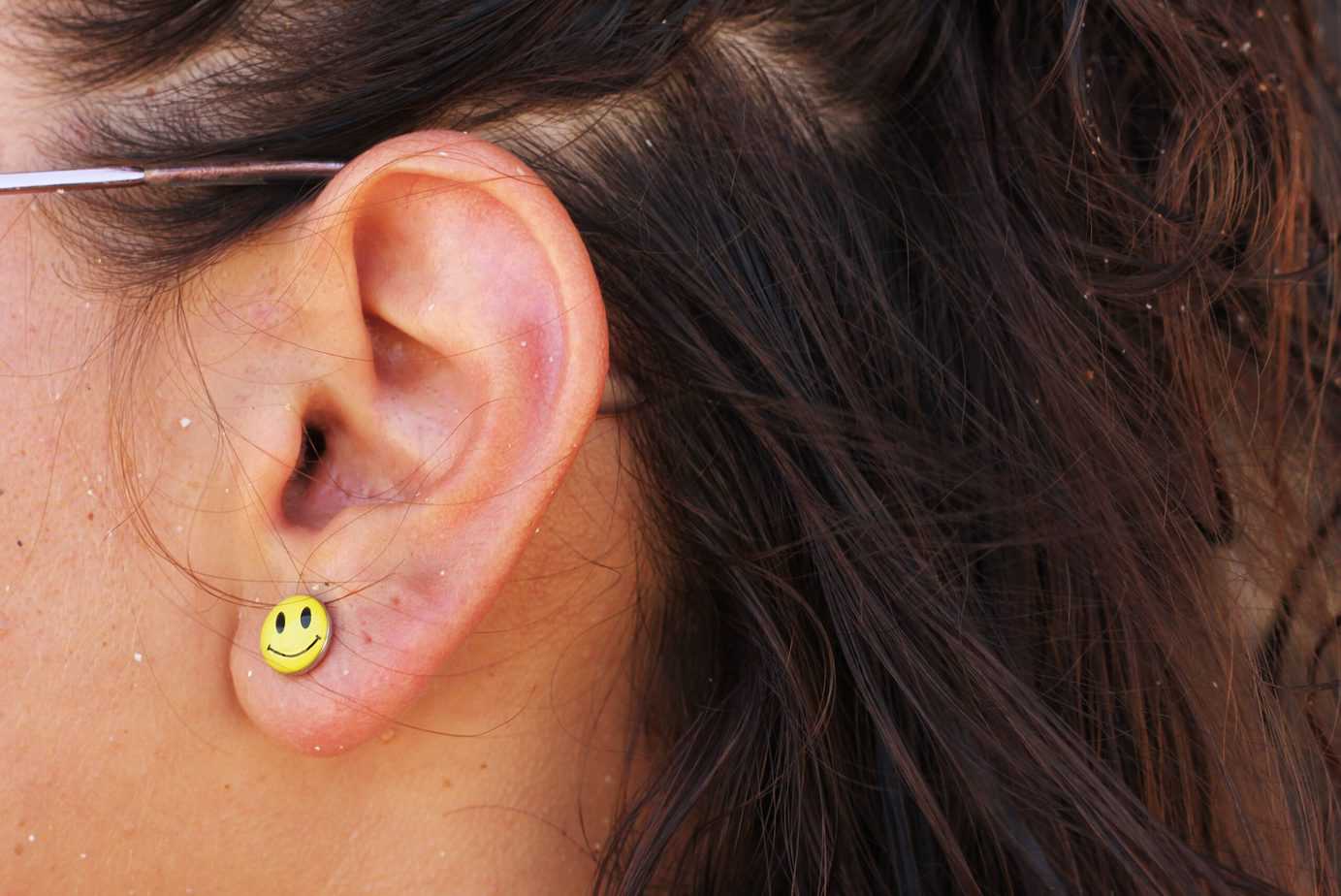 Of course, knowing how to wear and care for your magnetic earrings make a big difference in how long they will last and how comfortably they'll fit. Many people have a poor experience with magnetic earrings because they don't know how to take care of them– and treat them like other earrings.
Can you sleep with magnetic earrings on?
Most people won't have negative effects from sleeping with magnetic earrings on, but I don't recommend it. Wearing earrings 24/7, aside from new piercings, can be uncomfortable. You could also lose your magnetic earrings in your sleep.
Can I shower with magnetic earrings?
While there are many earrings- mostly gold, platinum, and stainless steel– that you could get by showering with, magnetic earrings will be ruined from showering. Full water immersion will damage the magnetic strength of your earrings. You also shouldn't swim with them.
Can magnetic earrings interfere with medical devices?
Avoid wearing magnetic earrings to doctor's appointments or anywhere with medical devices. Anyone with a heart rate monitor– or if you're around someone with a pacemaker– should also be advised to opt for clip-on earrings instead, out of an abundance of caution.
Where do you put on magnetic earrings?
Magnetic earrings can be worn anywhere on your ear or body– just follow the description of the earrings you're buying. Make sure the back and front are aligned to ensure a secure fit. Magnetic earrings can be paired with other accessories and you can style them however you like.
How do I find the best magnetic back earrings?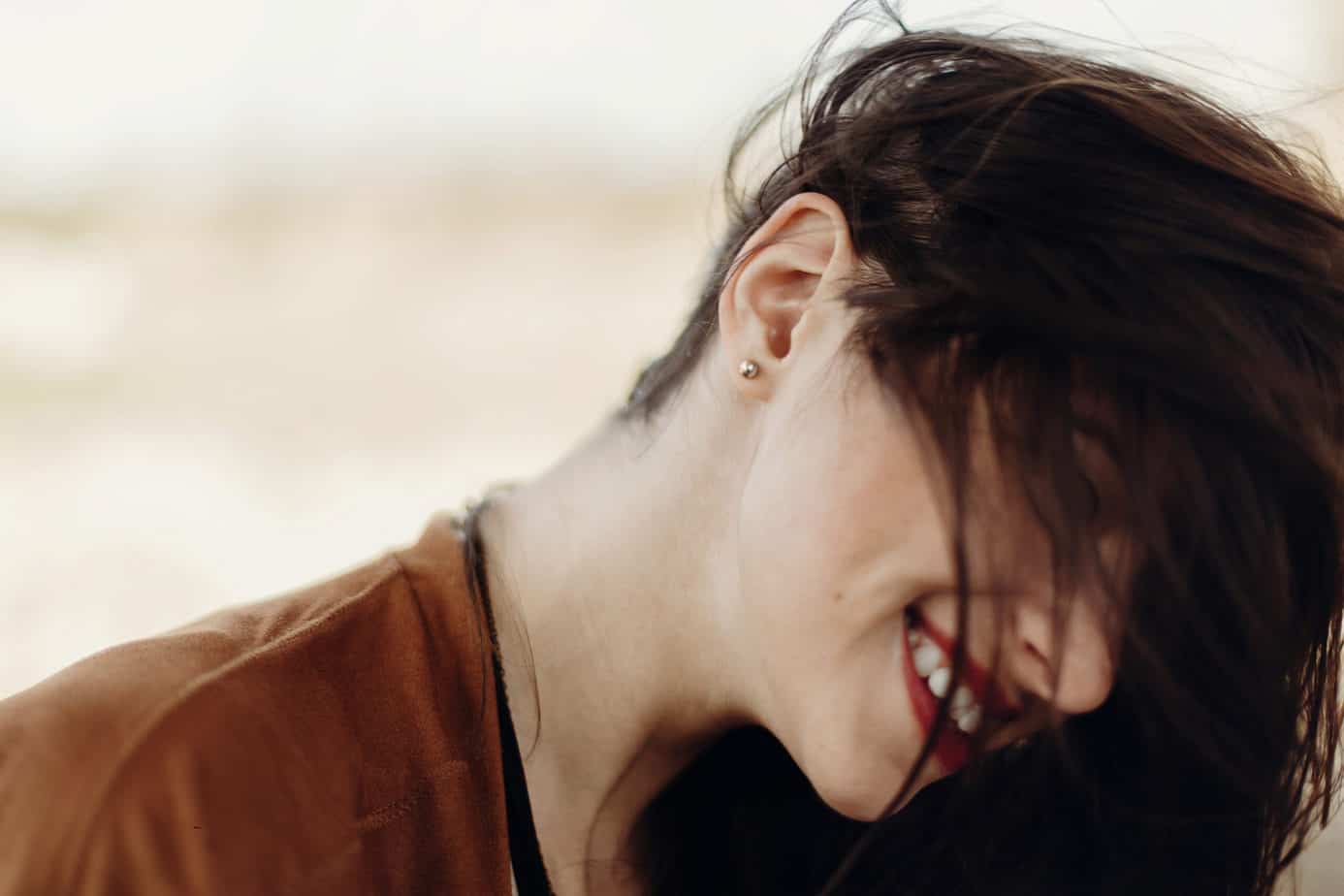 Magnetic back earrings don't have as many options– you won't find an array of fine jewelry magnetic back earrings. Instead, think about them as casual or playful occasion earrings. My favorite metal type is stainless or surgical steel. Cost-effective and lightweight, steel is durable and tends to be gentle even on sensitive ears. Steel won't tarnish, either.
What style is best for magnetic earrings?
Most magnetic earrings are stud earrings. Studs are more comfortable and secure. They're also versatile and easy to pair with other piercings or accessories. Minimalist styles work well with magnetic earrings, but so do classic looks. You can even find cubic zirconia magnetic earrings for a touch of sparkle.
Where can I buy magnetic back earrings?
Most fine jewelers don't make magnetic back earrings. My main suggestion is to look on Amazon or Etsy. Both have a wide range of options. Amazon has the benefit of fast shipping and a wide selection, and Etsy offers unique and handmade earrings.
Don't shop by the lowest price, but instead by custom reviews. Only buy magnetic back earrings that include a detailed description and photos. By going through all of these steps, you're giving yourself a far better chance at finding the best pair of earrings for you.
Frequently Asked Questions
Question: Is it safe to use magnets as earrings?
Answer: There are some safety concerns with the use of magnets, even though we encounter magnets daily. There's some debate about safety concerns, but most of those are related to small children. The backing on magnetic earrings is tiny and unlikely to cause any harm from daily wear. The biggest threat magnetic back earrings pose is a choking hazard. If ingested, they can also cause harm to internal organs. In other words: if you have a small child, either think twice about magnetic back earrings or be careful to store them out of reach. 
Question: How do you clean magnetic earrings?
Answer: While it's important to keep your earrings clean, you need to do so carefully. Submerging magnetic back earrings in water will ruin them. Instead, use a soft cloth with a mild soap and water solution. Make sure to dry completely after. 
Question: Do magnetic earrings work for weight loss?
Answer: While there have been many claims made regarding the supposed benefits of magnetics, there is no scientific evidence linking magnetic earrings to weight loss. The ideas that often circle have to do with magnetic therapy– which, of course, is different than wearing earrings with tiny magnets. Some believe that, by promoting circulation in your body, magnet therapy can help people feel more energetic, thus becoming more active to burn more calories. In reality, there are many safe, proven, and effective ways to lose weight healthily– but magnetic earrings won't help towards your goals. 
Final Thoughts
Magnetic back earrings are an alternative to clip-on earrings for those who don't have piercings. While it can be tricky to find the best pair, at their best, these earrings are comfortable and safe to wear. While most favor minimalist styles, there are a few crystal, cubic zirconia, and other options that may surprise you. Priced affordably, have fun experimenting with different designs. Only ever buy from a secure website and sellers with ratings and recommendations.
Final Buying Recommendation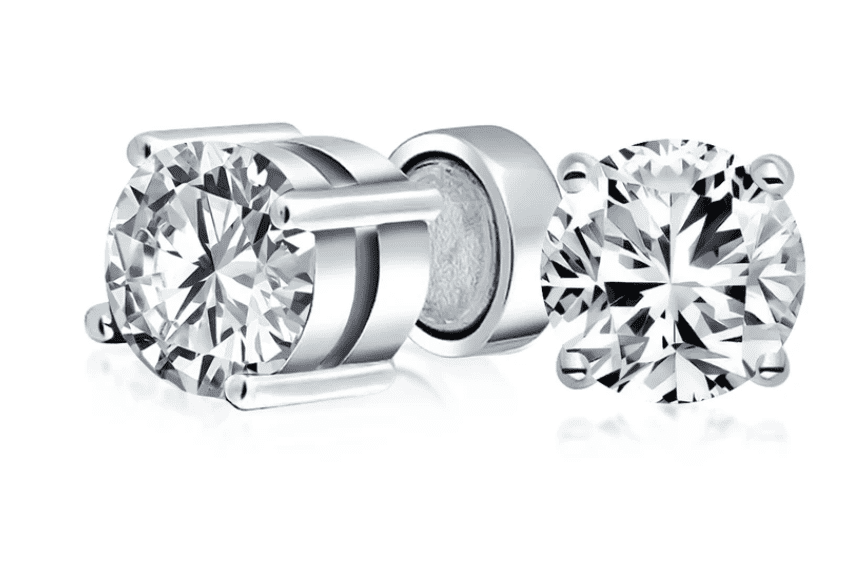 As a final buying tip: also look at customer reviews! While it can tricky to find the best options, customer reviews can guide you towards earrings that stay in place. If there are only perfect five-star ratings, make sure they seem genuine and have detailed descriptions.
Still looking for a great pair of magnetic back earrings? Wow at your next event with AAA CZ Stud Earrings. The highest-quality cubic zirconia stones add sparkle to any outfit, set on 925 sterling silver. The classic four-prong setting pairs with a magnetic back for a comfortable fit. Buy Here.
Looking for more interesting readings? Check out: