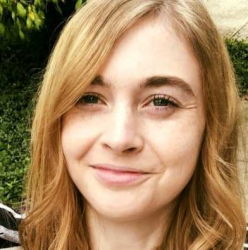 Latest posts by Erin Jamieson
(see all)
I love weddings, and I love wedding planning. But as much as I've written advice and shared insights with friends, there's one element that has always made me hesitate: wedding websites like Zola and Minted. Not only is there an ongoing debate about if a wedding website is a must-have, but knowing how these two popular wedding websites compare makes a big difference in taking the next step.
With my background not only studying the wedding industry but also creating my websites, I'll give you my honest opinion about Zola vs Minted compared. To do that, I'll delve into the background of both companies, covering pricing, main features, and other customer reviews.
The verdict of Zola vs Minted may surprise you– and give you enough insight to decide what wedding website makes sense for your events.
Bottom Line Up Front Summary: If you are looking for a one-stop wedding (and planning) service, Zola is the better option here. However, ff all you need is a website, you might find Minted's design inventory more extensive here.
Main Differences Between Zola vs Minted
Here are some of the key differences between these wedding planning platforms:
Zola

has an integrated wedding registry, while

Minted

has a basic website builder

Zola

has hotel and vendor finding tools, while

Minted

has more unique designs

Zola

allows you to plan multiple events, while

Minted

allows you to import videos
Wedding Services | Zola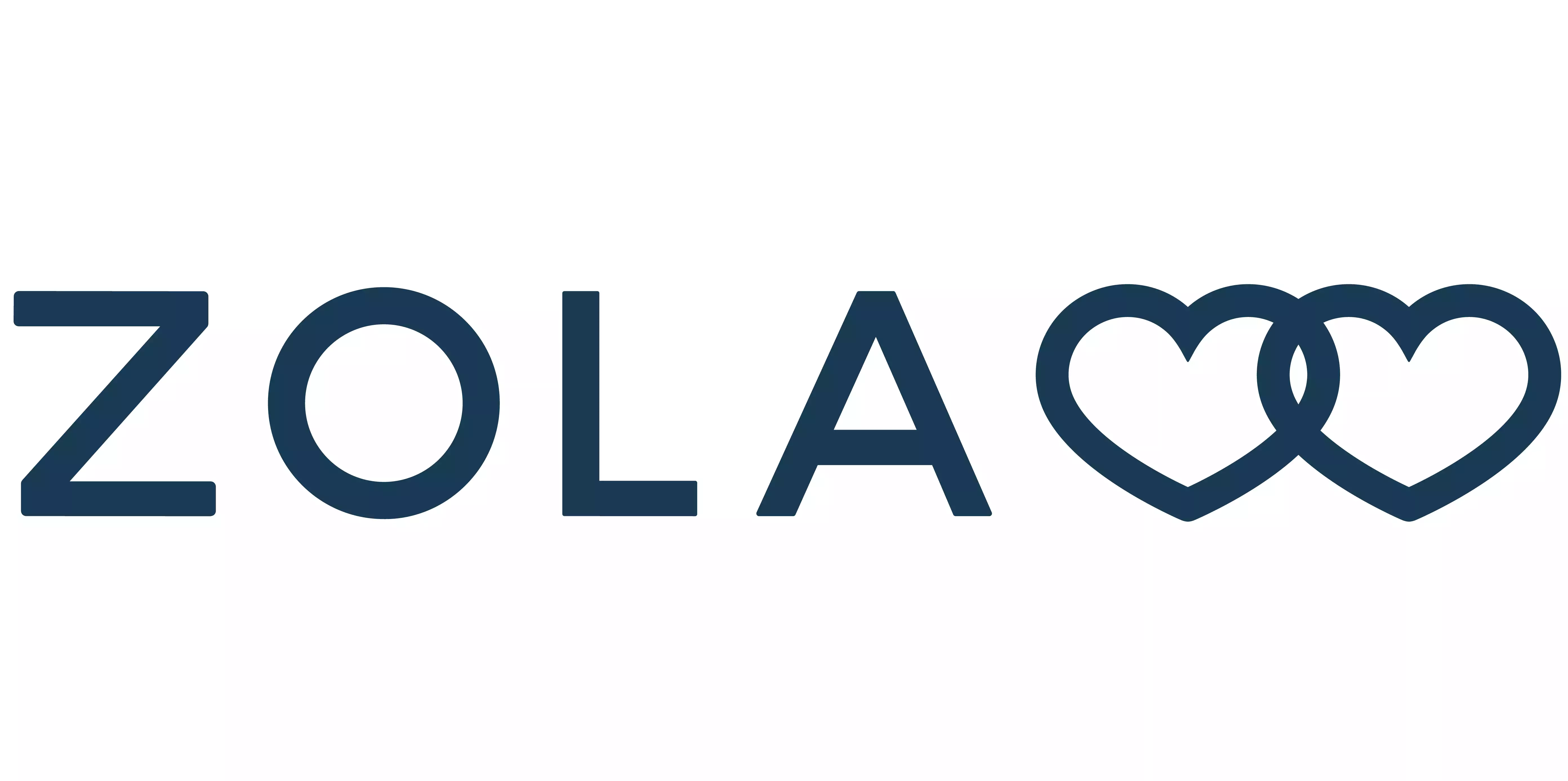 Why I Prefer Zola:
I am often asked, "what is the best wedding registry service?" While it can depend on a few factors, my #1 go-to choice has to be Zola. It is more customizable and features hundreds of additional merchant integrations.
Get the Best Registry
We earn a commission if you click this link and make a purchase at no additional cost to you.
Zola vs Minted Company History
Even for wedding websites, the first thing I check is company history.
A wedding is one of the most important days of your life, and while I think some can get carried away, you want to make sure you're planning with a company you understand. There are some interesting differences, and similarities, between Zola and Minted's company histories.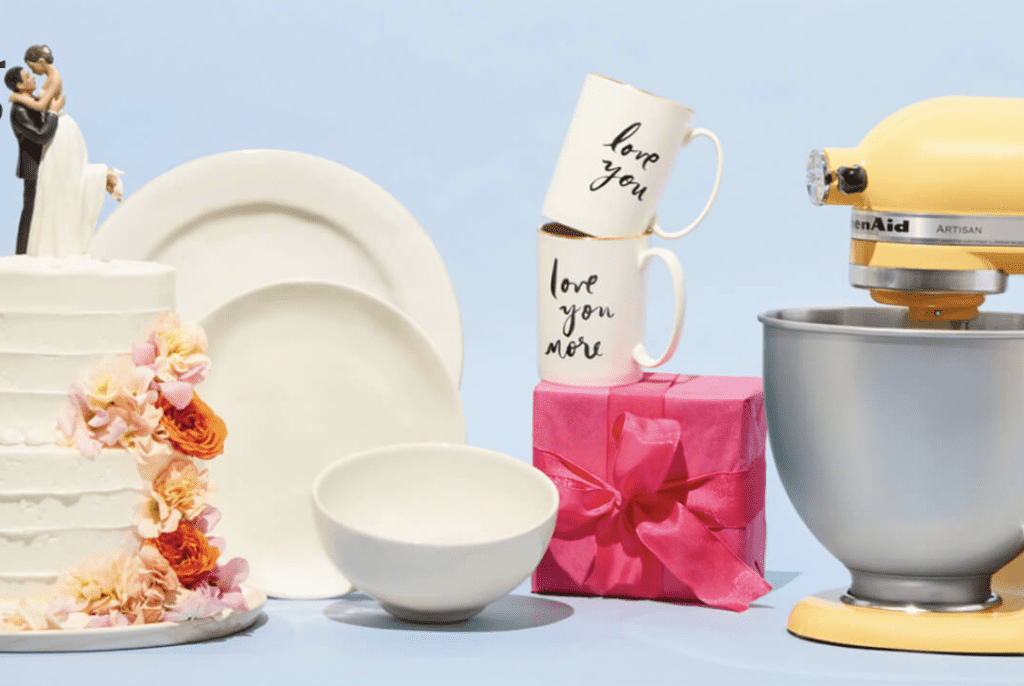 I came across the name Zola just several years ago, not long after its founding in 2013. The company received a lot of hype because it added features some wedding websites hadn't.
Rather than just allowing couples to create their website, co-founders Shan-Lyn Ma and Nobu Nakaguchi banked on a central principle: an all-in-one planning website. Though The Knot and some other websites have this now, it was a huge reason why it got off to such a great start.
Four years later, Zola added even more planning services and connections to stores (notably Crate and Barrel). What I like about this is Zola has always been interested in innovating the wedding website service into something both more intuitive and more personal.
Minted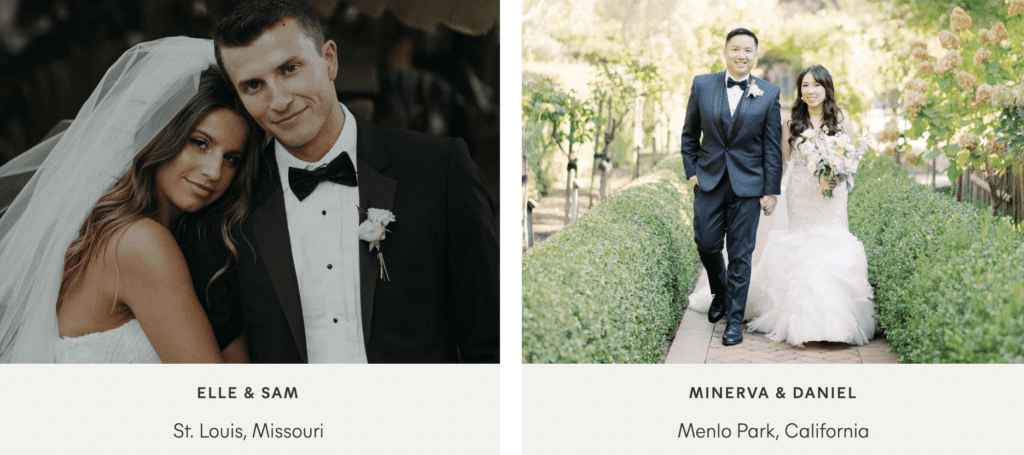 Now Minted's company history is a bit more interesting. Why? If you're like me, you probably have come across the company first not for wedding websites, but cards and envelopes. The company still sees itself as a "design marketplace.. of independent artists," according to their website. It started 6 years before Zola, back in 2007. The idea was pretty exciting in its own right: a crowdfunded website where customers and investors could support, and continue to support, independent designers.
There have been contests for card designs, wall prints, and now, another decor. It's part online marketplace, part of a place for discovering independent artists. They set up a physical store in the Bay Area in 2016. It's hard to say when they started offering wedding website planning, but it's more of an additional feature as opposed to their main focus.
Takeaway
As much as they are different, there are some similarities between Zola and Minted's company history. Zola and Minted both began as start-ups, with a desire to innovate for more possibilities and more creativity. But Zola eventually attracted more investors and it's always been focused on wedding websites and planning. Minted is a more traditional company, with stationary and supporting independent artists still at the core of their business. I admire Minted, but I do think it's obvious that Zola is more focused on wedding websites.
Zola vs Minted Cost
I admit it: I'm always looking for ways to be thrifty and save a little money. But I also know that there are often hidden costs for making or maintaining wedding websites. Luckily, both Zola and Minted offer options that I think make sense for different couples. The key is understanding what your options are.
Zola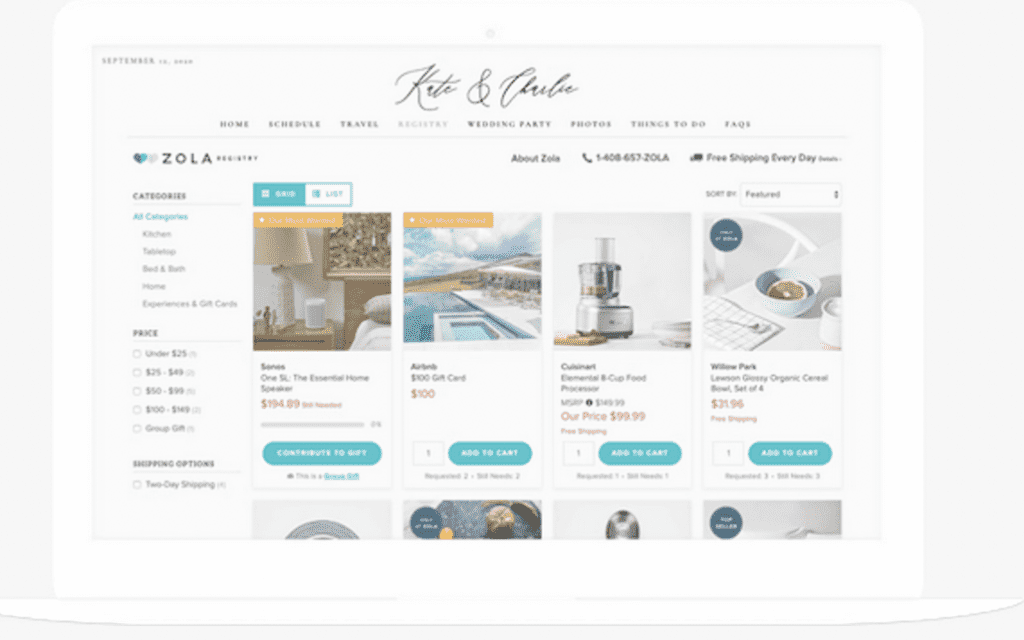 You don't need any promo or coupon codes to create a website through Zola. A basic website and planning tools are both cost-free. Zola makes all of its money through its online store. However, guest buying a gift through an outside shop linked to Zola or funding a cash fund via credit card are subject to a standard processing fee.
So the good news is that Zola is free for couples– guests may just have to pay an extra fee. They do offer options for zero-fee and low-fee cash gifts, which is something I appreciate. Guests can contribute to a cash fund for you via Venmo for no additional fee, or with a credit card for a standard processing fee of 2.4%. Couples can also choose to absorb the fee for their guests.
If you want a custom URL, you'll have to pay a little. Prices start at $14.95– but they don't make it clear how high those prices can go.
Minted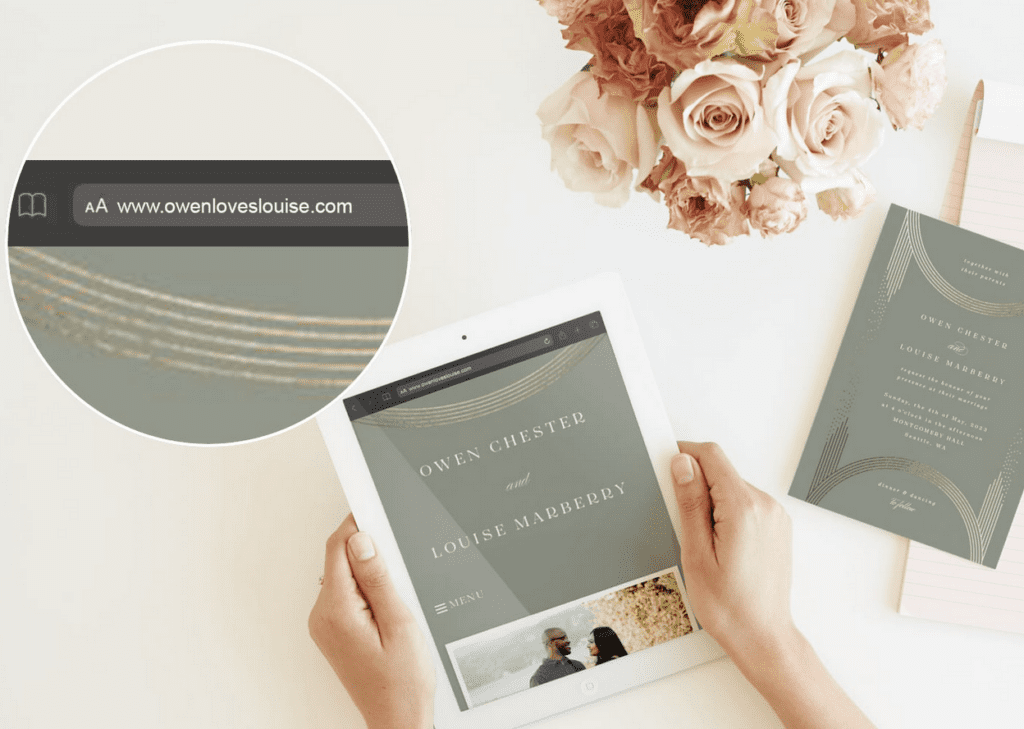 Minted and Zola are pretty much the same. Like Zola, Minted offers cost-free websites, no promo or coupon codes are needed. And just like Zola, Minted allows you to create a custom URL– this time, for a flat price of $15 a year, regardless. Minted makes money through its online and physical stores.
Takeaway
There isn't a big difference in cost– you can start a free website through both Zola and Minted. While having a custom URL makes it easy for people to find you, that could be a con ( it would be for me) for couples who want to keep things private to their guests. The only edge I see is that Minted is guaranteed to charge a certain amount for a customized URL.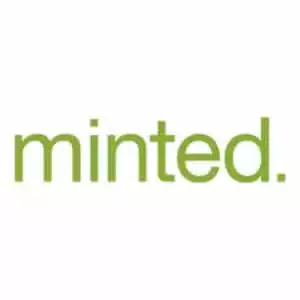 Finally Wedding Websites by Up Up Creative | Minted
Plan the wedding of your dreams with wedding essentials from Minted. From save the dates to invitations, to day of essentials Minted has everything you need.
Get Started
We earn a commission if you click this link and make a purchase at no additional cost to you.
Zola vs Minted Wedding Planning Tools
I prefer a wedding website that offers all-in-one features– the ability to be able to cross-list registries. This is where the differences between Zola vs Minted get pretty interesting.
Zola
Zola calls itself an all-in-one wedding website/ planning service, and while it won't replace a wedding planner, I more or less agree. Zola offers a myriad of services, and they have apps for pretty much everything. I admit: I'm old school, so I'd just use desktop versions. But it's pretty handy to have those options for planning on the go.
Most of their tools are self-explanatory, but I want to touch on the registry. Zola's registry includes honeymoon funds, and the ability to search by brand, collections, cash funds/ experiences, or general categories.
Featured brands include some pretty well-known and respected brands, such as Le Creuset (a favorite of mine), Kitchenaid, Brooklinen, Sonos, Kade Spade New York, Cuisinart, and many more. Kitchen, bed and bath, furniture, lighting, decor, electronics, luggage, clothing, and outdoor goods are just a few categories.
What stands out to me are the cash funds. While not for everyone, they allow guests to gift couples experiences for travel, or even local experiences. Gifts come with exchange options, plus free shipping- and Zola does it for you, cutting out the pain for guests who can't make it to the wedding but want to send a gift.
As a bonus, if guests choose to contribute to your cash fund through Venmo, they won't have to pay any fees! A standard processing fee of 2.4% applies to contributions made via a credit card. Guests are given the option to choose whether they want to absorb that fee or have it taken out of the amount they chose to gift.
Probably the feature that sold me most is Zola's willingness to sync other registries to your website. In other words: you can use Zola's store, but you don't have to only use it.
"Expert" Advice
This is the one category I find– for lack of a better term– a little cheesy. Don't get me wrong: I love that they offer a collection of advice articles. They're organized by category, and there's nothing wrong with them, but I was expecting something both more unique and more personal.
Minted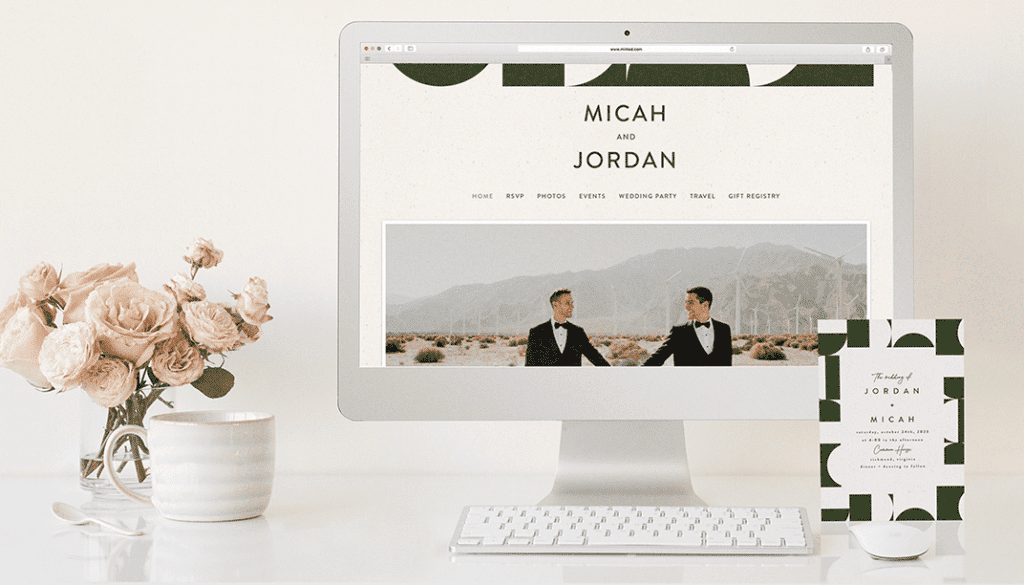 Minted is different immediately in terms of layout. It has a more artistic look to its wedding planning tab, but, I admit, it's also a bit less organized vs Zola. Their wedding websites include RSVP options, guest lists, and the ability to add videos and photos.
They offer wedding websites, and a plethora of save the date, invitation, and stationary options. Those stationary options are unique and well-made, including designs for wedding programs, menus, seating charts, and more. Lux paper, envelope addressing, free samples, and custom designs are all perks.
Takeaway
I wasn't too surprised about Minted vs Zola in this category. Minted excelled for stationary and custom designs, but Zola has several advantages for the wedding website itself. I'm a visual learner and planner, so I laid out the main planning feature differences in the table below.
Wedding Tool
Zola
Minted

Guest List Manager

The Guest List Manager

handles RSVPs, meal options, and automatically connects to invitations

Not Included

Invitations, RSVP, Save the Dates

Included in Guest List Manager, as well as

paper and digitally

save the dates, invitations

Wide range of beautiful, unique paper and digital RSVPs, invitations, save the dates, and more, including

free personalized samples

Checklist

Included

Included under wedding planning guide

"Expert" Advice

There's a

collection of advice articles

and a customer service section

There's a

Wedding Planning Guide

, which covers guest lists, planning, and etiquette articles

Registry

Included– you can use

Zola's Registry

and/ or import your own

Not Directly Included

Wedding Day Stationery

Menus, programs, thank you cards, and holiday cards

Yes– many customized templates for menus, programs, seating arrangements, save the dates, and more

Apps/ On the Go Design

Included

Included

Multiple Event Scheduler

You can create multiple events, as well as seating charts, and directly sync them to your website

Not Directly Included, though designs are highly customizable to include information

Hotel Block Booking/ Accommodations

Hotel Quote and Accommodation Finder

None

Vendors

Integrated

Vendor Search

allows you to find vendors based on type and location

Not Included

Custom URL (optional)

Yes, Starting at $14.95

Yes, for $15/ Year
Looking over my review of the main features, it's clear: Zola has far more integrated features for their wedding websites. However, Minted is handy in some areas if you don't need all the integrated online features.
Zola vs Minted Website Designs
Some will care most about the features of a website, while others are interested in the layout and design options. I think both are important. The only way I can fully review and compare Zola vs Minted is to cover all features, and the differences are striking.
Zola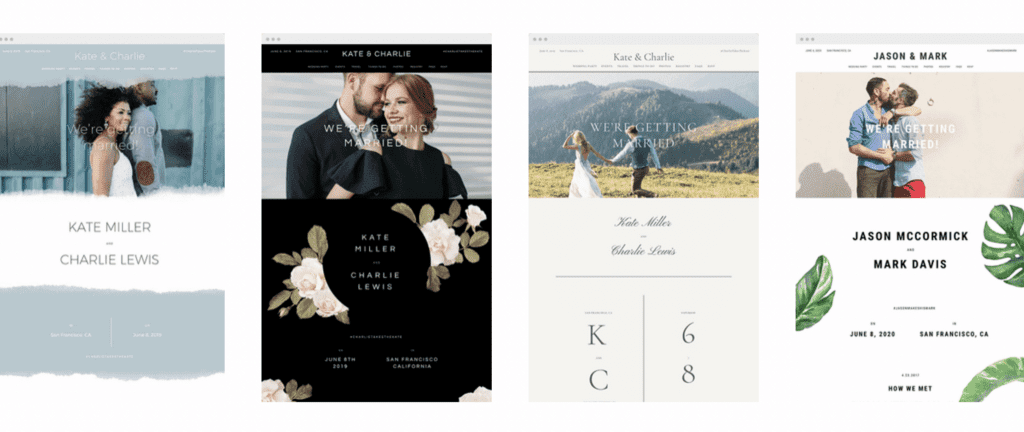 Zola offers a little over 300 templates, all of which are pretty easy to use and customize. If you're ever played with a basic website builder like Wix, I don't think you're going to have too much trouble. I wouldn't say that designs are extraordinarily unique– but they're well done, and there's plenty of variety.
I like the search and filter features. You can search by colors and design types. Themes include: elegant, classic, formal, greenery, rustic, destination, beach, boho, simple, modern, vintage, and watercolor.
They offer a handy Website FAQ, which I like because we're not all design experts. Simply put: Zola gets the job done, but there's nothing unique or innovative about their websites on a design level.
An excellent wedding gift: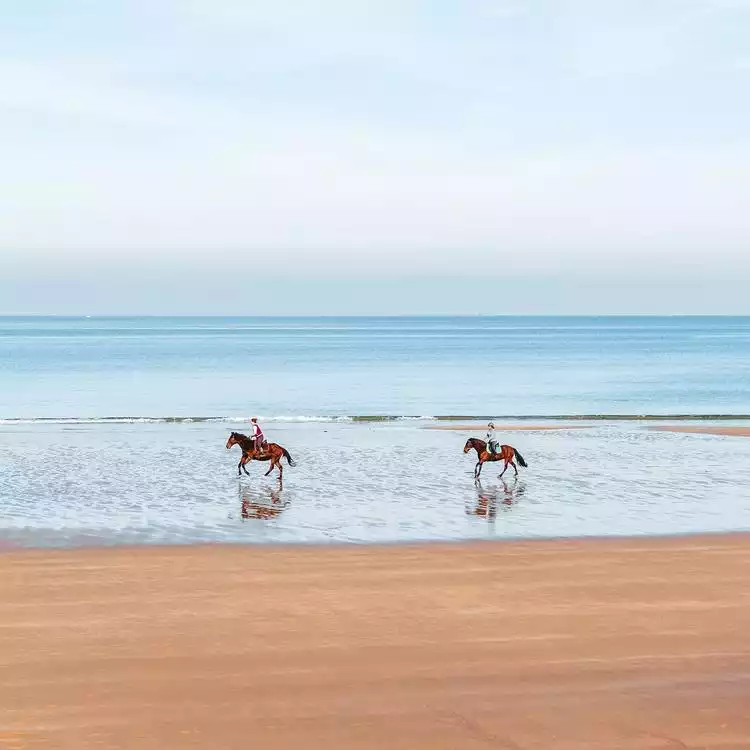 Honeymoon & Cash Funds | Zola
Select a Honeymoon or Cash Fund out of the many possibilities Zola offers. From horseback riding, baking class to home renovations and more!
Check prices
We earn a commission if you click this link and make a purchase at no additional cost to you.
Minted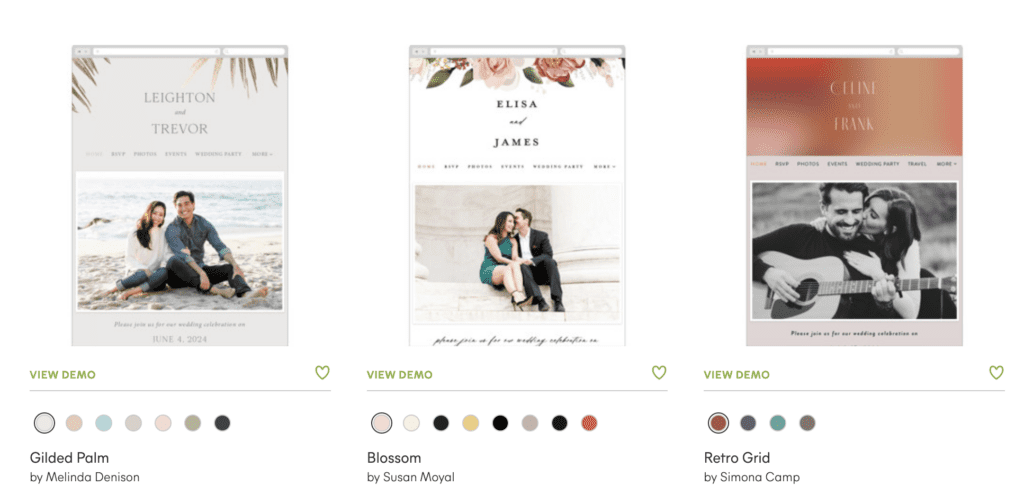 Minted, like Zola, has many designs to choose from, but it's a little unclear how many. By my look, it does appear to be in the low 100s– somewhere around 200-300. These designs are all made by independent creators, and I do notice a difference.
They feel a bit more unique. Like Zola, you can sort for templates based on color and style, but also season and venue type. Styles include: modern, simple/ minimalist, rustic, boho, painterly, funny, classic and formal, botanical, vintage, bold, illustrative, beach/ nautical, cities, heritage, and watercolor. There's just a bit more variety, a little bit more personal touch, and a few more details that make these customizable templates more unique.
They also offer more help with designing your website. While they don't go as much into basics, they go beyond examples, including design inspiration and style quizzes. There's a whole selection of Minted Real Weddings and plenty of tools to help you fully customize your design. There's also the benefit of being able to import videos.
Takeaway
Wedding Website Design Feature
Zola
Minted

Video Import

No

Yes

Pre-made Design Templates

300+

100's, Varies

Original Artwork/ Independent Creators

No

Yes

Photo Import

Yes

Yes

Design Creation

Wedding Inspiration Article

and examples

Design quiz, website examples, real weddings, design advice articles
I prefer Minted for its unique design options, design inspiration, and more. The ability to import videos is another plus. However, I felt Zola is a bit more intuitive for people who've never designed a website before. Minted allows a more artistic range, while Zola makes it easy to get started.
Zola vs Minted Customer Service & Reviews
I know what you are thinking: why worry about customer service if it's about creating a wedding website? Well, from personal experience I know things can go wrong. There might be an error linking or syncing materials. There may be a mistake you make and have trouble correcting. Whether there is an error on the tech side or you just need help navigating through creating a website, it's a good idea to have a solid backing of positive customer service. That's why I was interested to see how Zola and Minted Compared.
Zola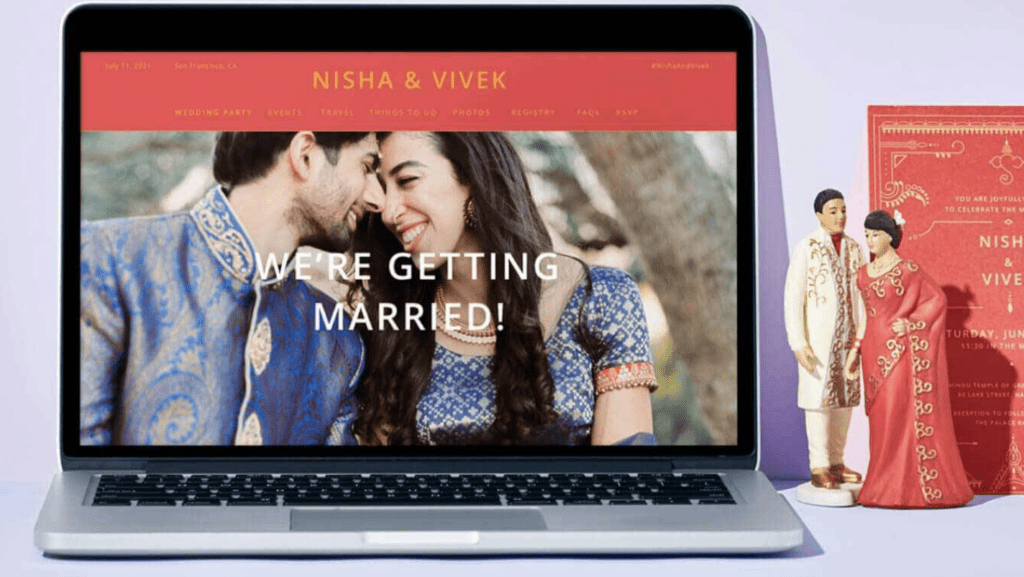 If you go on Zola's website reviews, customers seem pretty happy, with an average rating of 4.8 out of 5 stars. The problem? Relying only on external reviews really could have bias. So I always look on external websites. While the website designer itself doesn't have poor reviews, the registry has many complaints.
Trust Pilot and Influenster reviews indicate 2.5 to 3 out of 5 stars. There are shipping issues, not obeying email notification preferences, redeeming gifts, and more. While it still has a not-accredited A plus rating on Better Business Bureau, I was sad to see many complaints, averaging out to a 1.05/5-star rating.
Customer service allows you to submit an online request, call 7 days a week, or email. I also appreciate that you can track orders and process returns via the customer service page.
Minted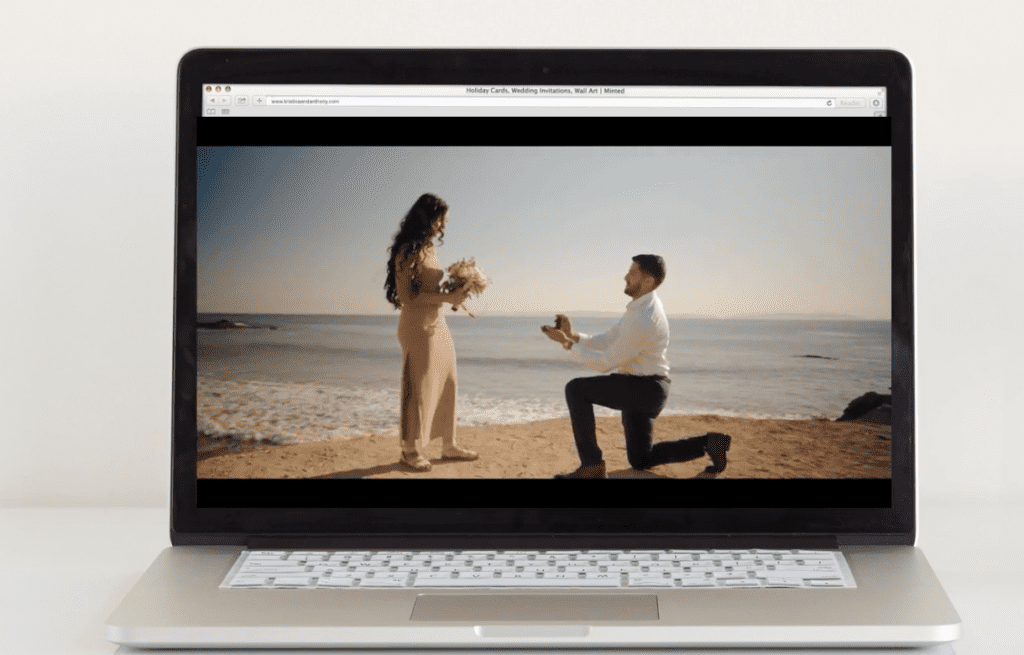 Minted is also a little tricky because there are reviews for both the website and stationary. On Wedding Wire, Minted averaged 4.5 out of 5 stars. Those ratings were 3.5/ 5 on Trust Pilot and a mere 1.56/ 5 on Site Jabber. Concerned about the widely-ranging reviews, I checked the Better Business Bureau website. It's the same story as Zola: just 1.05/ 5 stars.
There are many shipping issues, though fewer complaints about the website vs Zola. But there were substantial complaints about a lack of customer service presence, too.
You can contact Minted online or you can get help through a phone call.
Takeaway
I was disappointed in this category. I will say that many shipping delays may be outside of the company's control. But I was concerned about assertions about Minted failing to respond, and the many issues associated with the gift registry through Zola. Neither are up to the standards I'd like to see– and some issues could improve if supply chain issues decrease.
That said, weddings are stressful! Negative reviews (across the board) are much higher than most other purchases. This is why it's helpful to make comparative decisions across vendors.
Frequently Asked Questions
Question: Is a wedding website necessary?
Answer: Wedding websites are becoming more popular than ever and for good reason. They're a central location to direct guests to travel plans, gift registries, accommodations, and provide a general welcome message. It's a great way to organize your wedding and make guests feel welcome. However, I don't agree with the message that you must have a wedding website. So long as you provide the information necessary for your guests on your invitations (and include RSVPs for planning), you can get by without a wedding website. Ultimately, you have to decide based upon your needs what makes sense. Discuss with your partner to make the best decision possible. 
Question: What's an example of attire wording for a wedding? 
Answer: One thing you need to include on your wedding website or invitations is something that I sometimes see couples forget about: attire. This is more important than you'd think. Assigning a dress code may sound stuffy, but it sets the tone for your wedding. The most common attire types are:
Attire Wording to List and What it Means 
White Tie: Rather uncommon- guests arrive informal gown, tuxedos, and fancy footwear 
Black Tie: Usually for evening events– floor-length dresses, pantsuits, formal suits 
Black Tie Optional: One of the most popular- can combine black tie and/ or cocktail 
Cocktail: One of the most popular- tea-length dresses, formal but more relaxed suits 
Semi-Formal: Pantsuits, skirts, dressy attire, often a bit more laid-back 
Casual: Reserved for beach, backyard, and outdoors weddings- guests can arrive in anything, including jeans 
You can include a brief description/ what it means if you're worried your guests may not do their research.  
Question: What's the etiquette for COVID and planning a wedding? 
Answer: Either on your wedding website or your invitations, you should include a message about COVID if you have health and safety concerns. For example, a friend of my boyfriend's required guests to be vaccinated or have a negative test. Some still require masks at weddings. Others don't have any requirements at all. The etiquette is that you should be upfront if you have health standards ahead of time. That way guests can make decisions for themselves.
Final Thoughts/ Verdict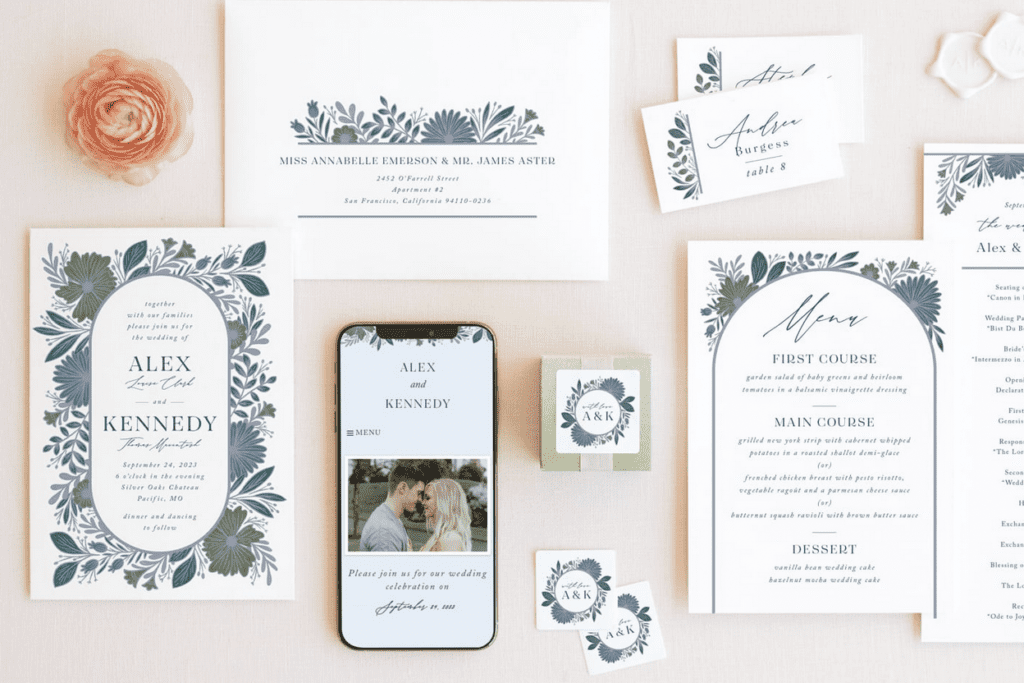 That was a difficult decision to make. Zola offers far more for all-in-one wedding planning, but the website designs are superior through Minted. For a website alone that's personal and unique, Minted is better. As an all-over wedding service, Zola is.
But considering concerning reviews and issues, I'd only recommend using Minted or Zola for their websites primarily, and lean towards Zola as they allow for easier video uploads. As such, of the two, I prefer designing with Minted and I prefer the registry options with Zola slightly more. So: Zola's registry + video uploads make it my slight favorite here, unless you want to all in on the design of your site.
Wedding Services | Zola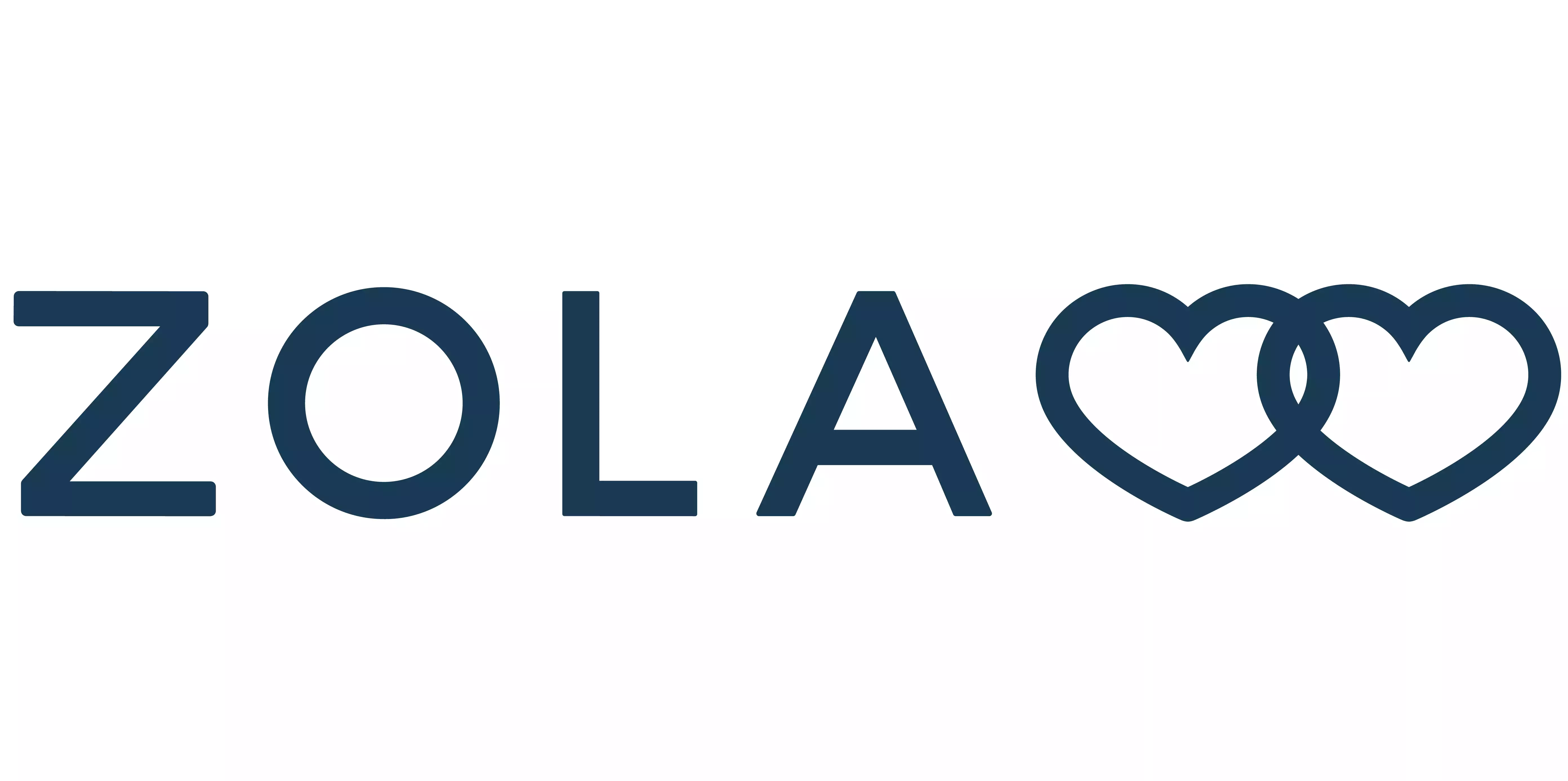 Why I Prefer Zola:
I am often asked, "what is the best wedding registry service?" While it can depend on a few factors, my #1 go-to choice has to be Zola. It is more customizable and features hundreds of additional merchant integrations.
Get the Best Registry
We earn a commission if you click this link and make a purchase at no additional cost to you.
There are just too many concerns to recommend Minted or Zola's wedding registry alone, if that's the only feature you need.
Zola and Minted Alternative?
There are a few other alternatives out there worth considering for different use wedding situations.
The Knot
The Knot is another relatively well known option for end-to-end wedding events planning. You can check our our Zola vs The Knot comparison for more information.
Honeyfund
Honeyfund started as more of a financial planning tool for honeymoons & weddings. They've since expanded their feature set, but still a top option for planning (and saving for) honeymoons, specifically. Check out our direct comparison between Zola vs Honeyfund for more details.
WeddingWire
WeddingWire is another option, primarily suited towards finding your ideal wedding venue, BUT they also have a growing suite of wedding planning tools. You can learn more via our The Knot vs WeddingWire comparison.
Amazon Registry
If all you need is a simple wedding registry, Amazon Registry is a free option that gets the job done. Just note that it's exclusive to Amazon products. Learn more via our Zola vs Amazon Registry comparison.
MyRegistry
Similar to Amazon, if you just need the registry features, MyRegistry is like Amazon, but merchant agnostic so you can add any stores you want. Read our Zola vs MyRegistry comparison for more info.
Blueprint
Blueprint combines a great registry functionality with an easy-to-use website builder. They don't offer ALL the features of a Zola, or The Knot, but if the website + registry are the big 2 features you need, it's worth considering. Learn more with our Zola vs Blueprint evaluation article.
Wix and Hitched
For now, a lot of wedding planners are websites are struggling with their registry options. My best friend is getting married soon, and I'd recommend to her this same option. Both Wix and Hitched are website builders that are easy to use, free, and customizable– without the concerning reviews.
Hitched is more specialized, offering guest surveys as well as basic design templates. Both websites offer premium and basic layouts and URLs. You'd need to provide a link to your registry, and neither offers all-in-one planning. Still, there's a lot of room for flexibility, and you can choose a registry you love and trust. View Hitched Here or Create with Wix Here.
Wedding Services | Zola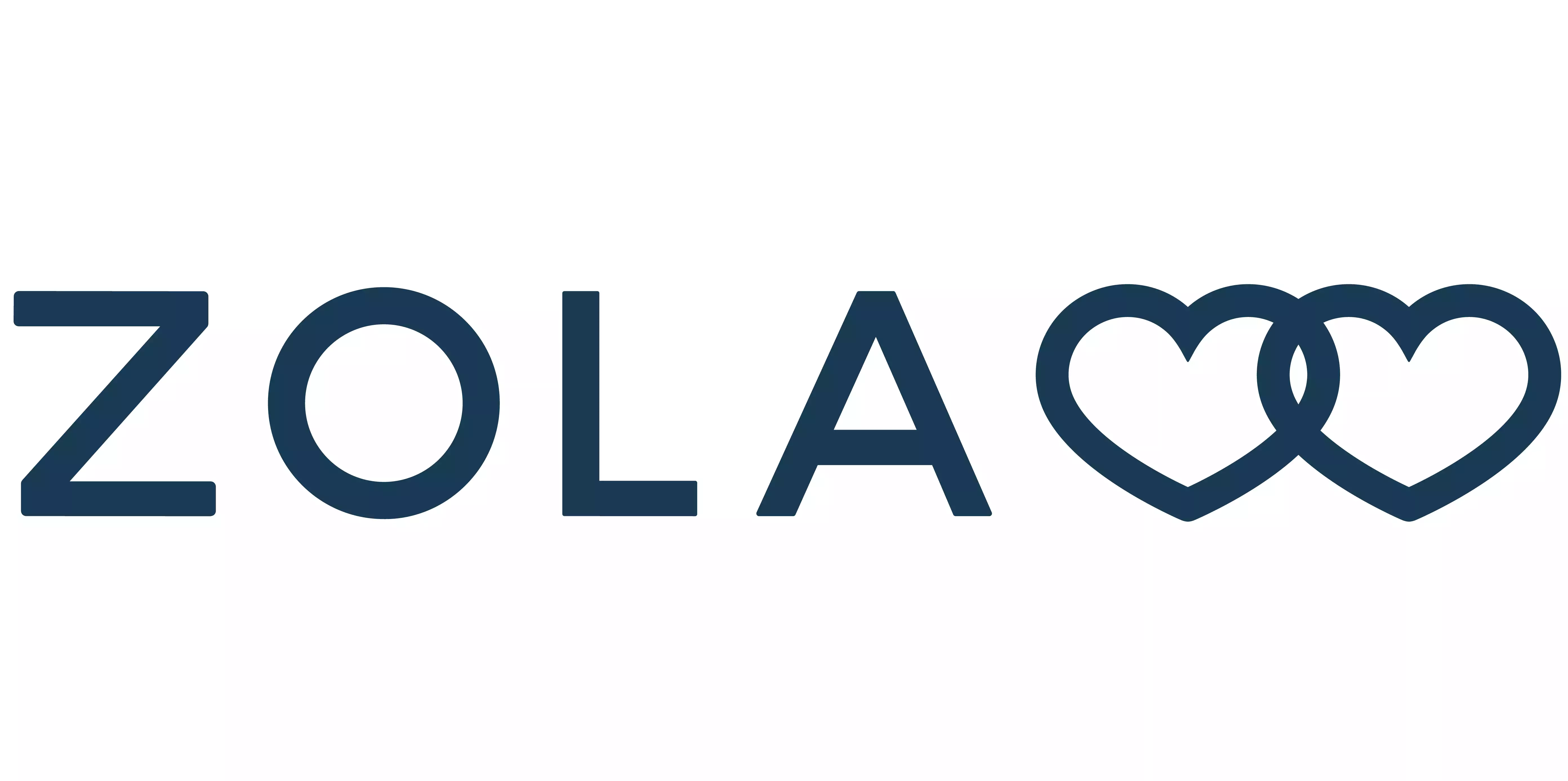 Why I Prefer Zola:
I am often asked, "what is the best wedding registry service?" While it can depend on a few factors, my #1 go-to choice has to be Zola. It is more customizable and features hundreds of additional merchant integrations.
Get the Best Registry
We earn a commission if you click this link and make a purchase at no additional cost to you.
Recommended Reads: