Latest posts by Jeanette Kierstead
(see all)
Vintage wedding gowns are romantic and incredibly popular. Many modern gowns are inspired by vintage choices, but you might want to wear a vintage gown that is made from authentic, aged materials, or styles that are second hand. You can ask a relative if she has a gown worn at her own wedding years ago, or you can search for a vintage wedding gown of your own.
Eras for Great Vintage Wedding Gowns
The gown that you choose will depend on the era that inspires you. A 40s or 50s, tea-length gown, an Art Deco design reminiscent of the 20s, or satin with cap sleeves and intricate beading from the 30s are all styles that bring to mind romance and an old Hollywood style that might be the perfect theme for your wedding.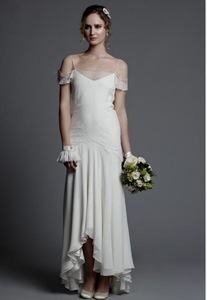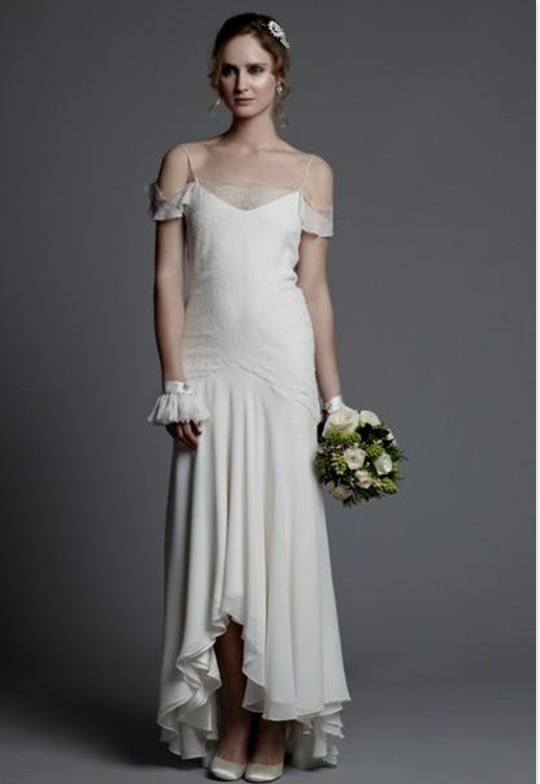 Fabrics and Styles
The color of the gown often reminds of a vintage gown. Champagne, ivory and off-white are great choices for the bride who wants to pick a modern vintage style while still giving off an old-world luxury and romance.
The fabric that you choose doesn't instantly lend itself to a vintage style, although, some satin and lace combinations will look vintage because of the interaction they have in the design itself.
If you're finding a gown from a relative, in a second-hand store or a boutique catering to vintage pieces, you'll want to inspect it thoroughly. Check the seams for fraying. Inspect the material for worn spots. Look for spots or off-colored areas of the fabric. While some old gowns can be refreshed, others are irreversibly stained and yellowed with age. They can't be whitened or cleaned without ruining the fabric.
Vintage or Inspired
If you have your heart set on a vintage gown, you might want to choose a modern dress design that has been inspired by the era that you love. While a gown from a long-ago era might seem more authentic, it can be difficult to find exactly what you want. They're often one-of-a-kind dresses that are only available in a limited amount.
5 tips for Choosing Vintage Wedding Gowns
Learn What Inspires You
Look through pages of old magazines, websites, and books that will have pictures of old dress styles. The dress styles don't have to be wedding styles for you to draw inspiration or learn what you love. You might see everyday dresses from the 1950s and realize that you love the designs and emotions they invoke in you. It could be the length of the dress, the lace or beading details in the bodice, or the types of sleeves and materials that are what draw you into that particular era. Take note of what inspires you.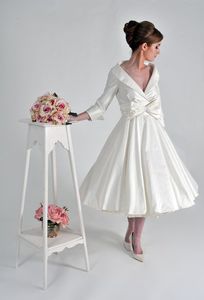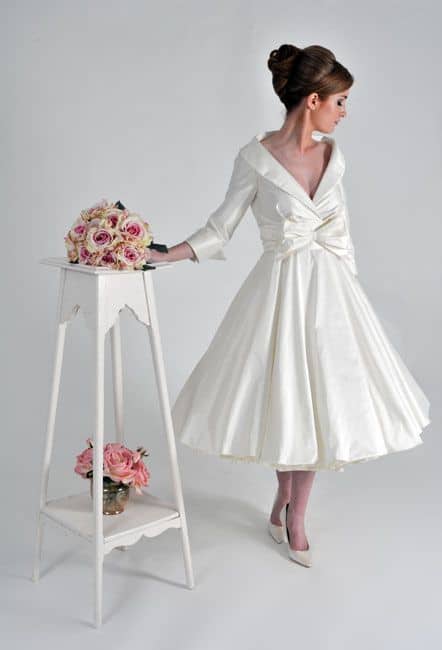 Pick an Era
Once you have the parts that have drawn you into the style, find the era that works to provide all the design elements you love most. In some cases, you might like only one part of an era like the beading of the bodices available in the Art Deco style. You could certainly avoid purchasing an old, vintage dress and find a modern alternative.
Research Thoroughly
After settling on what you love about the era and whether you can get those details in a vintage gown or a modern gown inspired by vintage details, it's time to start your research. As you look online or in boutiques, you'll slowly learn what pleases you the most about these dresses as well as details that you don't want. While you might want a 1940s-inspired dress, you might not love the tea-length of the skirt. Other elements will have to be considered to give you the type of dress that you want.
Find a Vintage Dealer/Shop
If you can partner with a particular dealer, designer, or shop, they'll be on the lookout for the perfect gown for you. Leaving your name and number as well as the details of the dress will guarantee a call from the shop. They know they have an instant customer for a certain dress or style when you've left contact information. It would be crazy for them not to call you.
Be Ready to Buy
After all the research, once you see a dress you love, you have to be willing to jump right into the purchase. Vintage dresses can be rare or one-of-a-kind, which means that if you miss the opportunity, there might not be another. It would be terrible to miss buying the dress of your dreams after doing all that research.
Vintage Wedding Gowns – Final Thoughts
A vintage wedding gown can be the perfect dress for your old Hollywood, quirky, or romantic theme. You'll have to decide what kind of dress you want as well as what will fit in with the theme of your wedding. You can certainly pick a quirky dress from the 50s to go with your rustic wedding, but an overly romantic dress with rhinestones and flashy gems might not be the best choice. On the other hand, this wedding is your day to shine as you see fit!