Latest posts by Jeanette Kierstead
(see all)
As we covered previously, vintage dresses are great for old Hollywood themed weddings as well as romantic or quirky weddings where the bride doesn't want to look traditional. As we all know, the bride wants to be the center of attention, and with that attention, she wants her guests to see her personality. She's more than just a bride walking down the aisle. She's a person with hopes, dreams, and a sense of style that is uniquely her own. That should shine as she walks towards the man who will stand beside her for the rest of her life.
Our Favorite Vintage Lace Wedding Dresses
We've chosen a few wedding dresses that we absolutely love. They're vintage, meaning they are from an era that is not current. Some of these dresses are confined to an era like the 1920s, which you can see by looking at the style, which is distinctive. Others are vaguely vintage with a few details that ensure they are not modern looking but still elegant and beautifully stunning.
Kayamiya Women's 1920s Beaded Geometric Pattern Long Dress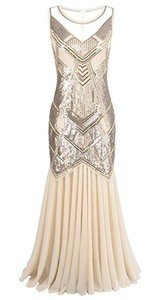 We picked this dress out of the prom section, but it's a wonderful champagne color with rich detail down to the dropped waist of the bodice. There are beads and sequins on this dress that will make it sparkle and shimmer as the bride walks down the aisle. It's a style that screams romance and old world elegance. The back of the dress has a zippered closure with illusion panels that make it look backless. The dress comes in sizes small through x-large.
---
Anna-Kaci
Vintage Floral Embroidery Detail Lace Ruffle Gatsby 1920s Dress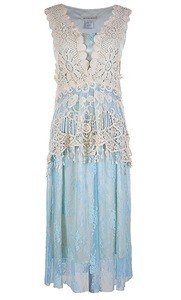 This dress is inspired by the 1920s, Gatsby era with vintage ruffles and a bodice with a low v-neck. This is another dress that wasn't pulled from the wedding section. You should never be afraid to wear a dress that speaks to your style even if it isn't labeled as a wedding gown. This one comes in a variety of colors from light blue to pink or beige. They're all beautiful colors for the bride who isn't scared to wear a non-traditional color. Perfect for outdoor weddings, too. The top is lace and crochet scalloped edges. There are only two real sizes for this dress; small/medium or medium/large. You'll need to go by the size chart to find the right size for you.
---
Abaowedding Women's Elegant Sheer Vintage Short Lace Wedding Dress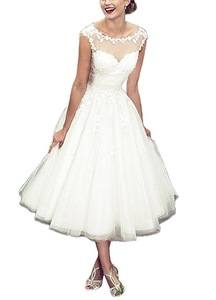 As far as 1940 and 1950 dresses go, this one is truly beautiful with its lace and illusion bodice with sweetheart neckline. It has an applique of lace around the edges of the mesh, too. It's a tea length, which is cute as well as being elegant for your wedding day. The back of the dress is fitted with a corset for a more adjustable fit. There's the option to provide a custom size to the manufacturer and brides are encouraged to do that. It's available in sizes 2 through 26, but customers report that the dress runs a bit small. Be careful when ordering.
---
GownTown 50's Vintage Party Dress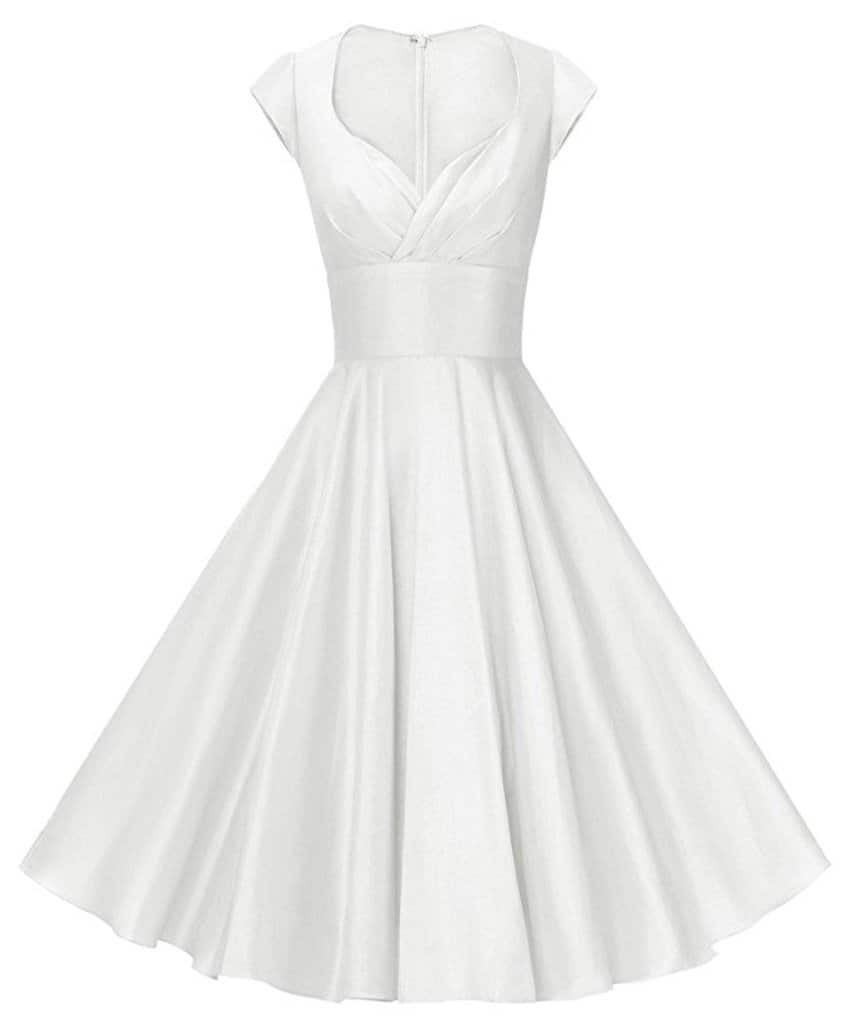 A wedding gown from the 50s doesn't have to come from the wedding gown section. This choice was from the section of party dresses and they come in a variety of other colors. In fact, you may decide to dress your entire wedding party in some of the light colors while wearing white yourself. It would make a unique bridal party. The dress has a cap sleeve with a v-neck that is gathered at the bust. The wide belted area at the waist makes it a lovely style from the 50s. The dress comes in x-small through x-large. Most customers said they received the size they ordered with no surprises.
---
Honey Qiao Vintage Lace Country Wedding Dress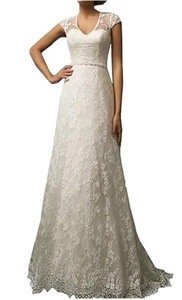 While the other dresses on this list have a distinctive style that screams the era, this is a vintage gown that is elegant and lacy, but doesn't call to mind the era. It has cap sleeves with an illusion top and sweetheart bodice. The rest of the floor length gown with sweep train is covered with lovely lace details. It comes in sizes 2 through 16 or the customer can place a customized order with her measurements.
---
OWIN

Retro Floral Lace Cap Sleeve Vintage Swing Bridesmaid Dress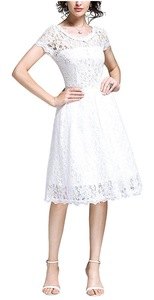 Our final entry on our vintage lace wedding dress list is this lacy swing dress has a cap sleeve and scoop neck. It's slim around the waist and has beautiful edging of lace on the hem. It's made from cotton, nylon and spandex, which makes it a fitted dress that won't get incredibly wrinkled before it's time for pictures. It's available in small through xx-large. While this is labeled as a bridesmaid's dress, there's no reason that a bride can't wear the white version of this dress on her wedding day.
---
Vintage Lace Wedding Dresses – Final Thoughts
These are some incredible vintage style dresses that aren't made from old materials. This gives them a more durable and lovely appearance, and you won't have to worry about the hem or the seams fraying with wear as you would with an actual vintage dress.