Latest posts by Kristen Swain
(see all)
Sterling Silver jewelry has become one of the most popular choices in jewelry purchases. White Gold jewelry is popular as well, but there are differences between the two types of metal. Which metal should you choose when looking at a new jewelry purchase? Let's compare and contrast Sterling Silver and White Gold metals.
The Main Differences Between White Gold and Sterling Silver
White gold is at the highest grade, 18 karats pure gold, whereas sterling silver is 92.5 percent silver

White gold is higher in value and is more expensive, whereas sterling silver is less valued and is more affordable.

White gold requires recoating to keep a white luster, whereas sterling silver needs regular cleaning to keep from tarnishing.

White gold is scratch-resistant and more durable, whereas silver is prone to scratches and softer than gold.

White gold is less brilliant and can have a yellow tone, whereas sterling silver is more brilliantly white-toned.
What Is White Gold?
White gold is measured in karats. Pure gold is twenty-four parts gold. However, pure gold is too soft to be used for jewelry. When gold is blended with other alloys, it becomes fewer karats, such as 18k, 14k, and 10k gold.
Gold with fewer karats becomes harder the more other metals are added. When white gold is created, it is mixed with other metals such as nickel, palladium, and silver.
Periodically white gold needs to be recoated with Rhodium by a jeweler to keep its white coloration. If the metal is not recoated, it will develop a yellow tone; this tone will be more prevalent on wear spots, such as the top of a ring, the prongs, or anywhere the ring is most likely to be rubbed. White gold is more impact-resistant and will not corrode as silver tends to do.
Gold has always been attributed to wealth and divinity; it has been used as decor and in worship for millennia. Gold is considered the standard for deciding wealth and is considered a show of how wealthy a person is by wearing pieces of jewelry in certain places, such as rings, to show land ownership or royalty. Gold has been used as currency and is still considered the standard for money throughout the world.
What Is Sterling Silver?
Pure silver, while valuable, is much too soft a metal to be used for jewelry. Most silver is combined with other metals, called alloys, to make the silver more durable and sturdier. Sterling silver is the most common precious jewelry metal and is called 'sterling' because of the percentage of silver, which is 92.5% silver, and 7.5% other alloys.
To verify that your jewelry is real silver, make sure you find the 925 stamp on the metal. Rings will have it inside the band, and most necklaces will have it on the clasp or on a small ring on the clasp.
Silver has been long associated as a precious metal similar to gold. It has been treasured throughout history both medicinally as well as ornamentally. Silver has been used as currency and is still a form of money in many countries worldwide.
What Similarities Do Sterling Silver and White Gold Share?
Both metals are mixed with alloys of copper. Yet, both metals are also white or silver-toned and are very similar in appearance. The silver-tone of both metals can work well with any skin tone and are universal for both men and women.
This metal tone also works well with all gemstones, as it mostly blends in with a lot of gem colors or sits as a secondary color allowing the gemstone to be the focal point of the jewelry piece.
Both metals require some maintenance. White gold needs to be recoated periodically, and sterling silver requires cleaning on a regular basis to keep from tarnishing.
The hardness of both metals is very similar; the higher karat weight of white gold means that it will be about the same softness as sterling silver. Lower karat weight, such as 10k white gold, will be just as durable as sterling silver. White Gold is actually an alloy made with gold, silver, copper, nickel, or palladium. There is actually silver in most white gold.
Recommendations for White Gold Jewelry
Classic Name Necklace
A personalized name necklace is always a treasure to have. Your unique name spelled out in white gold that will shine from your neckline or be given as a gift is sure to be cherished throughout a lifetime.
The necklace name is available in three different sizes, from small to medium to large. The name pendant comes on a sixteen-inch box chain white gold necklace that is thick enough to hold the pendant well without feeling overly delicate.
Women's Genuine White Diamond 10K White Gold Cross Pendant Necklace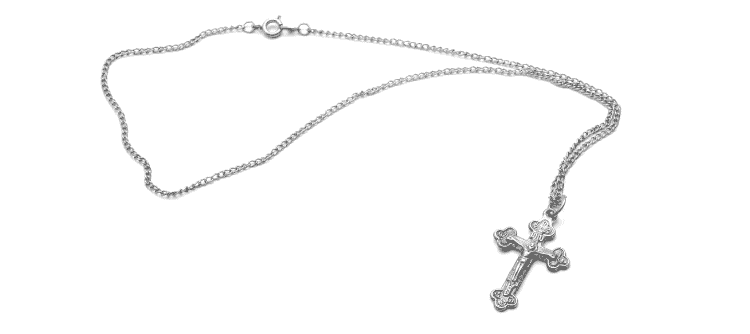 This eighteen-inch chain holds a sideways diamond-encrusted White Gold cross pendant. The sideways cross allows you to wear a pendant without it hanging down your chest and perhaps tangling or getting caught on your blouse.
The twenty-three diamonds that make up less than a tenth of a carat of diamonds allow for a small sparkle to give attention to the cross. Being made from 10K white gold, this cross is a piece that will bring you joy for many years to come.
18″ Open Heart Pendant in 14K White Gold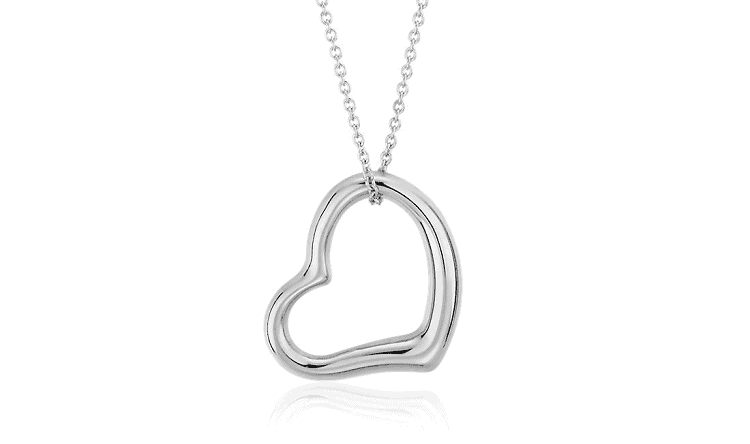 This classic open heart pendant necklace is a must-have item for everyday wear. It is perfect for everyday office wear as well as a pretty necklace to wear out at night; the eighteen-inch cable chain loops through the open heart to hold the pendant in a medium-length necklace.
The softened heart shape is a more gentle look for the pendant and hangs from a point instead of a created hook and can be spun to hang at different angles. The polish of the heart is shiny and without texture to ensure that you see a soft shine instead of points of light.
Birthstone Love Knot Ring

This pretty 10K White Gold Birthstone ring is two loops knotted together, holding your choice of gemstone in the center of the knot. You can customize the ring to your birthstone as well as personalize the setting metal. Add a precious gemstone and an engraving and create a heritage piece that can be passed down.
Diamond Cut Heart Stud Earrings in 14k White Gold

With all of the sparkle, these diamond-cut heart gold studs will glitz and glimmer without gemstones. These earrings are about pea-sized and will be dainty on your ear while also being large enough to catch the light. The post-backs hold the studs securely against the ear lobe.
Although these studs are simply hearts, they are quite decorative, and the light will catch the dips and divots in the etching to make them sparkle.
Recommendations for Sterling Silver Jewelry
Silpada Wrapped Up Ring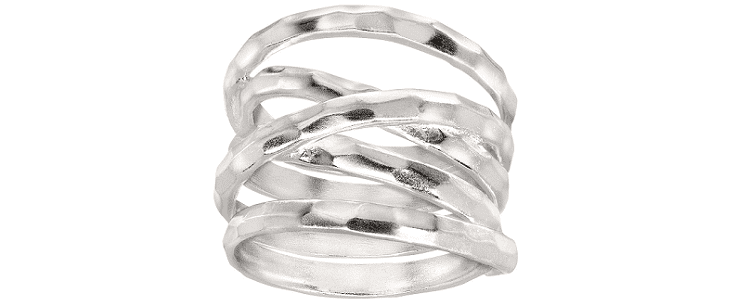 One ring that looks like five rings with overlapping bands loop on your finger. This pretty ring features hammered bands that will catch and reflect soft light. The sterling silver is lightly polished and shines brightly.
This ring is reminiscent of sundresses and summer days, shining brightly in the sunshine. The multiple loops on the band give you a fun design while still giving you the ease of wearing a single ring.
925 Sterling Silver Ring Hand Engraved Old English Design with Polished Edges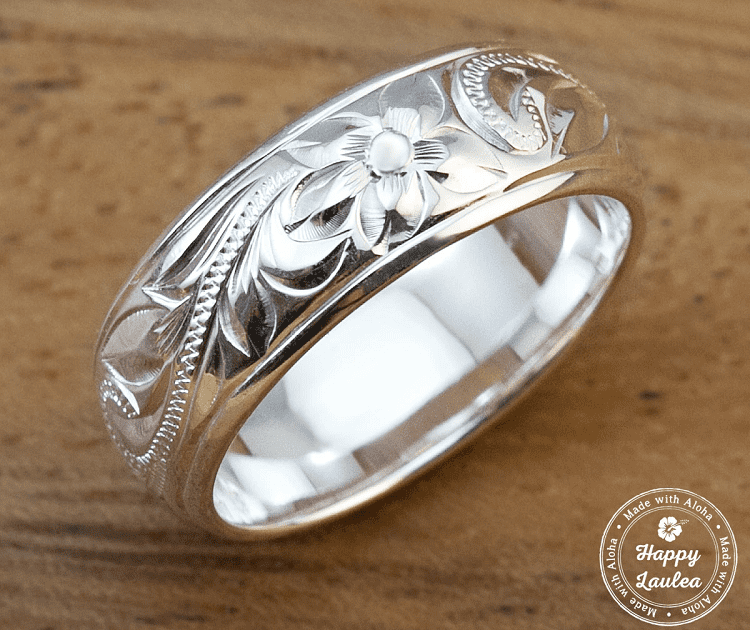 This medium-wide band ring is etched inside to show a beautiful floral design. Flowers, leaves, and vine-like shapes are detailed in the center of the band. Some of the elements, such as the flower center and the vine-like shapes, are also ridged with additional detail to create texture in the etching.
Rings like this one shine and catch the light in the cut parts of the etching and make a sparkling ring without adding delicate gemstones. Personalize the ring with a free engraving; add in details special to you to remember the purchase of this ring.
Ross-Simons Sterling Silver Jewelry Set: Three Link Bracelets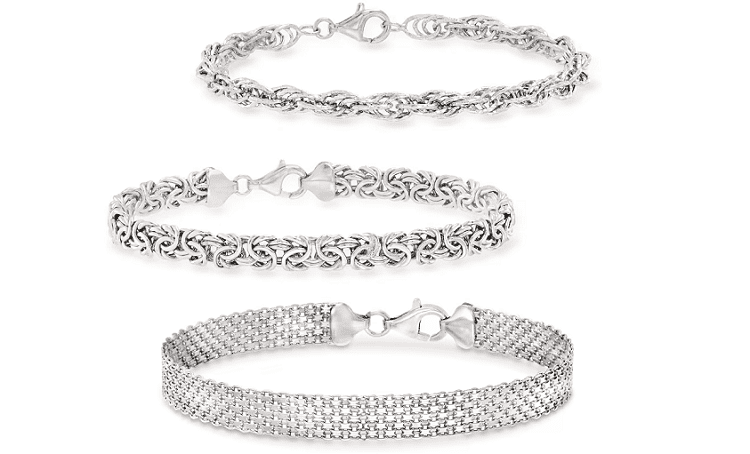 This trio of Sterling Silver bracelets is a great price, under a hundred dollars, and features three unique bracelets. Wear a single bracelet or layer them to add more flair. Each bracelet has a different width and texture.
The Rope, Byzantine, and Bismark link bracelets are mix-and-match, a blend that, when worn together, is a beautifully textured trio. Each bracelet has a lobster claw clasp to ensure ease of wear as well as a secure clasp.
Jared Heart Necklace 1/20 ct tw Diamonds Sterling Silver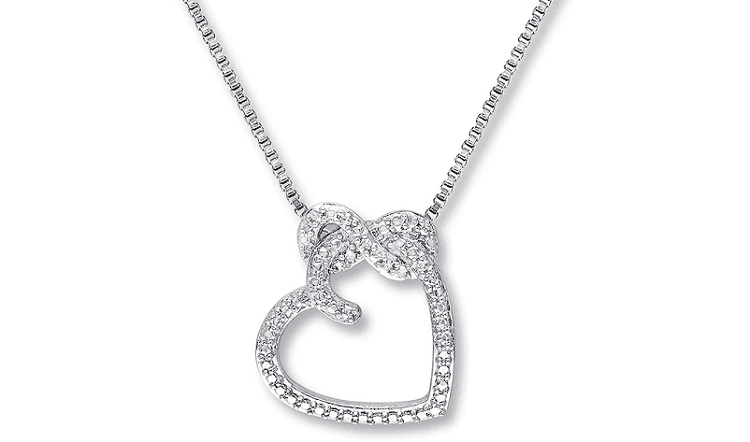 Infinite Love; this box chain necklace holds an infinity symbol that is looped through with a heart. The infinity loop and heart are both accented with one-twentieth of a carat of diamonds.
The unique sterling silver pendant glitters with tiny accent diamonds. The pendant is hooked onto the box chain with a loop in the back of the pendant so that it can dance as the wearer moves around.
The infinity symbol and heart are one solid shape and do not move independently of each other. This necklace is a great white gold look alike.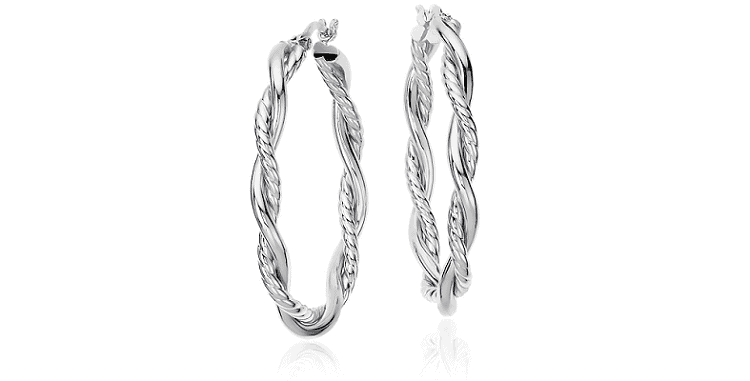 These classic twisted hoop earrings are a great long-term investment as they will not ever go out of style. One side of the twist is solid sterling silver; the other side is a textured rope. Both sides will catch the light while moving slightly in your ears.
The one-and-a-half-inch length gives them a little bit of length to hang down, but not in a trendy way, so they will be jewelry that goes with almost every look. The post with hinged backing allows the earring to loop completely around the ear lobe and give a solid loop look. Perfect for day-to-night looks and just a pretty pair of somewhat simple hoop earrings.
FAQS
Question: What Does Gold Represent Spiritually?
Answer: Throughout history, gold has been associated with the divine in both Christianity and pre-Christianity. The golden shine, its durability, ease of transformation and malleability, and its rarity have given rise to the ideals of divinity. It has long expressed the human adoration of the divine.
Question: How Can You Tell if it's White Gold?
Answer: Various precious metals have stamps or markings to verify the type of metal. Platinum will have a stamp of PT or Plat. White Gold will be marked with a 9K, 10K, 14K, 18K stamp. Sterling Silver will have a 925 stamp to show that it is 92.5% Silver. These markings are generally placed in a hidden or less obvious spot on the jewelry piece.
Question: Why Does My Gold Chain Make My Neck Black?
Answer: Gold is an alloy metal created to harden the metal for better durability; the more alloys, the more chances for those metals to react to chemicals, soaps, and even skin oils.
The copper, nickel, and silver that is part of the metal combination can turn your skin underneath the jewelry, black or green. This can be corrected by getting a jeweler to coat your jewelry in a Rhodium coating, protecting your skin from those alloy metals.
Question: Can White Gold Rust?
Answer: White gold will not corrode, tarnish, or even rust. Gold is easier to work into fine details than platinum and is less expensive. It is an alternative metal if you want the look of platinum but the affordability of white gold. Gold is much more malleable than platinum is, so if you want jewelry with detailing, White Gold is the better choice.
Question: How Long Does White Gold Last Before Needing to be Recoated with Rhodium?
Answer: The average lifespan of the Rhodium coating on your ring is between one to three years. At this time, the wear on the coating depends on a few factors; frequency of wear, chemicals, cleaning agents, skin acidity, and daily tasks will all impact your jewelry. Your skin acidity can cause more wear on a jewelry piece than on other persons.
Keeping your rings on while exposing them to sanitizers, hand soaps, dish soaps, and even showering can wear the coating faster. A repetitive task that rubs on the ring can also wear the coating off more quickly. Keep an eye on your jewelry piece at the most exposed part of it, and if you see any yellowing, that is the sign that it is time to take it to the jewelers for recoating.
Conclusion
It is a toss-up for an easy pick between the two metals. Durability and color are especially similar in both white gold and sterling silver.
Availability isn't much of a factor as both metals are easy to find in many beautiful pieces. Investment is also a decision when considering both metals, and white gold is a little more valuable than sterling silver, but neither holds a high price value for long-term investment pieces.
If cost is a factor, and I think it is for most of us, then sterling silver is the best choice. Sterling silver holds up just as well as white gold and looks very similar in color, but the cost of white gold is about three times as much for the same jewelry piece in sterling silver.
Sterling silver will last for just as many years as white gold. With the quality of sterling silver today and the advancement of metalworking, it does not tarnish as quickly as it once did in the past, and regular wear of silver pieces helps to keep your jewelry clean and bright.
Looking for more interesting readings? Check out: