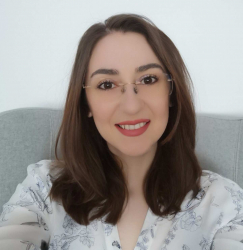 Latest posts by Alexandra Gavrilescu
(see all)
At the beginning of the '90s, a jewelry company named Hearts on Fire made its debut on the market. By comparison, this brand is much newer than most of its competitors. However, due to the seller's smart marketing campaigns and the brand's catchy and emotive name, Hearts on Fire has rapidly grown and acquired a lot of popularity among clients and celebrities alike. So, let's dig in in our Hearts on Fire Diamond Review, and find out why this is a great company buying from.
Hearts on Fire Diamond Review – a Brief History of the Company
The seller markets a unique and patented cut and its business model is highly ingenious. Two things that have made this brand so well-known and profitable are the strong branding and the products' personalization. The company was founded in 1996 by the Rothmans, Glen, and his wife, Susan. The manufacturer is located in Boston.
What began as a single diamond wholesale business has grown into more than 550 retail stores that can be found all over the globe. Rothman's business dream was ignited in 1978 when he took a trip to Belgium. There, he saw the ideal pattern of Hearts and Arrows which encouraged him to develop a diamond wholesale company focused on optimized cuts.
Once the first collection of the company went on sale, the manufacturer's products became the latest benchmark for the industry of designer diamonds. Their whole collection was sold out in just a couple of weeks.
Hearts on Fire has gained several important business partners and has expanded the collection and presented the Dream diamond, in 2002. This diamond featured similar characteristics to the initial stone in terms of brilliance and intensity but it had a square cut.
In 2006, the manufacturer provided its impressive diamonds at the popular Victoria Secrets runway show. The legendary Fantasy Bra was covered with Hearts on Fire diamonds and, till this day, it is among the most expensive clothing items ever created.
Why Have They Chosen This Brand Name?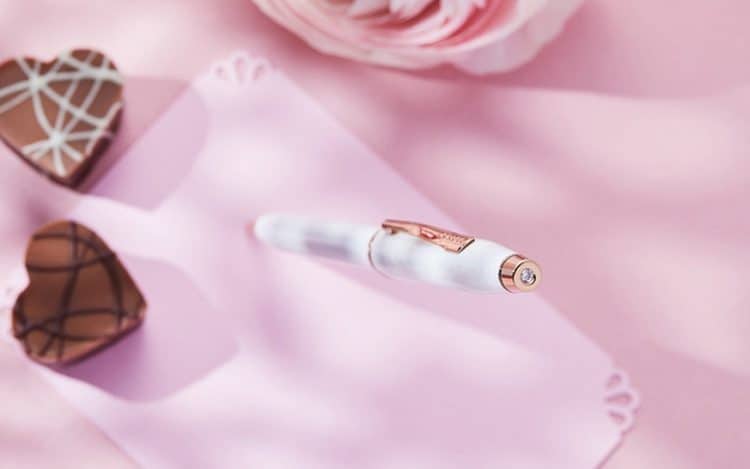 According to the company's representatives, they've chosen this name because it symbolizes the beauty and uniqueness of the precious stones but their diamonds come at a pretty steep price. Even though the company was sold in 2014, to Chow Tai Fook, for $150 million, the brand is still appreciated and valued by its clients.
I really like the name of the brand because I believe it sends positive emotions. The words "fire" and "hearts" send a nice feeling linked to love and warmth. The first two words ("hearts on") represent a smart way to lead our mind to the optical characteristics of these types of diamonds, the standard round brilliant cut.
"Fire" is the second important word in the brand's name that means dispersion and symbolizes the beautiful way in which a diamond sparkles and reflects natural light. Moreover, most people who're purchasing diamond engagement rings have their hearts on fire due to love.
Hearts on Fire Diamond Review – How It Works
The company was launched to make people who're in love even happier and women to enjoy wearing the most beautiful rings available on the market. Obviously, the owner's purpose was also to make money and grow a profitable business. After all, that's one of the most important goals of any branded diamond company.
For the consumer, the main advantage of buying branded diamonds is given by the product's quality which is significantly higher compared to a more basic chain jewelry store. Quality standards are very important for well-known and reputable brands.
Still, there are a few companies out there that sell unbranded precious stones of very similar quality. One example is Blue Nile that markets unbranded diamonds at more affordable prices.
Hearts on Fire Diamond Review – the Website

This company's website has cleverly included certain features that you can find on the platforms of some of its competitors. As you browse through their website's offers, you will notice there's a tiny marketing push to encourage you to go to one of the company's physical stores.
This strategy is also met at other popular jewelry businesses such as Tiffany & Co. Still, all those who reside in the United States are able to buy these products online and they will be shipped free of charge.
There are many customers who choose to buy a customized engagement ring and they want to select their desired features, setup, stone cut, and more. Regarding this aspect, Hearts on Fire provides a pretty limited offer. By comparison, other businesses like Blue Nile or James Allen offer a wider range of selection alternatives.
What lacks from Hearts on Fire's description are the more in-depth details about the diamond. There are two available diamond quality options. But, you won't see any high-resolution photos or diamond maps. Therefore, it can be a tad tricky to know exactly what you're about to purchase.
In terms of setting choices, the offer is also limited. Unlike its competitors that have endless online inventories, Hearts on Fire provides a narrower selection. In my opinion, they should do whatever is needed to expand their collection if they want to stay afloat in a highly competitive online retail market.
Live Chat Option
Although there's a live chat option on the website, it lacks detail and promptness. The chat is, however, helpful and guides you through specific phases of selecting a ring that you might consider a tad trickier.
All in all, the Hearts on Fire website is alright and pretty easy to use. The interface is quite basic. They should include some more details about the diamonds. Other competitors such as Whiteflash have platforms that send a sense of luxury which is not the case with Hearts on Fire.
The Products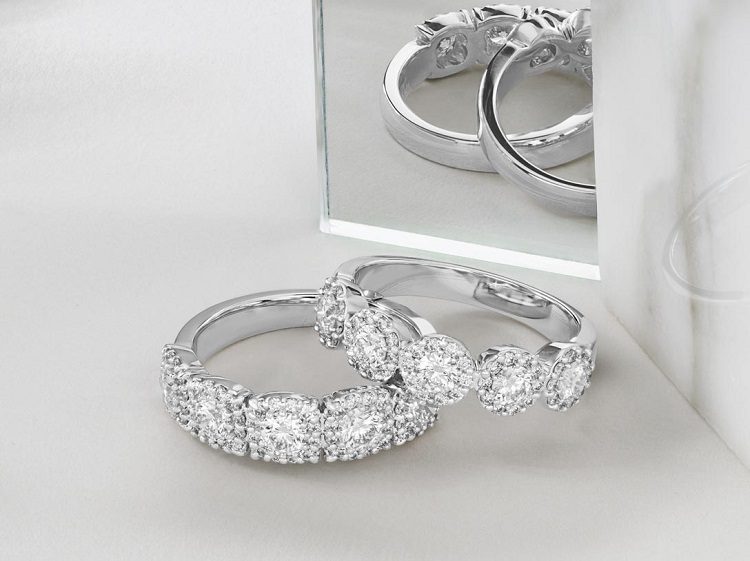 The company promises to offer the most beautiful diamonds in the world with their perfect cuts and exclusive designs. There are two types of diamonds that this seller provides:
Signature – for the signature diamonds, we're talking about a color range from I to J and a clarity of VS1 to SI1;
Sensational – these diamonds have the same clarity as the ones mentioned above but the color ranges between G and H.
My problem with these diamonds is that I'm not completely sure what I am buying since the website doesn't offer all the necessary details. I am not against paying a higher price of premium and branded precious stones as long as they come with a full description.
At the same time, most people consider that the Hearts on Fire diamonds are of very good quality. Even if you place one of these diamonds next to another diamond taken from a popular chair jeweler, you will still like the Hearts on Fire alternative more.
However, the prices required by this company are quite ludicrous, considering that many other retailers market good-quality diamonds that are also GIA-certified. In regards to the cut, I completely agree with what the company is saying – they provide great cuts indeed.
On the clarity and color aspects, I disagree with their approach. The kind of strategy they're applying is only seen in lower-end retailers. Also, saying that their products are rare and exclusive is also a bit misleading. Yes, the round brilliant cut is gorgeous but it isn't unique or revolutionary.
Pricing
Overall, Hearts on Fire markets great diamonds. Still, when you consider all the factors and compare all the company's services along with the diamonds' characteristics, you become aware of how huge their prices are. They're simply too high and HOF diamonds, as good as they are, aren't worth those price tags.
For starters, clients aren't able to search or select an individual stone. I should mention that the final price does include a simple platinum band. Even so, I don't really want to cover an extra $5,000 cost for a band and a setting.
If you add a platinum setting to a HOF diamond, the final cost will go up to over $10,000 which is much higher than the price of one of the company's competitors, Whiteflash. What I am saying is that Hearts on Fire should reassess its prices and come up with a more realistic alternative.
The Return Policy
The company offers a standard money-back guarantee that's available for 30 days since the purchase. They provide customers with a full refund as long as the returned items are in their initial condition. The full refund policy applies to all products, including engagement rings if their size is at least 4 and lower than 8.
Packaging
Some might expect more from the boxes in which Hearts on Fire engagement rings come in due to the fact that the company markets itself as a seller or premium products. I was picturing luxurious boxes made of leather or velvet, with gold gilded edges.
Unfortunately, I was a bit disappointed to see that, although they are pretty and elegant, the boxes are basic and similar to the ones a chain jeweler would offer. That doesn't really represent a real disadvantage but it won't ignite the customers' excitement either.
For other, more powerful brands such as Tiffany & Co., a small detail or an appealing color will easily do the trick due to the popularity and reputation of the company's name. Therefore, some people believe that Hearts on Fire could work a bit more to compete with those other jewelers at the very top of the diamond industry.
How to Choose the Best Diamond Retailer You Can Afford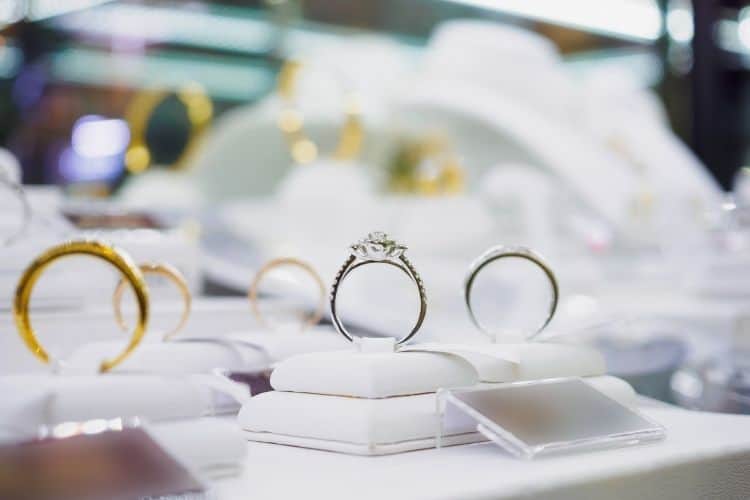 First and foremost, your diamond retailer should be certified and verified by the dedicated authorities. It must be a reliable and trustworthy dealer with a very good reputation. Here are the most important things you must consider:
Reputation – the first thing you must know is the seller's reputation. The easiest way to do that is by reading all the reviews and testimonials you can find, provided or published by previous clients. If you find more than one negative comment, you should start searching for another dealer;
Prices – are the dealer's prices in line with those of other competitors? The most accurate comparison you can do is establishing certain features that you want the diamond to have and request quotes and offers from several dealerships. This way, you will determine the average price of that diamond and see whether or not the retailer you're focused on will overcharge you;
Return policy – if a dealer doesn't provide a comprehensive return policy, you shouldn't purchase from that seller. Choose one that's willing to refund the entire sum you're spending on a diamond and make sure the company puts that in writing;
Products – check the seller's inventory. This is a good way to discover if the retailer's products are of good quality or not. Diamonds should be accompanied by certificates given by respected laboratories such as AGS and GIA. Don't accept inaccurate certificates that lack the diamond's features such as clarity, color, cut, and more;
The amount of information provided on the website – the dealer should be able to provide clear and accurate information regarding their products. Professional and trustworthy sellers will always offer a comprehensive list of details about their diamonds and they will answer all their clients' questions.
Hearts on Fire Diamond Review – Main Alternatives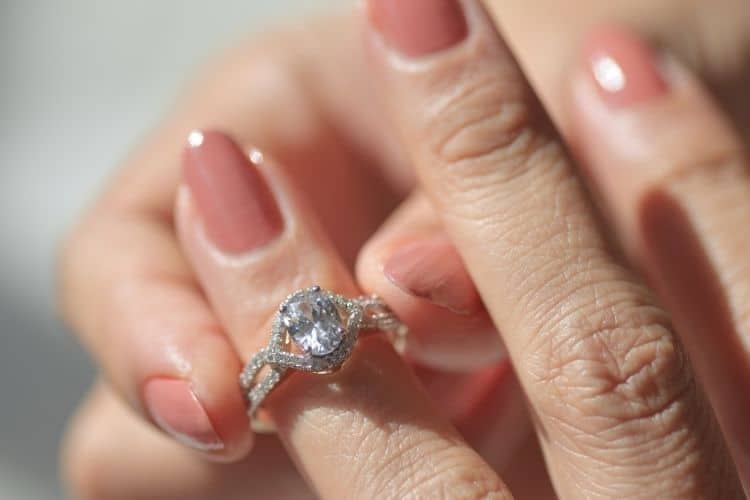 Here are some other popular and reputable diamond sellers that could be a good alternative to Hearts on Fire.
Our Pick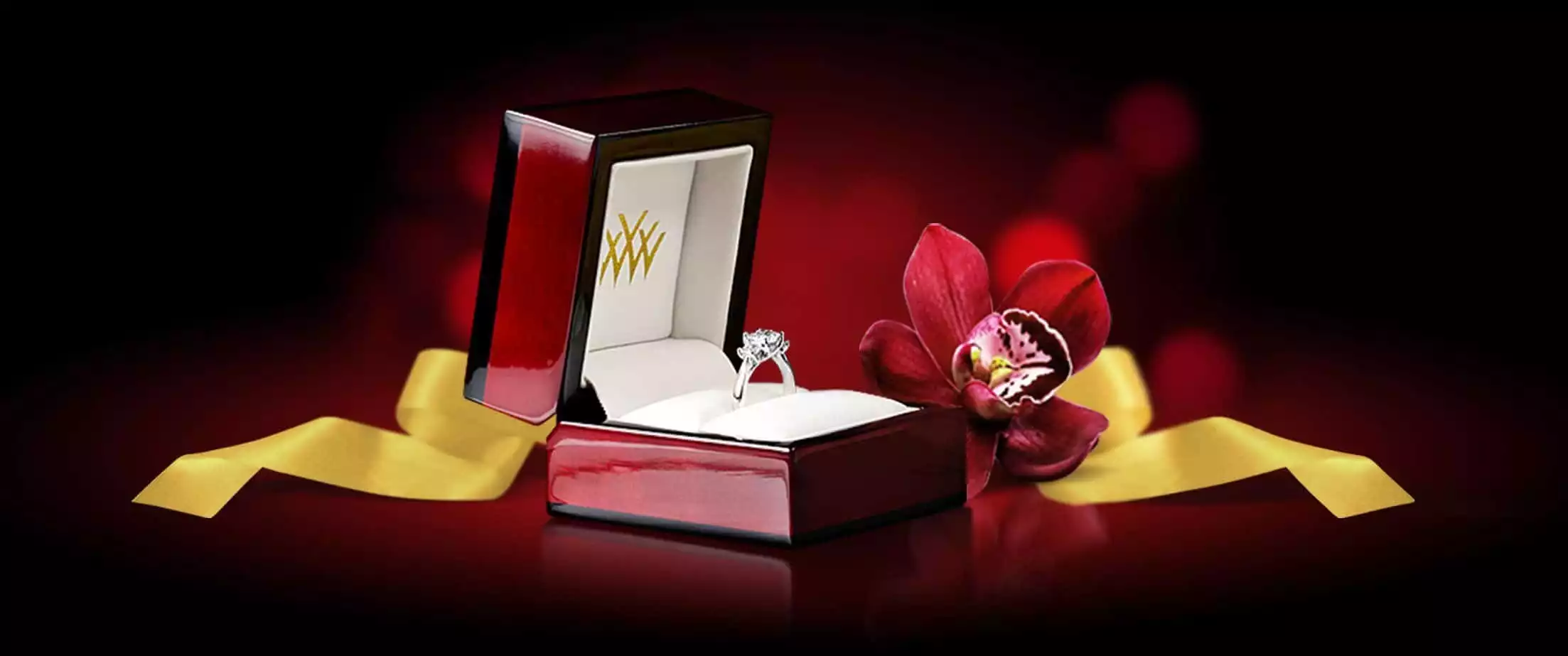 Why Whiteflash is better
Whiteflash is one of the BEST online jewelry retailers I've used. Best in class support, knowledgeable staff, great return policy and an easy to use website. They promote ethicially sourced diamonds and have the credentials to back it up!
Check prices
We earn a commission if you click this link and make a purchase at no additional cost to you.
Whiteflash offers some of the finest engagement rings on the market. Some of the most experienced designers on the planet are creating these products. Each stone sold by Whiteflash has its own unique beauty. The company's website is user-friendly and has a rather modern interface.
This jeweler has come up with many consumer-oriented strategies such as free shipping worldwide, a one-year buyback, and many more. The business has a very large inventory and it is ISO 9000 certified. When it comes to Whiteflash diamond cuts, the company follows strict requirements.
Our Pick
Why I Prefer James Allen
Personally, I love the James Allen 360 degree view customization options. If you want to customize the perfect ring, James Allen is THE best choice with the highest fidelity visuals. Ranked our #1 online jewelry retailer for 2021!
Save BIG With These Deals
Take 30-50% Off Cyber Week
We earn a commission if you click this link and make a purchase at no additional cost to you.
James Allen is a jewelry seller that has a wide selection of diamonds and ring settings. Clients can choose from hundreds of thousands of loose diamonds. The company is well-known for its exclusive collection that's called "True Hearts" diamonds. These precious stones feature ideal cuts.
James Allen allows its customers to minimally customize their chosen engagement rings. For example, you can select your desired ring setting and the precious metal for the band. Not only does this jeweler have a large diamond collection but it's also popular due to its affordable prices.
Our Top Pick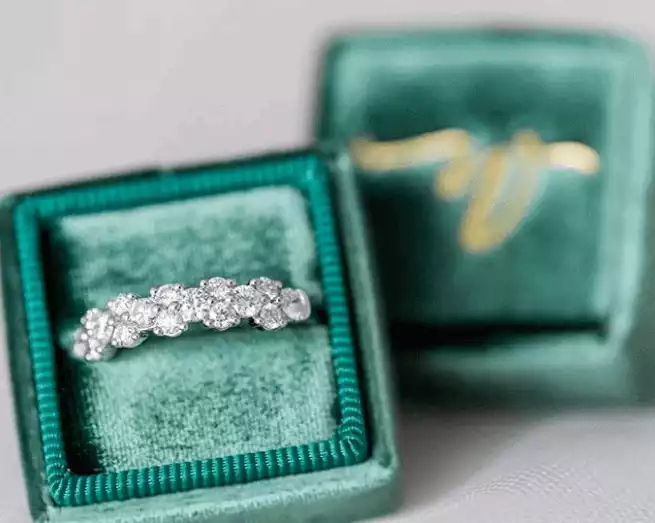 I Personally Prefer Blue Nile
Blue Nile understands online jewelry shopping. They have the deepest inventory of diamonds and settings for ALL BUDGETS. They offer 360 degree REAL diamond images online, so you know exactly what you are getting. Best of all, they've mastered the art of securely shipping jewelry and handling returns or issues with ease.
See Current Deals & Selection
Save 50% off Cyber Week Here
We earn a commission if you click this link and make a purchase at no additional cost to you.
In terms of reputation, Blue Nile is a great diamond seller. It's impossible not to find something to your liking from their thousands of options. Many experts even consider Blue Nile to be a leader and an authority in the diamond industry.
What I like the most about their online platform is the number of characteristics they publish linked to each and every single one of their products.
Most customers say they have had excellent shopping experiences while searching for an engagement ring at Blue Nile. The site is great, especially for those who like to read about all those intricate details of the diamond and not just look at a couple of photos.
FAQs
Question: Why Should You Buy a Diamond from Hearts on Fire?
Answer: You can shop for these luxury products on the company's website. It seems that clients will benefit from numerous advantages if they do that:
• Perfect cuts and stylish designs;
• Free shipping;
• Appealing payment options;
• A great money-back guarantee, available 30 days;
• High-quality stones;
• Free engraving services;
• An excellent payment plan named "Bill Me Later;"
• Lifetime trade-in policy.
Question: Does Hearts on Fire Sell Real Diamonds?
Answer: HOF diamonds are natural (therefore, real) diamonds. In fact, the company has pretty strict rules and rigorous quality standards, and only a very small percentage of the rough diamond crystals mined in the world are sold by this company.
Question: Where Are the Diamonds Sold by Hearts on Fire Sourced from?
Answer: According to the company, all their precious stones are mined from places that are safe for workers. At first, their diamonds came from mines located all over the globe. After a while, HOF became more responsible and they began sourcing diamonds from conflict-free areas, following the Kimberly process.
It appears that HOF diamonds are cut by a group of experienced and skilled Belgian craftsmen, in a facility in Asia.
Hearts on Fire Diamond Review: Drawing to a Close
HOF diamonds are great but their prices are pretty steep so it's quite hard for me to find their justification. But the final decision is yours because, after all, you're the paying client. Therefore, the way you want to spend your money is entirely up to you.
I truly hope my honest Hearts on Fire Diamond review has provided you with some useful insights about the Hearts on Fire diamonds.