Ritani and Blue Nile, two of the biggest names in the online jewelry industry are becoming increasingly competitive–with each other especially for diamond jewelry.
Just three years ago, Ritani, a New-York based retailer, partnered with independent jewelers and local jeweler storefronts to expand its loose diamond collection, diamond engagement ring collection, and fine jewelry, specifically to take on Blue Nile.
That's no easy feat. Blue Nile has a collection of over 150,000 diamonds alone and boasts annual sales of over $200 million. While Ritani doesn't match these numbers, signs are it's on the rise. Ritani was one of Forbes' list of most promising companies for 2015, citing its innovative model of allowing customers to try rings online and try on in-store.
If you're wondering how stiff the competition has gotten with online jeweler companies, you only need to look at the company's sites. Ritani features a comparison chart, claiming it offers more services than Blue Nile does.
Blue Nile does not directly take on its competitor on its site but instead emphasizes what they call the "Blue Nile Advantage", which lists all of the top reasons to buy from Blue Nile instead of a competing retailer like Ritani.
Main Differences Between Ritani vs Blue Nile
The main differences between Ritani and Blue Nile are:
Ritani has an upscale selection of diamonds, whereas Blue Nile has a wider selection of original diamonds
Ritani has a better selection of vintage diamonds, whereas Blue Nile is mainly modern cuts
Ritani has a better collection of sapphire diamonds, whereas Blue Nile collection features only a few
My Bottom Line Up Front: I actually much prefer a DIFFERENT online retailer altogether. If you are looking for affordable prices, amazing selection, and best in class 360 visuals of your diamonds, James Allen is the best online retailer we've tried here. Check our James Allen Review here instead.

Skip Both. Go with James Allen.
Blue Nile and Ritani are decent stores, but I MUCH prefer the more seamless experience with James Allen. They have 360 degree hi-def images of diamonds, better prices, and excellent customer service overall. Our 2021 retailer of the year!
Check James Allen
We earn a commission if you click this link and make a purchase at no additional cost to you.
They're also taking on an even bigger retailer: But while Ritani and Blue Nile are undoubtedly facing off with each other, they're at the same time forced to take on an even bigger giant, the biggest name in e-commerce:
Amazon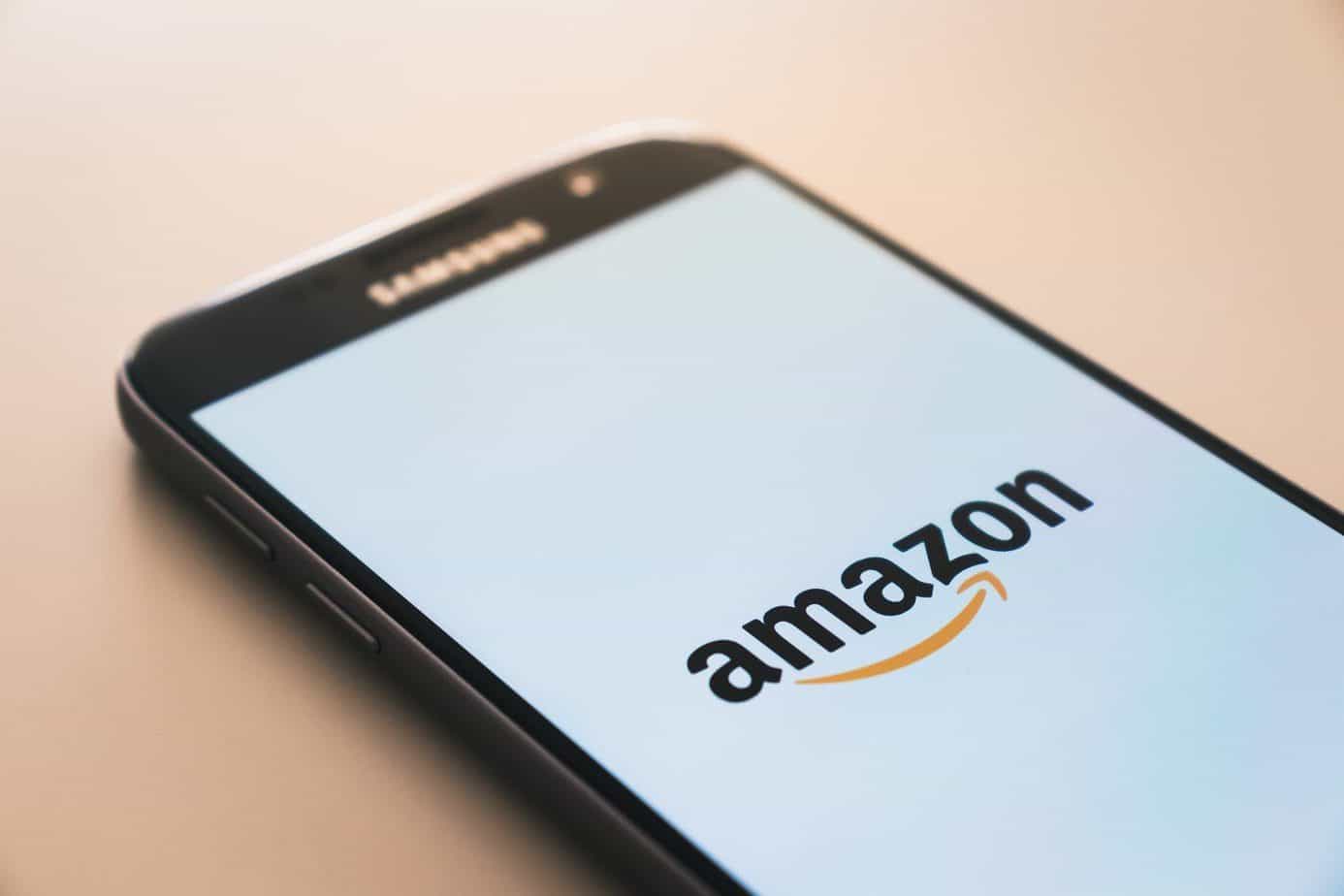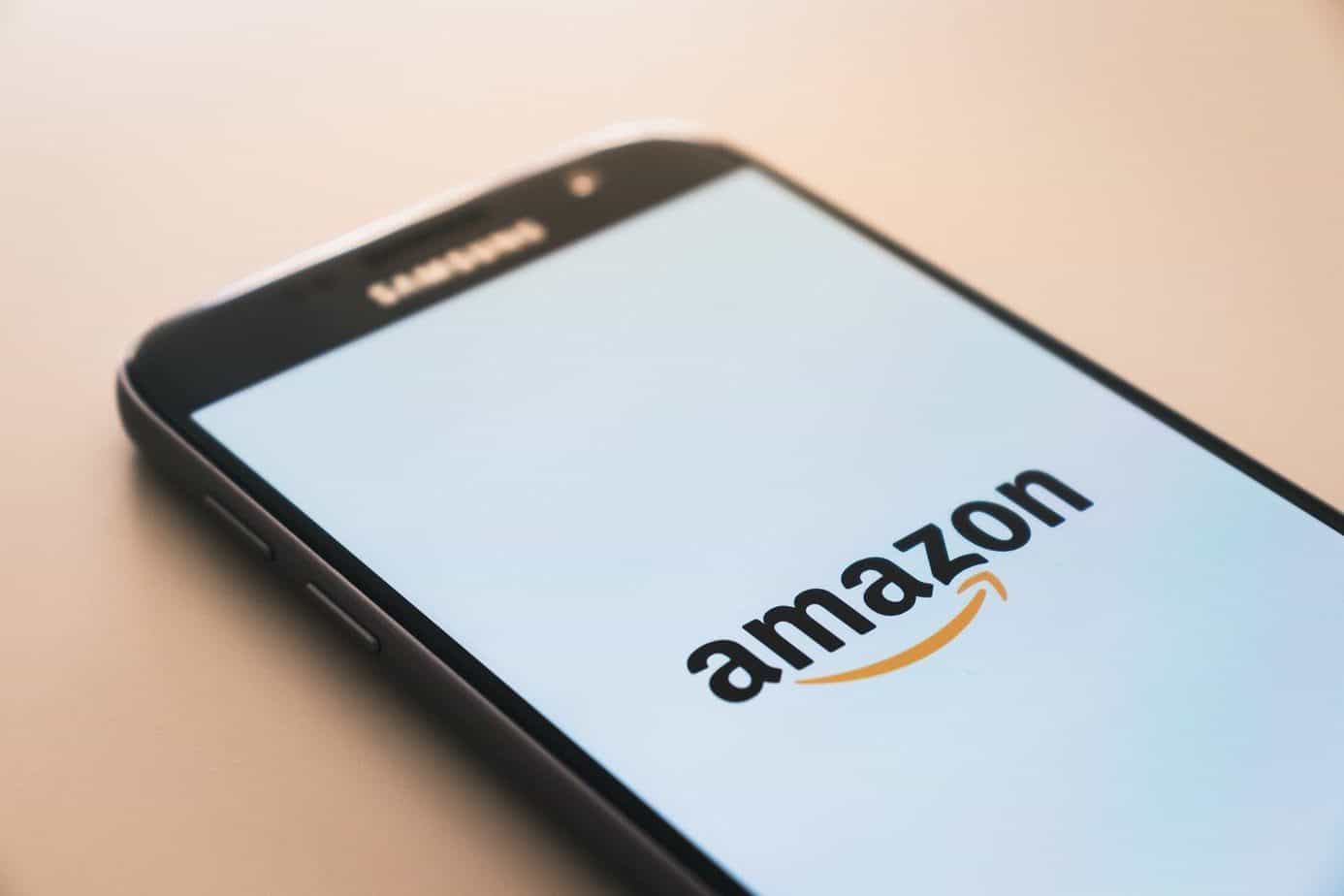 Make no mistake: Amazon isn't a specialty diamond or fine jewelry retailer. The closest Amazon comes in providing expertise in the wedding industry at all is with its popular wedding registry. But that doesn't mean that Ritani and Blue Nile don't still have to accept Amazon as a serious competitor.
In 2017, Amazon's annual sales revenue was just shy of 180 billion dollars. Of course, that huge number accounts for all of its sales, and sales of rings are only a small portion. But the popularity, ease, and sometimes shockingly low diamond prices are a draw, especially for Millennials.
That also means, for the most part, that consumers are purchasing diamonds and rings that do not necessarily have to adhere to standards of quality, environmental stewardship, and ethical sourcing. They also likely won't come with GIA certification or expertise grading, which are essentials when you're purchasing a diamond ring.
But even with this in mind, companies like Ritani and Blue Nile still have to vie for attention for consumers who may either not be educated on these essential characteristics for buying a ring, or cash strapped enough to consider a cheaper alternative.
How Ritani and Blue Nile are Competing for Your Purchase
Taking on a giant like Amazon is no easy feat, but both Ritani and Blue Nile have adopted specialty services, expert consultation, high quality images, and strict adherence to quality.
Both also work on a hybrid model: while primarily e-commerce companies, both offer customers a chance to preview products either in retail diamond jeweler stores or in physical showrooms. Plus specialized customer service, and options for customization set Ritani and Blue Nile apart from their Amazon competitor.
If that isn't enough, Blue Nile and Ritani also offer free secure shipping and easy returns–making their case for even the biggest Amazon fans. In fact, Ritani's efforts were noted on Inc.com. The approach? More specialized and more personalized service. And for something as important as an engagement ring, that's no small promise.
Amazon is part of the reason Ritani and Blue Nile are two of the best online retailers today (yes, really).
In fact, while many lament that Amazon is "killing" smaller companies, that kind of effect is seen more with brick and mortar stores, as more and more businesses transition to online or hybrid commerce. Robb Mandelbaum, a contributor for Forbes and The New York Times, even argues that Amazon is good for businesses like Ritani and Blue Nile.
The reason is simpler than you might think. While Amazon's "relatively low prices and speedy home delivery" has changed consumer habits, it's also not personalized. Mandelbaum brings up the point of bookstores: while some chains have collapsed, independent jewelry store locations continue to operate.
In this same way, both Ritani and Blue Nile have been forced to compete, not so much with expanding inventory, but by offering more personalized services.
Custom design, expert GIA certification (Gemological Institute of America), a variety of styles, and many different shipping and even finance options may not have all existed if they were not forced to present a face to rival something like Amazon:two very personalized and highly professional companies that will treat your engagement ring with care.
Ritani vs Blue Nile: How do they compare?
While rest assured Blue Nile and Ritani are heads above buying diamond engagement rings from Amazon, how do you decide between Ritani engagement ring and Blue Nile? We've taken these several of the 10 tips from Jewelry Wise when it comes to deciding on a jewelry retailer, condensed them and added our own take:
A company that listens. Translation: a company with great and personalized customer service and flexible payment and shipping options.
A company that's established and credible. Accreditation and customer reviews are the best way to check this, along with company history.
A wide range of services, including warranty plans.
A wide selection of different styles and options.
Expert knowledge: there should be some sign that the company understands diamonds and fine jewelry. Educational resources and the chance to chat with experts are good signs.
Diamond Certification. Never buy diamonds that do not come with any type of certification.
Integrity: We revised this one, to place the emphasis on the integrity of where and how the diamonds and precious gemstones are sourced.
With this in mind, we'll compare Ritani and Blue Nile side by side on these 7 factors to see just how these two competing companies compare.
1. Customer Service, Shopping Experience and Payment Flexibility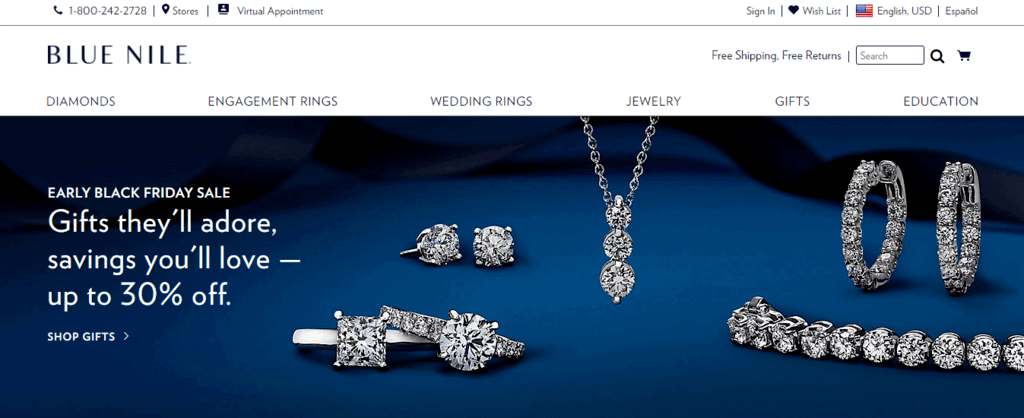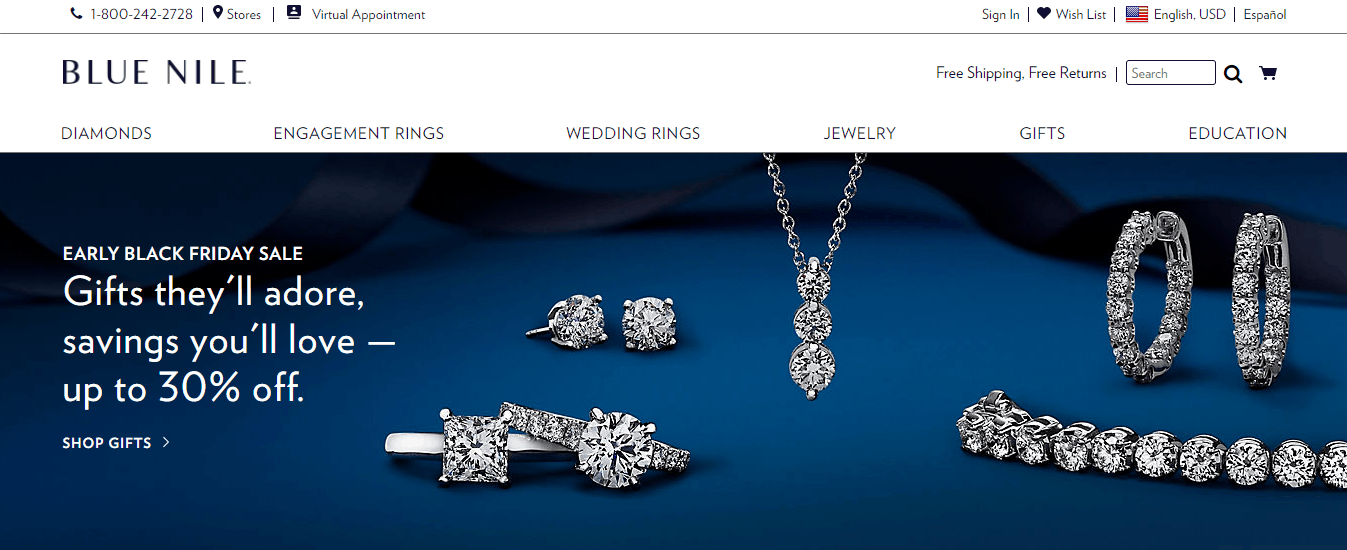 The first facet of a great online fine jewelry company is its commitment to customer service and easy payment options. Without this, you may very well purchase the perfect diamond ring, but still find yourself dissatisfied, or with a product that does not match its description. Payment options are important too, especially for anyone who's making a purchase that cannot be paid outright.
Blue Nile
Blue Nile's customer service is available through a direct call line, live chat, and email. You can query about a specific product, services, or any other questions you might have. There's also a section devoted to general help topics, as well as a full list of their services. Finally, you can check on the status of an order at any time on your own. In this way, it at least appears that Blue Nile has a healthy balance of customer service and self-service.
In terms of payment, Blue Nile accepts Paypal, major credit cards, and also offers financing through the Blue Nile Credit Card. Their credit card allows you several different ways to pay overtime and holds no annual fee. Interest rates vary depending on the plan, a while and option for some, this financing service was also at the list of top complaints for Blue Nile, so make sure you understand the details of the plan you're selecting, as well as any additional fees that may not be so readily transparent.
Ritani
Ritani goes a step further in terms of its customer service. While you can also use their direct call line or online chat, Ritani also offers the ability to talk with GIA experts. These experts do not receive commission from Ritani, and can discuss a potential diamond with you.
For payment options, Ritani allows you to use major credit cards. While they do not appear to accept something like paypal, they also have a few more payment options than Blue Nile, including:
Split payments
Money wire transfer
Financing through Synchrony
2. Established and Credible?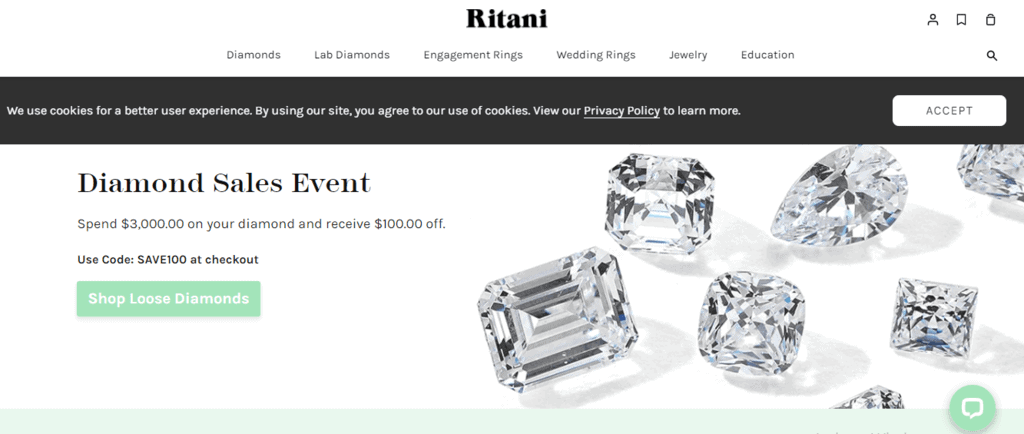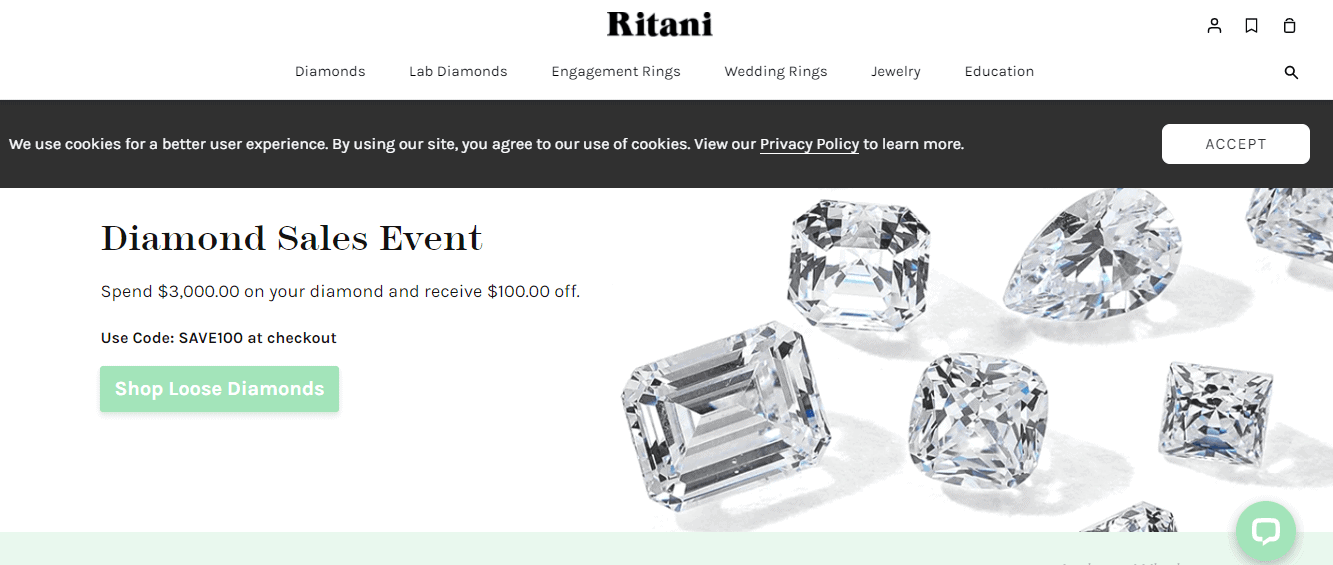 To determine if Blue Nile and Ritani are equally established and credible, we took a look at current accreditation and customer reviews. Ritani is headquartered in New York where their investor, Castor Ventures, is also located. They've been operating since 1999, and its e-commerce is headquartered in Seattle. It holds an A+ accredited rating with the BBB, and has a total of 5 customer complaints.
Blue Nile also holds an A+ accredited rating with the BBB and does have a number of consumer complaints, but has a good number of positive reviews on Weddingwire. There's less information about the company itself, although it has been operating also since 1999, making both companies competitive in terms of being established and credible
3. Services:
Both Ritani and Blue Nile offer flexible shipping services, as well as a few other perks. Here's how they compare:
Shipping and Returns:
Both Ritani and Blue Nile offer secure, free shipping for domestic orders, as well as 30 day returns, provided that the purchase is in its original state and exchanged within 30 days. The only difference? Ritani also offers a "walk away policy". Visit one of their 200 stores and see your diamond ring in person. If you aren't satisfied, you can walk away without paying for it. This free in store preview is a big plus for anyone wary of buying online. While you can view a number of high quality photos, as well as 3D images, with Blue Nile, only Ritani, of the two, allows you to see your actual purchase in person.
Warranty Plans:
Both Ritani and Blue Nile rings come with free, lifetime warranties. The general lifetime warranty includes cleaning and inspection services, all of which come with free shipping. This does not include replacement, and outside insurance is advised.
Customization:
Create your own custom ring and even fine jewelry with both Ritani and Blue Nile. The option to customize makes the ring truly your own, and both are on par in excellence for this category. For both, you can start with a diamond or setting, and then, through a three step process, create the ring of your dreams. Blue Nile offers the option to set your price point before the process, making you less tempted to go over budget. Personally, I preferred the Ritani setting options a bit more.
4. Ring Selection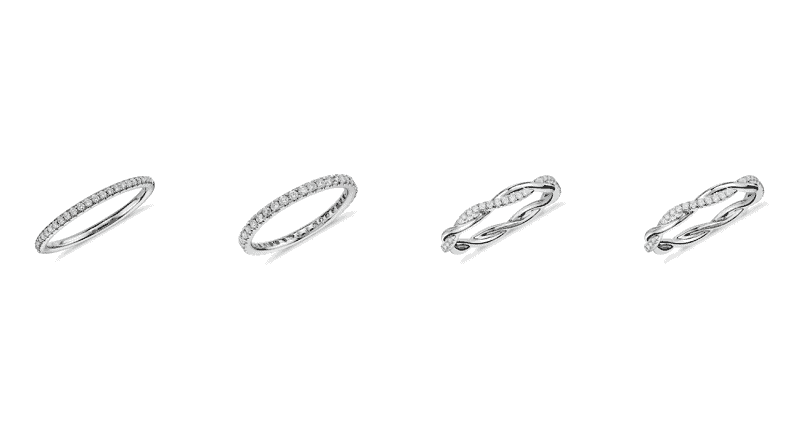 Make no mistake, both Ritani and Blue Nile offer beautiful collections of wedding and engagement rings. And both make shopping easy, with the ability to filter by price, carat weight, metal type, style, and even styles. Both offer most of the same cuts (ideal cut diamond rings, princess cut, etc…) and styles, but the difference is mostly in the specialty collections.
Style wise, Blue Nile leans more modern, while Ritani is a mix of both. By sheer collection size, Ritani's is a little smaller and more specialized, while Blue Nile's is seemingly endless.
Both companies do a wonderful job of offering a few simpler options, as well as rings that rang from a few hundred to high budget. Bands for both companies range from plain and simple to elaborate, with options like colored diamonds to add a pop of color.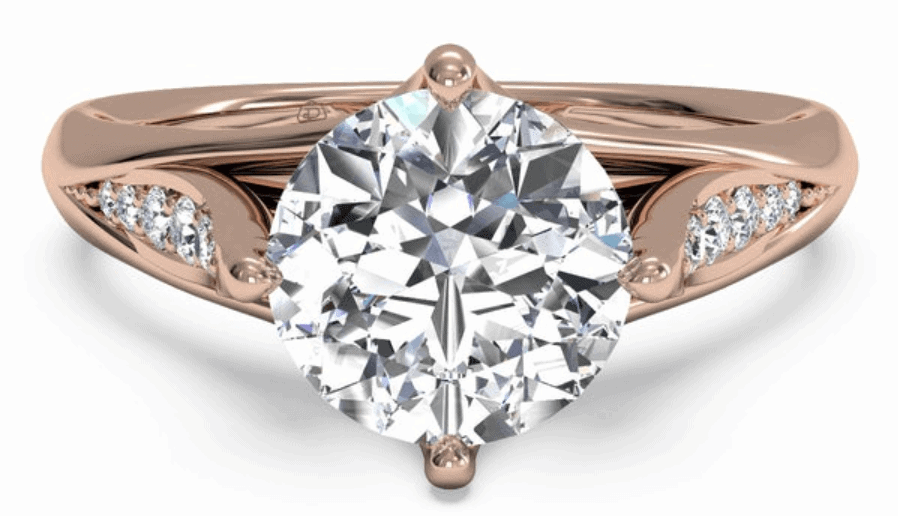 Blue Nile offers a "unique rings" collection which features glamorous and both modern and postmodern rings that look different than the classic ring. This selection, like most of Blue Nile's selection of engagement rings and bands, focuses on high quality dazzling diamonds and sleek modern designs. Price point for this collection.
Ritani
Ritani stands out with its "vintage" collection, showcasing rings with an old-world feel. White gold and yellow gold with beautiful diamonds and soft, vintage inspired floral and pave patterns make this a truly stunning collection. Ritani also features a Sapphire collection, which is slightly more specialized, but limited than Blue Nile's gemstone collection.
5. All about those diamonds
If you're buying a diamond ring, this should be one of the most important facets. And since online photos can be deceiving, you need to make sure the diamonds adhere to strict and high quality standards. Luckily, both Ritani and Blue Nile score big in this category.
Ritani
Ritani's Diamonds are measured by "Sparkle Services," which include a scintillation report, GIA certification, expert consultation with a virtual gemologist, and in store previews.
They also offer a collection of Reserve Diamonds, which means that these diamonds are considered the top 1 percent in the world for their sparkle, shine clarity and cut (includign ideal cut), a distinction not shared by many competitors. In total, Ritani has about 70,000 diamonds in stock at any given time.
They also only sell conflict free diamonds, which means no diamonds go towards financing civil wars (The Kimberley Process). Plus, Ritani partners to create leadership in African nations, to create jobs in Namibia, and supports global efforts on ethical mining.
Blue Nile
Blue Nile, with nearly double the number of diamonds on hand at any given time as Ritani, also offers diamonds that adhere to the Kimberley Process, though the company does not partner further with non profit advocacy groups or organizations. Like Ritani, Blue Nile's diamonds are also GIA certified and offers its own line of speciality diamonds, which are are brilliant cut diamonds optimized for shine and sparkle.
6. Bonus
Other Products While wedding and engagement ring online sales are the biggest draws for companies like Blue Nile and Ritani, that doesn't mean that's all they sell. These fine retailers also offer a gorgeous collection of anniversary and other gifts, including custom jewelry.
Ritani also has several collections of designer gifts, while Blue Nile has an entire collection devoted to birthstone jewelry, as well as general gift collections and guides. Both have respectable gift collections, and with a whole slew of items you can customize, it's hard to go wrong.
Ritani vs Blue Nile: Final Verdict

Skip Both. Go with James Allen.
Blue Nile and Ritani are decent stores, but I MUCH prefer the more seamless experience with James Allen. They have 360 degree hi-def images of diamonds, better prices, and excellent customer service overall. Our 2021 retailer of the year!
Check James Allen
We earn a commission if you click this link and make a purchase at no additional cost to you.
As you can tell by this review, both Ritani and Blue Nile are excellent companies with a great reputation and a smattering of services and quality products and expertise. Ritani and Blue, both well recognized, both present great options. Which one is better?
This isn't so much as which one is better, but both have slight advantages in different areas. That said, here's our advice:
Pick Ritani if you are looking for vintage or sapphire engagement rings, want to work with a smaller inventory, and previewing your purchase in person is important to you. Opt for Blue Nile if you want an almost endless collection of diamonds, are looking for brilliant cut, and want a more modern look.
And no matter if Ritani or Blue Nile seems best for you, remember to always make sure you're confident in your purchase before checking out. If you're extra hesitant, remember; both companies offer return policies, so long as you don't order anything with custom engraving.
My Bottom Line: I actually much prefer a DIFFERENT online retailer jeweler stores altogether. If you are looking for an affordable price range, amazing selection, and best in class 360 visuals of your diamonds, James Allen is the best online retailer we've tried here. Check James Allen out here instead.
FAQs
Question: Are lab-grown diamonds worth it?
Answer: Yes, lab-grown diamonds have become really popular over the years due to their affordable price and a similar look to an original diamond. They are grown in labs instead of being mined, but they have the same physical properties (carbon).
Question: Do lab-grown diamonds have a resell market?
Answer: Yes, a lab grown dimond has a resell market, however, be aware that you might not get a lot for it, and if the diamond is 1.20ct diamond, it's very unlikely that someone would want to purchase it.
Question: Is Ritani or Blue Nile cheaper?
Answer: Blue Nile has cheaper rates, and they also offer cheaper settings for the rings. Blue Nile also offers more designs in a single collection, so is a greater choice if you want to check out more options.