Bottom Line Up Front Summary: While Adiamor had some nice aspects, the better overall selection, online experience and prices are definitely with Blue Nile Here.
Our Top Pick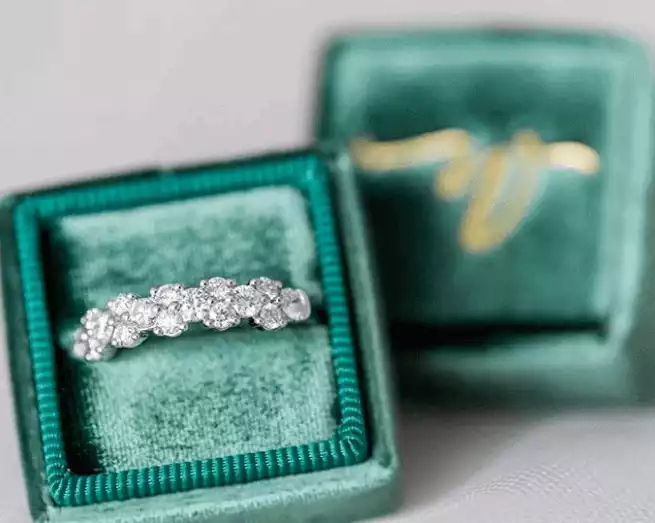 When they first opened for business, only a select group of consumers knew the names Adiamor and Blue Nile. But when it comes to buying an engagement ring or wedding band, the shopping experience and selection has changed dramatically over the past decade.
And that means fewer purchases from traditional brick and mortar jewelers and more and more towards e-commerce giants like Blue Nile and Adiamor.
Part of the draw is customization: a study by the Knot found that 40 percent of online buyers wanted a custom designed ring. Add in price matching, free shipping, and a larger selection, and it's no wonder that more millennials are browsing online for diamond rings.
Adiamor and Blue Nile – Factors To Consider
For this review, we'll be taking a look at two of the most popular online jewelers.
Both Adiamor and Blue Nile offer:
Over 150,000 unique diamonds at any time
The ability to customize engagement rings
Education and Customer Service
Certification and Reports by Experts
Customer-Friendly services in terms of pricing, selection, and the overall shopping experience
Of the two, Blue Nile is arguably the bigger name: it was named as one of four companies representing a major market share in a trends forecast extending through 2021. According to Owler, Adiamor's annual revenue is around $4.3 million, compared to Blue Nile's $471.9 million annual revenue. While these figures are specious estimates, it gives you an idea of just how much larger Blue Nile is.
That said, we place a heavier weight on what services, prices, and selection both companies offer. We'll take an in-depth look at each of these factors, and both offer benefits beyond overall sales or size.
Adiamor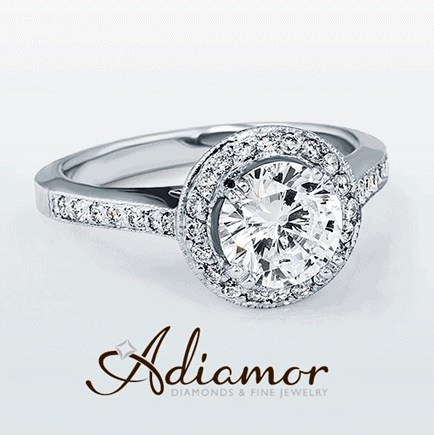 About Adiamor
Adiamor is BBB accredited, with an excellent A+ rating. On Yelp, it received a 4.5-star rating for 100 reviews, and it holds a 4.3-star rating on WeddingWire. It also earned a couple's choice award in 2015, and a bride's choice award in 2013.
Founder Avo Sarkisian opened a storefront in Beverly Hills and the company eventually expanded into e-commerce. With more traditional origins, the company's emphasis lies in "attention to detail and craftsmanship". All diamonds are manufactured in Los Angeles.
Shipping and Returns
Adiamor's policies are fairly standard:
30-day returns
Secure encryption for privacy
International, Saturday, and alternative address delivery options
Free shipping for orders over $250 worldwide
Option for FedEx overnight
Payment, Financing, and Insurance
Like most e-commerce companies, Adiamor accepts all major credit cards. It also accepts Paypal and Bank Wire. Customers can opt for financing options of monthly payments through Affirm. Note that Affirm is in partnership, but not directly related or controlled by Adiamor. Here are the basic terms, but you need to fully review Affirm to see if this option makes sense for you:
Select from 3, 6, and 13-month loans
Terms are 10% to 30% APR
If you're interested in ensuring your ring, Adiamor suggests working with Jewelers Mutual (just as Blue Nile does). Again, however, this is independent of Adiamor, and you are not required to do so, nor will it affect your purchase.
Privacy Policy
Adiamor, compared with Blue Nile, is a bit more transparent, if brief, on its terms of privacy. Adiamor explicitly states that it does not store any information it collects and does not sell any information to third parties, which is a big plus. The company does, however, use cookies for tracking traffic, but claims it does not do so for any other use.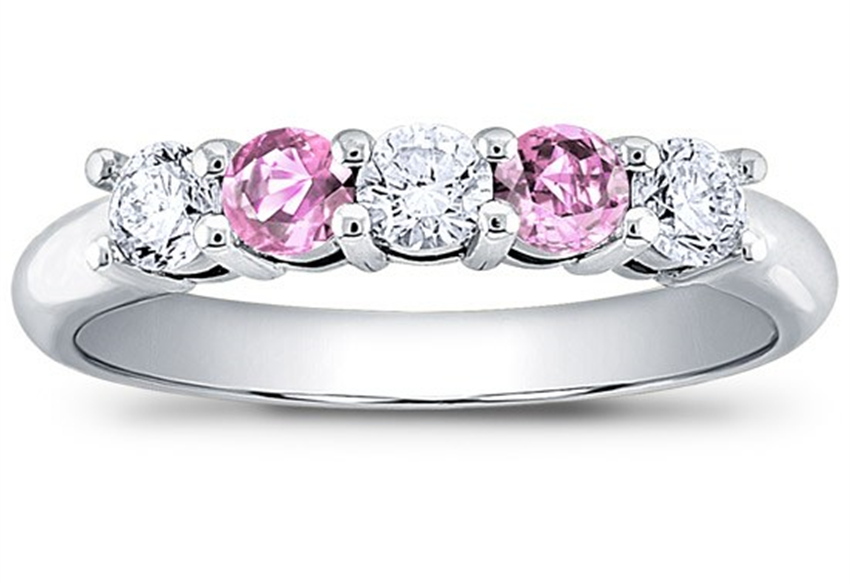 Warranty
Adiamor offers a lifetime warranty against manufacturing defaults. You'll also get complimentary cleaning, tightening, polishing, and general care, with no cost for shipping.
Here's what's not included in the warranty:
Bent bands
Missing or broken diamonds
Bent prongs
Other general use or wear
As you can see, the warranty is fairly limited in scope, so an expensive purchase of over a few thousand might be smart to insure. That said, these policies are not worse than Blue Nile's, and the free shipping is a big plus.
Other Shopping Experience Perks
There are a few things that Adiamor offers to make your purchase just a bit more satisfying. The option to refer a friend for up to $100 off of a purchase and luxury gift wrapping are two. Your purchase comes in a rosewood jewelry box, with an option to add a 'signature dark brown ribbon'.
Finally, Adiamor has a robust education center, which consists of articles and resources on topics for making a more informed purchase. Some come off as self-selling but are generally informative and helpful. Topics include:
Diamond Education Center
Engagement Guide
Fine Jewelry Guide
Financing & Insurance Information
General Care
Loose Diamonds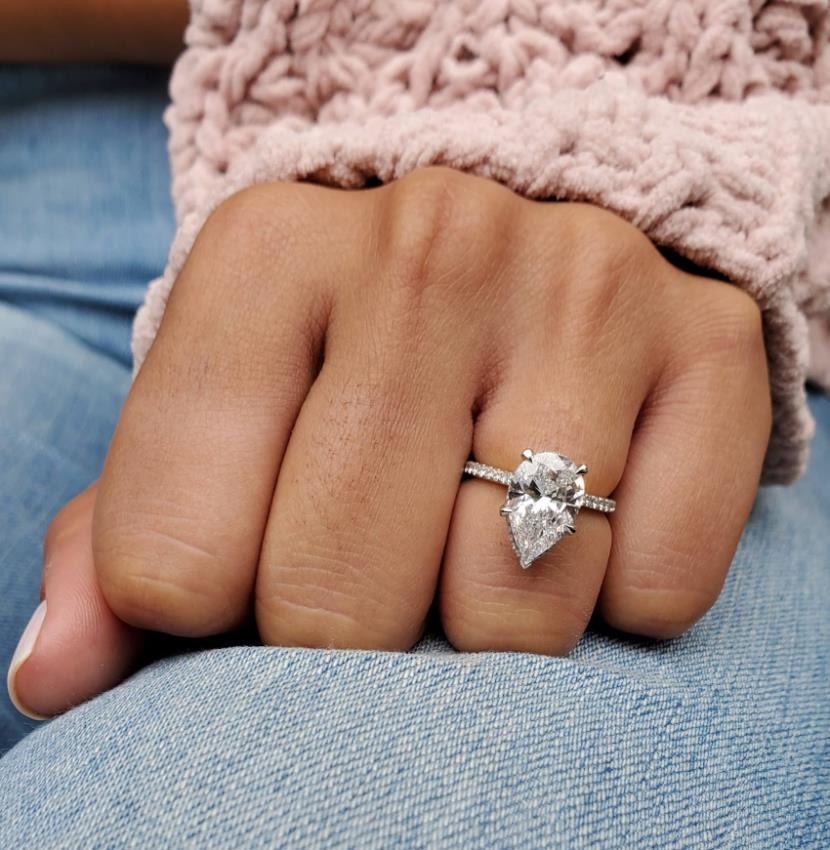 It's difficult to compare the loose diamond selection between Blue Nile and Adiamor, since both have an astonishingly large cache.
With over 150,000 diamonds in stock at a given time, there's little chance you won't find something that catches your eye.
It's difficult to compare the loose diamond selection between Blue Nile and Adiamor, since both have an astonishingly large cache. With over 150,000 diamonds in stock at a given time, there's little chance you won't find something that catches your eye.
Adiamor offers diamonds in these cuts:
Round
Princess
Marquise
Emerald
Pear
Oval
Heart
Radiant
Asscher
Cushion
Where it does distinguish itself is where it sources its diamonds from. There's a selection of specifically Canadian diamonds, and all diamonds are considered conflict-free, which means they adhere to the Kimberley Process.
The company also claims to support responsible gold mining practices through the "Golden Rules". That said, it is not entirely clear where all their diamonds are sourced from. Both these standards are good steps towards integrity but are certainly not inclusive of all ethical concerns pertaining to diamond mining.
Diamond Perks
You can benefit from diamond price matching, diamond upgrades (credit of original towards a new diamond), and official diamond certification from GIA experts. Your certification includes:
Free appraisals for anything over $1,000
Specific details concerning the weight, shape, color, clarity, cut and finish
GIA certification and appraisal
Approximate retail value
While many online jewelers offer an extent of this, the detailed report is a big bonus for you as a customer.
Purchasing a diamond
Selecting a diamond is a fairly simple process. Filter by shape, price, cut, clarity, carat, and color. You're given a 2-D stock image, so you can get a general impression of what the diamond will look like, but it's less than optimal for viewing purposes.
Engagement Rings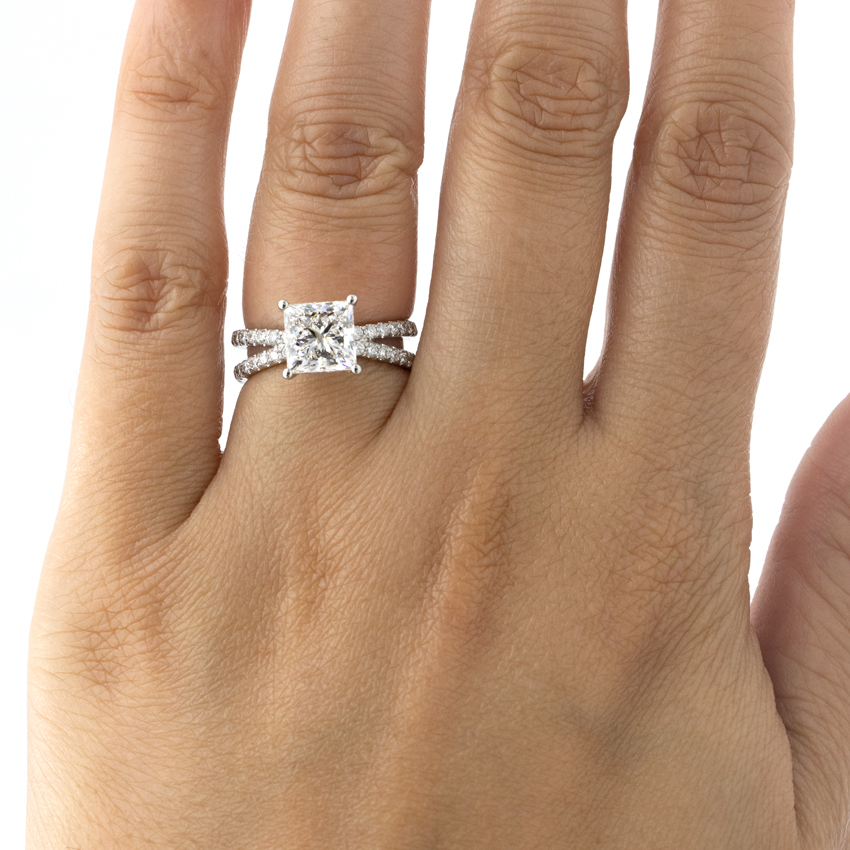 Select from pre-set or custom designed engagement rings. Styles include solitaire, halo, 3 stone, modern, split, vintage, and gemstone.
A highlight is the French Cut Collection, designed to show minimal metal to make the diamond appear larger and more complete in effect. So if you want the effect of a larger than life diamond, this is one (unique) way to go.
Preset rings are relatively classic or classic modern, and you're given the option to select a base metal (14K gold/ 18K/ platinum). Most pre-set rings feature the popular princess and round cuts.
Designing a custom ring is also a fairly simple process. You select a diamond and a setting and are able to view a stock image of the result. One big plus is you can set a budget price point for each step, so you're less likely to go over your limit.
Wedding Bands
With a range from $85 to $12,500, there are wedding bands at every price point. From simple metal bands to diamond-embedded, there's also enough variety to please most customers. Metals offered include:
Rose gold
Yellow and White gold
Silver
Shop by collection, which includes men's, women's, bridal sets, and eternity bands. Classic-contemporary seems to be the main theme, and there are a number of options featuring gemstones.
Beyond the expected offerings, these are some noteworthy options that make Adiamor stand apart from Blue Nile:
Black diamond settings
Black Rhodium polish (for men)
Textured, Tri-tone, and Segmented (for men)
Claw Prongs and Diamond X-Bands for women
Adiamor Summary
The beauty of Adiamor is that the process is streamlined, simple, and straightforward. While it does not offer as much in the way of previewing your selection, it has safeguards against overspending, easy to sort filters and nicely organized collections. For engagement rings, wedding bands, and loose diamonds, there's an adherence to ethical mining practices coupled with fair customer service practices.
You can also shop fine jewelry, gifts, and sales items.

About the company
Blue Nile is one of the most well-known names in the online jewelry industry. Like Adiamor, it has an impressive stock of diamonds (over 150,000), customer service, and unique offerings. It also holds an accredited A+ rating from BBB; and comparable ratings from Yelp (4.5) and Wedding Wire (4.7), with a higher number of reviews.
The company is within the same age range of Adimor; it was founded in 1999 and is based in Seattle. The 1st showroom opened in 2015, and now there are physical showrooms in New Hampshire, Virginia, New York, Washington State, and Oregon.
That's a big plus for anyone who wants more of a traditional experience or to see in person samples. Of course, the locations are not convenient for everyone.
Our Top Pick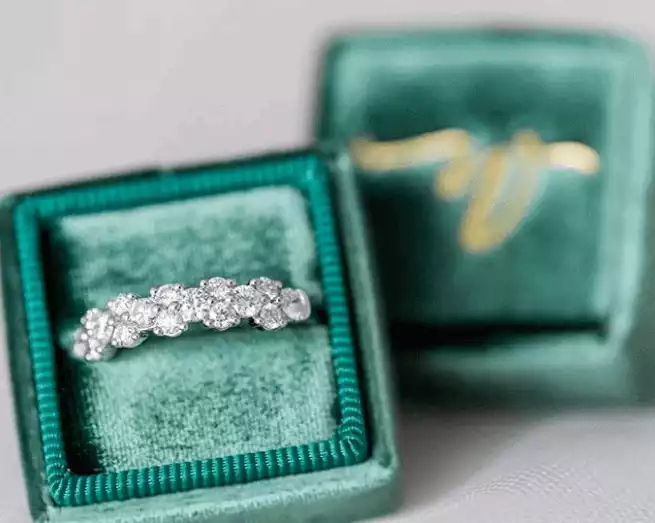 Company values include:
Customer education
Price matching
"World's top diamonds"
Shipping & Returns
You'll find that Blue Nile's policies have a number of things in common Adiamor, with some subtle differences. In general:
30 day returns with a free and secure shipping
Optional Saturday or alternative address shipping
Packing arrives in either a pouch or jewelry box
Sales tax only applied to certain states
There are clearer specifications, or more detailed, about the type of shipping. You'll receive different shipping depending on the overall cost of your order.
Payment, Financing & Insurance
While Blue Nile accepts all major credit cards and Paypal, just like Adiamor, there's an additional option (and highly advertised) to use a Blue Nile Credit Card. Features include:
Flexible payment methods
No annual fee
Special promotions
Different no interest or equal payment options
The credit card in some ways also functions as a financing tool, so for some it might be an enticing option. It's best if you're planning on purchasing a few items or items in the future, however, and you need to be sure to understand the full terms of use. Like Adiamor, Blue Nile suggests working with Jewelers Mutual. Appraisals are offered for any purchase over $1,000.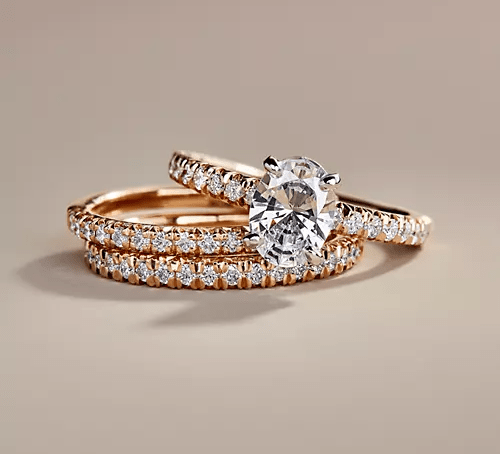 Privacy Policy
The good news is that Blue Nile has a privacy policy full of details. The bad news is that it's a bit hard to find and very long, and a bit difficult to navigate.
Unlike Adiamor's more terse but straightforward approach, the privacy policy reads more like a typical legal document. While it's nice to see the specifics of how personal information is used spelled out, it also seems clear that Blue Nile takes a bit more liberty sith your information. Read the full policy here.
Warranty
Essentially, Adiamor and Blue Nile take the same stance on warranties. You get a lifetime warranty, but only for manufacturing defects. You'll get a complimentary cleaning with Blue Nile as well, though you will have to pay for shipping fees yourself.
Other Shopping Experience Perks
In some ways, Blue Nile and Adiamor are neck and neck here as well. Blue Nile offers the same refer a friend promotion for up to $100 off your purchase; free secure shipping; gift packaging and ring sizing.
You'll also enjoy price matching and a diamond buyback program. Of course, there's also an education center as well.
Loose Diamonds
Options are nearly identical in terms of shape. Select from:
Round
Princess
Oval
Pear
Marquise
Radiant
Asscher
Emerald
Cushion
Diamonds are all GIA certified by an official grading report. In terms of sourcing, there is no specification as to where your pick is from. While Adiamor doesn't have much transparency, it does offer a selection specifically from Canada; Blue Nile's stock is mostly from Australia, Russia, Africa, and Canada.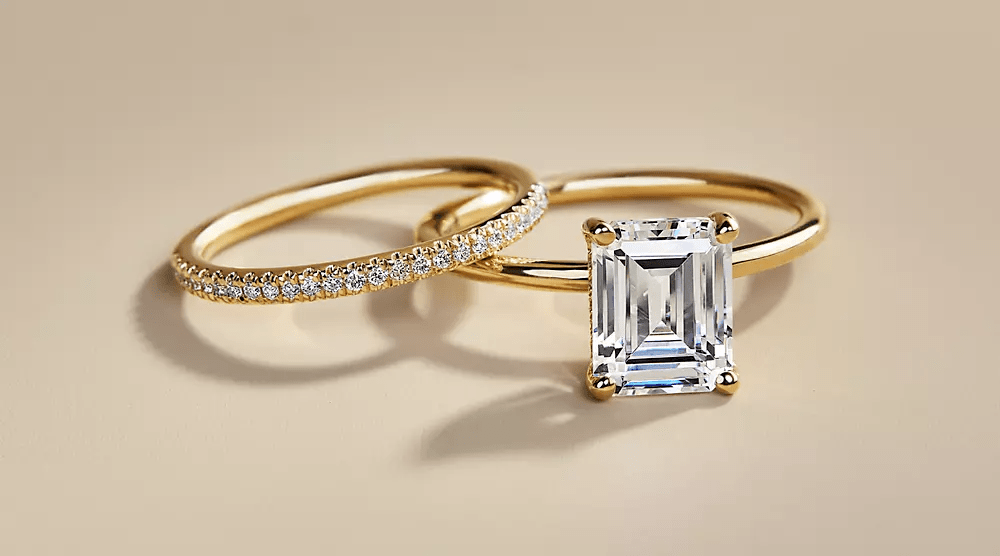 The same ethical standards are followed by Blue Nile: all diamonds are in agreement with the Kimberley Process, and the company also supports responsible mining via the "Golden Rules".
One distinguishment: Blue Nile claims it has a preference for diamonds that adhere to "environmental stewardship".
Diamond Perks:
As far as selection, Blue Nile offers colored diamonds, which is a key attraction for anyone with a heftier budget looking for something exceptional.
Diamonds are also:
GIA certified through the appraisal process (and what you get) is less clear
Price matched (if requested)
Offered with upgrades
Purchasing a diamond
Sort by shape, price, carat, clarity, cut, and delivery date (which is a nice bonus option if you're in a hurry). You can also use a compare button, to help make the decision easier.
The biggest plus? The option to view diamonds within 360 degrees, zoom in, and preview on a hand. While these are still likely stock images, this clearly sets the diamond selection process apart from Adimor, because it's easier to envision what your diamond will look like.
The option to view samples in physical showrooms also gives Blue Diamond a nudge ahead in this category.
Engagement Rings
If you're on a tight budget, be cautious: Blue Nile prices each step separately, so you'll only know the final cost you're headed towards when you've assembled your selections together. On a more positive note, both the preset and custom options offer a good deal of variety.
Like Adiamor, Blue Nile offers solitaire, vintage, halo, and diamond engagement rings. But it also offers:
Sapphire Side Stones, for a splash of color
Engravable rings
"Unique Rings" (featuring twists and geometric bends)
Designer Collections (Monique Lhuillier, Zac Posen, Bella Vaughan)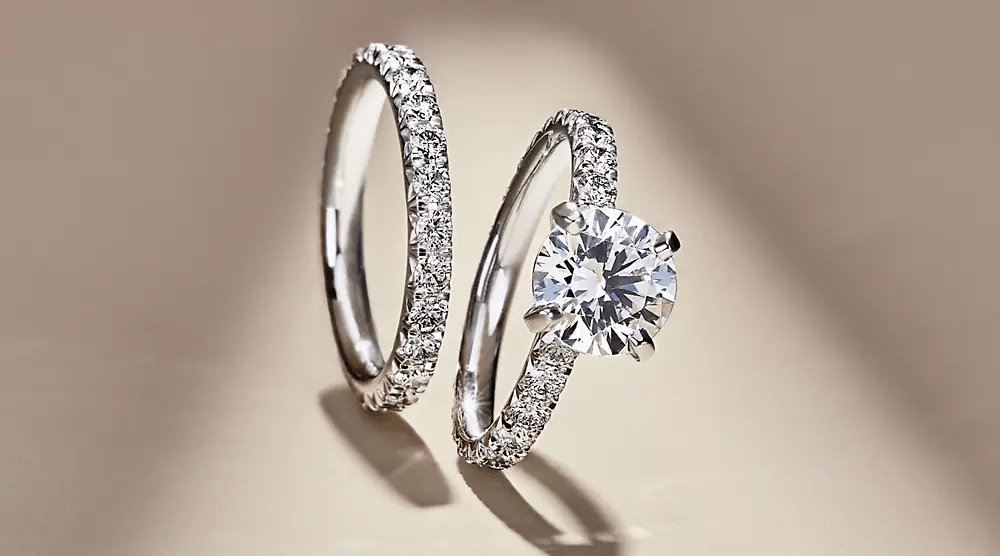 The process is a several step process, but you'll get more options and images to support your decision. If you're looking for a designer ring or a ring that's still pretty modern but more avant-garde, Blue Nile has the edge over Adiamor.
If you tend to go over budget or get overwhelmed with too many options or are looking for a more classical engagement ring, Adiamor might be your best bet here.
Wedding Bands
Prices range from $130 to $35,000 (for a yellow diamond band). The enormous range is a little less overwhelming for men. There's a nice collection here, although, aside from colored diamonds, these tend to stand out a little less.
Two-toned and braided options are comparable to Adiamor's offerings. You can browse gemstone, diamond, eternity, and also designer collections.
Adiamor or Blue Nile? Conclusions
It's obvious that both Blue Nile and Adiamor have a lot to offer, and sometimes it's hard to compare them on a one-to-one basis. In many ways, both offer similar options in terms of financing, customer service, and selection. Here are the biggest benefits for each company:
Adiamor wins for:
Simpler and more streamlined shopping experience
Greater transparency in terms of diamond sourcing
Consistently classic and elegant options
More options for middle range or more modest picks
Blue Nile wins for:
Designer ring collections
Colored Diamonds
360 viewing and showcase locations
Very high end picks
Both companies, with great customer reviews and A+ rating from the Better Business Bureau, are solid picks. What's best for you depends on what you value, and, a little, what kind of price point you have in mind.
Bottom Line Summary: While Adiamor had some nice aspects, the better overall selection, online experience and prices are definitely with Blue Nile Here.
Our Top Pick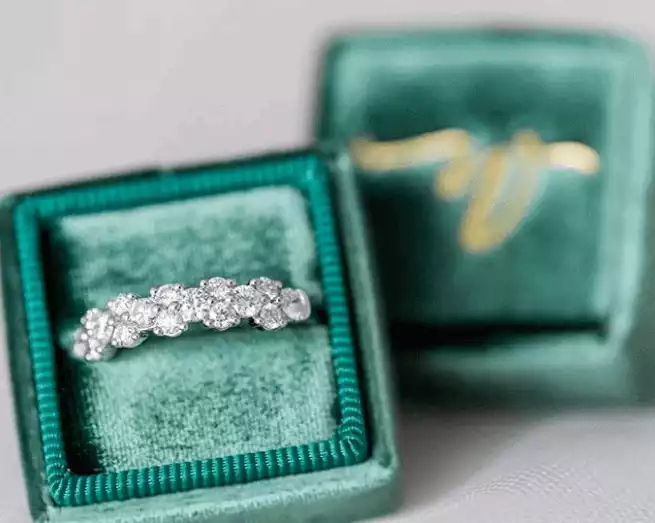 Further Reading on Online Diamond Retailers