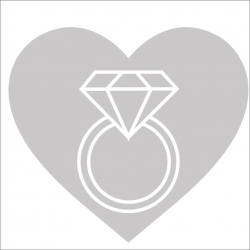 Latest posts by Love You Tomorrow Team
(see all)
Getting ready for the big day, but not sure if Amazon Registry or Zola is the best option for you? Been there, done that! You are in the right place.
TL;DR: If all you need is a simple registry (and everything you need is on Amazon), then Amazon Registry is okay, but the far more professional and robust wedding planning platform is definitely Zola here (my pick overall).
First some background…
It wasn't until the 1920's when Macy's introduced a wedding registry that such a thing existed. Before then, giving gifts was a tradition carried over from the idea of wedding dowries, and there were some guidelines, but also a lot of guesswork when it came to selecting a gift for the couple.
Luckily, we now have plenty of options for wedding registries. In fact, we may have too many options! That's why I created this full comparison of Zola vs Amazon, so you can make an informed choice.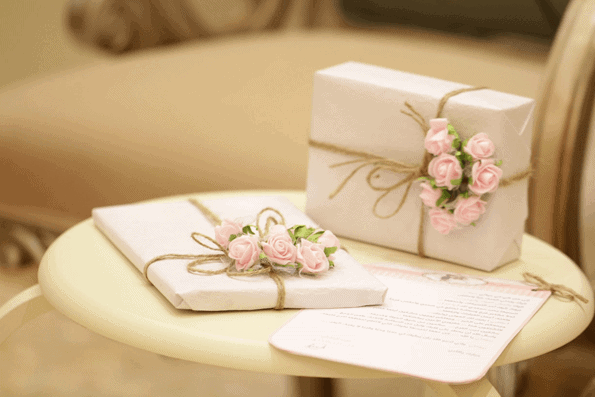 But even with registries, selecting gifts meant visiting a brick and mortar store, sometimes to find items out of stock. It was also easier to get duplicates of items.
By 2010, 88% of engaged couples were using wedding registries, the majority partially, if not almost entirely, e-commerce based.
But while you can't argue with the convenience of wedding registries, selecting one can be downright daunting, when there are so many, and more emerging every year.
We'll take a look two of the most popular options–Zola and Amazon–and compare the two registries based on policies, products, and services offered.
Wedding Services | Zola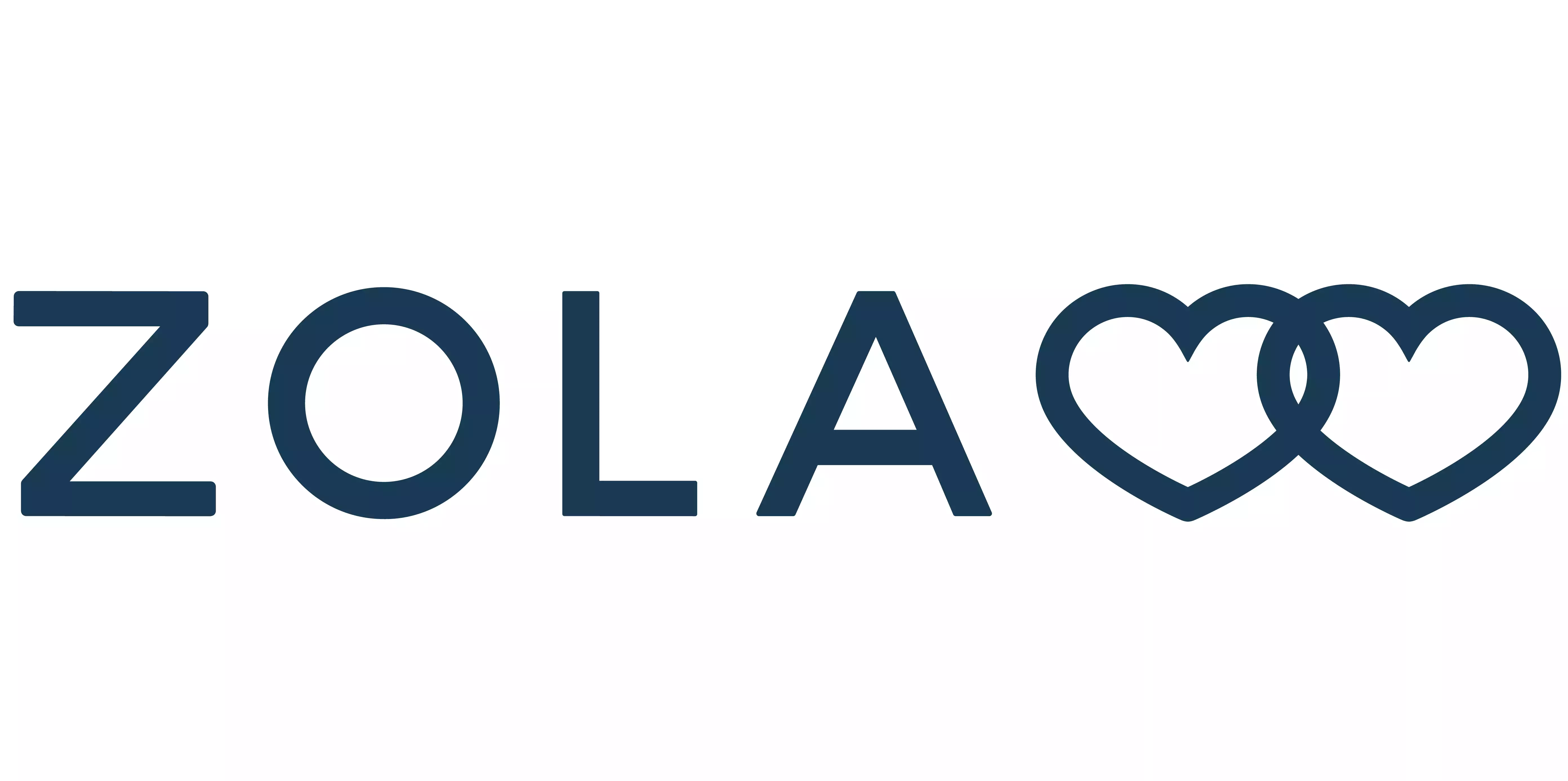 Why I Prefer Zola:
I am often asked, "what is the best wedding registry service?" While it can depend on a few factors, my #1 go-to choice has to be Zola. It is more customizable and features hundreds of additional merchant integrations.
Get the Best Registry
We earn a commission if you click this link and make a purchase at no additional cost to you.
Before You Shop: What You Should Know About Any Wedding Registry
No matter what registry you decide is best for you, it's important to get a sense of what the registry offers and how, or if, it meets your needs. One clue? Wedding registries should make the process of requesting gifts (and gift giving, for the guests) easy and one less thing to worry about. If creating a registry is causing more headaches, chances are it's not a great fit.
Above all, the best wedding registries, at a minimum, should:
Have clear policies and terms of use
Have substantial customer support
Have a good variety of gifts to choose from
Be Organized and easy to navigate for both you and guests
Help you keep track of your gifts
Impose no direct cost to you (with some exceptions, like purchasing a unique domain name)
We'll start off by taking a look at Zola for two reasons: for one, it's an arguably less known name than the giant Amazon, and for another, it's solely in business for all things related to wedding registries.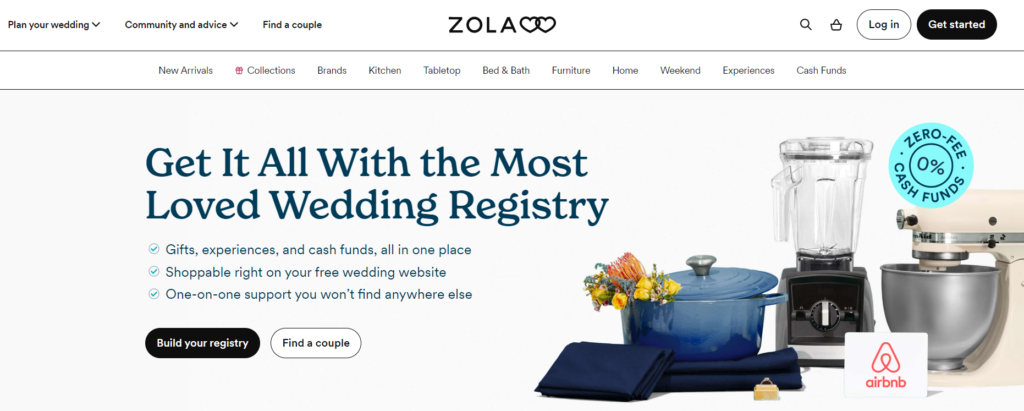 While it's made a big name for itself, Zola is relatively new–the company started up in 2013, and while there are plenty of positive reviews across various platforms, Zola, like other smaller online companies, is not registered with the Better Business Bureau.
Then again, both Zola and Amazon's wedding registry services are free to set up and use for engaged couples.
Wedding Services | Zola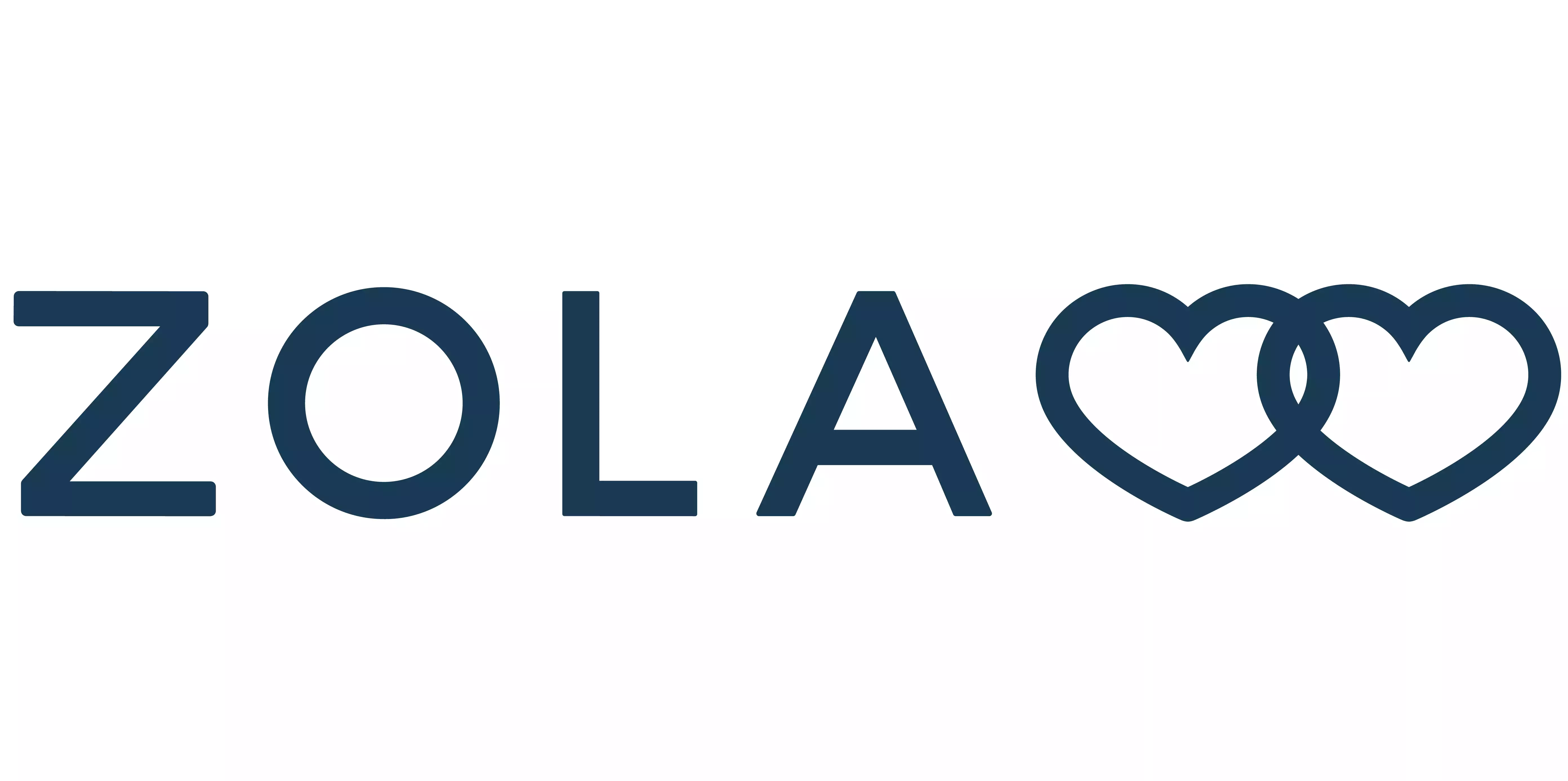 Why I Prefer Zola:
I am often asked, "what is the best wedding registry service?" While it can depend on a few factors, my #1 go-to choice has to be Zola. It is more customizable and features hundreds of additional merchant integrations.
Get the Best Registry
We earn a commission if you click this link and make a purchase at no additional cost to you.
The Pitch:
Zola touts itself as a 'free guide of wedding planning tools' with over 200 gift guides, easy registration, a blog, and promotional events.
Zola isn't just pitching its wedding registry: instead, a Zola registry comes with a number of complementary services like:
The Zola Community: chat with fellow couples and Team-Z advisors before the big day
Creating your own free wedding website
Free Shipping
App versions for IOS, with Android version on the way
Zola is a one-stop sort of thing: the idea is you'll have everything in one centralized places. While some couples opt to link separate registries to a separate wedding site, you can create a website, registry, and get advice all in one spot. For some this might feel confining, but more many couples, especially anyone who struggles with organization, it can be a big plus.
The Fine Print:
Before you get too invested in any registry, it's worth taking a look at the company's terms and policies. Fortunately, it's easy to navigate on Zola and easy enough to get some information.
Zola Fees: Zola charges a standard credit card processing fee. A 2.4% fee is added to items. In other words, a gift costing $97.60 will cost the guest $100 before taxes.

The exceptions to this are cash gifts contributed via Venmo, gifts from linked stores purchased via Venmo, and gift cards. Guests can purchase these through Zola with no additional fees. (The 2.4% standard processing fee still applies to cash gifts funded via a credit card.)

Zola Returns: Zola offers free returns within 90 days of delivery for most items sold on Zola. Certain restrictions and exceptions apply as outlined

here

.

Websites are free, but a unique/ non-Zola domain name costs money
Privacy Policies: Any data you enter may be collected, including but not limited to: names, date of the wedding, payment info, shipping info, OP system, browsing history, and search terms. While Zola promises it does not sell to third parties, it does allow third parties to collect some of this information. Your postal address may also be visible for marketers.
Terms of Use: Wedding registry and website updates are your responsibility. Any caching, copyright misuse or soliciting is prohibited. Also prohibited: links to competing registries
A Physical Storefront in NY allows you to see featured items on showcase
To be fair, many of these policies are fairly standard, but they should give some a little pause. Make sure you fully understand and feel comfortable with Zola's privacy policies, and also make sure guests are aware of the relatively small time allotted for returns.
Creating a Registry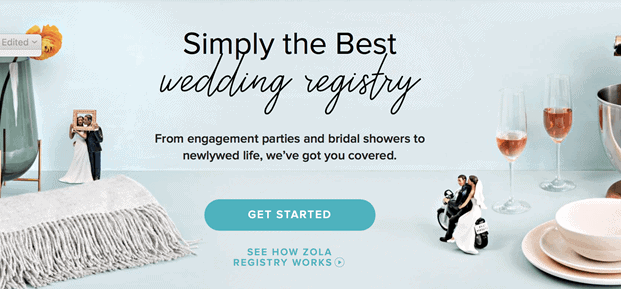 Bells and whistles aside, Zola is first and foremost a wedding registry, and there's much to be pleased about. For one, the promise of easy set up is lived up to. To open a registry, you simply create a new login or login with Facebook. You'll then be prompted to give your name, wedding date, and then you can proceed to select items to create your registry.
But you're not on your own when it comes to finding and selecting items. While Zola boasts a large inventory of over 50,000 items, experiences, and funds (more on that later), it also features neat categories that make it easy to find what you're looking for:
Kitchen
Tabletop
Bed & Bath
Furniture
Home
Weekend (Hiking/Camping, Pets, Grills, etc)
Experiences (Gift cards, photo book, donations to charitable causes)
Cash Funds (For paying off big purchases, honeymoons, smaller getaways, and small services like massages, museums, and even yoga classes)
You'll find plenty of big name brands and quality items, but what really sets Zola apart, aside from its organization and gift guides, is the ability to purchase towards something more unconventional, like a charity or a honeymoon. These are things couples are increasingly looking for aside from the traditional kitchenware, and Zola really delivers.
Integrated (and Free) Websites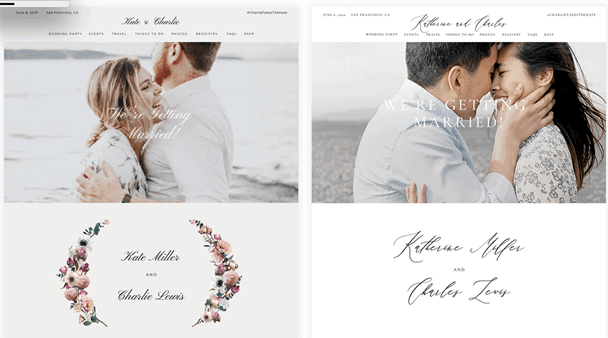 Zola isn't the very best for creating a wedding website–but it's not a bad option, either. While it may not have all the tools a larger site like The Knot would, it does offer over 100 design templates, many catered to fit specific wedding themes and styles.
And like creating a registry, it's pretty simple to do:
Select a Design/Template
Add Details, Photos, Text, and Travel Info
Share with an option to print the website address for save-the-dates
What's great is that by creating a free website, you'll automatically enable your registry to sync, so guests will easily be able to find your registry from your site. You can even edit privacy settings and make your site searchable via Google, so only guests will be able to find it.
A downside: sharing isn't as intuitive as some sites; there's not an easy way to share via social media unless you copy and paste the link yourself.
Virtual Icing on the Cake: For Guests
Something that registries often get wrong: they are catered for the couple but not so much for guests. Zola has some features that nicely welcome both guests and engaged couples to make the experience more seamless.
Here are just a few:
Guests can R.S.V.P. online (through a wedding website)
Gift Tracker shows what gifts have been received and keeps track of shipping dates
Registry Checklist provides a template of typical items and suggestions for creating a registry
Guests enjoy free shipping and their choice of a shipping date
Option for Group Gifts (guests pay part of a larger items' worth) and Price Matching
While some of Zola's privacy policies are not optimal and there are some limitations in terms of what gifts you can purchase, Zola shines in its integrated features, ability to source unusual gifts, and services to help manage both the registry and the wedding itself.
It's nearly impossible to not have heard of Amazon, as the giant of all things e-commerce. In its twenty-third year of business, Amazon continues to acquire and partner with more and more companies (even brick and mortar franchises like Whole Foods). And while it's a giant because it offers customer service and an enormous collection of good for sale, it also has come under some fire.
In 2014, Amazon was confronted by the Federal Trade Commission and had to adjust its practices (and was investigated again last year). It holds an A- with the Better Business Bureau, which, while not optimal, still holds as a reputable company.
If nothing else, controversies aside, if Amazon knows something, it's e-commerce and the ability to drive traffic to a wide range of services and products. And because of its popularity, it's the first choice for many engaged couples when it comes to creating a wedding registry.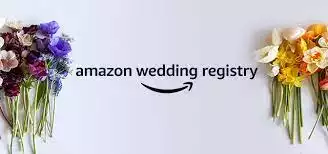 The Pitch:
Amazon sells itself as a Universal Wedding Tool. And that's not just an empty phrase. What that means is access to literally almost any gift you can find online. Translation: guests can select gifts, and you can add gifts, even if they're not on Amazon.
That means endless possibilities and plenty of flexibility. It also, for some, might be a bit overwhelming. Amazon mostly focuses on access to a virtually endless inventory, customer service, and discounts for Prime Members.
While Zola focuses on services, Amazon focuses more on sheer access.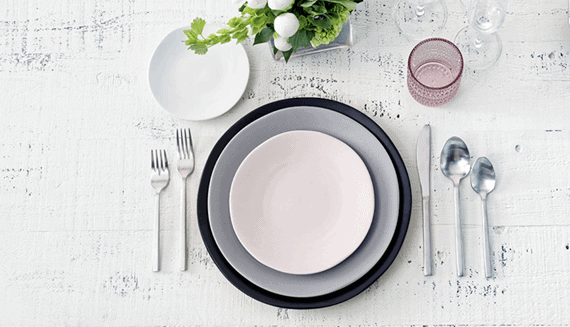 The Fine Print:
As you might imagine, there is less in the way of policies specific to the wedding registry, and more umbrella policies and terms of use for Amazon Online as a whole.
At any time, consumers can access their purchase history, personal information, and recent purchases or browsing sessions
Amazon's revenue is generated through third-party target ads. Cookies are used to track your browsing history, and information like date, time, and operating system used in access.
Deals for Amazon Prime Members: include free shipping for purchases over $25; 5% buyback on select 'big items'; Finance Options through Amazon Store Gift Cards; Select Brands offer a free gift to guests upon purchase
Generous 180-day return policy (some restrictions may apply)
If you and a good deal of your guests are Amazon Prime Members, there's plenty of reasons to consider a registry with Amazon. Not only is it a familiar site to navigate, but they won't be a charged a fee (like they may with Zola) and can still enjoy the perks of free shipping and finance options.
On the other hand, non-Prime Members may feel a little frustrated by the discrepancy of benefits.
Creating a Registry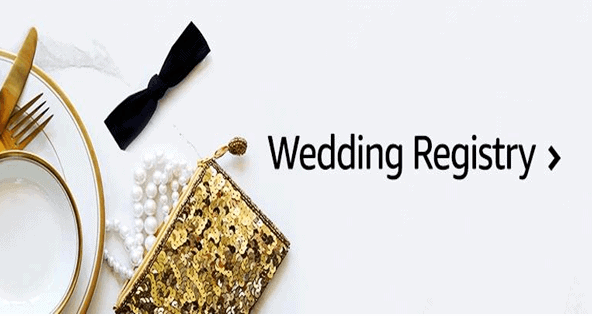 Like Zola, Amazon makes it pretty simple to create a registry. After you log in and supply basic details, though, you have a few more options to help your guests decide what they should purchase. There's also easier sharing options.
Updates are registered within 15 minutes
You can share your registry via Facebook, email, and/or Twitter
Partners can be invited to edit the registry
Upload pictures, personal notes, and use a highlight feature to show what gifts are a priority, and make others stand out
Also like Zola, Amazon features a Gift Tracker and allows for group gifting for bigger items (any leftover items paid towards but not completely for will be given as store credit). You can even enable or disable gifts for certain guests, so what they see on the registry is customized to/for them.
Creating a Website
Amazon doesn't offer its own website services. Instead, it's partnered with the Knot. And while there is an option to sync a website (free) from The Knot with Amazon, it's not as integrated as what Zola offers. Then again, the flexibility may be a plus for some couples, and others may prefer creating a website with The Knot.
Other Noteworthy Features
Since Amazon's supply as gifts is seemingly endless and constantly changing, there isn't much point to discuss what products it has to offer. You can shop or search by filters like:
Most Popular
Brand
Gift Cards
Style (such as Modern, Eclectic, Home, etc)
Finally, couples will enjoy the option to send virtual thank you's to guests, and the ability to handle returns online.
Final Thoughts: Zola or Amazon?
It all comes down to a matter of preference. While Amazon has been in business longer, it also has more complaints and concerns. While Zola offers more in terms of services and unique gift options, Amazon has unparalleled access to a massive inventory of gifts across the web.
Choose Amazon: if you want little to no restrictions on gifts to add to your registry. You also might consider Amazon if you prefer working with The Knot to create a site, are an avid social media user, and if you have a good deal of guests who are Amazon Prime Members.
Choose Zola: if you want to register with a site devoted solely to registries, and do better with a large but slightly more limited selection. If you want everything in the same place, crave organization, or want to add unconventional gifts like funds for experiences, this is the better bet.
Wedding Services | Zola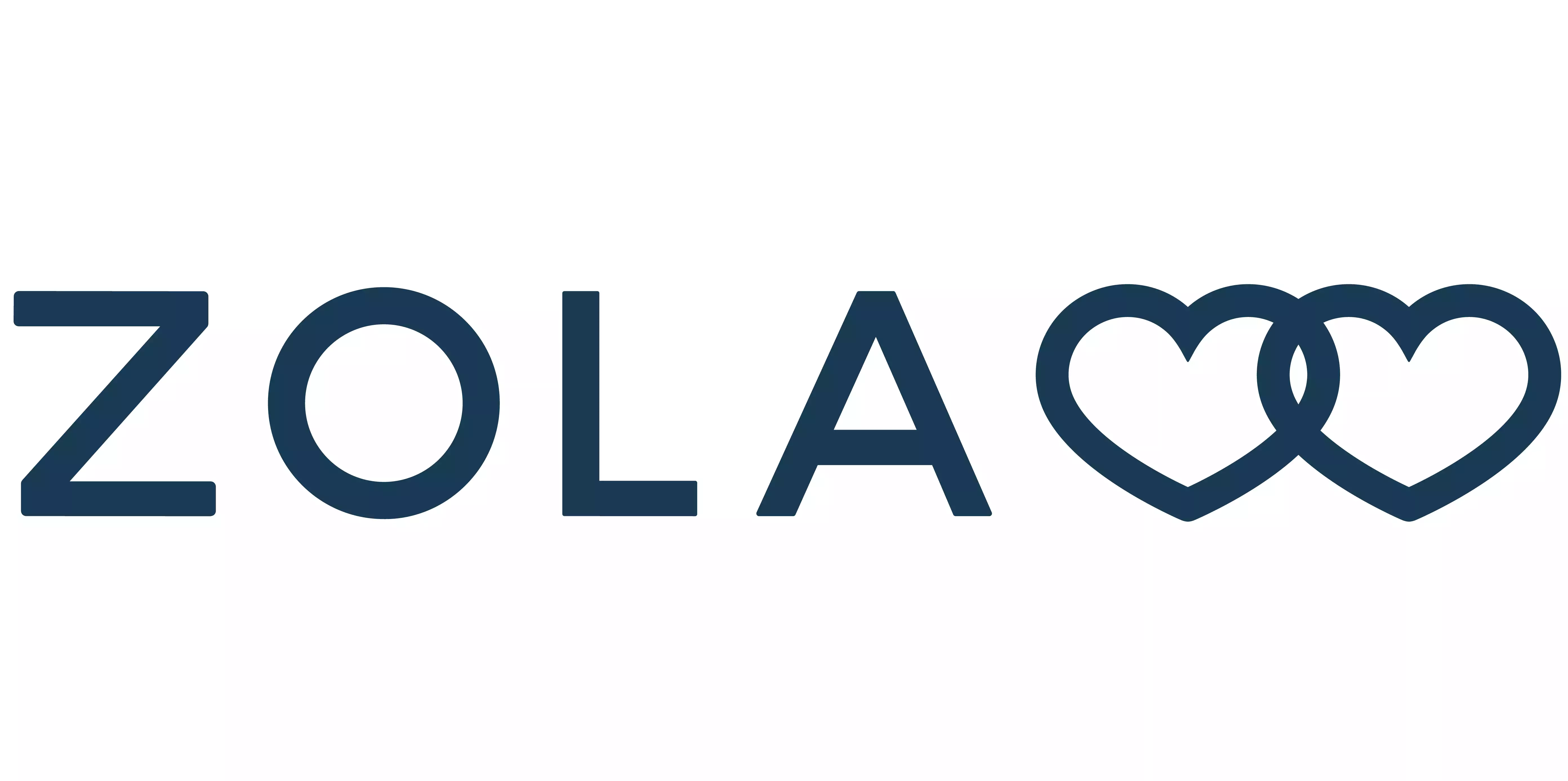 Why I Prefer Zola:
I am often asked, "what is the best wedding registry service?" While it can depend on a few factors, my #1 go-to choice has to be Zola. It is more customizable and features hundreds of additional merchant integrations.
Get the Best Registry
We earn a commission if you click this link and make a purchase at no additional cost to you.
Further Research on Wedding Registry's