Decades before I started making jewelry, I had a pearl necklace when I was young. It was a simple strand of tiny white pearls that I would wear for special occasions (or when I was playing dress-up.) I would always try to borrow a pair of my mom's pearl earrings to go with it. They were huge (and clip ons — neither of us had pierced ears at the time!) and barely fit my earlobes. My grandmother told me that large pearl earrings were meant for more mature women, and that young ladies should wear something more delicate. Young Lauren was a little disappointed. Present-day Lauren is pretty annoyed.
Indeed, large pearl earrings have often been associated with wealthy, older women. When I think of them, I think of a powerful executive in a pair of large pearl studs, or an affluent heiress in large pearl drop earrings, but why should they have all the fun? Below are some large pearl earring ideas that are not dowdy, and will suit women of any age and style. These are certainly not your grandma's pearl earrings!
Bottom Line Up Front
There are so many vastly different styles of large pearl earrings to choose from, it's so hard to pick just one! I want a pair to match my every mood! If I had to pick a favorite though, I think it would be the Bold Pearl Drops from Mejuri. They're large and lustrous and a little imperfect, which makes them perfect for me.
About Pearls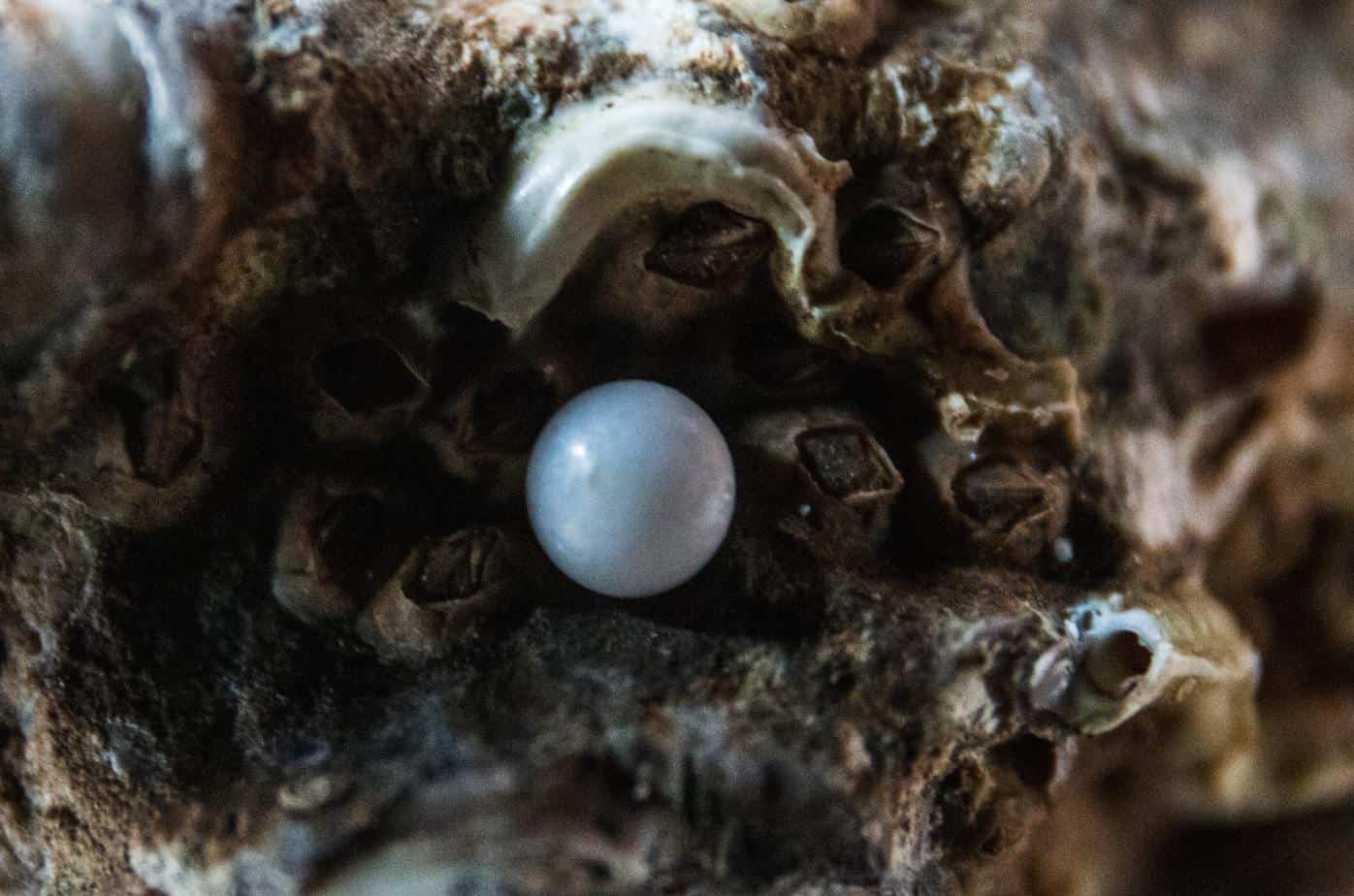 Pearls are the birthstone for June and are associated with the goddess Aphrodite. They are often seen as a symbol of purity, beauty, wisdom, and innocence. They're said to be lucky, and symbolize wealth and status.
Pearls are frequently worn during weddings and passed down as family heirlooms. They're a unique gemstone because they are made of organic matter in the sea, and require no special cutting or polishing to achieve their full luster and beauty.
Pearls are formed when an irritant (also called a seed or nucleus) gets inside the soft tissue of a mollusk, most commonly an oyster, (either by accident or intentionally by way of a pearl farmer.) The oyster then secretes a coating called nacre around the irritant, which builds up over time to form the pearl.
Pearls that are formed without the help of a pearl farmer are sometimes called natural pearls.

These are extremely rare, almost impossible to find, and prohibitively expensive.

Cultured pearls

are pearls formed with human intervention. They make up almost all of the pearls sold today. Cultured pearls are still formed naturally inside of the oyster, and are sometimes still labeled "natural pearls" (just to make things more complicated.)

Synthetic pearls

are fake pearls and are usually made of glass or plastic.
How to Wear Pearls
Avoid wearing pearls with other jewelry, which can scratch or damage them.

Wear pearls regularly and close to your body. The natural oils from your skin will condition your pearls and help preserve their luster.

Pearls benefit from some moisture but do not wear your pearls in the shower or while swimming, especially in salty or chlorinated water.

Be cautious of cosmetics and perfumes around your pearls. Put your pearls on after you have applied all cosmetics and perfume and they have dried, as the chemicals in them can damage your pearls' luster.
Types of Pearls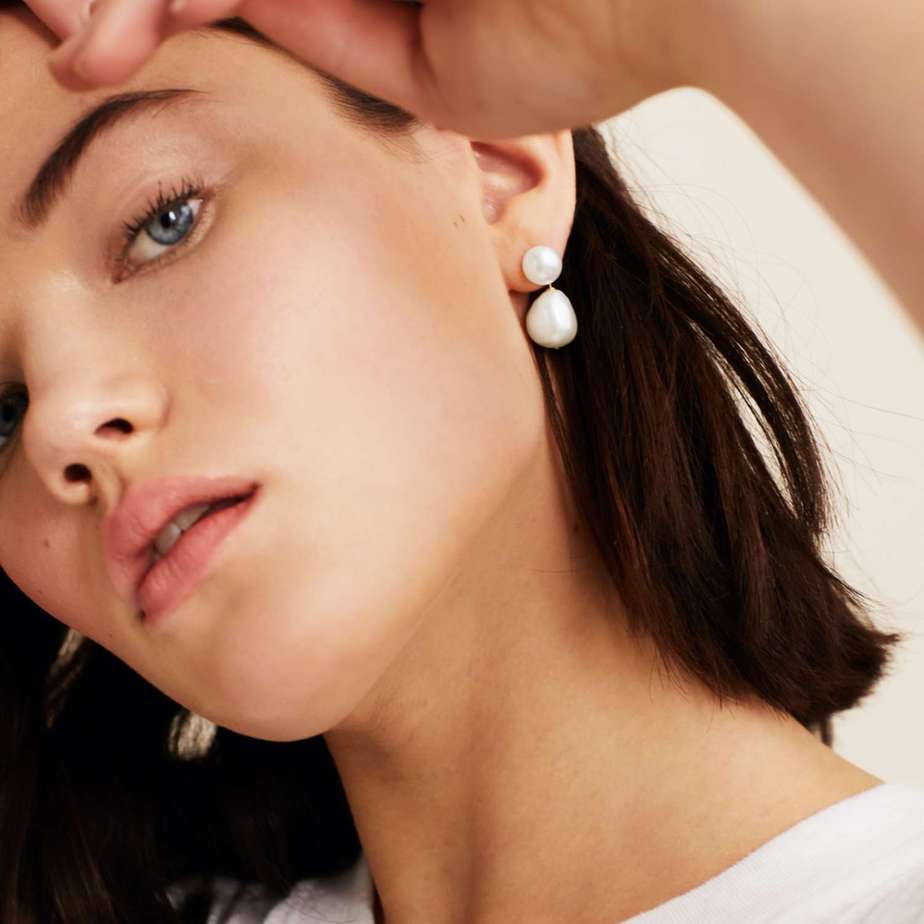 Freshwater Pearls
Freshwater pearls generally come from China, where they're found in lakes and rivers. They are among the most affordable natural pearls since they are easily mass-produced. In the past, freshwater pearls had a reputation for being lower quality than other natural pearls, but in recent years huge progress has been made in ensuring freshwater pearls that are cleaner and more uniform in shape and color. Freshwater pearls offer the largest range of both color and size compared to other types of natural pearls.
Akoya Pearls
Akoya pearls (sometimes called Japanese pearls) are the most well-known variety of pearls. They are very round and uniform with very high luster. Akoya pearls are produced by small oysters off the coast of Japan and China. Large-sized Akoya pearls are more expensive and difficult to find than large freshwater pearls. Although larger Akoya pearls exist, they're most typically found in the 2 to 10mm range, with the largest of those being the hardest to find.
Tahitian Pearls
Tahitian pearls, sometimes called black pearls, range in color from dark gray to silvery blues and purples to peacock green. They're very lustrous and have a mirror-like quality. They're found exclusively in Tahiti and other French Polynesian islands. They're usually larger than freshwater or Akoya pearls, generally ranging from 8 to 13mm.
South Sea Pearls
South sea pearls are among the largest and most expensive pearls on the market. They tend to be creamy, lustrous white, or gold-colored. Golden south sea pearls are particularly prized, and often come with a higher price tag. They range from light champagne colors to deep burnished gold. They're found off the coast of Australia, Indonesia, and the Philippines, and are found in a range of sizes comparable to Tahitian pearls.
Click here for a map of where these pearls are found.
Pearl Shapes and Sizes
Round

pearls are the most popular and are perfect or nearly-perfect spheres.

Teardrop

or

drop-shaped

pearls are oblong with a tapered end and are great for earrings.

Baroque

pearls are any pearls with an organic, asymmetrical shape.

Keshi

pearls are pearls that form without a nucleus. They are formed entirely of nacre and are often flat and irregular.

Large

pearls are generally considered to be any that are 8mm or larger, though it's not uncommon to see pearls of all varieties (though not commonly Akoya pearls) as large as 12 to 14mm and beyond!

There are pearls up to 15.5 inches long!

Traditionally, large pearls were reserved for mature women, young women and teens would wear pearls that were 7mm or smaller, and children would wear pearls under 6mm. Like I said before, we don't have to follow those rules anymore!

According to Huge Tomato,

7 to 8mm pearls are the most popular of the sizes that they offer.
My Picks for Large Pearl Earrings
Not all pearl earrings need to be simple studs (though I do love a solitaire pearl stud — I once made myself a pair that I ended up wearing to my college graduation.) I picked the following earrings because I think they showcase the vast variety of large pearl earrings to be found. They range from classic to bold to playful, and there is something for everyone (and every occasion!) As I said before, these are not your grandma's pearl earrings, but I think she'd probably like them too!
Freshwater Pearl and Topaz Drop Hoop Earrings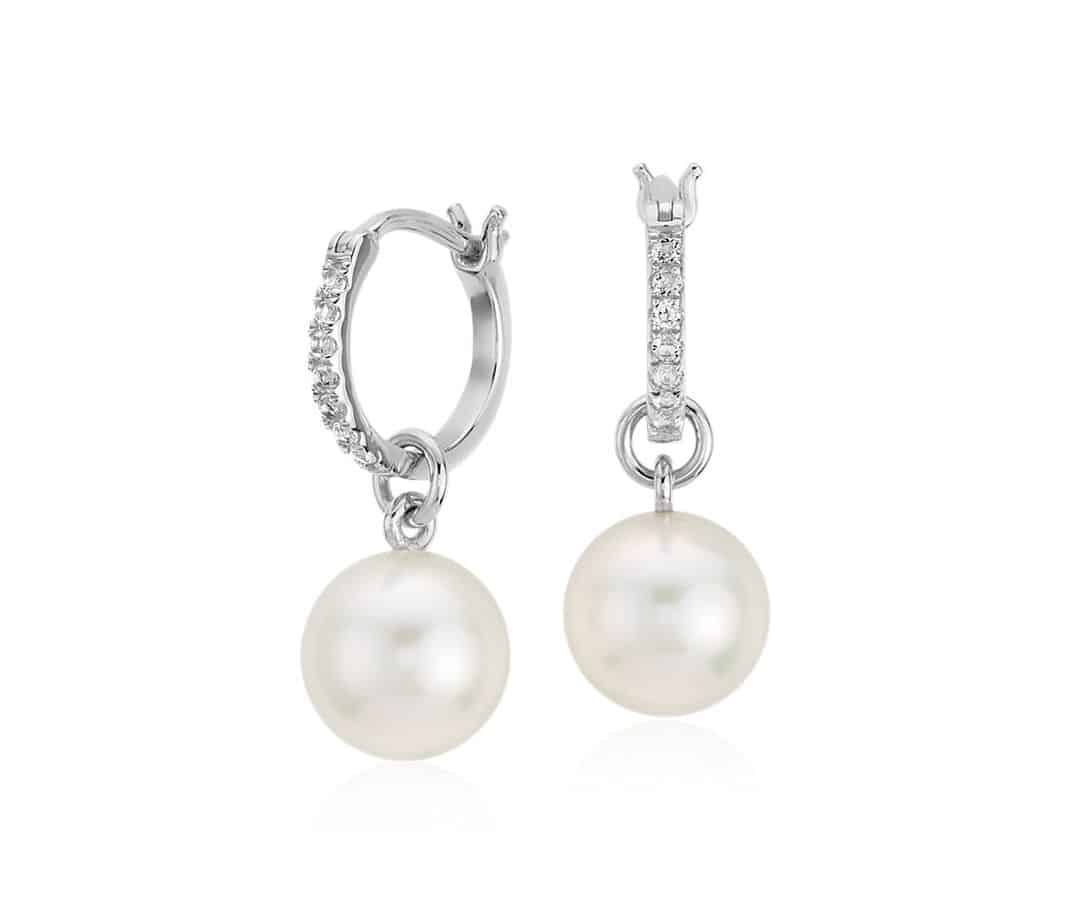 These 9mm pearl and white topaz earrings from the Blue Nile might be the perfect drop earrings for your wedding day. The mix of dreamy luster and sophisticated sparkle makes them ideal bridal jewelry, in my opinion though, they'd look just as lovely dressing up your little black dress for a nice night out. They're a classic-looking pair of earrings that will never go out of style, and they can be worn with or without the pearl, which can slide off the topaz hoop. Buy here for $165
Large Pearl Drop Earrings with Pavé Diamond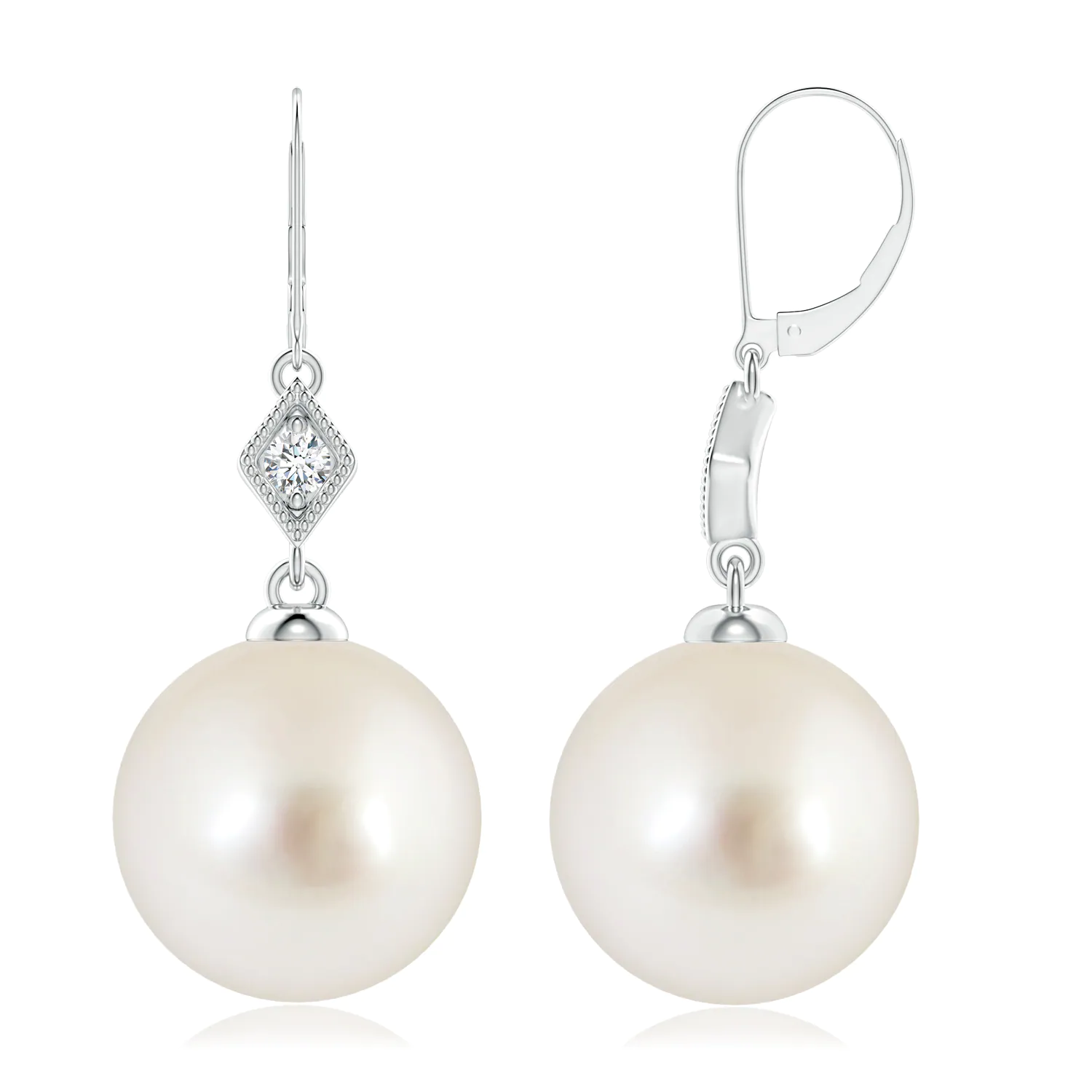 Now, these are some classy pearl earrings! The 10mm pearl on these drop earrings from the Angara dangles beneath a pavé-set diamond. I love the juxtaposition of a pearl the size of a small gumball dangling from such a dainty hook and diamond. Buy here for $1809
Crystal Pearl Chandelier Earrings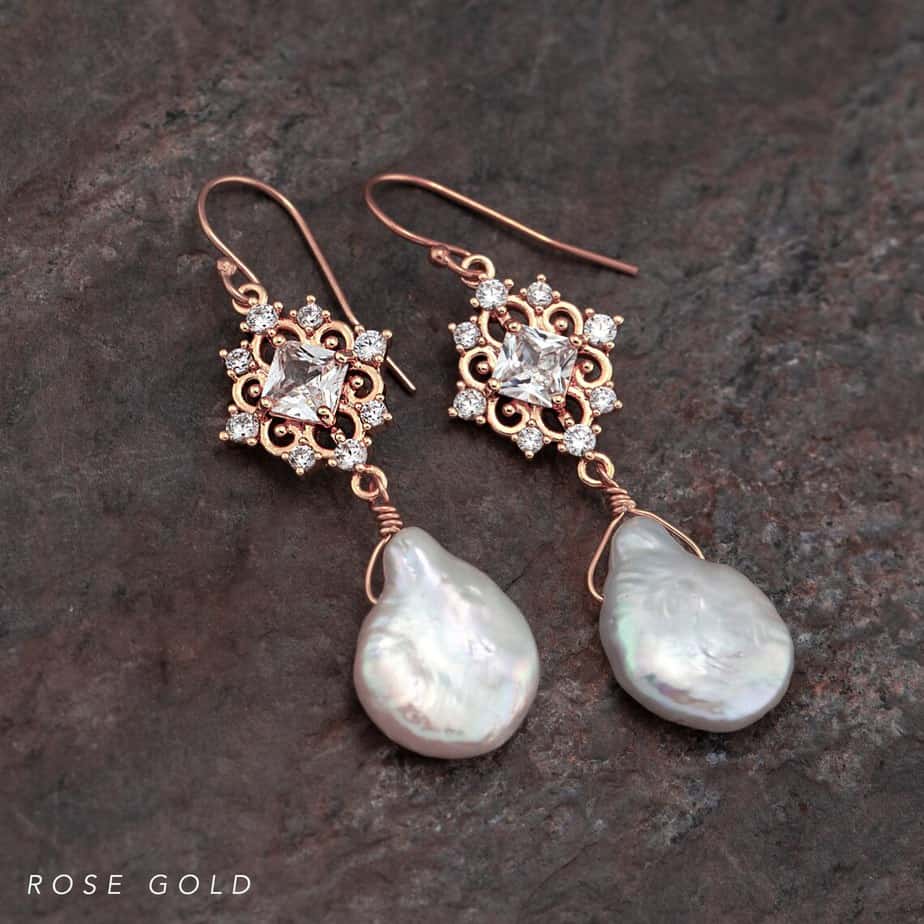 These earrings are definitely not what first comes to mind when I think of pearl earrings, and that's why I love them so much! These drop earrings from Delezhen on Etsy feature a large, flat wire-wrapped pearl and cubic zirconia accents. They would make lovely bridal or bridal party earrings. Buy here for $48
Golden South Sea Pearl Dangle Earrings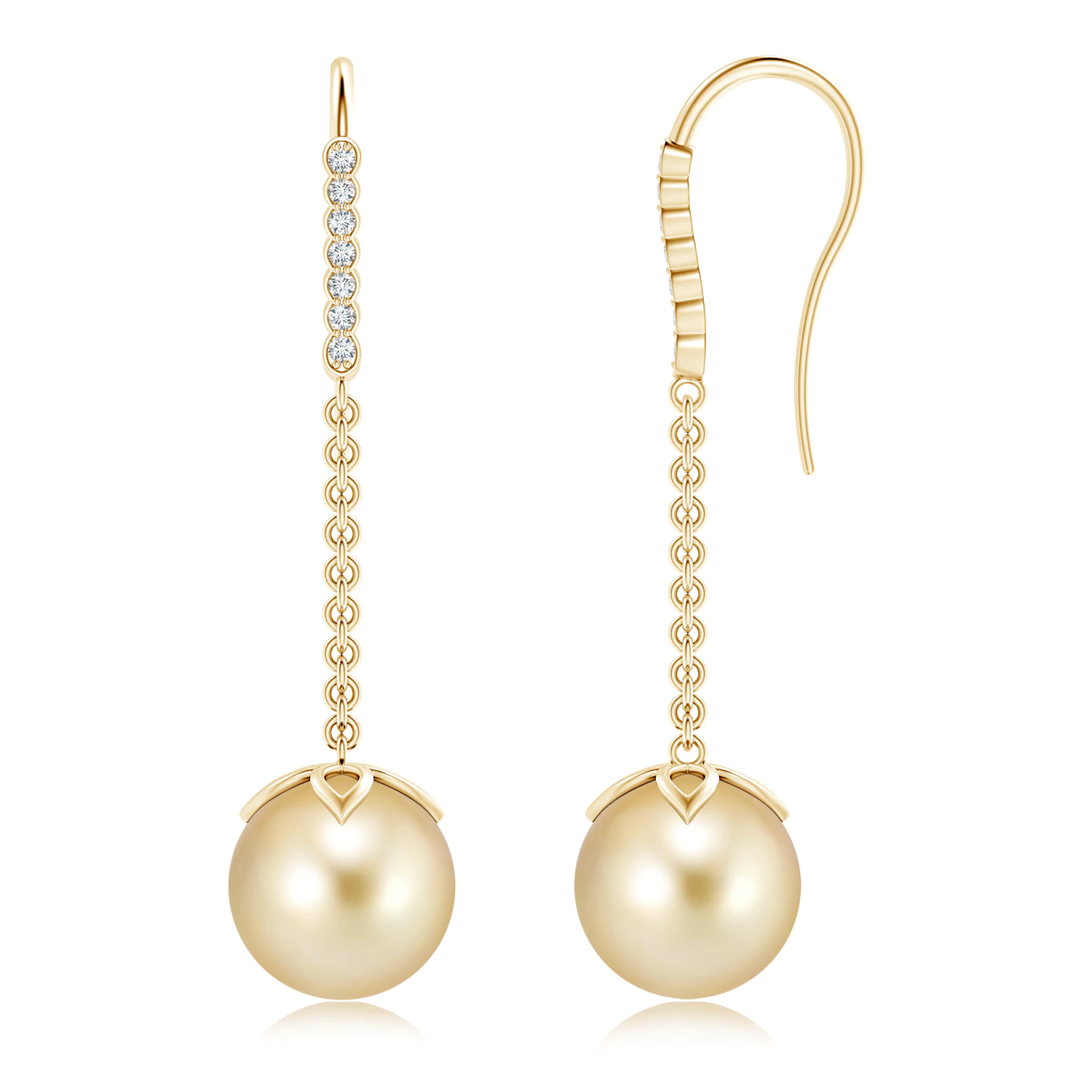 These gold-on-gold earrings are fit for a queen! The row of diamonds upped the glam factor of these large and long 10mm South Sea pearl earrings from Angara. These check a lot of boxes for me. They're modern and fun, yet still glamorous enough that Grandma would approve. Buy here for $1499
Shell Shaped Pearl Studs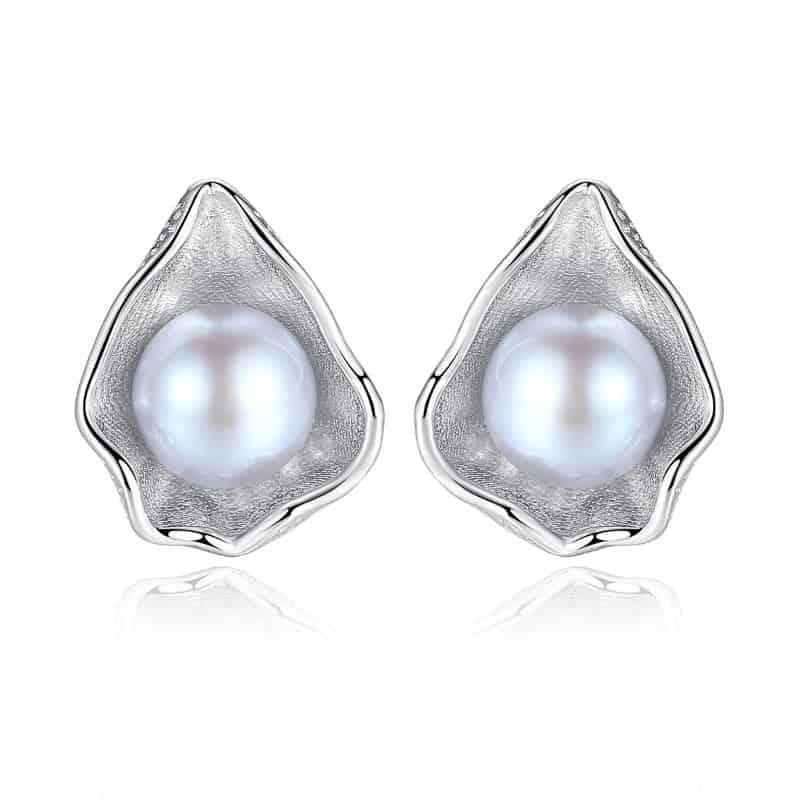 These 9mm freshwater pearl studs snuggled into a sterling silver shell are a cheeky but glamorous twist on a traditional pearl stud. These earrings from Huge Tomato maybe a little too on the nose for some people, but I love a sculptural, nature-inspired piece of jewelry, and can't think of a better way to celebrate the majesty of a pearl. Buy here for $46
WWAKE Drop Earrings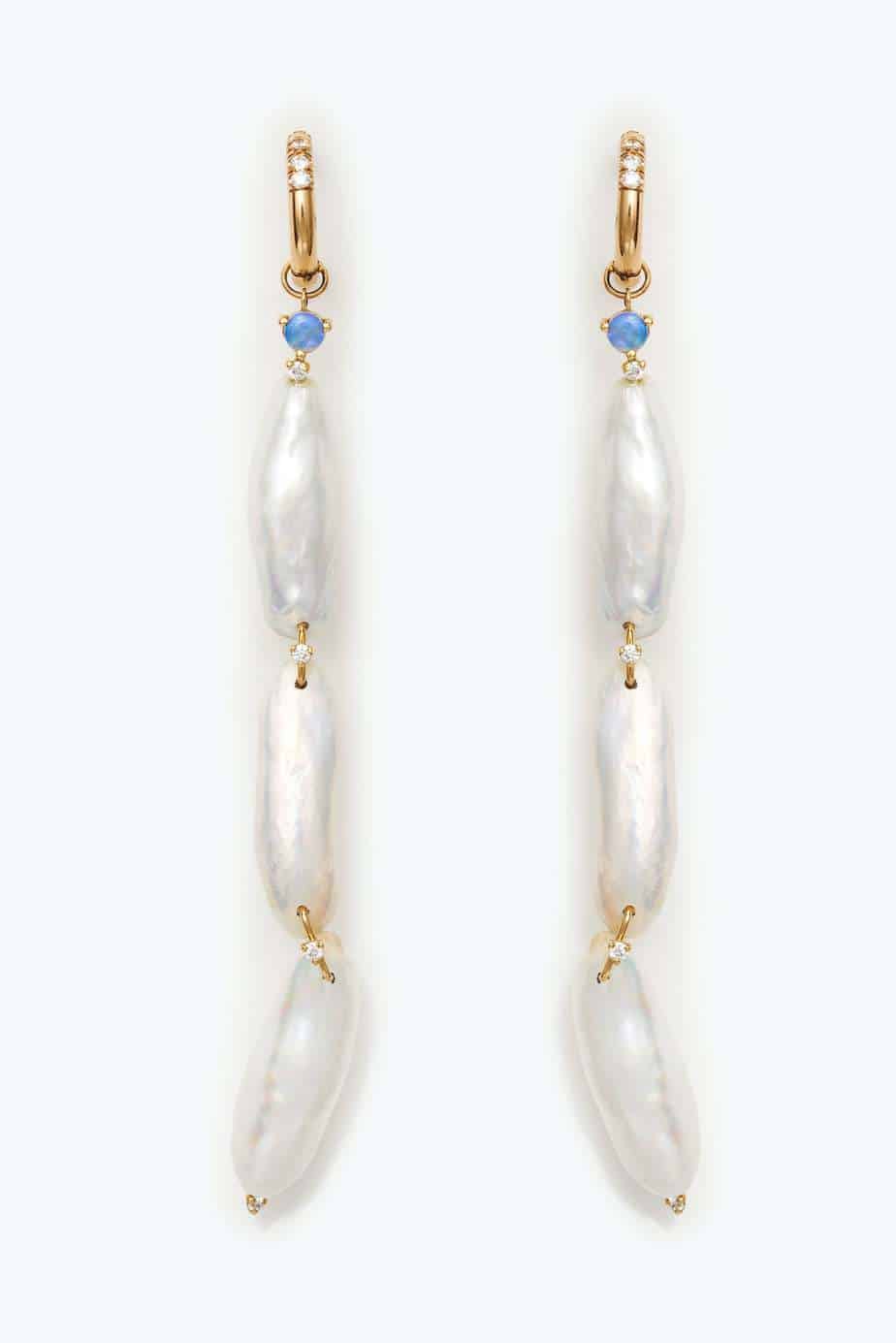 These drop earrings from WWAKE might be the most dramatic pair of pearl earrings I've ever seen! Large (and long!) baroque pearls grown on the last American pearl farm are suspended in succession and punctuated by ethically-sourced diamonds and opals. They're also made with 100% recycled 14k gold! Buy here for $2635
Large Tahitian Pearl Earrings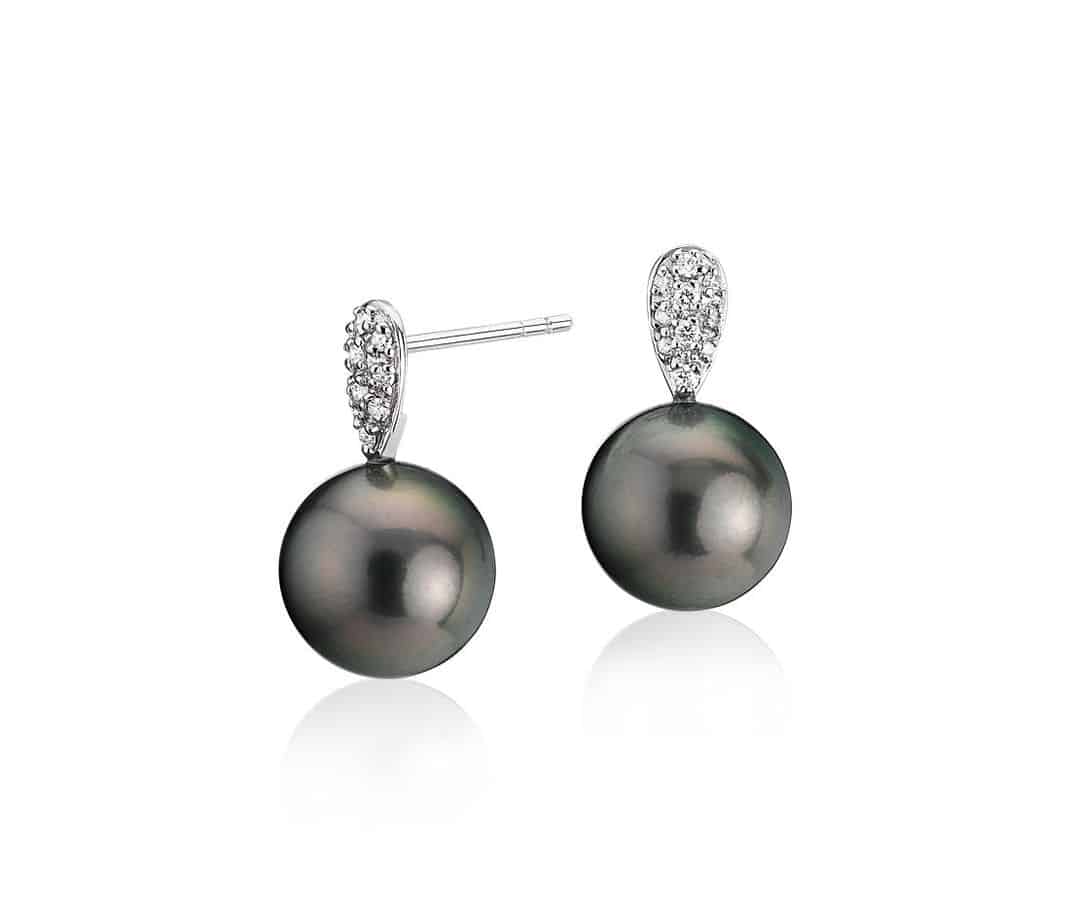 These drop earrings from Blue Nile are the perfect way to show off the wonder that is the Tahitian pearl. The 9.5 to 10mm pearls are suspended from a diamond cluster that reminds me of stars in the night sky. They're an updated take on classic pearl earrings. Buy here for $900
Pearl Hoop Huggie Earrings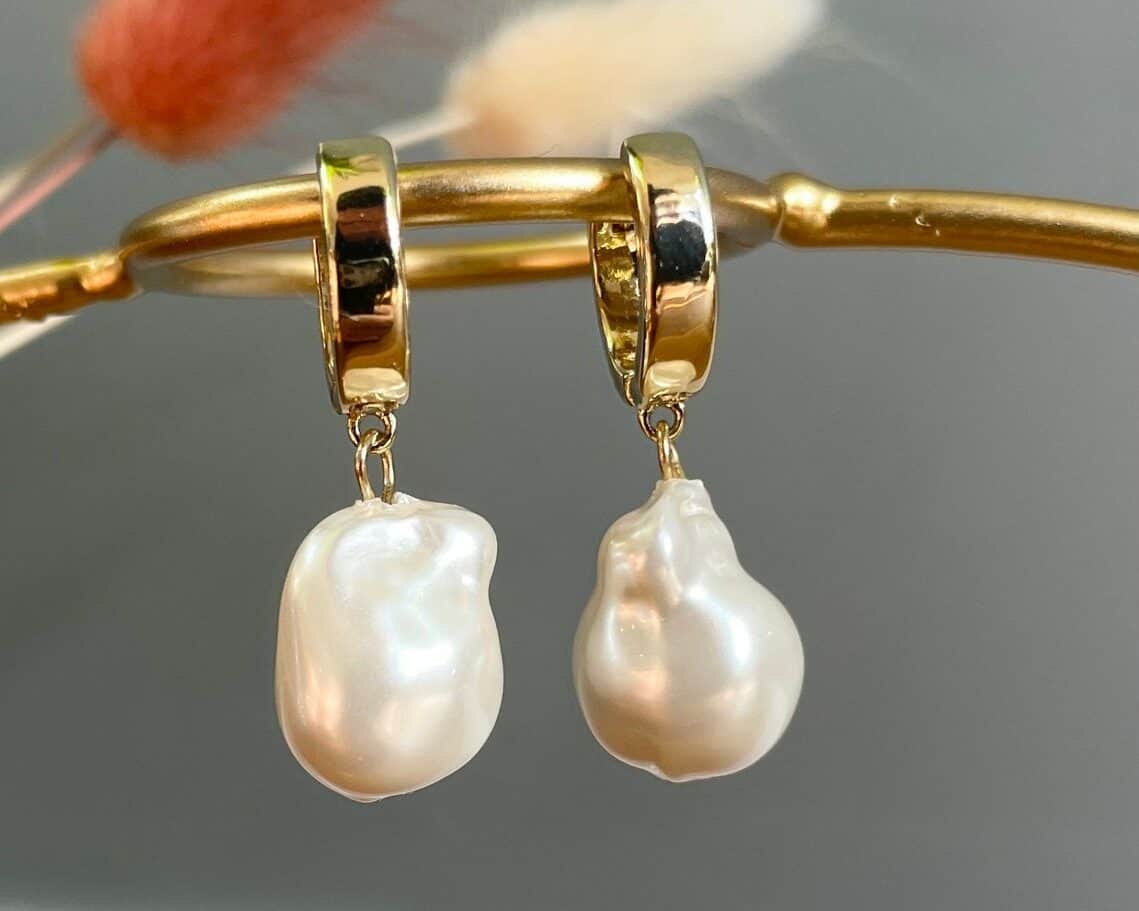 I love the modern/retro look of these Huggies from By SAM Jewellery on Etsy. The large baroque drop pearl paired with a chunky gold huggie hoop gives me some serious "Working Girl" vibes. Buy here for $39.48
Large Pearl Halo Studs with Milgrain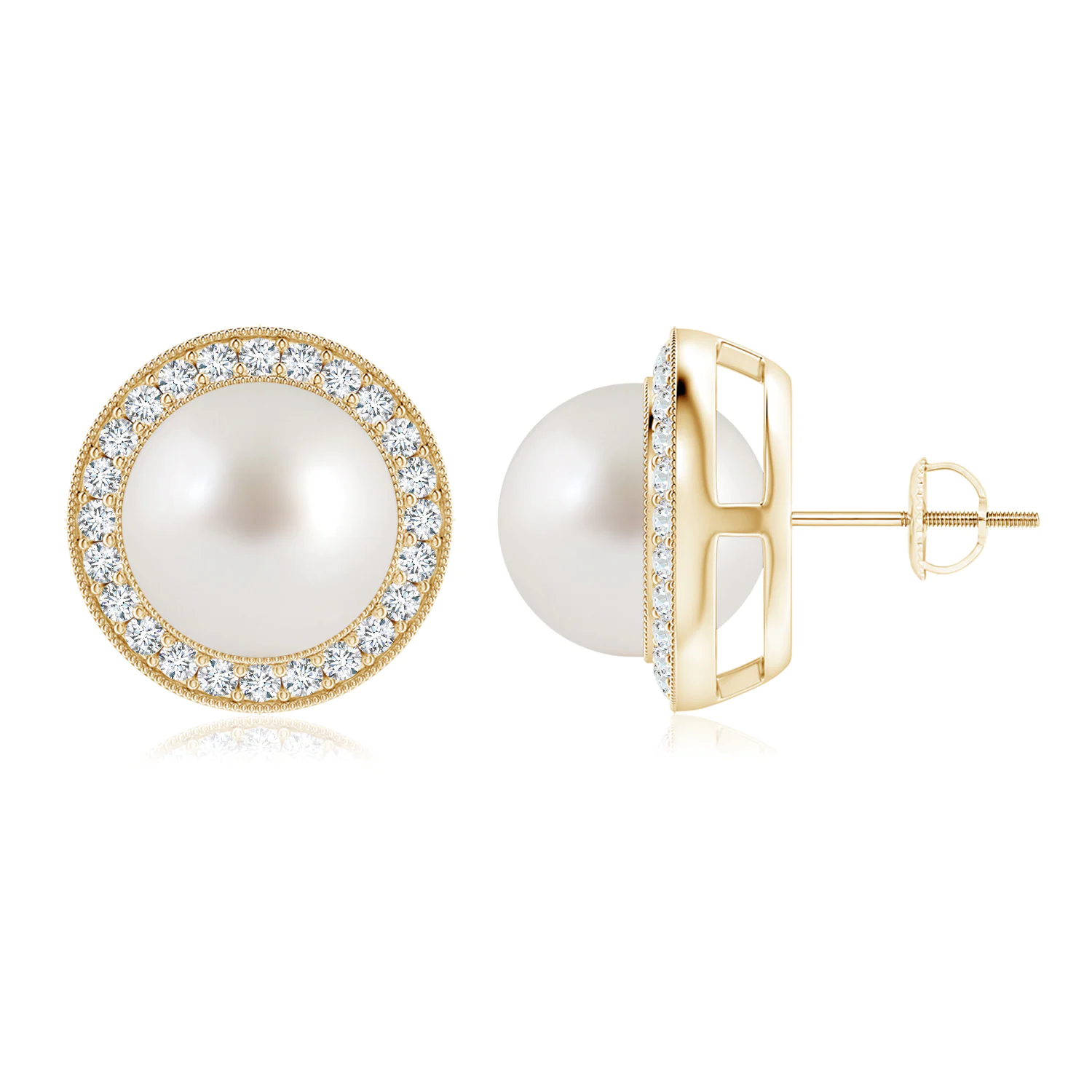 I say if you're gonna go bold, go bold! I like all of the detailed work on these 10mm South Sea studs from Angara. The diamonds and milgrain detailing give them a contemporary spin on the classic pearl stud aesthetic, and they're sure to make a statement. The screw backs on these will keep them nice and secure, which is always a benefit with large earrings. Buy here for $2559
Bold Pearl Drop Earrings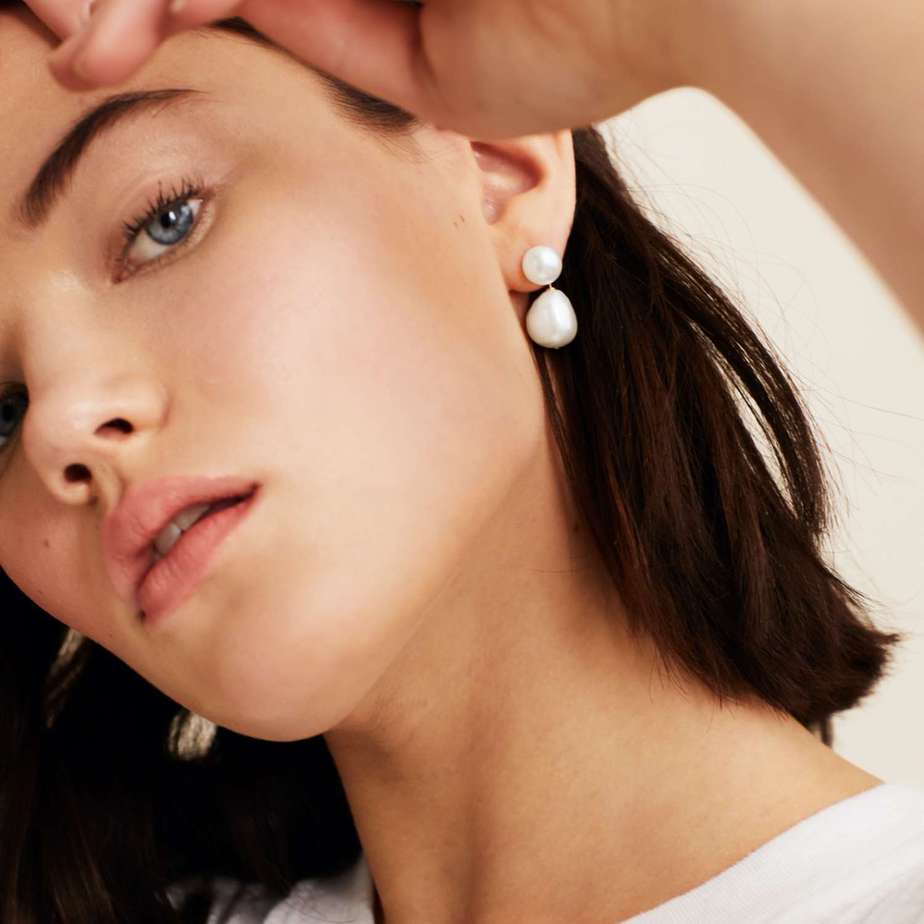 If you've ever wanted to give off "Girl With the Pearl Earring" vibes, (or Harry Styles at the 2019 Met Gala vibes) then these are the earrings for you! These 12.5-13.5mm freshwater pearl drop earrings from Mejuri make a statement. I love the supple, tactile look of the slightly asymmetrical drops. Buy here for $65
Freshwater Pearl Drop Earrings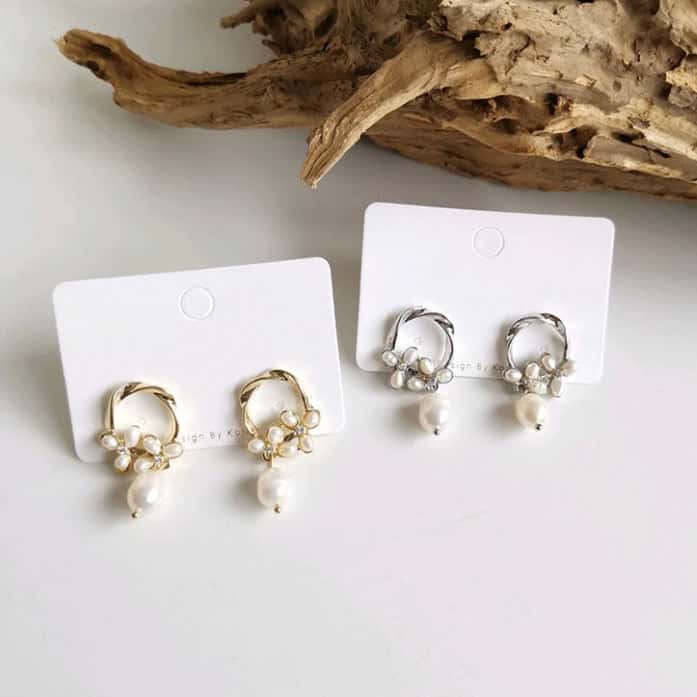 Somehow these freshwater pearl earrings from Huge Tomato are both large (8-9mm) and dainty at the same time. I love the graceful wreath shape paired with the large pearl drop. These earrings are delicate enough for bridal jewelry, but large enough to appear in photos. A win-win! Buy here for $69
Peacock Tahitian Pearl and Diamond Earrings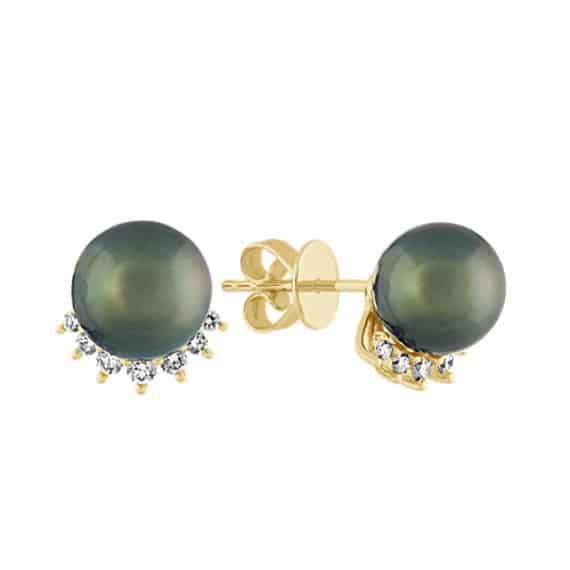 I like the diamond accents on these 8mm peacock Tahitian pearl earrings from Shane Co, but my favorite thing about them has got to be the gorgeous color of these Tahitian pearls. They showcase what makes pearls so unique and beautiful. Buy Here for $840
Bezel-Set Keshi Pearls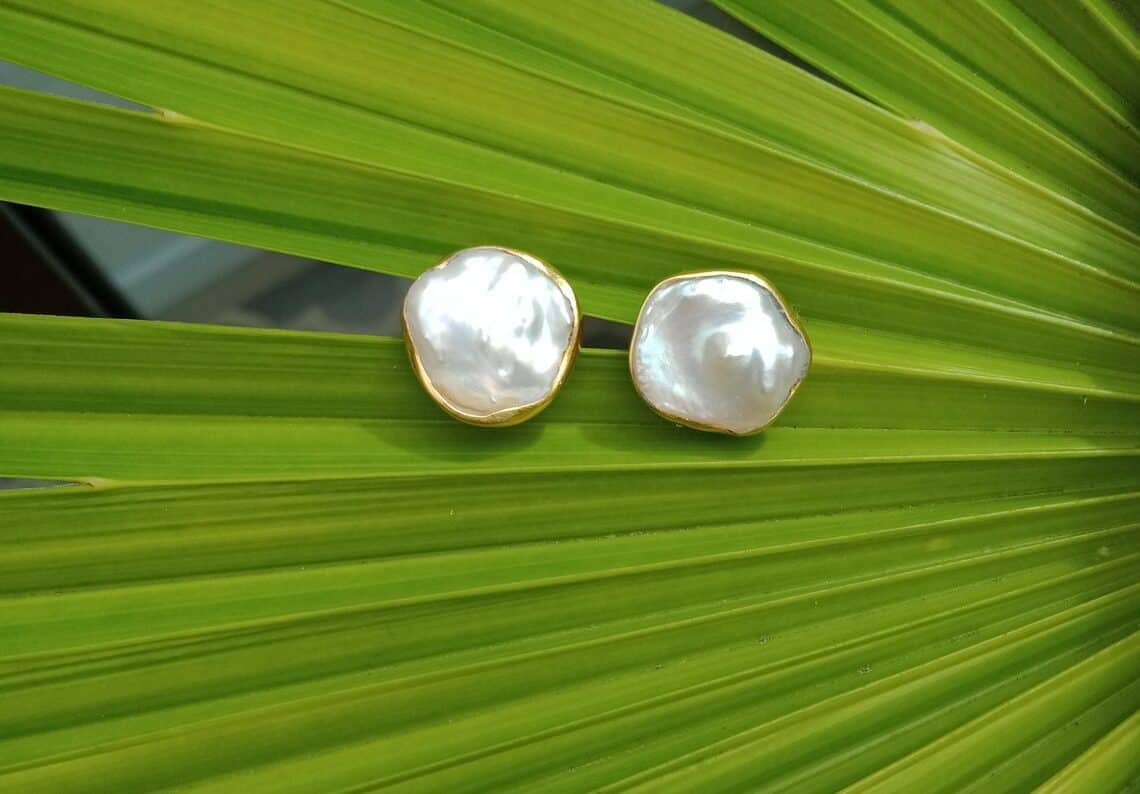 I love an unexpected bezel! These 12mm Keshi pearls from Franki and Felix on Etsy are mismatched and perfectly imperfect. The bezel setting works perfectly with the flat, organic shape of these Keshi pearls, and they're a relatively affordable option for such large earrings! These are a great way to wear pearls for a contemporary boho style. Buy here for $59.25
Large Gold Dipped Pearl Studs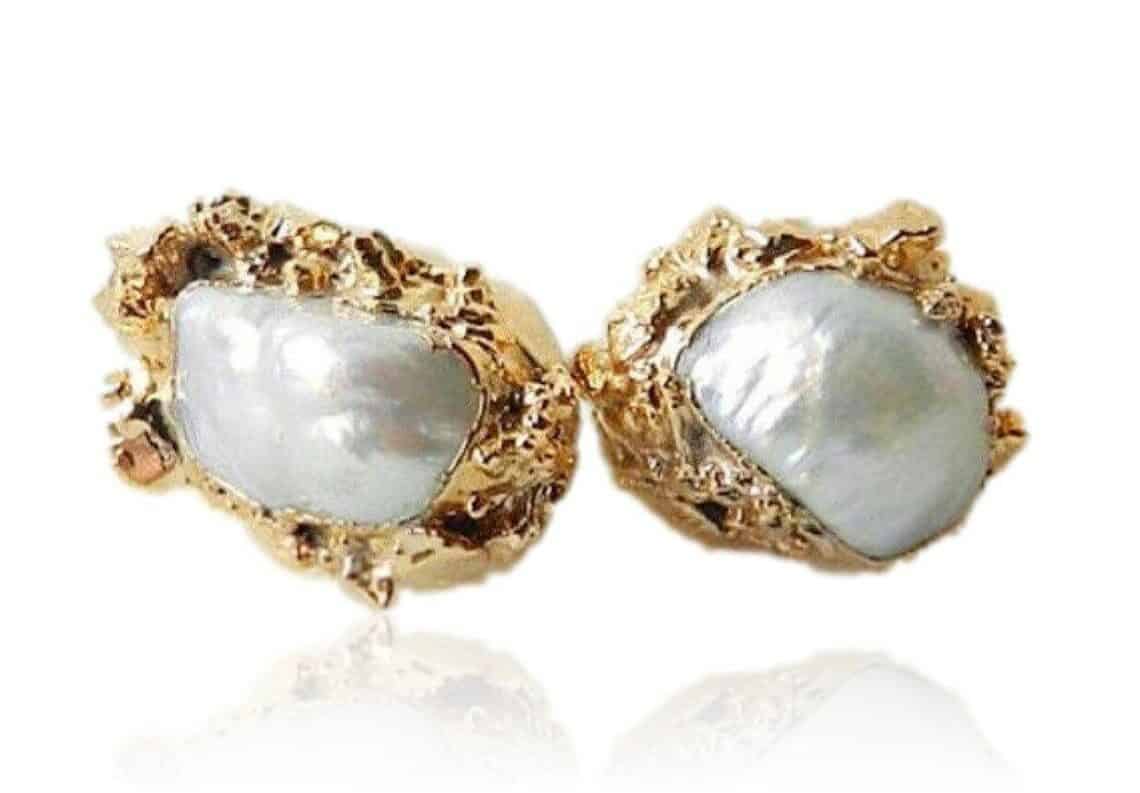 These 10mm gold dipped pearl studs from Cocolina Jewelry on Etsy are so distinctive looking. Without a doubt, they would be a showstopper! Large asymmetrical pearls are set in copper and then dipped in textured 18k gold for a raw organic look that's sure to be unlike anything else in your jewelry box. Buy here for $60
White South Sea Pearl Studs
This list wouldn't be complete without a pair of simple pearl studs, and these 10mm South Sea pearls from Shane Co are the perfect set. These creamy white South Sea pearls are so lustrous and perfect, they don't need any other adornment. These are truly the quintessential wear with anything pearls. Buy here for $575
My Picks for Large Faux Pearl Earrings
Large Pearl Dangle Drop Earrings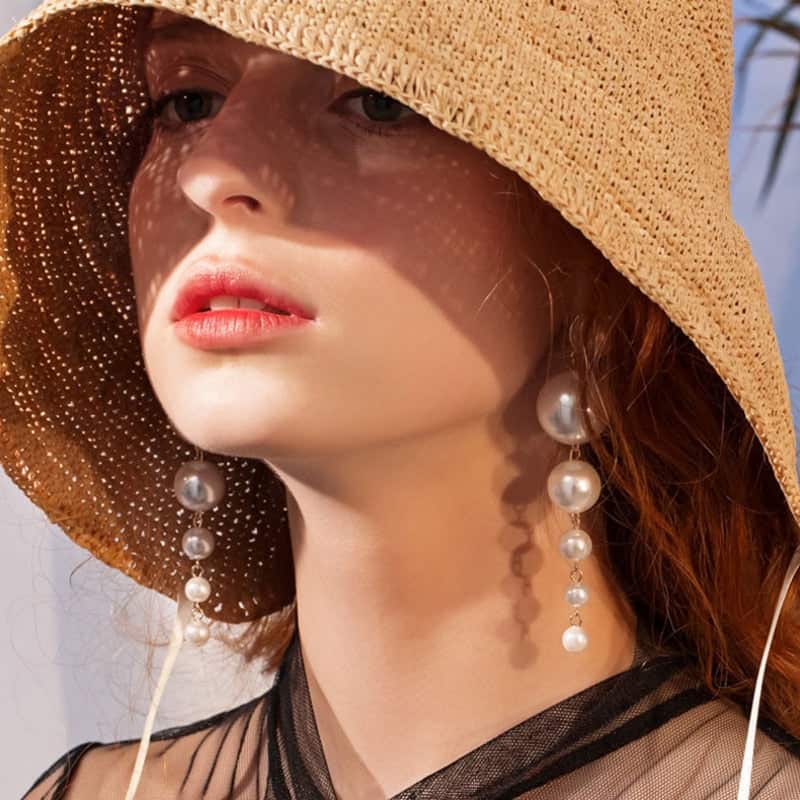 Now, this is a dramatic pair of pearl earrings! I love how bold and modern these earrings from Huge Tomato are! Full disclosure: these are faux pearls. They're actually "shell pearls," also called "mother of pearl" and are made from the inner lining of oyster shells. They're a more affordable option for someone looking for large pearl earrings on a budget! Buy here for $49
Deco Pearl Studs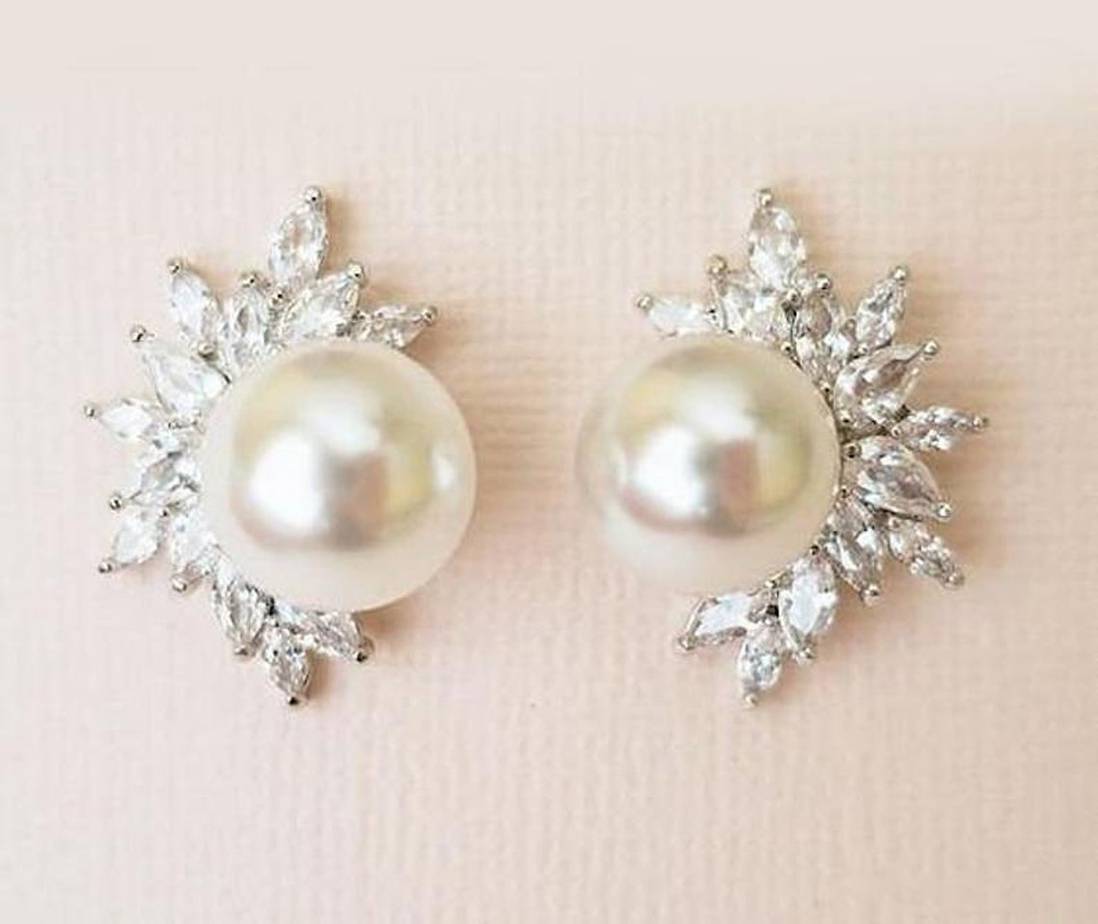 These vintage-inspired studs from Heide and O are perfect for an Old Hollywood-style wedding. The glamorous spray of cubic zirconia behind the enormous central pearl is so elegant and eye-catching. These are show stoppers, but are affordable enough that you won't be afraid to wear them! Buy here for $43
Leaf Style Pearl Drop Earrings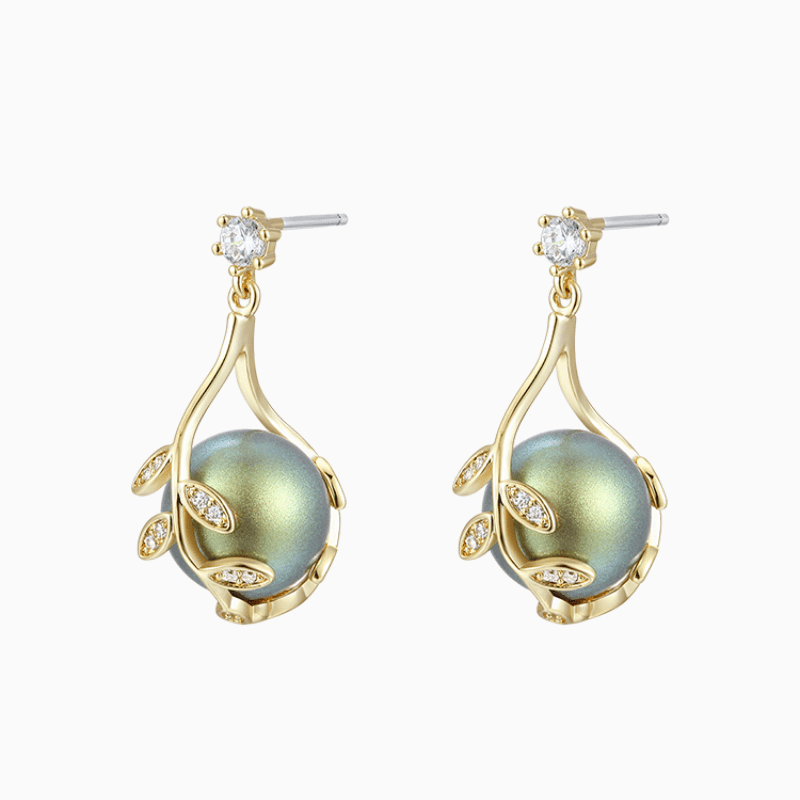 I love the color of these nature-inspired pearl drop earrings, also from Huge Tomato. These are also made from shell pearls and are technically faux pearls. I think they'd be lovely for a fairytale or boho woodland-themed wedding. Buy here for $79
FAQ
Question: What is the most popular pearl earring size?
Answer: 7 to 8mm pearls are the most popular size for pearl earrings, especially studs.
Question: How do you wear big pearl earrings?
Answer: Large pearl earrings are dramatic and elegant. They look best with a little black dress, evening wear, or any time you want to make a statement. When wearing large pearl earrings, keep the rest of your jewelry simple and minimal. Large pearl studs can be heavy, so it's best to find ones with a secure back that will keep them from drooping, such as a screw back.
Question: What should I look for when buying pearl stud earrings?
Answer: When looking for a pair of traditional pearl studs, look for pearls that are uniform in shape, size, color, and luster. Pearls are organic gemstones, and no two are the same, but for a traditional look, you'll want them to be as close a match as possible. If tradition isn't your thing, feel free to go with a mismatched pair!
Question: What do pearls symbolize?
Answer: Pearls symbolize beauty, purity, innocence, and wisdom.
Question: Can you shower in pearl earrings?
Answer: You should not shower in pearl earrings. Pearls like a little bit of moisture, but too much can damage them. Shampoo and soap can also damage the nacre of a pearl.
Question: How do you clean pearls?
Answer: Pearls should be wiped clean with a soft, damp cloth, and stored separately from other jewelry (preferably in a cloth bag.) You should not use detergents, chemicals, or mechanical cleaning processes such as ultrasonic devices to clean your pearls.
Final Thoughts
Pearl jewelry may be timeless, but that doesn't mean we can't update it to suit our modern tastes. Some styles are considered classics for a reason, but once you start to riff on those classics something magical happens. There is so much variety to be found when searching for the perfect piece of jewelry that it can make it hard to choose sometimes! If I had to pick a favorite of all of these large pearl earrings, I'd probably choose the Bold Pearl Drops from Mejuri. Lucky for me though, I'm an adult and if I want a wildly different pair of pearl earrings for each day of the week, no one can stop me!
Click here to find out the best places to buy pearls online!
Further Reading on Pearl Jewelry: