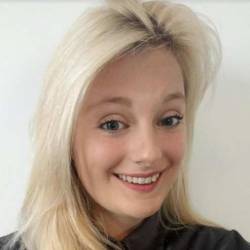 Latest posts by Rosie Greaves
(see all)
Jewelers with a huge online presence, like Jared and Blue Nile, are making waves. In a recent interview with JCK, Blue Nile's Chief Financial Officer, Bill Koefoed, revealed that, to stay competitive, Blue Nile has made sweeping changes over the years, in part by revamping the company's website, improving "diamond visualization", and paying extra attention to employees for the call center.
My Bottom Line Up Front: Of the two, I personally prefer ordering ideal cut diamonds via Blue Nile here. If you are looking for deep value picks, Jared is still worth checking here, just know that Blue Nile tends to have better selection and a better online ordering process.
Our Top Pick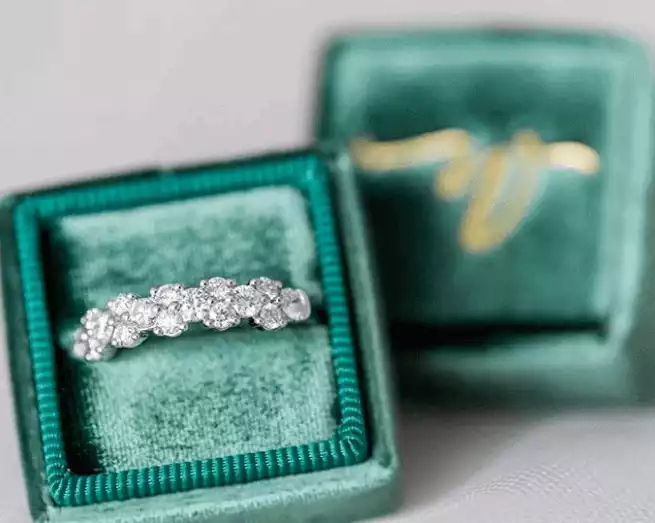 I Personally Prefer Blue Nile
Blue Nile understands online jewelry shopping. They have the deepest inventory of diamonds and settings for ALL BUDGETS. They offer 360 degree REAL diamond images online, so you know exactly what you are getting. Best of all, they've mastered the art of securely shipping jewelry and handling returns or issues with ease.
See Current Deals & Selection
Save 50% off Black Friday Here
We earn a commission if you click this link and make a purchase at no additional cost to you.
Jared had changes of its own. To revamp its image, Signet, the parent company that owns Jared, as well as other notable brands like Kay Jewelers, dropped the "He went to Jared" signature phrase and switched to a new slogan: "Dare to be Devoted". The new emphasis is meant to be on customer's love for each other and less about how much you spend on a ring.
The pattern? Focusing more on the customer and making for a more memorable and personable experience.
Making an (e-commerce) splash: Cision PRWEb, a leading source of online news publicity and distribution, reported that Blue Nile earned a top 5 star rating on topconsumerreviews.com. A respected BBB rating and selection of diamonds and gems all played into their decision for the award. So too did customer reviews, in which "customers raved] about the attention to detail, satisfaction guarantee, and the overall experience of getting their diamonds through the Blue Nile online store".
Jared had good news of its own. Its parent company, Signet Jewelers, which also owns other well known jewelers like Kay, Zales, and James Allen, among others, has been exceptionally successful this year. Wall Street Investor estimated an impressive 17.20% Earnings Per Share growth for their stock this year.
One thing's clear: as a 12 percent increase of traditional jewelers going out of business continues and e-commerce businesses are expected to increase two fold from 2014 by 2020, the future of fine jewelry is rooted, in part, by leading online companies like Blue Nile and Jared.
Things to know before you purchase online: Purchasing fine jewelry online offers flexibility, convenience, and countless options for customization. But some consumers may be hesitant to purchase something like a diamond engagement ring online, even from established companies of reputable standing and great ratings, like Jared and Blue Nile.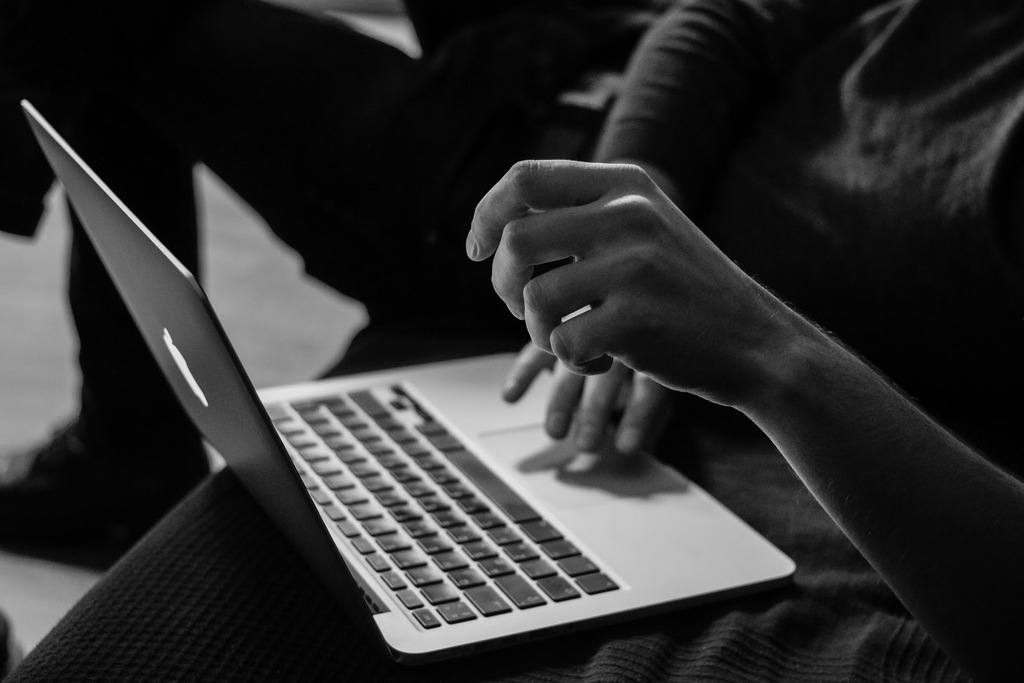 The Gem Institute of America, also known as GIA, suggests that, if you do purchase online, there should be five "non-negotiable rules" no matter what company you purchase from:
Trust

: The jewelry should be established, have a history of sales, be accredited, and have a decent reputation. You should always investigate a company outside of their own internal pages. Consumer reviews, the Better Business Bureau, and other resources are good places to start.

Return Policies

: You need a guarantee, in writing, that you can return merchandise in the case of defects, mistakes, or if you are otherwise dissatisfied. It's also crucial to read the fine print on any return policies.

Images

: The GIA suggests you only shop for fine jewelry with plenty of pictures. 3D images, multiple perspectives are all important. It's also important to note whether or not stock images are being used. Finally, if it's important to you, you'll need to see if the company allows for any in store previews.

Certification

: All diamonds and precious gems should come with official certification and authentication.

Your own knowledge: Technically, GIA lists this as "homework," but the meaning is clear. It's essential to be an informed consumer and know what services you expect, as well as what type of product you're looking to buy. It's also crucial to check things such as privacy policies and customer benefits, like free shipping, if that's important to you.
Jared vs Blue Nile: How to decide?
There's no doubt that the competition between Blue Nile vs Jared is a tight one. That's because, as both acclaimed and highly recognized jewelers, theses two companies represent some of the best offerings in the world of online jewelers.
Deciding between Jared and Blue Nile depends on what you're looking for, of course, but we're going to make the principle judgements by comparing the two companies based upon a few key principles, including company policies, product offerings, returns and shipping, and level of customization.
We'll also take look at the diamonds themselves: where they're sourced, what standards (if any) they have to pass, as well as what cuts and variations and available.
Finally, customer service is important for any jewelers, maybe even especially when you're purchasing online. We'll compare Jared and Blue Nile to see what level of customer support they offer, as well as other customer friendly options, such as in store previews of showrooms, the use of real photos, 3D viewing, and other ways to see your purchase before you pay.
Company History
Company history is important to take into consideration, if only because it gives you a sense of the company's origins, and, in part, their philosophy and values. Even if this doesn't seem critical to you, it does in a sense provide a preview for what both companies value.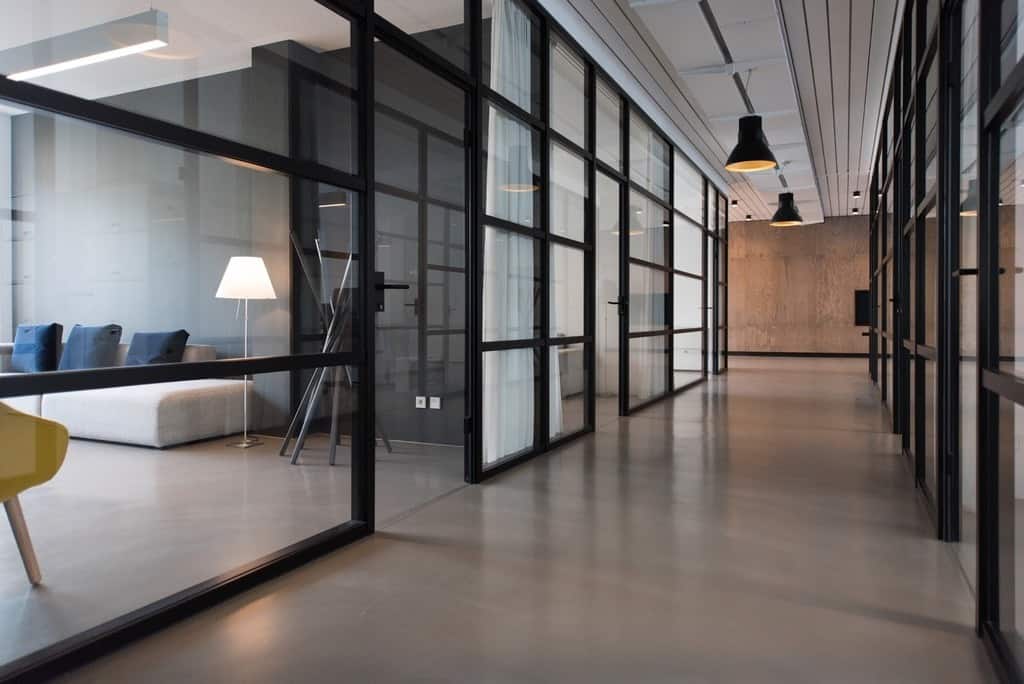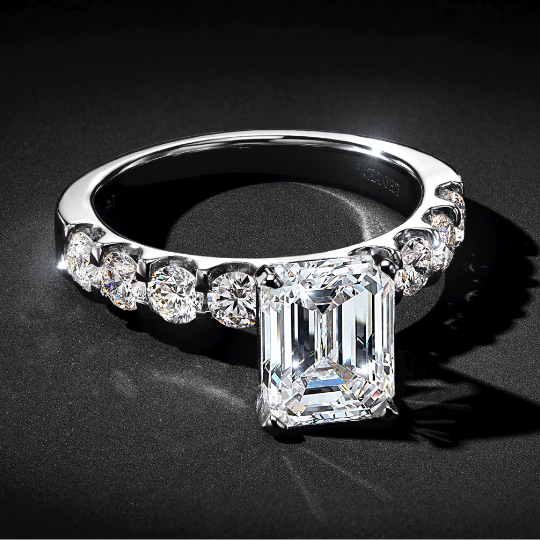 Trustworthy Jewelry Experts | Jared
Jared provides a convenient service and allows you to customize your bridal jewelry to match your one-of-a-kind loved one.
Check Prices
We earn a commission if you click this link and make a purchase at no additional cost to you.
As we mentioned, Jared is not its own company, but in fact owned by a giant parent company, Signet Jewelers. The company currently owns over 3,500 brick and mortar stores and includes big names like Kay, James Allen, and Zales.
It also has a substantial online presence, combining both e-and traditional commerce. It's considered, in fact the world's largest retailer of diamond jewelry.
Signet Jewelers as far back as 1949, when it was known as the Ratner Group. It officially became Signet Group in 1993, after the original founder suffered great losses. In a riches to rags story, the company is now on more-than-form standing, with a listing on the New York Stock Exchange and impressive sales.
Blue Nile, relatively speaking, is a much newer company than Signet/ Jared, but also fairly established. Blue Nile opened for sales in 1999 and classifies itself as the "largest online retailer of diamonds". So while Jared's parent company is the largest diamond jeweler globally, Blue Nile earns the distinction as largest online retailer of diamonds.
The company was founded by Mark Vadon, who was in search of a more satisfying engagement shopping ring experience. The company has been heralded by Forbes as one of the earliest e-commerce successes and currently employs 90 non seasonal workers, with its headquarters in Seattle.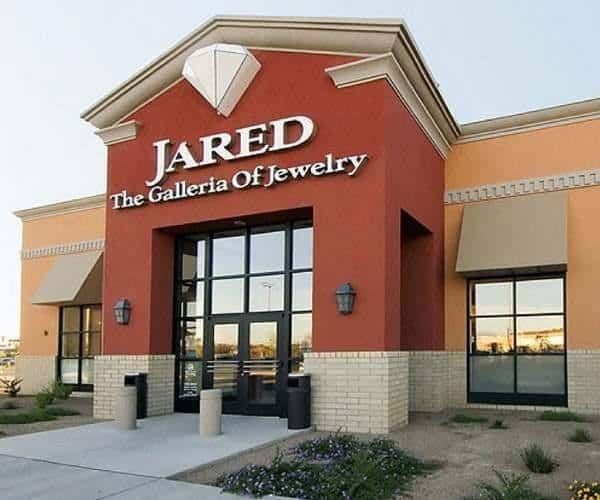 Reviews and Ratings
Before you purchase from any company, you need to make sure there's a history of sales, some form of accreditation, or recognition of its legitimacy, outside of the company's internal site. And customer reviews or even awards don't hurt when it comes to making your decision.
Jared
This is a little tricky for Jared, because Jared itself is not individually accredited by the Better Business Bureau. Signet, however, its parent company, is accredited, with an A+ rating.
Customer ratings are for the entire company, not solely Jared, which is important to keep in mind. It is worth noting, however, that BBB reviews are rather low. Outside of BBB, Jared holds lower than average reviews on Weddingwire and Trust Pilot. It seems rather hit or miss: people either are very pleased or not at all.
Blue Nile
Blue Nile is also accredited, with an A+ rating from BBB. Consumer reviews are slightly higher than Signet's, but still low. Blue Nile fares much better on Weddingwire and better on Trust Pilot, where it holds and average to 4 star rating. Blue Nile seems a little more consistent than Jared in terms of customer satisfaction, but some of the negative reviews may be for Signet as a whole, in some cases.
Shipping and Returns
Both Jared and Blue Nile offer flexibility and perks to their shipping and return services, making it easier to purchase only worry-free.
Jared
Jared offers two shipping options: you can ship straight to your door, or ship one of their retail locations. Jared will also provide you an estimated arrival date, online tracking, and free second day shipping for stock (not customized) orders.
Orders are only shipped nationally, and you pay for shipping, except for in store pick up. All orders above $1,000 that arrive to your home must be signed for.
Blue Nile
In contrast, Blue Nile offers free shipping if you use FedEX Ground (expedited is available at an additional cost). Secure shipping is also available for a variety of delivery options, including having it shipped to another family member, or a FedEx location for pickup. That's a plus if you want to surprise someone, or don't know when you'll be home.
Payment, Security, and Warranties
Think before you pay; most online companies use some form of SSL to make sure your payment is secure. You also may be looking for special offerings, such as ways to finance your purchase.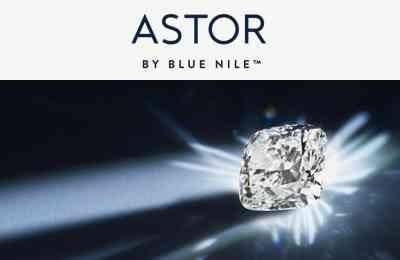 Both Jared and Blue Nile offer financing through credit card programs. Beyond that, the two companies generally accept major credit cards and other forms of secure payment, like Paypal. In this sense, they're on pretty even footing in this category. When it comes to warranties, both Blue Nile and Jared offer different levels of customer protection, though offers do differ slightly. Jared offers the following options:
Extended Service Plan

: A single payment, which varies based on the product, offers ring resizing; prong/head/clasp replacement and retipping; and diamond recoloring. It is not a replacement plan, and there's no additional deductible.

Lifetime (Free) Offers

: Stone replacement, cleaning, inspections, and trade-ins come with your purchase automatically. Trade ins allow you to upgrade, and are for diamonds only.
Blue Nile offers some similar features with its free lifetime product warranty, which also includes general cleaning and inspections, but does not offer nearly up to the benefits Jared does. Blue Nile also doesn't offer anything like an extended service plan, and instead directs you to a third party for insurance.
Diamonds
Diamonds are both of the company's specialties, with an emphasis on specific cuts and how they're sourced. If you're thinking of buying an engagement ring, knowing about the diamonds themselves is important. And it does differ from company to company.
Cuts for both include: heart, round, radiant, emerald, marquise, oval, pear, square, and cishion.
Jared offers diamonds that adhere to what they term "socially and environmentally responsible" practices. They are also certified conflict free, which means they are among the 1 percent of diamonds who profits do not go towards financing civil wars. (They adhere to the Kimberley Process). It is not specified where they are sourced specifically from. You can also select from the Jared Chosen Collection: ideal cut diamonds shaped by individual artisans.
Blue Nile's diamonds are GIA-graded, and sourced from Australia, Russia, Africa and Canada. While not as specific as we'd like, it's a step up in terms of transparency compared to Jared. Like Jared, Blue Nile's diamonds also adhere to the principles of environmental stewardship and the Kimberley Process. Their specialty? Colored diamonds in shades of yellow, brown, pink and blue.
Engagement Rings and Wedding Bands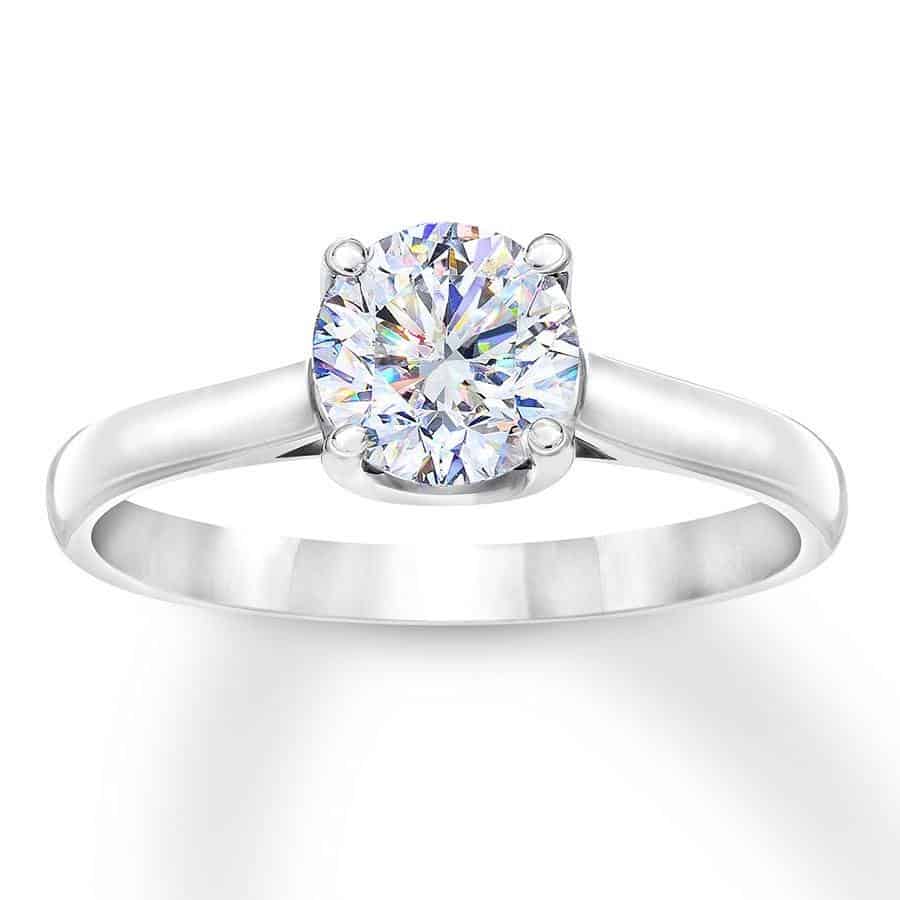 Of course, the bulk of sales for Jared and Blue Nile comes from engagement rings and wedding bands. Both have a large supply, and both offer options to customize or create your own engagement ring. Blue Nile and Jared offer a step by step process where you select and sort by carat, color, and style. You start with a diamond or gemstone, then select the metal type and style. There's also pre made rings for purchase.
While the level of customization is excellent for both, there are some fine distinctions between the two companies:
Jared features: diamond studded, very modern and glamorous engagement rings. There's an emphasis on sparkle, geometric lines, and many rings in both 14K white gold and rose gold. The sample of gemstone rings are covered or surrounded with diamonds. These engagement rings are sure to make large statement, though there isn't much in the way of simplicity, vintage or more understated designs. Engagement rings are priced at a few hundred dollars up to $17,000.In terms of wedding bands, Jared continues its general theme of modern glamour, with bands studded heavily with diamonds and featuring intertwining designs. There are a few other options, like a very simple band for just over $100. Bands go up to about $13,000.
Blue Nile offers signature collection of engagement rings, including:
solitaire, vintage, halo, gemstone, sidestone, and three stone.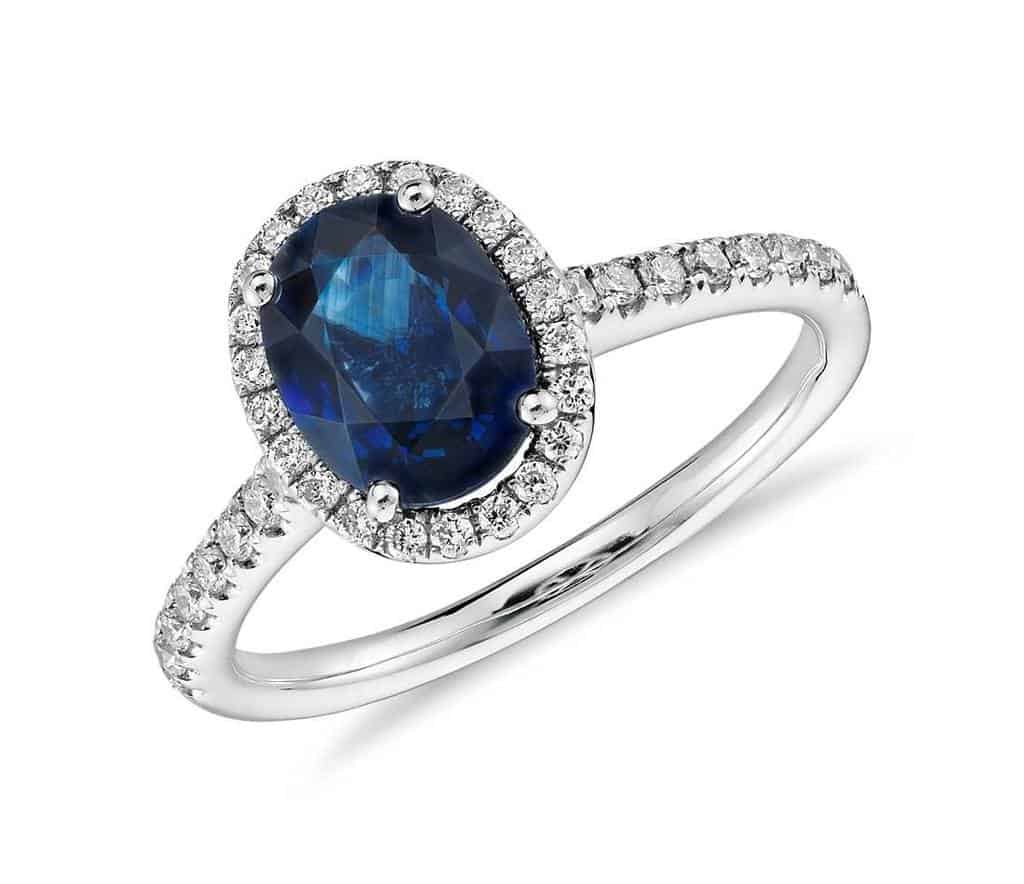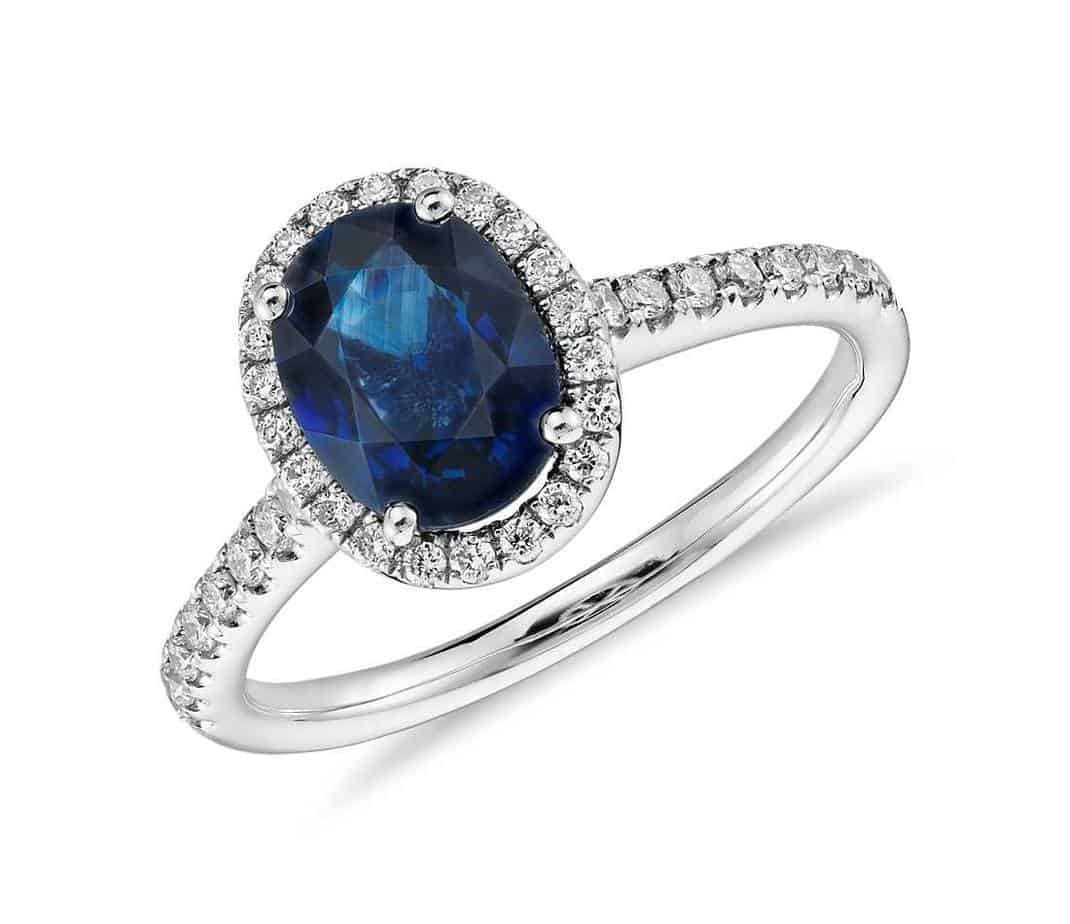 You can also shop designer rings, from leading names like Bella Vaughan, Zac Posen, Monique L'hullier, and also Blue Nile's own brand, Blue Nile Studio. In general, there's still plenty of emphasis on beautiful diamonds, but there's more alternative options, like diamond vintage style rings and a beautiful collection of gemstones like sapphire, citrine, fresh pearls, and emeralds, among countless others. Prices range from about $200 up to $12,500 (without add ons).
Blue Nile has a bigger inventory in general, but it's the better bet for a more unique ring, while Jared shines with its offer of ideal cut diamonds. Wedding bands from Blue Nile feature classic diamond bands, gemstones, and stackables.
Other Perks and Features:
In addition to engagement and wedding rings, Blue Nile and Jared also sell customizable jewelry, gifts, and special collections; Blue Nile's highlight is make your own jewelry. Jared offers charms, watches, and even giftware.
What about Customer Service? Blue Nile offers a live chat, direct call line, diamond price matching, free gift packaging, and physical showrooms to see their products.
Jared, meanwhile, offers a customer service portal, direct call line, email, and, of course, physical store locations across the entire country. While there are more complaints about Jared's customer service, the number of physical locations far exceeds the handful of Blue Nile's showrooms. All rings will come in a jewelry pouch or box.
Final Verdict for Jared vs Blue Nile:
Jared and Blue Nile both offer stunning, conflict free diamonds, as well as a variety of other services and unique options for a variety of tastes and budgets.
Jared is best for:
Ideal cut diamonds
Glamourous rings
Other gifts, such as watches and charms
Number of physical locations
While Blue Nile:
Gemstone and colored diamonds

Designer collections

Vintage collections

Overall customer service

Overall reviews
If we had to go with one for value options, Blue Nile is a safe bet. Not only does it have a large inventory, but it's full of variety and styles. They also score consistently better when it comes to customer reviews and service.
If you do go with Jared, it should be for the ideal cut diamonds, and you should make sure you're ordering with confidence.
My Bottom Line: Of the two, I personally prefer ordering ideal cut diamonds via Blue Nile here. If you are looking for specific ideal cuts, Jared is still worth checking here, just know that Blue Nile tends to have better selection and a better online ordering process.
Our Top Pick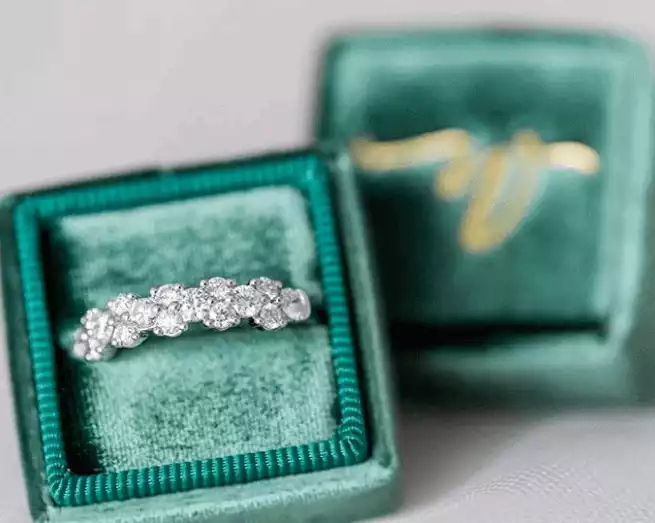 I Personally Prefer Blue Nile
Blue Nile understands online jewelry shopping. They have the deepest inventory of diamonds and settings for ALL BUDGETS. They offer 360 degree REAL diamond images online, so you know exactly what you are getting. Best of all, they've mastered the art of securely shipping jewelry and handling returns or issues with ease.
See Current Deals & Selection
Save 50% off Black Friday Here
We earn a commission if you click this link and make a purchase at no additional cost to you.
This Might Interest You: