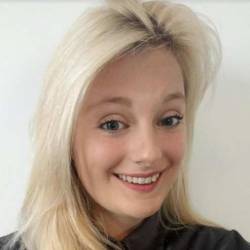 Latest posts by Rosie Greaves
(see all)
Almost 100 years after it first appeared, it's fair to say that Art Deco never really went away – and we're glad for it! Be it furniture, glassware, lamps, etc. – Art Deco originals and replicas are still much in demand. The same can be said of Art Deco jewelry and, in particular, wedding bands and engagement rings. You may be an Art Deco fan already or simply looking for a wedding band that doesn't resemble every other type on the market.
If it's the latter, an Art Deco wedding band is a fabulously bold piece of statement jewelry to have on your finger on your special day.
Known for its creativity and boldness, Art Deco jewelry stands out from the crowd. In light of that, we're exploring the best Art Deco wedding bands for your special day.
But first:
What's an Art Deco Wedding Band?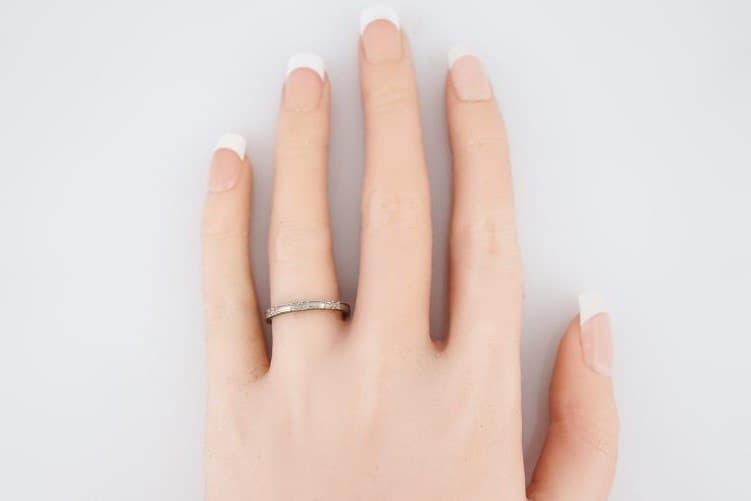 Art Deco is a decorative style that emerged in the 1920s and 1930s in France after World War I. At the time, it represented modernism. Designs were sleek, elegant, and symbolized wealth, post-war opulence, and optimism.
The term itself is actually an abbreviation of an event held in Paris in 1925 called the Exposition Internationale des Arts Décoratifs et Industriels Modernes. This was a significant design exhibition, where the emphasis was upon jewelry.
Typically, Art Deco designs are bold, geometrical shaped, and vibrant in color and tone – and Art Deco jewelry is no exception. Often ring designs boast brightly colored stones like sapphires, rubies, emeralds, and diamonds.
In the 1920s and 1930s, jewelers such as Tiffany & Co began to play with Art Deco-inspired designs in their jewelry, including their wedding collections. Unusual diamond cuts emerged around this time, including the trapeze, triangle, and half-moon cuts – inspiration for these innovations came from India and the Far-East.
What About Your Wedding Bands?
Whether you're an Art Deco veteran or have seen some ideas on Pinterest and want to learn more, there are tons of wedding bands out there. Be it original vintage pieces and designs inspired by the originals.
Extending yourself to invest in an original vintage piece may seem like a bold move. Still, there's always a possibility your wedding band will increase in value over time, which isn't something you can always say of a modern-day equivalent.
That's enough preamble. Let's dive into our favorite Art Deco wedding bands. We've split our top picks into two categories:
Vintage art deco wedding bands

Newly designed art deco wedding bands
Let's kick things off with the former…
Vintage Art Deco Wedding Bands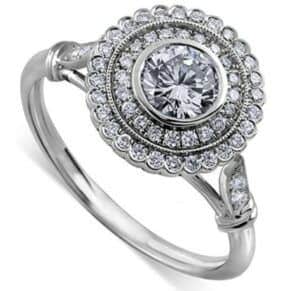 You may have already sourced a local antique dealer specializing in vintage jewelry, but if not, keep reading.
First off, when it comes to buying these pieces online, it's essential you know their provenance so that you don't accidentally buy a fake – there are lots of scam artists out there!
It may well be worth hiring an expert to give you their opinion. Shy of that, the best advice we can give is to check online reviews. Has the brand you're dealing with been involved in anything shady? Are they a credible brand? What authority does the company have to say that they're selling genuine antiques?
Or, maybe friends and family can recommend someone reputable before you part with your hard-earned cash? If you're unsure of your chosen ring's provenance, check out our FAQ at the end of our review. Here we list a few questions you can ask your seller to attempt to ensure authenticity.
That said, we've chosen four vintage Art Deco retailers where you might find your much-coveted wedding bands.
Filigree Jewelers
Filigree Jewelers have a lovely selection of wedding bands from the 1920s and 1930s for you to choose from. Prices are inevitably somewhat higher than traditional all-gold or platinum bands because of those classy, sparkly diamonds.
Prices range from under $1,000 to more extravagant rings over $6,000. We thought we'd appeal to the more budget-conscious bride here and chose this lovely yet straightforward Orange Blossom 18K white gold band for $680. The design is called Orange Blossom because it showcases a pattern of orange blossoms joined together by geometric shapes.
Filigree also sells custom-made and modern designs, so there's something for everyone.
The Erstwhile Jewelry Company
New York-based Erstwhile Jewelry has a history that predates the Art Deco movement, starting out in 1887. The store has an exciting collection of antique jewelry. We found this stunning Art Deco 4.5 carat French-cut diamond platinum band dated around 1930. It's not cheap at $9,000, but definitely an heirloom piece.
This beauty can't be resized, but if you have the budget and boast the correct ring size, it's an excellent investment for a bride with expensive taste!
Or, if your tastes are simpler, there's this adorable Tiffany & Co Art Deco 22 carat gold wedding band dating back to 1930 for $1,600. It's a classic.
The Antique Jewelry Mall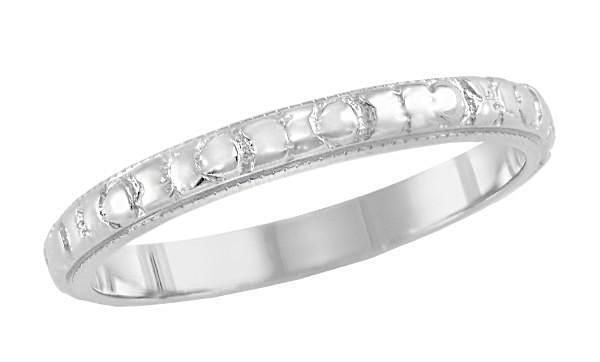 One of our favorite online retailers is the Antique Jewelry Mall. Their online store has a range of hand-engraved Art Deco wedding bands for both women and men. They come in platinum, white gold, and two-tone, and metal quality ranges between 14 and 18 carats. They are all one-of-a-kind designs, and many come with inlaid diamond stones.
Ring sizes and prices vary, but to give you a sense of budget, prices start at $780, rising to $1,960. Not bad if you're considering buying bands as inheritance pieces for your future kids, right?
Lang Antiques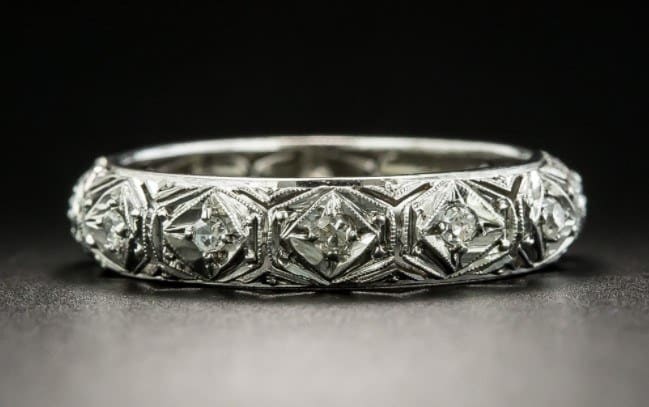 This store openly states that Art Deco jewelry is "most stylish of any era." While at the time of writing, its selection of wedding bands was small, they were all perfectly formed.
Some may wince at the prices, but if you happen to have a hefty budget and an eye for style, then Lang Antiques could be your go-to store. We found an original hand-engraved Art Deco diamond wedding band for $1,650. The glittering single-cut diamonds are set in hexagonal frames, with a geometric pattern around the ring.
Etsy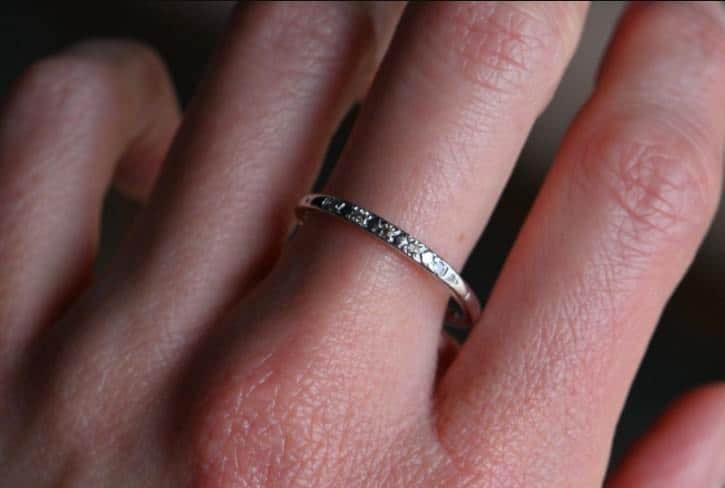 It may come as no surprise to Etsy fans that there's a treasure chest of Art Deco jewelry on sale here. We found some budget-friendly original Art Deco wedding bands on this global eCommerce marketplace.
While at the time of writing, the choice wasn't extensive, our pick is this 18 carats antique 1920s Art Deco white gold wedding band with five single cut diamonds for $480.
Auction Houses
A quick search tells us there are dozens of auction houses where it's possible to find Art Deco jewelry. However, specialist auctions like these don't always happen regularly, so your best bet is to source local auction houses and sign up for their newsletters for sales dates.
If you have plenty of time to find your wedding bands, researching auction sales and attending an auction in-person or online could be a fun way to find your wedding bands!
Super reputable auction houses in the US include Christie's, Bonhams, Sotheby's, and Philips. There are others, of course, but those are the most famous.
Modern Art Deco Wedding Bands
Given that Art Deco-style jewelry is so popular, you won't have trouble finding modern versions of this classic style. In fact, with so much choice, you may quickly find yourself overwhelmed to the point of confusion. So, we've weeded out the best from the rest to help steer you in the right direction. Here are a few of our favorite choices:
Angara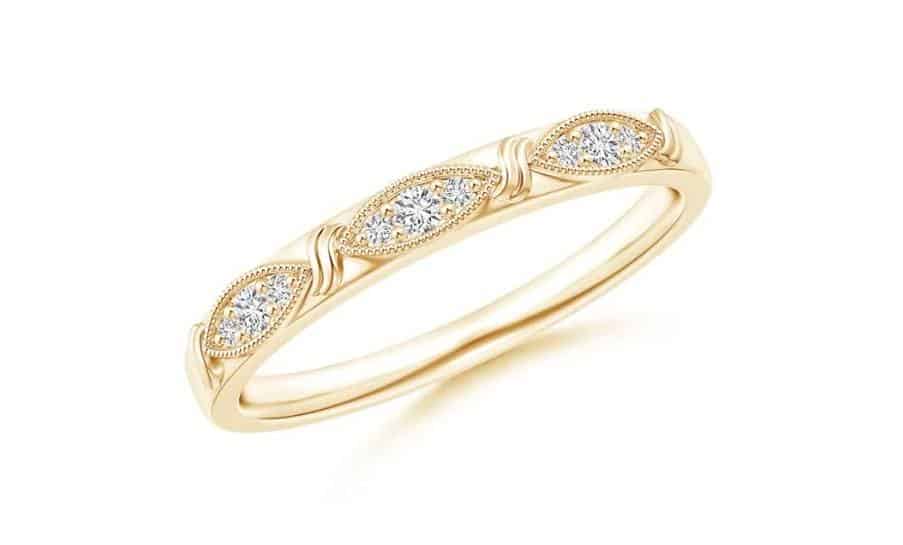 While gold may not be the first choice for an Art Deco style band, the beauty of opting for a modern take on a classic style is that you can go your own way a little. Angara online jewelers have a beautiful selection of wedding bands encrusted with affordable diamonds. These can be customized to fit different ring sizes, which can be tough to do with some originals.
We chose this Art-Deco-style diamond marquise-motif wedding band. With prices starting at $521, the best thing about this ring is that you can select your preferred metal from a selection of yellow gold, white gold, platinum, and rose gold. You can also choose your diamond sizes.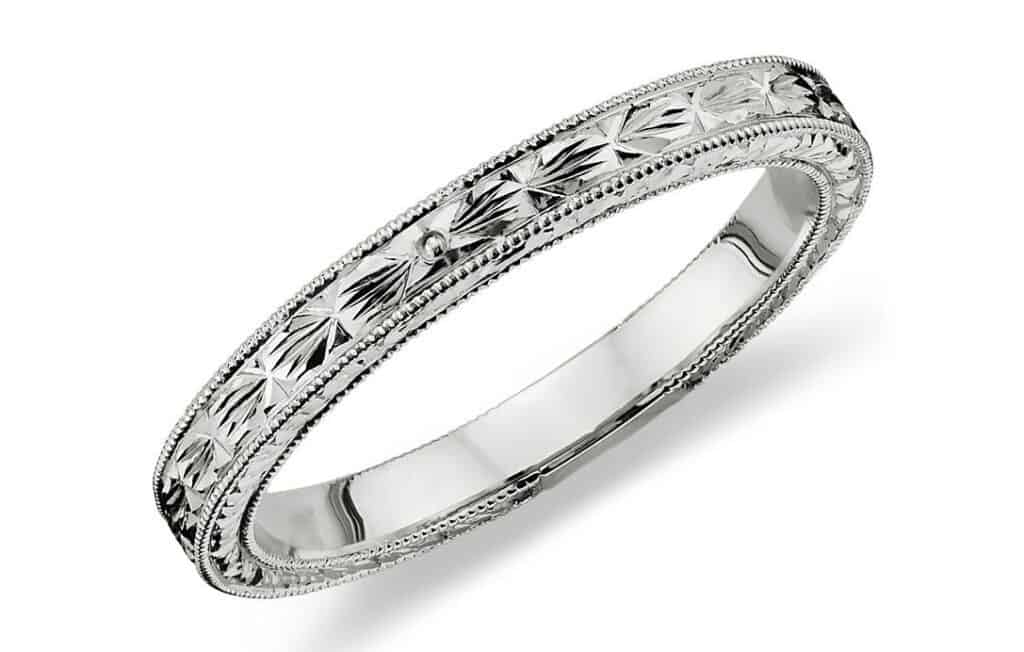 We also liked this simply designed and hand-engraved Art-Deco-style wedding band in either platinum or 14-carat white gold. Again, there's a selection of ring sizes from 4 to 8.5 to choose from. Our platinum ring choice comes in at $925 at the time of writing. The white gold choice is a lot less, with prices around the $490 range.
Arabel Lebrusan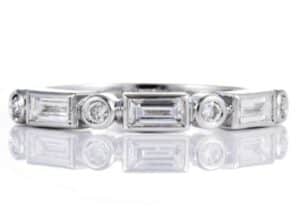 Suppose you're looking for a wedding band that not only lasts the test of time but is ethical too. In that case, this award-winning artist and designer could be the person you're looking for. Arabel Lebrusan's website boasts a selection of bespoke styles for you to choose from, including Art Deco, with all materials guaranteed to be "made from the most ethical materials available."
We found this gorgeous bespoke diamond baguette wedding band in an Art Deco Style. Sadly, there's no price attached to it. You have to get in contact with Arabel Lebrusan to receive a quote.
Lily & Dahlia
Israel-based handmade jewelry designer Lily & Dahlia offers a modern twist on a timeless classic with their Art Deco wedding band in 14-carat gold. It retails at $490 and has a lovely statement vintage design. You can also buy it in yellow, white, and rose gold and upgrade to 18 carats if you prefer. The band is quite thick and engraved in a classic Art Deco fan pattern. You can also choose from either a matte or shiny finish.
Etsy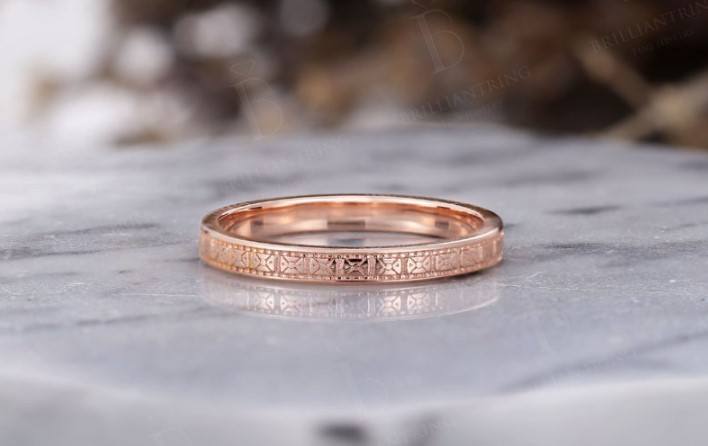 Yes, you read correctly; we're back at Etsy again. It truly is a treasure trove. So, we couldn't finish our list of Art Deco wedding band ideas without giving a shout-out to the plethora of replica deco wedding bands to be found here.
The good news is, if you're really on a tight budget or would prefer to invest your money in other aspects of your wedding, you're sure to find an affordable band here.
There are tons to choose from, with prices as low as under $50. We opted for something a little bit more expensive with this made-to-order Art Deco style encrusted wedding band. It's handmade, and you can choose from rose gold, yellow gold, white gold, or platinum. Prices start at an affordable $245 for the rose gold version.
FAQs about Art Deco Wedding Bands
Question: How can I tell if a vintage ring is authentic?
Answer: Ideally, you'll gradually establish a relationship with your antique dealer. You may, for example, have already bought other pieces from them. Some antique houses have their own specialist gemologists who can guarantee your piece and offer professional cleaning and inspection over set periods. It's worth asking if your chosen retailer provides this or not.

Original Art Deco jewelry is finished with fine mill grain edges, which provide some idea of how old the band is. If the edges aren't very worn or sharp, you could be looking at something new.
You should also expect to see a hallmark stamp and a maker's mark. This is especially so if your ring was either made in the US or the UK. You should expect to see a report on the ring's history and grade of stone and its carat size too.
Question: What are the most common materials for creating Art Deco wedding bands?
Answer: Although we've touched on this already, let's expand a little. The most popular metals for Art Deco rings are platinum and white gold in either 14 or 18 carats.

As for wedding bands, as you've seen, stunning diamonds are often framed by hand-crafted geometric-styled metalwork. While it's also the case that other gemstones are used, such as rubies, emeralds, and sapphires, diamonds were the most common and popular choice.
Question: What's the difference between Art Deco and Art Nouveau rings?
Answer: It's common to confuse the two different styles. First off, the Art Nouveau movement preceded Art Deco, occupying the period from 1880 to the end of the first world war. While Art Deco emerged after the war and in response to it, Art Nouveau was an art and design movement that directly responded to industrialization.

The emphasis in Art Deco is on the geometric, with straight lines, corners, and angles. Hopefully, you've noticed this common thread between all our favorite Art Deco wedding band choices.

Art Nouveau, on the other hand, is all about curves and flowing shapes. Inspired by nature, it provides a direct contrast to industrialization. If you check out Art Nouveau designs of most kinds, you'll see animals, plants, and birds depicted.

However, where jewelry is concerned, it's easily identified by its brighter colors, and stones tend to include moonstone, glass, enamel, opal, and ivory. Art Nouveau rings are much more ornate than Art Deco-style ones, incorporating floral and curved shapes into the design.
Question: Are there any questions I should ask when buying a vintage art deco wedding band?
Answer: We've demonstrated that this type of ring can be expensive. Namely, because they're one-offs, so you're effectively buying a piece of history. So other than addressing its origins, what else should you be asking?
One fundamental question is whether or not your ring is vintage or vintage-style so that you can determine whether your chosen band is old or new.

While it's possible to ascertain a stone's quality and size if it's a new or newer ring, the same can't always be said of an antique band. As ring grading systems didn't exist when those rings were made.
You should always ask about your stone's carat weight, look at it in natural light, and compare it to other diamonds. That way, you can see if it has any flaws.

It's also worth asking if a ring can be resized or not. This is especially so if you're considering investing in an expensive vintage Art Deco wedding band. Remember, not all bands that fall into this category can be resized, especially if the band exudes extensive and intricate detailing, as resizing may damage this.
Art Deco Wedding Bands – Our Final Thoughts
We hope that you've enjoyed our best Art Deco wedding band ideas. Please let us know which, if any, of these suggestions you're considering. We want to hear all about your choice of wedding band in the comments box below. Speak soon!