Latest posts by Jeanette Kierstead
(see all)
Rose gold is one of the strongest golds because it's mixed with copper. The common mixture that is used to create the pink-reddish color of rose gold is seventy-five percent gold and twenty-five percent copper. While yellow gold can potentially be "pure," rose gold will never be pure gold because it's mixed with copper to achieve the tint of rose.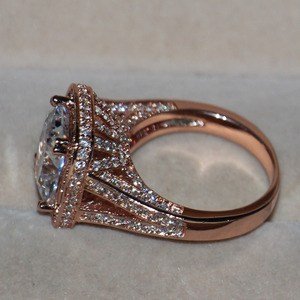 Understanding Rose Gold Jewelry
Let's move on to discussing the pros and cons of rose gold. Many people are not really familiar with rose gold as a jewelry style choice, so we wanted to cover what makes it incredible and what might not be as desirable. If you're purchasing this for the woman in your life, you'll need to consider whether she's a woman that loves pink, hearts, and romance or not.
Pros of Rose Gold
Durable
While yellow gold is incredibly soft, the addition of other metals will give the gold a durability that it lacks. With the addition of copper into the gold mix, you'll have a tinted gold that is actually more durable than white or yellow gold. Other gold requires plating over it to make it stronger. Otherwise, when the ring is banged or pushed, it would bend out of shape quite easily.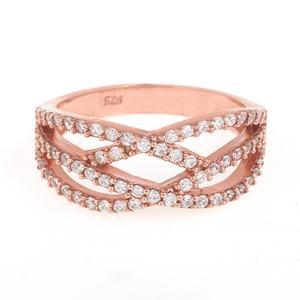 Affordable
The copper alloy that is added to rose gold is less expensive than other options that are mixed with gold to create white or yellow. This makes the rose-gold jewelry less expensive overall, too. While rose gold jewelry might not be as common as other colors, that doesn't impact its price at all. It's still less expensive than white gold with rhodium plating.
Romantic
Many women respond to the color of rose gold because it's incredibly romantic. They will often want jewelry with a heart-shaped stone from the love of their life. A rose-gold engagement ring with a heart stone is one of the more popular rings for those who love all things romantic and sentimental. While it's romantic, it won't go out of style since there are plenty of vintage, rose-gold rings that have been around for years.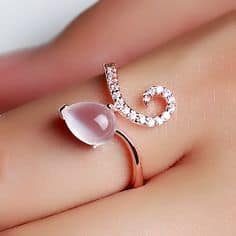 Skin Tones
Rose gold is perfect for all skin tones. While some women find that they look better in yellow gold or white gold, rose gold looks fantastic on all skin tones from very dark to incredibly light. The amount of copper will impact the amount of tint that is available in the ring, which can influence the complement against skin tone.
Enhance Gem Colors
Whether it's rose quartz, Morganite, pink topaz or pink diamond, rose gold will enhance the color of the gems. Some jewelry makers will use a backdrop of rose gold as the collet to ensure that the gem's fantastic color really shines. While rose gold enhances and helps pink stones flourish, it's also great with diamonds and white stones, too. There are not many gems that don't look fantastic in rose-gold settings.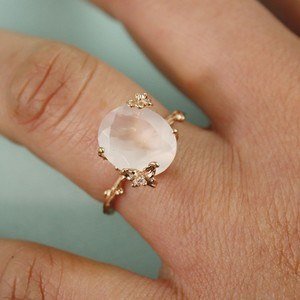 Current Trend
Pink jewelry has become very trendy for those who love the color. From celebrities to regular women, there have been some fashionable rose gold jewelry options. Rose gold hair has even become a fashion trend, and women want to have beautiful jewelry to match their hair.
Cons of Rose Gold Metal for Jewelry
Not as Common
As mentioned above, rose gold metal isn't as common as other options. This means that if you really have your heart set on a rose-gold ring, you're going to have to research and potentially have a ring made special. In our opinion, that just makes the ring even more special. Nobody else will have the same rose-gold ring when you've had to have it designed and created especially for you.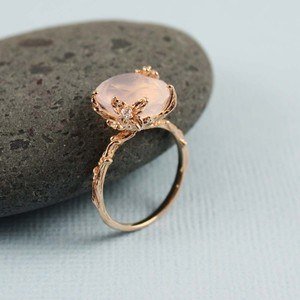 Mixed with Copper
The copper that gives the rose gold its color can create a situation where the person might have an allergic reaction. It's definitely not hypoallergenic, which can be a problem. When there are alloys and other materials mixed with any metals, it can create a serious problem for those with allergies. This is true of other metals that have copper or nickel added to them. There aren't many jewelry metals that are one hundred percent pure.
On the whole, many women love the romantic, sentimental color of rose gold for their jewelry. They especially love when the color is chosen by the man they love as an engagement ring, promise ring, or other gift that really shows off how he feels about her.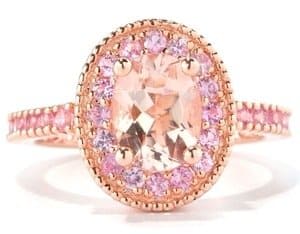 Rose Gold Jewelry – Final Thoughts
While there are a few cons to the rose gold as a metal, there are many advantages of purchasing a rose gold ring for the love of your life. You'll have to ensure that she loves the romantic pink/rose of the jewelry itself before you purchase one for her. If your girl is a "pink girl," she'll absolutely love a rose gold piece of jewelry from you.
Recommended Reads: