Latest posts by Jeanette Kierstead
(see all)
These are some cheap and really quite affordable Morganite necklaces we found on Amazon that she'll never know didn't cost hundreds of dollars. Each necklace or pendant costs approximately 100 dollars or less. This is because they're often created with simulated Morganite necklaces that look like the beautiful gems, but don't cost nearly as much. Pink and peach stones are perfect for the girl in your life who absolutely adores everything pink.
Our Favorite Simulated Morganite Necklaces from Amazon
Hermosa Chain Necklace Rose Gold with Amethyst, Morganite, Peridot, and Garnet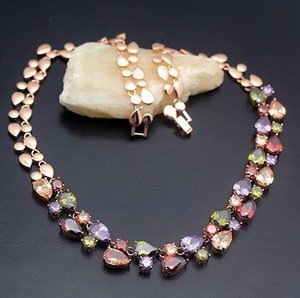 This beautiful simulated morganite necklace is covered with 36 gems in a variety of round and pear/drop shapes. The necklace measures 20 inches in length. This is a beautiful necklace for Mother's Day or the birthday for the special woman in your life. Along with the necklace, you could purchase the separate earrings that match this stunning necklace. The height of the gems are 2 mm while the width of the gemstones are 14 mm. The metal for the necklace is rose-gold plated over sterling silver. Each gemstone is snug in a prong setting, which should keep them from falling out of the necklace.
---
Halo Heart Pendant of Simulated Morganite and CZ Stones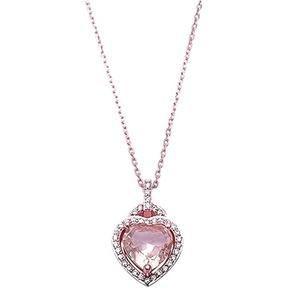 This simulated Morganite, heart-shaped pendant is an incredibly beautiful gift for yourself or someone else in your life. In fact, you could buy one for yourself and buy a matching one for your mother, daughter, or sister. It's so stunning that every woman in the family will want one. The pendant measures 15.24 mm from top to bottom, and it comes with a 16 inch chain with a 2 inch extension. The metal is rose gold over sterling silver, which is used to enhance the color of the simulated Morganite. The CZ stones surround the Morganite in a halo that really outlines the beauty of the large stone.
---
Halo Round Simulated Morganite Necklace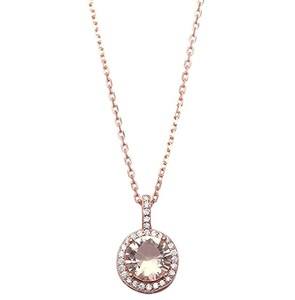 The round simulated Morganite pendant in this necklace is surrounded by delightful CZ stones that highlight the beauty of the main gem in the pendant. The stones are held in their settings using prongs, so they won't fall out of the necklace. The round pink berry Morganite stone measures .4 inches from top to bottom. It comes with a rose gold plated sterling silver chain measuring 18 inches, which matches the metal of the pendant, too.
---
Halo Cushion Cut Simulated Pink Morganite Pendant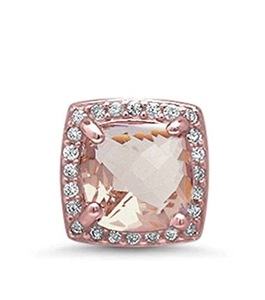 The pink cushion cut simulated Morganite in this pendant is enhanced by the use of rose-gold plating over sterling silver. The pink is really luscious and stunning with the use of the rose gold color. The pendant itself doesn't come with a chain, but you can easily add your own at whatever length works best for you. Surrounding the simulated Morganite is a halo of round CZ stones. The halo on these pendants gives you added dimension, shine, and sparkle to what would still be a beautiful pink stone. In some cases, it's the halo that makes it appear expensive.
---
Princess Cut Simulated Morganite and Cubic Zirconia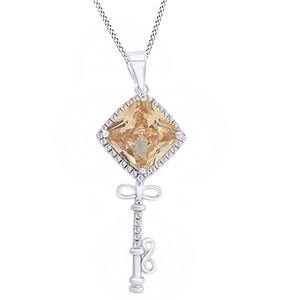 The contrast between the lovely yellow-pink and the white of the sterling silver makes this an incredibly sparkly pendant. The key dangling from the main simulated Morganite stone has two infinity symbols on it, which will definitely show her how much she's loved. The Morganite is surrounded by a halo of CZ stones that are held with a prong setting. In most cases, the Morganite is a peach or a pink color, but this is a unique stone the color of spring with its hint of yellow and peach.
---
18K Rose Vermeil Morganite and White Zircon Bar Drop Cluster Necklace
This is a stunning necklace, and we definitely had to include this on the list. While it's the most expensive, it's still a cheap necklace that looks incredibly costly. In fact, it's made with a real Morganite gemstone that's been treated to enhance the color. The metal is sterling silver covered with 18K rose-gold plating, which is what vermeil means. The main Morganite stone is pink, pear-shaped and weighs 0.63 carats. The entire necklace has over 2.64 carats of gems in it. Aside from the main Morganite stone, there are pink irradiated, pear-shaped Zircon gemstones in the necklace, too. This stunning, unique choker is an incredibly thoughtful gift for the woman who loves pink Morganite.
---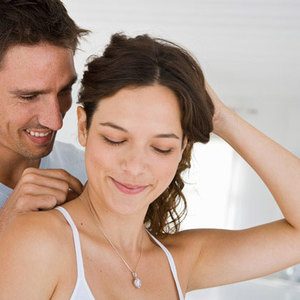 When it comes to choosing cheap Morganite necklaces from Amazon, we've picked a few that we believe look incredibly expensive even though their costs are low. With Mother's Day and potentially birthdays on the horizon, you should be thinking about what you'd like to buy the woman in your life. Pink simulated Morganite should be on your radar since it's beautiful and unlike what most women have in their jewelry box. She'll love showing it off, and she'll never know it was inexpensive unless you decide to tell her.
Recommended Reads: