Latest posts by Jeanette Kierstead
(see all)
Morganites are beautiful stones that come in peach, light purple, champagne, or pink shade, which is an incredibly popular trend in jewelry right now.
This precious gemstone can be quite expensive when paired with rose gold metal in a ring. It might be out of reach for some people who want to buy a Morganite ring.
Many people want to buy cheap Morganite rings as a promise ring, purity ring, eternity ring, and as an engagement ring or because they love the style.
Simulated Morganite rings are a fantastic alternative for those who can't afford the pricier options.
Click here to see some of our favorite purity rings with Morganite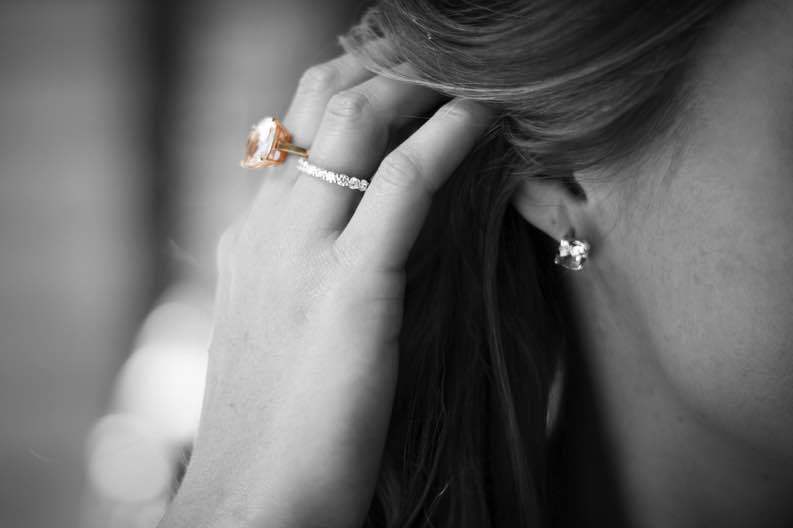 Morganite stones are a variety of beryl in the same family as emeralds and aquamarine stones. There are synthetic as well as simulated options to any gemstones you can purchase. With a stone like Morganite, you're able to get a simulated version for a fraction of the price, but they're easily as beautiful.
What is a Simulated Morganite Stone?
A simulated Morganite stone is one that mimics the color and hue of a real stone. While synthetic stones are ones created in the lab using the same material composition, the simulated Morganite stones are ones that are mined or brought up from the ground looking exactly like a Morganite. It'll be the same pastel hue of pink, salmon, or light purple, which are found in the Morganite.
Simulated Morganite Rings
The Morganite ring might have a simulated stone, but the metal itself isn't fake. When you're purchasing a simulated Morganite, you'll want to be sure the metal is real gold, sterling silver or plated with a material that won't flake or turn your finger green.
For Morganite rings that are cheap to buy, we've selected some that we believe are incredibly beautiful as well as being affordable options. This is especially important if you decide to gift this ring to a young girl. You don't want her to lose an incredibly expensive ring.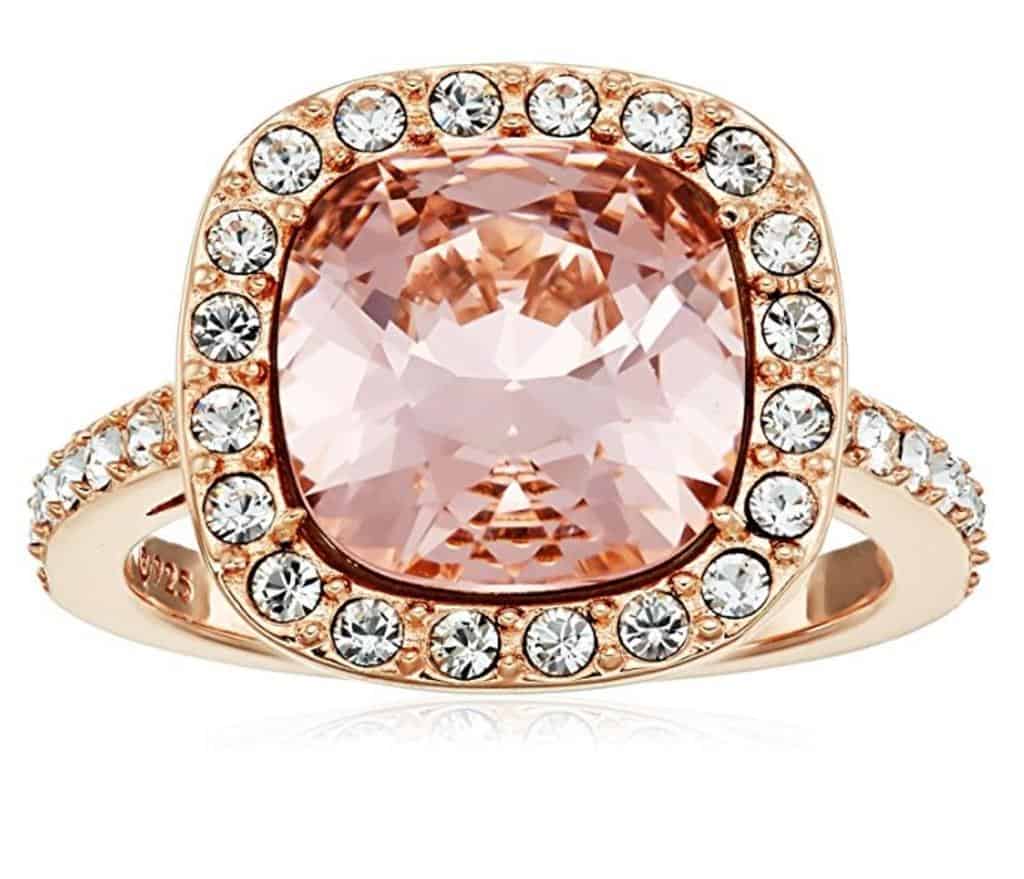 This ring is made of a beautiful crystal called Swarovski, which is one of the best crystals you can buy. It's a stunning color, too. The cushion-cut simulated Morganite is surrounded by a halo of cubic Zirconia stones. There are also stones in a channel on the shaft of the ring, too. It's sterling silver with a plating of rose gold that makes this an incredibly affordable ring. It's available in ring size 6, 7, and 8. Due to the composition of the metal band, it's not resizable.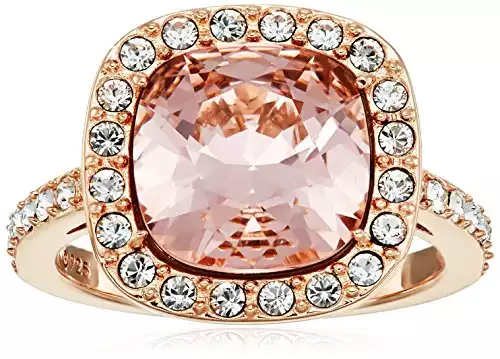 The band of this ring is made of pure .925 sterling silver without plating. The split shank of the wedding band has simulated diamonds that make it look incredibly expensive and as a real diamond ring without costing a bundle. The simulated Morganite stone is a beautiful color that the manufacturer is calling champagne. It's truly a stunning color, and the ring is available in sizes 5 through 10.
Champagne Simulated Morganite and Sterling Silver Round Halo | Amazon
All their silver jewelry is crafted from .925 silver also commonly referred to as sterling silver. Sterling silver is the standard for beautiful high-quality silver jewelry and can not be replicated by lower-priced silver-plated jewelry.
Buy at Amazon.com
We earn a commission if you click this link and make a purchase at no additional cost to you.
11/30/2023 07:59 am GMT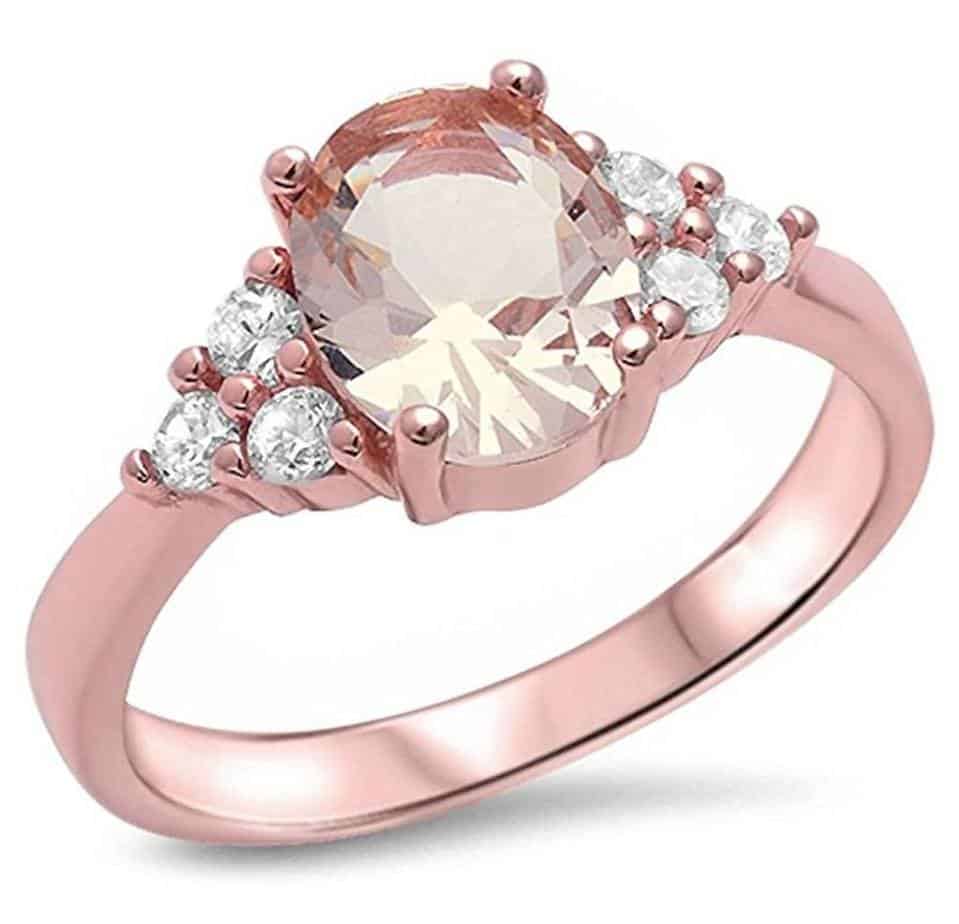 This affordable Morganite ring is made of rose gold over sterling silver. The oval Morganite is surrounded by cubic Zirconia stones. It measures 9 mm across and is available in sizes 5 through 11. This is an incredibly stunning simulated Morganite ring that will give the wearer the experience of Morganite without the price tag associated with a gem.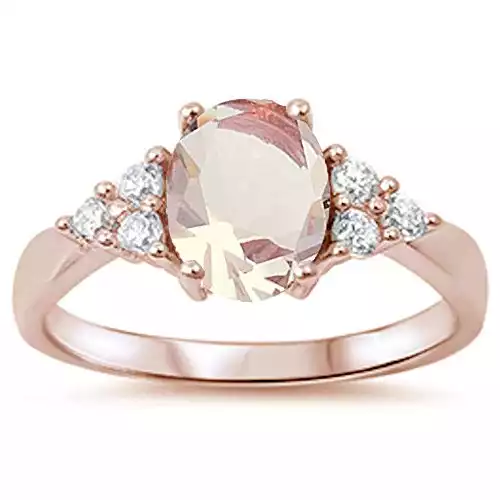 Peach Simulated Morganite and CZ Halo Ring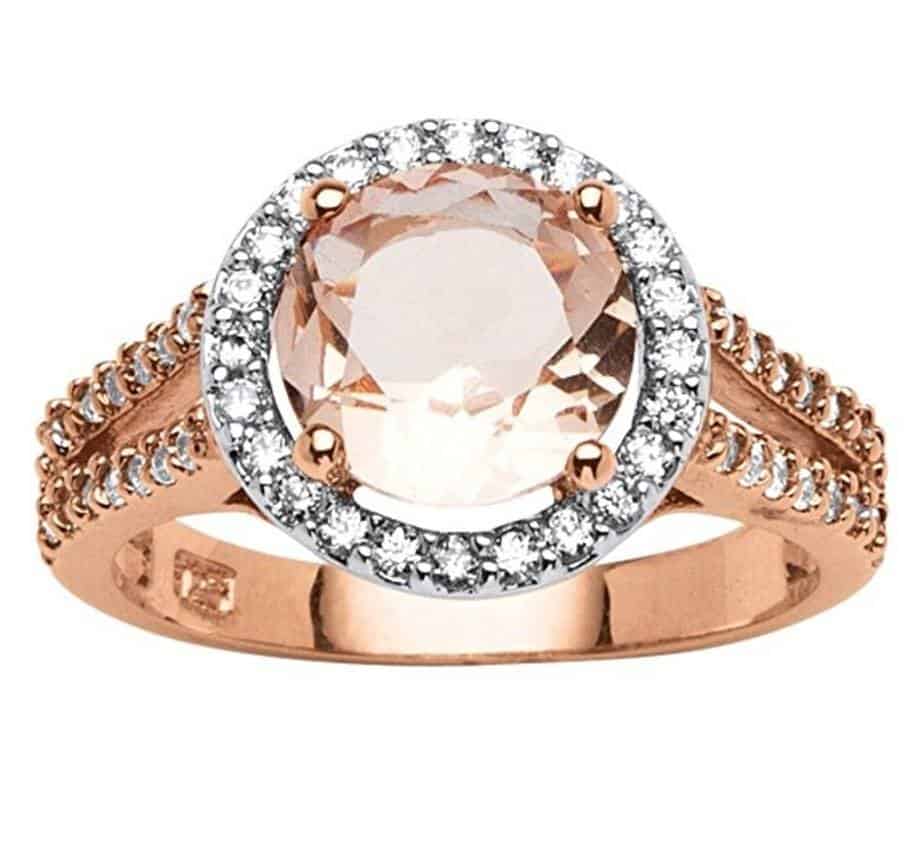 This ring is a lovely shade of peach with a pink band yet broken up with a halo of cubic Zirconia stones surrounding the Morganite. The rose-gold plating covers a sterling silver material. The split shank band features CZ stones, too for a total of 56 stones and one simulated Morganite crystal. The entire ring measures 21 mm wide and 25 mm high. It's a large ring, which should be kept in mind when purchasing.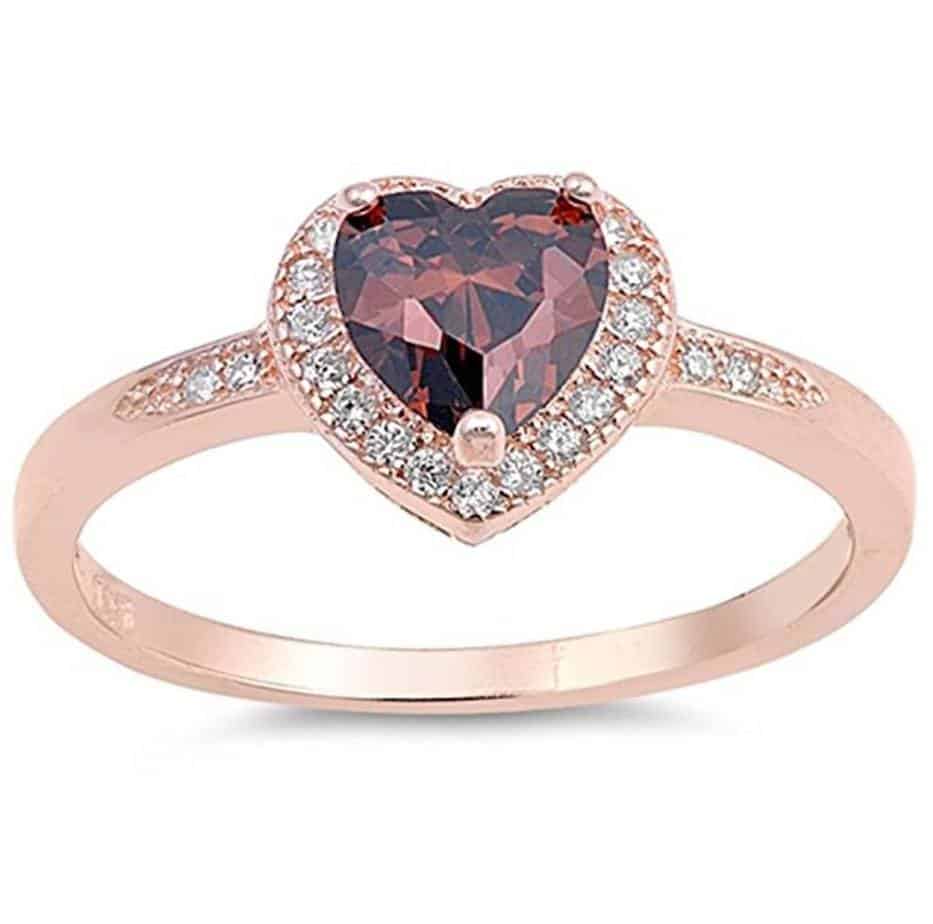 This stunning champagne, simulated Morganite ring is sterling silver plated with rose gold to enhance the color of the stone. The heart-shaped stone is surrounded by a halo of CZ stones that are incredibly beautiful together. The center stone is approximately 1/3 of an inch but seems larger due to the halo surrounding it.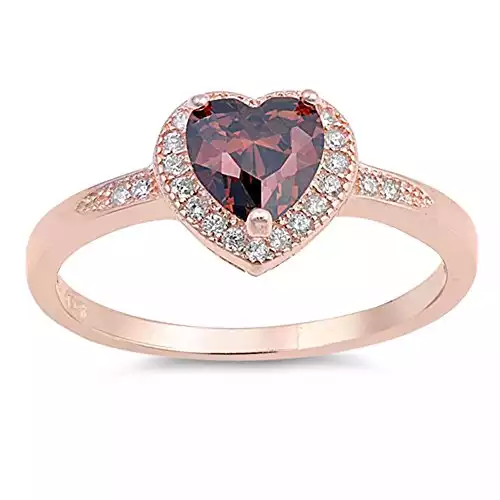 Cleaning Your Simulated Morganite Ring
When you are wearing your ring for long enough, it'll need to be cleaned. It's important that you don't do anything that will scratch the surface of the stone. It can become cloudy if you use the wrong materials for cleaning, too. Take some soap and a soft-bristled toothbrush and gently wash and rinse the ring once a week to remove dirt.
It's not likely to be a good idea to wear your simulated Morganite ring as a daily ring unless you're incredibly careful with the stone. It needs to be removed when washing dishes or dealing with chemicals. If you don't take care of it properly, you'll end up with a cloudy, scratched Morganite stone that can't be fixed.
FAQs
Question: Is Morganite a good engagement ring instead of a diamond engagement ring?
Answer: Yes, Morganite is a semi precious gemstone that has a resemblance to diamonds, although this one has a pinkish hue, unlike diamonds which are clearly looking. If your partner loves diamonds but doesn't want to own something so expensive to take care of (and yes, not everyone loves diamonds!) then this would be a very good option as an engagement ring.
Question: Is Morganite rarer than diamonds?
Answer: Yes, Morganite is a rarer gemstone, unlike diamonds, although nowadays, both can be produced in labs, which would not have the same hardness, they will be of decent hardness and price as well.
Question: Does Morganite sparkle like a diamond?
Answer: Yes, Morganite has a similar sparkle to a diamond, so you are definitely not going to be missing out a lot, in case you choose this to be the perfect ring for your engagement.
Question: What is the Morganite's carat weight?
Answer: The Morganite's carat weight is about 13 carats (if it's coming from Afghanistan).
Question: Where can I purchase a real Morganite ring?
Answer: You can find a real Morganite ring from well-trusted jewelry retailers like Brilliant Earth or Macy's.
Question: How long will a Morganite ring last?
Answer: With proper care, a Morganite ring will last around 20 years if you wear it every day, but if you don't it can last a lifetime.