Latest posts by Jeanette Kierstead
(see all)
After buying your wedding dress, you'll still have decisions to make. You'll have to decide what kind of shoes to buy, the bra that will work best with the type of bodice you choose as well as whether you'll need a petticoat dress. Even if the dress has a slip built in, you could need a full petticoat to give your dress volume.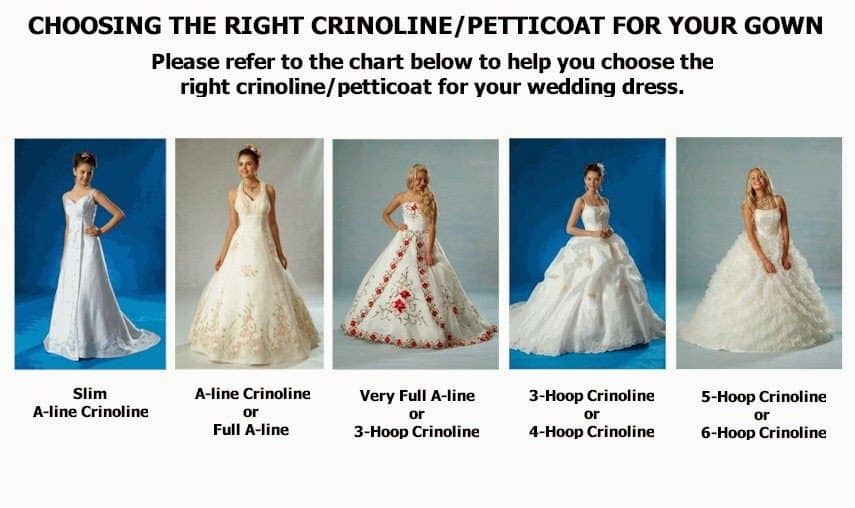 Questions to Ask Yourself
Do I really need one?
What will the gown look like without a petticoat?
Should I get a crinoline or a hoop slip?
What should the width be?
Do I want boning in the slip for a ball gown or layers of netting?
Gowns That Need a Slip or Petticoat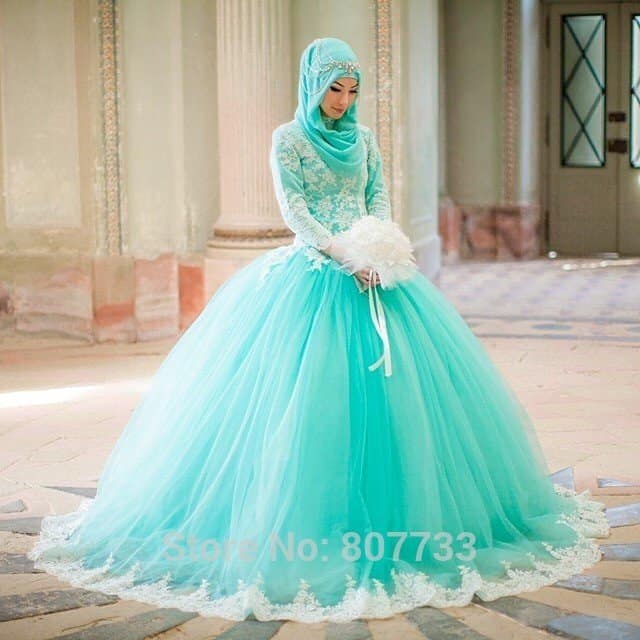 There are instances where you'll definitely need a petticoat or a slip. Try the dress on at home or in the shop, and walk around for a few minutes. Pretend you're walking down the aisle. If you feel or see the dress slipping between your legs, you'll need more slip than has been provided in the dress itself. This might occur in a mermaid or trumpet dress as well as a sheath wedding gown.
A ball gown is supposed to be wide and full, but that only occurs if there's a hoop slip or a full crinoline slip under the dress. You'll have to decide who much poof you want in your ball gown when deciding on the type of slip you'd like to wear underneath.
If you have a dress that is too sheer through the skirt, you'll need to purchase a petticoat to make the dress less see-through. While some dresses are meant to be sheer and give the illusion of nakedness, you should never be able to see your legs through the dress skirt.
It's really up to you whether you want a slip or a petticoat under your wedding gown. You can purchase one and test it beneath the gown.
How to Choose a Petticoat Dress
If you're wearing an A-line dress, you can purchase an A-line petticoat. The slip will match depending on the style you've chosen for your dress. Crinoline netting is used in many petticoats. It's a stiff net that makes the bottom of the dress appear full without having to buy a bulky dress. When they're separate items, the dress is less likely to fall due to the weight of the skirt.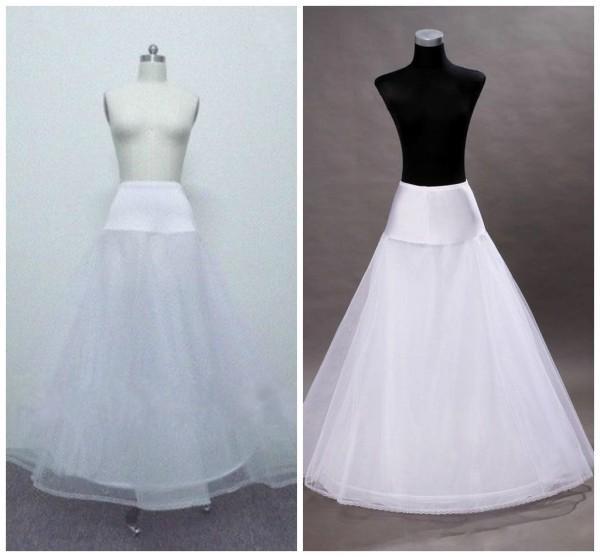 There are often layers of netting with a lining underneath to protect your skin and keep it from being itchy or scratchy. There is often a layer on the outside of the skirt, too. Some petticoats have layers of netting while others have a thin wire hoop at the hem that will keep a wide shape for ball gowns.
Watch this great video by FilleDePorcelaine for some great petticoat-related tips.
Boning Pros and Cons
For ball gowns, many brides like to have a hoop slip with boning. If you can imagine large ball gowns like those worn in the 1800s, this wide bell-shape is what the ball gown is trying to achieve. It can make a bride feel like a princess, but there's some concern about the way the hoop slip feels when you're walking or sitting.
While the hoop slip is lighter than a crinoline and won't lay against your skin when you're wearing a ball gown, it sways like a bell when you're walking. This can feel uncomfortable for some brides. While the boning won't cause the skirt to flip completely, it can be awkward for sitting because the boning will keep the dress from laying flat on the legs down to the ankles.
Here's a video by Elise Tonn Designs that shows the boning process up close.
Types of Petticoat Dresses
Now, to get more specific, there are some different common varieties of petticoats to consider (for reference).
A single line petticoat cinches along the waist and then puffs out along the skirt.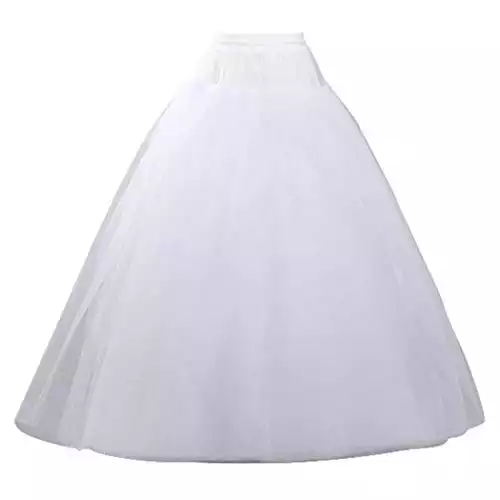 Women's Hoopless Petticoat Crinoline | Amazon
A Line 4 layers tulle (1 layer liner) hoopless petticoat with a elastic drawstring style floor length underskirt crinoline slips.
Buy at Amazon
We earn a commission if you click this link and make a purchase at no additional cost to you.
09/29/2023 03:43 am GMT
A two hoop petticoat has an extra line further down the skirt in addition to the waist cinch. Best for small A-line dresses.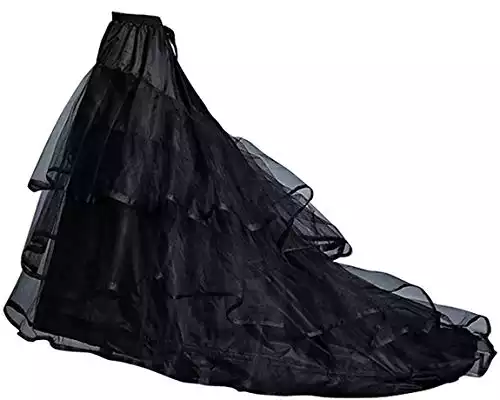 Portsvy A-line Mermaid Petticoat 2-Hoop Black Petticoat | Amazon
This petticoat is made of 100% soft polyester with lining, voile, wire, etc. This crinoline underskirt is designed with 3 layers and 2 hoops to shape your dress perfect and makes it look more puffy.
Buy at Amazon
We earn a commission if you click this link and make a purchase at no additional cost to you.
09/28/2023 10:16 am GMT
Like the name suggests, a three hoop petticoat adds an extra line on the skirt. Great for A-line dresses to give shape, but minimize puff.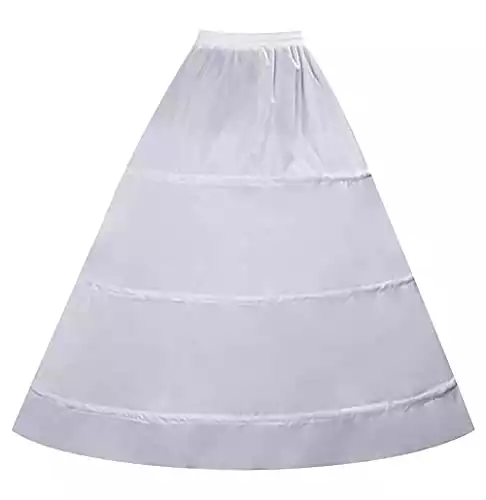 Six hoop petticoats are the extreme end of petticoats, with a full 6 rings from the waist. These are ideal if you are going for the FULL puffy look, suitable for a full ball gown.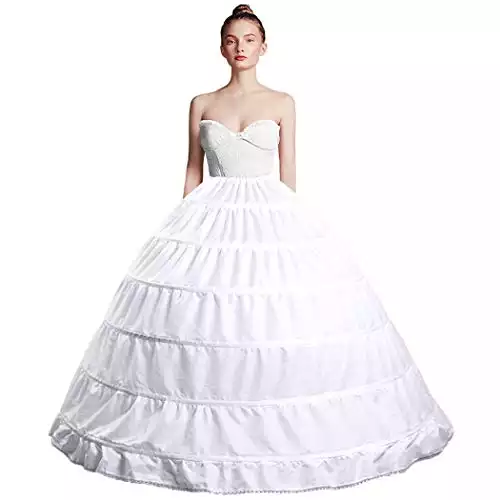 Train petticoats are compatible with a variety of hoops and refers to a petticoat that supports a long wedding dress train.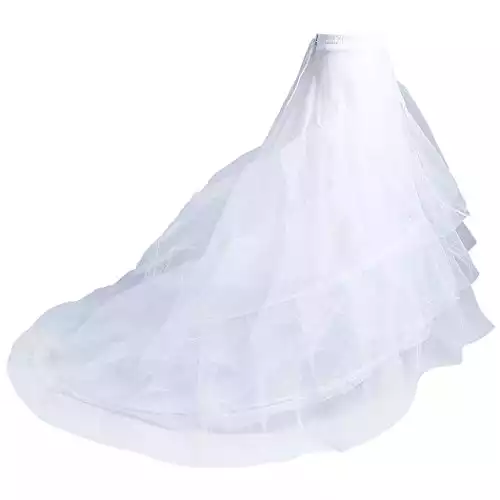 Train Petticoat 3 Layers Crinoline | Amazon
This ball gown Train skirt is a perfect accessory to wear under a wedding bridal dress, prom dress, ball gown dress, party dress, bridesmaid dress and any evening dresses.
Buy at Amazon
We earn a commission if you click this link and make a purchase at no additional cost to you.
09/29/2023 05:40 am GMT
Mermaid petticoats are also available typically with ONE hoop and sport a heavy flare at the bottom of the gown (typically starting around mid-calf or just below the knee).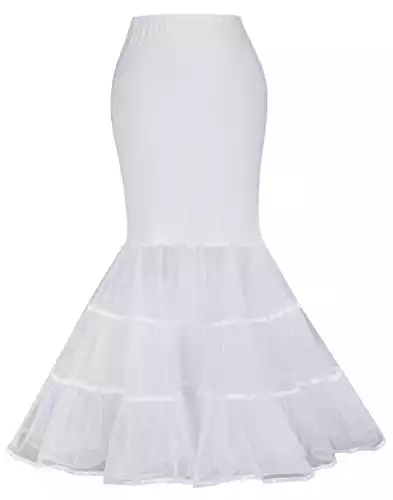 Mermaid Fishtail Petticoat | Amazon
This hoopless Mermaid shape petticoat has a floor length (Top to hem) of approx. 40". The bottom hem is made of two tiered organza layers with plenty of gathers to hold the dress's shape.
Buy at Amazon
We earn a commission if you click this link and make a purchase at no additional cost to you.
09/29/2023 05:48 am GMT
Shopping for a Petticoat Online
If your dress doesn't have a slip built into the skirt, you'll want to measure the material. You can do this by measuring the front of the dress from one seam to the other side. After getting that measurement, you can multiply it times two. This will give you the circumference of the bottom of the dress. This will be needed to order a petticoat online.
When placing your order for a petticoat, you will need to consider the height and length of the gown you've purchased. Petite or tall brides are going to have to be careful when ordering a petticoat. While you will often have to alter the wedding dress, you don't want to have to pay to alter a petticoat. Instead, make sure you're ordering one that will fit your height.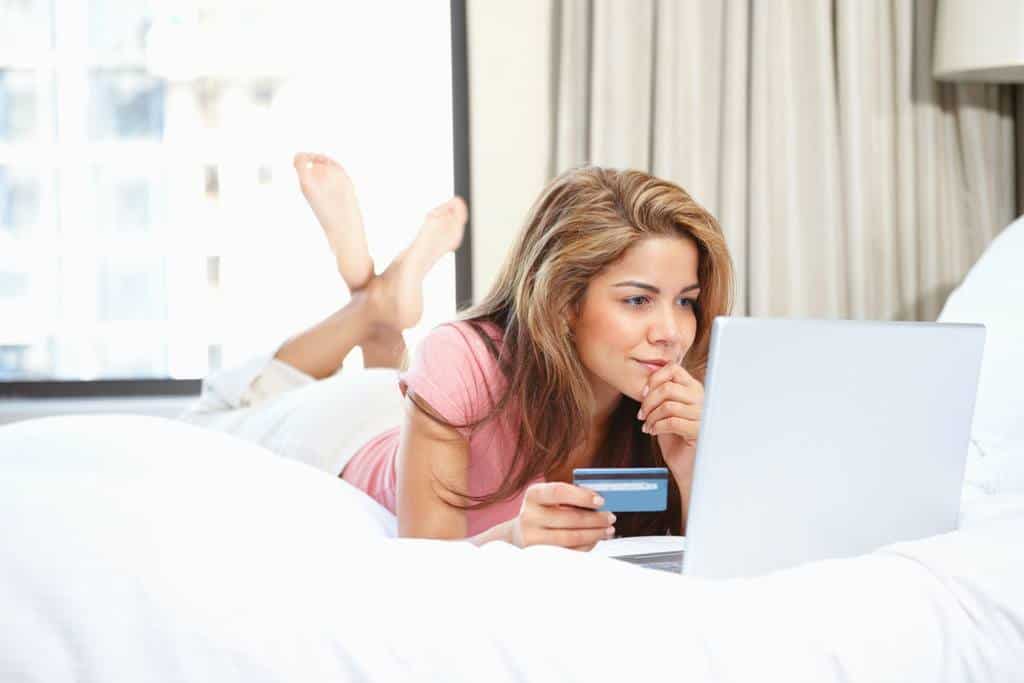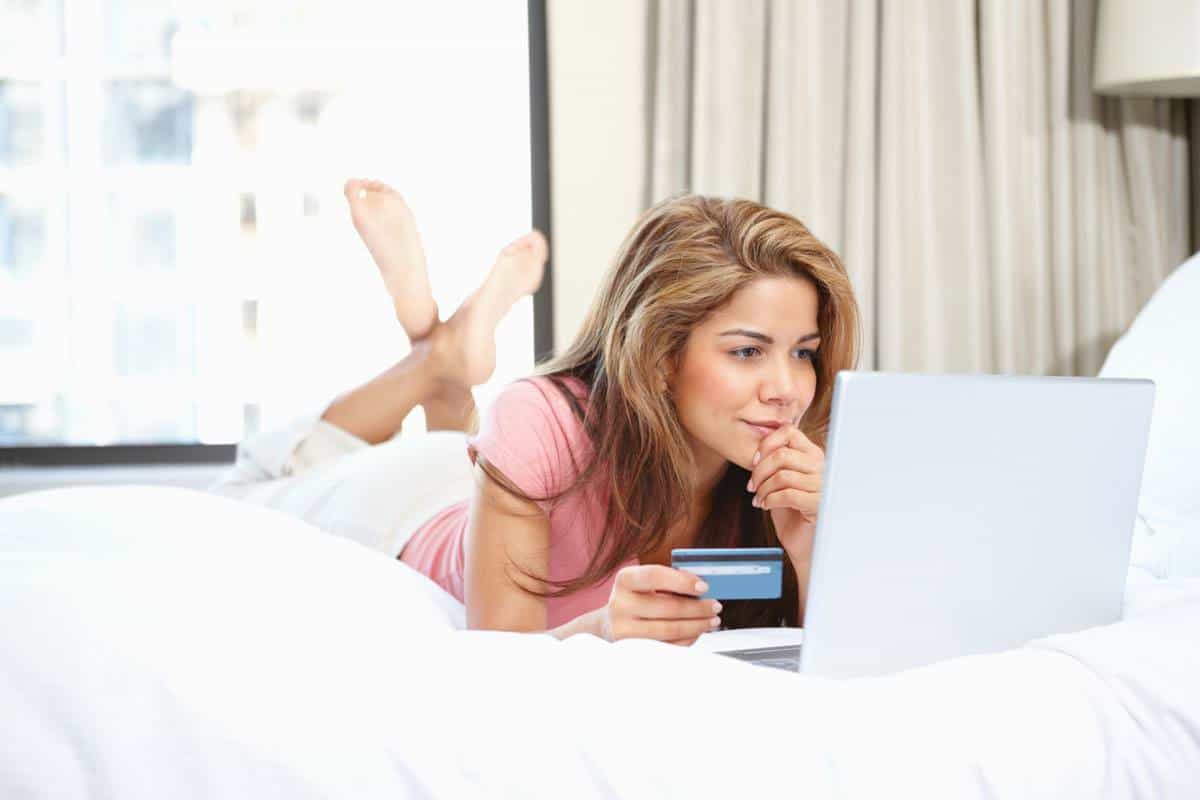 Ordering your slip online means that you can't touch the netting or try it on under the dress, but it can be a better method than buying the slip in a bridal boutique. It's much cheaper, and you can order exactly what you need without spending hours searching each store in person. Make sure you're purchasing a petticoat or slip that will fit under your dress by doing lots of measuring before placing your order.
Recommended Reads: