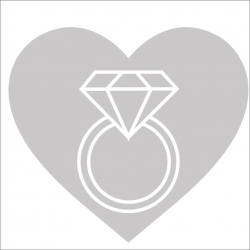 Latest posts by Love You Tomorrow Team
(see all)
Weddings are expensive.  We all know that. However, they are totally worth having! No matter how pressed for the money you are, there is always a way to make something special happen.
Today we want to share with you how you can have a gorgeous wedding under $10,000.  It is totally possible if you plan accordingly, budget along the way, and don't get sidetracked!
The 10000 dollar wedding – First things first…
In order to succeed in this, you and your fiancé must be on the same page.  Many times, couples have different expectations for their wedding day and it really throws a monkey wrench in the plans.  Wedding planning has been known to cause fights and problems that nothing else can.
Add to that mix a pair of well-meaning parents, family, and friends and you have a recipe for disaster.  Everyone has an opinion on how your wedding should be done, where you should skimp and where you should spend, and how you should decorate, celebrate, etc.
We know that it is easier said than done, but you need to stop this from these (well-meaning) family and friends.  And the only way to do that is by the two of you being on the same page!
Sit down with your fiancé and plan how you are going to handle your wedding.  Decide on your budget (whatever it may be), how you want to spend your money, and what the two of you want to do on your wedding day.
Then decide how you will handle these friends and family.  What are you going to say to them? How are you going to stop them from taking over your plans and overwhelming the two of you? Once you have that settled, you are well on your way to having a great wedding plan in place!
Before anything else…
Decide on how many people you plan to invite.  This is really going to determine your budget. If you know you can only spend X amount on a venue, you need to decide how many people fit that.
So, if you want to spend $1000 on a venue, but the price per person is $50, you know you can only invite 20 people.  If you want a small and intimate, yet pretty elegant wedding, this might be the way to go. If you want to invite 50 people, you need to find a place that charges only $20 per person.
Keep that in mind, but here is a little more info on venues to help you out…
Where should we get married?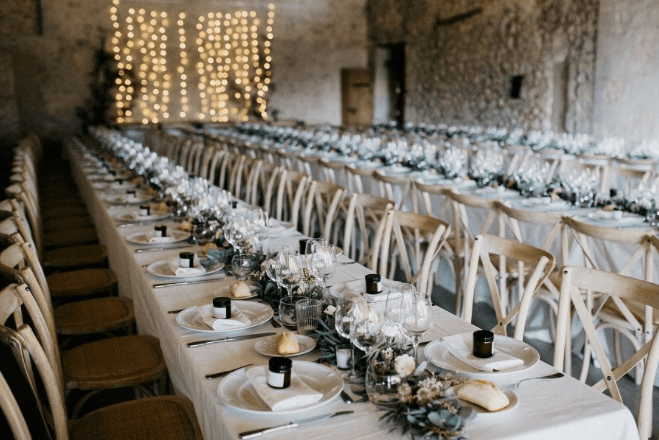 The majority of your wedding budget will likely go towards your venue.  However, if you are lucky, you can find a place for next to nothing, or maybe even free.  In the United States, there are parks that allow you to get married and have your celebration as long as you book a time frame.  You do not have to pay, you can just show up!
There are also locations where you can pay a small fee to guarantee your spot.  You can also consider a clubhouse from a private community. Those are usually around $500 or so for a few hours (it's not a price per person).  That is so reasonable!
If you are planning a true budget wedding, you may want to go with a place that does not run by "price per person" but instead a fixed amount.  It will likely include nothing but be the cheapest.
However, if you still want to have a 10000 dollar wedding and go with a "price per person" type venue, you will likely pay a little more, but end up with things included.  For example, those types of venues typically include tables, chairs, linens and maybe even dinner.
These types of venues may also give you discounts at certain bakeries, DJs, officiants, and the like.  Consider all your options before deciding on one specific place. You may have to shop around to find what works best for you guys!
Who should you hire first (and not skimp on)?
A photographer.
Hands down. Photographers are often booked a year (or more!) in advance so, in order to find someone good at a reasonable price, you want to get on that.
Photographers come in all shapes and sizes (and price points!) so shop around.  It is okay to ask a photographer if they are willing to go a little lower. The worst you can get is a "no" and that is totally okay.
You can find a pretty decent photographer for somewhere around the $1000-$1200 range.  We highly recommend not skimping on photography. Find someone who does quality work.  Remember these are the only tangible memories you will have of that day and you want them to last a lifetime!
Also remember, you only get one shot at this day.  So, if your photographer "messes up" there's no do-over.  Find someone who works well at a price point that works for you and hire them as soon as possible!
What happens next?
Book your caterer
If you are getting married at a location that does not include catering, start looking for that.  Although this can be very expensive, you can typically find some reasonably priced caterers if you look around.
Check Facebook groups, ask friends and look around town for ads of people who cater.  Oftentimes, these are significantly cheaper compared to catering from a restaurant. You can find a caterer who charges around $5-$10 per person for a full meal.
Here's a tip: Italian meals are often the cheapest since pasta is so inexpensive.  You can get a dish of pasta, protein, salad, and rolls for the price mentioned above.  You can also add an appetizer and they will likely charge another $2 per person, more or less.
There are many options when looking for caterers.  Decide what style wedding you are having and what kind of food you want to serve.  Traditional wedding meals of mashed potatoes, veggies and chicken are no longer the only way to go.  Find something delicious and go with it!
Buy your gown and tux (or suit)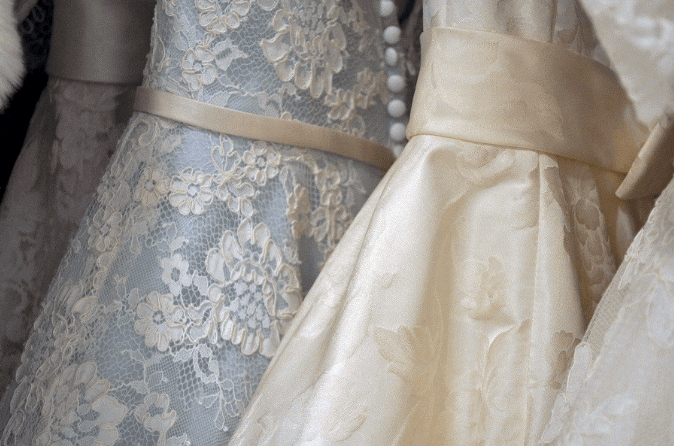 This is one place you guys can decide to go all out or reign it in.  Many brides spend a small fortune on their wedding gowns. Gowns can cost anywhere from $300 to over $5000.  Easily. Yes, it's true.
Some brides choose to go through sites that have repurposed dresses.  So, someone who got married decided to sell it to this site and then they sell it to you at a (very) reasonable price.  You can then just keep it as it is, or maybe take it somewhere to be altered and change it to something more your style.  This is significantly cheaper than buying a brand-new dress.
However, if you are planning to buy your own new dress, budget anywhere around $500 for a gorgeous gown that won't break the bank.  This is really a decent price point. However, if you want to go higher, keep in mind that you will likely have to give something else up later in order to afford it.
As for suits or tuxedos, these can be rented for a much cheaper price than purchasing.  If you don't think you will ever use it again, then don't buy one. It will be more expensive.  You can probably rent a suit or tuxedo for around $150-200. That usually includes the full suit (or tux), a white shirt, a tie or bow tie, socks and shoes. You can't beat that!
Choose a cake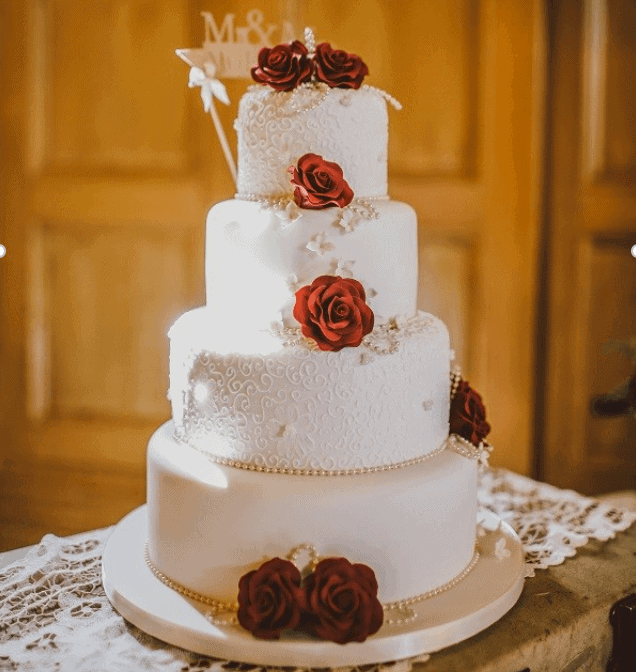 Yum! One of the best parts of a wedding.  Find a baker and do a cake tasting session.  Sometimes venues have preferred vendors and if you go with them, you get a discount.  Find out if yours has that.
As mentioned above, book that cake tasting session and enjoy a fun morning of trying sweets.  Don't feel the need to go with vanilla or rum cake because that is what is typically done. Don't feel the need to choose something that pleases your guests only.  Get something that the two of you love! If that is chocolate, strawberry or lemon cake, go with it!
It can cost you around $200 for a reasonably sized, buttercream cake with minimal decorations. If you want more tiers, more decorations, or a fondant topped cake, you will be paying a bit more.  Typically, they charge per person. Anywhere from $2.50-$5 is a decent price point.
Another option is a fake cake.  Yep, you heard that correctly! Oftentimes, bakeries will sell you a piece of foam decorated like a cake.  Maybe the top tier is real, so you can cut into it.
Then, you purchase sheet cakes from a wholesale location or another place you prefer.  This is usually significantly cheaper. Just have someone cutting the sheet cake in the back and serve that.  Your guests won't even know the difference!
A tip on cakes to keep in mind:
Some venues charge you for cake cutting.  Sometimes even up to $5 per slice! It's absolutely crazy, so for that reason, be sure to ask at your venue if they do this.  If you are okay with paying for it, by all means, do so!
If you do not want to pay for it, ask if it is a possibility for you to have some of your bridal party or another designated person to cut the cake!  Oftentimes, it is okay with them as long as you provide your own plates, silverware and cake cutters. Oh, and be sure to clean up after yourselves!
Hire a DJ
If you are looking to party and dance all night long, find a DJ you love! If you don't know of any good DJs, think back on weddings you have attended and how the music was.  If there are any particular celebrations that stand out to you as a good time, call that bride or groom and ask them who their DJ was!
The DJ can totally make or break your event! If they are dull or don't follow your playlist ideas, your party can be a dud.  However, if they take your suggestions, play the genres you love, and even more so, play the specific songs you requested in advance, it will be an amazing party!
One thing you can do is give your DJ a detailed list of songs you definitely want to be played during cocktail hour, dinner and dancing time.  That way, he/she knows exactly what you want.
Conversely, you should give them a list of songs you do not want to be played! If there is any song that you hate or just brings you bad memories, jot it down.  You don't want a song to ruin a great moment!
Also, ask your venue if they have any preferred DJs. You can look them up online for reviews and sometimes you will get a discounted price for mentioning that you are using a particular venue.
Tip on DJs:
You are going to need a Master of Ceremonies for your reception.  People tend to overlook this because you think you don't, but you do.  Who is going to announce the wedding party as they walk in? Announce the first dance? Let people know dinner will be served? And then tell them the party has started?
A great idea would be to look for a DJ that does not mind also being the Master of Ceremonies.  Some DJs don't want to do it, but that just gives you one more person to hire.
When you are interviewing DJs (yep, you can totally interview via email), be sure to ask if they also are okay with being the MC.  Anything to save a little extra money!
Order Invitations!
The time has come! It is time to buy your invites and mail them.  Typically, this happens about 6-8 weeks before the wedding so you usually have time to look out for great deals. Some great places to look for invites at a decent price are Shutterfly (look for Wedding Paper Divas) and Minted.
Cards are usually around $3+ per. However, both companies run sales very often.  A great tip is to go into these websites and create multiple invites you like. Leave them prepared in your saved projects.  When sales run, check out what the invites cost at the new price and see if it is worth it for you. Over time, you are bound to find something at a decent price point that fits your needs.
Something else to keep in mind is that these companies try to milk everything! Keep that in mind as you shop.  If you are just looking for a plain invite with an envelope, just get that. They will try to convince you to buy the RSVP card (you don't really need this… just write on the invite to text you to confirm).  They will try to convince you to let them print the return address on the envelopes (this is pricy per card).
If you want the return address printed, consider buying a stamp on Amazon.  It'll last forever and be significantly cheaper. And do not let them trick you into addressing all your envelopes for you and mailing them! That is incredibly expensive.  Just order what you need and do the rest at home to save the most amount of money.
Now let's talk about where you can save money!
Hair and Makeup
Do you know how to do your own hair and makeup? Practice some more and do it for your own wedding!  You can save so much money by doing this yourself. People often hire hair and makeup artists for the bride and bridesmaids.  This can cost anywhere from $30 to over $100 per person. That adds up SO quickly! You can easily save at least $500 by doing it yourself.
Take some time to watch YouTube videos, and even invest in quality makeup. You will save in the long run.  Maybe consider asking a sister or trusted friend to style your hair that day if you want an updo. Or, rather than having a hair and makeup artist come to you, ask if you can go to them. By you traveling, instead of them, you might save a bit of money!
Favors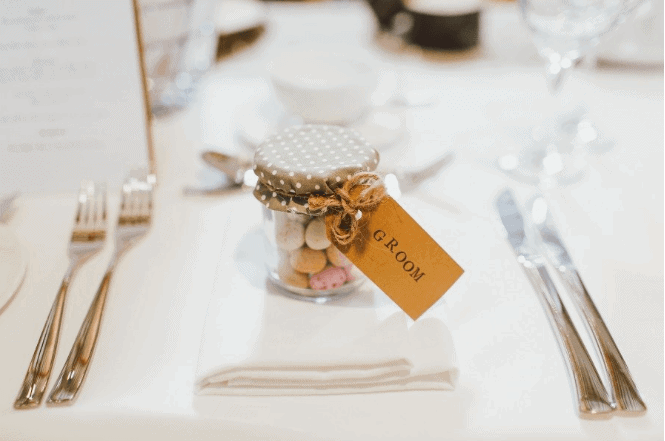 Far too many brides spend a good chunk of their 10000 dollar wedding budget on favors that people either leave on the table, forget about, or throw away later. Don't fall into that trap!
Consider something DIY.  Buy some little paper boxes or bags and fill them up with chocolates.  Or make homemade mini cookies or cupcakes and bag them up. Buy some labels and design something nice to put on them.  Maybe write "thank you for coming" along with your names and wedding date.
If you really want to buy something, look for good deals online.  Amazon often has good ideas. Also, check out Cheap Favor Shop.  You might find something, well, cheap! Remember to find something practical when you're searching.
Another way to save money is to give one favor per family instead of per person.  It saves you far more money and will keep the family from going home with at least two items that are exactly the same!
Thank You Cards
Thank You cards are so important.  We are in no way saying not to send any.  After your guests have taken time out of their day to be with you on your big day and likely brought you cash or a gift, it is the right thing to do to send out a thank you note.
Now, what we are saying is do not spend a fortune on these.  So many people order the fancy one with engraved names and a bunch of other decorations.  It is so unnecessary. Let's be honest, most people end up throwing these away! So, go to the Dollar Store and pick up basic Thank You cards.  At a dollar for a pack of 10, you will spend next to nothing on these!
Remember you want to spend as little as you can on the card because you will still have to pay for postage to send them!  At .50 per stamp, this can easily add up to place it in your budget.
Wedding Jewelry and Headpieces
Most brides head out to fancy shops to buy all new jewelry and a headpiece for their weddings, but we wholeheartedly believe that is so unnecessary.  Choose a personal item of yours that you positively love and wear that. Or if your fiancé has given you a piece of jewelry, consider using that.
If you want to make this your "something borrowed" (you could as it would be so meaningful and inexpensive!), ask your mom or grandma for a family heirloom you can wear.  Your family would more than likely be over the moon about having you wear something of theirs and it will be such a beautiful story to tell!
Shoes
Another accessory item that you can save on! Lots of brides go the "expensive shoe" route. But let's be honest, if you're wearing a long gown (and the majority of brides do), no one will even see your shoes the entire night.  For that reason, it is best to go with something comfortable.
Head to Target and look for a nice nude shoe.  Or if you want it to be your something blue, go wild with a shoe you might never wear again.  This is your day after all! Have fun and express yourself.
Florals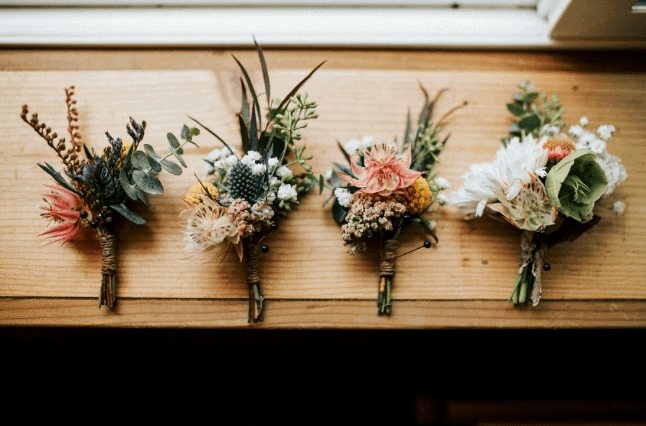 This is something that is totally up to you. You can hire someone to create arrangements or get together with your bridesmaids and make those bouquets and centerpieces yourselves.
It is really quite easy to make your own with the help of YouTube. Look up ideas for boutonnieres, bouquets, centerpieces, corsages, and all the beautiful things you need flowers for. Even consider topping your cake with fresh flowers.
In order to make your own, you should look for a floral wholesaler. They will be able to give you the best deal for making gorgeous arrangements. Ask for the specific colors, types, and variations you would like, and you can get them at an incredibly cheap price (we're talking $10 for a huge box of flowers!).
Car/Limo Rentals
Fancy cars and limos are so much fun but are not totally necessary for your wedding day! Your wedding party can all travel together by carpooling. Maybe borrow a couple of vans or SUVs from friends and have them all travel in one car, or bridesmaids in one and groomsmen in another.
You as the couple don't need a fancy car either. Does anyone in your family own a nice car? Perhaps even a convertible? Ask to borrow it! Have your bridal party decorate it, add balloons and you are good to go! Use it to drive from the church to reception (if you need to travel) and definitely for your send off.
By eliminating these two vehicles, you can easily save over $500! This is a no-brainer if you are trying to save big on your wedding!
The 10000 dollar wedding – Let's summarize
Here's a chart to help you remember where to save and where to (somewhat) splurge!
Splurge!

 

Save!

 

Venue

 

Hair & Makeup

 

Photographer

 

Favors

 

Caterer

 

Thank you Cards

 

Dress & Tux (or suit)

 

Jewelry & Headpieces

 

Cake

 

Shoes

 

DJ

 

Florals

 

Invitations

 

Car Rentals

 
Remember, this is just a guideline. You don't have to splurge and save exactly as it is laid out here. You do what works best for you as a couple! If that means to splurge on hair and makeup, and save on the dress and tux, by all means!
Weddings are about you as a couple. It can be expensive and overwhelming, but it does not have to spiral out of control. If you start by setting your budget early on, you can plan out exactly what you want to spend where and not go crazy.
One thing that really helps is to save while you are planning! Everyone should be saving for their wedding, but when you are in a relationship, or after you get engaged, start a savings plan for this!
Save an extra $50, or $100, or $500. Whatever you can afford! Every little bit helps when you are planning a wedding. Come up with a plan on how much you are going to save and how much you can spend per month.
After you figure out how much you can spend per month, lay out all your invoices from all the things you are purchasing for your wedding and work it out, so you can pay things in pieces. It is so much more manageable to do that rather than paying it all in bulk two weeks before the wedding!
If there was one phrase we had to leave you with when planning your wedding, it is this one: Save, Plan, Enjoy.
It does not have to be hard, you do not have to get into any fights, and no one should go bankrupt when planning a wedding. Start your marriage on the right foot by planning a beautiful wedding at a low cost.
Recommended Reads: