When it comes to selecting a wedding ring, silicone is about the farthest material most couples have in mind. Though not usually as pricey as an engagement ring, wedding bands can include diamonds or other precious stones, not to mention precious metals. Add in customization and so bands can easily cost a few thousand.
But there's an increasing trend of couples rejecting not only traditional engagement rings but also traditional wedding bands.
Cost isn't the only factor: for many who work in dangerous professions or as professional athletes, wearing a metal wedding band simply isn't practical. Both Marvin Jones, a wide receiver for the Detroit Lions, and Andy Dalton, quarterback for the Cincinnati Bengals sport silicone rings to make sure their traditional ones don't get broken or lost during football games.
Advantages of a Silicone Wedding Ring?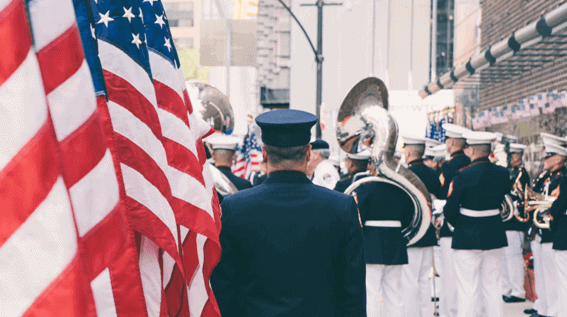 One of the common misconceptions about silicone rings is that they're a replacement for traditional wedding rings. And while that can be the case, especially for more offbeat couples or couples who simply can't invest in an expensive ring right away, that isn't the primary purpose.
In addition to NFL and other professional athletes, couples seek out silicone rings as a stand-in for safety reasons. Men and women enlisted in the military, who work with heavy machinery, or who serve in a risky environment, like firefighters or police officers, go to silicone rings as a way to still wearing a symbolic wedding band but make sure their more expensive rings don't get damaged.
Silicone rings also protect against blisters, are better for sensitive skin, and don't run the risk of "ring avulsion", which sent Late Night Show star Jimmy Fallon into intensive care for 10 days.
The basic benefits of a silicone ring for occupational wear include:
Protecting precious rings from harm
More flexibility and mobility
Comfort
Protection against blisters
Protection for sensitive skin
Less worry or risk of losing a precious ring
Where to Buy Silicone Wedding Bands?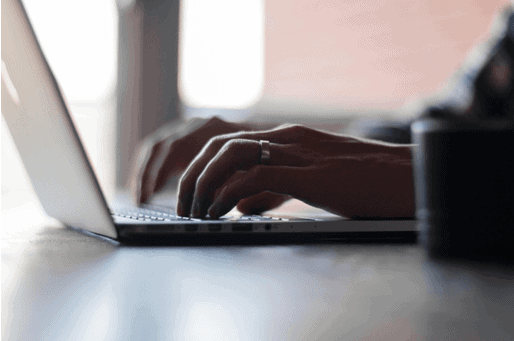 It's not easy to pick where to purchase a silicone wedding ring, especially with all companies claiming to offer the best selection, price, and services. And it's especially difficult because, as a relatively still emerging industry, a good deal of rings are sold online.
The good news: we've taken out some of the guesswork by comparing some of the best selling makers of silicone wedding rings to determine which companies offer the best in style, price, services, and selection. We based our reviews on:
Variety
Attention to wedding styles (or lack thereof)
Prices
Company Policies
Support
Ratings, both internal and external
By no means does this represent all companies that sell silicone wedding rings. You can also, of course, find a healthy selection on general retailers like Amazon or Ebay, though you'll be dealing with third-party sellers and miss out on the services and offerings traditional e-commerce companies have to offer.
Best Overall Selection of Silicone Rings
The FIRST two places I check for the best silicone rings are:
GrooveLife: I absolutely LOVE their durable and breathable (unique feature) rings here. Ideal for the active lifestyle / outdoor adventurer.
Manly Bands: They have a WIDE selection of all sorts of silicone ring products, definitely worth checking out.
Best silicone wedding rings for a traditional look: SafeRingz Shop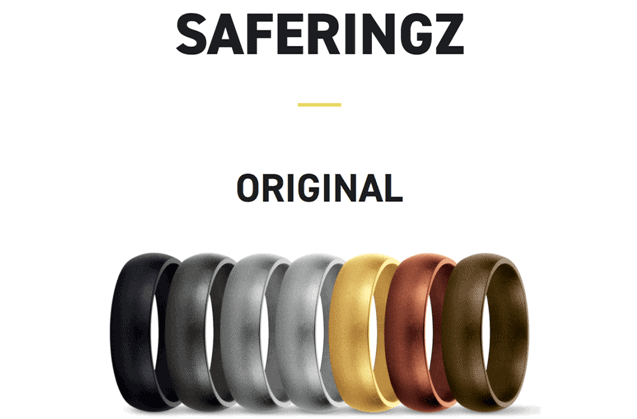 At first glance, Saferingz seems less focused on wedding rings and more on touting safety and practicality. Luckily, the company manages to blend both, with surprisingly attractive and almost traditional results.
Reviews and Ratings First, the big downside: like all of the other companies we reviewed, and, it seems major retail related to silicone rings, Saferingz is not Better Business Bureau accredited, nor does it have any BBB ratings listed. While this might be a red flag for more traditional metal rings, with silicone rings you're investing a lot less. Plus, as a relatively new industry, it seems to be hard to avoid.
That said, there are reviews:
Nearly 4,000 reviews of internal ratings
A 5-star overall rating on Trustpilot
About the Company & Policies
SafeRingz appears to be one of the older companies. It was founded in 1996 by a group of like-minded working or active men and women who longed for a more practical and safer alternative to a metal wedding band. There's a special emphasis on service men and women, and those enlisted in the armed forces.
Policies are succinct and clear:
Rings are made in the United States
Profits partially benefit those in the armed forces
Offer for military discounts
30-day returns or exchanges (reasonable, but shorter than others)
$3.99 shipping and handling for all domestic purchases (which is the higher end for its competitors)
Privacy Policy: It's a bit murky, as they do sell some of your information to third parties, but only within certain standards. Read for full details.
Ring Selection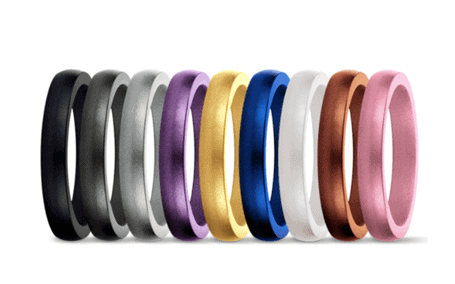 This, of course, is where SafeRingz shines. While the company offers the smallest collection of its competitors, it also offers the most traditionally classic aesthetic for anyone looking a ring that really feels like a wedding ring.
Their precious metals collection is offered in copper, metallic, black and other colors. Original and thin bands both mimic traditional wedding rings in a very impressive way that makes it almost hard, at first glance, to believe they're silicone.
Choose from original, thin, stackable, and even bundles (which allow you to match a men's and women's ring together for a better price).
Rings range from $11.99 to $39.99, making these prices competitive with other companies.
While there is no option for engravings or customization, these rings offer some special features, including:
Hypoallergenic material
100% non-conductive
Adjustable for swelling
Able to withstand extreme temperatures
While the company implies these rings are suited for those in the medial, military and service fields, these silicone rings are also great for anyone looking for something that feels closer to the real thing.
Best Silicone Rings for the Offbeat Wedding: Aeon Rings


Our next best company for silicone wedding rings takes us in the opposite direction–Aeon Rings offers rings that are unapologetically more modern and less traditional. These are great for anyone who's even considering skipping the traditional metal ring altogether, or who want something that shows off their personality.
From the very first page, it's obvious their focus is broader, but especially geared towards athletes or anyone with an especially active lifestyle. Still, from casual to more formal, there are plenty of possibilities if you're open to a more modern vibe.
Reviews and Ratings
Aeon Rings also is not Better Business Bureau accredited, but they did earn an (unofficial) A+ rating from customer reviews. There's also plenty of internal reviews by individual product, plus a robust Instagram account to follow. While far from perfect, there's at least some sign that customers seem more or less satisfied with their purchases.
About the Company & Policies
Aeon Rings admittedly isn't the best at transparency when it comes to company history. There is a direct support phone and email line. Most of the information provided on the site is instead focused on the company's policies.
Their privacy policy is a bit more transparent: Aeon acknowledges that it collects the basic information you provide, like your name and email. It also collects what it terms "general demographic' information. While they do use cookies, no information is sold to third parties, which is a step up compared with SafeRingz.
General policies include:
Free shipping on all orders
30-day returns or 60-day exchanges
You may cancel orders, but typically have to ship backorders yourself
Aeon Ring Selection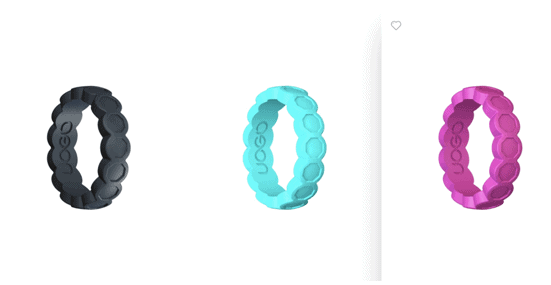 Aeon rings are by no means trying to embody a traditional wedding ring, and maybe for some, that's the beauty of it. By stepping distinctly outside of what a traditional ring looks like, these rings embrace the fact that they're not only silicone but stylish, modern and sleek.
Filter options are a bit limited. You can sort by men's, women's, color, size, and price. While you won't find anything that mimics a 'precious metal', what you will find are colorful, fun, and unique rings.
The Women's collections do include both a "Diamond" and "Heart" series, which are more fun plays on romantic patterns. For men, most selections are pretty solidly in the athletic look, though the J12 Series offers some neat ridging that looks a bit avant-garde meets active meets formal.
Rings are priced at $13.99-$23.99, making them, on average, less expensive than competitors
Select from bold colors like cobalt blue, cyan, magenta, purple, and more muted blacks and grays, among others
There is no offer for customization or engraving, but unique designs and colors are enough to make these rings feel individualized.
Best Silicone Wedding Rings for Wide Selection & Customization: Qalo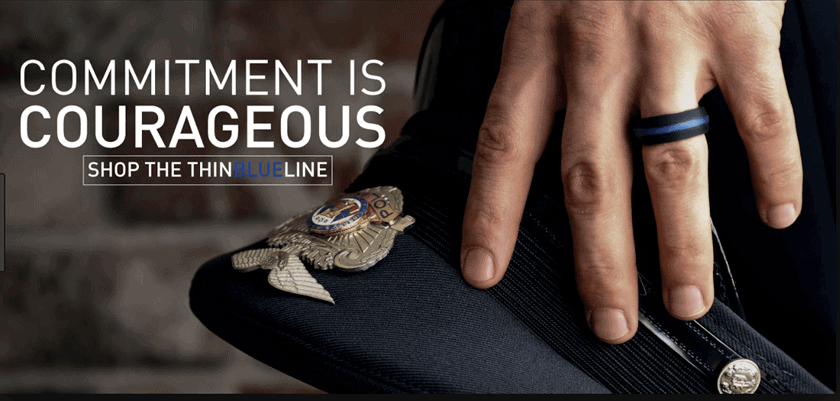 There's a reason that Qalo is one of the bestselling, and best-known companies for silicone wedding rings. With a hearty and wide selection of rings, plus the option to customize, there's a lot to offer. The company displays its eminence on the main company page by showing different celebrities–mostly athletes who presumably own a Qalo ring.
Celebrity endorsements aside, Qalo is more or less a mix of Aeon and SafeRingz: it combines the more athletic feel of Aeon with the more traditional aesthetic of SafeRingz by offering a compromise between the two. You will find plenty of purely athletic minded rings, but you'll also find rings with a modern formal vibe.
Reviews and Ratings
Again, Qualo is not Better Business Bureau accredited, but it has been given an unofficial B rating, per customer reviews. That's a hard way to judge a company, but there are also ample Amazon reviews on specific rings (though keep in mind some may reflect experiences relating to third party sellers and second-hand rings). Glassdoor reviews also help provide a relatively positive insight into the company.
About the Company & Policies
Beyond the celebrity endorsements, Qalo doesn't mention much about its company history. What is clear is that the company is deeply involved in philanthropy. In fact, proceeds in part help towards a total of 7 nonprofit organizations and causes:
Barbells for Boobs (Breast Cancer Awareness)
24-7 Commitment (for families and marriages)
National EMS Foundation
National Fallen Firefighters
National Law Enforcement Fund
Alliance for Lupus
Jessie Rees (Cancer Nonprofit)
One downside, of course, is a diluting effect: by donating to so many different organizations, the money is spread thinner. And it also has customers ostensibly supporting several foundations at once. Nonetheless, this is definitely a plus for any customer who wants their purchase to have a bigger impact.
Another plus is the ability to view rings in person. While Qalo is primarily an online retailer, you can, in fact, find their rings in a number of storefront and traditional jewelers across the country. Just type in your zip code and search for the location nearest to you.
In terms of company policies, it's more or less comparable to its competitors: a lifetime warranty against manufacturing defects; 60-day exchanges and 30-day returns (except for customized rings); and the possibility for store credit.
There's also a discount for any active or retired member in the armed services, and for first responders.
Silicone Ring Selection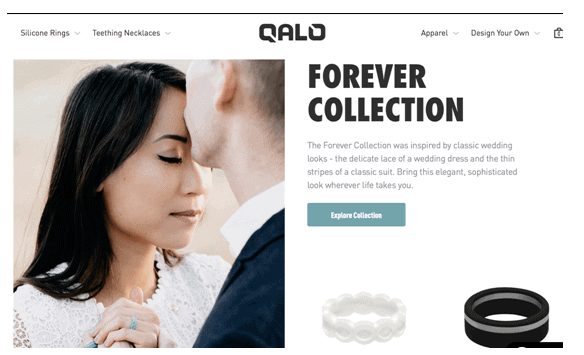 It's clear that Qalo has a large selection of styles, and if you're looking for a silicone wedding ring, it can be overwhelming to find the one that's best for you. That said, the filter option and general organization are helpful.
Sort by new arrivals, best sellers, featured collections, men's and women's, and stackable. You can also filter by bestsellers and price. Rings range from $8.37 to $39.95. Aside from more athletic rings, you can find faux white marble, pearl, and silver options that are a bit more formal but still modern and comfortable.
Plus, there are plenty of texture and design options to update the look of silicone rings. Options include:
Braided
Accent
Bead
Geometric
Twist
Chevron
Finally, there's a Forever Collection especially meant for wedding rings–though not as traditional in look as SafeRingz, these are some nicer offerings.
Perhaps the best feature, though, is the option to customize. You can create an engraving of your choice for an additional fee of $9.99. You also have the option to build a couple's stack.
Summing it Up: What's the Best Company for a Silicone Wedding Ring?
Each of the three companies could easily win the title for the best brand for silicone wedding rings. If you're looking for something that mimics a traditional yellow or white gold, silver, or rose gold, SafeRingz is worth looking into. If you want something out of the box and more unconventional, consider Aeon Rings.
If we did have to pick an overall winner, it might be Qalo, simply for the ability to customize and its signature wedding collection. And the emphasis on charity is an excellent bonus.
That said, if ratings are more important to you, one of the other companies may also be more your speed. There are other brands for silicone wedding rings, but they were not included in this review in part for brevity and because they did not meet some baseline standards in terms of information provided and overall ratings.