The biggest day of your life is right around the corner! We know you want to look stunning, but there are so many options to choose from in the wedding dress realm.
Should you go for strapless, short, long, off the shoulder, mermaid style, halter or princess cut? We know it can get incredibly overwhelming which is why we are here to help!
The wedding dress industry is chock full of gorgeous options. No matter what route you take, we are confident you will look incredible on your special day. You should be totally in love with your dress.
After all, you only get to wear something like this once in your lifetime!
With such a huge selection, it can be so easy to get overwhelmed and not know where to start. We know the struggle- we have definitely been there.
Begin by analyzing your body. And in no way do we mean in a critical manner. Not at all. Find your favorite parts of it and enhance them. Are there any parts of you that you want to help?
Try to find a style that will do exactly what you want it to do. Believe us, with the number of dresses out there, you WILL find what you are looking for!
Best Broad Shoulder Wedding Dress Selections?
I spend a LONG time trying to find the right cuts and fits for broader shoulders. Lots of retailers have "a few" options, but I've found BHLDN to have the absolute BEST selection for dresses for broad shoulders.
View BHLDN Collection
We earn a commission if you click this link and make a purchase at no additional cost to you.
Broad Shouldered Ladies, Unite!
Broad shoulders are something to be proud of. Sometimes you are born with them, other times it means you have worked hard to attain them. They are strong and powerful.
A lot of ladies are self-conscious about their broad shoulders in their wedding dresses. You do not have to be. If you select the right fit, you will love how you look!
Let's start with a small table and discuss these three dresses:
Off-the-Shoulder

 

Mermaid Cut

 

Strapless

 

Fact: Highlights the shoulders in a beautiful way

 

Fact: Takes the attention off of shoulders a bit as people focus on the bottom of the dress

 

Fact: Exposes shoulders and makes them look smaller

 

Tip: Make sure it is of the shoulder and not a cap sleeve

 

Tip: Consider a strapless mermaid-cut as it will enhance shoulders, but not focus on them

 

Tip: Concealing shoulders makes them look much bigger.  Show them off and be proud of them.

 

Style: Romantic 

 

Style: Dramatic 

 

Style: Feminine 

 

Wedding type: For a rustic wedding

 

Wedding type: For an indoor, elegant wedding

 

Wedding type: Versatile dress, perfect for an indoor or outdoor wedding

 

Remember: It should truly drape beneath your shoulders for the ultimate effect

 

Remember: A heavy bottom balances out a heavy top

 

Remember: Light dress, or full-on princess dress, this is a perfect style to wear no matter what

 
Let's Take a Look at Off-the-Shoulder: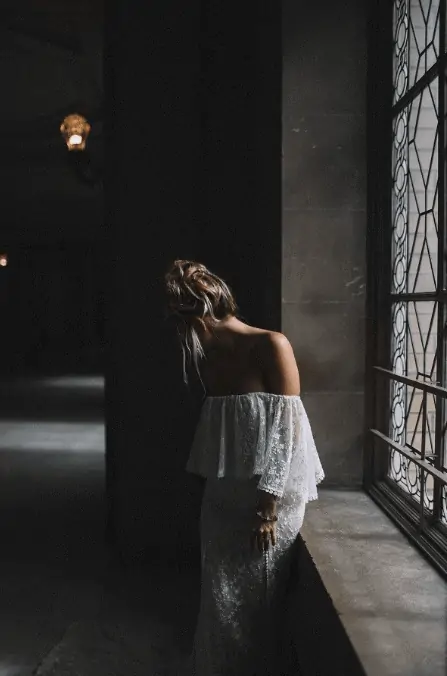 An off-the-shoulder look is positively gorgeous for broad shoulders. It works well because the straps are not right on your broadest area, but instead drape femininely off the side and make you look dreamy. This is the perfect romantic style.
This is the dress you want if you are having a rustic wedding. Worn with only earrings (no necklace), and low heels, or even flats, this is the perfect laid-back wedding dress that will make your broad shoulders look amazing!
Something to remember is that off-the-shoulder does not mean cap sleeve. A cap sleeve is tight and falls right at the broadest part of your shoulders. This will not look good! It is too snug at your biggest area and will make you look larger than what you are. It is just not a favorable style for your body type.
On the contrary, an actual off-the-shoulder does just that- it drapes right off and emphasizes what looks smaller- your arms. This helps your shoulders look strong and beautiful instead of cut off and extra-large.
How About a Mermaid Cut?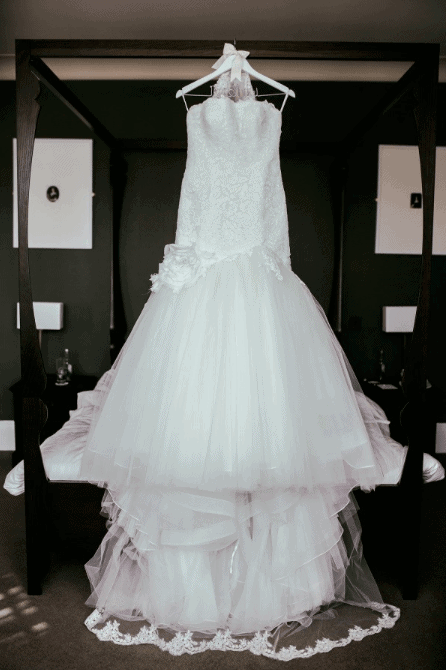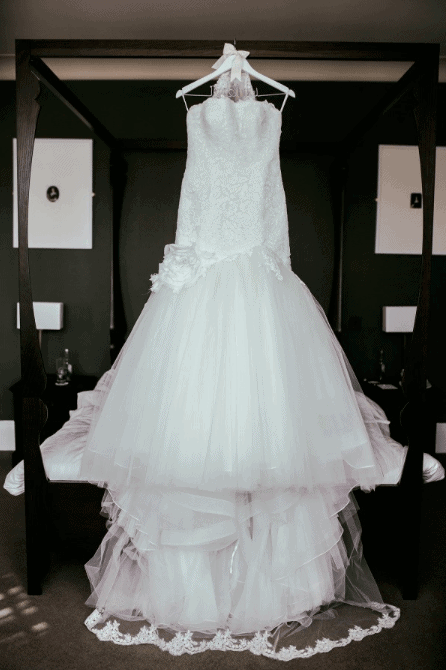 Mermaid cuts are gorgeous, dramatic, and loads of fun! Who doesn't love a good fit and flare dress? This is the ultimate fit and flare and we LOVE it when our brides make that flare a good one!
Many brides are afraid to go this route for so many reasons. Some feel it is too dramatic, others believe they will be self-conscious in a tight dress like this. One thing we do know is that so many often stay away from this and regret it!
Go with what makes you happy. If a mermaid cut excites you, try it on. Lucky for you, they are awesome for broad shoulders. It really balances your body out by emphasizing, ahem, the bottom half of your body. We think it will make you look positively gorgeous!
Choose something with or without a train, either way, it will still have that dramatic effect. This is the perfect dress for a very elegant, ballroom style wedding. You will look stunning and radiate. These wedding dress necklines do not have to be any specific style, just stay away from a cap sleeve or a thin strapped dress. Consider a halter, or just go strapless.
Let's Talk Strapless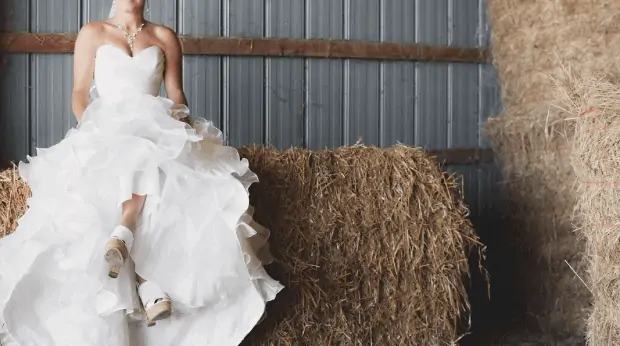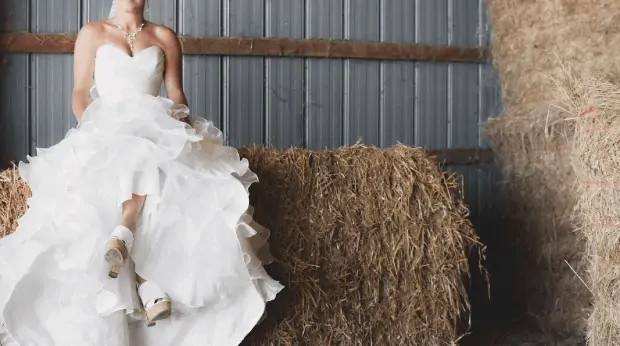 So many broad-shouldered brides stay away from strapless thinking that it will make them look bigger. And although it seems true at first glance, it is the opposite.
Hiding your shoulders actually makes them look bigger and broader than what they really are. That is why regular thick or thin straps or cap sleeves are not a good idea. However, when you expose your shoulders, not only do you emphasize the beauty of your shoulders, but you make them look smaller at the same time.
This is our absolute favorite style for broad shoulders as it correctly puts the emphasis right where it should be- those gorgeous shoulders of yours!
This dress style is perfect for an outdoor affair, yet still so good for indoor weddings. It is charming and feminine. You can wear a strapless light and airy gown, or a full-on princess style dress. Either way, you go, this is the perfect dress. It is versatile, beautiful and we are sure you will love it.
So What Designers Should You Be Eyeing?
So you've got a few styles to look at, now who makes those beautiful styles? We know there are so many designers out there you may not even know where to start!, Don't worry, we are here to help!
This designer may be my absolute favorite. BHLDN makes positively amazing gowns. They are usually a little less ballgown type and a little more earthy, rustic and whimsical.
Broad shoulders look lovely in a draped type wedding dress. It is full of modern elegance with a touch of charm. BHLDN is one of the best brands out there if this is the type of dress you are going for.
This gown is perfect for someone with broad shoulders. The strapless style will make you look less broad while highlighting your best features. It will allow your collarbone to stand out more which also diffuses some of the attention from broad shoulders.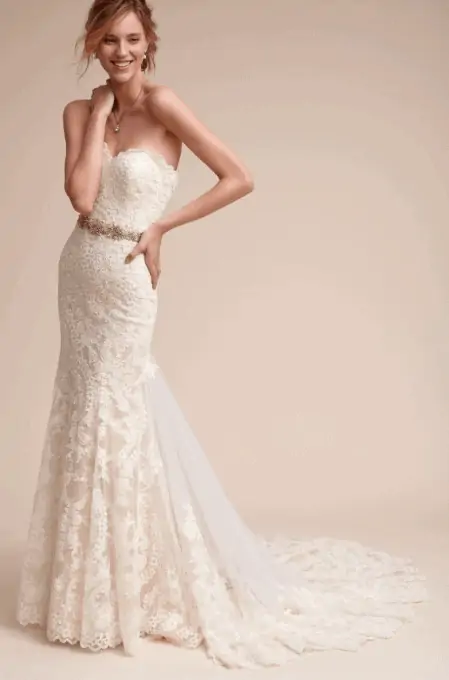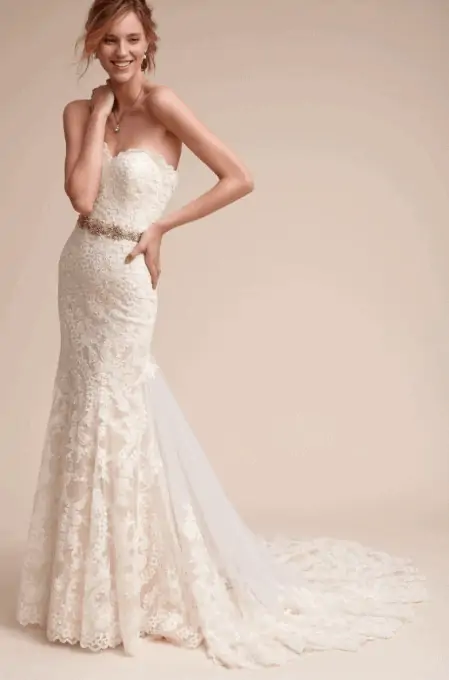 BHLDN-Leigh Gown 
Your arms will look great as they are fully exposed and with your hair up, you can show off. The bodice is lovely with lace accents that will completely flatter your body, no matter what type you have.
The hem around the strapless area is also a gorgeous detail. That detail softens your look a bit as sometimes broad shoulders can come off a little harsh.
It has a bit of a fit and flare style mermaid cut which also makes it a very elegant dress and a favorable style with a high waistline. It is typically very becoming on all women.
Pros/Cons on BHLDN:
Pros:
The smaller selection which allows you to really narrow down what you want
Timeless pieces so most can be worn again to other events
Middle range price point, so great quality, while still relatively affordable
Cons:
Not as many stores across the country, so a bit hard to try on
Majority of dresses are cream colored, so if you're looking for white, you won't have great luck here
Plus size is unavailable
Best Broad Shoulder Wedding Dress Selections?
I spend a LONG time trying to find the right cuts and fits for broader shoulders. Lots of retailers have "a few" options, but I've found BHLDN to have the absolute BEST selection for dresses for broad shoulders.
View BHLDN Collection
We earn a commission if you click this link and make a purchase at no additional cost to you.
The verdict…
Although there are quite a bit of companies out there to choose your beautiful dress from, we have barely scratched the surface here. There are so many more options to select your dress from, however, these three are some of our favorites that cater to brides with broad shoulders.
It's not always easy to find a company that works with your body type. A lot of brands have a "one size (or style) fits all" mentality and we know that is just not true. Do your research and find the ones that cater to your needs and will make you look (and feel!) absolutely amazing. It is your big day, after all!
Our favorite dress here was the BHLDN strapless. It had enough fit and flare to really make you glow. It had the strapless (key point!) effect that shows off your broad shoulders without making them look bigger than they are! And it had that lovely detail around the seam of the strapless area. A very lovely touch.
Broad shoulders are nothing to be afraid of. It is your wedding day and you can dress to impress no matter what. Know your body type, know what you are looking for, and walk into a bridal dress shop asking for that style.
Pronovias
One of our absolute favorites is Pronovias. All their styles are classic and timeless. They have a large selection and the quality of each and every gown is positively beautiful. We cannot recommend them enough.
Here's a gorgeous off-the-shoulder dress designed by them: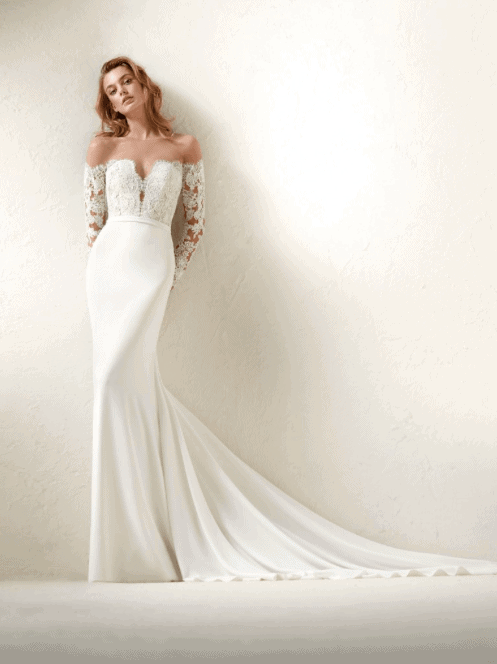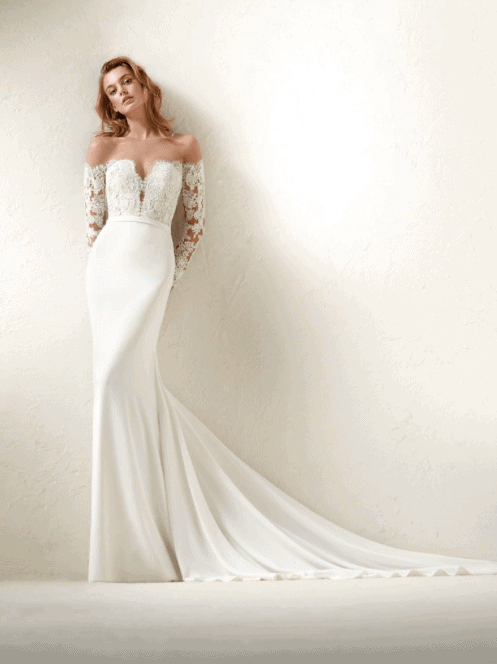 This gown is the perfect piece for a broad-shouldered lady. Notice the way the sleeves are beneath the shoulders. This is the perfect mix of conservative (the sleeves) and sexy (the lacy bodice). Put your hair up to really draw attention to your gorgeous shoulders if you would like!
Pros/Cons with Pronovias:
Pros:
Gorgeous quality gowns made with expensive materials
Timeless pieces that never go out of style (your daughter might want to wear it!)
Variety of Styles
Found in bridal shops all over the world
Cons:
On the more expensive end
Requires more time to receive as each piece is custom made for the bride in Barcelona
A perfect location for finding wedding gowns in all shapes and sizes is David's Bridal. Most of their stores carry not only wedding dress samples but gowns to purchase that very day in multiple sizes. You can go in and try them all and see which works best for your body type.
One of our favorites from David's Bridal is this mermaid cut dress (bonus: it's also a strapless!):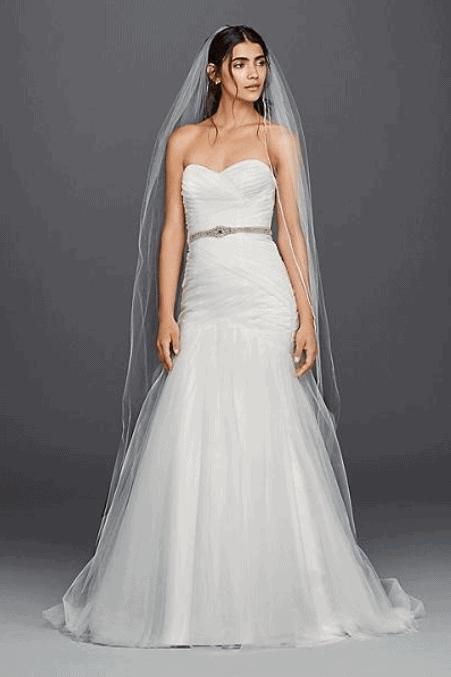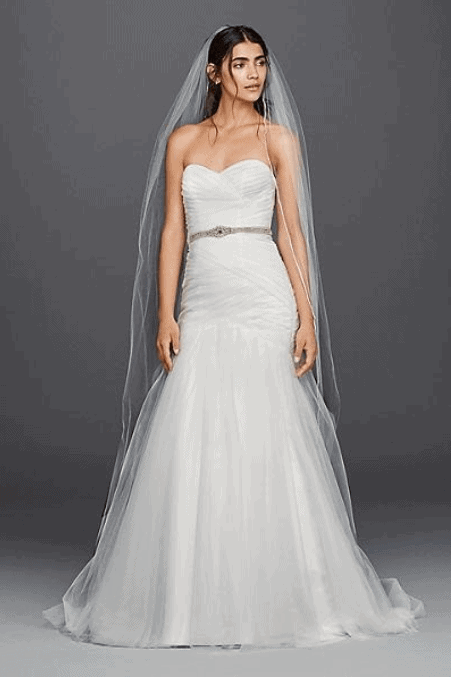 David's Bridal- Strapless Mermaid Tulle Wedding Dress Style 7WG3791 
This one has a beautiful sweetheart neckline and A-line dress which accentuates your best features. It laces up the back and hugs right at the hips which evens out your broad shoulders. It is definitely a very flattering style, full of flare and loveliness.
Pro/Cons about David's Bridal:
Pros:
It is based in the United States so you receive your dress very quickly
You can try on ready-to-buy dresses versus samples that later need to be ordered
Significantly more affordable than other designers
Carries both petite and plus sizes
Cons:
Some styles are only available online which makes it difficult to try on
Trying on in the store is usually more hectic than other locations due to popularity and price point
Since it isn't made to order, it runs in typical sizes which sometimes is more difficult to find a flattering fit
View David's Bridal Wedding Dress Collection
Final Hem on Broad Shoulder Wedding Dresses
We recommend you start with these three styles and narrow down from there (or branch out if you prefer to!). Another good alternative would be to try a halter style. Although not for everyone, it can be a beautiful look if it matches your wedding.
Whether you choose a classic strapless, fun mermaid cut, whimsical off-the-shoulder or any other style, we know you will look amazing.
We hope this helps you find a dress that makes you fall in love with your body and look forward to your big day even more. Now comes the fun part!
Get out there and head to the bridal shops and start trying on all those wedding gowns. This is a once in a lifetime event- enjoy it and savor it! You are going to be a stunning bride!
Best Broad Shoulder Wedding Dress Selections?
I spend a LONG time trying to find the right cuts and fits for broader shoulders. Lots of retailers have "a few" options, but I've found BHLDN to have the absolute BEST selection for dresses for broad shoulders.
View BHLDN Collection
We earn a commission if you click this link and make a purchase at no additional cost to you.
Further Reading on Weddings & Dresses