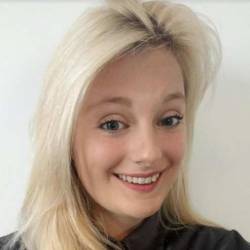 Latest posts by Rosie Greaves
(see all)
It's incredibly likely you'll want to steam your wedding gown before your special day. It's by far the safest way of smoothing any unwanted creases and wrinkles after you've transported your dress.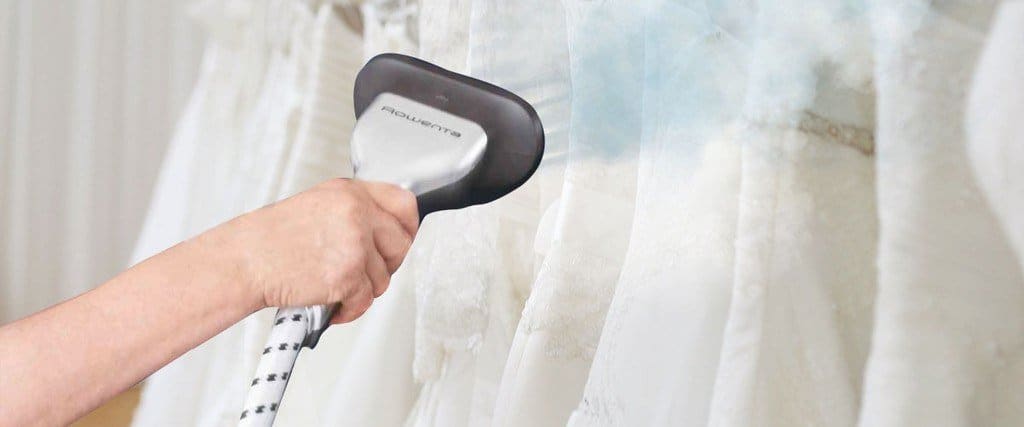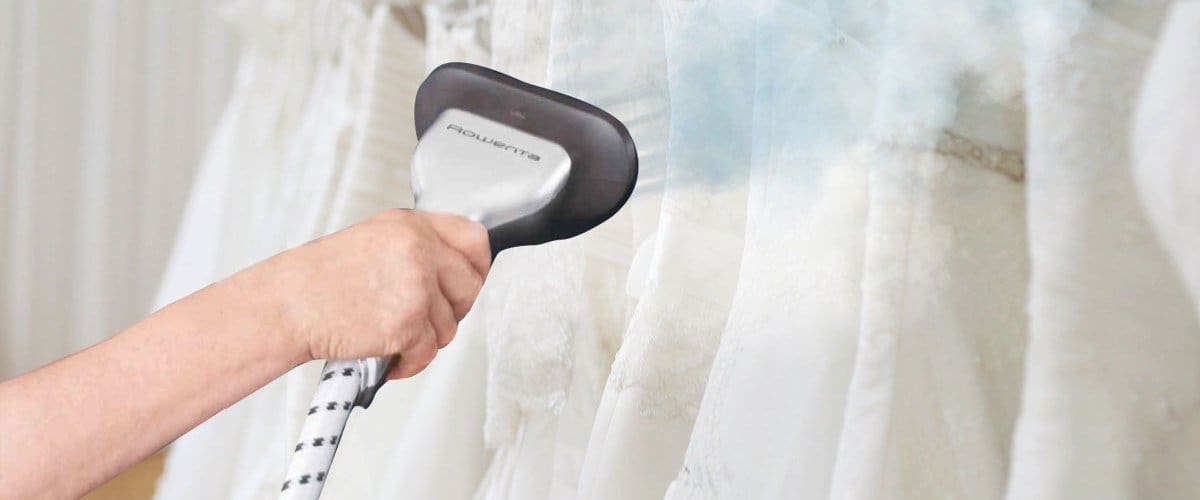 So we thought we'd create a blog post full of handy tips on how to steam your bridal outfit. After all, you don't want any nasty mishaps on your special day, so take heed of this advice!
Let's dive in!
Prepare Properly
Fill the steamer with clean water and snap the lid shut. Make sure it's firmly closed. No water should seep from the machine. Before using the steamer, ensure the hose attachments are entirely secure.
Now, hang the dress either on a door or from the ceiling (somewhere you can efficiently get to work), and turn the steamer on. Not only will this prevent a nasty backache but it'll make it easier for you to steam every inch of your gown.
Most steamers will have an indicator light to tell you when it's ready to use. When it's time, you should hold the hose approximately 10 inches away from the dress.
| Product Image | Product Name / Price | Primary Button |
| --- | --- | --- |
| | | |
| | | |
| | | |
| | | |
| | | |
11/29/2023 09:12 am GMT
Allow Your Steamer at Least 30 Seconds to Warm Up
When you first turn on your steamer, it's cold, so there's a good chance there'll be a few drops of water on the nozzle. Our best advice is to give it at least 30 seconds to warm up and reach its optimum temperature.
Before you point it anywhere near your dress, flick the nozzle toward the ground a few times. This will get rid of any rogue droplets of condensation. The last thing you want is for these drops to dribble onto your dress. This could stain the pristine fabric!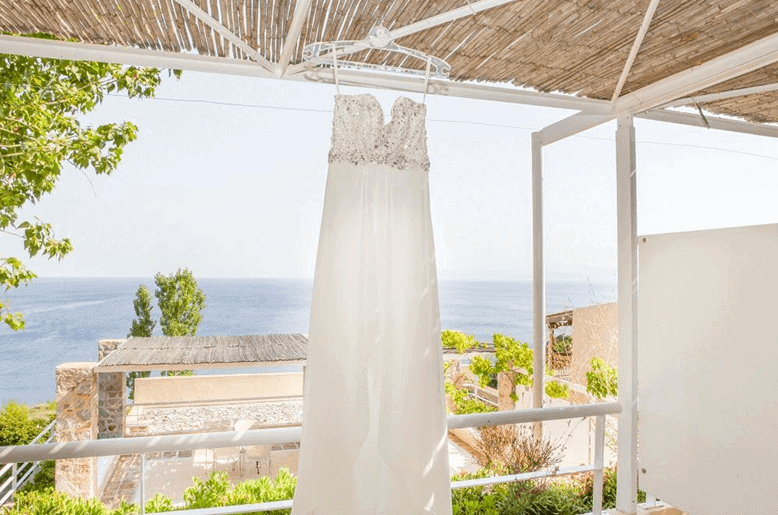 Steam Through a Clean Sheet
Never apply steam directly to your gown. Even if you keep the nozzle a good ten inches away from your dress, still run the risk of water accidentally splattering onto your outfit. Therefore, we suggest steaming your dress through a clean white sheet. You'll still be able to eradicate the creases without risking any damage.
Start at the top of your dress and gradually make your way down to the bottom. Repeat this motion (front and back of the dress) until you're happy with the result.
Always Keep the Nozzle Horizontal
Once the steamers warmed up and you've made sure the nozzles clean, you're ready to get to work. Chances are the hose on your steamer looks like a funnel.
So, while you're using it, condensation will naturally form around the edges. It's imperative you hold the nozzle horizontally. This will allow any droplets to roll back into the hose, rather than dripping on your dress.
Do NOT turn the nozzle to its side. This encourages condensation to form within the hose and drops of water are more likely to seep out of the bottom of the steam hole, and onto your bridal gown- which is the last thing you want to happen!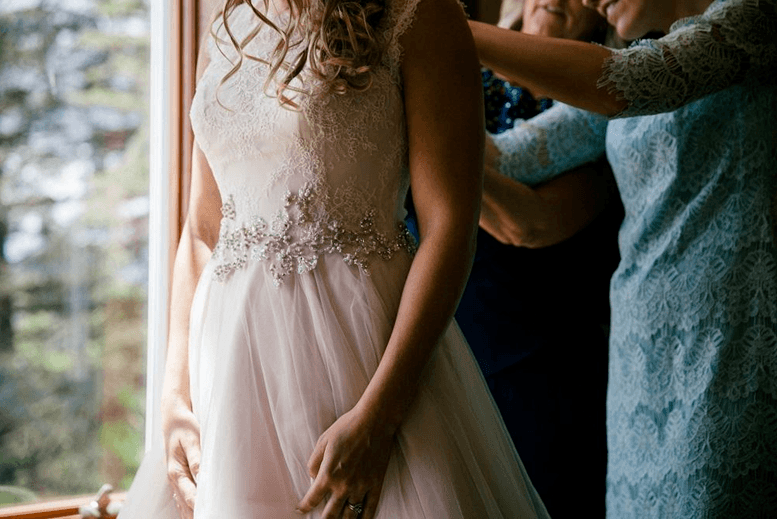 Hang Your Dress Properly
Sometimes, you won't even need to steam your dress if you hang it up properly while you transport it (however, we understand that sometimes that's not possible).
We suggest using a padded hanger; this often helps keep the creases at bay. Be sure to consult with your tailor and get their advice on how best to store and transport your gown.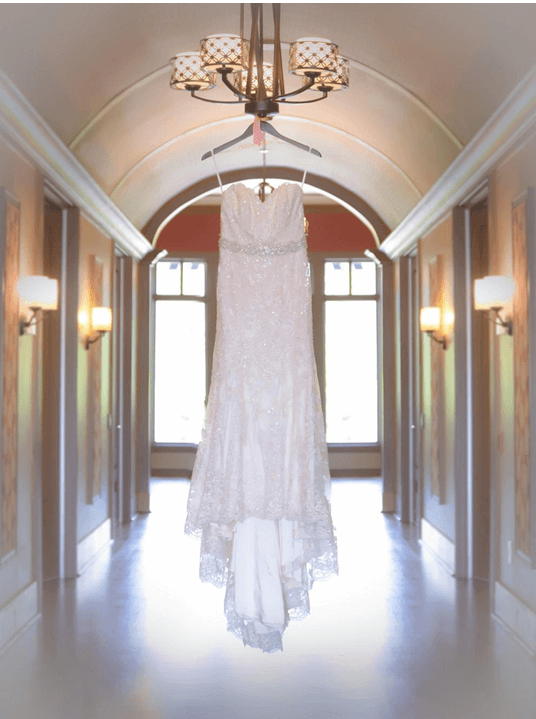 Get Rid of Any Tough Creases
If you're struggling with an unusually harsh crease, then use your hand to add a little tension to the fabric and steam over it. This is by far the most straightforward technique for tackling a particularly stubborn crease.
Top Tip: As tempting as it is to keep going over the same piece of fabric to get it perfect, don't. All you'll do is make it damp, which not only affects the appearance of the delicate fabric but it'll make even more prone to creasing, hence diminishing all your hard work and effort!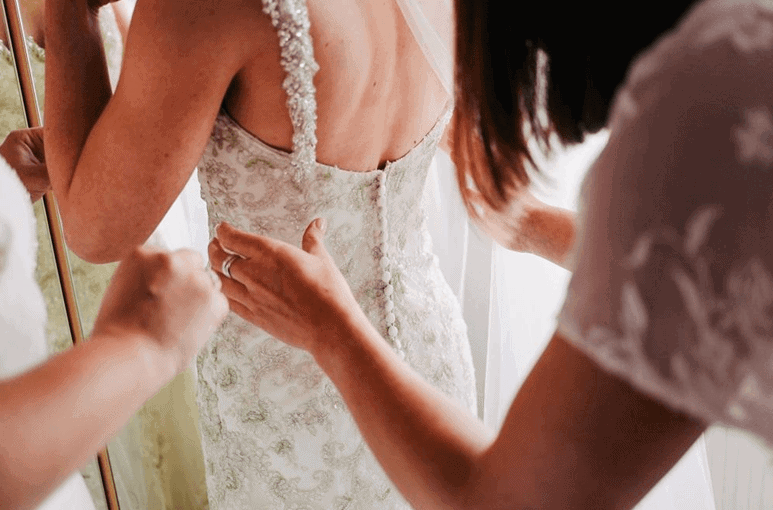 Does Your Wedding Dress Have Layers?
If your underskirt has plenty of layers, it can be tricky to know where to begin. However, we recommend starting from the bottom layer and gradually working your way out.
Not only will this get rid of any wrinkles but it'll also accentuate the layers and help your dress hold its beautiful shape.
Alternatively, if your dress features gather or ruches, we suggest steaming them from the inside of the dress. This technique is less abrasive and will stop any unwanted creases forming in these tricky areas.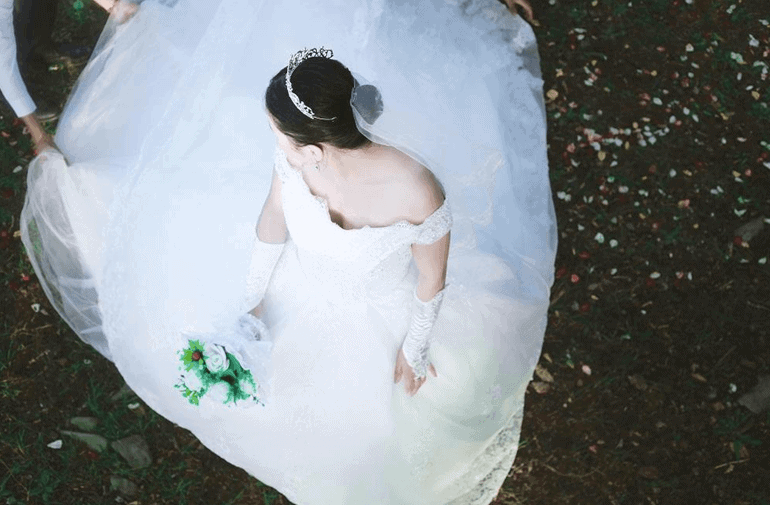 Stay Away from Any Detailing
If your gown boasts delicate detailing, then we suggest keeping steam away. By detailing we mean embellishments like beads, sequins, diamontes, etc.
Just like ruches and gathers, it's far safer to steam these areas from inside the dress. This ensures that the steam doesn't weaken the stitches so that every inch of your beautiful dress stays intact before you walk down the aisle.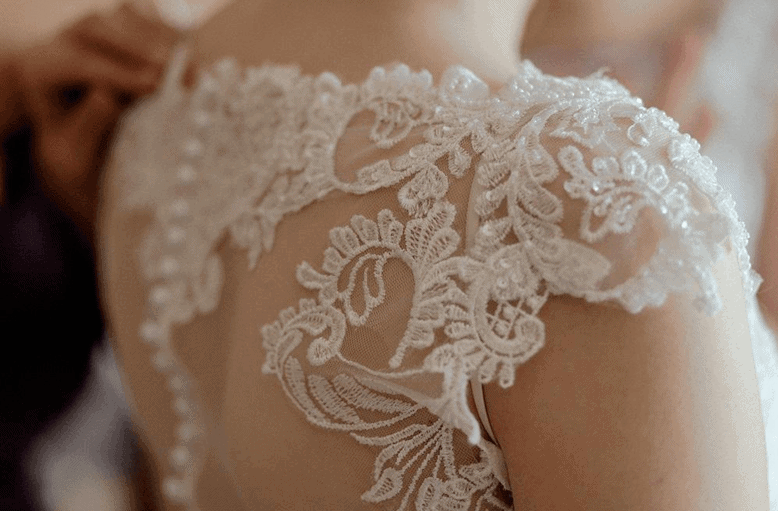 Don't Forget the Veil!
Depending on your style of dress and the kind of material you've opted for, you might not even need to steam it. If you can get away without doing anything to your gown, we thoroughly recommend doing that.
As the age-old saying goes; 'if it ain't broke, don't fix it.' By not steaming your dress you automatically reduce the likelihood of accidentally damaging it. Plus, it's one less thing you need to worry about on the lead up to your special day.
However, veils are way more likely to wrinkle, so you'll probably need to fix that. Especially, if your dress is looking beautifully crisp, it'll only make the creases in your veil stand out all the more.
Luckily for you, steaming a veil is even easier than steaming a dress and the results are worth the effort.
Top Tip: we always suggest setting your steamer to its lowest temperature. This is especially important if your veil's vintage. You want to avoid melting any delicate designs or fabrics!
Top Product Recommendations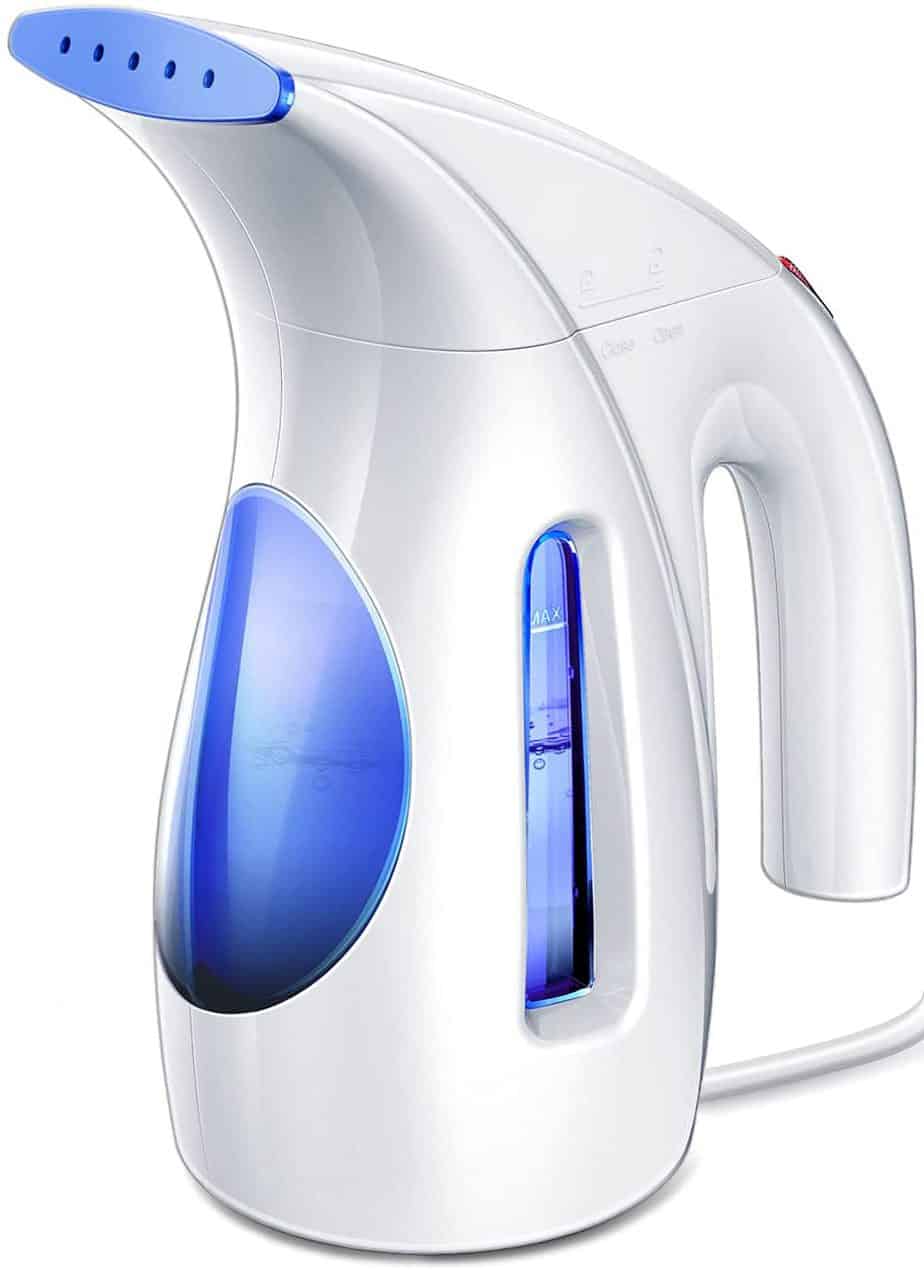 With nearly 55,000 ratings and plenty of acclaims, this handy steamer is priced at just $25 and has some excellent features. The 240 ML capacity is suited for up to 15 minutes of continuous steaming to eliminate any last-minute creases or wrinkles. The 700W power provides long-lasting power but is soft enough so you won't ruin delicate fabric. The lightweight steamer comes with a 9ft power cord, a brush, and an instruction manual.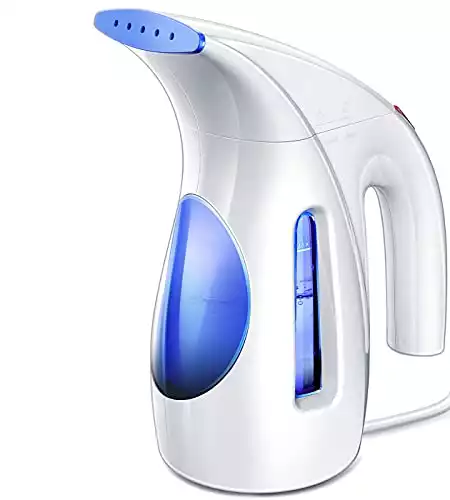 Hilife Steamer for Clothes Steamer | Amazon
This portable garment steamer is lightweight making it an ideal travel companion. 700W steamer produces powerful steam and not only a steamer for clothes, but a smart assistant for healthy living.
Buy at Amazon.com
We earn a commission if you click this link and make a purchase at no additional cost to you.
11/29/2023 09:12 am GMT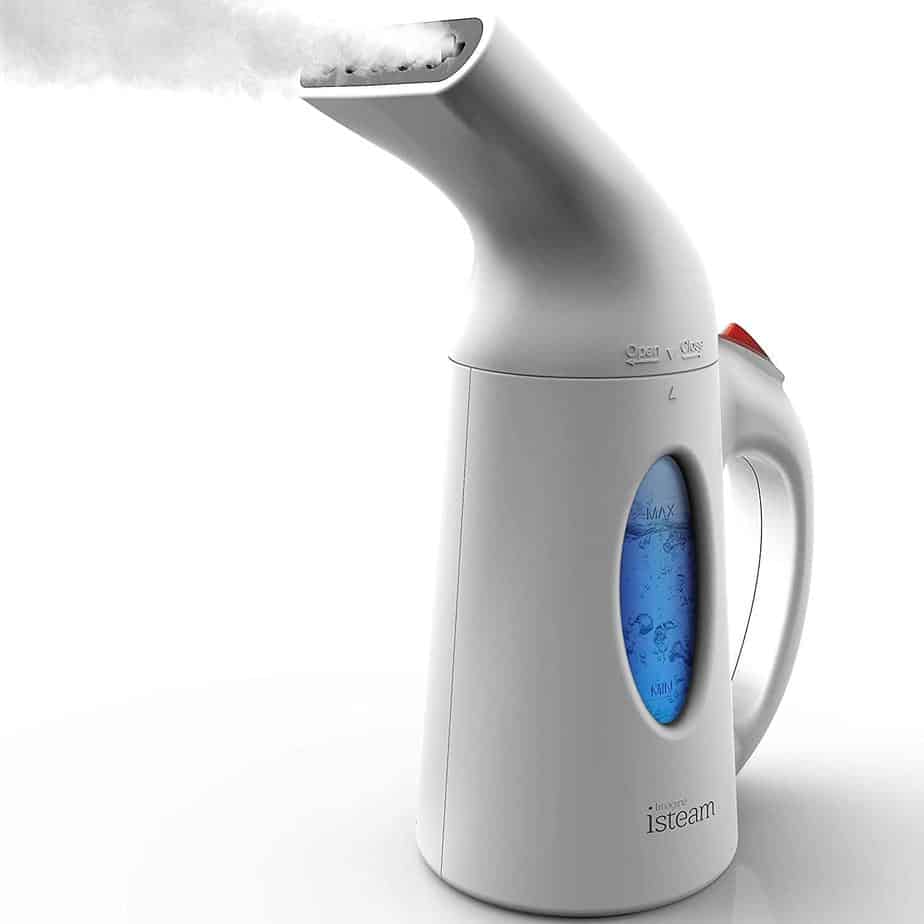 This steamer is an Amazon Choice pick and comes with a generous 3-year warranty. Its innovative, multipurpose design means you can use it for a wedding dress, bridesmaid dresses, and even decorations like tablecloths and curtains. Weighing in at just 1 pound, the 900W power is more powerful than you'd expect for a small steamer. Steam flows for up to 10 minutes at a time, with a heat-up time of just 60 seconds. I also love the automatic shutdown feature so you don't have to worry about being stressed and leaving it on.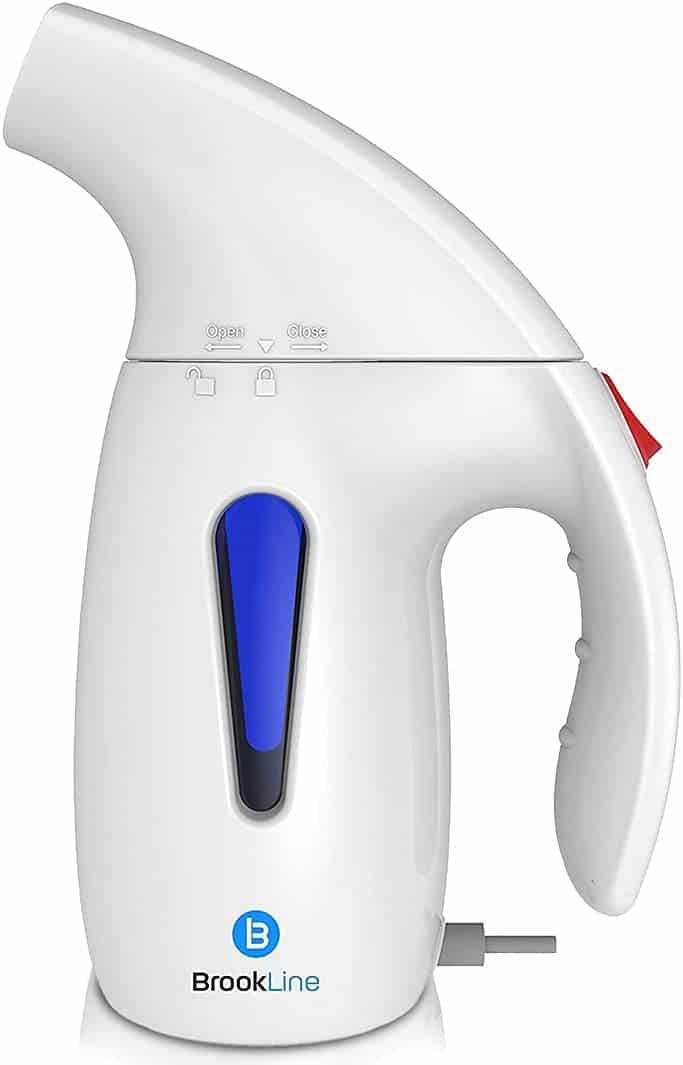 For a steamer priced under $20, you might not expect much– but this small steamer delivers. Backed up with a 1-year warranty, the steamer features a smaller capacity (80 ML) but a respectable 800 W of power. The steamer can run continuously for 10 minutes and is designed to work on even the most delicate fabric. Other notable features include an automatic shut down system and a 9-foot cord.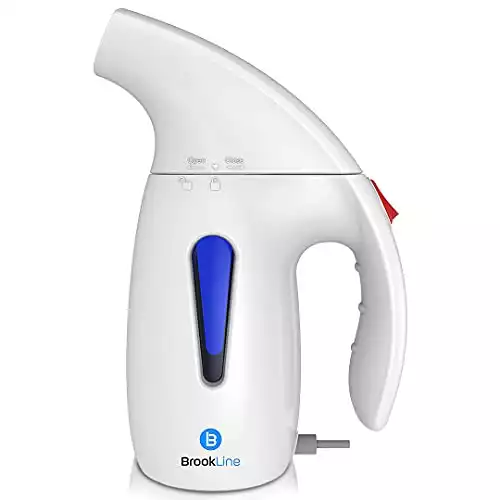 Brookline Steamer for Clothes | Amazon
This handheld steamer is easy to move around with 9ft extra-long cord. Light-weight and small size makes it ideal for travel. With an innovative nozzle design is powered by 800 W produces 10 minutes of continuous desired temperature steaming.
Buy at Amazon.com
We earn a commission if you click this link and make a purchase at no additional cost to you.
11/29/2023 09:54 am GMT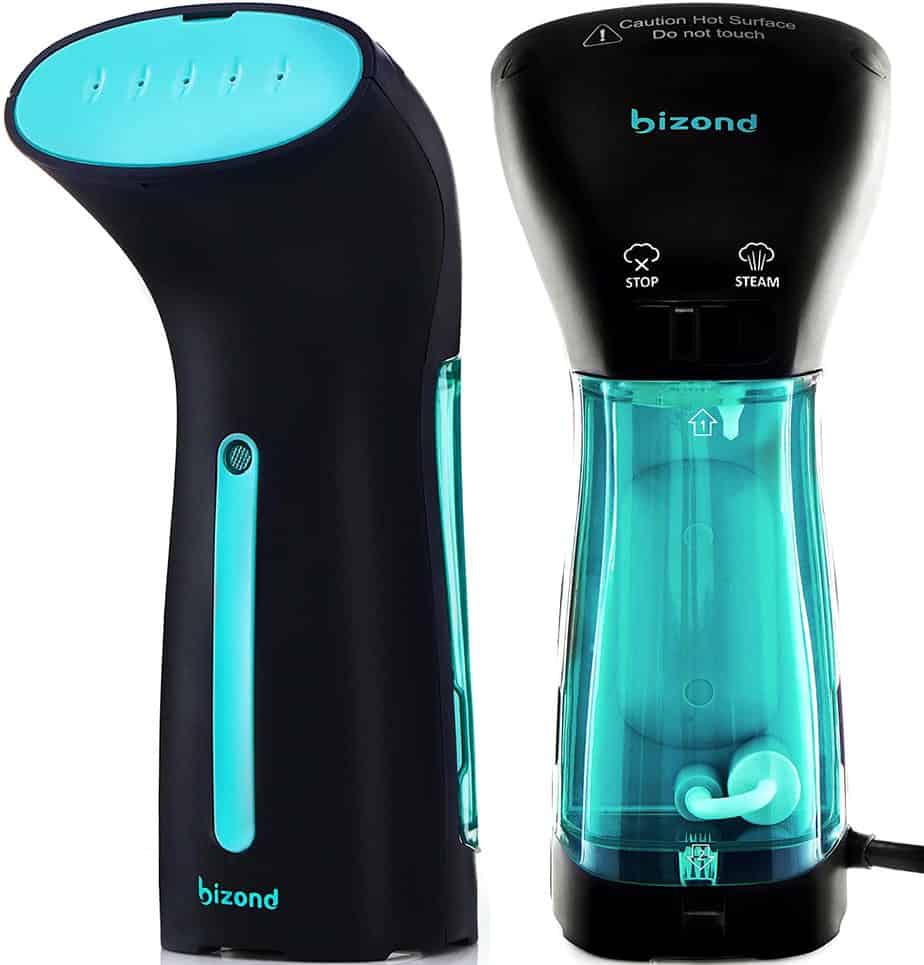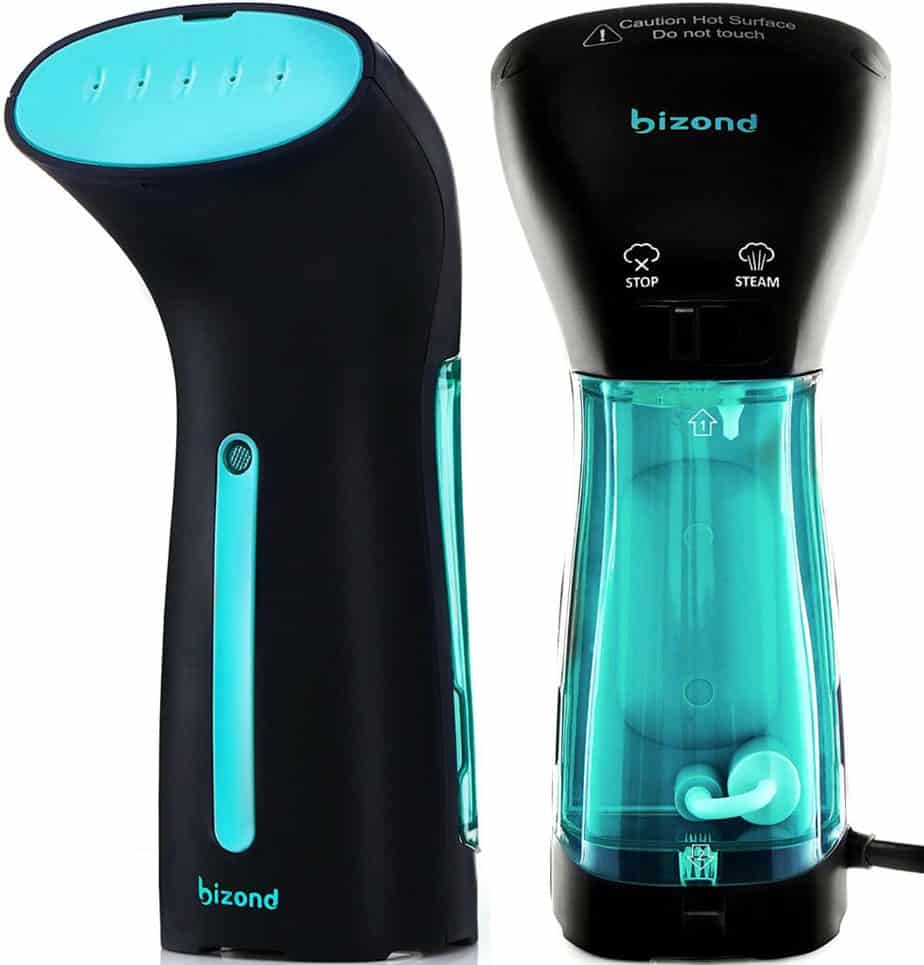 If you hate steamers that drip, spill, or leak, look no further than this Amazon Choice steamer. Covered by an impressive 3-year warranty, this steamer ensures a wrinkle-free wedding dress. You can use this steamer at any angle without worrying about spilling. A special nano filter means you can use tap water without calcification. The steamer heats up in a mere 25 seconds– perfect for a last-minute touch.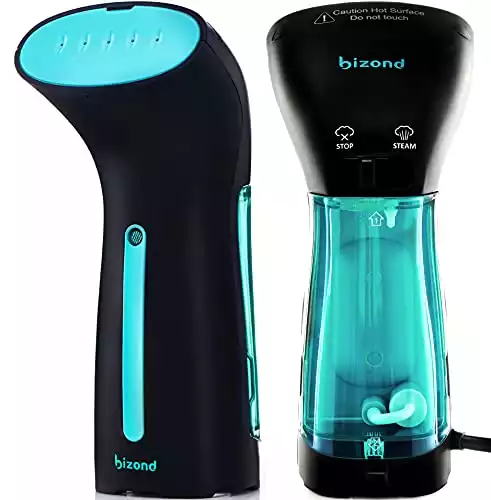 Steamer for Clothes Travel and Home | Amazon
The Bizond clothing steamer will fit in your suitcase and give your clothes that glamorous look in no time! In addition, it comes with a practical bag. Not only will you look great, but you'll also smell fresh.
Buy at Amazon.com
We earn a commission if you click this link and make a purchase at no additional cost to you.
11/29/2023 10:30 am GMT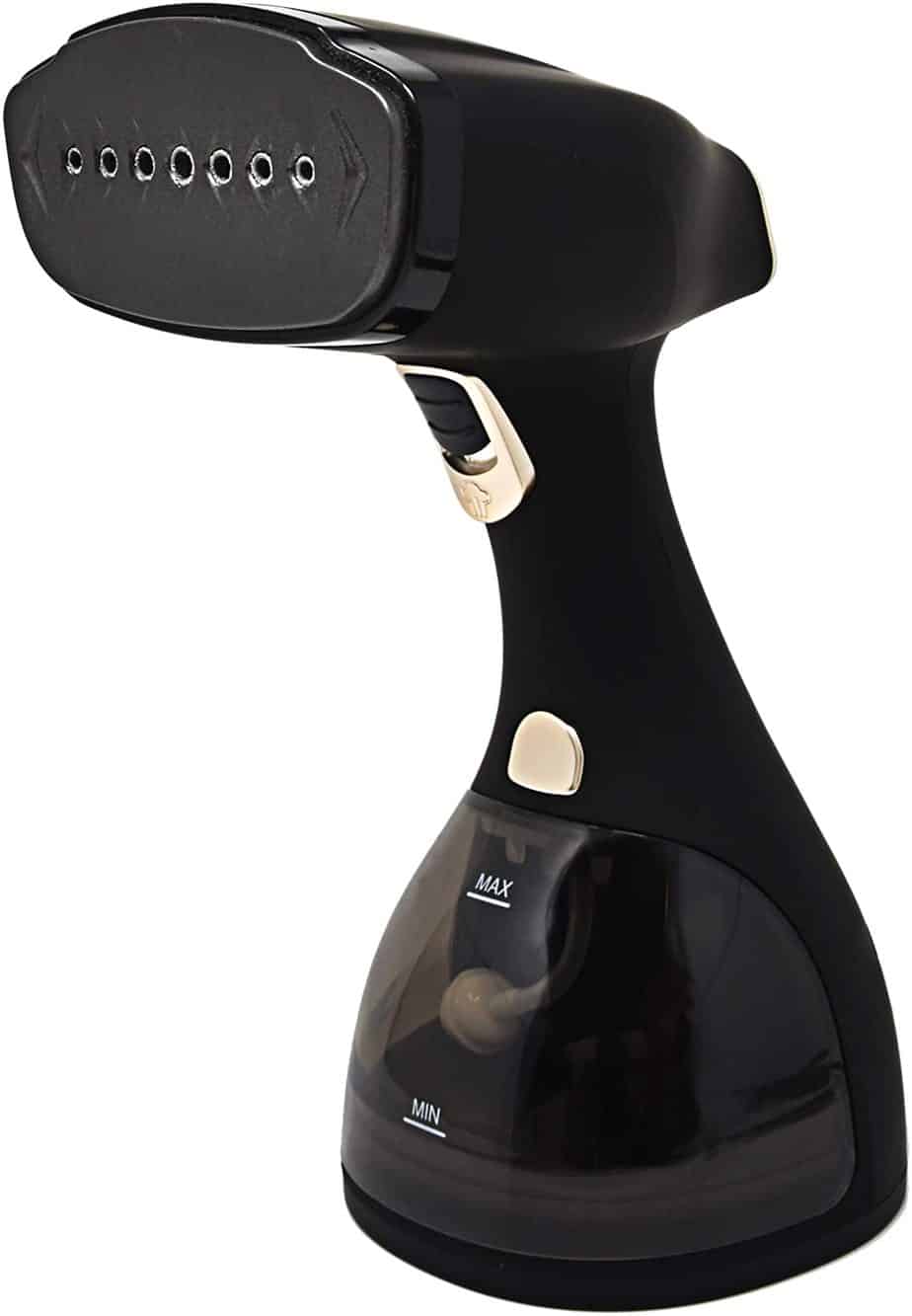 Looking for a more powerful steamer? If you have a wedding dress fabric that you expect to wrinkle quite a bit– or even just a wedding dress with plenty of fabric–you may want to consider upgrading to a higher power steamer. This steamer removes creases seamlessly with up to 1500 W of power. Opt for extreme to lower steam levels, suited for any fabric type. The steamer reheats in a mere 30 seconds and provides an impressive 18 minutes of continuous steaming. This versatile steamer will be useful long after your wedding day, complete with a fabric brush, lint brush, and steam nozzle, plus a handy8-foot cord.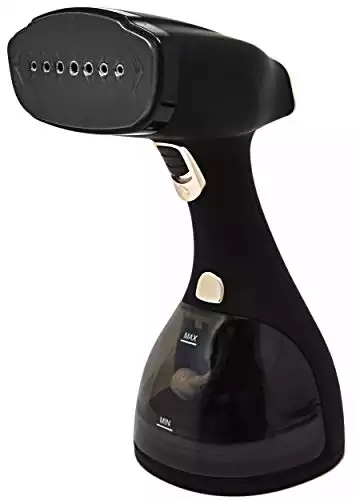 Electrolux Portable Handheld Garment & Fabric Steamer | Amazon
Remove wrinkles from clothing, refresh fabrics in no time with the Electrolux handheld steamer. Quick heat-up time of just 30 seconds with 1500W power 300ml tank provides 18 minutes of continuous steam to ensure quick and efficient steaming for you to look the best in under 5 minutes.
Buy at Amazon.com
We earn a commission if you click this link and make a purchase at no additional cost to you.
11/29/2023 01:19 pm GMT
FAQs
Now that we've covered some handy hints and tips let's turn our attention to some of the most frequently asked questions on how to use a steamer.
What Do I Do If I Drip on the Dress?
In the unfortunate event that you accidentally drip on your dress, never fear. All you have to do is carefully reverse the nozzle and use the back to dry it. Alternatively, you could use a hairdryer (on a cool setting) and gently blow it dry. Use whatever method you're more confident doing.
Is There a Chance I'll Damage the Dress?
In short, yes, but realistically probably not. If you get a good quality steamer, you should be fine. Steamers are different to irons in so much that they use a much lower temperature. Therefore, the chances of burning or melting any of the fabrics are way less in comparison to using a bog standard iron. However, we always suggest consulting with your dressmaker and the manufacturer of the steamer to make sure you're treating your gown properly. Then, test a small patch of the dress in an area that won't be seen, just to make doubly sure before you steam your entire outfit.
Can I Use My Steamer for Anything Else?
Brides can use steamers for all sorts of things. For example, you might want to utilize this piece of kit to do any of the following:
Shaping silk flowers
Removing bruises from satin shoes
Ironing out chair covers
Removing wrinkles from marquee linings
You get the idea. The bottom line is that steamers come in pretty handy when you're planning a wedding!
| Product Image | Product Name / Price | Primary Button |
| --- | --- | --- |
| | | |
| | | |
| | | |
| | | |
| | | |
11/29/2023 09:12 am GMT