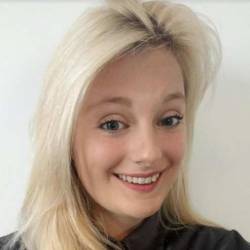 Latest posts by Rosie Greaves
(see all)
Bottom Line Up Front Summary: I personally preferred the sturdier design and better personalization offered with Qalo rings here. That said, if you prefer a slimmer (more traditional) ring look, Enso offers some great slim options here. Both are reputable companies.
Our Pick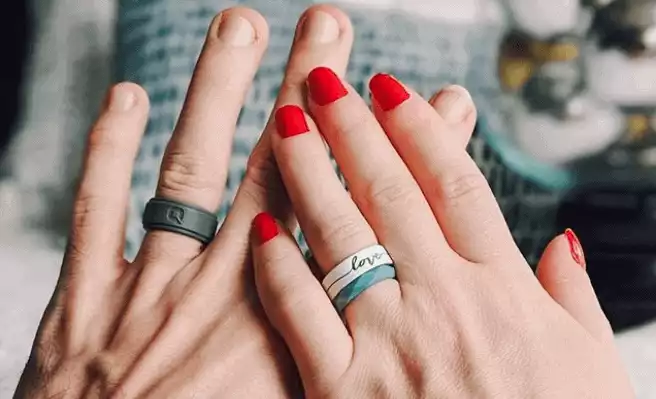 I Personally Went With QALO
The sturdier design, more customizable designs (with personalization) and discounts for military & first responders made QALO a clear pick for me here.
Latest QALO Deals Here!
We earn a commission if you click this link and make a purchase at no additional cost to you.
Engagement rings are the kind of thing happy couples love to show off wherever they go. Why wouldn't they? Making this sort of commitment is a big step and worthy of being celebrated and displayed. The traditional ring encapsulates these emotions, but they can't be taken everywhere, so this is where these companies step up the game with custom engagement ring collections you can wear all the time.
For wearers working manual jobs or those who frequently handle moisture or oil, metal rings present an obstacle. Even at home, when we stick our hands in water to clean the dishes, traditional rings have to be taken off each time.
This is just one of the many reasons why silicone rings have exploded in popularity in recent years, especially amongst outdoor enthusiasts. Are you hunting for the right silicone band to accompany either your own and/or your partner's lifestyle? If so, you're probably looking for quality, performance, and price. So, we've taken a look at Enso and Qalo rings to compare what they have to offer in this Qalo vs Enso Review.
Let's dive in!
Main Differences Between Enso vs Qalo Rings:
The main differences between Enso vs Qualo rings are:
Enso offers a lifetime warranty, whereas Qalo's warranty is one time only.
Enso offers slimmer handcrafted rings, whereas Qalo boasts an extensive collection of sturdier options.
Enso rings have great designs with a few custom options, whereas Qalo offers more in the way of personalization.
Enso offers bracelets as an additional purchase, whereas Qalo has several accessory categories you can pick from.
What are Silicone Rings?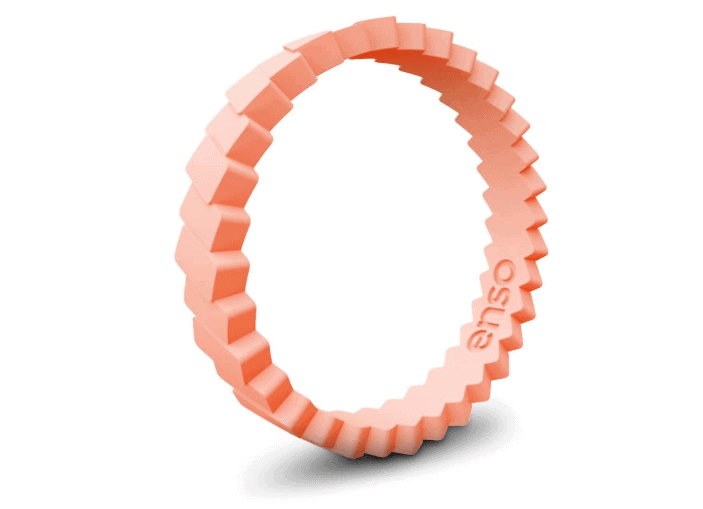 Those of us who live active lifestyles and enjoy physical and outdoor activities often find ourselves having to leave an engagement ring or wedding band safely at home for a large part of the day. If you miss wearing a ring that signifies your commitment, or because you like the comforting feel of a familiar accessory, a silicone ring might be the solution for you.
Silicone rings are designed with moisture control and airflow in mind, so you don't have to suffer the chaffing and irritation that all too often occur with a metal band.
Silicone is also more pliable and robust so you can safely take the ring into the outdoors without worrying about damaging it. In fact, rubber rings are designed to break under immense pressure – that way, if a force hits your finger during the physical activity, you lose the ring, not an extremity.
You'll also be relieved to hear; silicone rings come in a large variety of designs. They can be anything from colorful, engraved, and vivid to traditional and metallic looking. And best of all, the price tag is very affordable!
So, let's summarize some of the pros of wearing a silicone ring
They're an excellent replacement (or substitute) for metal wedding bands, while you're conducting manual labor or enjoying sports
They shatter under a certain amount of pressure to protect the finger from damage
They're often designed to be scratch-proof, moisture and oil resistant
They're an affordable accessory
They often boast versatile, modern designs
What Should You Look for in a Silicone Ring?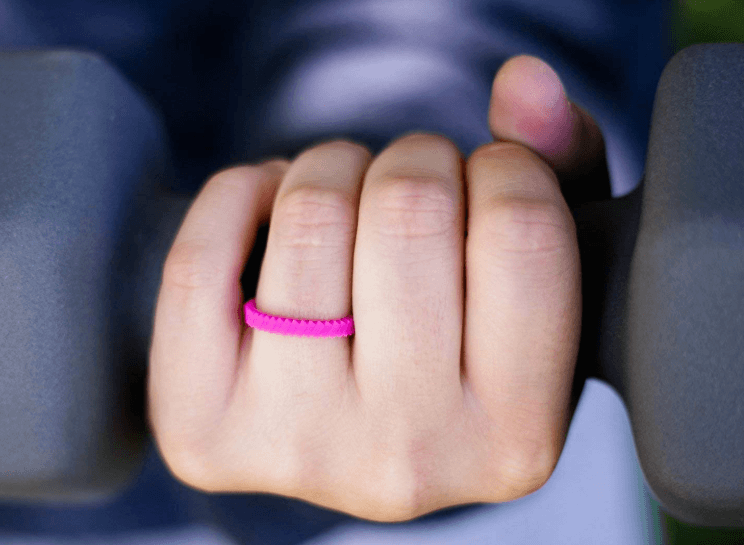 There are a few things to look out for as you choose your silicone wedding ring or regular ring, which we'll be examining both Enso and Qalo for:
Rings should be hypoallergenic, so sensitive skin isn't irritated by the material.

Are thin rings available? Many silicone rings were initially marketed at men and, as such, featured a thicker or broader design.

Rubber doesn't always breathe very well, so if you intend to wear the ring while sweating, a breathable ring with good airflow is what you should be looking for with these companies.

Do they offer a lifetime guarantee? Unless faced with an extreme scenario, silicone rings should last just as long as normal metal ones. So, choose a company that provides a lifetime guarantee – this is usually proof of its quality.

Do they offer refunds if you don't like the ring? As silicone rings are an emerging fashion, you might be unsure whether this accessory is for you. So, many companies offer a refund if the product isn't to your liking.
Now you know what we're looking for, let's start comparing Enso and Qalo rings…
The Companies
Let's take a look at the two companies' philosophies and what inspired them to set up shop…
Qalo's aim from the start was to create a community of customers that center their lifestyles around family. The company was founded by Ted Baker and KC Holiday in 2013, who kickstarted their business from around a living room table.
Both had recently married and were struggling to wear their traditional rings. After minor finger injuries that occurred while they were weight lifting and playing golf, they came up with the idea of silicone wedding band and engagement rings.
A few fun facts about the brand:
Qalo is an acronym for "Quality Athletics Love Outdoors."

Athletes wear their rings, including the likes of Steph Curry, Sam Hunt, Julie Ertz, and Derek Carr.

The company is also one of the 500 fastest-growing private companies.
Who knew?
Our Pick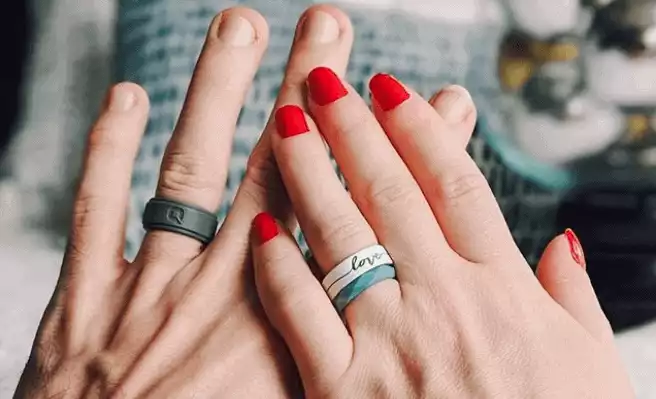 I Personally Went With QALO
The sturdier design, more customizable designs (with personalization) and discounts for military & first responders made QALO a clear pick for me here.
Latest QALO Deals Here!
We earn a commission if you click this link and make a purchase at no additional cost to you.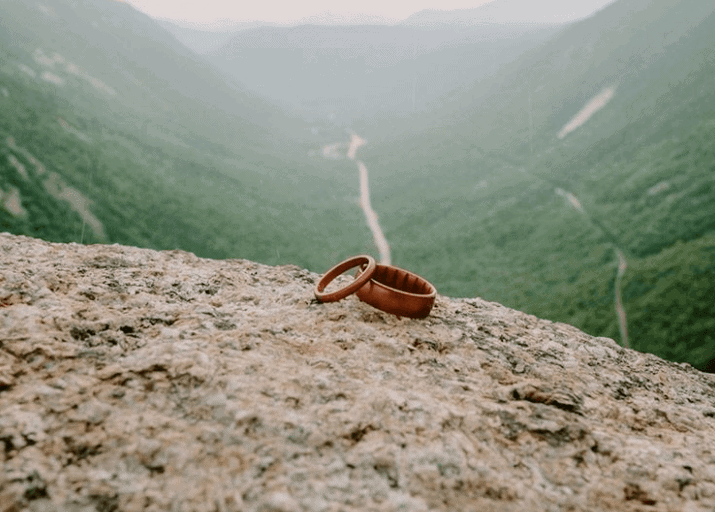 Enso believes traditional metal rings can disrupt your day to day activities, so they focused their attention on silicone rings. That way, life doesn't have to pause while you're forced to take off the symbol of your marriage. Founded in 2015 after a Kickstarter campaign, the company was featured on Sharktank. Here they spoke about how their products could prevent horrible injuries that sometimes occur during physical activities while wearing metal rings.
Enso is also committed to charity, as highlighted by their Rings for a Reason (R4R) scheme. Enso gives back to worthy causes every time a ring is bought. They donate money and time to several charities and humanitarian projects such as B4BC, HayesTough, Hope for Fertility, March of Dimes, Kiva, and Enso Secret Santa, amongst others.
How nice is that?!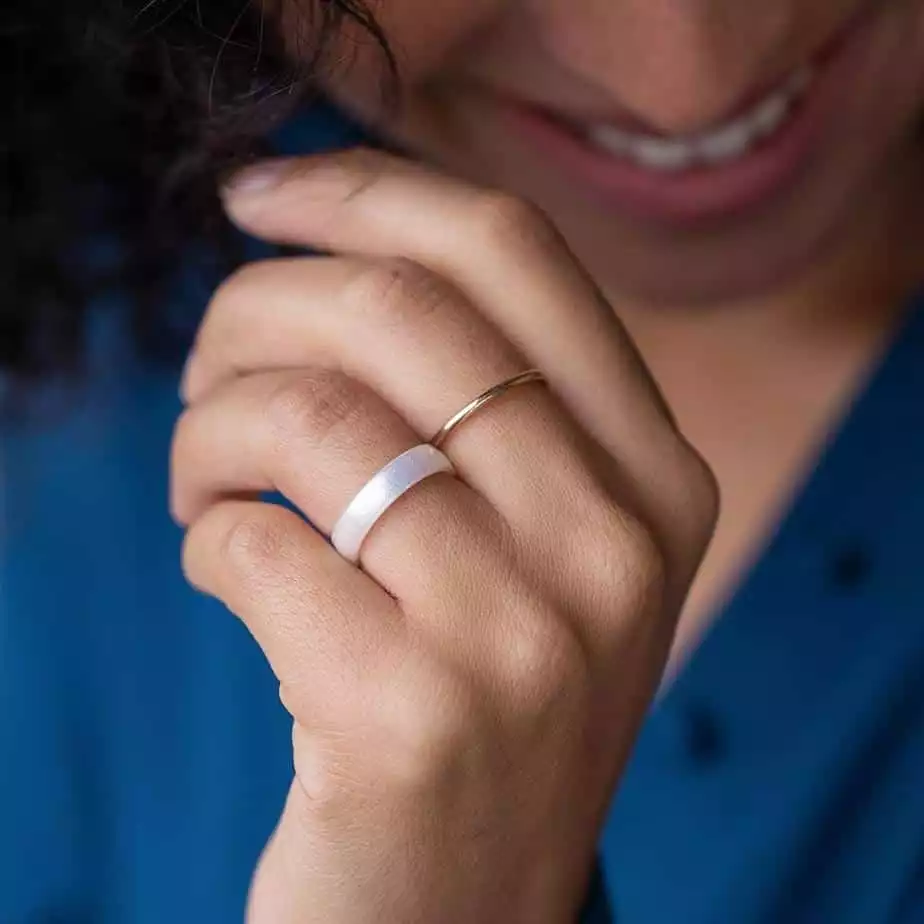 Silicone Wedding Bands | Enso Rings
These silicone rings are flexible and soft, yet still retain their shape when put under pressure or placed underwater. That means you can keep your ring on no matter where you go or what you do.
Check prices
We earn a commission if you click this link and make a purchase at no additional cost to you.
Enso vs. Qalo: A Brief Rundown of Their Key Differences and Similarities
Before we delve into the nitty-gritty, here's a quick-fire comparison of both brands:
Enso
Has a broader price range of rings, from $11.99 to $49.55

Offers 'Inked' unique wedding rings that are designed by their favorite inked artists

Offers all their 'Unisex' rings as classic, thin, or halo rings

Rings can be exchanged for up to 90 days

A percentage of all proceeds go towards charitable activities and organizations

Offers 11 different ring styles
Qalo
Qalo offers generally broader and thicker rings

Provides a more extensive range of designs inspired by outdoor activities often boasting natural and military-themed colors

Their 'Switch' ring collection is reversible, offering two styles in one.

Has developed the Q2X silicone that's more durable and temperature and moisture resistant

Offers a discount for military and first responders

Offers exchanges for up to 60 days

Offers seven different ring styles
Both Companies…
Use hypoallergenic, medical grade silicone

Offer a one-time lifetime warranty

Offer engravings to personalize ring designs
Quality and Material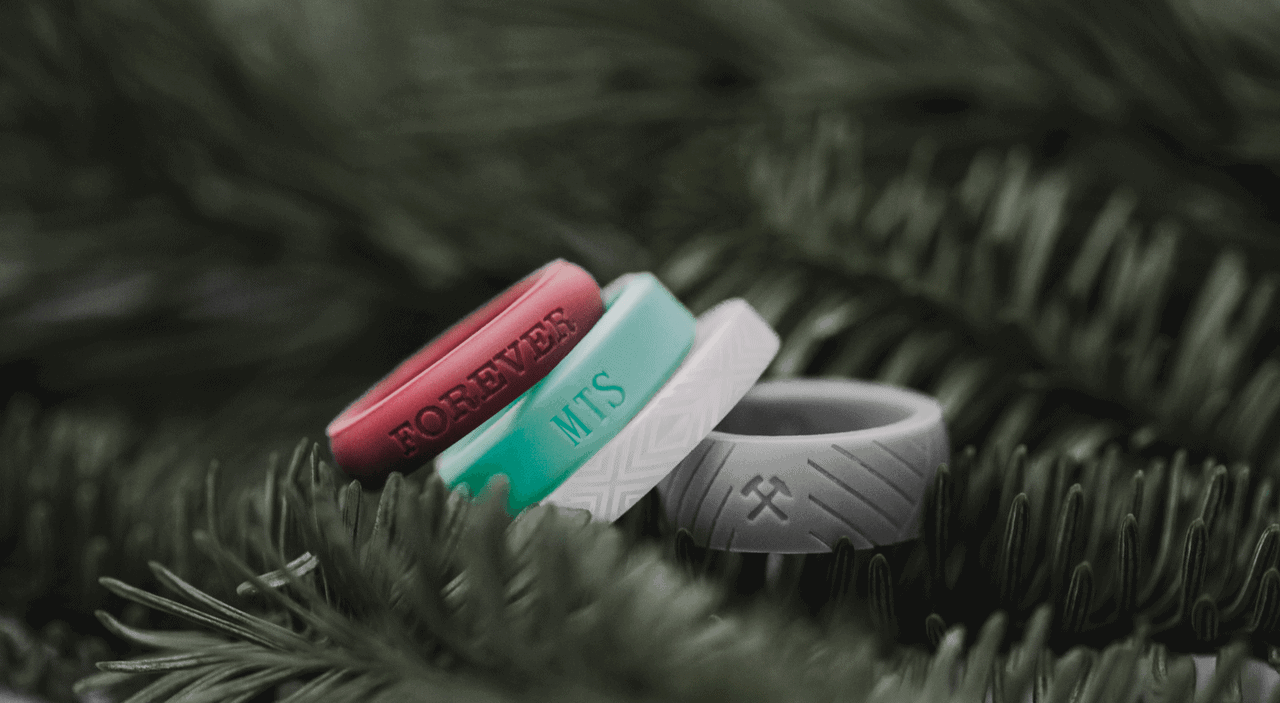 Let's take a look at the overall quality both rings have to offer…
Qalo Rings
All Qalo rings are made using 100% food-grade silicone. This makes them durable, temperature tolerant, and non-conductive. They're also hypoallergenic.
They also offer Q2X silicone rings that are:
Ten times more resistant to gasoline

Resistant to oil and solvents

Resistant to automotive and household chemicals

Non-conductive

Capable of handling up to 23lbs of force

Tolerant of temperatures up to 575" F
The company does rigorous safety testing through Intertek, and they're Prop56 certified. So, rest assured, Qalo rings boast top-notch quality.
Enso Ring Collections
Enso rings are also made using hypoallergenic silicone whose quality is backed with their lifetime guarantee. Interestingly, each ring is handmade in their headquarters in Utah, which is a nice touch! Some rings are also infused with precious metals or gemstones.
Best of all, these rings feature Anti Ring Avulsion technology, which is designed to break away and protect your finger should you get caught on something.
Round One: Warranties – The Winner, Enso (Just!)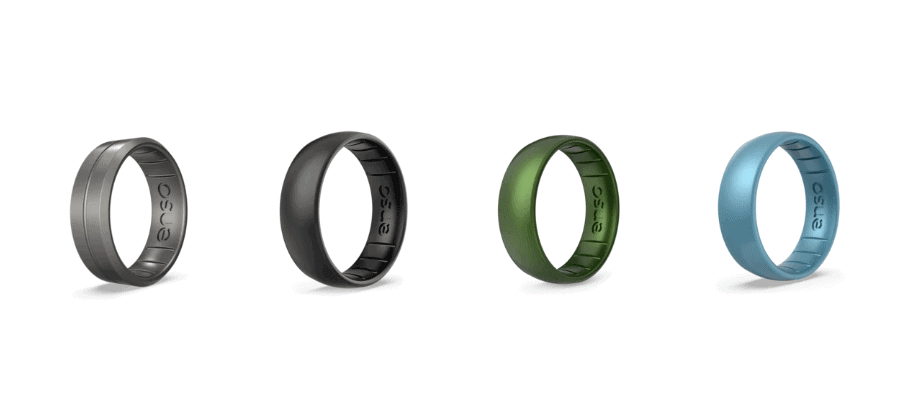 Qalo
Qalo rings come with the forever warranty. This is a one time, any time guarantee on all their silicone rings. So, as you've probably guessed, you can access a one-time replacement should your ring break, tear or stretch, no matter how long you've had your ring for.
Please note: The replacement will be the same size, color, and customization that you initially ordered. But, if Qalo no longer stocks the product, they'll work to find a comparable replacement. They'll also ask you to tell them how and why the ring broke or got damaged, so be prepared for that when you kickstart the replacement process.
Qalo also offers returns and exchanges. You can request a return up to 30 days from the date the order was marked as delivered. Whereas, exchanges can be requested up to 60 days from that date. However, exchanges can be made for ring size only, and Qalo doesn't offer refunds for customized objects. The rings mustn't show any wear or tear, and for changes in the ring's color or style, you can only request a store credit.
Enso
Enso isn't too different; it also provides a lifetime warranty on all their silicone rings, which you can utilize in the event of rips, tears, stretching, wear and tear, and discoloration. Clearance items, however, aren't covered by this guarantee. You can return a ring within 30 days and request exchanges for up to 90 days (30 days longer than Qalo!).
Round Two: Customer Service – The Winner, Qalo
Qalo
Qalo is available to answer emails and messages from live web chat from Monday to Friday, 7:00 am to 5:00 pm PST. But, they aren't available during standard US Holidays, which is in line with their desire to focus on family, a value they prioritize for both customers and employees alike.
Enso
Enso's customer service is a little more challenging to reach – they include an extensive FAQ section on their site that answers most questions, and refunds and exchanges can be requested from there. For general contact, however, you're referred to a contact form.
As Qalo makes it easier to get in touch with a real person and find their contact details, they win the customer service race. But, it's worth mentioning Qalo's FAQs at first glance is more complex to navigate and slightly less detailed then Enso's, so Enso shouldn't be snubbed in that regard.
Round Three: Variety and Collections – It's a Tie!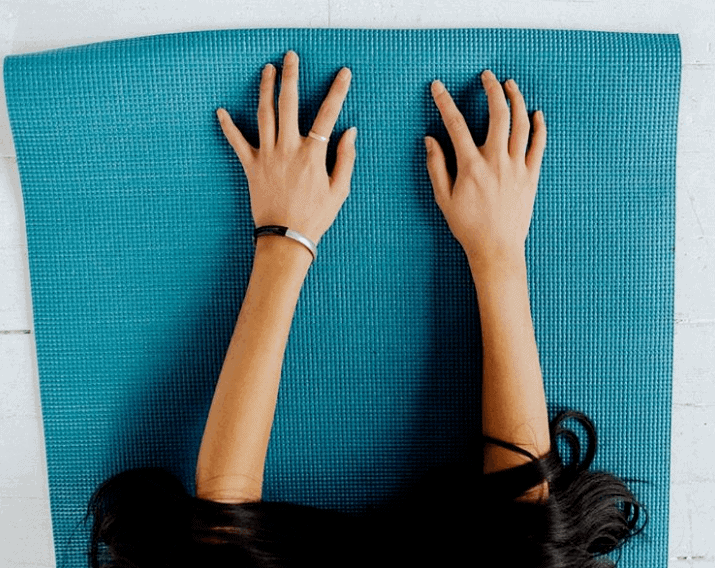 Enso
Enso offers ten different collections of rings alongside a variety of bracelets, which for your convenience, we've briefly summarized below:
The Forever Collection: These rings feature an infinity sign wrapped around the infinity ring. There are nine colors available for men and 19 for women.
The Bevel Collection: Eight different colored rings that are easily mistaken for traditional wedding rings.
The Birthstone Collection: Here, the silicone is infused with a precious stone according to your birth month and year, following 2,000 years of tradition. Unsurprisingly, this range offers 12 different colors, one for each month of the year.
Stackable Rings: These are a staple accessory and comprise thin rings that can be stacked on top of one another with a mix-mash of designs. There are nine different styles to choose from, with a variety of colors in each.
The Elements Collection: Similar to the 'Birthstone' line, this collection infuses silicone with precious metals to create a more luxurious look. This range is available in nine different colors.
Inked Rings: These are available in Limited Edition drops, meaning no two inked rings will ever look the same.
Dual Tone Rings: These combine two different colors, one hidden inside the ring, while the other is boldly displayed on the exterior. So, when you engrave your personalized message on the outside, the color pops through.
The Ultralite Collection: This is a range designed to be as light and comfortable as possible. Enso claims they feel so natural that most customers wear them to bed!
Contour Legends: This is a collection inspired by myth and folklore – six of the colors available come with a mythic-style sheen. The original Contour collection is an impeccably crafted ring that Enso claims to be their best.
The Legends Collection: This, too, is inspired by myth and folklore and adds a unique shine to your finger. These rings are available in 7 colors.
Good to Know: Aside from the stackable rings, which are all thin, most of Enso's Unisex styles are available in the classic, thin, or halo styles. Plus, the Elements, Legends, Ultralite, Birthstone, Bevel, Infinity, and Dualtone collections, can all be engraved.
Qalo
Qalo handles their collections a little differently, with their styles split into men's and women's. They also have separate collections.
For Men, you can shop Classic, Step Edge, Modern, Switch, and Strata rings. Whereas for women, you'll find Stackable, Classic, Strata, Inspired, Modern, and the Switch collections.
Let's take a look at some of these lines in a little more detail…
The Step Edge Style: This is designed to be pressed against a barbell and is an elevated, sturdy ring.
The Unisex Modern Rings: These offer a modern-day twist to the classic look and feature a flat silhouette for high functionality. Made from Q2X silicone, these bands are intended to withstand the harshest environments.
The Strata Rings: These are designed to be customized with patterns or engravings and are lightweight and comfortable to wear.
The Realtree Collection: This only boasts designs using natural-looking colors.
The Switch Collection: This is available in various colors and prints. Still, all feature a simple hue on the inside, which makes for a reversible ring. This gives you the option of wearing a bold ring when you fancy, or you can switch to a more reserved model for other occasions.
The Tie-Dye Collection: This design is available in the Switch and Modern styles and features a rainbow of blended colors.
The Stackable style, similar to Enso, also features a large variety of thin rings that can be stacked and combined in any way.
Enso vs. Qalo Rings: Variety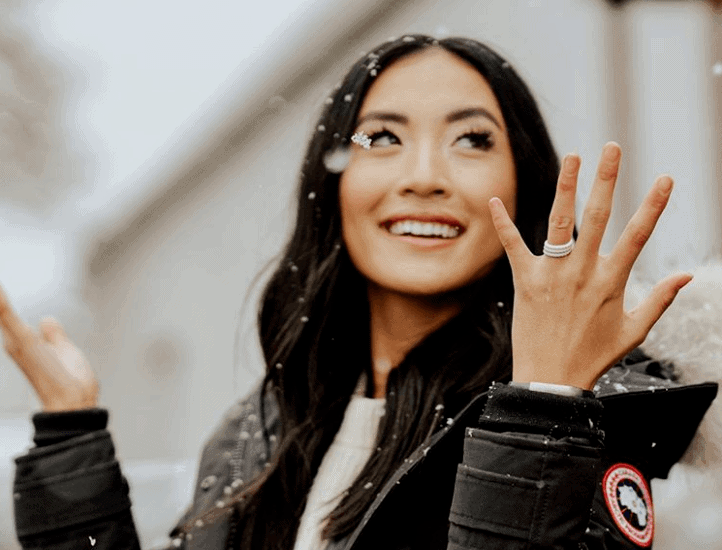 Both companies offer a wide and versatile variety of rings. Enso has a beautiful collection of rings with a metallic look to them as well as simple, elegant designs and their Ink collection, which has a unique appeal.
Whereas Qalo offers a few more colorful and bold rings, but they don't make it as easy to find their thin or halo variations. All in all, both ranges are worth browsing, so we think where collections and variety is concerned, it's a tie!
Round 4: Pricing – The Winner, Enso
Pricing is a great reason to go for a silicone ring over a traditional metal ring. Below, we've compared the prices of both companies. But. It's worth noting all these rings are affordable alternatives to the metal ring, and they're much cheaper to replace. So, buying a silicone ring won't break the budget no matter which company you get it from.
Enso
Enso's prices vary depending on the collection you opt for, with their most expensive line being Contour. For a Contouring, you'll have to shell out $49.55. Also, towards the higher end of their price range ais the Elements collection at $39.99 and the Contour Legends lines at the same price.
The thin, stackable rings are cheapest at $11.99 each, making them an affordable, casual accessory, which is followed by the standard Legends collection at $14.99.
If you want to customize your ring, it's worth bearing in mind that engraving costs an additional $9.99.
Enso also runs an 'inner circle' reward system. When you create an account, you earn 200 points, which translates to $2 worth of store credit. You can quickly secure yourself a few more dollars when you subscribe for their newsletter, follow them on Instagram, or like them on Facebook. You can enjoy further store credit when you leave a product review, refer a friend, or when you make another purchase (you'll receive 10 points for each dollar you spend with them).
In other words, you can transform already affordable rings into an even more affordable option if you're willing to help Enso build their community and support their company. This is especially useful if you're hoping to buy more rings in the future.
Qalo
Qalo's most expensive ring for both men and women is their Strata collection at $39.95. Whereas, their cheapest Unisex ring is a Classic band at $24.95. But, women can purchase more affordable stackable rings for as low as $8.98.
Engraving a Qalo ring costs an extra $11.95, but this is already included with the customizable Strata rings (priced $39.99).
Fun Fact: Qalo offers up to a 15% discount for first responders and those who serve the US military.
Overall, Enso offers a broader range of prices – yes, they have more expensive rings, but they also offer cheaper rings at the lower end of the spectrum. Also, engraving is less costly too!
Round Five: Ring Sizing – It's a Tie!
Both companies have a sizing guide for their rings on their websites. But, the main difference between approaches is that Enso suggests you size down if you're between sizes while Qalo recommends you size up.
Round Six: Website Quality and Navigation – The Winner, Enso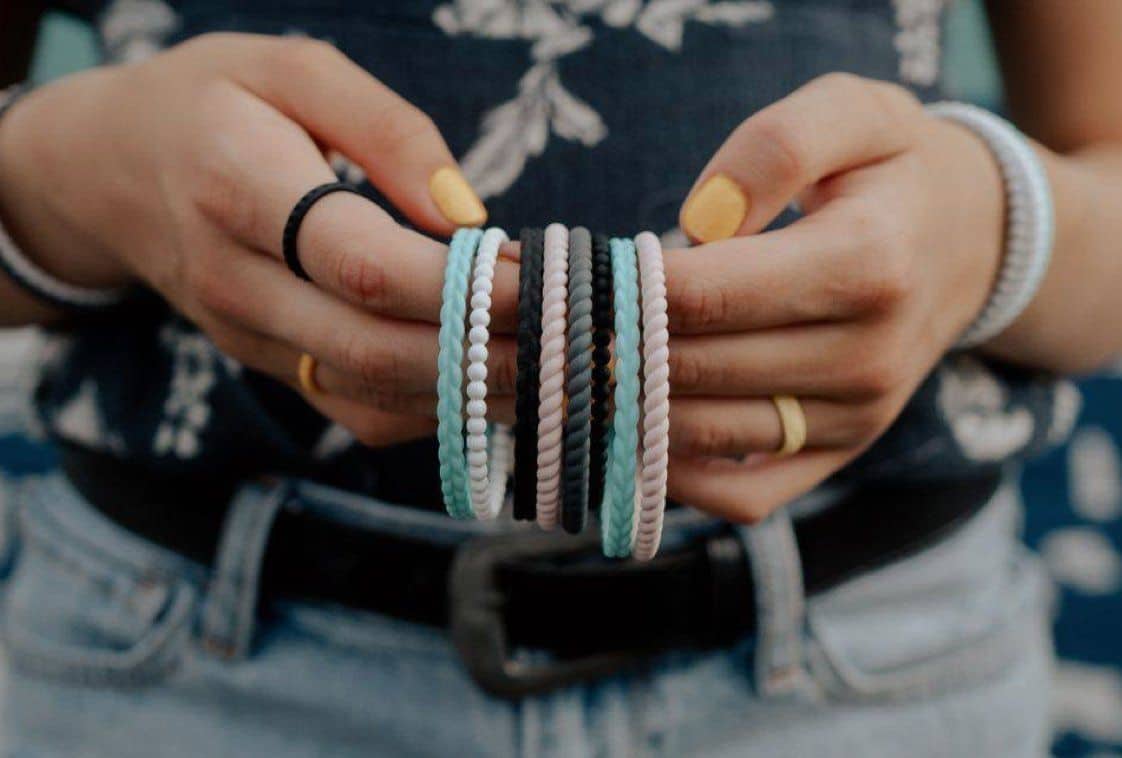 What we noticed about Enso's website…
Enso's website uses video content and large graphics to illustrate their products, including their sizing guide, which even offers an instruction video and a downloadable PDF guide. Their FAQ page is also nicely laid out in an easy-to-use drop-down menu.
When it comes to choosing a ring, Enso doesn't categorize by gender but instead offers various collections. You can also pick from wide, thin, or halo styles, which makes it easy for you to start your search with the style you like best.
What we noticed about Qalo's website…
Qalo separates their rings into men's and women's but notes on their websites that men that prefer thinner rings should head over to the women's stackable section. Consequently, finding the right ring by style is more of a challenge.
Qalo's site also doesn't have as much social proof; it's difficult to find reviews on their website. Plus, a lot of their information pages, including their shipping, warranty, and contact details, have all been given very little attention with regards to their design. Plus, when we attempted to switch between categories, the site occasionally froze.
But, Qalo's chat-button makes it easy to send them a message, which makes contacting them more intuitive than Enso. However, all things considered, it's safe to say Enso has a slight edge here!
Round Seven: Shipping – The Winner, QALO!
How Do Enso's Rings Get to You?
Enso asks you to allow them: 1-2 business days for processing, with 7-10 business days for inked rings as these are made to order.
For domestic shipping, they estimate 5-7 business days and 7-10 business days for internal orders.
Typical US orders cost $4.99 in shipping, whereas it's only $9.99 internationally.
In the rare case, you're charged duty fees, you can keep a copy of the receipt, and Enso promises to cover that fee.
How Do Qalo Rings Arrive?
Qalo rings come in a small carrying pouch with a Qalo sticker. Their order processing time is 1-2 business days for all in-stock merchandise, and 7-10 additional days for customized rings to be engraved. The company doesn't operate over weekends and certain holidays, so this may further delay any shipments.
First-class shipping and handling takes approximately 5-8 days and costs around $3.99, or $7.99 for priority shipping, in the US.
Whereas, international shipping may take 2-4 weeks and costs only around $7.99. Qalo also offers priority international shipping (4-10 days) for around $25.99.
Customer Reviews
When choosing a company for an item as personal as an engagement ring, recommendations can account for a great piece of mind. Here are some of the things customers have said about the two different jewelry providers.
What the Web Says About Enso
On their website, Enso displays their 88.2k certified reviews powered by YOTPO, which averages at an excellent five stars. Many reviews praise their jewelry and more like:
Excellent customer service
Fast handling of returns and exchanges
Lightweight rings that motivated non-ring wearers to wear them
Comfiness in the shower, at work, with gloves on, while sleeping, etc.
Fast sending of replacement rings if the first didn't arrive in the mail
What the Web Says About Qalo
It's a little harder to find social proof on Qalo's website despite their client list of athletes that use their rings. They also don't have TrustPilot reviews. However, the company has enjoyed some press in the following place:
Askmen.com reviewed the rings and tested them during various weight lifting exercises. They said they found them durable, comfortable, and resistant to sweat.
Breakingmuscle.com also reviewed the rings during athletic activity and found they withstood rigorous testing. She found the ring to be comfortable, light, and soft enough to use during martial arts.
Road and Track also commented on their lightweight design and how much he had felt held back by metal wedding rings before. He did, however, find some drawbacks. The factory coating came off after multiple days, the silicone grabbed at hair strands, and he found the design to be a compromise in style in the name of practicality and safety.
Are You Ready to Buy Your Dream Silicon Ring for Your Active Lifestyle?
With a silicon ring, there's no need to worry about damaging or losing an expensive ring. Silicon rings are soft, flexible, and durable, and they're as ready for action as you are. You can literally wear them all day every day!
Both companies come highly recommend from various sources. In general, while the customer service and ring quality for both are generally praised, Qalo is known for its thicker rings while Enso offers thinner ones. Some prefer the look of the latter and their metallic-looking options, while others find Qalo's rings feels more durable.
Plus, both Enso and Qalo provide a wide range of bands at a very affordable price and are loved by their customers. As high-quality manufacturers, their rings are also both top-notch quality and utilize safe-to-wear materials.
Bottom Line Summary: I personally preferred the sturdier design and better personalization offered with Qalo rings here. That said, if you prefer a slimmer (more traditional) ring look, Enso offers some great slim options here. Both are reputable companies.
Our Pick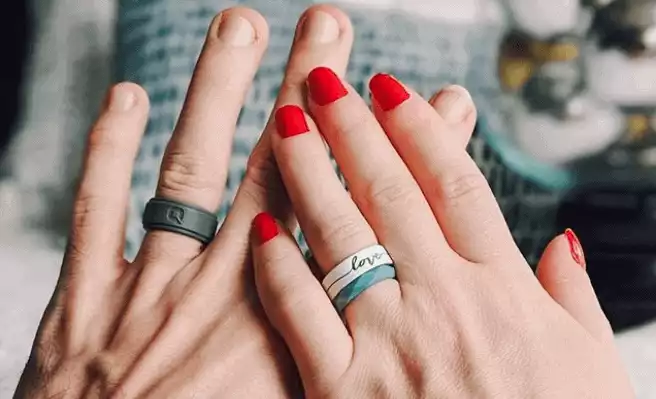 I Personally Went With QALO
The sturdier design, more customizable designs (with personalization) and discounts for military & first responders made QALO a clear pick for me here.
Latest QALO Deals Here!
We earn a commission if you click this link and make a purchase at no additional cost to you.
All in all, it all comes down to personal preference. You can't go too far wrong with either of these brands. Which will you opt for? Let us know in the comment box below!
FAQs
Question: Are Silicone Rings Safe?
Answer: Silicone rings offer much better safety than traditional wedding rings. The main concern with any ring is that should they catch on something, the ring tear the skin, making it possible to break or lose a finger during physical activities.

In contrast, silicone rings are more flexible and are designed to break under a certain pressure threshold. Another safety concern may be the material, as some people have silicone allergies, but high-quality silicone rings should be made from a hypoallergenic material that negates this concern.
Question: Do Enso rings stretch out?
Answer: Silicone is softer and more flexible than metal, and as such, it will stretch. After wearing it for a few days, the ring should stretch to fit your natural finger size.

But, it shouldn't stretch out beyond this unless it catches on something, in which case it's designed to stretch and break if necessary. If the ring does stretch out and become unwearable for any reason, Enso offers a one-time lifetime warranty.
Question: Should I size up or down when buying a silicone ring?
Answer: The right size is vital for a comfortable fit. For sizing guides, check the company's website to see if they advise what size to go for if you fall between sizes.

Enso recommends sizing down, whereas Qalo recommends sizing up. Should the ring be the wrong size, both companies offer returns and exchanges.
Question: How do I clean a silicone ring?
Answer: After wearing a ring for a long time, blotches might form on your skin that may look like an allergic reaction but can often be caused by wearing a ring that's gotten dirty over time. You can wash the silicone ring in warm soapy water.

For special measures, soak the ring in a mixture of vinegar and hydrogen peroxide and scrub it thoroughly with a toothbrush. You can also boil the ring for 20 minutes to remove any remaining bacteria. While you can wear silicone rings while sleeping and showering, taking them off beforehand can help keep them cleaner.
Recommended Reads: