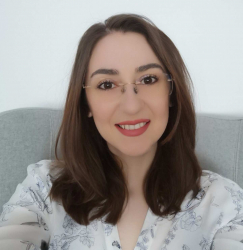 Latest posts by Alexandra Gavrilescu
(see all)
For all those of you who indulge in an active lifestyle or who work with heavy machinery, wearing a silicone ring instead of a precious metal one could be the difference that saves your finger.
Many people have experienced injuries related to their wedding bands getting caught in things and some of those individuals have decided to give silicone rings a try, and some are even enjoying multiple rings at once.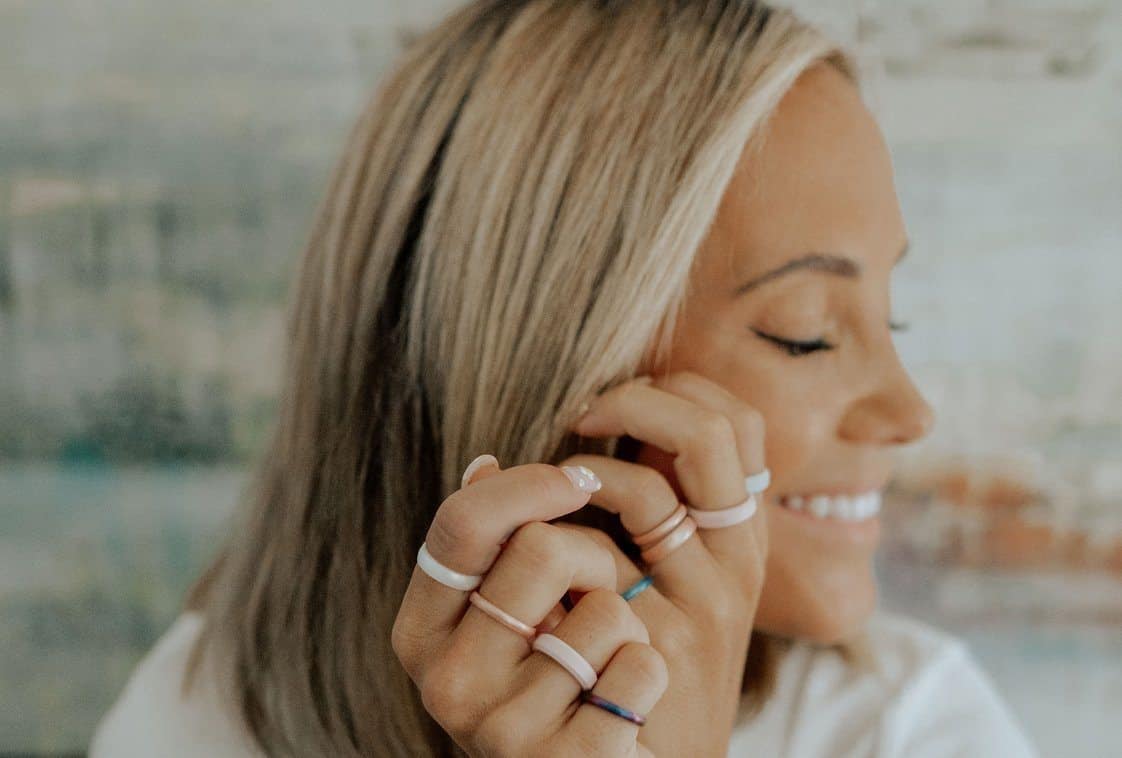 This article is Enso Rings Review, which is a company that took off pretty quickly after its launch due to its good-quality jewelry products. Read on if you want to find out more about this manufacturer's silicone wedding band collection like their pros, cons, prices, features, and more.
Enso Ring Review: Brief Company History
Enso Rings is a company that manufactures and sells rings made of silicone and yes, they can even create your silicone wedding ring.
The company was launched in 2015 and it has two co-founders: Brighton and Aaron. They are long-time friends. The whole idea was inspired by a dreadful event that took place while Brighton was rock climbing. That day, he suffered an accident during which his wedding ring (made from metal) got stuck and caused serious injuries to his finger.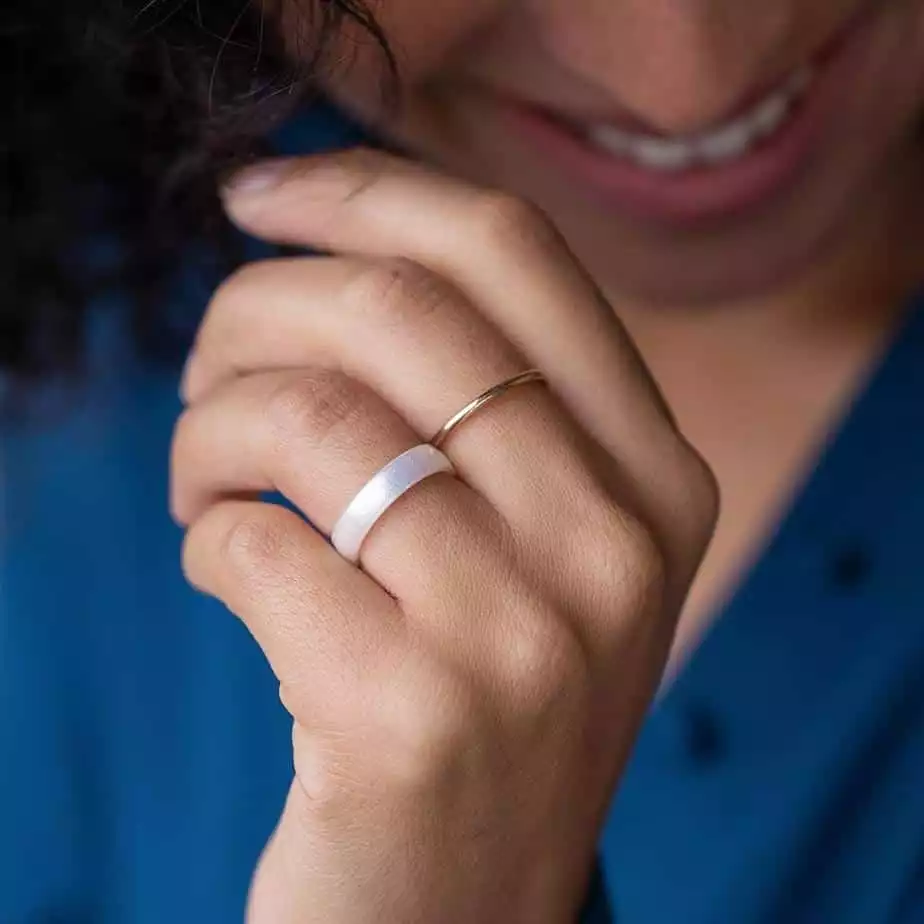 Silicone Wedding Bands | Enso Rings
These silicone rings are flexible and soft, yet still retain their shape when put under pressure or placed underwater. That means you can keep your ring on no matter where you go or what you do.
Check prices
We earn a commission if you click this link and make a purchase at no additional cost to you.
On the bright side, this life-changing event made him start a fruitful collaboration with his pal, which further led to the inauguration of Enso Rings. The idea behind the company was to boost awareness about a certain issue called "ring avulsion." This type of injury appears when a metal ring gets caught and tears the finger's skin or even breaks the finger altogether.
Every year, in the United States, there are more than 150,000 people who suffer from ring avulsion. Most of these cases happen during outdoor activities, sports, or while operating heavy machinery.
What Are Enso Rings?

These special wedding bands are made of a material that's unique in the accessory and jewelry department. The proprietary silicone used to create these products is significantly safer than metal and even tungsten or wood. Silicone wedding bands and rings are an amazing option, especially for those of you who like to spend a lot of time outdoors and have an active lifestyle.
All Enso rings are thoroughly tested to verify their durability and safety as a silicone ring. Therefore, if they experience enough pressure to make them break, they will soundly snap off your finger without causing any injury to your skin.
Enso Ring Review – Main Collections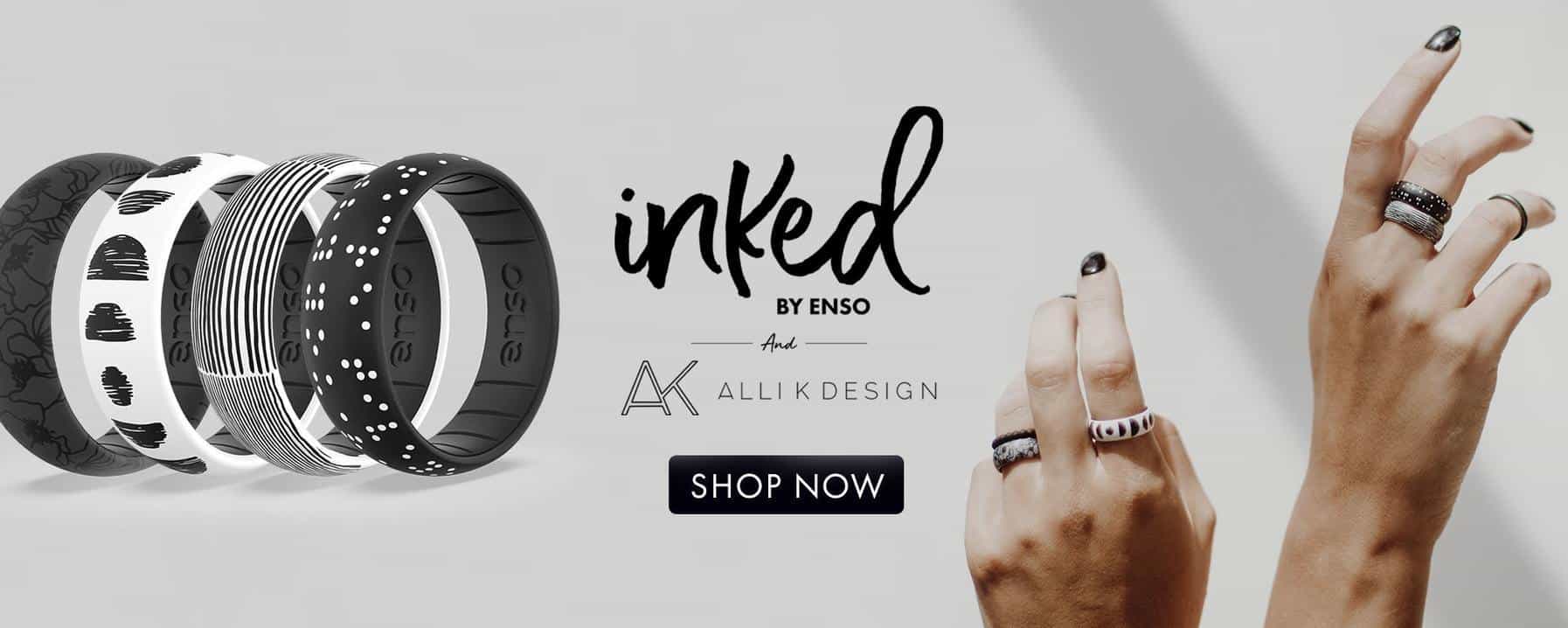 Besides silicone rings, Enso also markets bracelets but in today's article, we will only focus on their main products which are rings and wedding bands. Here are some of their most popular collections:
Bevel Collection– this collection features simple and classic rings that resemble the shape of metal wedding bands. These rings look just like the traditional ones but they feel much more comfortable, lighter, and safer;
Infinity Collection– these rings are exquisite tokens of commitment for those of you who're in never-ending relationships. They come with the infinity pattern which symbolizes love, warmth, and trust;
DualTone Collection– this collection is all about displaying two different colors on the same silicone ring: one that's featured on the exterior part of the product and a second one hidden on the inside of the ring. If you choose to buy a ring from the DualTone collection, you will also be able to write your chosen word that will be featured on the exterior surface;
Ultralite Collection – compared to the rings included in all the other collections, these are lighter, thinner, more comfortable, and more flexible while also maintaining their durability;
Inked Collection– this collection is a new addition to the Enso Rings family. The rings featured here are one of a kind. All of them were crafted by creative and talented artists and they are limited editions. Currently, there are three available patterns on the website that you can choose from: snowflakes, star sweater, and penguins.
Enso Ring Review – Fit and Sizing
More or less, the sizing of these women's silicone rings matches the one of traditional metal wedding bands. Moreover, even if an Enso wedding ring is slightly smaller than your finger's circumference, it won't bother you that much due to the fabric's stretchy feeling. Over time, however, these rings tend to stretch and become a bit larger than their initial ring size.
For that reason, I think you should purchase a half-size down. On the company's website, you will find a quite clear sizing chart where you will see different ways to measure your correct size. If you don't know exactly how to measure your finger's size, you could also provide them with a print of one of your existing rings to help them discover the proper fit. If, once you receive your ordered ring, you feel it a bit large, don't worry about it! Enso Rings offer an effortless exchange process.
Like I was saying, because of the stretchy material, these rings will become larger over time. One way to check whether the band fits your size, as well as your skin's needs, is by looking at your finger once you take the silicone wedding ring off. If you see any signs of discomfort, redness, rashes, or discoloring, you will have to return the product and choose a larger size.
The Purchase Process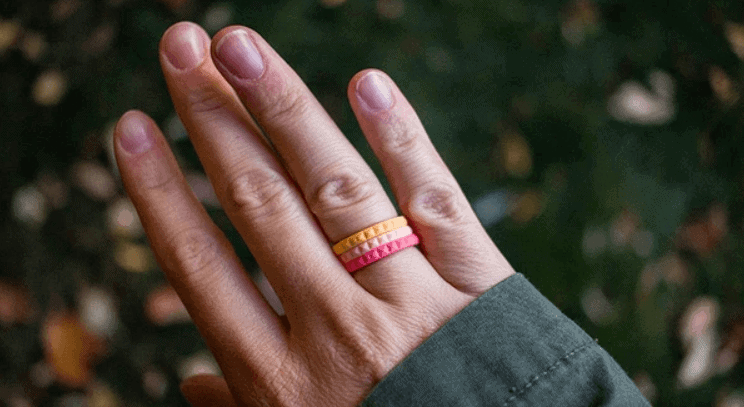 According to some online users, Enso's website can be a tad overwhelming because it is hard for a potential client to actually decide which model to pick. There are many interesting colors and appealing models. Maybe you want something bold to match your personality or maybe you just want something simple that doesn't stand out that much.
If you want, you can even match several different colors and wear them at the same time due to their stackable ring collection. I personally like the following hues: peach, navy blue, and mint green. And, in my opinion, their most unique rings are the ones from the Feather stackable silicone ring collection. If you reside within the United States, the shipping process is a lot easier.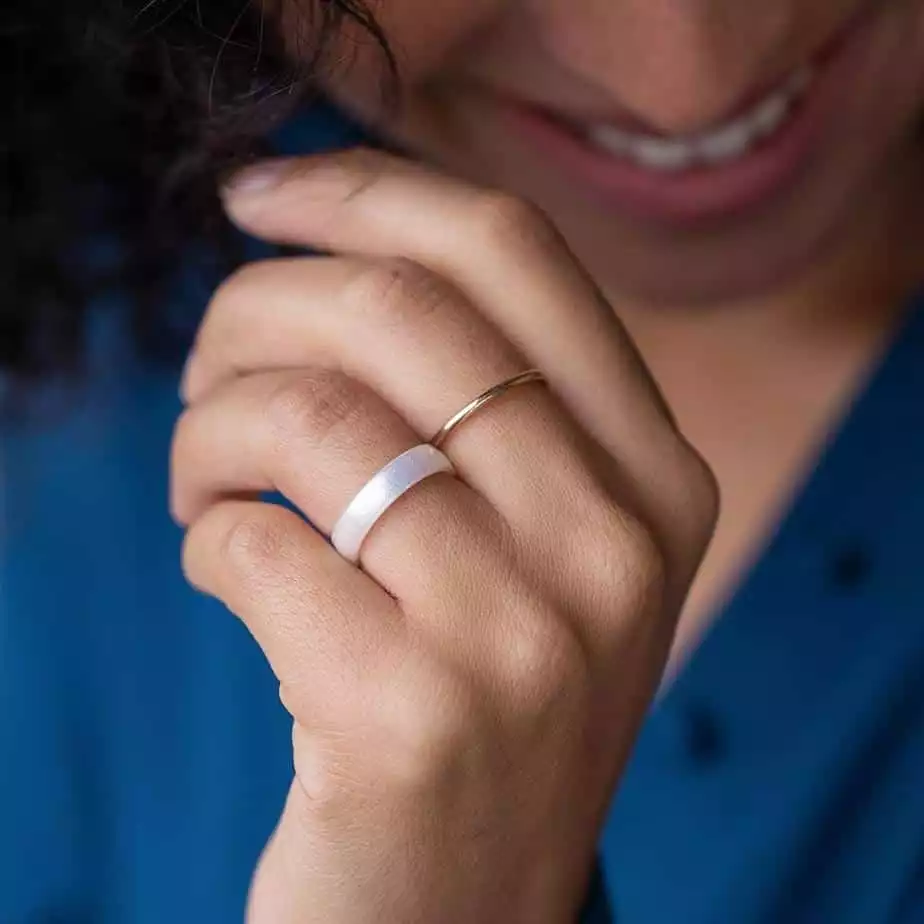 Silicone Wedding Bands | Enso Rings
These silicone rings are flexible and soft, yet still retain their shape when put under pressure or placed underwater. That means you can keep your ring on no matter where you go or what you do.
Check prices
We earn a commission if you click this link and make a purchase at no additional cost to you.
Don't get me wrong! The shipping remains quite simple even if you order these products from outside the US but, in that case, it involves a few additional elements like longer waiting time and an extra processing fee. In terms of customer service, Enso Rings does an amazing job like many leading traditional ring retailers.
They won't charge you for any exchanges you make. You don't even have to keep the receipt because a simple screenshot of your bank statement will suffice.
Quality, Appearance, and Details
Do Enso Rings Look Like Real Wedding Bands?
From a close-up perspective, you can clearly see that these rings aren't made from metallic traditional materials.
The farther away you go, the more difficult it gets to actually distinguish the fabric they're made of. So, Enso rings might be the ideal option for people who want to save some bucks without sacrificing a pretty stylish look.
Finally, the main purpose of choosing a silicone ring instead of a metal one is safety rather than fashion. Most clients are happy with the products they got, stating the rings looked exactly like in the photos. The rings' colors are intense and bright while the material feels flexible and soft.
Does the Color Match Silver or Gold?
If you place an Enso ring right next to a traditional wedding band made from gold, the difference can be clearly perceived. It is obvious that these bands aren't made from real silver or gold. After all, if you want to pay a lower price to get a safer and more affordable product, you should have realistic expectations.
The fact that Enso bands don't really resemble true gold might become an issue if you plan to wear them together with other accessories made from silver or gold such as earrings, necklaces, bracelets, or watches. On the other hand, if you're more into a minimalistic look, then an Enso ring could be a very good choice.
Enso Ring Review – Exchange Policy
The entire exchange process, in case you need it, is very easy to follow. Here are the steps you must follow to do an exchange:
There's a form on their website that you must fill out;
You will then receive an email from the company with the address where you must send the product back. All you have to do is put the ring in a simple envelope and place it in your mailbox;
Finally, a customer service representative will soon contact you via email to let you know that the new ring is on its way.
Enso Ring Review – Pros and Cons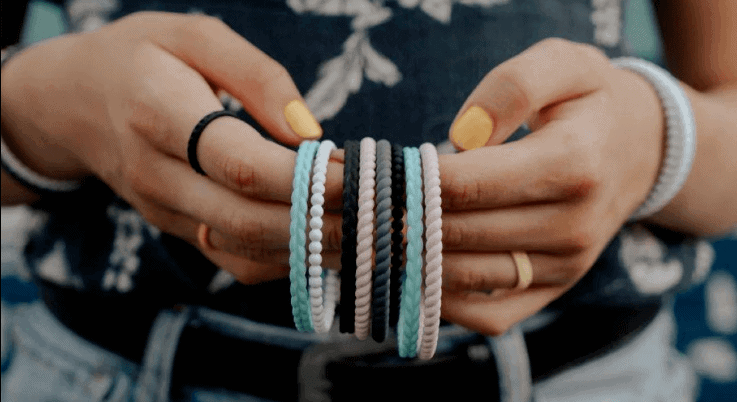 Advantages
The rings are very comfy, light, flexible, and it is a pleasure to wear them;
They give you peace of mind knowing they will stick on your finger and won't scratch or cause injuries when you perform outdoor activities, including swimming;
They are so convenient and durable that you can wash dishes or apply sunscreen lotion without any worries;
Enso rings come with a lifetime warranty;
They have plenty of options to opt for, from matte versions to rings with a metallic sheen.
Disadvantages
The only major downside with these products is related to their price. Most of the bands are sold for a price that ranges between $12.50 and $24.50. However, if you want a wedding band with a metallic sheen, you will have to cover a cost of $40 which, to me, seems a bit steep.
Enso Ring Review – Main Alternatives
ROQ silicone rings – by comparison, these rings are wider than Enso bands and they also have edgier shapes. Still, they are incredibly affordable and they come with a lifetime warranty;
Groove Life silicone rings – what's interesting about the Groove Life bands are their recessed grooves that are featured on the groove ring and its edges. This prevents moisture from building up under the ring. The company offers a lifetime warranty, even in the case in which you lose the ring. Further Read: Groove Rings Review.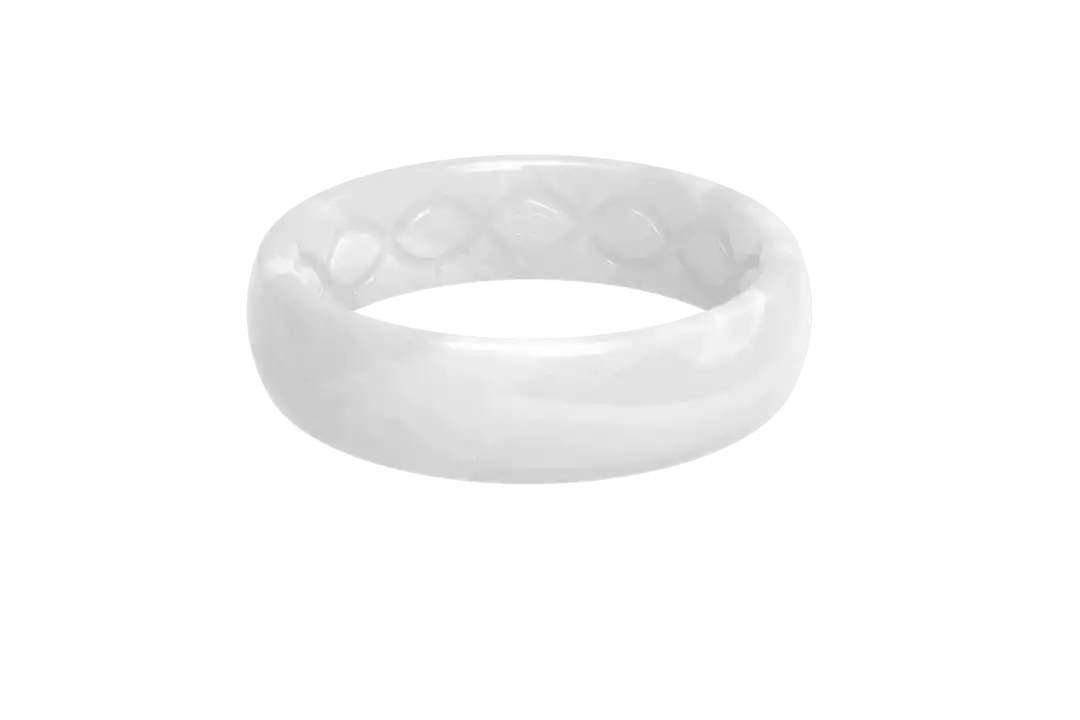 Why try Groove Life?
Groove Life offers many creative color combinations and designs. Pick the ring that matches your style or create your own!
Check prices
We earn a commission if you click this link and make a purchase at no additional cost to you.
Qalo silicone bands – if you want to purchase a no-nonsense silicone ring, then a Qalo ring (or engagement ring) is worth checking. They are so much more than simple rubber ring bands. These rings are safe and created from medical grade silicone rubber. Further Read: Qalo Rings Review.
Our Pick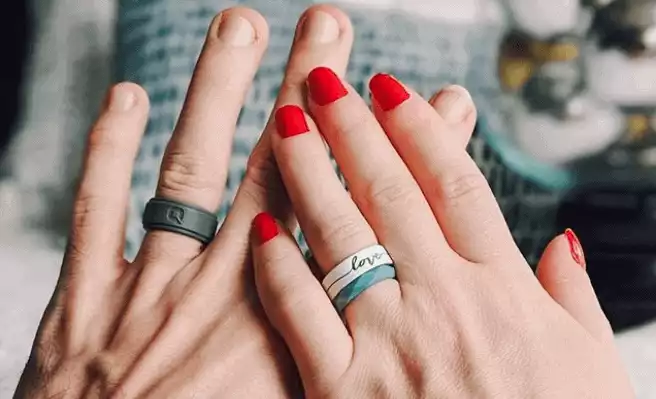 I Personally Went With QALO
The sturdier design, more customizable designs (with personalization) and discounts for military & first responders made QALO a clear pick for me here.
Latest QALO Deals Here!
We earn a commission if you click this link and make a purchase at no additional cost to you.
Enso Ring Review – Drawing to a Close
It depends a lot on your lifestyle, personality, and overall preferences, but, either way, Enso rings represent a very good alternative to traditional wedding bands (traditional wedding band) if you want dependable, safe, and durable accessories.
Once you take a better look at any of these rings, you will be impressed with their smooth lines, bright colors, and sleep design. Although they are a tad on the pricey side, they succeed in delivering the quality one would expect. Images source: Enso's official website.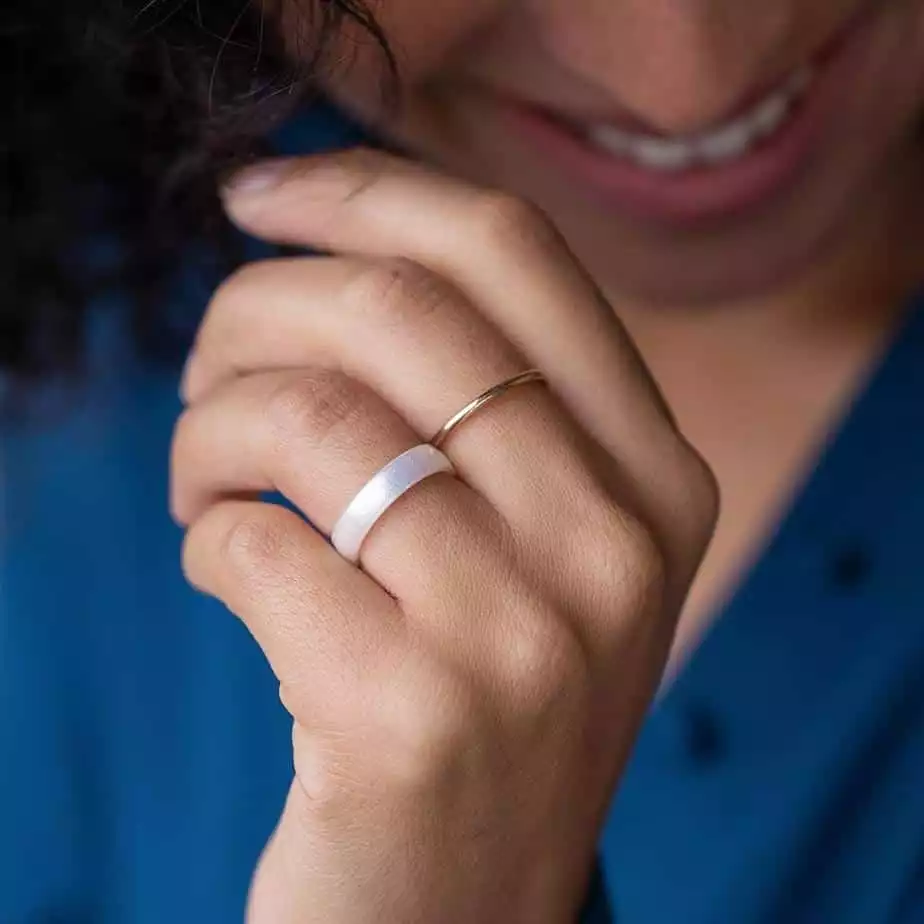 Silicone Wedding Bands | Enso Rings
These silicone rings are flexible and soft, yet still retain their shape when put under pressure or placed underwater. That means you can keep your ring on no matter where you go or what you do.
Check prices
We earn a commission if you click this link and make a purchase at no additional cost to you.
FAQs
Question: Do Enso Bands Stretch?
Answer: Yes, all of the Enso Bands have a certain level of flexibility so you can stretch them without any breaking.
Question: How Should You Clean the Enso Rings?
Answer: It is easy to clean your Enso ring and it is a must, especially because the silicone tends to attract dust particles. Fill a regular cup with lukewarm tap water and drop a few splashes of dish soap into it. Place the ring in the water and leave it there to soak. Take the band out and rinse it well while also rubbing it with your fingers in order to remove any remaining grime.
Question: Will Enso Rings Smell?
Answer: Being made of silicone, these rings can tighten to your skin and make the area sweat. To prevent any issues such as bad smell or redness, you should remove the band on a regular basis and clean the ring.
Question: Why Should You Buy an Enso Ring?
Answer: There are plenty of benefits provided by these wedding bands: • They are softer and safer; • They are more affordable compared to wedding bands made from silver or gold; • You have plenty of models to pick from in order to find one that suits your lifestyle; • Silicone bands have gained a lot of popularity, becoming a trend in the industry due to the fact that they offer luxury without compromise.
Question: What are Enso rings made of?
Answer: All Enso rings are made of silicone. However, a few of them, based on the collection and model, also include small metallic parts that offer a brighter metallic shine. Silicone is usually safe to wear but you must first make sure you're not allergic to it.
Question: Are Enso Rings comfortable to wear?
Answer: All in all, these rings are comfortable to wear. Still, one downside is the natural grip of the material and because of it, the ring will attract a lot of dust particles, fuzz, and even tiny hairs.
Question: Are Enso Rings Strong and Durable?
Answer: Normally, these wedding bands are strong enough to last for a long time as long as you don't put too much tension on them. Otherwise, they might snap. After all, that is the whole purpose of these accessory items: to snap off one's finger rather than get caught in something and lead to injuries.
Don't worry, though, because just by pulling the right with your fingers, you won't be able to break it. Based on the model and collection, some Enso rings are stretchier while others are more firm. For instance, the stretchiest selection is the DualTone one while the firmest ones are the Bevel rings.
Recommended Reads: