The best types of metal for men's wedding bands are not always obvious and may go against many penny pinchers' instincts.
Let's face it: wedding rings can be expensive, even for men. The average cost of a men's wedding band is hard to find, but a wedding band of good quality can cost from a few hundred to over a thousand dollars. That may not seem like much, but considering the cost of the average wedding is over $25,000, it's little wonder that looking to alternative metals to save money on men's wedding bands is tempting for many.
Perhaps that why TungstenCustom, an online retailer stirred interest when it announced its debut. The company offers custom tungsten rings at a low cost, for both men and women, polished mostly in gold or black tones, and touting not only low prices but good wear.
If it sounds too good to be true, it probably is, and in this case, this trend is an example of just how important it is to select the best types of metal for men's wedding bands and avoid others.
What's so bad about Alternative Metals? Alternative metals in of themselves are not a terrible idea, but it's important to understand exactly what you're purchasing. In the case of tungsten, certain risks may outweigh the benefits of a cheaper price tag. While it is true that tungsten is considered fairly durable, both tungsten and titanium, two popular lower costs metals, are getting warnings from doctors and emergency workers.
The reason? While they are "stronger and more scratch resistant" than a precious metal like gold, they are not able to be cut, like other metals. While this may sound like a positive thing, this quirk can turn serious in the case of an emergency like a car accident. If it cannot be cut off and needs to be, the patient would have to have their finger amputated instead.
While this may sound extreme, it's no joking matter, with not only emergency workers and medical professionals, but even traditional jewelers sounding the warning.
Calla Gold, Santa Barbara Jeweler specializing in jewelry design and repair, added a few reasons of her own to caution against metals like titanium and tungsten for wedding bands:
Fingers can change size over time, or for various reasons. Titanium and tungsten cannot easily be resized.
Titanium and Tungsten will not be of value if you ever want to pass it down.
Precious metals are more valuable and can easily be resized.
Who buys the Men's Wedding Band?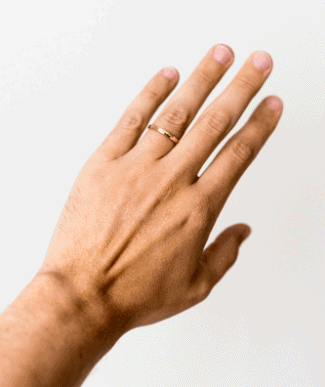 While a good deal of time and money goes into selecting an engagement ring, wedding bands are just as important. American men didn't start wearing wedding bands until the 1940s, likely out of solidarity during the second world war. Today, most men's wedding bands are purchased alongside a partner's band. That's so the bands match, or at least complement one another.
Because of this, there's a good deal of flexibility as to who purchase the wedding bands. Sometimes a couple purchases the bands for each other, or split costs, while other couples opt to finance their own ring. However you do it, it's best to shop with your partner.
I'm ready to start looking, but I don't know where to begin. Starting early in the process will ensure you cut back on stress and find a wedding band that suits both you and your partner. You'll want to start by considering a few factors, even before you set your foot out the door or start browsing online:
Budget. How much can you realistically spend on wedding bands? Set a maximum budget with consideration to your other costs. How important is the ring to you? These are things you should also discuss with your partner.
Style: What style are you looking for? Simple? Classic? Modern? Do you want a plain band or something with embellishments? Do you want a smooth or textured finish?
Coordinating: Discuss with your partner if you want your bands to match, or to what extent. Also, consider any engagement rings when making your choices.
Be Flexible: Of course, you don't have to match exactly. You can mix things up by opting for two different metal types. Compromise is fundamental to a healthy marriage, and it works well here too.
Start Early: There's nothing like rushing a big decision, and since you'll likely also have wedding planning to do, starting as early as possible is ideal. It allows you time to comparison shop, and make any adjustments or resizing you might need.
Taking these steps before you start shopping will not only reduce stress but reduce the risk of arguing over the budget.
Is there anything else I should take into consideration?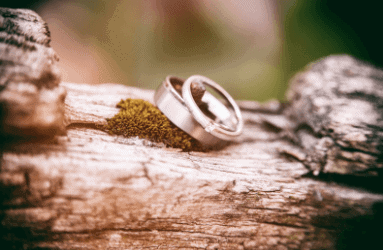 As we get into our picks for the best metals for men's wedding bands, we'll be considering not a budget so much as other factors. That's because, depending on the design, cut, and source, it's not too hard to find a wide budget range in any metal. While our picks will be almost always more expensive than something like tungsten or titanium, there's still a good deal of variability when it comes to cost.
Instead, we'll be shifting our focus towards lifestyle, personal needs, and personal tastes. More specifically, we'll assess what each metal is best for, and why you should consider it when shopping for a men's wedding band.
On that note, we'll be considering these factors:
Aesthetic
Durability (hardness, scratch resistance, corrosion)
Required Maintenance
Allergies
Our Picks: Best Metals for Men's Bands
This list is not all-inclusive, and everyone will have different personal tastes and needs. Still, our list of best metals for men's wedding bands are all metals that are widely recognized and noteworthy for different qualities. Please note that these metals listed are in no particular order.
1. Yellow Gold (or White or Rose Gold)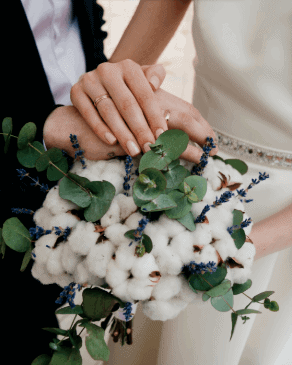 One of the most popular metals for wedding bands, this classic is bright, standout, and classic all at once. Yellow gold also has a rich history: it's been used as far back as 4000 B.C. in Europe. It also tends to be a divisive metal: people either love it or strongly prefer an alternative. If the general color catches your eye, here's what you need to know before deciding that it's the best metal for your wedding bands.
Hardness: Gold is one of the softest metals on our list, coming in at a 2.5 on the Mohs hardness scale. However, gold rings are not, in fact, all gold, but alloys with other metals to make it stronger. Most commonly, gold is mixed with nickel, zinc, and copper.
Carat Count: You've probably noticed that gold is always measured with something called a carat count. While you may know that a higher carat count is more expensive and considered more precious. Carat refers to the percentage of pure gold you're getting. 9-carat gold, for instance, is just over 35 percent gold; 24 carats is considered the purest form of gold, with 99.9% gold composition. So while a 24-carat gold band is worth more, it also will likely be softer, which is something to consider. The most popular carat is 18k gold, which is ¾ gold and ¼ mixture copper and other metals. In fact, 24K gold is not common in rings because it is so soft.
Scratches and Abrasions: The lower the carat, the more scratch resistant the gold wedding band will be. Gold does scratch a bit easier than some other metals, due to its lower later on the hardness scale. Still, with proper care, and with regular cleanings, your ring can stay nice.
Tarnish: Gold is the least reactive of metals, in that it does not react much with natural or industrial elements. Because of this, it is not prone to rusting or tarnishing like some other metals. If it does tarnish, which takes a great deal of time and pressure, it is usually a thin band of discoloration.
Allergies: Since gold wedding bands tend to be alloyed with other metals, allergies can be a concern. While most people are not allergic to gold, nickel, a common allergy, is often used as an alloy in gold wedding bands. Anyone with allergies to nickel or other metals should inquire first what alloy is being used to make the band.
Look: It's rather self-explanatory, but yellow gold rings tend to look golden to yellow. If you aren't a fan of the classic gold look, but like the idea of gold wedding bands, you can opt for white gold and rose gold.
Some of our favorite men's wedding bands: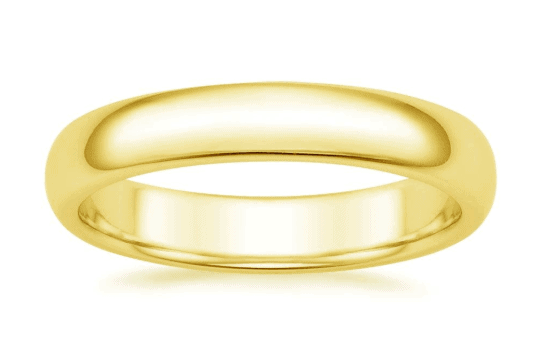 Brilliant Earth 18K Comfort Fit Men's Wedding Ring: At $570, this ring is not a steal, but it's also not excessively priced. Classic and simple, this yellow gold band features an inside edge for comfort and earned 4 and a half stars from customers. This is a simple, classic look with little fuss.
14K Solid Yellow Gold Diamond Cut Men's Wedding Band Comfort Fit: This yellow gold band features textured grooves for a modern spin on a classic look. This is from a seller on Etsy, so do proceed with caution; either way, this is a unique look that was hard to pass by.
James Allen 14K Domed White Gold Band: Like the Brilliant Earth yellow gold pick, this is a slim, domed band meant to be worn comfortably. The style is classic and straightforward and a good pick for anyone who wants gold but isn't a fan of the golden hue.
Brilliant Earth Beveled Edge Matte Wedding Ring: This 18K white gold ring is a bit more expensive than the others, but it is arguably the most striking. A soft matte finish and beveled edges showcase the beauty of the white gold, while the smooth inside also features a comfort fit.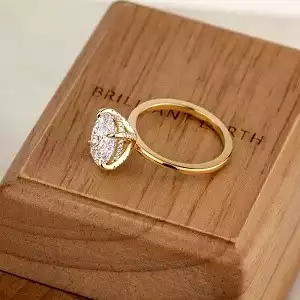 Planning a Proposal?
Make that proposal happen! Get started designing and create an engagement ring as unique as the wearer. To help pull off the perfect engagement, head over to Brilliant Earth's proposal guide.
Check Prices
We earn a commission if you click this link and make a purchase at no additional cost to you.
2. Platinum
Platinum is a very popular pick, especially for anyone with reservations about gold but as a silver or white gold look. It's known for a bright, "almost shiny and wet" silver shine, and is even associated with luxury rings. (Though not all platinum rings are exceedingly expensive). The metal was actually first used by royalty in the 1700's, so while it is not nearly as old as gold, platinum has a storied history in of its own. What exactly is it? One of four precious metals, platinum is the most expensive, because it is also the rarest. It's considered a 'transition metal' on the periodic table of elements and prized both for its durability and flexibility. Here are some other things you need to know about this metal:
Hardness: On the hardness scale, platinum is a 4 to 4.5, significantly harder than pure gold, but can be on par with lower carat counts of gold. Because of its rating, it's considered relatively durable but is still softer than palladium. It falls about mid-range on the hardness scale.
Scratches and Abrasions: Titanium is not entirely scratch resistant, but is less prone to scratches than pure gold or high carat count gold. Like gold, it is also usually mixed with an alloy of other metals so it is harder and cannot be scratched as easily.
Grading: Since platinum is mixed with metal alloys like gold, it is graded by weight or percentage of platinum. You may have to inquire about the grading, as it is not as readily advertised as carat counts for gold. However, unlike gold, most platinum rings are largely platinum. In fact, the United States requires platinum rings to be at least 95 percent platinum. Otherwise, they are labeled first with the others metals they are alloyed with.
Corrosion: Platinum, unlike gold metals, is temperature resistant, meaning it is the best metal for handling extreme temperatures. It is, however, unlike gold, prone to other forms of corrosion. Halogens, cyanides, sulfur, and alkalis can all cause corrosion. Exposure to industrial elements can cause damage to wedding bands.
Allergies: Even though platinum is mixed with metal alloys, it is generally considered hypoallergenic, in part because the percentage of other metals is much smaller typically, but primarily because it is not made with nickel, one of the most common metal allergies.
Look: Shiny, bright, and brilliant when cared for, it has a look similar to white gold, but a bit brighter and more silvery.
Some of our favorite men's wedding bands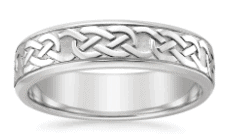 Tiffany Classic Men's Wedding Band: This classic look is simple, sleek, and classic. Quality craftsmanship makes this an investment, for just over $1,500.
Celtic Eternity Knot Wedding Band, Etsy: If you want to celebrate your or your partner's Celtic heritage, what better way to do it? Even if you aren't Irish, the symbolism is beautiful: the endless knot is meant to show "two souls bound by everlasting love".
Blue Nile Matte Beveled Edge: Yes, we also included a similar ring for gold, and in fact, this features a platinum and gold combo. Rose gold lines the comfort fit lining, while platinum is featured on the exterior. Not only is the two-tone look versatile, but it also offers the best of both metals.
3. Palladium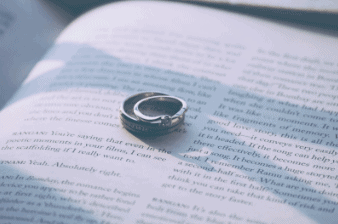 Not as traditionally popular, palladium is growing more trendy as a versatile and quality option that looks very similar to platinum but costs a good deal less. It's also less dense, meaning it is more comfortable and lightweight to wear. First discovered in the 19th century, its name actually derives from a Greek myth with the Goddess Athena, and is said to be protective.
With a silvery white hue, it's attractive, if rare pick. One reason it still is not exceedingly popular is because, despite the lower price, it is also considered a pretty rare metal, so you might have fewer options for men's wedding bands if you decide this is the best metal for you.
Hardness: Of our top picks, palladium is the hardest of metals, with a 4.75 rating, though much softer than some. It's considered a durable metal, and up to 10% harder than platinum.
Scratches and Abrasions: Though palladium is rather hard, it is not entirely scratch resistant, either. It scratches easier than 14K gold, a fact that might seem surprising, so it may not be the best pick for someone who is exceedingly rough, or for wearing to a manual labor job.
Composition: Most palladium you'll encounter is PD950, which is an alloy with 95 percent palladium and 5 percent of other metals, often copper and or ruthenium.
Corrosion: Palladium is resistant to corrosion and oxidation. It is not resistant to all elements, however. Due to its composition, it is resistant to friction and weather, but not as immune to all elements like gold is. Regarding corrosion, palladium is sort of a middle ground between gold and platinum metals.
Allergies: Palladium is also considered one of the best metals for being hypoallergenic.
Look: White, slightly less bright, but very similar to platinum; the color, if treated well, should last.
Some of our favorite men's wedding bands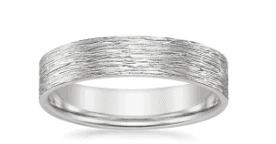 Flat Milgrain Edged Ring from Larson Jewelers: This men's wedding band features a flat, polished finish and milgrain along the edge, with a slight twist on a classic look, and can be purchased for under four hundred dollars.
Pacifica Wedding Ring: This Brilliant Earth men's wedding band features a rippled texture with horizontal edging and a matte finish.
No matter what metal you decide is best for your men's wedding band, make sure it is one that fits your lifestyle and preferences and is in a budget. Alternative options to metals include silicone rings, which can be worn in manual labor jobs or hazardous conditions. Keeping your metal ring at home and wearing a replacement like this can prevent excessive corrosion or scratching.
Here are some related articles you may be interested in: