Latest posts by Jeanette Kierstead
(see all)
Titanium rings are a great choice for those who work with their hands. You want a durable ring that won't shatter or crack easily whether you're a crafter or a construction worker. Many people who work with their hands choose not to wear a wedding band, but you don't have to forgo the symbol of your love just for work. Instead, choose a titanium ring that won't crack under pressure.
Our 5 Favorite Titanium Wedding Band Reviews
We've chosen some of our favorites here. You can buy a simple band to wear while you're at work, or choose one of these pieces of jewelry, which are an incredible example of titanium craftsmanship.
Titanium & Sapphire Diagonal Ring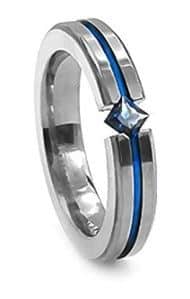 The first ring on our list is a gray titanium ring with blue anodized titanium strip. Under certain conditions, the color of titanium can be changed. It's important that you're careful with the color, though. It can be scratched from the rest of the metal. In this case, the color is embedded in a shallow channel in the band, so it'll stay protected. The designer, Edward Mirell, really put a lot of thought into the design of the ring. The band of the ring measures 8 mm in width. The tension band is holding a square blue sapphire. It's available in half sizes ranging from 5 through 12. With titanium rings, you have to be careful to order the right size because they can't be resized. Most sellers will let you return for a different size within a certain length of time after ordering. Check the seller's details for information.
---
Titanium and 14k Gold Inlay Polished Band Ring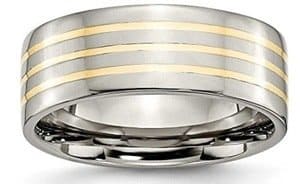 For our next ring, we've chosen another band with color. It's incredible the amount of detail that can be given to a plain band with the introduction of color. This band is titanium, of course, with three strips of gold in three channels of the band. The 8 mm band is flat, so you should keep that in mind. Some bands are rounded at the edges, which ensures that they aren't bumped on surfaces. While the edge is slight, it's something to consider during ordering. The surface is polished to a bright sheen, and it can be engraved quite easily by the seller. The seller has guarantees and repair policies (that might change from the time of this writing), but you should check those during ordering. The ring is available in half sizes 6 through 13.
---
Polished Titanium Tension Set Diamond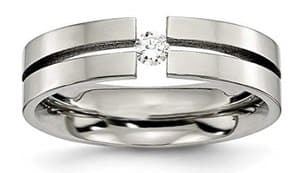 The polished titanium band has a channel of empty space to allow the glimpse of skin beneath. It's a unique detail that makes this ring visually appealing. In the middle of the channeled band is a tension set diamond that look as if t were suspended in air. The effect of the missing metal and the tension set diamond is one of architectural appeal. The ring is 6 mm wide and comes in sizes ranging from 6.5 to 12 with half sizes available. The seller has a generous return policy and warranty that customers might want to take advantage of when ordering.
---
3 Piece Men's and Women's Engagement and Milgrain Wedding Ring Set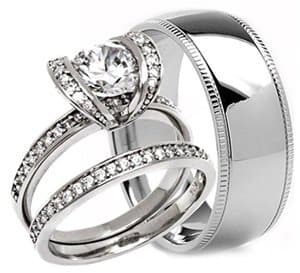 Instead of waiting until you need to replace your wedding band because it got destroyed at work, you can purchase a titanium band with her engagement ring. This set has a sterling silver ring for her with CZ stones and a titanium band for him. The wedding band and engagement ring have AAA quality CZ stones. The center, round cut stone is 7 mm. There are 33 round stones in the rest of the ring. The matching wedding band has 21 stones. His titanium band has a milgrain design to mimic the stones in her ring and is available in a variety of sizes. The width of the band varies with the sizes. The band is 6 mm in sizes 6 through 8 and in 9 through 13, the band is 8 mm wide.
---
3 Piece Men's and Women's Titanium Rope Twist Wedding Ring Set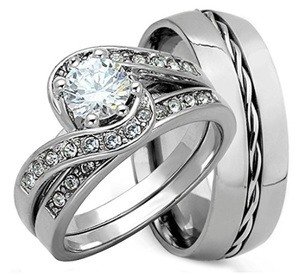 Lastly, we have another 3 piece set for the bride and groom who want to purchase more practical rings for their marriage. The sterling silver engagement ring and wedding band has highly rated AAA grade CZ stones. It has a total of 36 stones in both rings. They're all round including the main center CZ stone measuring 6 mm. The men's wedding band is made of titanium with a twisted rope inlay channeled into the band itself. It's a unique detail that we love. The width of the band varies based on ring size. The 6 mm wide comes in sizes 7 and 8 while 9 through 13 have a 8 mm wide band.
---
Titanium Wedding Band Review – Final Thoughts
When a bride and groom decide on a wedding band, they want one that will stand the test of time. Often, they are disappointed when their gold rings are damaged during their work day. That won't happen with titanium rings, which is why the couple will search to replace their old rings with titanium ones.