Latest posts by Jeanette Kierstead
(see all)
The aquamarine is named after the seawater that it resembles. Whether it's a polished surface that looks like a shimmering pool or a rough stone that looks a bit like blue sea glass, it's a stone that many people adore. The stone can be cut without visible inclusions at a large size and still be an affordable gemstone. Most aquamarines are heat treated to bring out more of the blue that many people associate with this stone, but after mining, it's actually a greenish blue color. Aquamarine is the birthstone of March.
The 7 Best Aquamarine Rings
Sterling Silver Rhodium Diamond and Aquamarine Oval Ring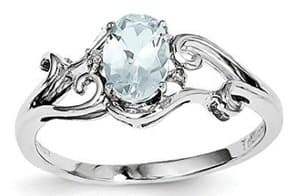 This delicate, intricate ring is made of sterling silver with a rhodium plating to keep it shiny and tarnish-free. The ring comes with a 925 stamp on the interior as well as a certificate of authenticity card. The ring is 7.57 mm by 5.7 mm. The aquamarine is a heat treated stone with a minimum clarity of I-SI in the color blue. The diamonds on the side of the middle stone are not treated, round brilliant cut stones with a color of H-I and a clarity of I-SI. This ring isn't resizable, and ranges in size from 6-8, so keep that in mind when ordering.
---
Sterling Silver Created Aquamarine Gemstone with Diamond Accented Halo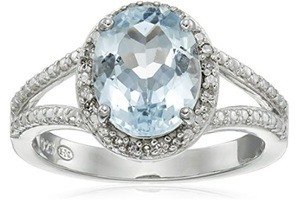 Next on our list of the best aquamarine rings is this split shank ring made with a created aquamarine gemstone. The ring is part of the Amazon Collection, and that means it'll ship directly from Amazon with their guarantee. There's no reason you shouldn't be incredibly happy with this purchase. The white diamonds surrounding the aquamarine are not treated and have a minimum color of I-J and clarity of I2-I3. While the aquamarine is a created gem of 2.4 carats, the diamonds were mined. Along the sterling silver shank are tiny beads, which make it appear as if the split shank is encrusted with diamonds. It's a lovely ring available in a range of sizes.
---
Sterling Silver Aquamarine Emerald Cut with Created White Sapphires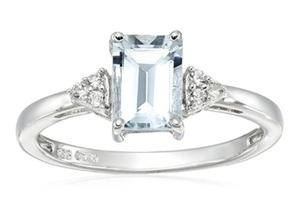 Sterling silver is a great metal for showcasing the light blue of this aquamarine in an emerald cut. There's a cluster of three white sapphires on each side of the main stone. The ring measure 2 mm in width with an aquamarine stone that has been heat treated to enhance the color. The created sapphires are round with a total gem weight for the ring at 0.75 carats. It's available in a range of sizes, and it can't be resized, so make sure you're ordering the right size.
---
Carat Round Sky Blue Aquamarine Sterling Silver Ring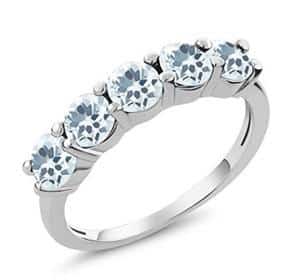 Whether it's a gift for a birthday or a little reward for yourself, this lovely aquamarine ring has 5 round aquamarine stones in a row on the shaft. These stones are completely natural but heat treated to deepen their blue color. The stones have a clarity of VS and a color of sky blue. The carats are 0.22 stone weight. The sterling silver band is stamped 925 sterling on the interior. It comes in sizes 5 through 9 but can be resized if needed.
---
Sterling Silver Art Deco Aquamarine and White Topaz Proposal Ring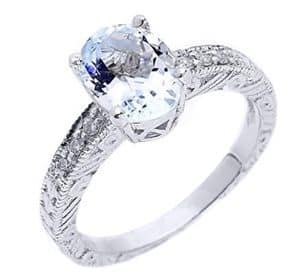 As a lovely birthday gift, this sterling silver ring would be quite a hit. The pale aquamarine color is subtle and lovely. It's an oval cut, natural, heat treated stone that measures 8 mm by 6 mm. Along the shaft is a channel of white topaz stones with three on each side of the large solitaire stone. This beautiful ring can be used as a proposal or promise ring as well as a birthday present for the March birthday girl in your life. It's available in a range of quarter sizes from 4 through 12.
---
Round Sky Blue Aquamarine and Black Diamond Ring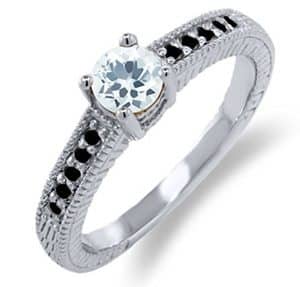 It might be surprising to learn that these are real black diamonds channeled into the shaft of this ring. The sky blue aquamarine stone is natural, heat treated and measures 5 mm by 5 mm with a clarity of VS. The black diamonds have been irradiated and have a minimum clarity of AAA. The ring is available in sizes 5 through 9, but customers report that the ring runs a bit small. It can easily be resized at a jeweler.
---
Silver Trillion Aquamarine Diamond Ring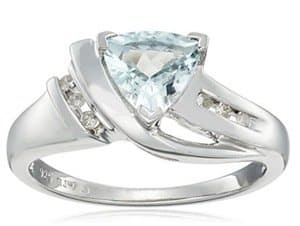 We saved two of the most unique rings for last as we like to do here. This trillion shaped aquamarine stone is quite unusual, and the designer created a shaft that wrapped around the side of the stone to emphasize the shape. The stone is 0.75 carats while the diamonds are 0.05 carats with a minimum color of I-J and a clarity of I3. The designer nestled three diamonds along the sweep of the unusual shaft while placing three more in a channel on the other side. It's available in a range of sizes.
---
Best Aquamarine Rings – Final Thoughts
We love the light, pale blue of these aquamarine stones and the designers really went out of their way to create unusual and lovely designs to set off the March gemstone.
Recommended Reads: