Latest posts by Jeanette Kierstead
(see all)
Before the end of the month, we had to bring you the beautiful emerald, which is May's birthstone. To our eye, the emerald looks best when set against a light background since it allows the rich green to come through with sparkling clarity. The light background could be sterling silver, platinum, white gold, or palladium. We've picked some of our favorites to showcase here. While there are more expensive as well as cheaper options for an emerald ring, the rings here are between $100 and $200.
Our Favorite Affordable Emerald Rings
Sterling Silver Natural Emerald Solitaire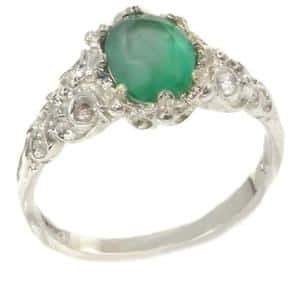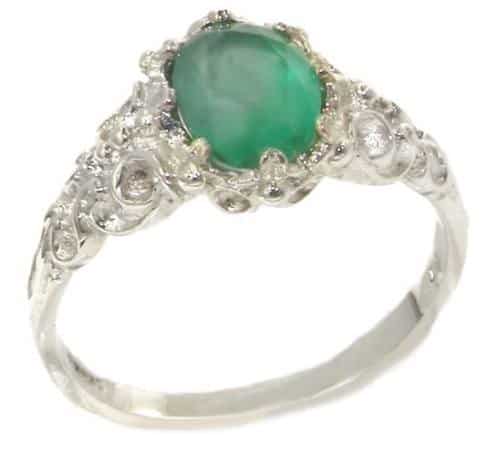 This beautiful emerald ring was made in England with real, solid sterling silver. The emerald is a natural gemstone measuring 8 x 6 mm. The designer handset this stone in a setting surrounded by carved silver to make it a stunning solitaire. On the interior of the shank, there's a British Hallmark and a leopard's head, which marks the designer. There's a 925, too. That's the mark of real sterling silver. This 1.05 carat stone is oiled to bring out a beautiful sheen. It's available in half sizes ranging from 4 through 12, and comes with a lovely presentation box.
---
10k White Gold Cushion Cut Simulated Emerald with Round Diamonds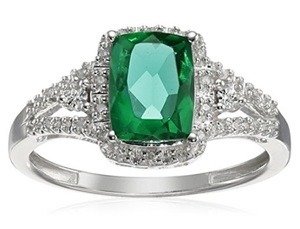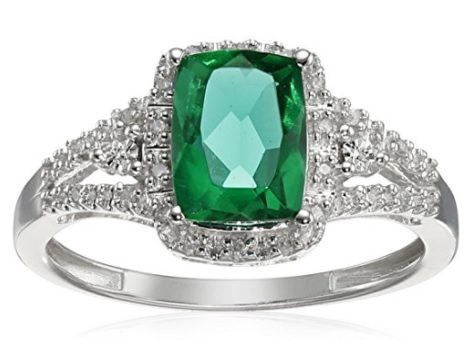 To get this large of a cushion cut emerald, the designer chose to use a simulated emerald for the middle stone. The diamonds are beautiful round shaped stones with a color of IJ and a minimum clarity of I2-I3. The total gem weight of the stones are 1.15 carats, and the ring itself measures 1.55 mm by 10.16 mm. The ring comes in sizes 6 through 8, but isn't resizable unfortunately.
---
10k White Gold Emerald and Diamond Ring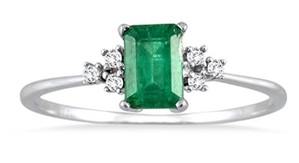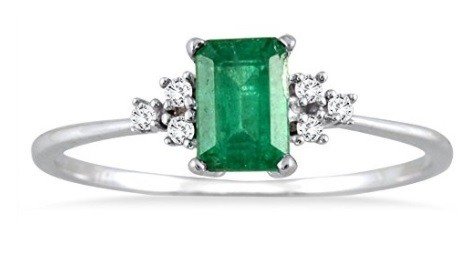 Next on our list of affordable emerald rings, this 6 x 4 mm natural emerald is set in the middle of 6 genuine diamonds in a setting of white gold. The emerald is an emerald shape, which gives it a unique look against the cluster of 3 diamonds on each side. The natural, oiled emerald has some minor surface imperfections, but no major visible ones. This means that you won't see the inclusions unless you're looking during magnification. The diamonds are a minimum color of IJ while the clarity is I2-I3. They're natural and untreated. It comes in sizes ranging from 4.5 to 10.
---
Sterling Silver Diamond Natural Emerald Ring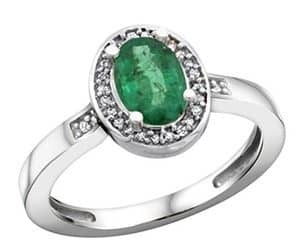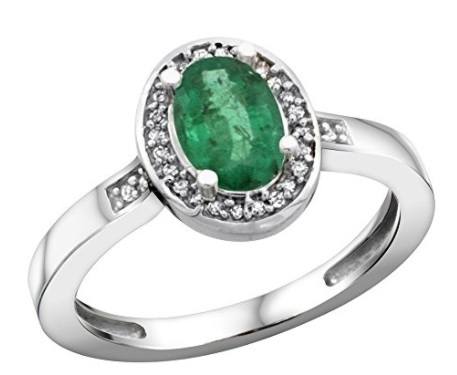 This solid sterling silver ring has an oval shaped, natural emerald. The natural stone has been oiled to enhance its color. It has a clarity of I1-I2 and measures 5 x 7 mm. The diamonds surround the emerald in a halo and down the shaft channeled into the band itself, too. The round diamonds have a minimum color of H-I and a clarity I1-I2. They're natural, too, but untreated. The ring is available in sizes 5 through 10 and comes with a beautiful gift box if you want to present it for a loved one's birthday. The seller will give you a smaller or larger size for a fee, too.
---
Sterling Silver Oval Shaped Created Gemstone and Diamond Ring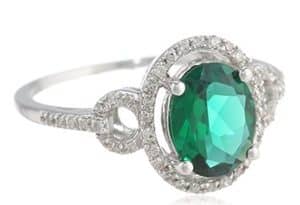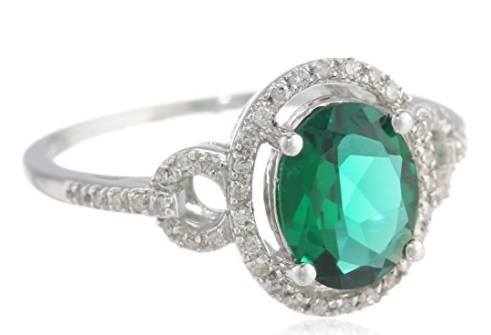 The created emerald in this sterling silver ring is 1.28 carats. The fact that this emerald is created in a lab means that you're able to get a larger stone for a more affordable price. The white diamonds are real, untreated stones with a color of I-J and a clarity of I2-I3. They surround the emerald in a stunning separated halo that gives the ring added dimension and interest. The sterling silver band has a stamp that authenticates the purity of the silver at 925. This ring comes in a range of sizes. It can be gift wrapped by the seller in case you want to mail this gift directly to someone you love.
---
Sterling Silver and 14k Gold Emerald Cut and Diamond Accent Ring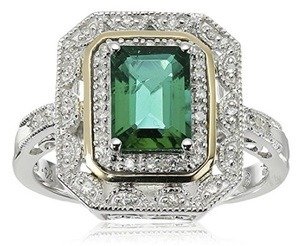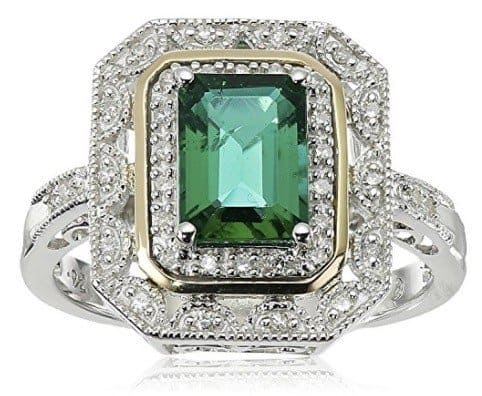 This sterling silver ring has so much going on that it could have been a post all to itself. The emerald shaped stone in the middle is 1.33 carats of created emerald surrounded by real, untreated white diamonds. The diamonds have a total carat weight of 0.12 while the color is I-J and the clarity is I2-I3. It has a thin line of 14k gold in a halo around the emerald and a row of diamonds. The rest of the ring has an art deco design style with beading and scalloped edges in a square shape. It's available in size 7, but it can be resized by a reputable jeweller quite easily.
---
Best Affordable Emerald Rings – Final Thoughts
These are just a few of the stunning emerald rings available. We've chosen these specifically because we love how they have a dimension, quality, and interesting look that is unique while being a price that is incredibly affordable. Some of the gems are natural while others are lab created. The lab created ones will give you a bigger stone without sacrificing your wallet. Nobody will ever know it's lab created unless you tell them!