Latest posts by Jeanette Kierstead
(see all)
While teardrop rings are not all advertised as engagement rings, we think they're beautiful enough to be used as engagement rings. You could also use them as other rings like promise rings or purity rings. They'd make beautiful gifts for birthdays and other occasions, too. Some women like to buy themselves rings for no reason. We say go for it! Don't wait for someone to buy you the ring you want.
Our 6 Favorite Teardrop Rings
10k White Gold Pear-Shaped Aquamarine Ring with Diamond Accents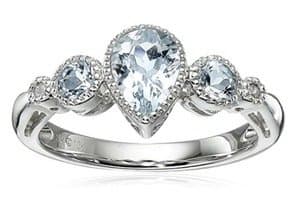 This ring is very lovely from its shiny white gold band to the pale aquamarine stones. There's also milgrain detail around the stones for added dimension. The gemstones are natural. The aquamarine has a minimum color of H-I and clarity of I3. It's a pale stone, so keep that in mind. There are round diamonds at the ends of the setting, which have a color of H-I and a clarity of I3. The ring comes with a deluxe ring box for presentation purposes. It's available in a variety of sizes, but it's also resizable.
---
10k Rose Gold Pear Shaped Gemstone with Diamond Accent Ring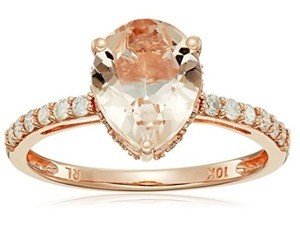 As far as Morganite rings, teardrop cuts are incredible. They really show off the facets and light hits it perfectly. It's a wonderful shade of true peach, and the gemstone without a halo makes it perfect for an engagement ring. Actually, even with a halo, it would be a perfect engagement ring. The Morganite stone has a color of IJ and a clarity of I2-I3. It's been irradiated to enhance the color. The diamonds are natural and irradiated, too. They have a minimum color of IJ and a clarity of I2-I3. It comes in a range of sizes, and you'll need to pick correctly since it can't be resized.
---
10k Gold Pear-Shaped Smoky Topaz with White Sapphires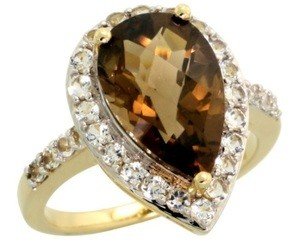 Smoky topaz has the look of a yummy chocolate diamond, but without the huge price tag. This topaz teardrop ring measures 14 x 9 mm and is surrounded by brilliant cut white sapphires to form a halo. Many rings look better with a halo. This would look good with or without one. There are sapphires cascading down the sides of the band, too. The ring is resizable but comes in sizes 5.5 through 8.5, so it'll fit many women.
---
Tommaso Design Pear Shaped Green Amethyst Ring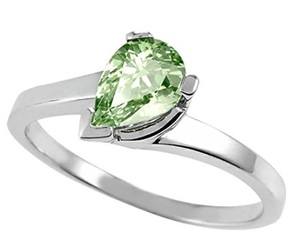 This is a beautiful green amethyst ring with one simple yet lovely stone that is 0.500 carats. The stone has been heat treated to enhance the color. It's in a prong setting with a unique design to enhance the teardrop shape. The amethyst is 7 x 5 mm, and it's available in 14k yellow or white gold. The prong setting is unusual since it's also part of the design, too. It's available in half sizes from 4 through 9, and it can be resized.
---
Myia Passiello Platinum Plated Silver and Pear Cut Yellow Swarovski Zirconia Cocktail Ring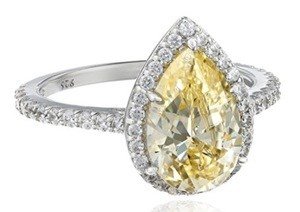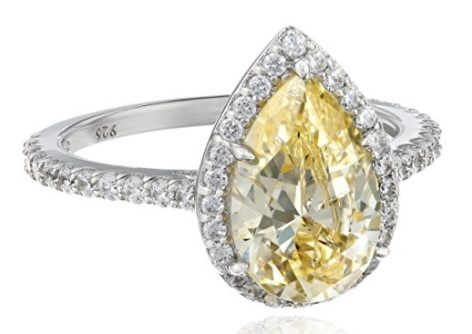 Swarovksi is a well-known name in the world of high-end crystals and simulated diamonds. The center zirconia is a canary yellow that looks like a yellow diamond. There's a halo of brilliant cut white zirconias surrounding the ring as well as a sprinkling of them down the band of the ring itself. This ring is lovely whether the point is up or down on the finger. Turning the point in one direction or the other completely changes the look of the ring, which is a huge selling point for pear shaped stones. This comes in sizes 6 through 8.
---
Sterling Silver Created Opal with Blue and White Topaz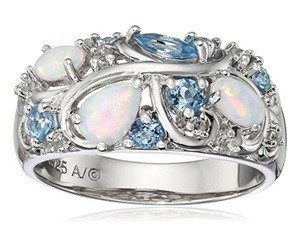 The other rings on this list could be given as engagement rings since they have the traditional solitaire setting and look of an engagement ring. This opal with blue and white topaz ring has clusters of stones creating a band, which might make it a great wedding band. It's still a great birthday or holiday gift. The opals are lab created while the Swiss blue topaz and diamond white topaz are synthetic. The stones have not been treated for color enhancement. In total, there are 18 gems in this lovely ring. It's available in sizes 6 through 8 and can be resized.
---
Our Favorite Teardrop Rings – Recap
All the teardrop shaped rings on this list are lovely examples of rings that can be used for a variety of occasions. They have a range of prices and sizes to fit every woman and the budget of the person buying the gift.