Latest posts by Jeanette Kierstead
(see all)
There are many reasons to give a promise ring. You might want to show the depth of your commitment to her. The two of you might want to show the world that you're a couple with the intent to stay together forever. A promise ring can be a pre-engagement ring, or it can be the promise to stay true and pure for each other. There are as many reasons for the exchange or presentation of a promise ring as there are people who give them to each other..
Our Favorite Promise Rings that Symbolize Love
While some promise rings will be given to the girl or woman in the relationship, other couples will purchase matching rings or ones that are interconnected to show their bond. We've included a few types of rings on this list, so you can decide what kind of ring you'd like to have within the relationship.
CharmsStory Sterling Silver Promise Ring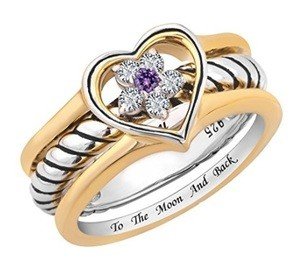 There's tons of symbolism in this ring. There are actually two rings that are entwined. The middle ring is a textured design with a small flower while the outer ring with split shaft encompass the flower ring in the middle of a heart. The outer ring is engraved. One shaft of the ring has I Love You while the other shaft reads To the Moon and Back. It's a touching sentiment and a lovely ring. It comes in a range of sizes, but can't be resized. You can have it engraved further with other messages or names if you desire.
---
Gemini Personalized Elvish His & Hers Dome Blue Polish Promise Ring for Couples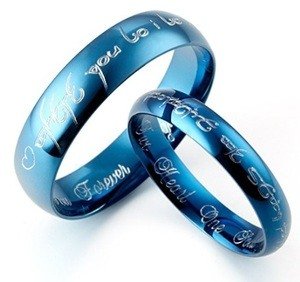 If you and your love consider yourselves slightly geekish, you'll love these beautiful blue domed rings that can be engraved with an elvish message with fonts you choose. You can also pick any font available through the jeweler. These titanium rings can be engraved with a message up to 45 letters. This can include any message you'd love to exchange with your love. These matching rings are an uncommon color, which makes them truly unique. They're lightweight and can't be resized. Make sure you're ordering the right size for both of you.
---
Dazzling Rock Collection Sterling Silver Black & White Diamond Love Promise Ring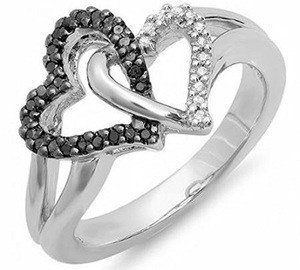 When you think of a promise ring, it's likely that you have something like this beauty in mind. The ring has a split shaft that forms two hearts. One is black and the other is white. They're connected in the middle, and the symbolism is obvious and romantic. These natural diamonds are real in a stamped 925 sterling silver setting. The black diamonds are enhanced to enrich their color while the white ones have a color of I-J and a clarity of I2-I3 with no treatment. There are a total of 29 diamonds in this delicate ring. It's available in sizes 5 through 9, but you can have the ring resized by a professional jeweler quite easily, too.
---
Antique Vintage Diamond Sterling Silver Ring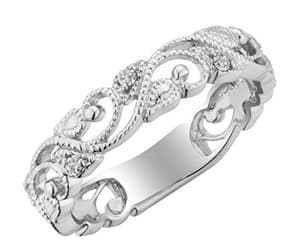 Next on our list of promise rings that symbolize love is this lovely ring that will have special meaning for her. The filigree and milgrain gives the ring a truly vintage appeal. If she loves that kind of vintage look to her jewelry, this is the ring for her. There are 7 diamonds in the filigree of this ring like surprises that sparkle with each move of her hand. The round diamonds are natural, untreated stones with a color of H-I and clarity of I1-I2. The ring comes in sizes 5 through 9, but it can be resized easily when using a skilled jeweler. You might even bring it to be engraved since there's a tiny space inside the ring like a small secret she can keep next to her skin.
---
Gem and Harmony Diamond Love Knot Promise Ring
While the previous ring didn't have any overt symbolism as a promise ring, this one is a literal knot binding the two sides of the ring together. You really can't get more symbolic regarding the love the two of you have for each other. The shaft is made of sterling silver with one half of the love knot a simple shiny silver. The other shaft is sprinkled with diamonds. You know which side is hers. There are 17 diamonds on this ring from the side of the band to the second half of the love knot. The natural diamonds haven't been treated. They have a minimum color of H-I and a clarity of I1-I2. The ring comes in a variety of sizes and can be engraved or resized by a professional.
---
Promise Rings that Symbolize Love – Final Thoughts
These promise rings are quite lovely, and are incredibly romantic if you want to surprise her with a symbol of your undying love for her. If you're choosing these rings together, you might want to choose a couple's set of rings. You'll both be making promises to each other depending on your relationship. It could mean that you'll love each other forever, or it could be a promise to wed when the time is right.
Recommended Reads: