Latest posts by Jeanette Kierstead
(see all)
With the rarity of oval engagement rings, it can be tough to find an oval diamond that makes a great engagement ring. Luckily, if you love oval cut gemstones, you'll be able to find plenty of other rings with that shape.
Oval gemstones and diamond rings are more affordable than some other cuts like the brilliant round, yet, they have a brighter shine and look larger than the round cut. It's a surprise how many people will go with a traditional round when they could get a larger stone with an oval. Along with more gem for the dollar, women also get the added bonus an oval cut that makes the finger appear slimmer. You really can't beat the oval cut. Now, we'll proceed with some of our favorite choices!
Our 5 Favorite Oval Engagement Rings
14k White Gold Oval Sapphire with Diamond Sunburst Ring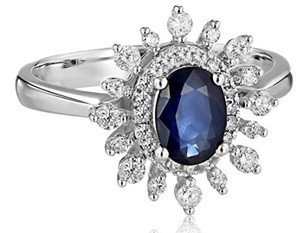 This is one of our favorites on the list because of the unique design of the sunburst. You don't often see this type of ring as an engagement ring, but it's a truly uncommon choice. All her friends will delight over the choice of engagement style. The band is 14k white gold with a center gemstone of sapphire, which is natural with a clarity of I2-I3. The color is I-J and has been heat treated to enhance the deep, rich blue. There are 36 white round diamonds in this ring from the halo to the rays of the sunburst. They have a clarity of I2-I3 and a color of I-J. The ring comes in a variety of sizes but can't be resized.
---
Sterling Silver Natural Green Amethyst Diamond Halo Ring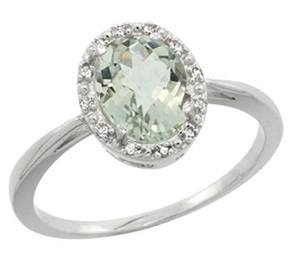 While we do include a diamond on this list, we're a huge fan of unusual colors for engagement rings. Amethyst is the birthstone of February, which makes this gemstone a great choice for an engagement ring. She'll know that you chose it deliberately, personally for her. The green is incredibly subtle in this amethyst, so keep that in mind when ordering. It's a natural gemstone that's been heat treated for color. The clarity is I1-I2. It measures 8 mm x 6 mm. The band is sterling silver with a 925 stamp on the interior. There's a halo of natural, white diamonds around the amethyst. They have a minimum clarity of I1-I2. The ring is available in half sizes from 5 through 10.
---
10k Rose Gold Morganite and Diamond Flower Halo Ring
This lovely ring looks like a flower about to bloom. The main stone is a delightfully large oval that's been irradiated for color enhancement. It's 9 mm x 7 mm with a color of H-I and a clarity of I1-I2. Each petal of the flower has a round, irradiated diamond with a color of H-I and a clarity of I1-I2. In addition to the oval morganite, there are 17 stones in this ring. It's available in sizes 6 through 8, but can also be resized to fit many fingers. The 10k rose gold enhances the entire ring, so it's a really feminine and stunning engagement ring. It comes with a presentation box, too.
---
14k White Gold Engagement Oval Solitaire Ring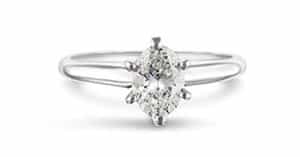 If you're thinking of a more traditional style for your beloved, this is a classic solitaire oval diamond ring. It has a single diamond that's the star of the show. The oval diamond has a color of F and a clarity of SI2 with an IGI certificate for authenticity. The solitaire diamond has a total carat weight of 0.72. The 14k gold white gold is polished to a high shine that really enhances the simplicity and beauty of the solitaire. It comes in sizes 4 through 7 and can be resized with the help of a professional jeweler.
---
14k White Gold Diamond Natural Aquamarine Engagement Ring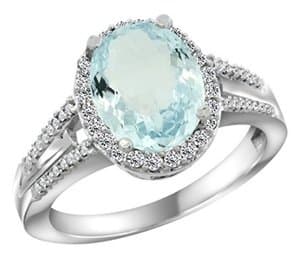 This white gold ring has a large aquamarine of a pale blue. It's been heat treated for color and has a clarity of SI1-SI2. It measures 8 mm x 10 mm. The halo of this engagement ring has white diamonds with a minimum color of H-I and a clarity of SI1-SI2. The diamonds haven't been treated, and they're natural round sparklies. There are a total of 56 round diamonds in this stunning ring. It's available in half sizes from 5 through 10. It can be resized as needed, too. There's a lovely presentation box that comes with the ring as well.
---
Oval Engagement Rings – Final Thoughts
4 out of 5 of these engagement rings are not the traditional solitaire that you'd expect with an engagement ring. Many women are moving away from the desire to have the same engagement ring as every other woman they know. They want originality and uncommon gems and designs for their engagement. It will depend on the woman, so make sure you know what she likes before making your purchase.
Recommended Reads: