Latest posts by Jeanette Kierstead
(see all)
Titanium wedding bands aren't only for men who work with their hands on a daily basis. They're perfect for women who worry about scuffing or scratching their wedding ring, too. If you think that a titanium band is a simple, plain band of silver-colored metal, you couldn't be more wrong. There are truly some stunning choices for women's titanium rings, which we've included here for you. It was tough to come up with one ring choices, so we narrowed it down to five.
Edward Mirell Black Titanium Tension Set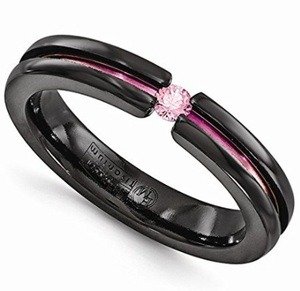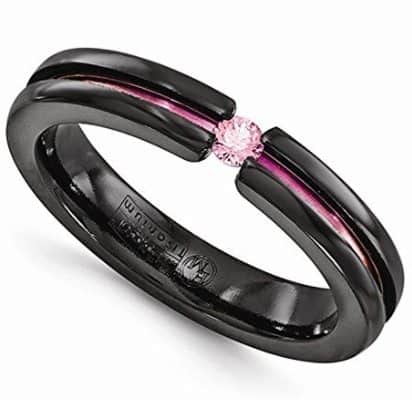 We're particularly fond of this ring because it has a blend of the hard and soft with the black onyx color of the titanium and the girly pink of the strip in the band and the stone. The band is 4 mm wide and is a pretty perfect size for a woman's band. The pink stone in the middle is a genuine pink sapphire. The ring can be engraved with up to 26 characters, which includes spaces. The seller allows returns and exchanges, but only if the ring hasn't been engraved. The band is available in sizes 5 through 12 with half sizes available. The band with inlaid pink isn't resizable, so that's something to consider when ordering. You might want to get your engraving done later after you ensure the ring fits.
---
Women's Titanium Realtree Purple Camo Wedding Band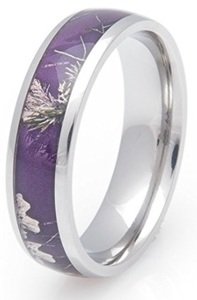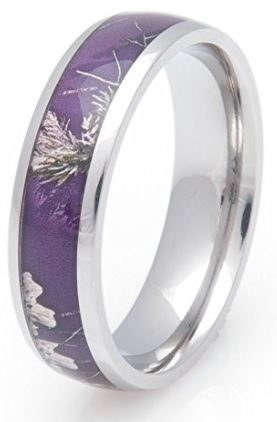 This domed, 6 mm band has a polished finish over an inlay of purple camouflage pattern. The inside of the ring is comfort fit to ensure that the ring will never create irritation. We love how the ring looks like it has pink and white flowers embedded in it. The edges are a polished titanium as is the inside of the ring. This is a ring that will stand up to much abuse. It's available in sizes 4 through 16.5 and in half sizes, too. This is created with a licenses Realtree AP purple pattern per the designer. The seller offers free shipping.
---
Titanium Grooved Diamond Brushed and Polished Band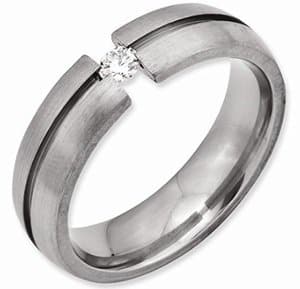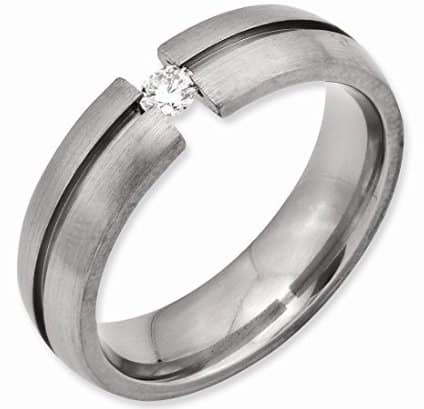 We love how this diamond hovers suspended in this titanium band. The diamond is natural, untreated with a color of G-I and a clarity of I1. The band itself has a brushed finish that gives the ring a distinct look especially with the channeled groove. The interior of the band is polished and can be engraved quite easily, although, the seller doesn't offer its own engraving service. The band measures 6 mm and comes in sizes 4.5 through 13.
---
Titanium Tension Set Heart Gemstone Infinity Band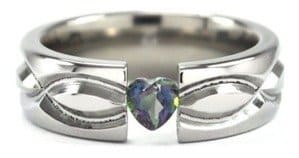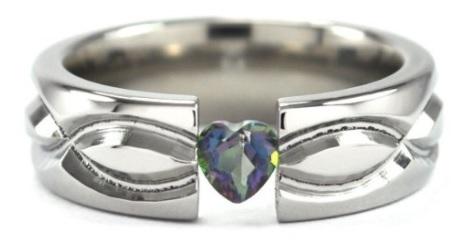 While we didn't want to choose another tension set gemstone ring for this list, we felt like this one was special enough to be included. The gem in the middle of the ring is a heart, which is cute enough, but you are also able to choose the gem you love. The seller offers blue topaz, citrine, peridot, alexandrite, mystic topaz, white topaz, amethyst, aquamarine, and garnet. The choices are perfect for a birthstone wedding band. It'll be incredibly personalized and special to her. The band measures 6 mm with an infinity symbol channeled into the band. The titanium is polished to a high sheen. It's available in sizes 4.5 through 11 with half sizes.
---
Women's Titanium Deer Trail Engraved with Sandblasted Finish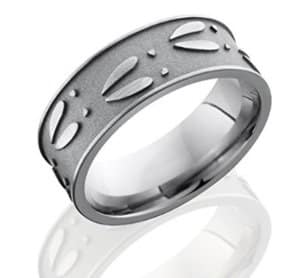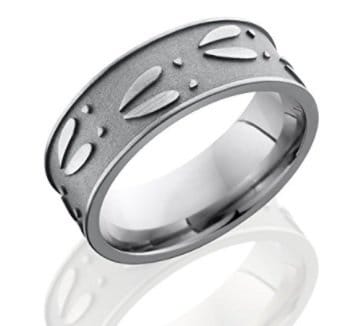 This wedding band is unlike any we've ever seen before, so of course, we had to add it to our list. If the love of your life adores hunting or just deer, she'll love this ring with the deer trail across the band. The raised, satin prints are highlighted by the sandblasted finish behind it. This has the added bonus of keeping the sandblasted section from snagging on clothing or hair. This ring is incredibly durable, so she can wear it anywhere without worry. The band itself measures 8 mm and while that's on the wide side for a women's ring, it's a lovely design. Titanium is lightweight, too, so she'll barely even know she's wearing it when she's busy. This ring can't be resized, so make sure you know her size. It's available in sizes 4 through 13 and in half sizes, too.
---
These titanium wedding bands are perfect for the woman who works with her hands, whether it's working in the garden, in construction, or in a machine shop. This is especially good materials to be worn by those who are worried about scuffing and scratching their ring. Other precious metals have to be removed when they're going to come into contact with rough environments, but that's the beauty of titanium. You'll never have to remove your ring because you're worried about ruining it.
Recommended Reads: