Latest posts by Jeanette Kierstead
(see all)
Are you planning to get engaged, but you don't know what type of ring to choose? If you know your partner very well, and you think gemstones or diamonds are off the list, here is a very interesting material you can use on your engagement ring and it's called Tungsten carbide.
When choosing a wedding band, you want to be sure that the precious metal will be durable, last for a very long time, and make you incredibly happy. While pure tungsten is a newer material to the wedding band market, it's one that can last a lifetime. As a symbol of your new marriage, you want a wedding ring metal that will last, so here is why you need to opt for a tungsten wedding band.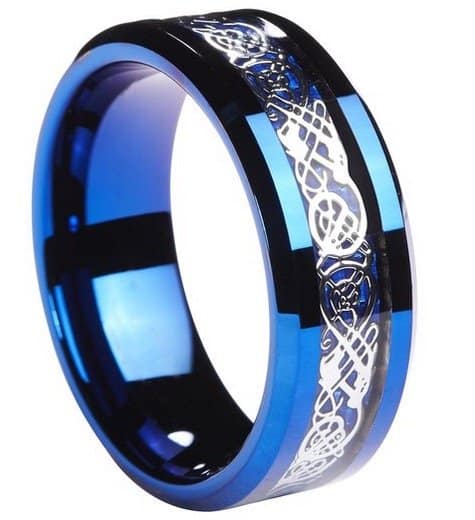 There are plenty of options for stylish rings, but we should talk about the tungsten carbide rings pros and cons in case you are choosing a tungsten band as your wedding ring.
Tungsten Carbide Rings Pros and Cons
Pros
1. They're Less Expensive
Opting for a Tungsten carbide wedding band will be less expensive than other options like platinum or gold. When you're spending thousands on your wedding, there are places where you'll want to save money. Picking a Tungsten ring is a terrific way to increase your budget for other items, and on the plus side, it will not look the same as everyone's wedding bands which is usually a diamond ring, but instead, yours will look like it's a ceramic ring and solely made for you.
2. Never Turns Colors
Unlike some other inexpensive metals, the carbide ring will never change colors on your finger. It'll stay true to the original color for years, which means you won't have to worry about getting it cleaned constantly. On a side note, tungsten carbide jewelry has become more and more popular along with details like cubic zirconia mixed together, since the materials last long and don't cause allergies.
Find the best styles for men's wedding bands here!
3. No Bending
Other metals – like gold for example – can bend over time. Yellow gold rings are soft metals that can become flat or warped over time and constant wear. Tungsten is a durable, hard metal that won't bend or contort from its original shape.
4. Harder than Other Metals
The metal is harder than others, like on a titanium ring. Your wedding ring will look the same the day you buy it, as it will on your 50th wedding anniversary. In fact, it'll only need to be polished once. Other times, you can use water to rinse and wipe away any dirt. There won't be any scratches to buff, either, which is why a tungsten wedding band is a perfect option which can handle heavy work.
5. Multiple Colors
This hard metal is available in a variety of colors that won't fade or scratch over time. There's white, classic gray and black for color choices. This makes them a terrific option for matching bands for both men and women.
Check out the women's styles here!
6. Hypoallergenic
Although it's bound with nickel, tungsten carbide doesn't have the same allergic properties as some other metals. For those who have an allergy to metals like gold or silver, it's often the alloys mixed with the gold or silver that causes the problem.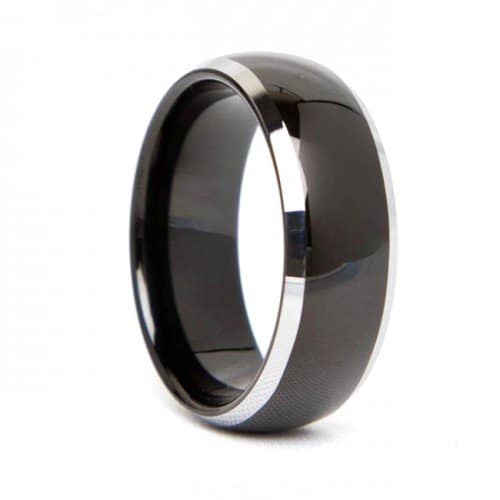 Cons

1. Can't be Resized
The strength of tungsten carbide means that rings can't be resized if you lose or gain weight. There was a rumor that they can't be cut off in an emergency, but that's not true. They can be broken with enough force, but it'll destroy the ring.
2. Watch for Cheaper Versions
While tungsten is an inexpensive metal, some jewelers sell them even cheaper because they use cobalt chrome as an alloy. This kind of alloy can cause finger discoloration.
3. Metal Value
Tungsten is a metal that is durable and can last a lifetime, which is vital in a wedding band. Aside from its value to the wearer, the metal doesn't have as much value as gold or silver.
4. Don't Drop the Ring
The strength of tungsten carbide means that you'll get a heavy, substantial ring. It also means that the ring can shatter if dropped or smashed. They're scratch-resistant, but they are not fractured proof. This is a vital thing to consider for your rings.
5. Colors of Tungsten
While there are three different colors available for tungsten, the colors are not natural. Gray is the natural color of tungsten. White and black are actually an industrial coating that isn't as scratch-resistant as natural gray tungsten. This should be kept in mind when purchasing a wedding band. They are still more scratch-resistant than other metal options, but not as resistant as the natural material.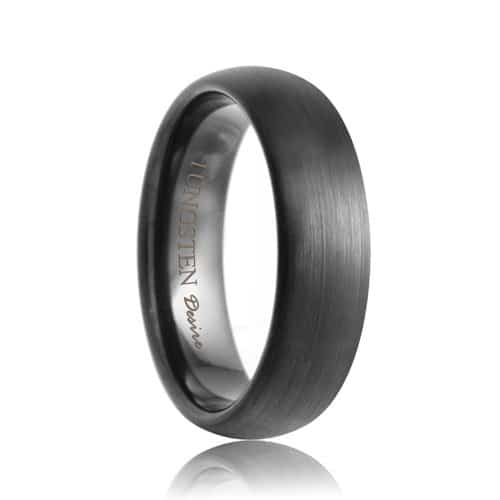 Once you've read over the tungsten carbide wedding bands pros and cons list, you can make a more informed decision about whether you want to choose this metal for your wedding bands. They'll last a lifetime while remaining shiny, or matte depending on the finish you choose.
Make sure you choose a ring size slightly larger than your finger to ensure that you'll find a comfort fit. While it can't be sized, a larger size will give you some wiggle room if you gain a bit of weight. It'll be easier to wear a ring guard than it would be to purchase another ring because it can't be resized.
Tungsten is a great investment for anyone who has a job where they work with their hands and worries about scratching and denting their wedding band at the job site. If you work in a profession that would require you to remove your band to protect it, tungsten is a great metal for your band.
Tungsten wedding bands are an affordable choice for people who don't have a lot of money for expensive wedding bands.
FAQs
Question: Is tungsten carbide stronger than stainless steel?
Answer: Yes, tungsten carbide is stronger than almost all metals when it comes to intentional resistance, including stainless steel, zinc, alloy, but with impact strength, this material might shatter.
Question: Is tungsten carbide stronger than a diamond?
Answer: No, tungsten scores 9 on the Mohs scale, but diamond scores 10, making it the more scratch-resistant and durable material.
Question: Is tungsten jewelry in trend right now?
Answer: Yes, tungsten jewelry has become more and more in demand due to the metallic look and high scratch resistance, making it perfect as a men's wedding ring or woman's because it allows heavy labor with hands without causing scratches or breaking.