Latest posts by Jeanette Kierstead
(see all)
Wedding bands come in many finishes aside from polished. Before you set your sights on a certain kind of finish, you should take a glimpse at all of them. You might find a unique band that you never would have considered previous to your wedding band research.
The texture of the sandblasted wedding band has a gritty or grainy texture. It's as if the surface of the band were blasted with bits of sand and stuck to it. While it can become snagged on some materials, a bit of clear coating will fix that problem. You'll have a smooth surface with the look of sandblasted metal that will sparkle like no other finish. It's a cool, unique texture that won't easily scratch or show flaws in the metal, which can happen over the lifetime of the ring.
On this list, we've included a variety of ring types from women's to men's bands and other textures and materials with the sandblasted to give you a taste of what's possible with this cool texture.
EMBER Domed Tungsten Sandblasted Ring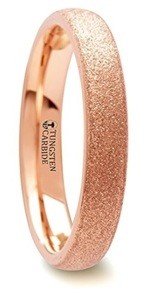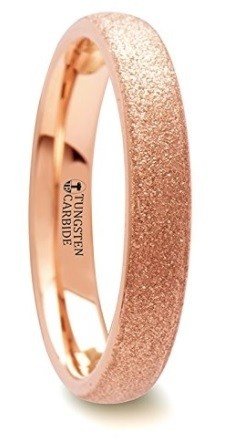 We chose to highlight the women's slim 4 mm band, but this actually comes in two widths. New husband and wife can have the same type of band in different widths since it also comes in 8 mm. It's a perfect size for most men. The tungsten carbide band is rose gold plating over tungsten carbide. Tungsten is an extremely durable material, which makes it great for people who work with their hands and want to wear their ring on a daily basis. The ring can be engraved with a laser, and this manufacturer offers the service. There are also lifetime size exchanges. The ring comes in sizes 3.5 through 12. The ring can't be resized because of the texture, so the lifetime sizing returns are invaluable.
---
Designer 10K Yellow Gold Comfort Fit Sandblasted Wedding Ring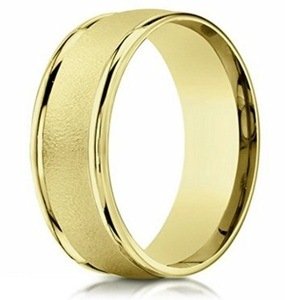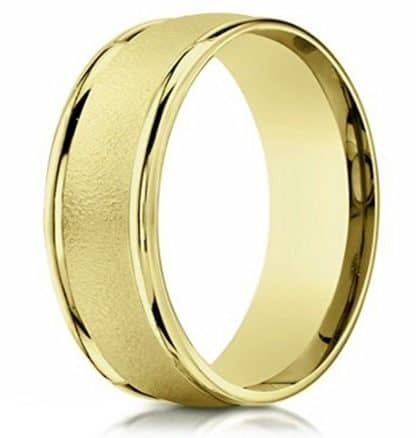 This ring measures 6 mm in width, which makes it a slim men's wedding band. While he might want sandblasted, she might not want the same. Along the edges of the sandblasted finish is a polished gold that will match any gold ring she chooses. We love that it's versatile and can work with either finish to match her band. The seller offers free engraving for the lovely band. The space on the ring only offers 30 characters with no symbols. The comfort fit interior means that he can wear the ring all day without being annoyed by the fit. It comes in sizes 8 through 15.
---
Dinosaur Bone, Gibeon Meteorite and Sandblasted Titanium Ring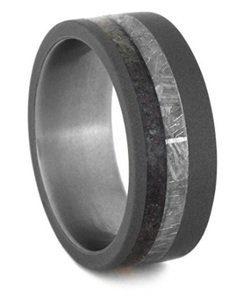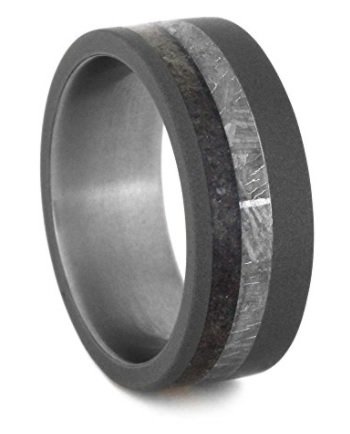 The entire ring is made of titanium with a sandblasted finish. The ring is 8 mm wide total with inlaid stripes of materials. From the left to the right, there is 1 mm of sandblasted titanium followed by 2 mm of dinosaur bone, 2 mm of meteorite, and finally 3 mm of sandblasted titanium. Along with this interesting ring, you get a certificate of authenticity that the dinosaur bones are real. The seller offers complimentary cleaning and re-etching over the life of the ring. This is a handcrafted marvel that will make his entire face light up with delight when he sees it. The material of the ring and the design means that you'll be unable to get it resized. The ring comes in half sizes ranging from 4 to 16.
---
Quartz Domed Tungsten Carbide Ring with Sandblasted Crystalline Finish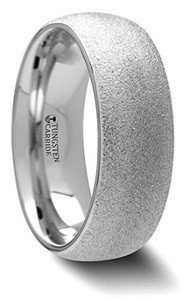 This beauty looks as if it's crusted with diamond chips because it sparkles and shimmers in the light. It's a tungsten carbide ring measuring 4 or 8 mm in width. The ring is domed to give it more surface sparkle. You can have the interior engraved with a message of your choice for free. There are lifetime exchanges, but extra engravings on those rings will be an added cost. This durable ring comes in sizes 4 through 13.5. We love that there are two widths for this ring, so the couple can get matching wedding bands.
---
Men's Titanium Claddagh Sandblasted Wedding Band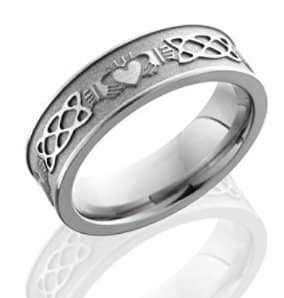 With other rings, you'll have to add a clear protective coating to the ring to ensure it doesn't snag on soft materials. This ring has a sandblasted finished set behind the raised claddagh design. You don't have to worry about snagging this ring on anything. It's a 6 mm ring with a mixture of sandblasted and satin finish. It's a few shades darker than a white gold or platinum for a look that's more gun-metal gray. It comes in sizes 4 through 13.
---
For an alternative to a predictable polished finish, these sandblasted finishes should be at the top of your list. We're huge fans of non-traditional materials and designs that we can't recommend these enough. The texture is pleasing to the touch and the eye. It's a great finish for those who work with their hands and want to wear their wedding ring without ruining the finish.
Recommended Reads: