Selecting the best engagement ring is stressful enough. Even more stressful? The pressure to get a fantastic ring that pushes your budget. But guess what? You can find a great ring that you'll love on a budget, here is best engagement rings under $5000 that you'll adore.
While the average cost of an engagement ring hovers around $5,000, there's a persistently held belief that you should spend two to three months of your salary.
That idea, according to Kevin O'Leary, a famous businessman known for Shark Tank, is reckless. As Angela Guzman and Christina Perry of The Knot explain, the advice was initiated by diamond marketers, hoping to sell more expensive rings. So instead of following the pressure to buy an expensive engagement ring, focus instead in purchasing one that is meaningful, unique, and fits in your budget.
Think that's impossible? Here are the best engagement rings under $5,000 and some great ideas to find more amazing rings on a budget.
What Determines the Price of an Engagement Ring?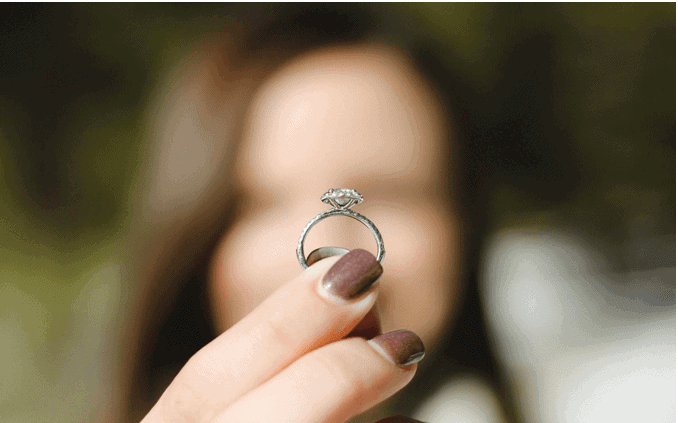 Sometimes it's hard to tell if you get what you pay for, and when it comes to engagement rings, there are a lot of factors that go into the price tag.
The most significant factors are the same factors most people look for when it comes to selecting a diamond: the 4 C's. If you are buying a diamond engagement ring, clarity, cut, color and carat are the biggest bulk of what you're paying for.
Other factors include metal type, where the diamonds are sourced from, how they're produced, and additional things like customization, and even name or designer brand recognition.
And if you're opting for a less traditional ring, like a gemstone or fresh pearl, many of these still apply. In general, the higher the carat, the rarer the color, and the more precious metal, the more expensive it'll be. You'll pay the price also for hidden things, like customer service.
Won't Cutting Costs Come off as Tacky?
To be sure, there are some gorgeous engagement rings above $5,000, but that doesn't mean more budget-friendly options can't be, too.
Rather than either going all out or feeling like you have to sacrifice everything, it's a good idea to focus on a few ways you can slash the price. Consider what you value most in an engagement ring, whether it's a particular type of diamond or stone or a precise cut. Then, instead of focusing on the price tag, select from more budget-friendly options.
And chances are, no one will be able to tell the price tag of your engagement ring. The most important thing? Selecting a ring that suits you and your significant other.
So What Are the Best Ways to Find Amazing Rings on a Budget?
The best ways to find amazing rings on a budget can be summed up in two words: innovation and compromise. By thinking a little outside of the (marketing) box, you can find a ring that's beautiful and still doesn't plunge you into debt.
Here are some great ideas to do just that:
Choose any metal except platinum
Platinum is possibly the most popular choice for engagement rings, and not without reason.
Consumers value its rarity, hardiness, and fade resistance. But if you're looking for an engagement ring under $5,000, selecting another metal is also a great way to spend less. Titanium, cobalt, and stainless steel, and even 14K white or yellow gold are still great options. They are among the most durable metals but far less rare and as a result, less expensive.
Silver is a lovely option as well: the biggest downside is that is can be susceptible to tarnishing, but there are specific ways to care for your jewelry to prevent this.
Consider a Different Setting
Bezel settings are popular in that they "achieve a minimal feel" and focus the presentation on the diamond or gemstone. Prong settings, though are a far more economical choice. While a bezel setting has prongs surrounding the stone or diamond, a prong setting means the prongs are underneath the diamond or stone, which raises it above the base.
Both have their pros and cons, but you're guaranteed to be paying a higher price for a bezel setting, so if you prefer the prong look anyway, this is a great way to cut costs.
Embrace Minimalist Designs
The more ornate the ring, the more expensive. Whether you're adding an extra band of gemstones or diamonds or requesting anything customized, the more changes and add-ons, the higher the price tag.
And there's a point to be made for minimalism: more minimalist rings are an emerging trend among millennials, some of whom do not want to classic big as a possible diamond ring.
Simple designs also look more modern and updated, and sometimes less is more. By opting for less elaborate designs, the gem or the diamond has more room to shine.
Select a Lab-Grown Diamond
You'll have to shop around and ask, but lab-grown diamonds are less costly to produce because they don't require the difficulty and labor of mining. A plus? You'll also avoid the ethical conflicts of some diamonds, especially any that haven't been verified as conflict-free.
If you're still uncertain about lab-grown diamonds, consider that:
on average, 30 to 40 percent are less than mined diamonds
are impossible to tell apart from natural diamonds
Ask for an Unconventional Carat Count

It sounds strange, but you can cut a bit from engagement rings not only by opting for a smaller carat but an unexpected one. Say you have your heart set on a 2 Carat diamond; ask instead for something like a 1.7 carat, which will look nearly identical but save you in the long run.
Pick a Budget-Friendly Cut
Even if you select a smaller carat diamond, the cut matters too. While one of the most popular, round cuts are also the most expensive. Especially round brilliant, which includes around 58 facets for premium sparkle and shine.
In fact, upwards of 75% of diamonds sold are brilliant round cut. But that doesn't mean it's the best option for you.
Again, while beautiful in its way, opting for a cut because it's popular isn't a wise choice. Equally impressive are other more affordable cuts, like Princess, Marquise, Cushion, Radiant, and Pear-Shaped.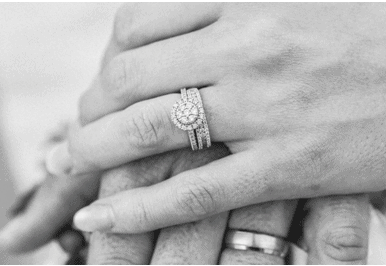 Opt for a Halo Setting
If you don't go with a prong setting to slash cuts, a halo setting is another great option.
While it's likely less expensive than a bezel setting, it also has the bonus of adding more shine to your diamond by the way it's elevated and catches the light. By letting more light radiate, you can get more sparkle without increasing the carat or going for a brilliant cut.
Think Outside the (Diamond Box)
Diamonds still dominate the engagement ring market, but alternatives are increasingly becoming more popular. Gemstones, freshwater pearls, and even engagement ring without a stone at all.
Birthstones, emeralds, sapphires, rubies, pearls, topaz, and morganite and many others offer stunning options. And if you want something simple but elegant? Eternity knots and Claddagh rings are both beautiful and meaningful.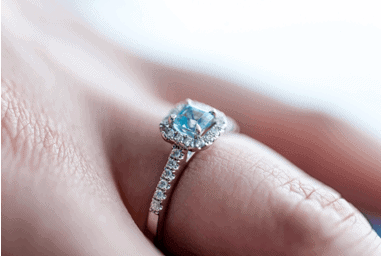 Shop, Compare and Ask
The best way to make sure you get the best price possible, no matter your selections? Instead of buying the first engagement ring that catches your eye, shop, and compare, and ask if the jewelry offers price matching.
And it's also a good idea to have a firm grip on your budget. But quoting something below your budget is a good idea. With any customizations, taxes, and financing, you'll be paying above the base price.
What Are Some Engagement Rings under $5,000 to Give me some Ideas?
If you're still skeptical you can find a beautiful engagement ring on a budget, look no further than these examples.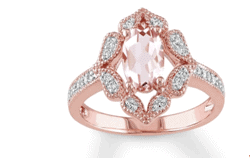 Jared Jewelers, Morganite Ring White Topaz 14K Rose Gold $999: This ring features an oval, morganite center with small white topaz and a rose gold band.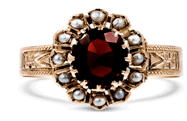 Brilliant Earth, The Pennybrook Ring $1,575: From the vintage collection, it's a Victorian-Era style ring with an oval cut sapphire and seed pearls on a halo setting.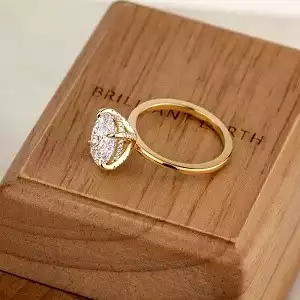 Planning a Proposal?
Make that proposal happen! Get started designing and create an engagement ring as unique as the wearer. To help pull off the perfect engagement, head over to Brilliant Earth's proposal guide.
Check Prices
We earn a commission if you click this link and make a purchase at no additional cost to you.
Kay Jewelers, Diamond, and Sapphire Bridal Ring 1/3 Ct tw 10K White Gold, $2,177.44 If you're looking for a more traditional diamond ring with a pop of color, this engagement ring is a must-see, with sapphires running the entire band, and a round cut diamond.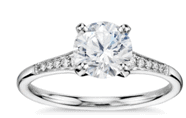 The Blue Nile, 1 Carat Graduated Milgrain Diamond Engagement Ring, $4,750 This is classic in every sense, with a 1-carat diamond with pave set diamonds on a white-gold band.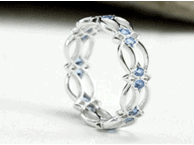 Etsy, Blue Topaz Celtic Knot Ring, $297.50 It's not the ring for everyone, and some might be hesitant to buy something under $1,000, or with non-traditional jewelry. But this unique, stunning ring proves you don't have to spend a lot on something both meaningful and elegant.
No matter what engagement ring you decide on, finding the best one also means it's within budget. With a little flexibility and savvy shopping, there's no reason to go into debt.