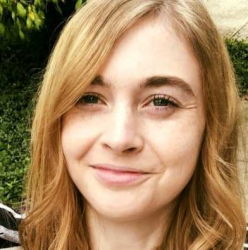 Latest posts by Erin Jamieson
(see all)
From royal weddings to celebrity romances, wedding dress styles, and engagement rings, are often influenced by popular culture– and now floral style engagement rings are getting more attention, perhaps for the same reason.
Diamond and gemstone engagement rings have been prized often for their brilliance, but in 2022, couples are opting for unique designs– and that include more vintage looks. One source of inspiration may be surprising: the Netflix series Bridgerton that's capturing hearts across the United States.
The show, set in the Regency era, and based Julia Quinn's novels, follows a family of aristocrats living in an alternate history London. Aside from the characters and dramatic plots, it's also captured attention for opulent costumes–and now, an exquisite floral ring.
The ring is worn by Daphne Bridgerton, with four pearls arranged in a floral style, accented with smaller gemstones and a diamond center. While subtle in many ways, the floral style seems perfectly suited for the precious gemstones–and may catch viewer's attention when thinking of their own wedding or engagement ring.
But you don't need to be a Bridgerton fan to hop on the floral style engagement ring trend. In this article, I'll tell you everything you need to know about floral style engagement rings, how to select the best one, and finish by giving you some of my favorite ideas to wear this trend, no matter your budget.
What are floral engagement rings?
Floral engagement rings don't fall all into a single category. Unlike something more specific like fancy colored diamond rings, floral engagement rings refer to the general style and design of the ring, combined with gemstones and or diamonds.
As part of a larger trend towards nature-inspired engagement rings, floral engagement rings make for a unique look, full of symbolism and beauty. Something I love about floral-styled engagement rings is the broad range: from modern to more classic and certainly vintage, floral engagement rings exude sophistication, beauty, and romance.
They are also an elegant, timeless, and unique take on the typical engagement rings.
What do floral engagement rings look like?
The design of every floral engagement ring is unique. Floral engagement rings do not have a single stone, as is the case with solitaire engagement rings. Instead, a central stone is typically surrounded by other stones in a floral arrangement.
Variations include rings that have a three-stone or solitaire setting but have floral engravings along the side of the ring. Typically, a small center gemstone or diamond is surrounded by larger gemstones, often in pear shapes or related shapes to form "petals" of a flower. While the center stone often has a quite modest carat size, the design gives off the illusion of making it appear larger.
What is a flower diamond setting?
A flower diamond setting is more or less the same thing as a floral-style engagement ring, just more specifically designated. A flower diamond setting features a diamond in the center, surrounded by other diamonds to form petals. These all diamond floral engagement rings are just one of many options.
What does a flower ring symbolize?
A floral-style ring is filled with symbolism. For one, florals refer to beauty, romance, and a connection to one's world. Florals are arranged typically in circular fashions, meaning they also encompass a similar meaning of circles: something that is eternal or everlasting. This can also extend to longevity, or, more pointedly, a lasting romance.
Overlapping petals or overlapping arrangements, meanwhile, can symbolize life, connection, and closeness. Of course, different flowers themselves have unique meanings– from the red rose as the iconic symbol of romantic love, to a lily signifying virtue. Plumerias signifies new life and renewal– which could be extended to mean a new life together.
What are the advantages and disadvantages of a floral style engagement ring?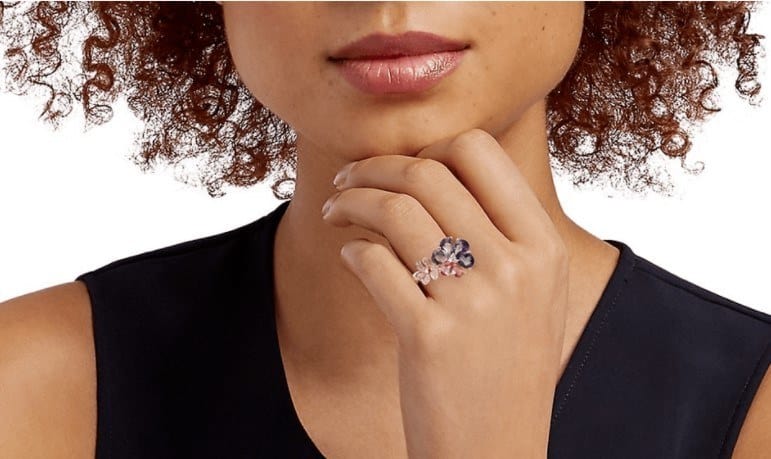 Image From: Saks Off Fifth
Floral style engagement rings can be a beautiful option but they aren't for everyone. No matter what style you go for, there are some general pros and cons to this style that you should fully consider before purchasing. Here are my top reasons why you should– or shouldn't– buy a floral style engagement ring.
Pros
A floral engagement ring is a great option for anyone looking for an unique style that still will go well with any wedding dress or everyday wear. Floral engagement rings draw attention not only to the gemstone, but the overall craftsmanship of the ring.
I love floral engagement rings for a truly elegant and romantic look, and, compared with some trends, floral engagement rings have that vintage meets classic appeal that means they will still be in style for years to come. I also love that floral engagement rings offer options for all diamonds, a mix of diamonds and gemstones, and even no gemstones at all.
Finally, since floral style engagement rings are a bit less common, they tend to feel more unique, and maybe more personalized than other ring styles. Compared with some diamond rings especially, like the popular brilliant round cut, they tend to be less expensive.
Cons
Floral style engagement rings are harder to find, so you may have less selection. You might also have to seek out, or at least consider, some sellers over the most well known names. If you're opting for a mix of gemstones and diamonds, keep in mind that carat size will be small, and there may be less focus on the level of brilliance.
Floral engagement rings, if well designed, can be quite strong, but the petals may be slightly more prone to damage as compared with more compact designs. Since you're more limited in your selection, you may also have less choice when it comes to ratings for hardness or toughness.
Finally, there's the obvious: a floral style engagement ring may simply not suit everyone's taste. As a distinct style, it's important to be sure that it's one that will really fit you and your partner in the long run. I should also add that floral engagement rings are unlikely to come as a bridal set, and may be harder to stack with wedding rings.
How do you find the best floral style engagement ring?
The best floral style engagement ring is not a single style, or from one source. Rather, you need to consider many factors to ensure that your purchase is worth it. Here are some of my top criteria.
Style
First, you need to decide on the general style you're looking for. Floral engagement rings include classic, vintage and modern options.
Vintage looks tend to include deeper cuts in gemstones and diamonds, may not prioritize diamond clarity as modern styles do, and more commonly include colored gemstones. A modern look tends to favor all diamonds for the design, and may feature a solid band. Meanwhile, a classic floral engagement ring style tends to blend the vintage and modern styles.
Metal Type
Nearly any metal type can suit a floral styled engagement ring. For durability, I recommend yellow, white and rose gold, as well as platinum and titanium. Unless you are sold on a very vintage look, while lovely on its surface, sterling silver tends to not fare as well with time.
Diamonds and Gemstones
While your selection will be more limited, make sure there is information regarding diamond or gemstone size, color, cut and (for diamonds) clarity.
For natural stones, it's also a good idea to see how the gemstones were sourced. If lab-grown, make sure the diamonds and gemstones have the same physical and chemical properties as natural stones. A few companies are misleading and sell gem and diamond simulants vs lab-grown gemstones. Simulants are more affordable, but also far less valuable and far less durable.
Best Floral Style Engagement Ring: My Ideas
For my ideas to get you inspired to find the best floral style engagement ring, I've divided them into most or all diamond rings and gemstone-centered rings. Both can make for beautiful options. I've also included engagement rings at different price points and metal types. Without further ado, here are my favorite rings for the floral style.
Diamond-Focused Floral Engagement Rings
Brilliant Earth 14K Rose Gold Lily Diamond Engagement Ring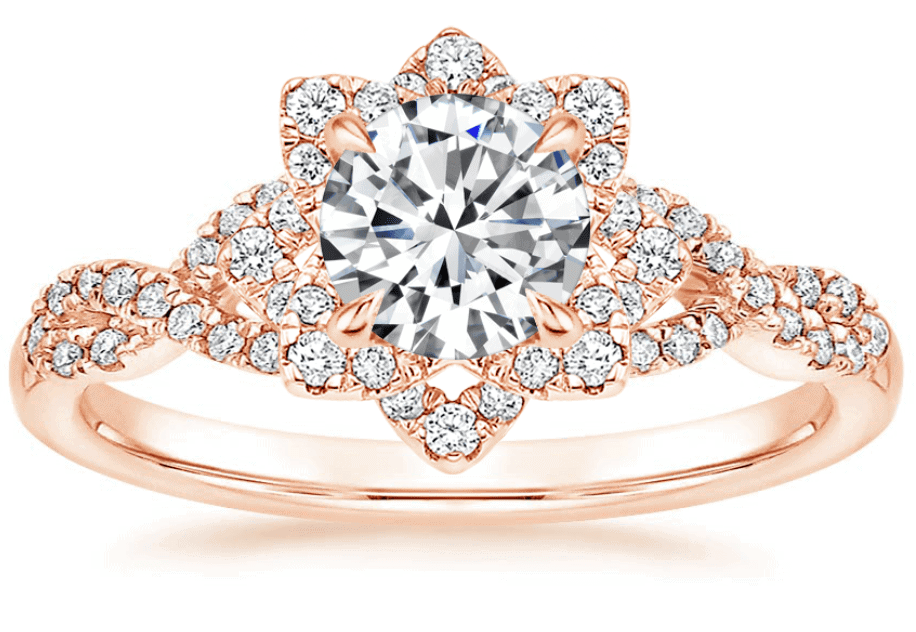 This exquisite rose gold ring exhibits a 3D lily design with gorgeous diamond accents along with the band, with the petals adorned by pavé diamond.
The center features a 1/5 carat diamond. I love that the central diamond can be set with a round, princess, cushion, radiant, and asscher. The metal is eco-friendly and made of recycled materials, while the rose gold hue is a gorgeous and unique touch. This classic look is utterly timeless. Buy Here.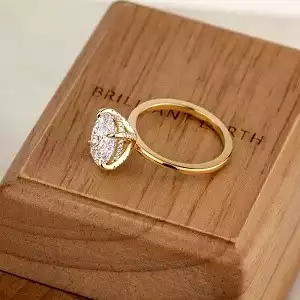 Planning a Proposal?
Make that proposal happen! Get started designing and create an engagement ring as unique as the wearer. To help pull off the perfect engagement, head over to Brilliant Earth's proposal guide.
Check Prices
We earn a commission if you click this link and make a purchase at no additional cost to you.
Angara Classic Double Floral Halo Diamond Ring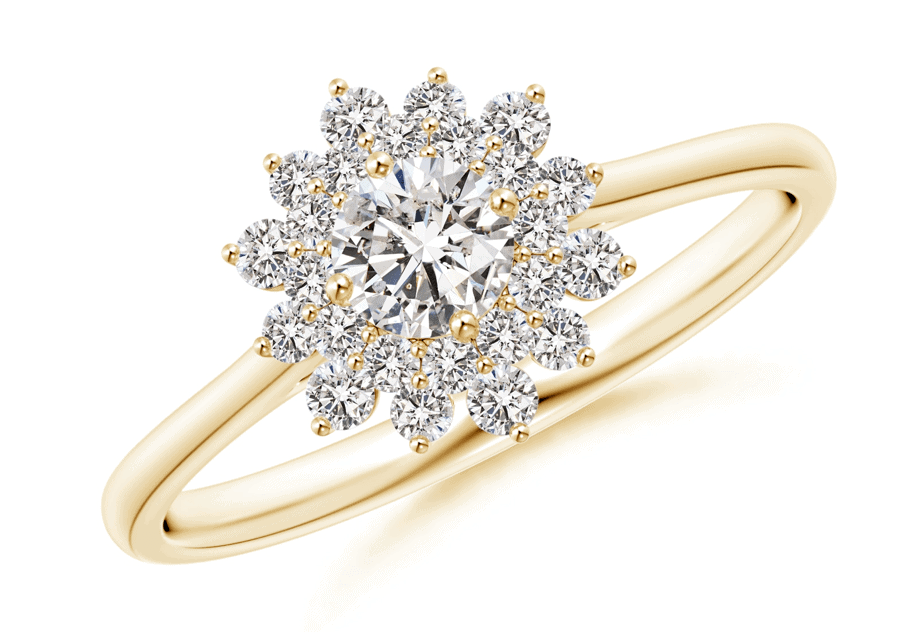 Looking for a floral style engagement ring for under $1,000? This Angara diamond ring is a beautiful option, featuring a modern to classic look with a solid 14K yellow, white, or rose gold band (or platinum). You'll also be able to have your choice of diamond clarity.
The price point that caught my eye is for a ½ carat center, but you can go up to 1 carat. The beautiful prong setting offers a dazzling floral design and free engraving. Buy Here.
Tiffany & Co Floral Ring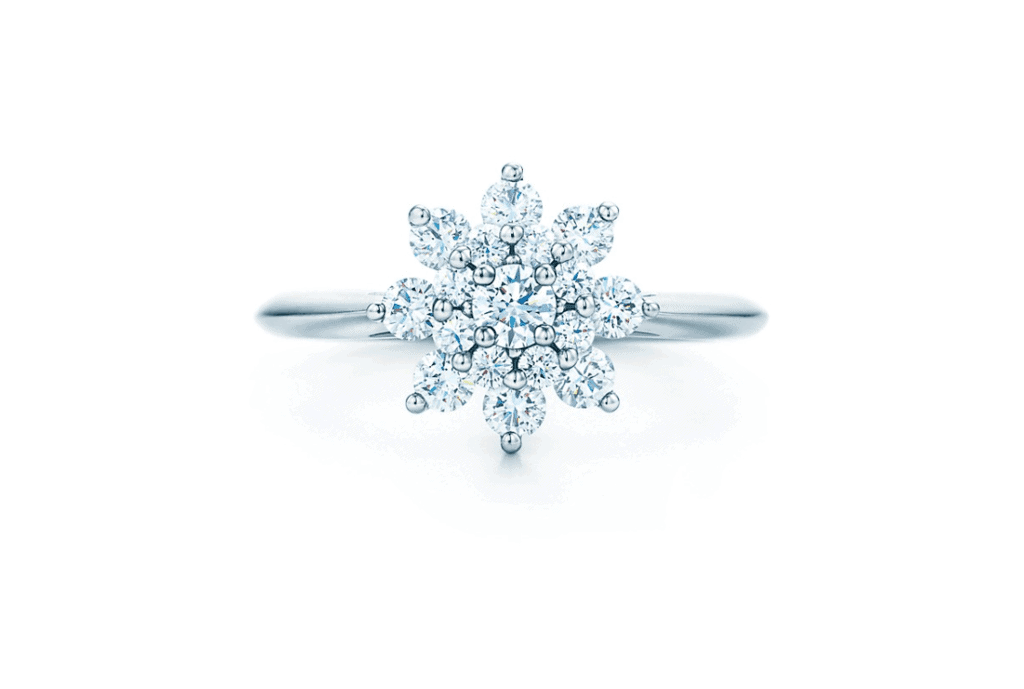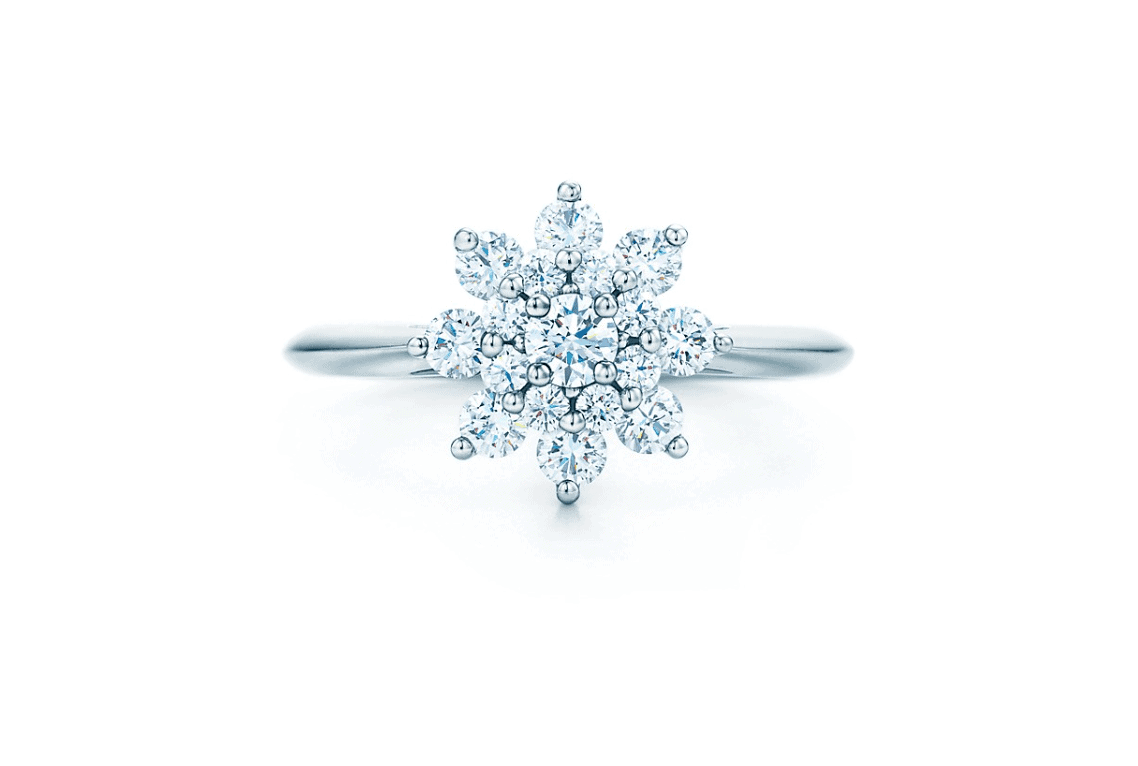 Tiffany and Company offer a sleek, modern take on a floral style engagement ring, with a .6 carat diamond center on a platinum band. Embodying a blooming flower, there are sparkle and shine. While there are fewer sourcing details than I personally like, I also like that the stunning band is made from recycled materials. Buy Here.
Moonlit Flower Diamond Engagement Ring In White Gold By Parade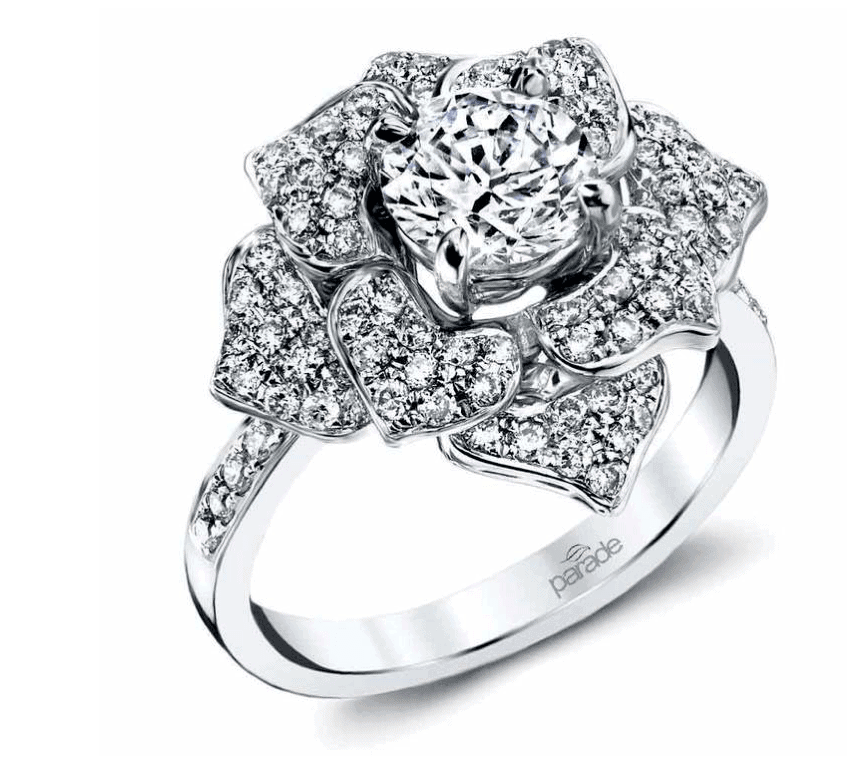 If you want a modern take on a floral-inspired engagement ring with an eye-catching design, this option from the Lyria Bridal Collection is a show stopper, with an astonishing ninety-two small round diamonds for a total weight of ⅗ carats.
It's available on 14K and 18K white gold and overall has a glamorous modern appeal. You can add a center stone .6 carat diamond with a round brilliant cut and excellent clarity. Buy Here.
Brilliant Earth Summer Blossom Diamond Engagement Ring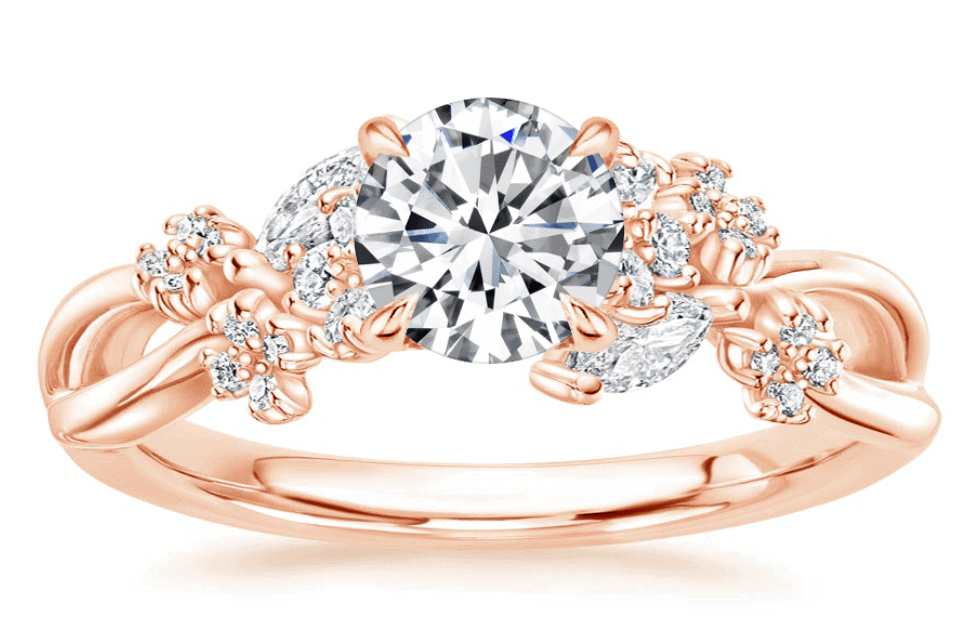 A stunning classic style from Brilliant Earth, this floral style engagement ring features clusters of diamond along with the metal band, with beautiful attention to detail.
Blooms lead into a center diamond and provide ample sparkle, The ring is available in 14K rose, white, and yellow gold, as well as platinum. The diamond center diamond can be the cut and carat size of your choice; this is for a ¼ carat, priced at just over two thousand dollars. Buy Here.
Gemstone-Focused Floral Engagement Rings
If you're looking for a ring for a bit more color, and vintage or classic appeals, a gemstone-centered floral style engagement ring can also be a beautiful option.
Effy 14K Rose Gold, Amethyst, Pink Tourmaline & Diamond Flower Ring
I love this option for a truly one-of-a-kind engagement ring with bursts of color. The ring features amethyst and pink tourmaline, with small diamond accents, all on a rose gold band. I love this idea if you're less concerned about sourcing but want a unique and colorful take on the foray style. It's also even a great ring for pairing for special occasions. Buy Here.
Angara Nature Inspired Blue Sapphire and Diamond Floral Ring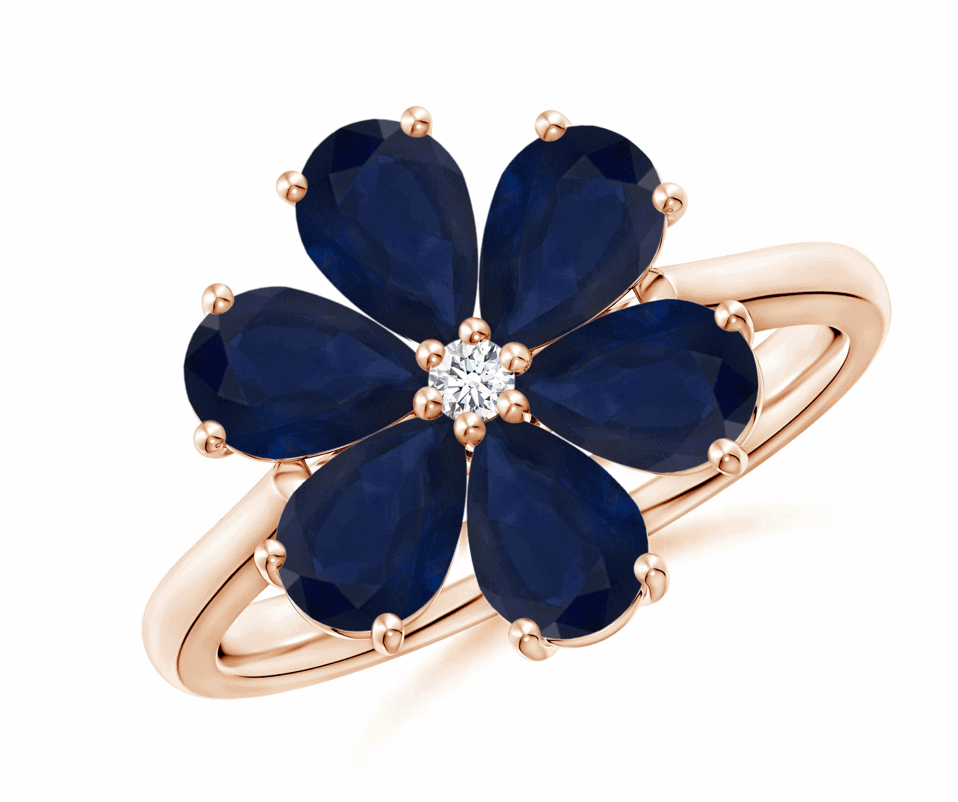 This is a personal favorite of mine, perhaps for my love of sapphires. This stunning design is at once timeless and fashion-forward, and a beautiful take on a diamond ring alternative.
You can choose your gemstone quality and set on 14K rose, yellow or white gold, as well as platinum. 6 pear-shaped sapphires form gorgeous petals and surround a small diamond center. Buy Here.
Angara Ruby Vine and Leaf Eternity Band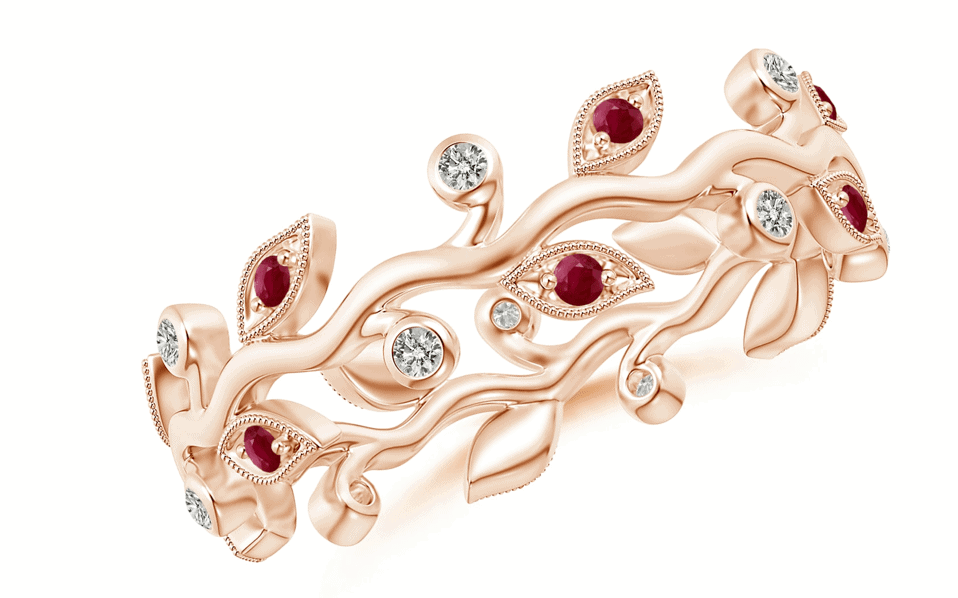 Although an eternity band is not often used as an engagement ring, I like this idea for a more vintage appeal and a break from modern ring styles– it is also priced under $600, depending on your stone settings, or under $1,000 for the highest quality, heirloom gemstones.
This nature-inspired ring is more in the form of a floral vine, making it a great option for anyone not solely sold on the traditional floral look, and features pavé-set rubies and bezel set diamonds on 14K rose, yellow or white gold. Buy Here.
Betteridge Sapphire and Diamond Floral Ring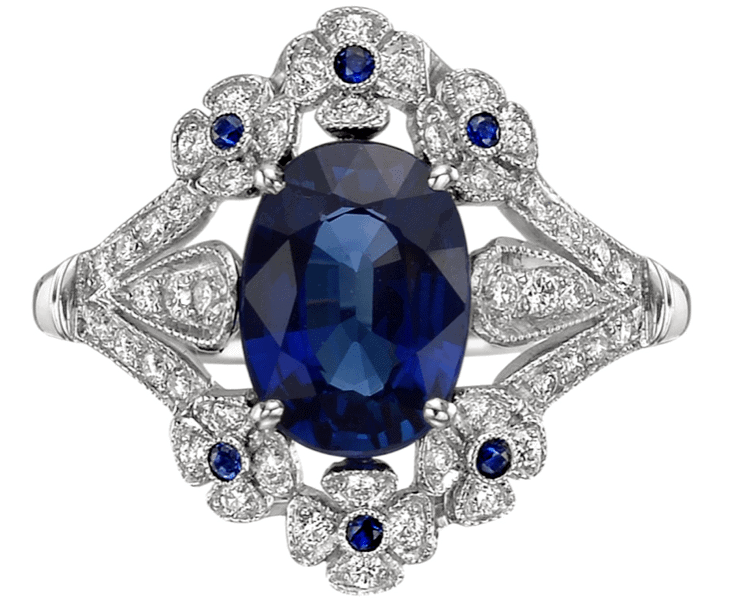 If you have a larger budget, thus sapphire and diamond floral ring, priced at $7,400, is a beautiful design with a oval-shaped sapphire of 2.04 carats, with a floral border, enhanced with round cut diamond and sapphire, on a platinum ring. Buy Here.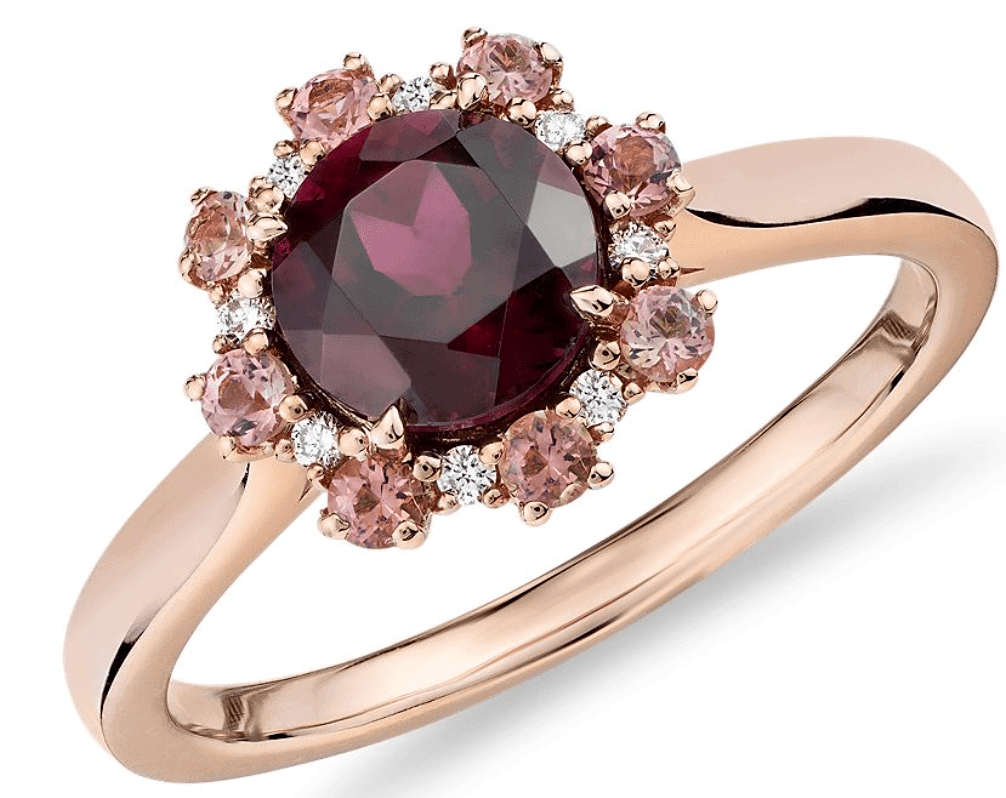 This garnet ring from Blue Nile offers the balance of color with the brilliance of diamonds for an inspiring floral engagement ring. Also available with a peridot gemstone center, the prong setting is a simple but elegant style that doesn't take away from the floral design. Priced at under $1,000, it does not look like a budget ring and comes from a well-respected company. Buy Here.
Ross Simons Pink Sapphire and Ruby Floral Ring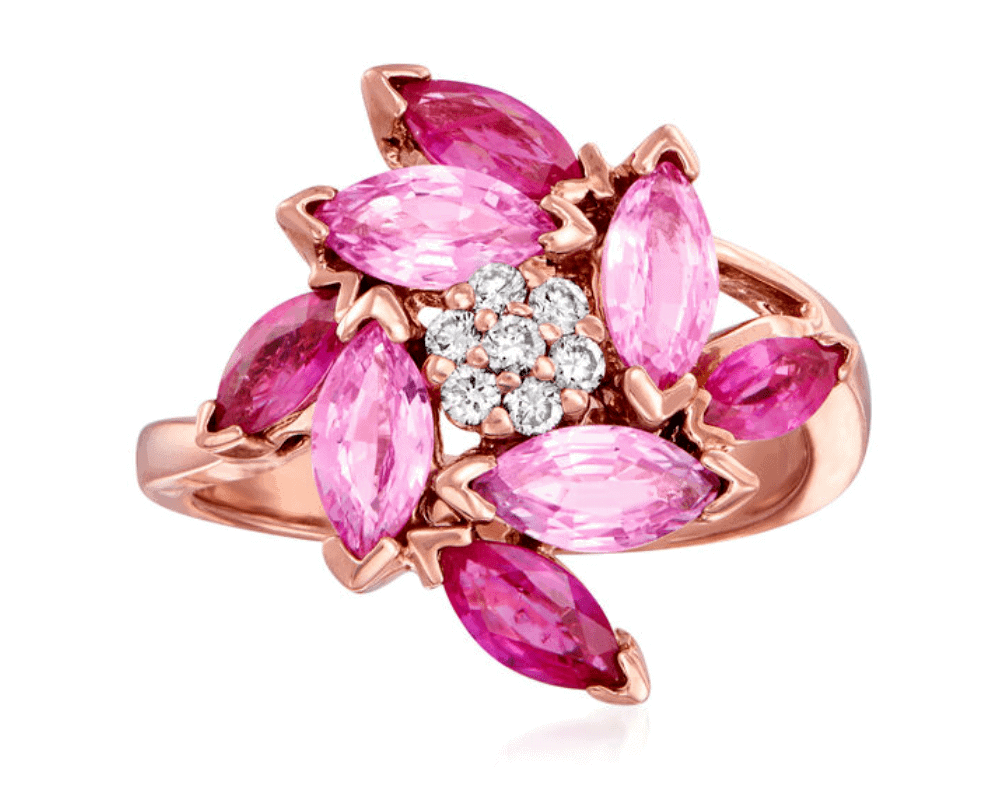 For anyone who loves pink and wants a forward and daring look, this Ross-Simons ring features pink sapphires and rubies with beautiful marquise petals. The pink sapphires together amount to 2 carats, while the rubies amount to 1.6 carats. The gemstones are also accented with round brilliant cut diamonds and set on 14K rose gold. Buy Here.
FAQs
Question: How much should you spend on an engagement ring 2022?
Answer: How much you should spend on an engagement ring has changed in perception. Many couples are letting go of the two to three month's salary rule and opting for spending however much they can afford and want to. One of the reasons that couples are seeking diamond ring alternatives is also to be more frugal.

As of the beginning of 2020, only 7 percent of American couples spent over $10K on a ring, according to the credit card company, American Express.
Question: Do couples pick out engagement rings together?
Answer: While tradition holds that one gets surprised by their partner with an engagement ring, more and more couples are shedding norms and considering other possibilities. It is up to you as a couple to decide what makes sense, in terms of finding the best engagement ring or the best wedding rings.
Final Thoughts
A floral-style engagement ring can make for a beautiful and elegant option. I love this idea as an alternative to the typical engagement ring, no matter if you want a modern or vintage look, or even something in between.