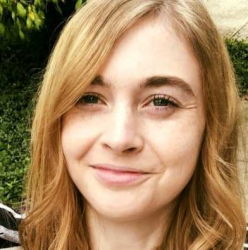 Latest posts by Erin Jamieson
(see all)
925 sterling silver is one most popular metals for everything from bracelets to cross necklaces, Cuban link chains, rings, and more. But too many people make a purchase, only to realize it's poor quality and fake. That's why it's so important to know how to tell if 925 sterling is real.
Fake jewelry isn't always bad. In some cases, costume jewelry is quite useful. In 2021, there was a surge of fake engagement rings, purposely used for anyone worried about losing or having their ring stolen while traveling. By replacing the real diamond with a fake, brides and brides-to-be have less to worry about.
But there's a difference between purposely buying a fake and buying something you thought was real. While fake diamonds are a valid concern, many don't realize the common problem of fake 925 sterling.
I love a good deal as much as anyone. But fake sterling silver not only can look cheap, but it can even irritate your skin. In a Cosmopolitan article listing 10 reasons your jewelry looks cheap, a lot of advice was given. Some you may disagree with, such as shying away from cute symbols or charms.
However, a less subjective bit of advice was the quality of your jewelry. While you don't have to spend a fortune, fake sterling does show. That's true, not even so much for your initial purpose as the longer you wear it. Fake sterling may save you a little money at first, but it's not worth it.
So how to tell if 925 silver is real? To help you, I'll tell you everything you need to know to make sure your purchase is not only real but high-quality. I'll also guide you to some of my favorite places to buy 925 sterling rings, necklaces, and bracelets.
Are there different types of silver?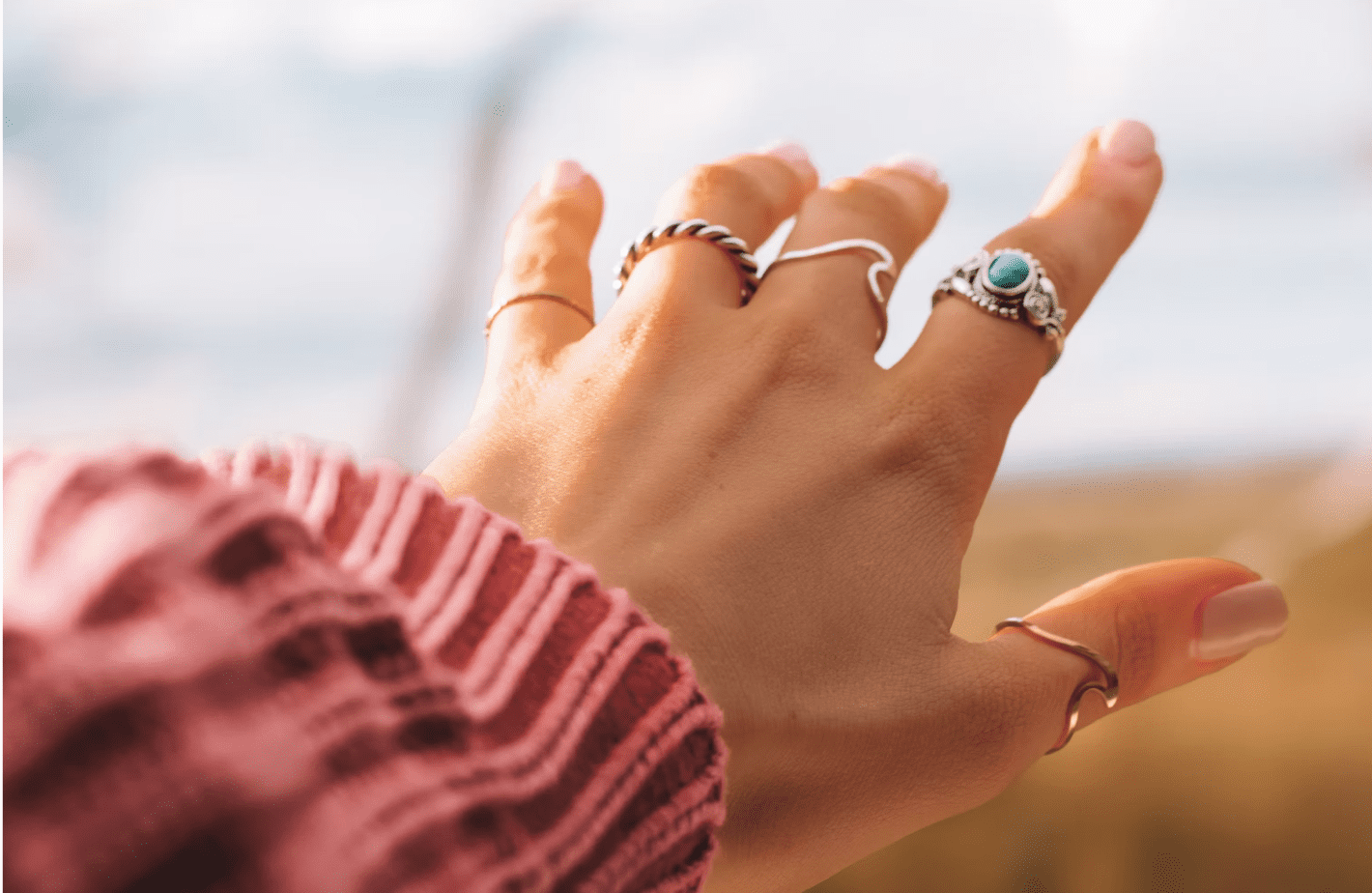 The first thing you need to know is that many different types of silver are being sold. This is important because there are differences in quality and aesthetics. While pure silver is the most valuable, it is not frequently used. Alloys are important for everyday wear and durability.
What types of silver can you buy?
Your main options for buying silver are pure silver and silver alloys. There are also different types of 925 sterling silver. The purest silver you can buy is 999 silver, which is 99.9 percent silver. 100 percent silver is not sold on the market. See the table below for the main types of silver you can buy.
| | |
| --- | --- |
| Name of Silver Type | Quality (Expressed as a Percentage of Purity) |
| Pure Silver | 999 |
| Argentium Silver | 960 |
| British/ Britannia Silver | 958 |
| Sterling Silver | 925 |
The higher the purity, the more valuable, but also the softer the metal will be. 999 silver isn't a great choice if you're looking for something that you can wear daily. It's simply too prone to damage and scratches. Argentium and British silver are trickier to find but sold from some specialty jewelers. For most, genuine 925 sterling silver is the best option.
What does 925 sterling silver mean?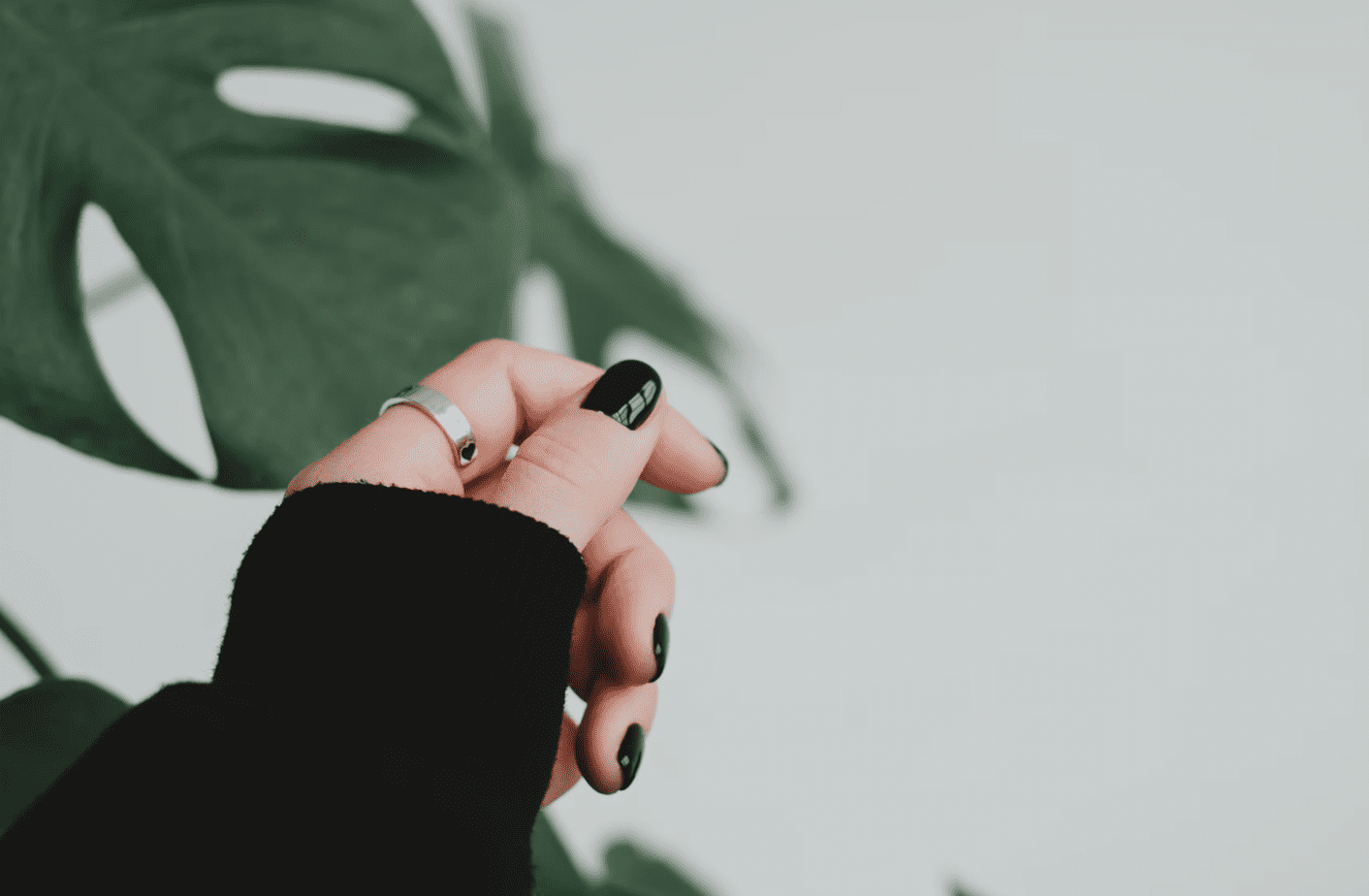 But what exactly does 925 sterling silver mean? 925 refers to the purity of the silver. 925 sterling silver is a silver alloy and the most popular form of silver for necklaces, rings, bracelets, and earrings. That means that 92.5% of the metal is silver, and the remaining 7.5% percent consists of another metal. The most common metal used with sterling silver is copper, though there may be other metals used.
What 925 sterling silver should I buy?
The best sterling silver you can buy should be labeled as 925 sterling silver. Normally, 925 is imprinted somewhere on the piece of jewelry to confirm its purity. You will, however, come across some other terms, such as 925 plated or silver-filled.
What does 925 sterling silver-filled mean?
925 sterling silver-filled indicates that the metal has been infused with 925 silver. Brass or copper is fused with genuine silver. The appearance is similar to 925 sterling, but in reality, the piece is a mere 5 percent silver. This is a cheaper way to buy the sterling silver look. It is not equal in quality or value, and I don't highly recommend 925 sterling silver-filled pieces for most people.
What is 925 sterling silver plated?
If you see the term silver plated, there's good and bad news. If it says 925 silver-plated, it's likely genuine silver– but it's not the same as simply 925 sterling silver. Silver plating, just like gold plating, is made by pounding a very thin layer of precious metal. That metal is placed over another cheaper metal, usually something like copper or brass. The problem with plated jewelry is that it only lasts 1 to 3 years on average. The layer tarnishes and peels away and typically requires re-plating or a new purchase. It's cheaper, and it looks like 925 sterling silver. However, I don't recommend buying sterling silver-plated pieces, especially as 925 sterling silver is not normally that expensive.
What is 925 sterling silver with rhodium plating?
925 sterling silver with rhodium plating, however, is a different thing entirely. While 925 plating isn't durable, 925 with rhodium plating is a positive. 925 sterling silver is fused electronically with rhodium. This doesn't add beauty, but it does add value. Rhodium-plated 925 sterling silver is the best option. It's meant to either improve durability or even salvage an older piece. It can hide scratches and other concerns. Rhodium plating truly extends the life of 925 sterling silver. It is more expensive.
How to Tell if 925 Silver is Real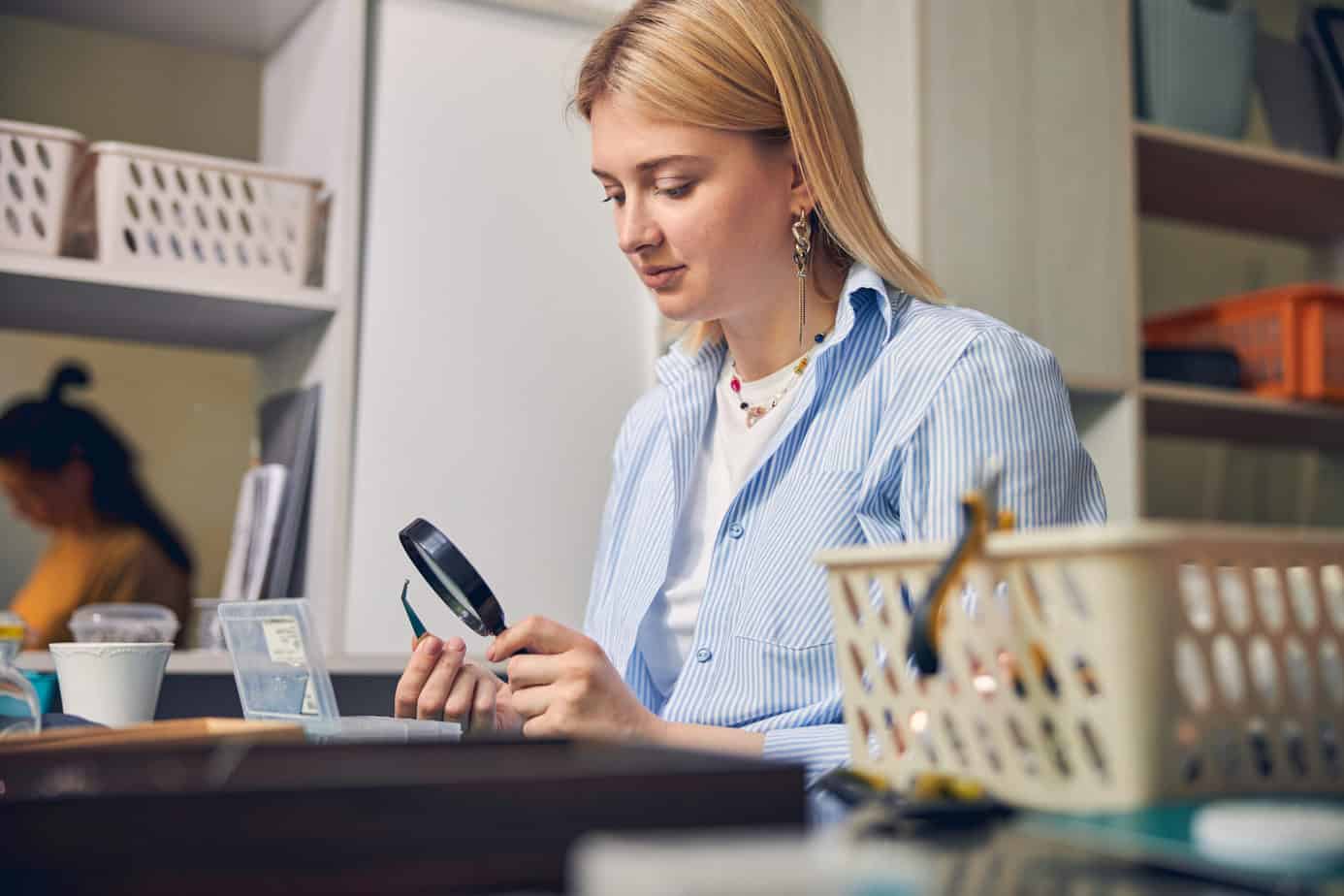 925 sterling silver filled is not fake nor is 925 sterling silver plated fake, so it's important to understand what fake means. While I don't recommend 925 sterling silver plating or 925 sterling silver-filled, it's different than something fake. Fake is a seller trying to pass something off as something it's not. Buying a fake 925 sterling silver is disappointing, but the good news is that there are ways to tell before you buy and after your purchase too.
How do you select real 925 sterling silver?
Selecting genuine 925 sterling silver isn't that difficult, even online. First, carefully read the description. Vague words like silver, silver-tone, silver tinted all indicate it may not be real 925 sterling silver. You should always see the description included as "925 sterling silver." If you can inspect the piece of jewelry, 925 should ideally be imprinted or etched somewhere. Rings normally have 925 on the inside of the band, while it may be on the back of a pendant for charm or pendant necklaces and bracelets.
How do you test 925 sterling silver?
There's one easy test to see if your sterling silver is fake. If it is magnetic, chances are it's not genuine 925 sterling silver. It's possible that silver filled with also fail this test.
What is the quality of 925 sterling silver?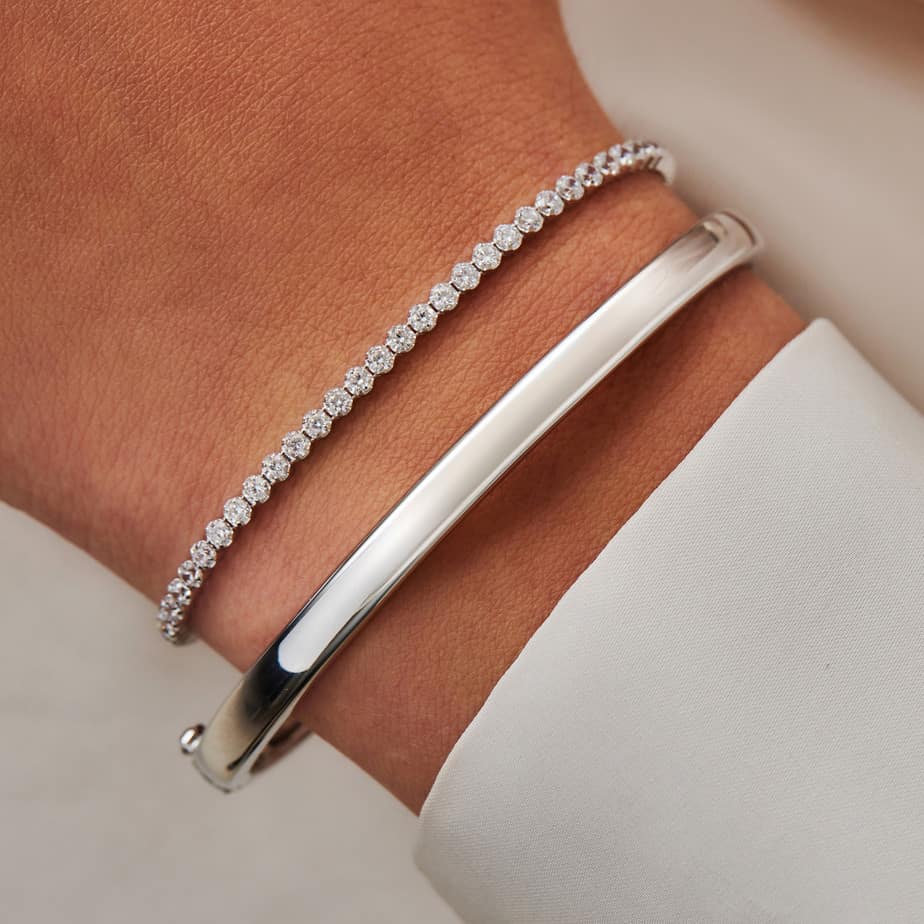 Assuming that you've found genuine 925 sterling silver or 925 sterling silver with rhodium plating, it's important to discuss the pros and cons. Knowing the best and worst characteristics of this precious metal will help you decide whether it's right for you. Even real, high-quality 925 sterling silver has its downsides. It's not a matter of whether it's good or not, but whether 925 sterling silver is the right choice for you.
What is 925 sterling silver worth?
An ounce of 925 sterling silver is worth well under $50. Depending on the quality, you can expect just around $30 for the scrap price. A 925 sterling silver ring can cost as little as $5 up to a few hundred dollars. The worth of a ring, of course, also depends on the gemstone (if there is one) and overall quality. All told, 925 sterling silver isn't typically seen as an investment piece.
Is 925 sterling silver hypoallergenic?
If you have sensitive ears or skin, 925 sterling silver is generally a good option. That's because the remaining metals are usually primarily copper. Someone can have a copper sensitivity, but the most common metal sensitivity or allergy is nickel. Unfortunately, 925 is not entirely nickel-free, or at least not guaranteed to be. Most people with sensitive skin do not react to 925 sterling silver, but someone with a severe nickel allergy cannot rely on it. A better alternative would be nickel-free surgical steel.
Can 925 sterling silver be resized?
One notable advantage of sterling silver is that it's malleable. 925 sterling silver can usually be resized easily. The only caveat is that a sterling silver ring that's been custom made may not always be eligible for free resizing by the manufacturer. However, it's almost always possible.
Does 925 sterling silver fade?
The biggest downside to 925 sterling silver and silver in general (aside from 999 silver) is that it will fade and tarnish. Everything from perfume to soaps to water and environmental exposure can cause tarnish. Tarnishing may appear black or green. Both are harmless to you but do impact the beauty of the metal. 925 sterling silver is not waterproof, and getting it wet for long periods can lead it to tarnish more quickly. Luckily, there are things can you can do to clean and remove some of this tarnish.
How do I care for 925 sterling silver?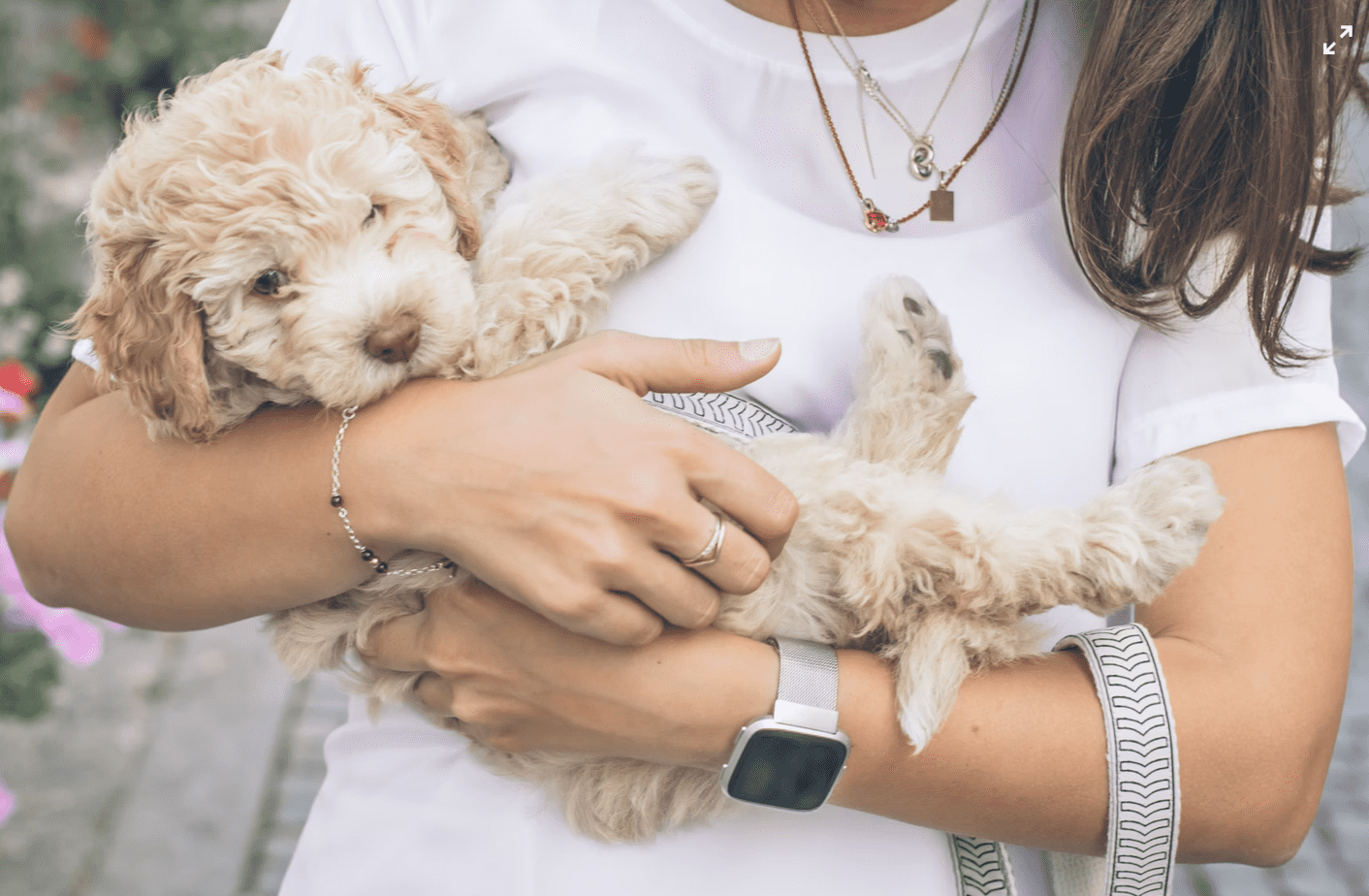 When taken proper care of, genuine 925 sterling silver can last 20 to 30 years. But you should know that taking care of 925 sterling silver takes some thought. Of course, even with the best care, most 925 sterling silver does have a shelf life.
How do you keep sterling silver from tarnishing?
While you can't prevent all tarnishing, you can reduce it and slow it down. Don't wear sterling silver in the shower or for swimming. If your 925 sterling silver does become wet, dry it completely. Store any 925 sterling silver in a dry place that's as low humidity as possible. Know that soap, perfume, chemical sprays, and even hairspray can tarnish your 925 sterling silver.
Can 925 sterling silver be cleaned?
No matter how well you take care of your 925 sterling silver necklace, bracelet, or earrings, you'll face tarnishing at some point. However, surface-level tarnish can often be removed. You can purchase a professional tarnish remover and you can also try a few things at home. If you're careful, a mixture of two tablespoons of baking soda to a half cup of plain white vinegar can also be effective. Let the solution soak for a few hours, then dry your jewelry completely. Of course, you can also take precious jewelry for a professional cleaning.
Can sterling silver permanently tarnish?
In most cases, 925 sterling silver can be cleaned. Tarnish is rarely permanent. However, if the piece of jewelry is allowed to tarnish for a long time, it'll be more difficult to remove that tarnish effectively. Cleaning your jewelry regular is the key to a metal's longevity.
Where do I buy genuine 925 sterling silver?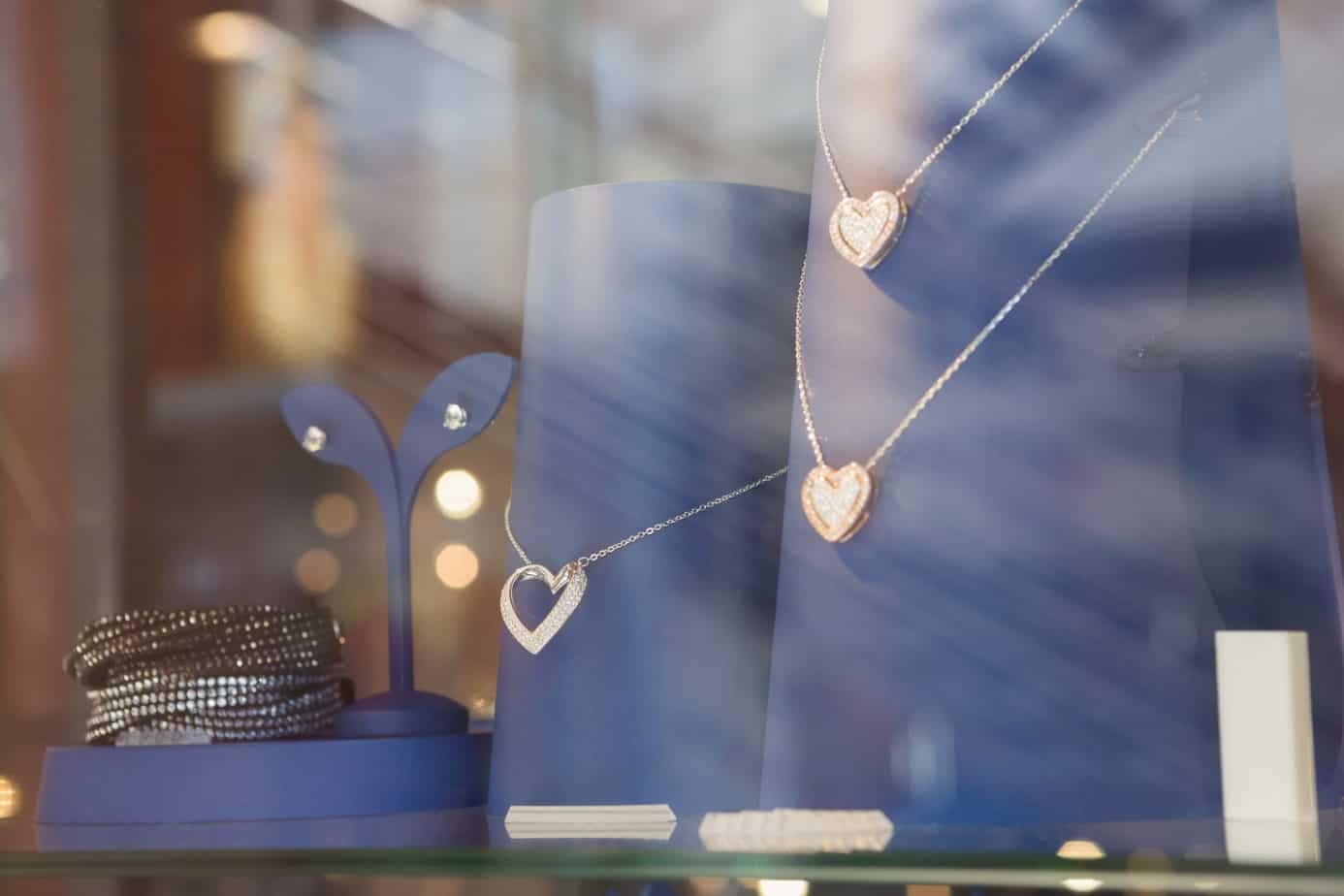 If you're looking for 925 sterling silver, the good news is that there are countless places to buy it. Your local jeweler, online jewelers, independent artists on Etsy, and even department stores like Macy's and Nordstrom are all places you can buy 925 silver. I recommend against buying for a seller you don't know or from anywhere that doesn't clearly state it's genuine 925 sterling silver. To help you out, I've created a short guide with links to some of my favorite places to buy genuine 925 sterling silver.
My criteria for selecting these places was important. All of these places have clear customer service standards, are well known in the jewelry industry, and are committed to delivering on quality. They offer fair prices, unique styles, many sizes, and a great variety. This list is by no means exhaustive. Keep in mind that most places sell a variety of 925 sterling silver accessories.
Best for 925 Sterling Silver Gemstone Rings: Blue Nile
The Blue Nile is another excellent company. The Blue Nile is highly respected as an online jeweler and sources conflict-free natural and lab-grown gemstones. They offer classic, modern, and even vintage-inspired designs. What stands out to me is their modest but beautiful collection of 925 sterling silver gemstone rings. You'll find opal, topaz, amethyst, citrine, and peridot gemstones in this colorful, vibrant collection. Styles include solitaire rings and eternity bands. These styles are beautiful for cocktail rings. Almost all options feature rhodium plating. Shop All Blue Nile 925 Sterling Silver Gemstone Rings Here.
Emerald-Cut Blue and White Topaz Fashion Ring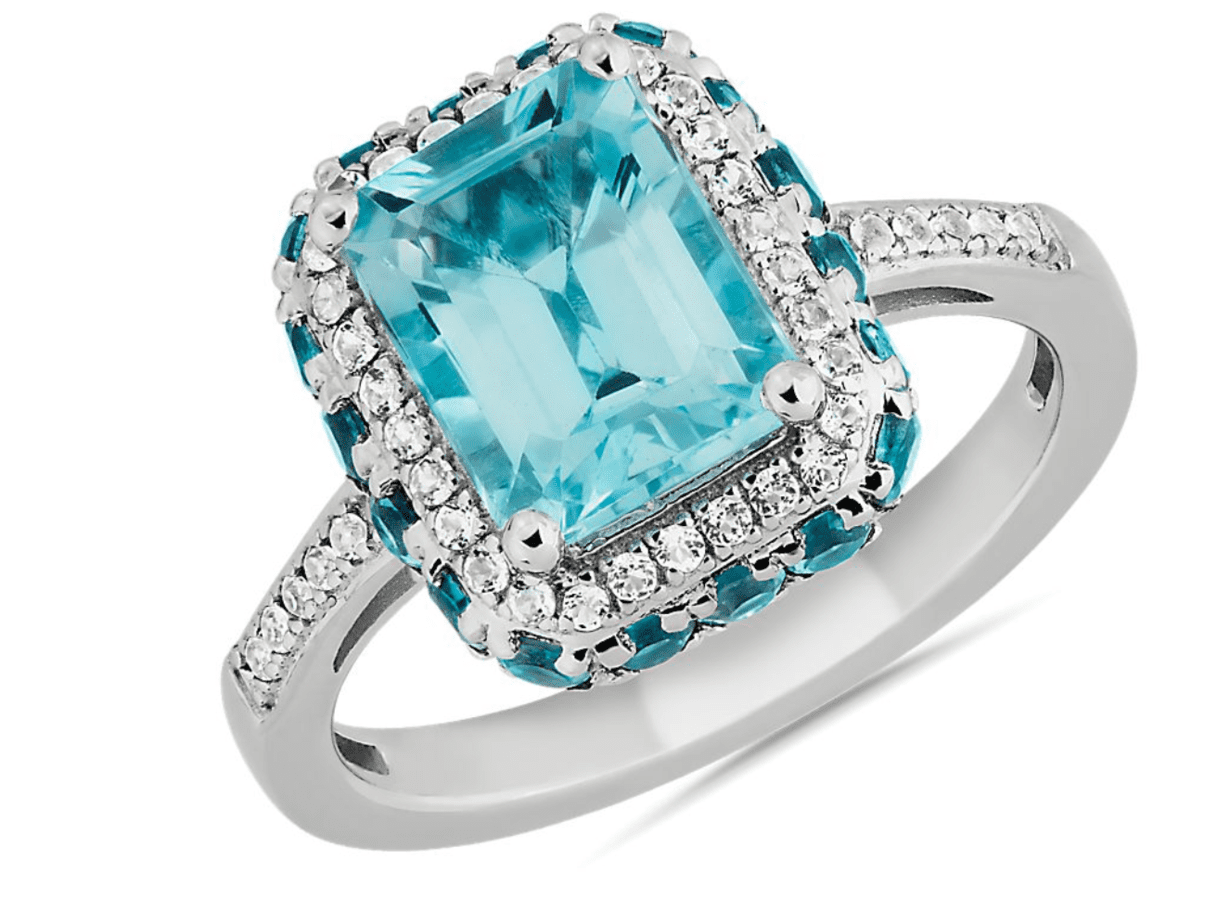 Topaz is a gorgeous gemstone that's fairly durable. With a Mohs hardness rating of 8, you can wear this fashion ring without worrying too much about damaging the gemstone. Topaz is also a gemstone is associated with meanings such as health, love, and vitality. The emerald cut provides a unique vintage appeal for this 925 sterling silver ring. It's rhodium plated to improve durability and offered at a fair price. Buy Here.
Pros
Durable Rhodium Plating

Gorgeous Sky Blue Topaz

White Topaz Adds Sparkle
Cons
Topaz is Heat-Enhanced

Limited Sizes
Corda Cushion-Cut Halo Ring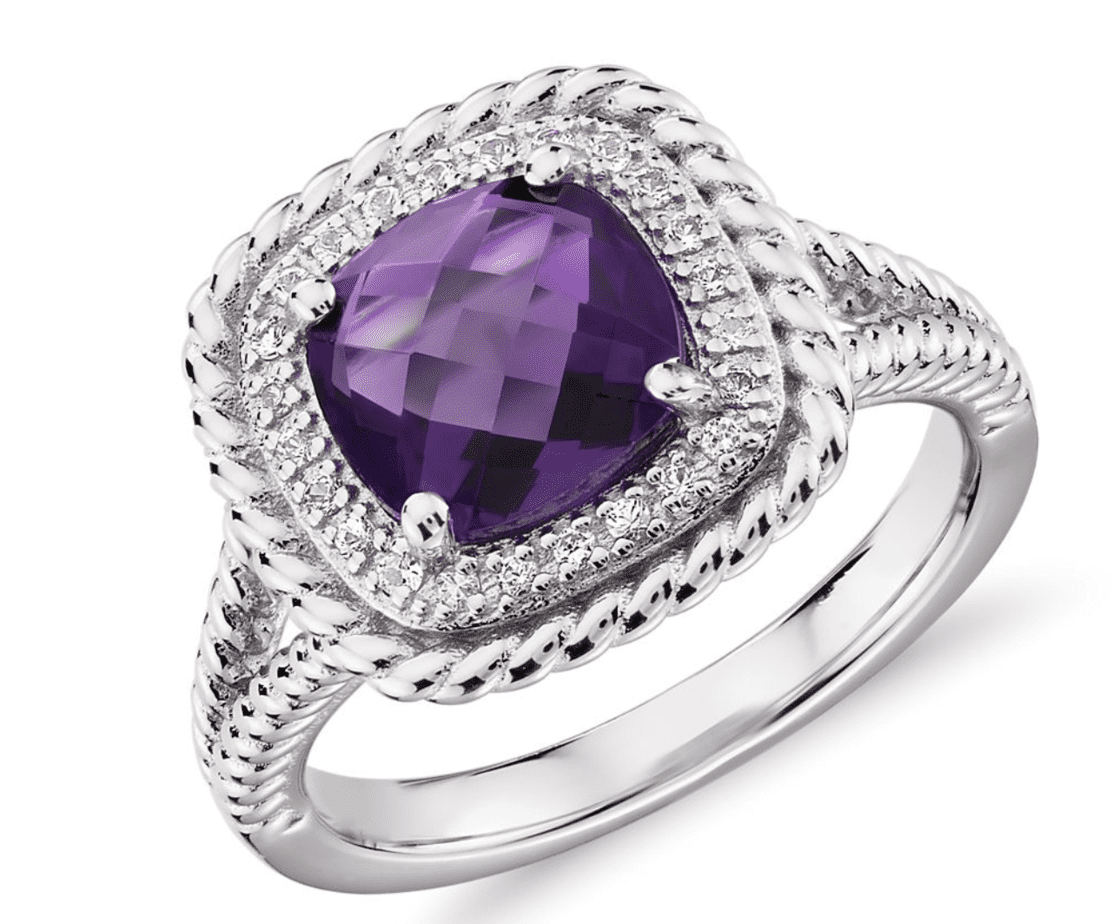 If you're looking for a shape that showcases the color and beauty of a gemstone without a high price tag, a cushion cut is a great option. This stunning ring showcases the gemstone of your choice (amethyst, blue topaz, citrine, garnet, London blue topaz, or peridot) with a halo design. The cushion cut is multifaceted with accent white topaz stones. Buy Here.
Pros
Multifaceted Cushion Cut

Multiple Gemstone Choices

Halo Design with Rhodium Plating
Cons
Slightly Pricey

Some Gemstones Have Limited Sizes
Octagon Stone Eternity Band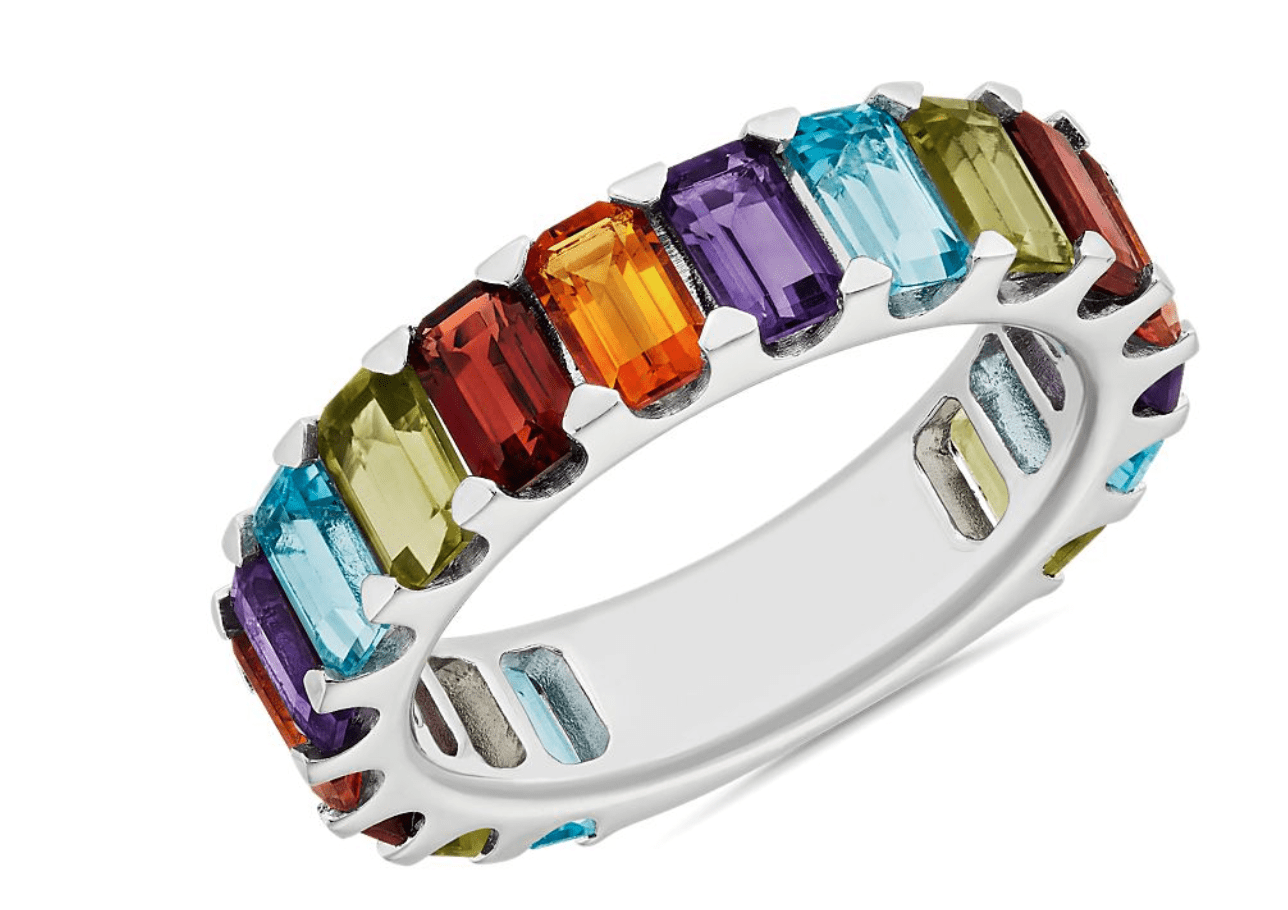 This eternity band is colorful and bright. An eternity band is sometimes worn for anniversaries or even as a cocktail ring. The 925 sterling silver band is a classic design with rhodium plating. Choose from a multi-gemstone design, amethyst, or sky blue topaz. Buy Here.
Pros
Multiple Gemstone Options
Rhodium Plating
Bright but Classic
Cons
Not As Versatile
Sizing Limited in Some Styles
Best for 925 Sterling Cuban Link and Curb Chains: Macy's
Cuban and box chains were first worn primarily by Cuban American communities in Miami. Since then, their prominence has grown, especially within the hip hip and rap communities. But it's no longer just these communities that love the iconic look. They can be worn with something as simple as a white t-shirt. Many of the places to buy Cuban link chains online don't offer genuine 925 sterling silver. Your best bet is to shop Macy's collection. Macy's offers a traditional department store shopping experience, both online and in stores. You'll have fair prices and shipping policies. Shop All Macy's 925 Sterling Silver Cuban Link Chains Here.
Giani Bernini Flat Curb-Link Chain Necklace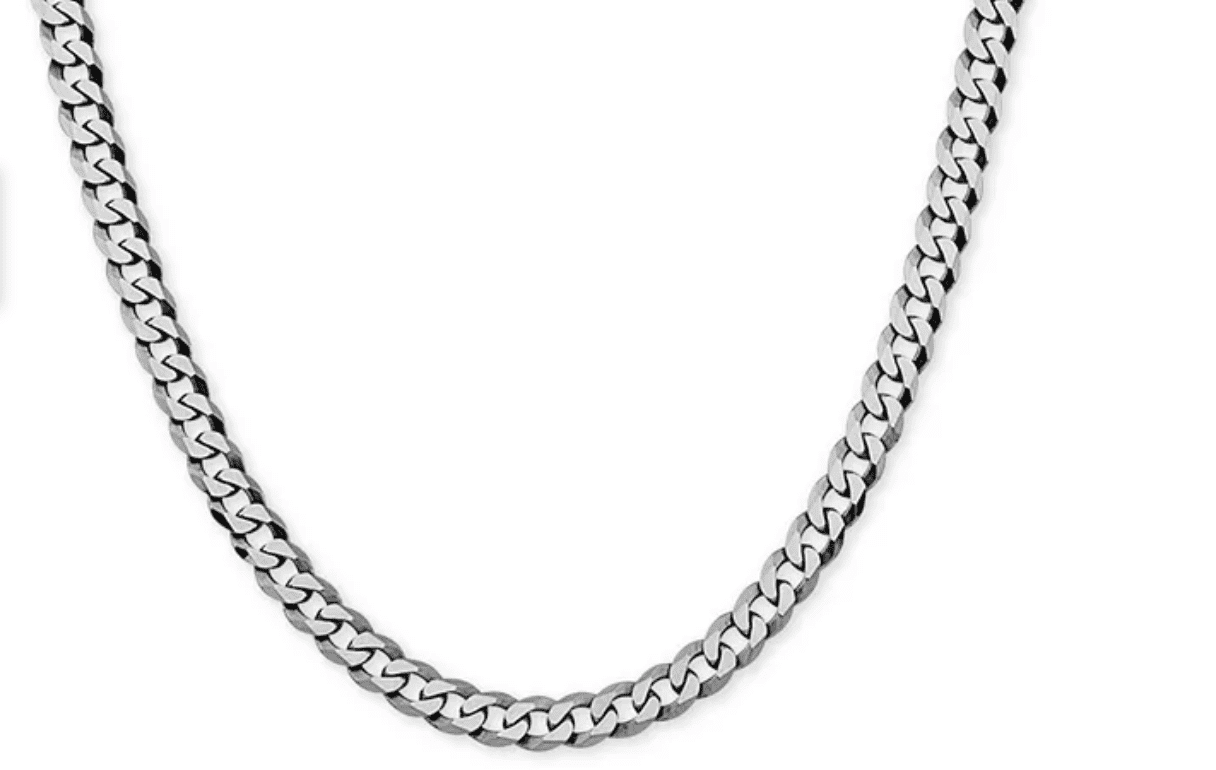 This 18 to 24-inch necklace features a classic flat curb. It's versatile, charming, and highly rated by customers. You can buy this necklace in 925 sterling silver or with 18K gold plating. Though still pricey, it's one of the more affordable link chains in Macy's collection. Buy Here.
Pros
Available in Sterling Silver or Gold Plating

Very Versatile

Highly Rated
Cons
Still Expensive

Not Very Unique
Cuban Figaro Link 22″ Chain Necklace, Created for Macy's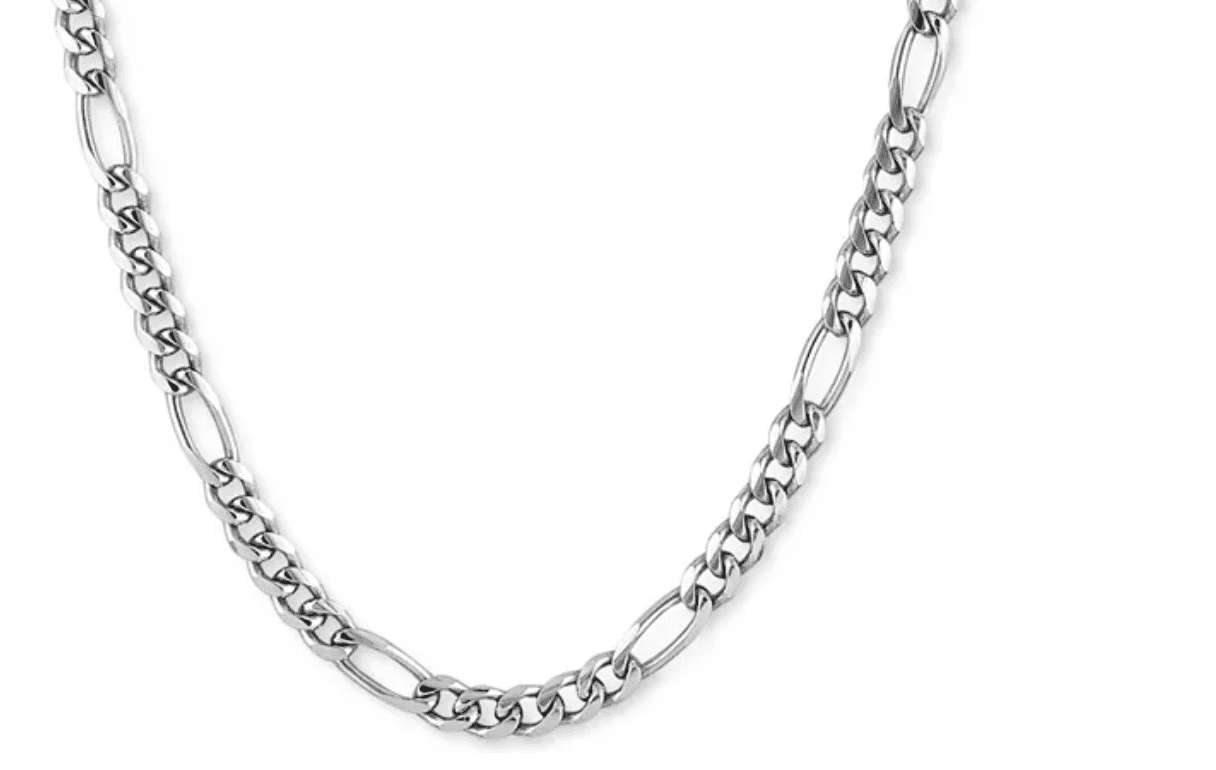 Created exclusively for Macy's, this designer link chain is eye-catching. Upgrade to an iconic style with classic polish. This Cuban link chain is available in both sterling silver and with gold plating. Buy Here.
Pros
High Polish

Exclusive For Macy's

Highly Rated
Cons
Expensive

Sterling is Preferable to Gold Plating
Best Budget: Silver Palace 925 Silver Bracelets, Earrings, and Necklaces
Looking for a great deal? Silver Palace sells genuine 925 sterling silver bracelets, earrings, and necklaces at wholesale prices. You'll find closeout items, special promotions, and great deals. They're rated at an A-plus by the Better Business Bureau and have fairly transparent policies. Their inventory is always changing, and there's a great variety as a whole. This company has charm silver bracelets, playful bangles, and drop and stud earrings. For necklaces, there are meaningful pendants, including cross necklaces and filigree with a vintage appeal. I also love that they offer products with rhodium plating. Due to the sheer volume of 925 sterling silver accessories sold, I'll point out my favorite collections and honorable mentions from each. Shop All Silver Palace Jewelry Here.
925 Sterling Silver Dangling Earrings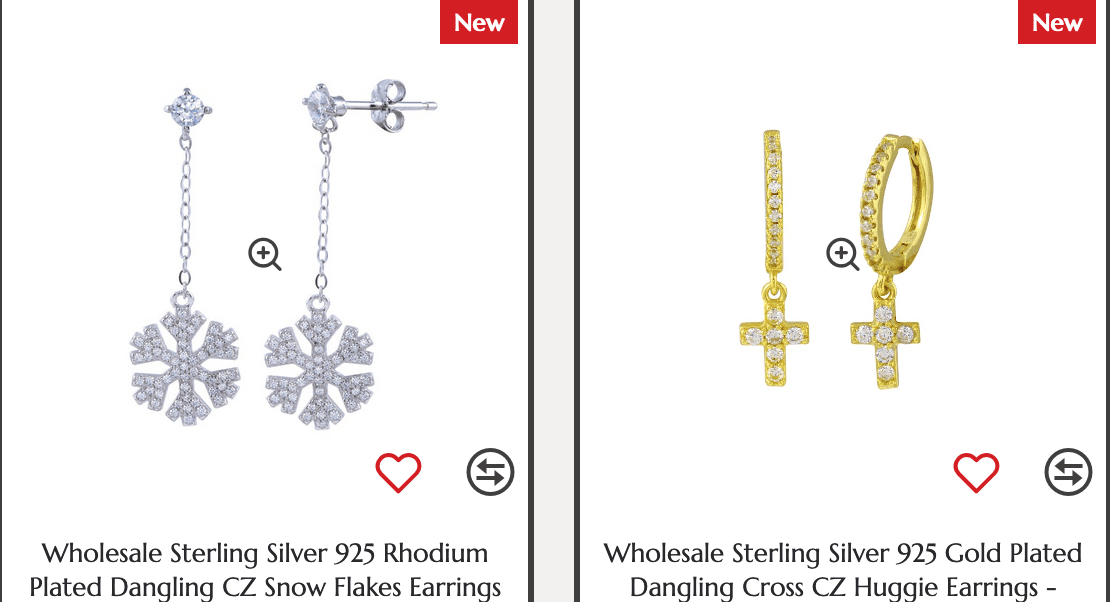 This collection of 925 drop earrings includes Drop Hoop Cross Earrings, modern Dangling Textured Paperclip Earrings, bohemian and whimsical Rhodium Plated Wing Earrings with Cubic Zirconium, and many more. I'd to shy away from the opal and pearl gemstones since you can find better quality elsewhere. However, this collection is highly affordable and versatile. The styles are at once interesting and not so different that they aren't used daily. Shop All Here.
Pros
Excellent Prices

Meaningful Charms

Wide Range of Bracelets and Necklaces
Cons
Gemstones Aren't Highest Quality/ Authentic

Larger Charms Look Costume-Like

925 Sterling Silver Fashion Necklaces and Bracelets

Charms and pendants are the themes of this casual collection. This collection excels most with its simple offers, such as an adjustable Single Strand Rhodium Plated Bracelet, the retro Choker Necklace with Heart Charm, a symbolic Open Heart Pendant Necklace, and a dainty Double Strand Cross Necklace. These styles are timeless and a bit more versatile than their larger charms. Shop All Here.
Pros
Great Prices

Dainty and Bold Styles

Something For Everyone
Cons
Necklace Quality Varies

Some Are Costume-Like
Final Buying Recommendation: Designer 925 Silver From Tiffany & Co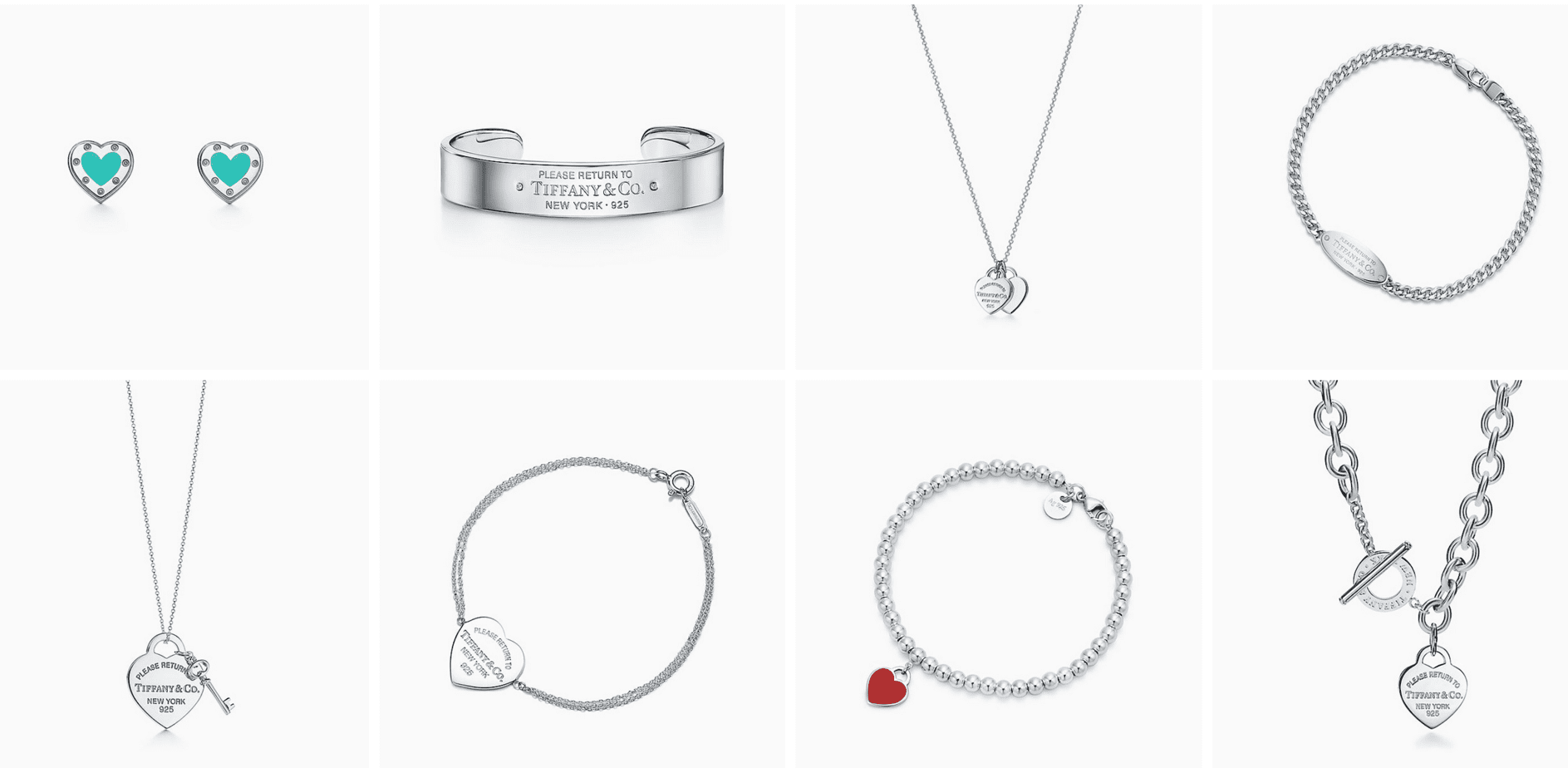 If there's a big name for gorgeous 925 sterling silver, it's Tiffany & Co. The designer offers 926 sterling silver of exceptional quality. Their style is modern, versatile, and timeless. There's a bit of simple elegance in everything they make, from their iconic Double Heart Mini Pendant Necklace to their Heart Tag Beaded Bracelets and their Mini Blue Heart Stud Earrings. They also have hints of playfulness, as exhibited through items such as the Yellow Quartz Bee Ring and the bright Amethyst Flower Ring. This stunning collection may not be cheap, but it's easy to see the refinement in the craftsmanship. Shop All Return To Tiffany Sterling Silver Here.
Pros
Resale Value

Iconic Brand

Gorgeous Craftsmanship

Modern and Sophisticated Designs
Cons
Frequently Asked Questions
Question: Is 925 sterling silver cheap?
Answer: 925 sterling silver is cheaper than 10K gold, platinum, and some other precious metals. It's more expensive than silver-filled products and metals like copper or brass. It's also more expensive than stainless steel or surgical steel. While quality 925 sterling silver isn't cheap, it's considered to be affordable.
Question: Is 925 sterling silver pawnable?
Answer: Both genuine 925 sterling silver and gold are pawnable. You won't fetch as much for 925 sterling silver, of course. It's wise to research comparable values of your jewelry before selling anywhere. Finding the best places to sell jewelry online is also important.
Question: Is pure silver an element?
Answer: Pure silver is represented as Ag on the periodic table of elements. Pure silver is beautiful and valuable, but it's not the best choice for jewelry. It's a very soft metal in its purest form. Pure silver is also expensive.
Question: Is pure silver magnetic?
Answer: Contrary to popular belief, pure silver isn't magnetic. It has very subtle magnetic properties that are comparable to metals such as nickel or iron. You won't see pure silver commonly used for household magnets.
How to Tell if 925 Silver is Real – Final Thoughts
925 sterling silver may not last forever, but it's a gorgeous precious metal that can endue decades with proper care. Knowing how to spot fake sterling silver will save you time and money. While I don't recommend sterling silver for engagement or wedding rings, it's a gorgeous metal choice for everyday charms, bangle bracelets, pendant necklaces, and casual or formal earrings.
Looking for more interesting readings? Check out: