Latest posts by Kristen Swain
(see all)
Are you looking for an engagement ring and want to compare White Topaz vs Diamond? Let's take a look and compare them to help you make that decision.
Main Differences Between White Topaz vs Diamond
The main differences between white topaz vs diamond are:
White Topaz is much less expensive, whereas diamonds can be very expensive

White Topaz sparkles with less color, whereas diamonds sparkle with an intense color and white sparkle

White Topaz needs professional cleaning, whereas diamonds only need a gentle cleaning

White Topaz is 8 on the hardness scale, whereas diamonds are 10
With so many choices of engagement stones on the market today, it makes sense to compare the most popular diamond engagement stone with other less expensive stones. Choosing between diamond and white Topaz will depend on budget, sparkle and quality desired.
You will want to pick a stone that will hold up to the rigors of everyday wear. For this reason alone, choosing a diamond is the best for your engagement ring.
Topaz will eventually wear down and scratch, but diamonds will only need cleaning to rid them of oils and dirt. Topaz will accumulate scratches and may take on a cloudy appearance over time.
Does White Topaz Look Like a Diamond?
If your goal is an affordable diamond alternative that still shares some visual features, we recommend white topaz as white topaz does look like a diamond in many aspects. White topaz does not have the same brilliant shine that a diamond does, and will lose it's shine over time, whereas a diamond will maintain it's shine forever.
White Topaz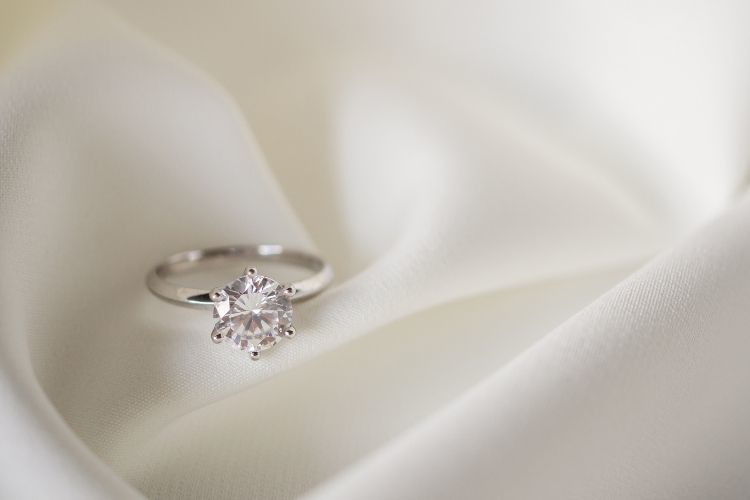 White Topaz is a variety of Topaz, available in a clear or colorless stone. It is a silicate mineral that comes in many colors and more available than diamonds.
The purest variety of Topaz is milky white or colorless. The most common colors of Topaz are colorless, light yellow, and brown. Blue Topaz is the most popular topaz color. Imperial Topaz is the most valuable and rare color of Topaz and ranges from golden yellow to sherry pink.
Topaz is also commonly treated to gain various colors and saturation of colors that aren't as naturally common. White Topaz is often irradiated to make the stone more valuable, heating the stone to make it the most popular color, blue.
Topaz does have a significant drawback aside from the lesser sparkle that it reflects. White Topaz needs cleaning and polishing by a professional occasionally to keep its brilliance it sparkling like a diamond. No matter what, eventually, with wear, Topaz is going to lose the comparison look of a clear sparkling diamond over time. Facets and edges on the White Topaz will wear down over time from bumps and bangs on the stone.
Diamond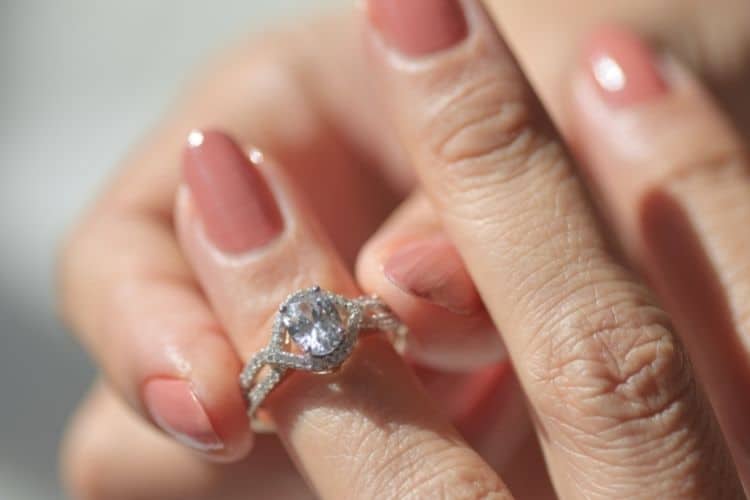 The saying that diamonds are a girl's best friend rings true when it comes to engagement ring stones. Of course, a beautiful bride needs a stone to match. Diamonds are 100% carbon, and most stones are more than a billion years old. Diamonds are a 10 on the hardness or Moh scale and are the hardest natural substance. Only another diamond can scratch a diamond.
Diamonds have long been considered to be the most valuable gemstone. Dating back centuries, diamonds were valued for their mystical and protective values. Diamonds grew through millions of years ago, over 100 miles underground, and made their way closer to the surface by being moved through volcanic eruptions.
Larger diamonds are less common and therefore are much more expensive. Diamonds have a prism-like ability to break white light into separate colors. Distinctive colors in the flashes of light are what make the rainbow sparkle of the diamond so popular.
Beauty Comparison
Brilliance, when used for jewelry terminology, refers to the amount of light that reflects out from the stone center; brilliance means how much a stone sparkles. The way a stone is cut determines the brilliance of a stone instead of its natural aspects.
Fire is often the term used to the color emitted when a gem sparkles. Diamonds have an intense rainbow color dispersion while also reflecting a white light as well. Both fire and brilliance are often used together when discussing the beauty of a gem.
White Topaz is lower on the refractive index, a measurement used in determining the is brighter than a White Topaz. If this is important to you as a buyer, you will want to purchase the diamond.
Inclusions
White Topaz and Diamonds have the potential to have inclusions in the same way that all gemstones have that potential. Any gem with fewer or smaller internal flaws has a higher price tag.
Keep this in mind, as it does affect the clarity of a gemstone. However, it can also help make a larger gemstone more affordable if you are less demanding of a perfectly clear stone. Keep in mind that smaller stones hide inclusions better than larger stones.
Setting Ideas for Showing Off your Gemstone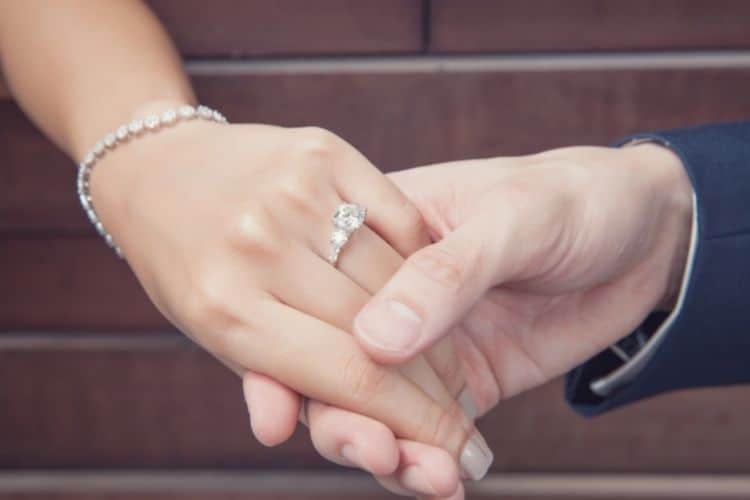 If you are looking for the most sparkling stone for your engagement ring, a diamond is the best choice. Getting a prong setting will allow light to enter from both the top and sides of the diamond. This type of setting would leave the White Topaz open to easy damage, though.
A White Topaz would be better set into a bezel setting that encloses the sides of the stone, leaving the top open to allow light in without leaving the stone open to damage.
Metaphysical Properties
Topaz
White Topaz brings the energy of inspiration, as well as peace, hope, and love. White Topaz helps to expand your knowledge and thinking. The expanded thinking that White Topaz helps you with can increase your self-confidence and self-growth.
Diamond
Diamonds are well known for their hardness which creates an idea of invincibility. Diamonds are thought to have the power to drive away negative energy and bad fortune. The brightness and reflection of diamonds help inspire imagination. Diamonds' strength helps with the wearer's strength, courage, and endurance.
White Topaz and Diamond Engagement Rings We Love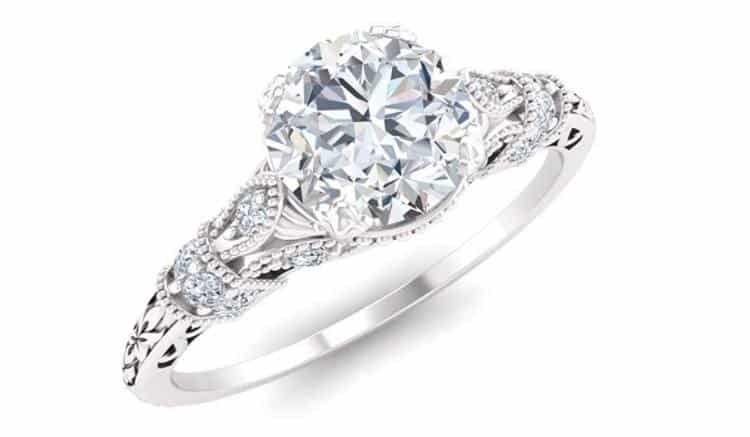 This intricately detailed diamond ring has enough detail that wearers will feel that they are wearing an antique piece, with modern-day pricing. The Art Deco styling is definitely unique and includes exquisite filigree work. A matching wedding ring is needed to show off the detailing of the side filigree and not cover it.
Diamondere Natural and Certified Diamond and Gemstone Engagement Ring | Amazon
This Art Deco engagement ring features a round gemstone with diamond accents set in 14k white gold. The band includes delicate filigree work and sweet ribbons wrapped around the front completing the antique style of this ring. A great gift for any time of year!
Buy at Amazon.com
We earn a commission if you click this link and make a purchase at no additional cost to you.
06/03/2023 01:45 pm GMT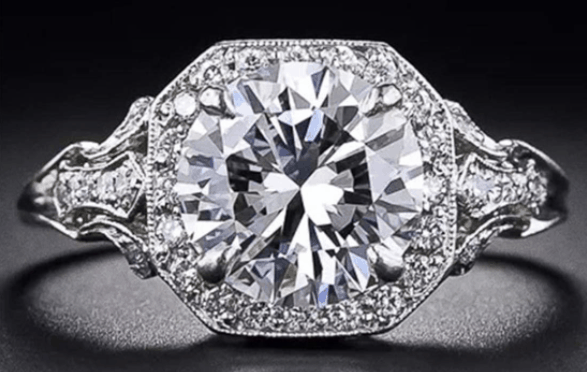 This beautiful, antique-looking ring is gorgeously inexpensive. Perfect for a couple with a tight budget. Smaller in size enough to be believable, but with lots of beautiful sparkles. The coating of silver is a bit too thin and wears quickly, showing the copper underneath.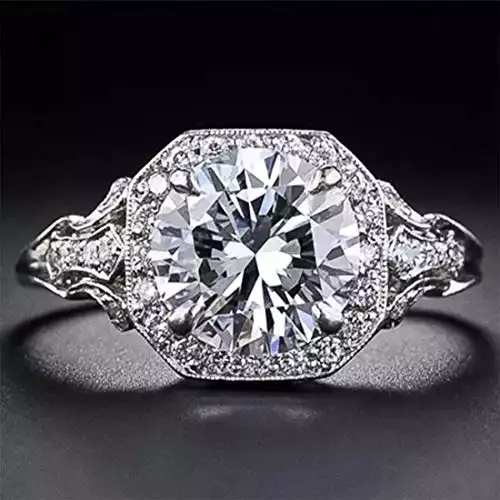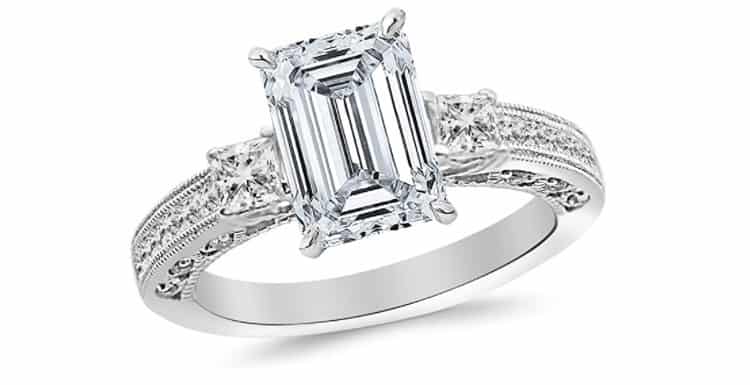 This emerald-cut diamond ring is beautifully detailed with filigree sides as well as side diamonds to create even more sparkle. Although the photos don't show this ring in its beauty, the raised sides and detailing make it every bit as unique as an engagement ring should be.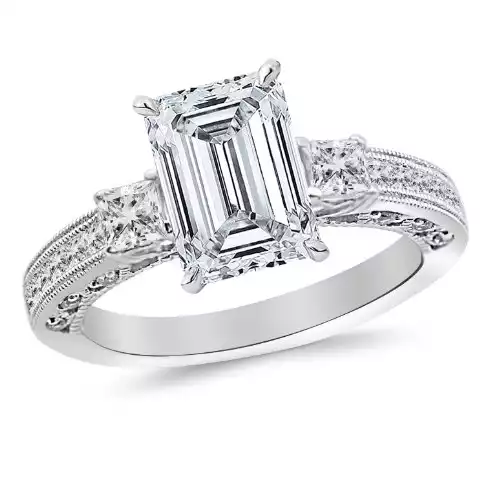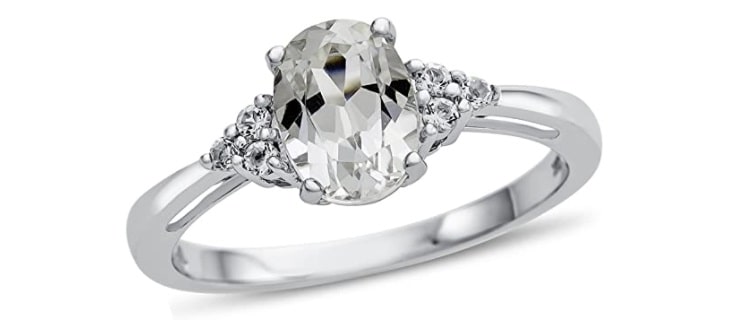 This oval cut White Topaz is highlighted with three side stones on both sides. The dainty band is loved by customers who also loved the amount of sparkle the ring had. Several customers found that the side stones clouded easily and did not shine after cleaning.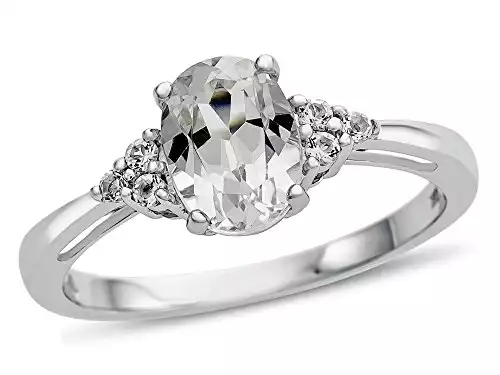 FAQs
Question: Is White Topaz better than cubic zirconia?
Answer: While White Topaz is close to cubic zirconia on the hardness scale, the cubic zirconia is harder and will not wear down as quickly as White Topaz's facets will. In terms of durability, the Cubic Zirconia is the better choice.
Question: What stone shines more than a diamond?
Answer: White Zircon is the only natural gem that sparkles as exceptionally as a diamond; not to be confused with cubic zirconia, Zircon is a natural mineral that has long been considered a diamond simulant. 
Question: Can you wear Topaz every day?
Answer: White Topaz can be worn every day but is more susceptible to damaging blows and strikes that can wear down or scratch the stone.
Question: What is the symbolic meaning of a diamond?
Answer: Diamonds symbolize perfection and purity. It is the stone of faithfulness, commitment and symbolizes the promise between husband and wife. It is known to be the representation of light, brilliance, and intellectual knowledge. In history, it represented life and the sun. It was worn into battle by kings as bringers of great strength. 
Question: How can you tell if a topaz stone is real?
Answer: The comparison between Quartz and Topaz is the hardness factor. Topaz is also cool to the touch and electrifies easily. Topaz can scratch glass where Quartz cannot. 
In Conclusion
Price is usually the number one factor in determining which gemstone will top an engagement ring. Couples can choose the bigger, flashier, but less bright White Topaz stone at a significant cost difference.
However, thinking about the future, engagement and wedding sets can be upgraded during anniversaries as a couple's financial status grows. The diamond will always be the best stone for daily wear and use and will always be the best choice for wedding and engagement rings.