Latest posts by Kristen Swain
(see all)
Six carats of glittery sunshine resting in a setting that glows around it, finding the perfect jumbo-sized diamond is a work of heart. Diamonds that are of a larger size are of a more limited quantity to purchase, so let's find some diamond ideas for the Best Six Carat diamonds as well as some diamond alternatives.
Bottom Line Up Front
My personal favorite diamond is an alternative- I recommend any large diamond look-alike be a Moissanite stone. Cost per carat, larger size stones with more clarity, more fire, and honestly a plethora of options, Moissanite has quickly won my heart in all things jewelry.
My Selection Criteria
I have been researching and writing about gemstones for some time, and you know, a girl needs hands-on research, so in that time I have been acquiring and building my own jewelry collection. Amethyst, Opal, Diamond, Moissanite, Sapphire, Tourmaline, Morganite, Topaz, and Garnet are all gemstones I have added to my collection.
Diamonds are often given ratings of color, cut, clarity, and carat. These four C's explain to the consumer the valuation guidelines of the gemstone they are purchasing. To the consumer's eye, many of these values do not really show unless compared to another diamond in close proximity.
The value then becomes more about the cost of the diamond as well as the resale and insurance values. Because the market for genuine six-carat diamonds is limited, I am including diamonds that are of a very high market value.
A Short Summary About Diamonds
Diamonds actually come in a multitude of colors. Red, Blue, and even Pink diamonds are some of the most valuable. There are also diamonds with so many inclusions that they aren't worth a lot of money, these are called Salt and Pepper Diamonds.
If you choose a small diamond that is very clear and very white and because its quality is so close to perfect, it is more valuable than a larger less perfect diamond. So when you chose your diamonds to keep this in mind.
Diamond Ring Picks – Six Carat Diamond Rings
Nekta DIANA 6 CARAT OVAL CUT H COLOR VS2 CLARITY DIAMOND ENGAGEMENT RING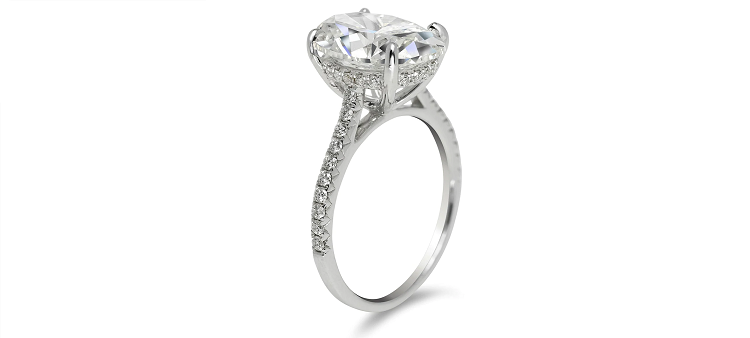 At a price tag of $250k, this absolutely stunning diamond ring isn't really in most of our budgets, but it's always fun to see what we could buy if we become suddenly wealthy. Finding a diamond this large, with such an exceptional rating isn't common and its price shows how rare these sized diamonds are.
The stunning five-carat diamond is an oval cut that sits on a bezel prong setting with an underneath halo of small diamonds. Small accent diamonds line the top shoulders of the ring setting to add additional small flashes of light.
Special prongs are not cut off at the beginning of the diamond, they pull inwards across the diamond for a little extra security. The setting is an 18K white gold. This diamond is amazing, but you would probably have to hire a bodyguard to wear it out of the house.
Scarselli Six Carat Fancy Yellow Cushion Cut Diamond Ring in Platinum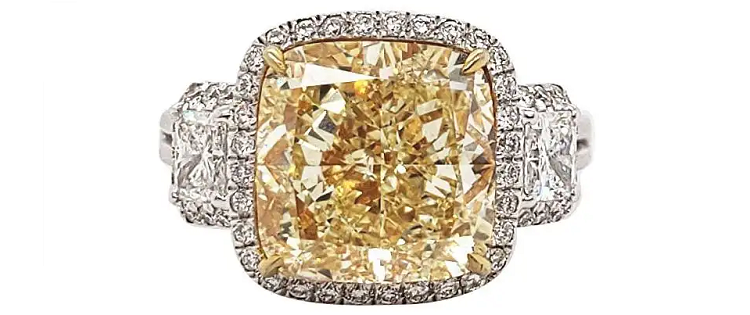 Clarity means more in a yellow diamond than color. Yellow diamonds don't measure on the White Diamond scale because on the White Diamond scale, the more yellow a white diamond is, the cloudier and duller it becomes.
Diamonds that are more yellow-toned actually become their own coloration value system because they are clear and yellow and can be very desirable as a quality colored diamond.
This beautiful canary yellow ring is priced at over $100k, but its value is in the diamond. Flanked on either side by two high-quality stones, this ring is decorated with a halo around the center stone, halos around each side stone, and each prong on the head of the ring is also decorated with accent diamonds.
The setting is platinum and the finish of the ring is a bit antiqued. This is a beautiful ring that would be perfect at any Hollywood gala.
Six Carat Total Weight Diamond Rings
6 Carat Cushion Cut Halo Diamond Engagement Ring In 14K White Gold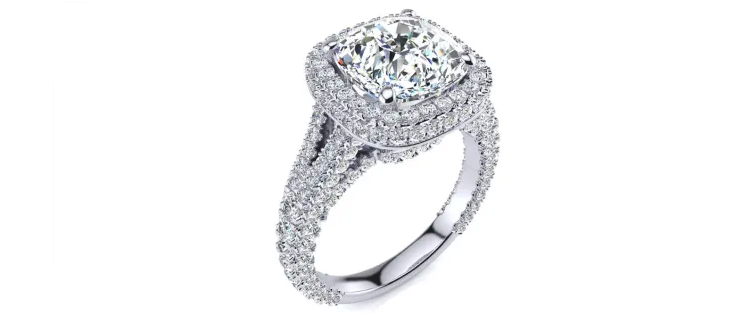 Six carats total weight, the center stone of this ring is a full four carats total. There are an additional two carats of diamonds on the bezel, shoulders, and sides of this ring. Glitter and glitz are great ways to describe this ring.
The impressive four-carat cushion cut center stone is absolutely stunning and is accented beautifully with the highly decorative setting. The diamond is a treated diamond, treated to enhance clarity. Over one hundred and ninety diamonds along with this setting, including a halo of them surrounding the center stone.
Fourteen-carat white gold is the neutrally colored metal setting that blends beautifully in with these white-colored gemstones to create an almost seamless sparkle that will shine from this ring.
I think the price tag is huge, and wish that the ring was made with platinum for the total overall cost, but if you are going to go big with a ring, this one is a gorgeous choice.
Seller GB 6 Carats Diamond Engagement Ring Princess Cut White Gold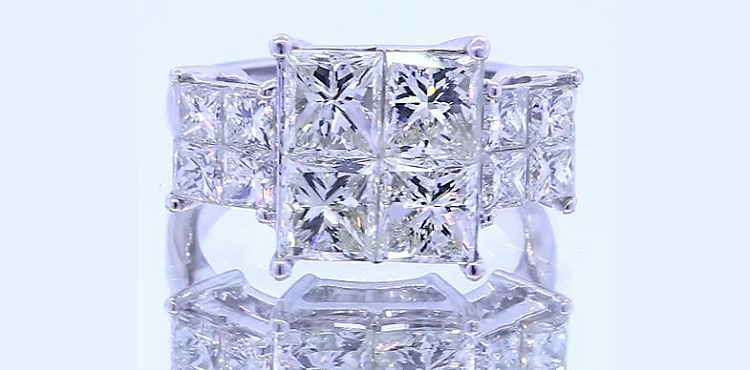 This more budget-friendly option gives you the look of a four-carat diamond center stone while maximizing value by using four small stones placed close together to mimic a single large solitaire. Four additional stones on either side of the solitaire look like two larger side stones as well.
The clarity and cut of the stones being very good quality make the cost higher, this ring could also hold lower clarity and color diamonds to be a less expensive cost. The appraised value is more than double the cost of the ring, so the value of the ring is superb.
I like the potential value included with the cost of this ring. There is a definite glam, as each diamond gives its own sparkle for each square-cut diamond, so to me, this ring would be an absolute showoff of a ring.
6 Carat Diamond Ring Alternatives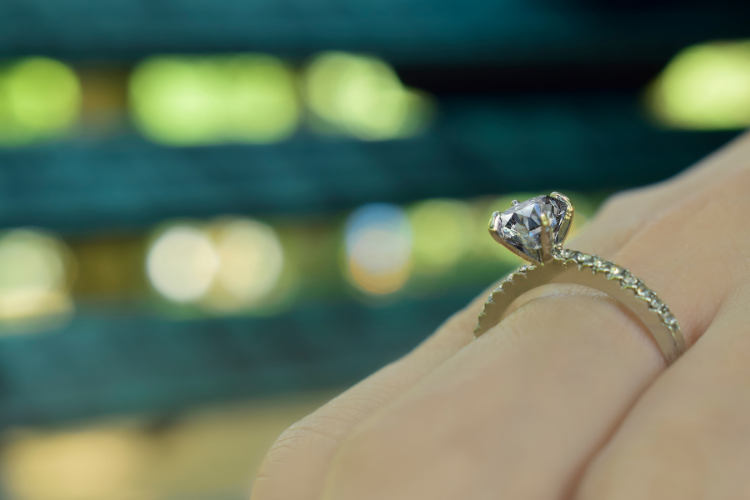 As you may see, there aren't a whole lot of real six-carat diamond rings available to choose from. Many of them are already only available as previously owned.
But, that doesn't mean you can't fake it until you make it! There are other alternatives that you can consider, that look like diamond rings, but cost a fraction as much as a real diamond. These stones include:
Lab-Created Diamonds are the same as a diamond, the only difference is the location they have been formed. Lab-created diamonds are seeded with a small diamond, then pressurized and allowed to form over a few weeks.

Resale value is much different in lab diamonds as they are not valued as highly as naturally found diamonds.

Moissanite is a clear, bright, sparkling gemstone that is the most to a diamond. It is lab-created and ecologically friendly. Moissanite is a favorite alternative stone to diamonds, although some people think that the fire of a Moissanite, which is brighter than the fire of a diamond, makes the stone look cheap. In comparison, Moissanite is far less expensive, is almost as hard as diamonds, and has a lot of similar sparkle and flash to a diamond. The clarity and color of moissanite are also comparable to diamonds. I think this is the best diamond alternative, but there are some people who think that all the rainbow flash or play of color of moissanite is a drawback to owning them over diamonds.
White Topaz is also an alternative to diamond. Well known for its inexpensive cost, this diamond alternative shines brightly and can have great clarity in the stone. However, Topaz accumulates scratches over time, as it is not as hard as diamonds, and will eventually dull the stone. The good news is that a jeweler can clean the stone and refresh it back to its beginning sparkle and shine, but it will eventually need to be cleaned and polished again.
White Sapphire is a clear gemstone alternative to diamonds, but there is a difference in the color of the sparkle or fire when comparing Sapphire to Diamond. Sapphire is a hard stone, very close to diamonds in hardness. They are significantly cheaper, although there are less expensive stones, and they are still a gorgeous Sapphire. The Sapphire flash is a grey-toned brightness that comes from within the stone, whereas a diamond has both clear and rainbow-colored flash. Diamonds have enormous light flashing as well as the play of color from within the stone, but a Sapphire simply isn't as glittery as a diamond. Sapphire will need to be polished occasionally and cleaned by a professional jeweler to keep its clarity as well.
LeMoissaniteCheri Lab Diamond Ring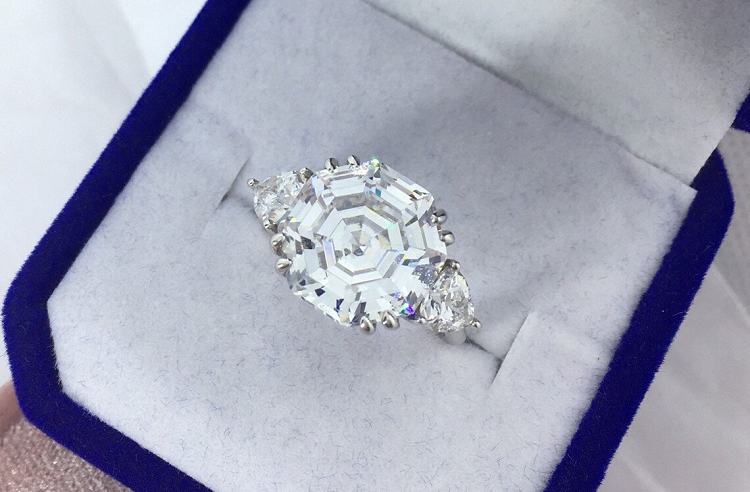 The relatively small cost of this lab-created diamond ring shows the difference in value between natural and lab-created gemstones. If cost is the biggest factor in your purchase, then lab-created is absolutely the way to go. Lab-created stones are more ecologically friendly, cost less, and are just as good quality as naturally found gemstones.
Lab-created is definitely the way to get close to perfect clarity and colored stone. This octagon-shaped ring features a round cut lab-created diamond and two smaller-sized stones on either side of the center stone. Platinum plated, it is a solid sterling silver ring. Bold and flashy, this ring has been handmade and is certainly a conversation piece.
Eve's Addiction 6 Carat Millennium Cut CZ Right Hand Ring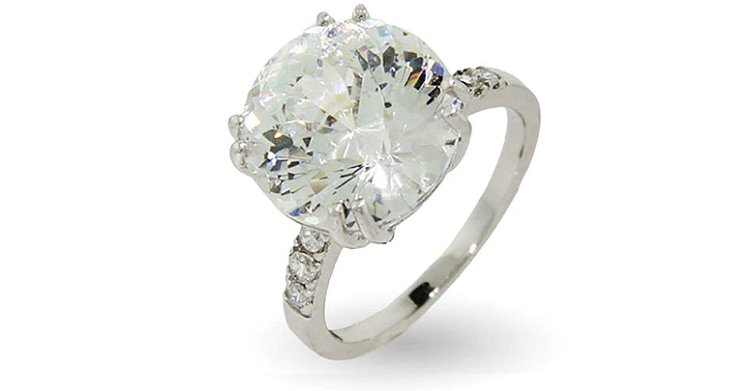 Under fifty dollars, this flashy lab-created cubic zirconia is a huge six-carat ring that will get lots of attention. It is set with double prongs, no losing this gemstone. And the shoulders of the ring also feature accent cubic zirconias to add additional sparkle to the ring.
This ring isn't as beautiful and flashy as a true diamond ring, let's face it, a six-carat diamond ring isn't in most of our budgets, but if you want a fun ring to wear to be flashy and cute, this one is just perfect and it will be sparkly even if it's not as brilliant as a diamond.
Rings Universe Stunning 6 Carat Wedding Sona Diamond Ring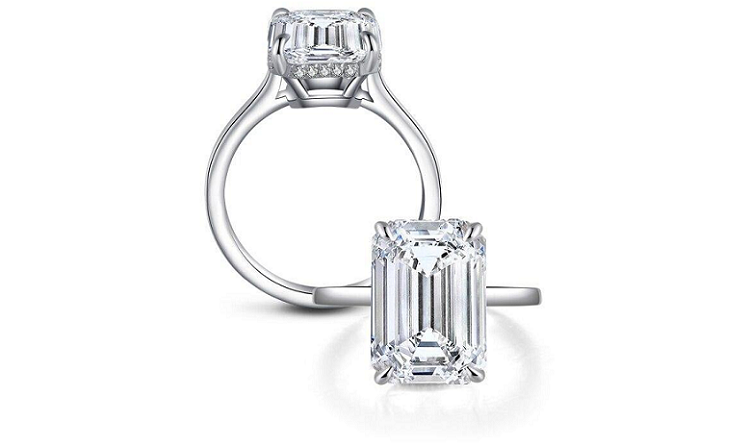 Extremely affordable, Sona Diamonds are lab-created diamonds that originate from diamond seeds or tiny diamonds- then the diamond is created in a lab environment that simulates the pressure and heat that natural diamonds went through as they were formed millions of years ago.
This white gold plated ring holds a beautiful very good quality Emerald cut six-carat diamond. It is almost flawless and of a high-quality coloration. There is an underneath halo around the base of the diamond that will add additional sparkle and light from the bottom of the ring head.
Smoothly polished the setting of the white gold plating will shine as well. Absolutely a great value for the cost, currently on sale, this ring is selling for less than seventy dollars.
6.05 Carat Radiant Cut White Sapphire 925 Sterling Silver Engagement Rings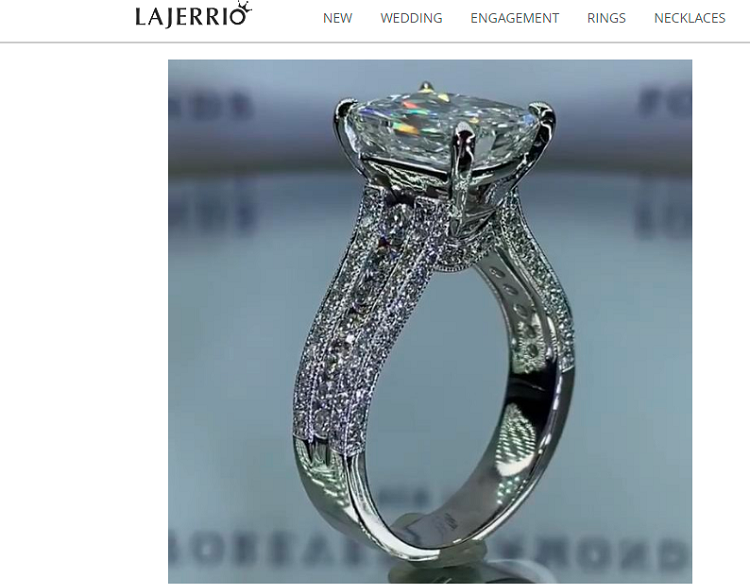 Fully covered in sparkle, this White Sapphire ring does look very much like a natural diamond ring. The large cushion-cut center stone sits atop a setting with multiple rows of additional sapphires. The frame of all of the small gems really sets off the large clear stone.
And at just under $120, you have an enormous gemstone ring that sparkles just as brightly as a diamond ring. My favorite part of this ring is the gemmed sides and shoulders of the ring. The sparkle of this ring really stands out.
Cushion-cut White Topaz Solitaire Ring in Sterling Silver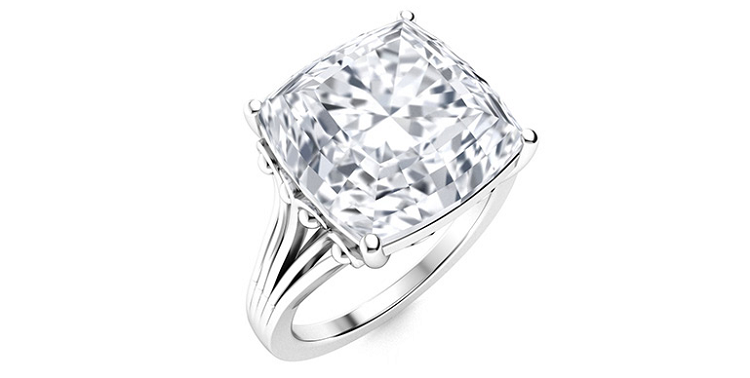 A solitaire over six-carat cushion cut White Topaz sits inside the bezel on a simplified setting. The polished setting has four-pronged scrolled points that hold onto the head of the ring.
You get all your carats in this super large gemstone ring. White Topaz will give you lots of white glittery sparkle even if it does not have the rainbow fire of Diamonds and Moissanite. This ring is a great fashion-looking ring, low-profiled so that it won't catch as easily on your clothing.
FAQs
Question: Are White Sapphires Real?
Answer: Yes, White Sapphires are real, they are the colorless version of corundum, the mineral that makes up Sapphires. While more rare, these gemstones formed without any trace elements to add color to the gem. Sapphires are naturally colored by trace elements that are present when these gemstones are forming. 
Question: Which Diamond Cut Sparkles the Most?
Answer: Diamonds sparkle the most when they have the most facets cut into them, and with fifty-eight facets, your best bet is to buy a Round Brilliant Cut diamond.
Facets are small flat surfaces on the outside of the diamond, cut on the underneath and sides of the diamond that catches and reflects light back up through the flat surface of the diamond, giving flashes of both white light and rainbow color. 
Question: Which Diamond Cut Looks Biggest?
Answer: The best shapes to maximize a diamond's carat size are Marquise, Emerald, Pear, and Oval cuts. Oval diamonds are the most classically styled and are popular for engagement rings. These four shapes will maximize the size of a smaller carat diamond, to give you the largest look for your center stone. 
Question: Is Moissanite as Good as a Diamond?
Answer: Moissanite is an excellent alternative to diamond. They are high up on the gemstone hardness scale, they have similar clarity to a diamond, and they even sparkle more than a diamond. These stones make an excellent daily wear jewelry option because they are almost as hard as a diamond. 
Question: What Type of Ring Looks Good on Fat Fingers?
Answer: To counter fingers that look chubby and short, chose stones that have elongated shapes like emerald, pear, oval, or marquise. These stones will help to lengthen the look of your fingers while wearing the ring. The longer pointed edges of both Marquise and Pear cuts will give you a more elegant-looking piece of jewelry.  
Conclusion
If money were no object, a six-carat diamond would still never be in my hand. I find them too large, too bulky and while they are absolutely gorgeous, there are so many other gemstones that I think are more worthy of a large ring adorning my fingers.
I think a gemstone with interest, something that has unique features would be my gemstone choice. Diamonds are beautiful, but there are issues with how ecologically destructive mining them is, and the negative impact on human rights is also a consideration.
Purchasing a beautiful lab-grown stone can be just as satisfying without the enormous price tag. If you are in the market for a clear gemstone ring with sparkle and clarity, there are so many other choices out there, try one of the diamond alternatives or consider a lab-grown stone instead.
Further Reading on Rings