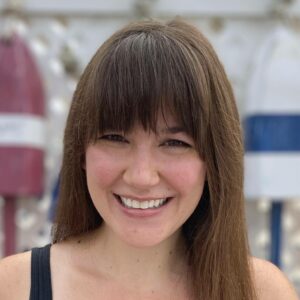 Latest posts by Lauren Vigdor
(see all)
If you're looking for ideas for a romantic, affordable engagement ring, look no further! Cushion-cut moissanite is nearly as romantic as it gets. It's a timeless, sparkly cut that looks great in so many different settings! The soft angles and brilliance of the cushion cut make it so elegant, and you can't beat moissanite for sparkle, durability, and affordability. It is the perfect marriage of sense and sensibility!
I talk a big game about how much I love unconventional jewelry, but classic, romantic styles will always hold a special place in my heart when it comes to engagement rings. Cushion-cut engagement rings are one of the most romantic styles, but cushion-cut diamonds can be expensive. That's why I love cushion-cut moissanite rings! They're more affordable and eco-friendly than diamond rings, and they're still remarkably brilliant and romantic! Below I'll share some of my picks for cushion cut moissanite rings.
Best Online Moissanite Retailer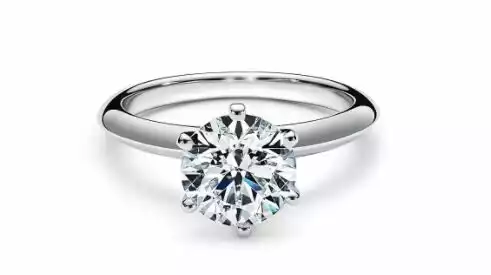 Bottom Line Up Front
There's such a variety of both timeless and innovative cushion cut moissanite rings to choose from, it's hard to pick just one! If I had to pick a favorite from this list it would probably be the . I love how charming this vintage-inspired ring is, but not all cushion-cut moissanite rings need to look like they popped out of a fairytale. For more cushion-cut moissanite ring ideas, read on!
About Moissanite
Moissanite is often mistaken for diamond, but it's a completely unique gemstone. It's brilliant and fiery (more fiery than diamonds!) and almost as hard as a diamond, which makes it a great affordable alternative to diamonds, but that's where the similarities end.
Moissanite is composed of silicon carbide and was first discovered in the 1890s in a meteorite. Because natural moissanite deposits are so hard to come by (it's much more rare than diamonds!) almost all of the moissanite on the market today is lab-grown.
Most of the moissanite used in jewelry is clear and colorless, though lower grade moissanite does tend to display some off colors. Fancy colored moissanite does exist, though it isn't as common as clear, colorless varieties.
For a list of the best places to buy moissanite online, click here!
About Cushion Cut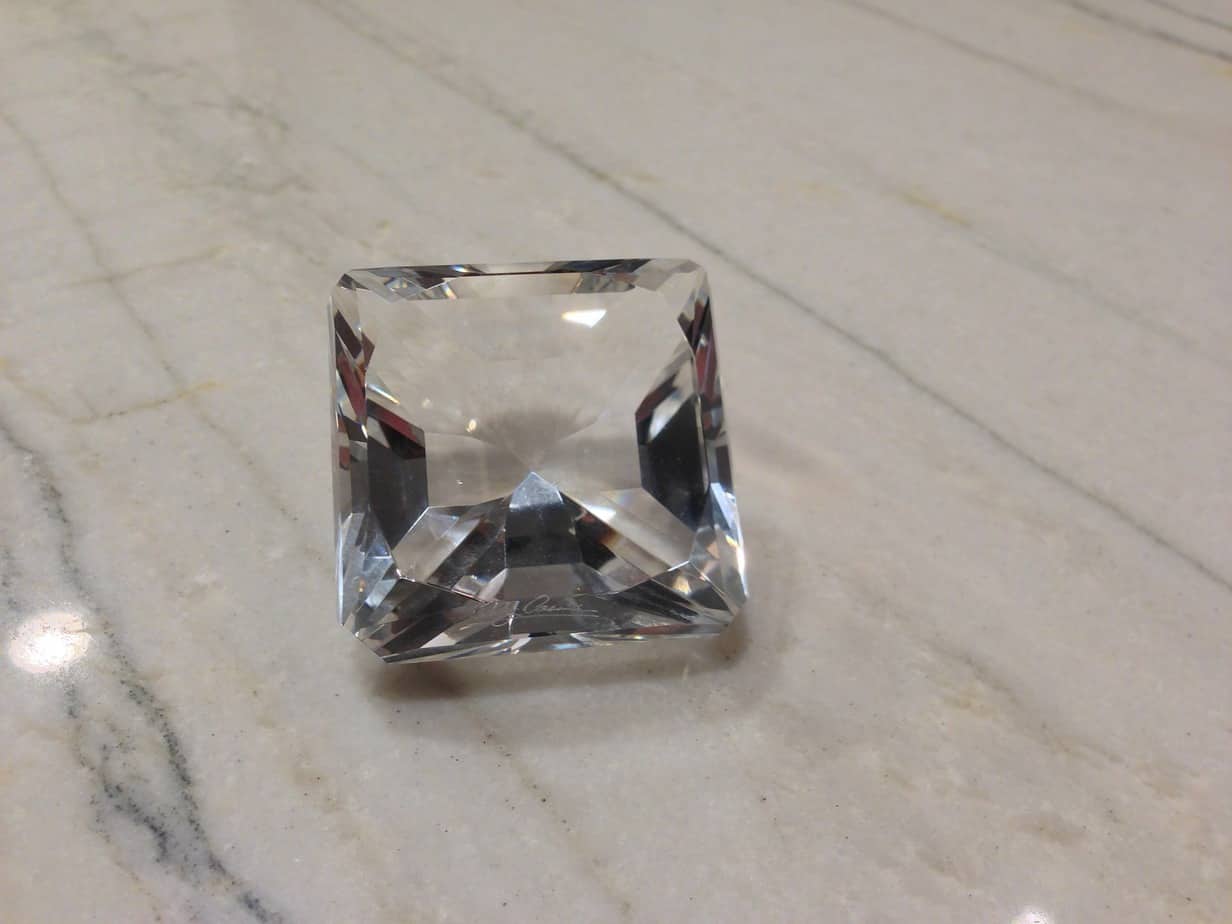 The cushion cut is the perfect intersection of modernity and tradition. Although it's one of the most popular cuts for engagement rings today, the origin of the cushion cut can be traced back to one of the earliest styles of cutting diamonds. The facet pattern of the cushion cut is a direct descendant of a cut called the old mine cut (more on that below!)
The cushion cut is a square or square-ish cut that has curved sides, giving it a "pillow-like" appearance. Most cushion cuts feature rounded corners, but some have pointed corners. The modern-day cushion cut is cut with 64 facets. As an added bonus, the rounded edges of a cushion-cut stone mean they won't chip or break as easily as some other cuts.
Cushion cuts have more fire than any other cut, which makes cushion cut moissanite one of the most fiery gems on the market!
Old Mine Cut
The old mine cut dates back to the 1700s when miners cut the stones themselves by hand. It was the most common style of diamond cut up until the early 1900s. It features rounded corners and a high crown with deep pavilion cuts. It's the real-life cut that all those cartoon drawings of diamonds we know so well are based on. Its bulky proportions were meant to enhance the stone's sparkle under candlelight. The cut's 58 facets were the height of brilliance at the time of its inception, but modern techniques have led to many more updated brilliant cuts.
Just for Fun: Some Celebrities with Cushion Cut Engagement Rings
Meghan Markle

Priyanka Chopra

Bar Refaeli

Allison Pill

Leighton Meester

Gabrielle Union

Kim Kardashian
Fun Fact: The Hope Diamond, the Regent Diamond, and the Tiffany Diamond are all cushion cut!
My Picks for Cushion Cut Moissanite Rings
Although cushion cuts are lovely when used in vintage-inspired rings, they work equally well for more modern styles. I put together a list of my favorite cushion cut moissanite rings, paying attention to the quality of materials, innovative design, and variety of style options. Read on to find out which rings I chose and why!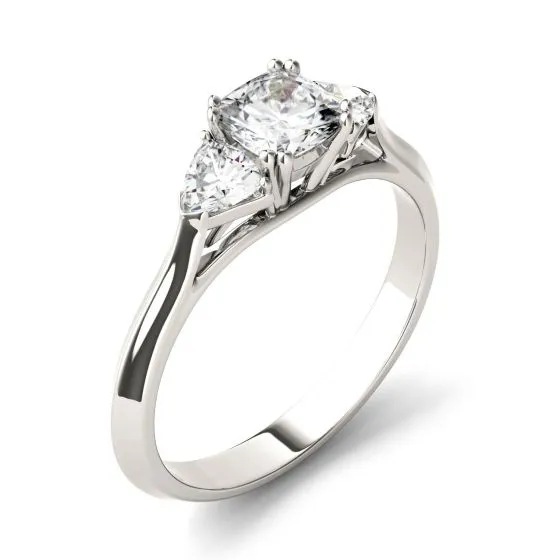 I love three stone rings! The cushion-cut center stone in this ring from Charles & Colvard is the equivalent size of a single carat diamond and is flanked by two moissanite trillions. It's a timeless classic and highlights the cushion cut's modern-meets-traditional aesthetic. Buy here for $1339
Reina Ring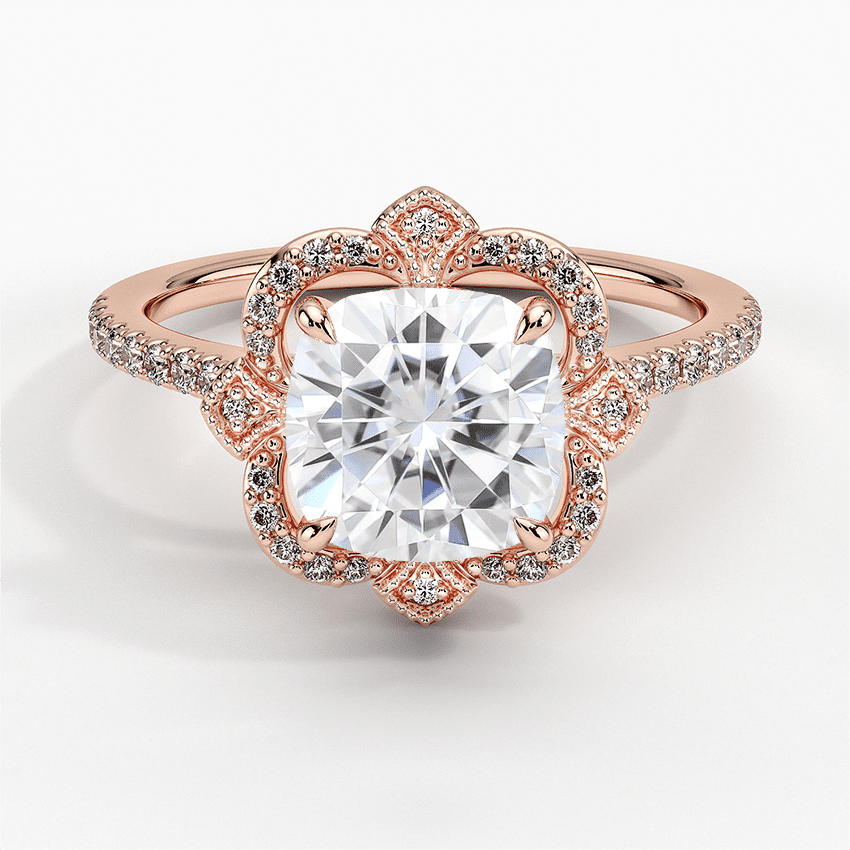 I like that the lab-grown diamond halo on this ring is a little more ornate than your average halo. It really adds to the elegance of this vintage-inspired ring from Brilliant Earth. This is absolutely an engagement ring fit for royalty. Buy here for $3,900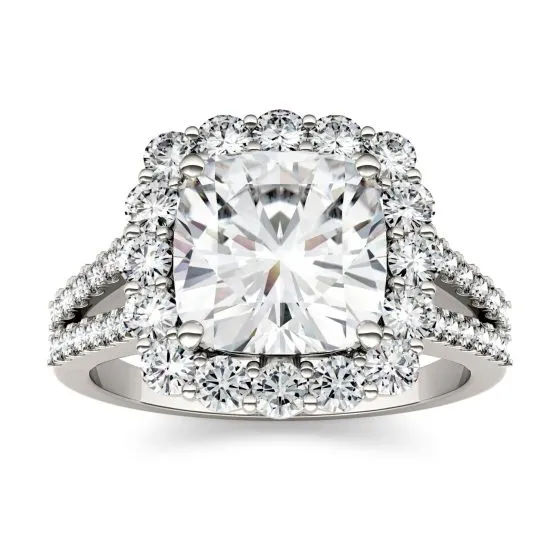 This engagement ring from Charles & Colvard serves up some serious brilliance and fire, for a fraction of what a diamond ring would cost. Seriously, a similarly sized and styled diamond ring would be upwards of $20-30k! The moissanite-lined bands and halo make this ring look positively massive, and I love the hidden accent stones above the bridge. Buy here for $4,019
Cushion-Cut Ring with Pear Side Stones
Did I mention I love a three-stone ring? This delicate ring from Starlight 2012 on Etsy is so ethereal and graceful. I especially like it in the rose gold setting. Buy here for $190+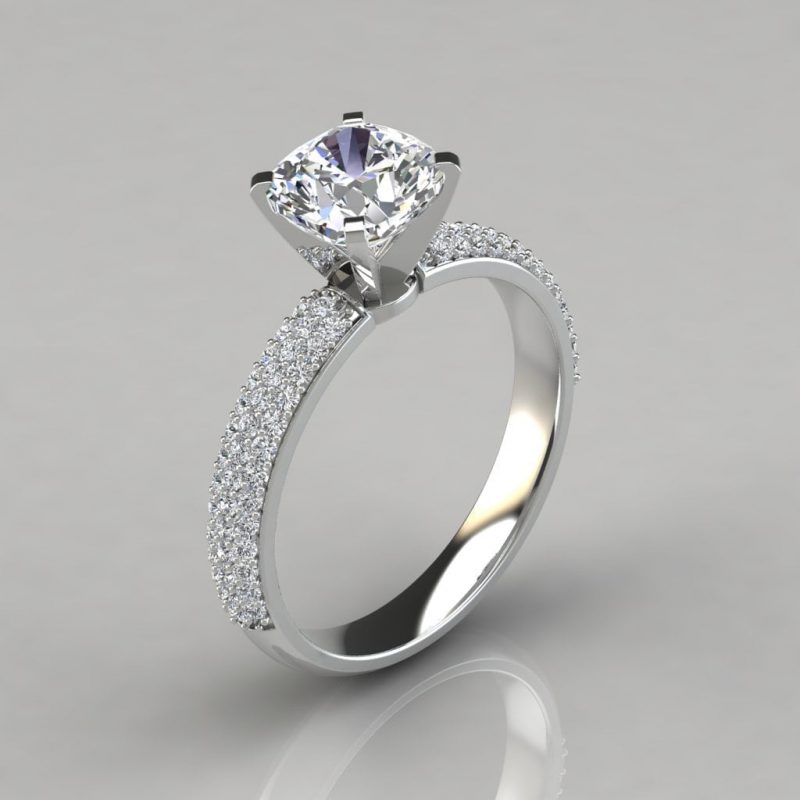 Yes! That's all I have to say about this one. While I adore the cushion cut stone on this ring, for me, the real winner is the micro pave band! I'm all about the glitz and lam, so maybe that's why I love this ring so much. Buy here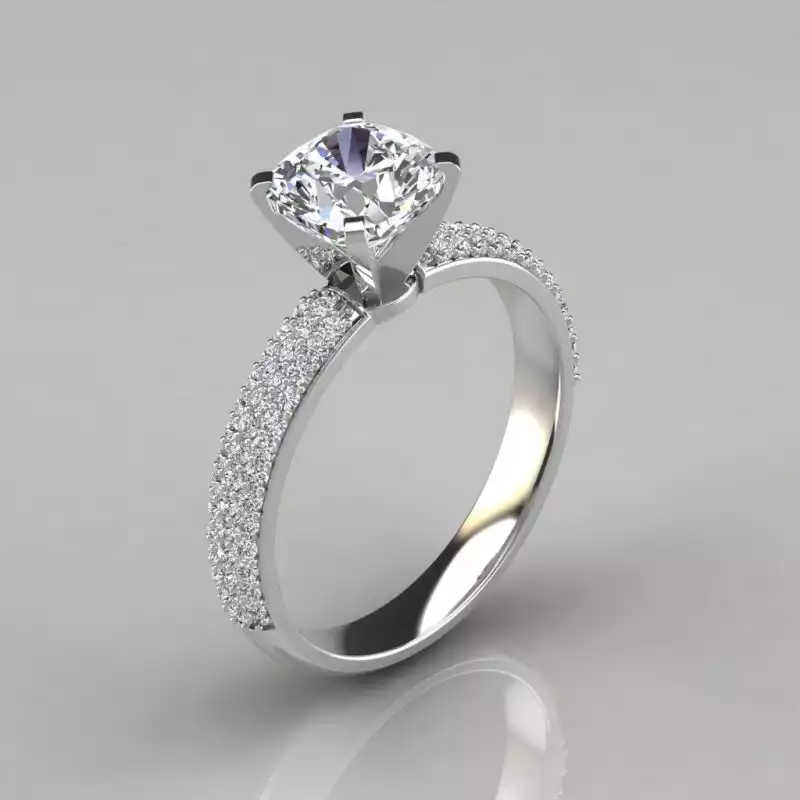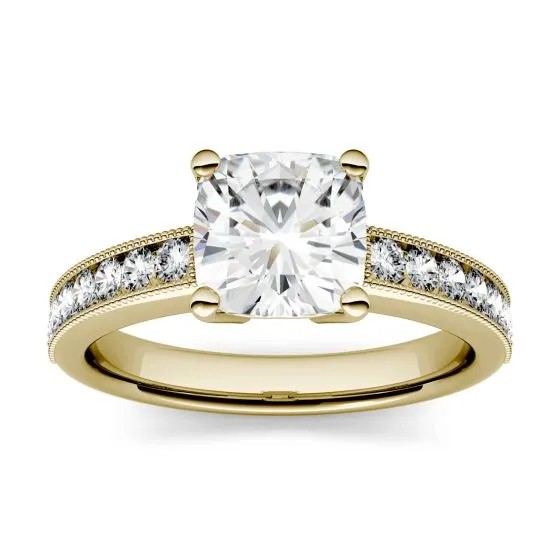 The channel-set side stones and milgrain on the band of this Charles & Colvard ring make it a perfect vintage-style ring. It's the best of two worlds. It looks like it could have been passed down as a family heirloom, but it's brand new and uniquely yours! Buy here for $1,369
Blue-Green Solitaire Ring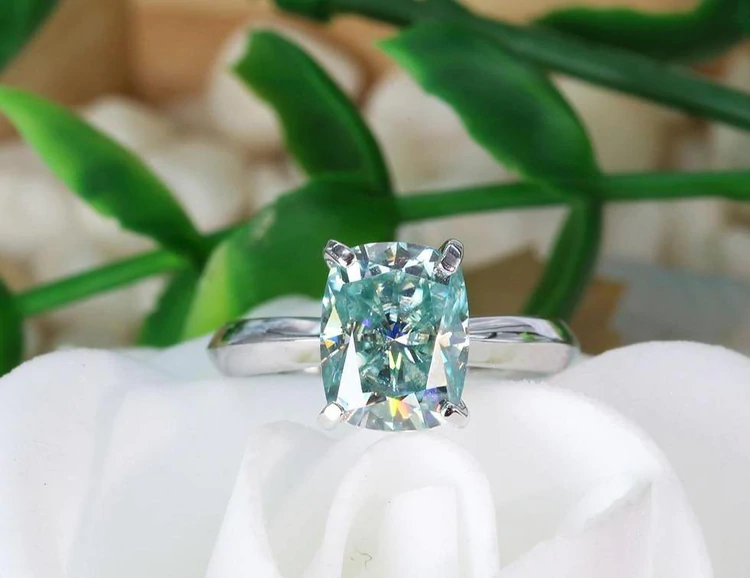 This large, aquamarine-colored cushion-cut moissanite from Black Diamonds New York is a showstopper for sure. This mermaid-green ring is such a great option for anyone looking for something unique and less traditional without sacrificing brilliance and fire. Buy here for $592
Fiorella Ring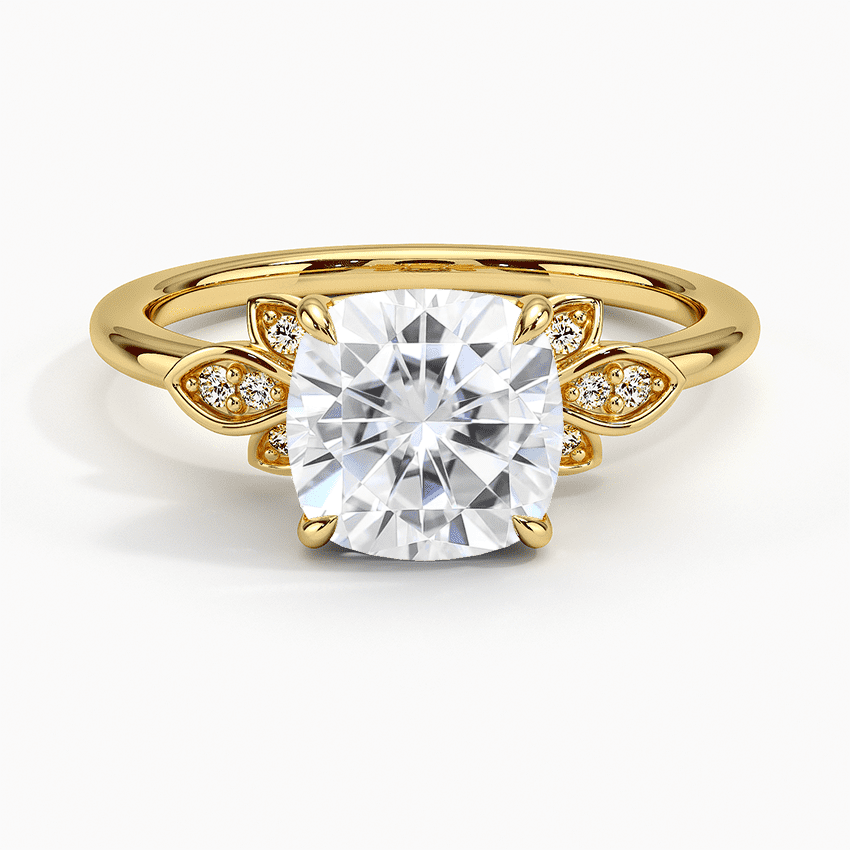 I love this modern, nature-inspired take on a solitaire ring! Not all nature-inspired engagement rings need to look like they walked off the set of a high-fantasy film (though some of my favorite ones do!) This ring from Brilliant Earth is the perfect example of a more modern approach to the style. Buy here for $3,200
Bloom Ring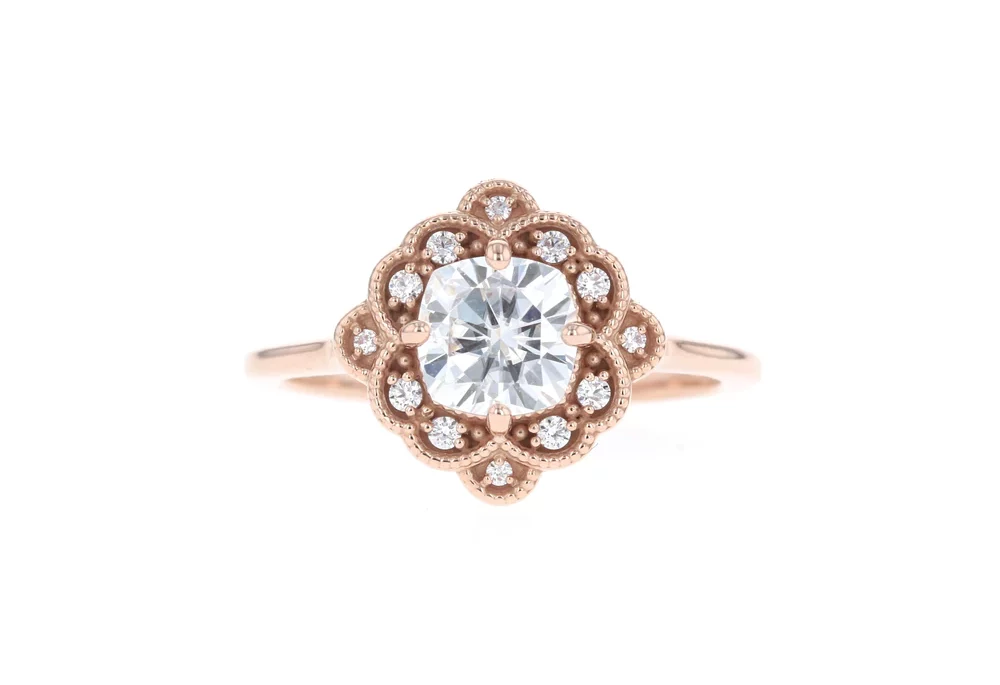 This vintage-inspired cushion cut moissanite ring from Olive Ave is so romantic. I love that it looks like a piece of heirloom jewelry. The filigree work around the halo stones is impeccable. Just note that if you're looking for something like this it can be difficult to pair a wedding band with it. Buy here for $1,125
Swirl Bypass Ring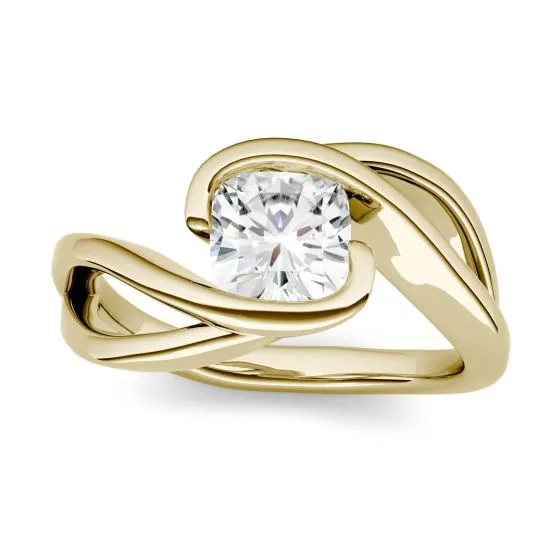 This Charles & Colvard ring is unique, and a little edgy. I like that the sculptural quality of the band lends this ring some retro qualities as well. It's a style that won't suit everybody, which makes it perfect for someone who wants something a little different. Buy here for $1599
Bezel-Set Green Moissanite Cushion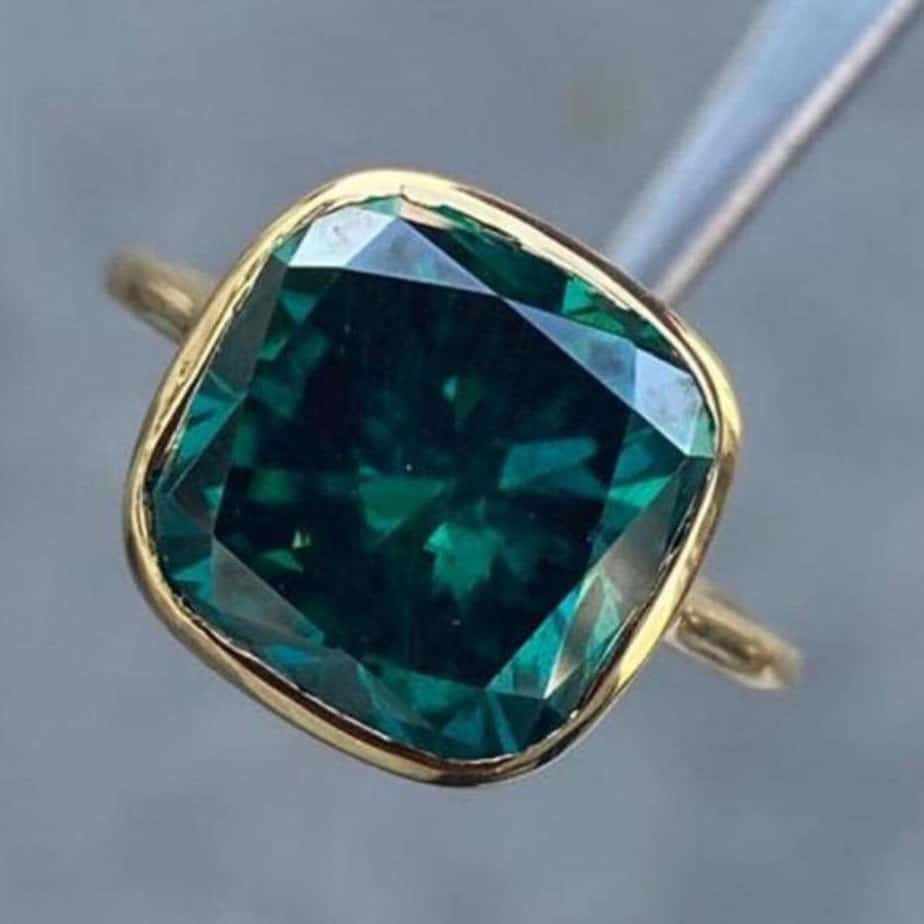 This bezel set ring from Angaar Jewels on Etsy is massive and is a great option for men or women. It's a lovely alternative engagement ring but works equally well as a cocktail ring. Bezel settings are great for their security, which means this is the perfect ring for anyone on the go. You won't have to worry about losing that giant emerald green stone! Buy here for $272+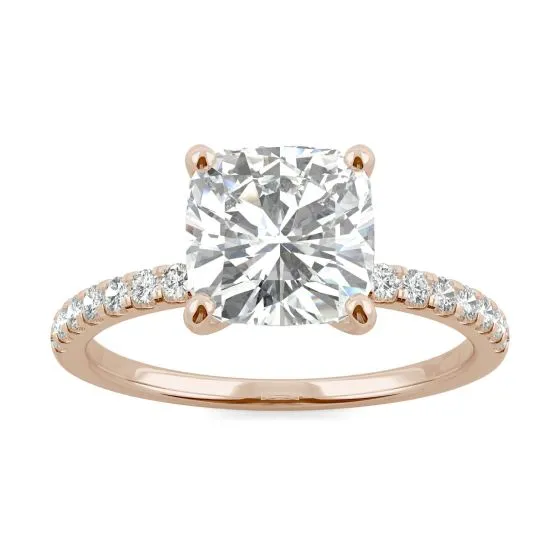 This might be the perfect solitaire engagement ring. It's simple and sparkly and just all-around charming. The accent stones on the band of this Charles & Colvard ring add the perfect amount of delicate enchantment to this sweet moissanite ring. Buy here for $2,179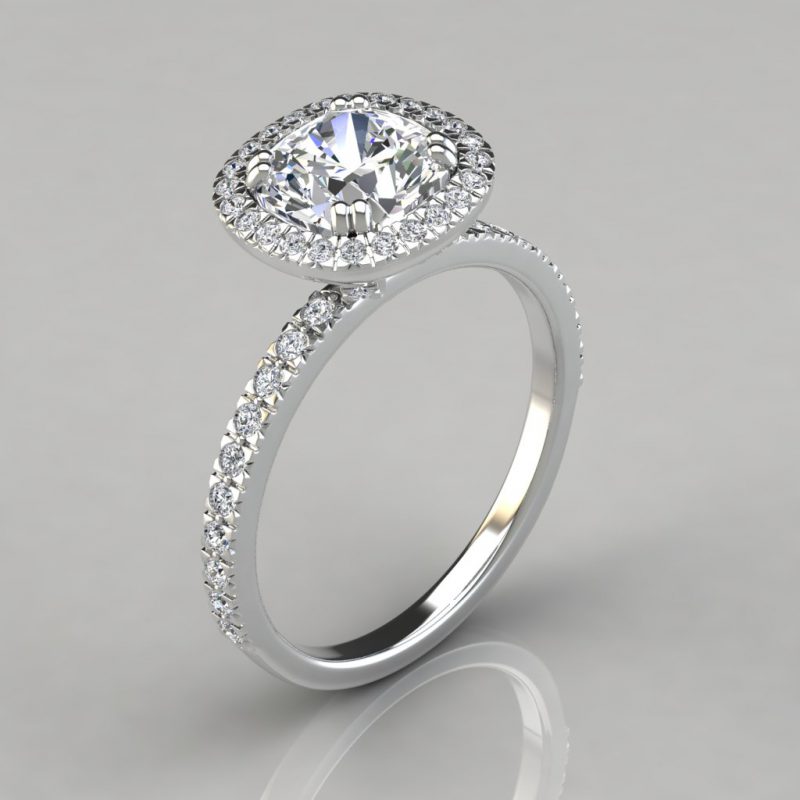 Looking for something a little simpler, to show off a beautiful cushion cut? To me, this is a beautiful ring that does that perfectly! Plus, I love how secure the ring looks with the four prongs. There are 16 side stones that add a beautiful bit of detail to this ring, without it being too flashy. Buy here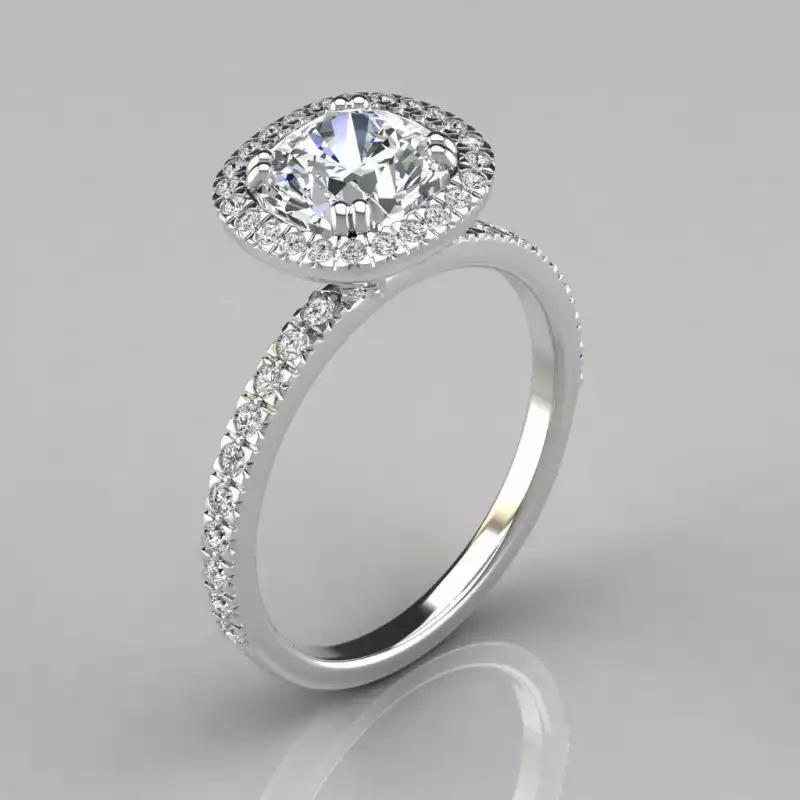 Waverly Ring with Black Diamond Accents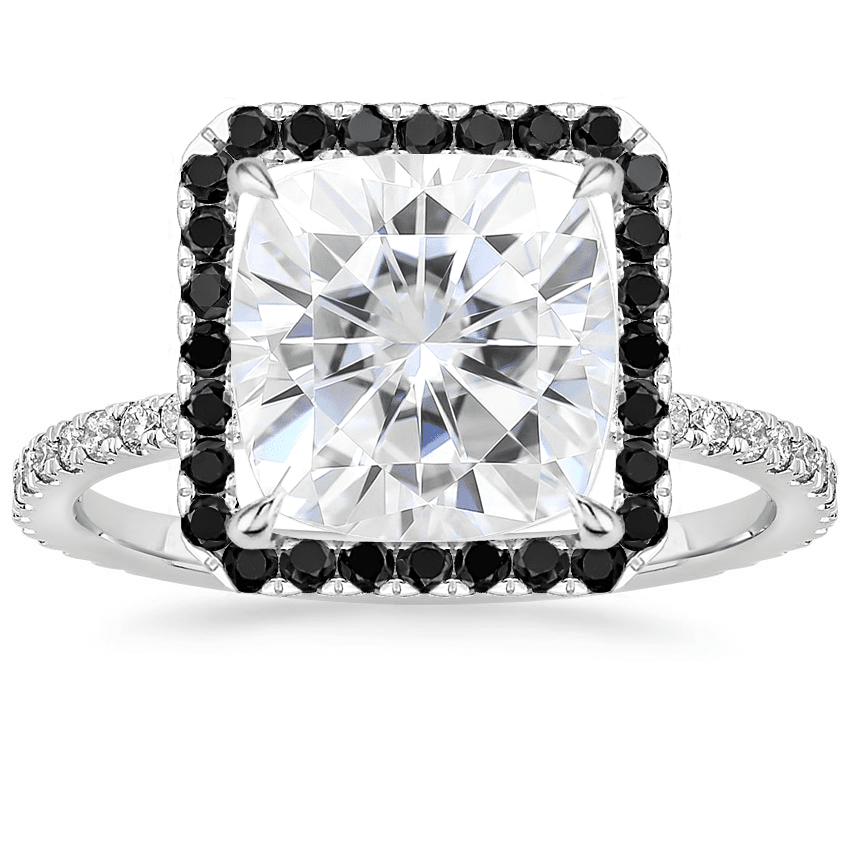 The black diamond halo is what makes this bold ring from Brilliant Earth so impactful. The striking, graphic quality of the black diamonds and added sparkle of the diamond-encrusted band serve to enhance the brilliance of the center moissanite. Buy here for $4,040
Brown Moissanite Solitaire Ring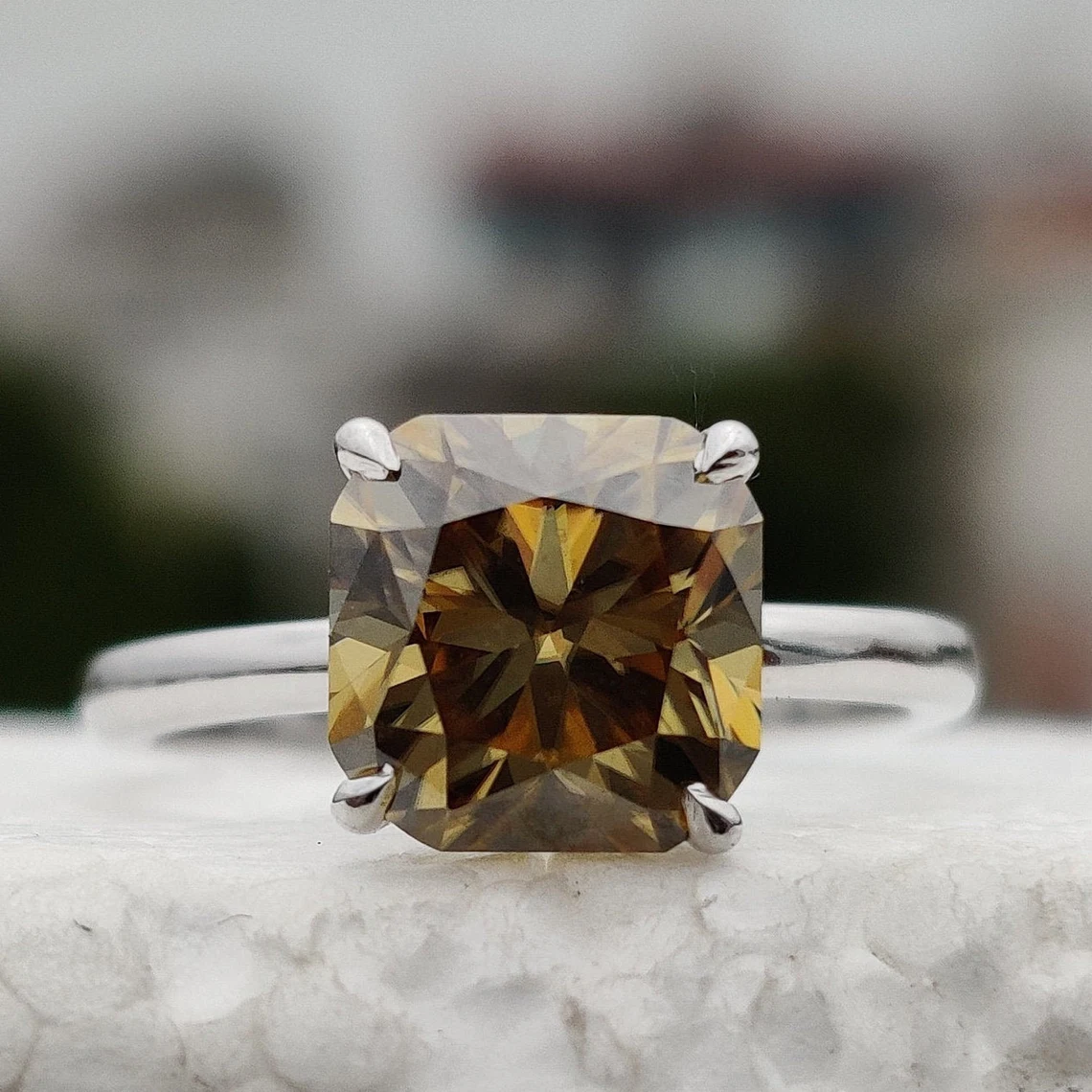 Ok, I know a brownstone isn't going to be everyone's cup of tea, but I think the simple, rustic appeal of this brown cushion cut moissanite from Angaar Jewels on Etsy is perfect for anyone looking to buck tradition. The color of this stone accentuates the clean lines of the cushion cut. It would also make a great alternative to hessonite garnet, which is one of the birthstones for January. Moissanite is a harder and more durable stone more conducive to everyday wear. Buy here for $229.50+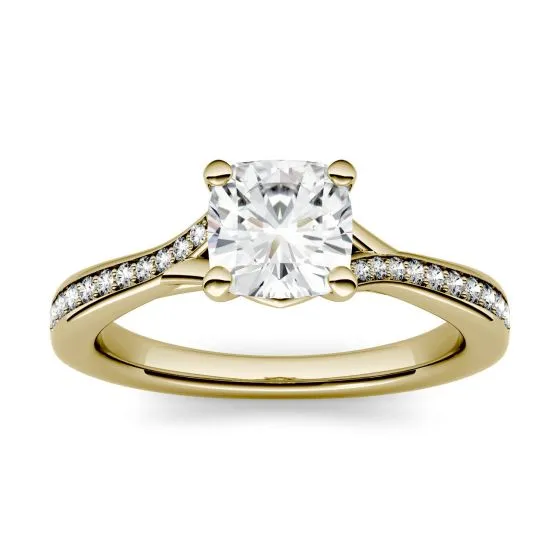 This Forever One moissanite ring from Charles & Colvard has all the class of a simple solitaire with a little something special. The twisting accent stones along the band add a little extra sparkle to this ring, but it's still simple enough that it can be paired with a huge variety of wedding band styles. Buy here for $1,429
Antique Halo Basket Ring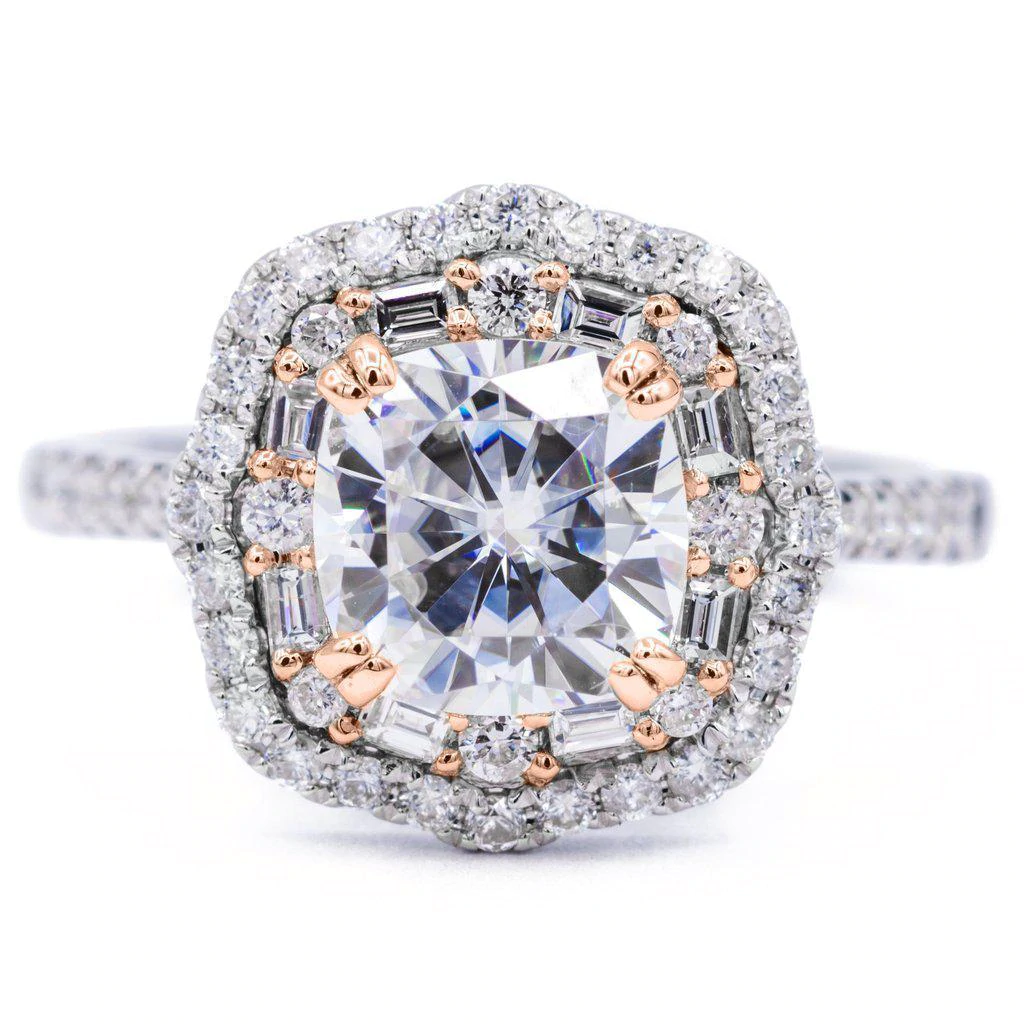 This ring is not for the faint of heart! The double halo design of this Fire & Brilliance ring is so bold, it might even make Elizabeth Taylor jealous! I love the deco look of the two-tone gold settings on the halos. Buy here for $2,610
Jude Ring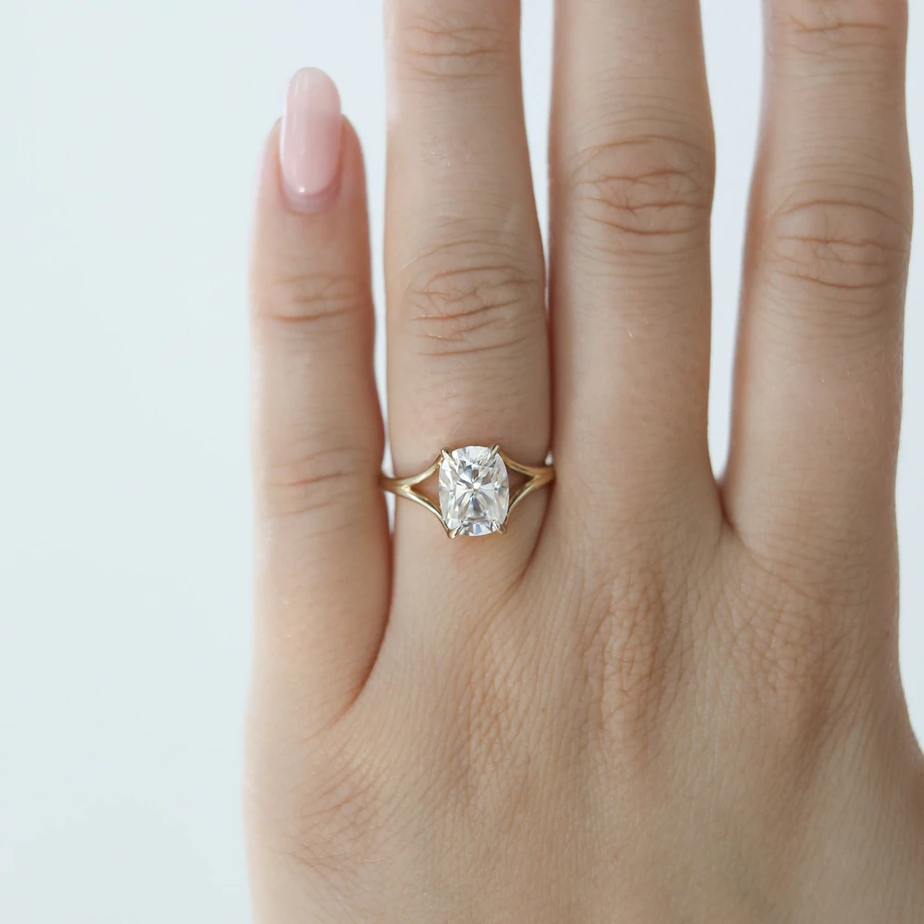 Did you know cushion cuts could be elongated? I did, but it's my job to know! This solitaire ring from Olive Ave puts the stone front a center by featuring a 9 by 7mm elongated cushion cut moissanite set in a simple split shank band. It's both understated and elegant. Buy here for $2,065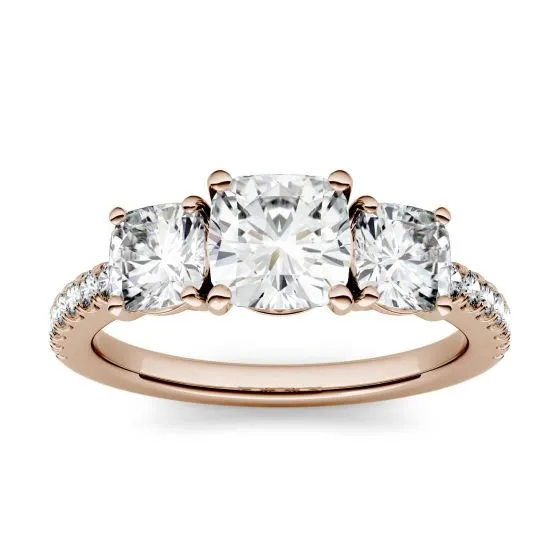 If you can never get enough moissanite, this is the ring for you! The three center cushion cut moissanites cascade into a band set with even more moissanite! It's moissanite down! In all seriousness though, I think this Charles & Colvard ring is elegant and shimmery and stunning. Buy here for $1,689
Cyan Blue Bezel-Set Ring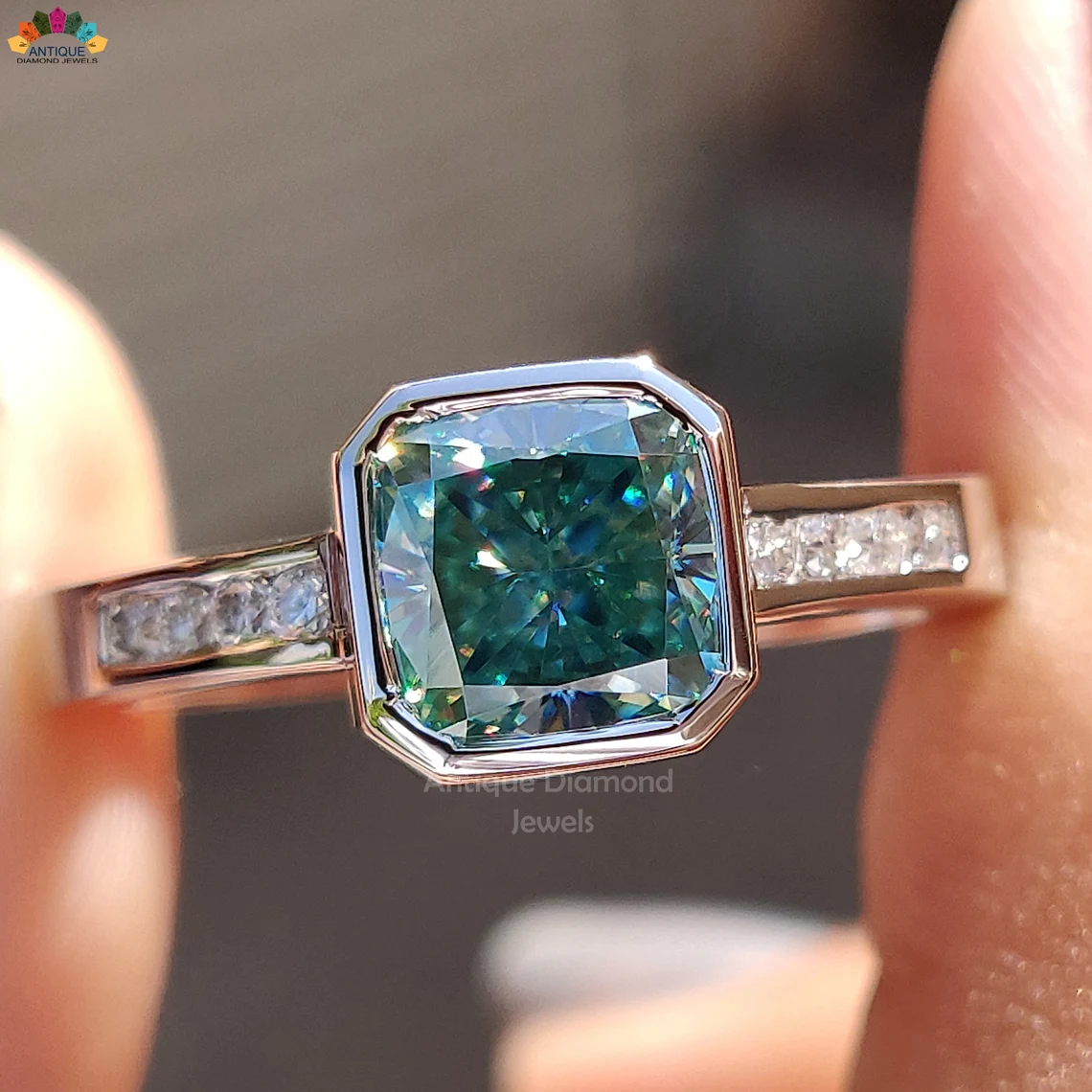 The brilliant blue cushion cut moissanite center stone offers a fresh take on a classic bezel ring setting. I like that this ring from Antique Diamond Jewel on Etsy feels like a modernized mid-century ring. The bezel setting has been around since ancient times, and it is particularly great for people with an active lifestyle since it keeps the center stone so secure. Buy here for $198.90+
Courtney Ring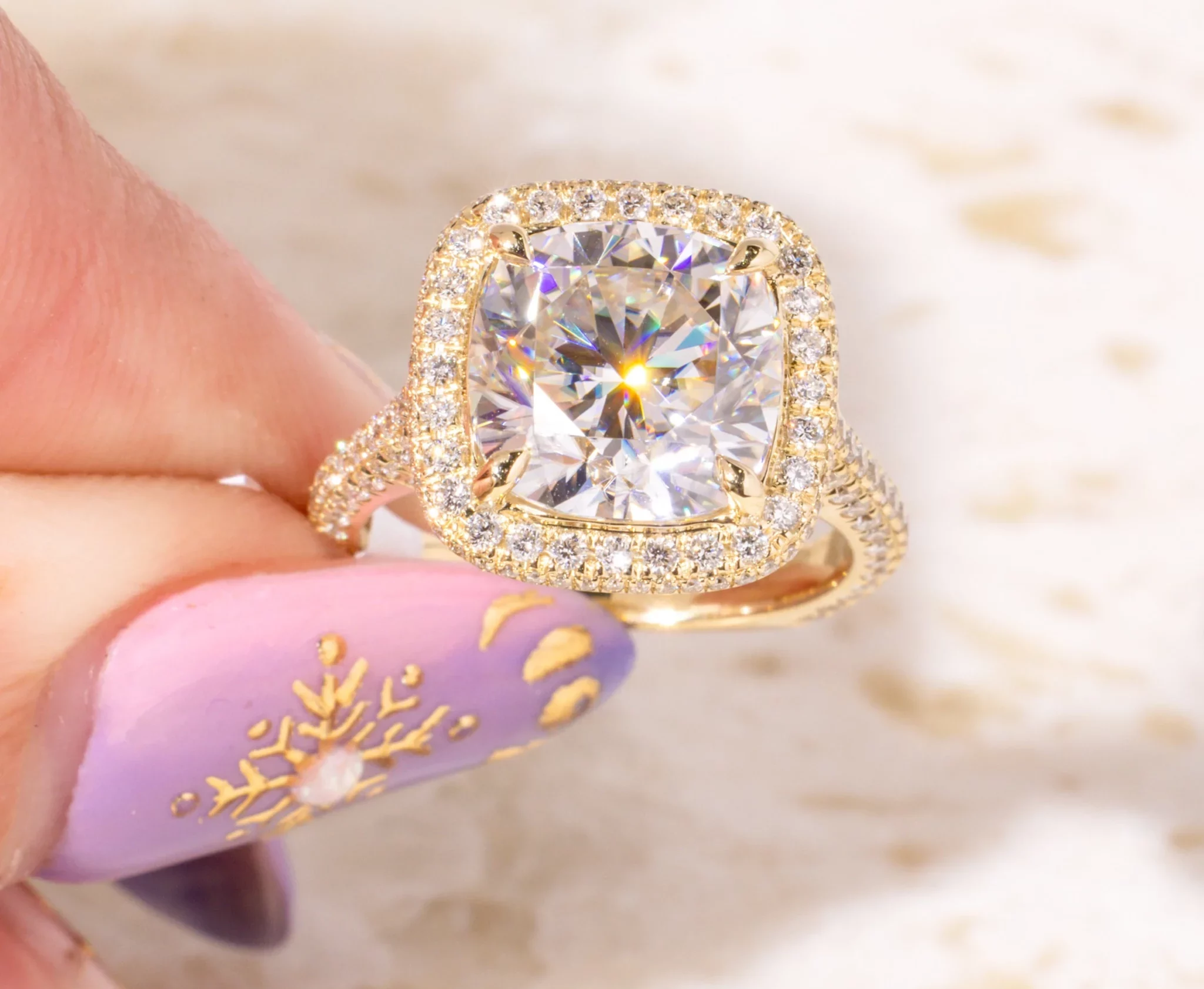 This is a cushion-cut moissanite ring fit for a princess. The fairytale sparkle and fire of this 10mm moissanite (from the aptly named Princess Bride Diamonds) combined with the diamond pavé band and diamond halo is out of this world. This moissanite is the equivalent to a five-carat diamond and will make anyone looking for something ultra-glamorous exceedingly happy. Buy here for $5,880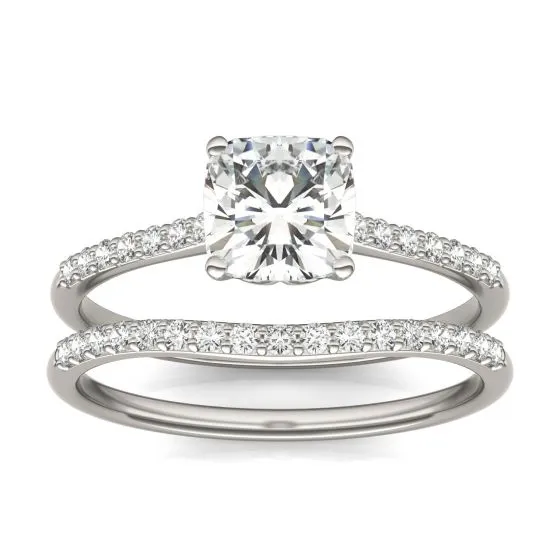 I love the convenience of a bridal set. There's no need to worry about finding the perfect wedding band to match your engagement ring! In some cases, they can even save you money. I like that the contour wedding band on this Charles & Colvard set fits snugly with the engagement ring without any of the large, awkward gaps that can sometimes happen with bridal sets. I also think these rings are the perfect size and setting for everyday wear. Buy here for $1,919
Old Mine Moissanite Engagement Ring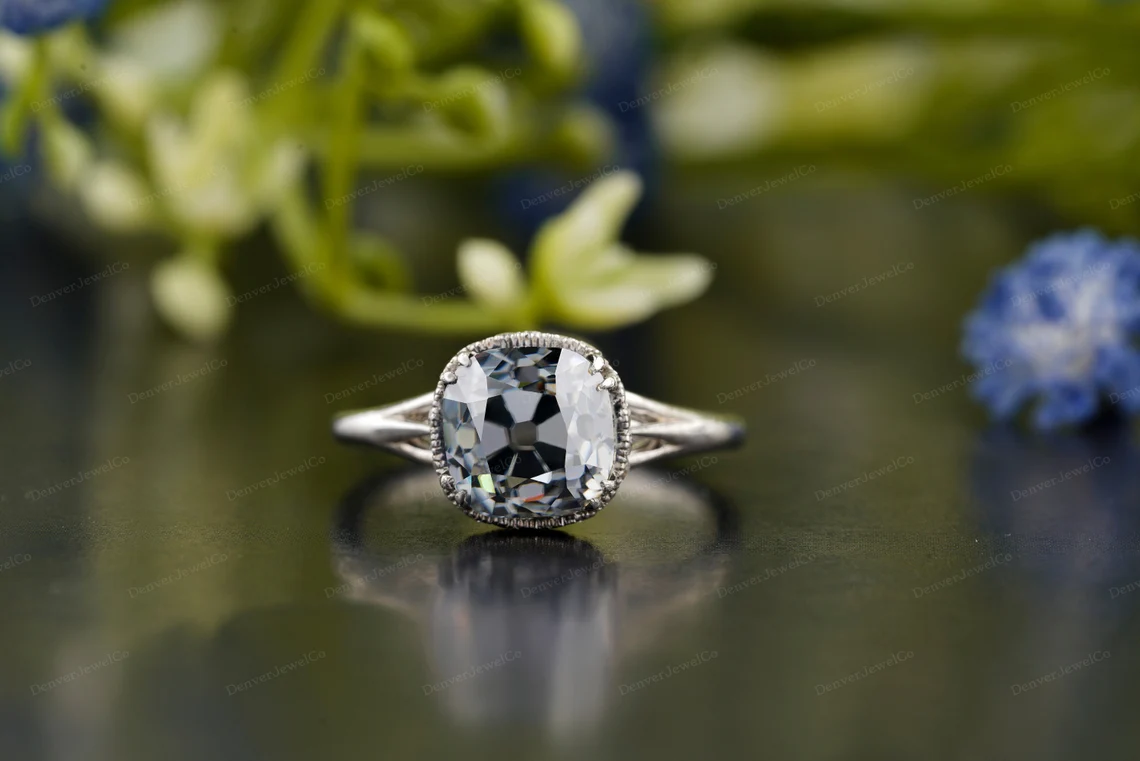 I couldn't resist adding at least one old mine cut ring to this list! This ring from Denver Jewel Co on Etsy demonstrates how powerful this antique cut is. The high crown and large facets make this stormy gray center moissanite stand out from its hidden halo band. The clean lines and bold cut of this ring make it such a striking piece! Buy here for $269+
Old Mine Ring with Pink Halo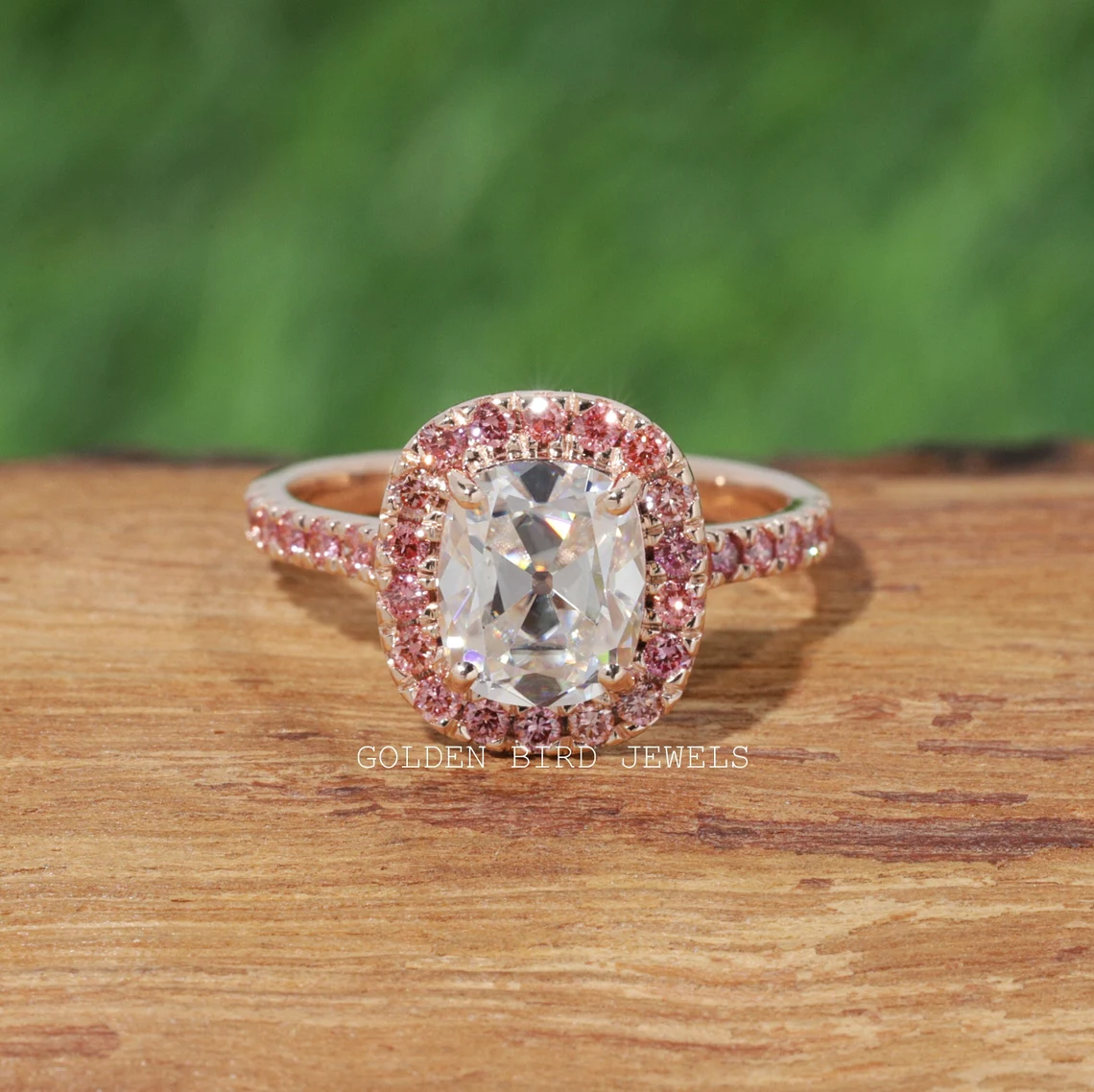 Here's an example of how not all old mine cut rings have to look like antiques! I think this ring looks good enough to eat. The center moissanite is surrounded by candy-colored lab-grown diamonds that give it such a cheerful sparkle. Buy here for $709.75+
FAQ
Question: Is moissanite a real diamond?
Answer: Moissanite is not a real diamond, nor is it a fake diamond. Moissanite is a completely different gemstone known for its brilliance and fire! It's very sparkly and durable, which makes it a great option for engagement rings.
Question: Is moissanite rarer than diamonds?
Answer: Natural moissanite is space dust found in meteors, and is much rarer than diamonds., but most moissanite used in jewelry is lab-grown. 
Question: Why is moissanite so cheap?
Answer: Moissanite is 10% to 50% cheaper than comparably sized diamonds. This is partly because moissanite is grown in a lab, and partly due to the manufactured scarcity of diamonds. Moissanite is still considerably more expensive than other diamond alternatives
Question: When was cushion cut created?
Answer: The cushion cut originated back in the 1700s with the old mine cut. The cut was updated into what we know today as the cushion cut in the 1900s. 
Question: Do people sell fake moissanite?
Answer: Some sellers will try to pass off cheaper alternative stones, such as cubic zirconia, as moissanite. To avoid getting scammed, make sure you buy your moissanite jewelry from a reputable source. Some jewelers have even begun to offer certificates of authenticity with their moissanite. Be wary of any deal that seems too good to be true. If a piece of moissanite jewelry seems overly inexpensive, it might not be real moissanite.
Question: Will moissanite last forever?
Answer: Moissanite is extremely durable. With proper care, it should last for generations! Cushion cut moissanite is especially durable since there are no sharp angles or corners that can chip!
Final Thoughts
Cushion cut is a fantastic cut for moissanite. It's sparkly and durable and can be worn in so many different settings. It's a classic, romantic cut but that doesn't mean you can't find unique, modern rings made with cushion-cut moissanite! If I had to pick a favorite from this list it would probably be the Bloom ring. It's a romantic, modern heirloom and is unique without being too showy.