Many people have discovered the well-kept secret that Moissanite looks startlingly like a diamond and are now shopping for Moissanite Necklaces. Moissanite has more fire and sparkle than diamonds and is a lot less expensive. Let's find out more about Moissanite and get the Best Moissanite Necklace Ideas available online.
All about Moissanite
Moissanite is just a fake diamond-like cubic zirconia, right? No, Moissanite is a real gemstone that is almost as hard as diamonds. Moissanite is a gemstone that has gained popularity in recent years. First brought to the gemstone market in 1998, this gemstone is quickly becoming a favorite of those looking to mimic diamonds or who are impressed by Moissanite's better sparkle and fire in comparison to diamonds.
Henri Moissan first discovered Moissanite in 1893; it was later named after him in appreciation of his work around the gemstone. Originally, the gem was found in rock samples around a meteor crater. Initially, he thought that he had discovered diamonds, but eleven years later found that these crystals were silicon carbide, and diamonds are made entirely of carbon. Moissanite occurs naturally, only in trace elements in very rare circumstances, and is thought to come from outer space, where it forms outside of our solar system.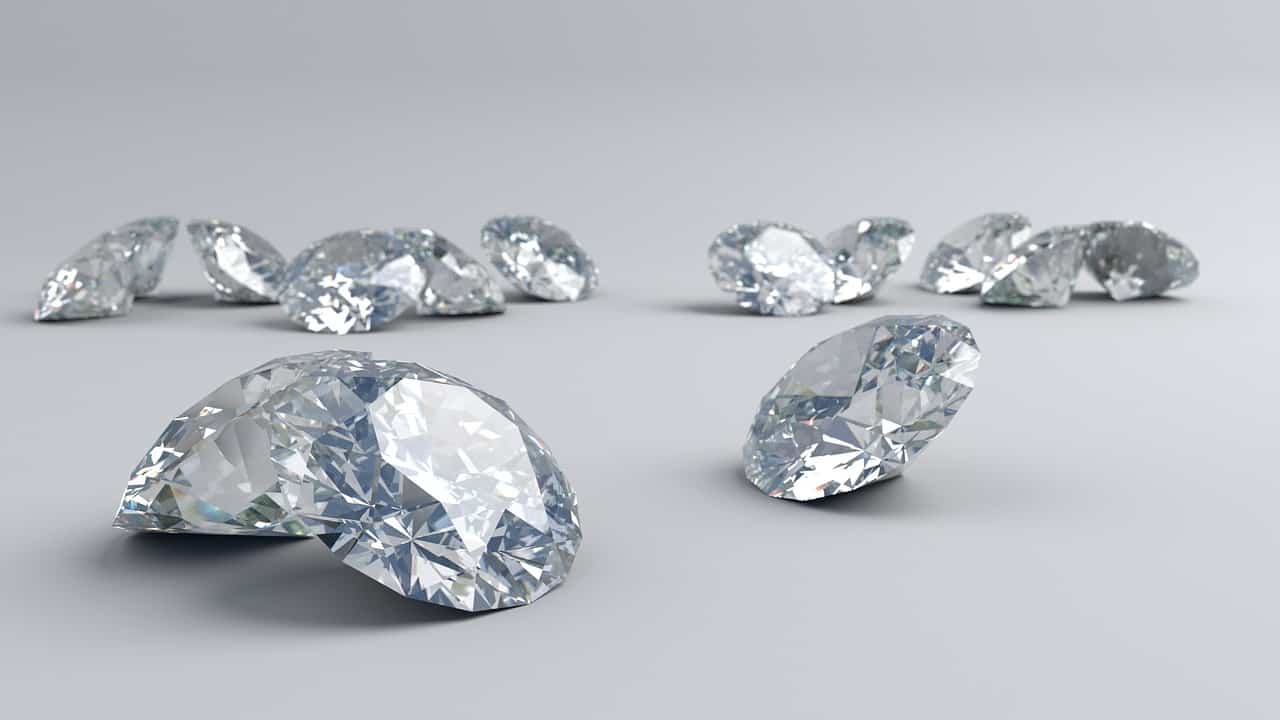 Early Black Friday Offers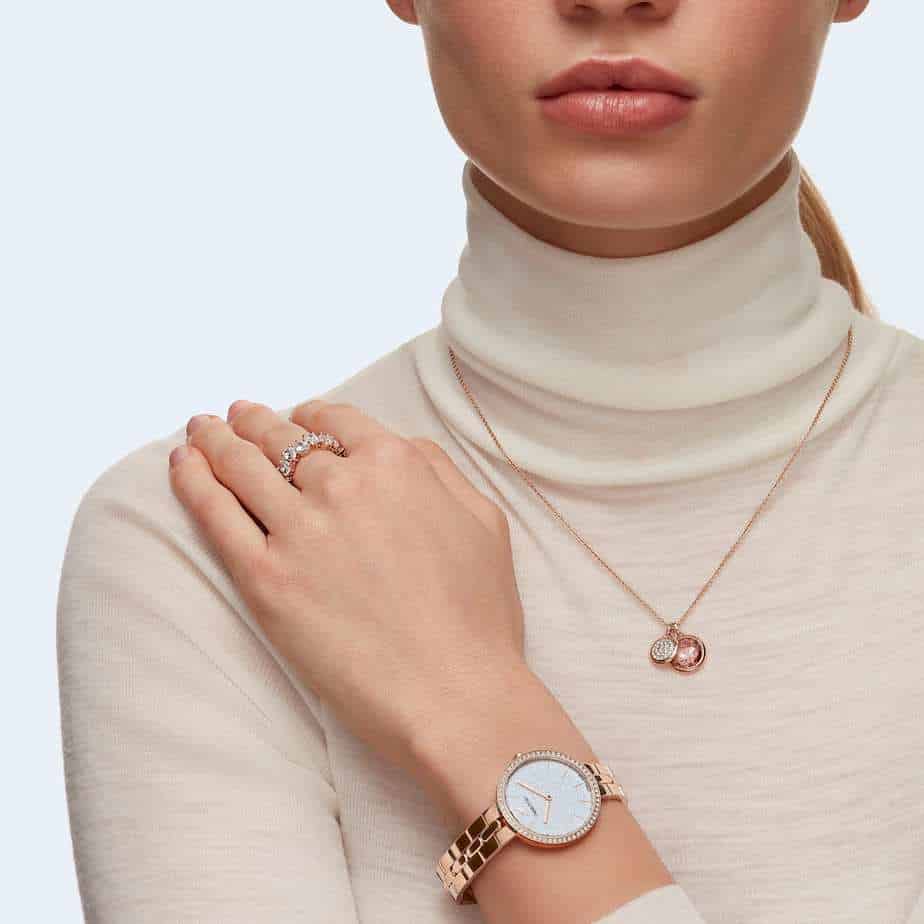 The Best Match: Swarovski + Love You Tomorrow
We partnered up with world-renowned brand Swarovski to bring you these EXCLUSIVE BLACK FRIDAY OFFERS: 25% OFF on selected styles AND 50% OFF on select watches! Just in time for the Holiday season.
(Sale starts Nov 21st until Nov 30th)
Start Saving!
We earn a commission if you click this link and make a purchase at no additional cost to you.
Fortunately, just two years before Moissan discovered that Moissanite was silicon carbide, Edward Acheson created a process to manufacture the silicon carbide for commercial application. In 1987, Cree Research created a process to make large single crystals which later were turned into high-quality Moissanite. The company, Charles & Colvard, became the only jewelry company to hold the patent and market the alternative diamond gems in 1995. Around 2018, all the patents had expired on the process, so Moissanite became available on the market as more jewelry companies joined in the gemstone sales.
Moissanite has joined White Sapphire as the two most common diamond alternatives for engagement rings and wedding bands. White Sapphire has a grayer sparkle to a diamonds mix of white and rainbow fire, and Moissanite has more rainbow sparkle than the white fire of a diamond.
Alternatives to Moissanite
Moissanite is the alternative gemstone to diamond, but there are other alternatives to the gemstone as well. Here are a few other gemstones that you may want to consider as alternatives to Moissanite.
White Topaz: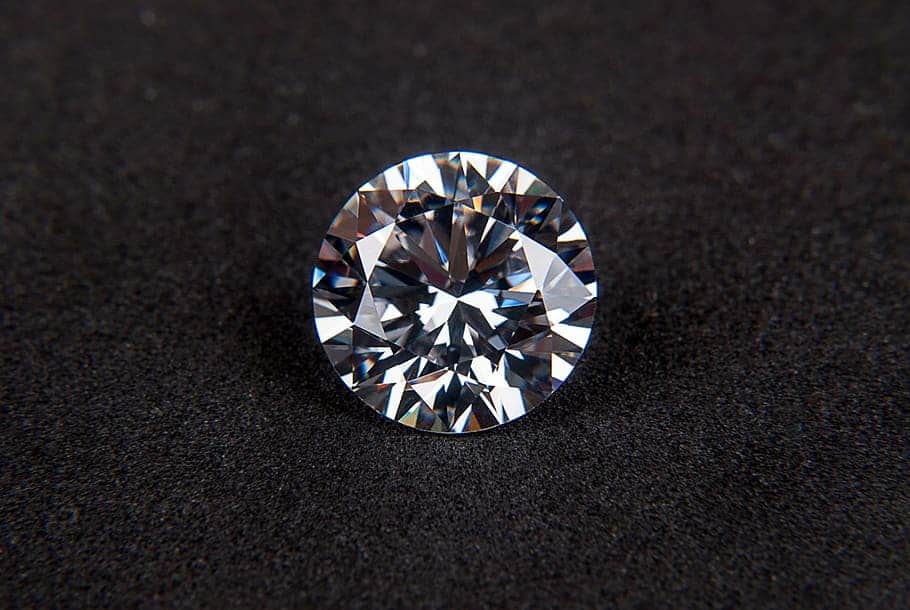 White Topaz is a clear, colorless stone in its most natural form; Topaz gains colors when it has certain additional elements and inclusions. White Topaz is an alternative stone to both Diamonds and Moissanite. White Topaz is a good choice if you are looking for a lower-priced natural stone. Topaz is not as hard on the Moh scale, and Cubic Zirconia and Moissanite are preferred as their harness and sparkle resemble a diamond more closely than Topaz.
White Sapphire: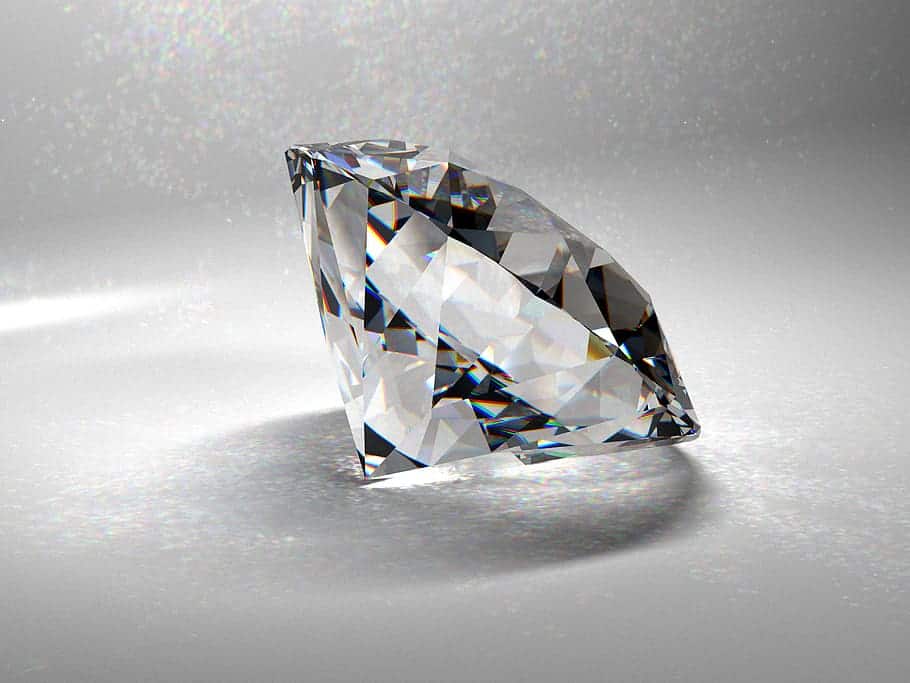 This clear gemstone is one of the most popular gemstones alternatively to Diamonds and could also substitute for Moissanite. However, they have a gray-white sparkle and are not as similar to a diamond as Moissanite. White Sapphire is one of the most common colors of Corundum and is the natural color of the mineral. White Sapphire needs regular cleaning to continue to sparkle and can also require polishing. Sapphire is high on the MOH scale of hardness and is a good choice for daily wear.
Cubic Zirconia:
Assumed to be plastic and cheap, Cubic Zirconia is a stone made of a crystalized form of zirconium dioxide and is on the lower end of the MOH scale of hardness. Cubic Zirconia is environmentally friendlier than diamonds but is about the same as Moissanite, as both are lab-created. Cubic Zirconia is almost worthless as a gemstone without the setting but can make for an inexpensive alternative while you wait to save money or if there is a danger in losing or damaging a piece of expensive jewelry. Cubic Zirconia is the least expensive stone alternative.
The Best Moissanite Necklace Ideas
Solitaires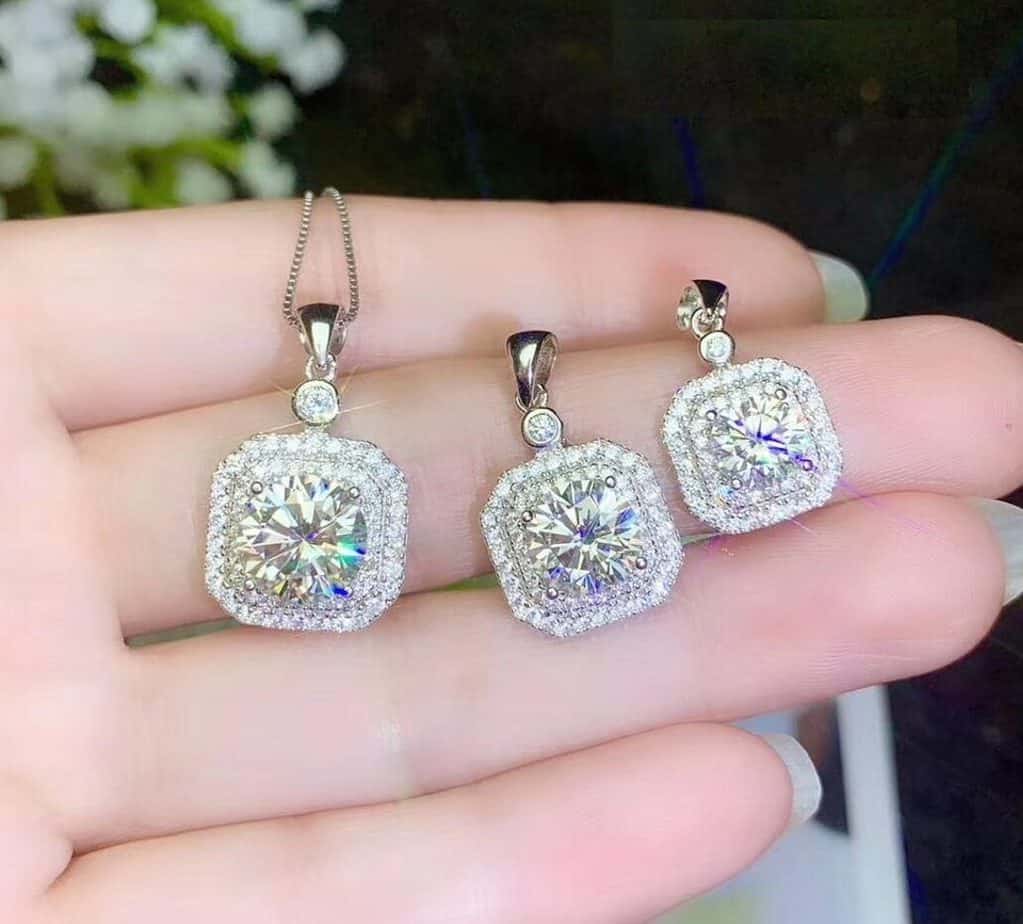 With a sterling silver wheat chain included, this pretty solitaire rests inside a cushion-style setting. A double halo of cubic zirconia is set into the sterling silver setting. The stone size is customizable, and you can get a one, two, or three-carat Moissanite stone. The bale of the pendant holds a small round drop stone and has a polished silver bale. This dime-sized pendant has a super-sized amount of sparkle and is a great daily solitaire.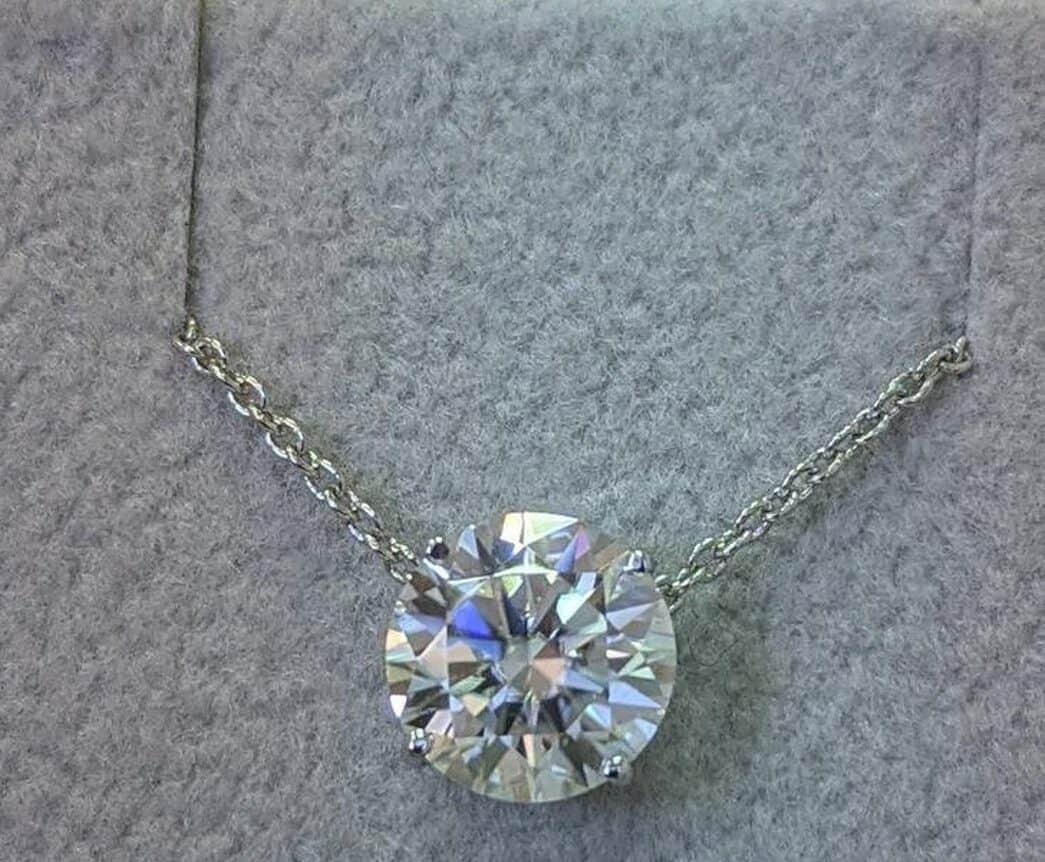 With a hidden bale under the Moissanite stone, this solitaire floats on the necklace. The silver setting is almost invisible as the prongs are small and allow the gem to be the only part of the necklace to be seen. The sixteen-inch sterling silver holds the two-carat stone around the base of the neck, allowing the solitaire to show, even with crew neck shirts. This necklace is all about showing off the Moissanite quality and sparkle. Simple and everlasting, this is the stone and little else.
Most solitaires are round, and I like this emerald cut for its beautiful shape and beveling. This one carat Moissanite is set into a polished sterling silver setting without other decoration. The bale is a smooth rounded piece, and the mounting and prongs are polished smooth as well. The included box chain is sixteen inches long with an extender of eighteen inches.
Pendant
Dangling from an eighteen-inch cable chain necklace, this one carat heart-shaped Moissanite stone is surrounded by a heart-shaped halo. Moissanites of varying sizes create the halo and continue on the bale as well. The bale loops over and splits to hold the heart stone evenly, and there is a little over a half-carat total additional Moissanites on the bale and halo.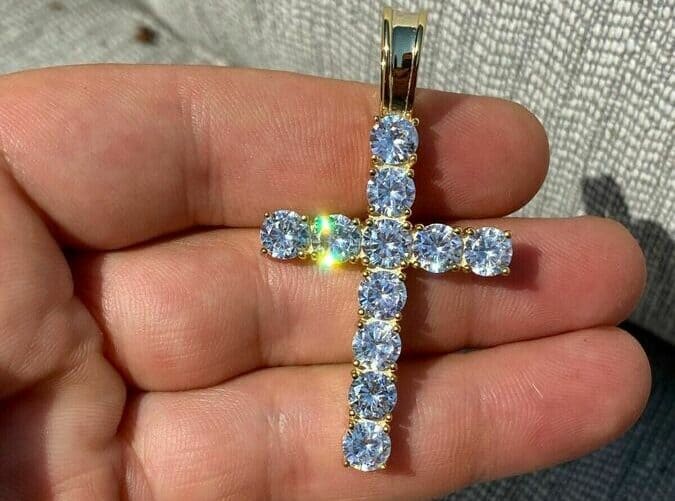 A simple cross is almost a basic need in jewelry. This blinged outcross can be purchased in several sizes and comes with gold vermeil over the sterling silver bale. Eleven round Moissanites are shaped into a cross shape and have the signature rainbow fire of Moissanite. This small but beautiful cross will be a go-to piece for many years. A cross can always be worn as an ornamental piece, or for deep convictions, this piece is going to sparkle in low lights and be a very eye-catching Moissanite pendant.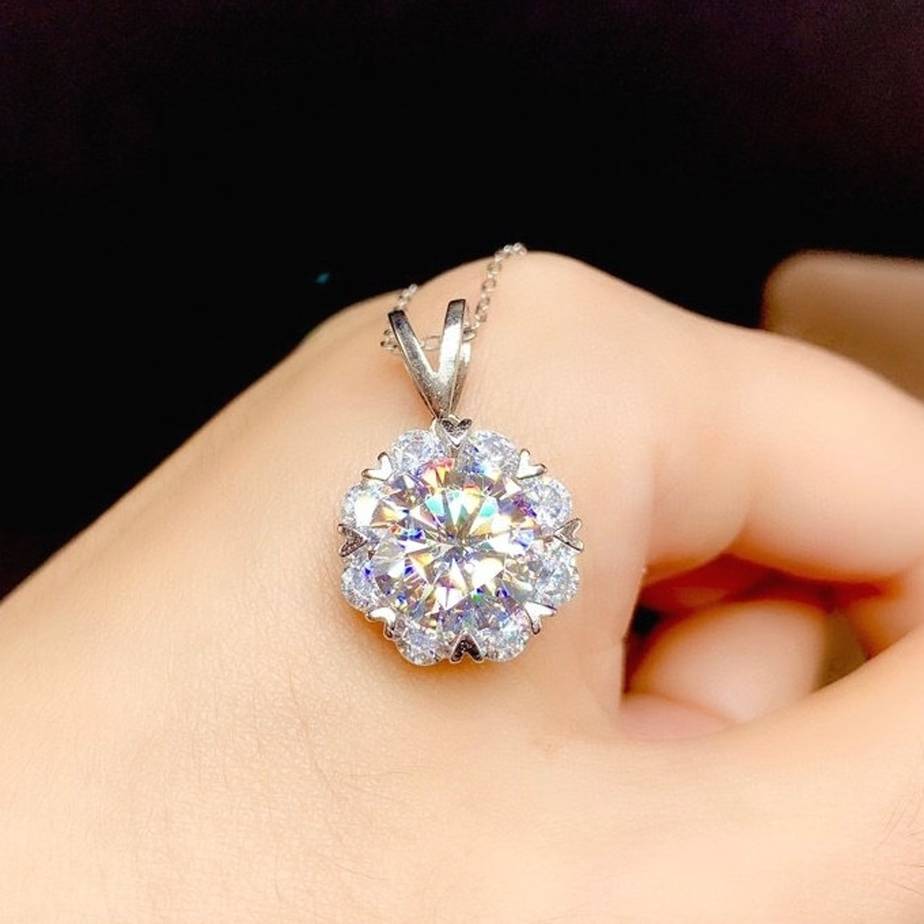 This is such a sweet flower charm pendant. The center stone is a full five-carat stone and is surrounded by eight cubic zirconias in the prong settings. The prong shapes are little hearts and add the perfect detailing to this sweet charm. The metal setting is white gold plated sterling silver, so you know that this flower-looking pendant is going to look good for years.

Ex's and O's is what I thought of when I came upon this fun necklace. Over one and a quarter carats total weight in this necklace, including the large center stone. Surrounded by a halo of additional Moissanites that also continue up the crossed bale, the center stone takes front and center. The crossed bale and halo are paving stones that will glitter from within the polished sterling silver setting. This pendant comes with an eighteen-inch chain which is a lovely length for low collared shirts.
Tennis Choker Necklace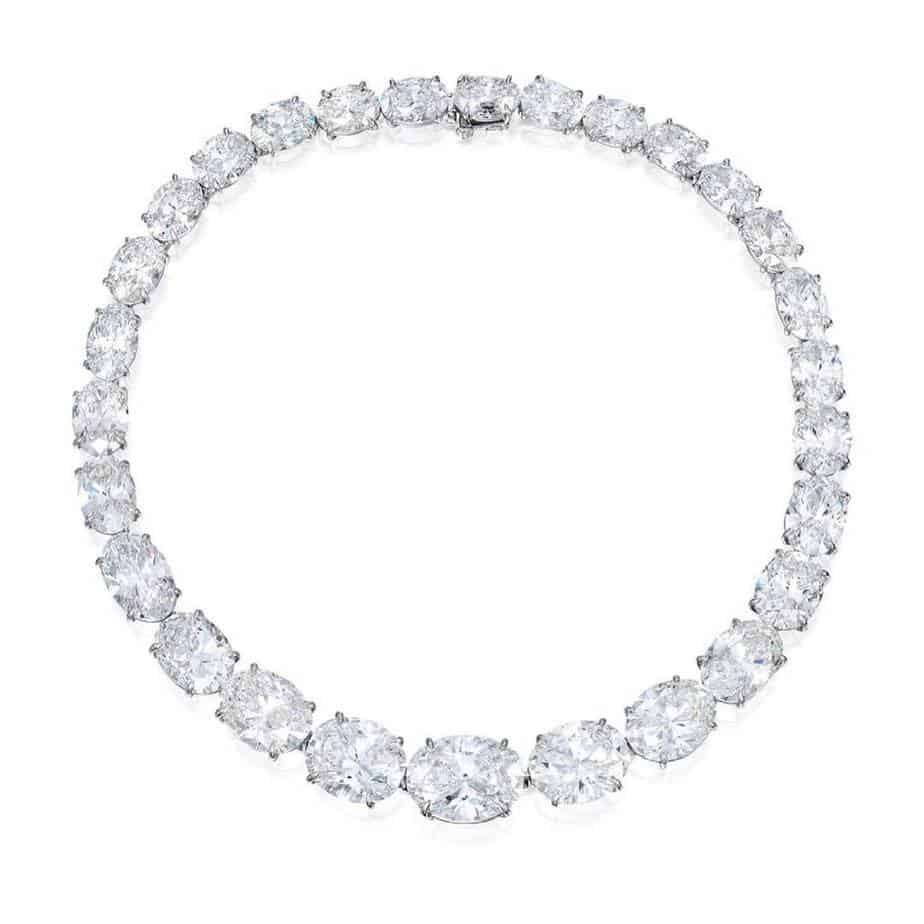 If this tennis necklace was made with real diamonds of the same quality that Moissanites are, the necklace value would be close to several hundred thousand dollars. The necklace is utterly stunning and sparkles like a disco ball. The approximate total carat weight is over one hundred and ninety carats of Moissanite. The oval stones change in size from almost identical for the first few at the clasp, increasing until the center point of the choker. Although the metal can be changed upon request, not much of it shows behind the large gems. The clasp is well hidden under an oval Moissanite as well.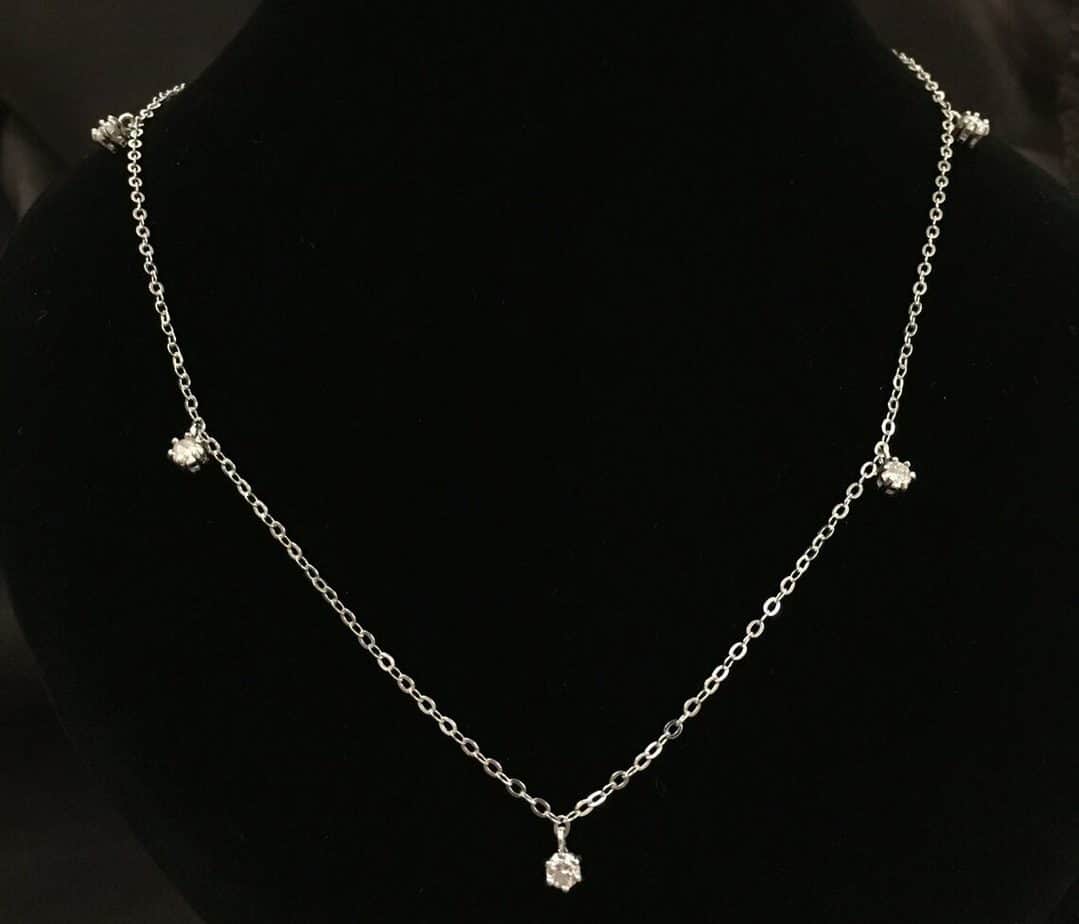 This five-stone choker necklace is sweet and simple. The total stone weight is half of a carat in Moissanite gems. Every single stone is one-tenth of a carat, giving this light, airy necklace a bit of sparkle. The five stones are separately mounted on the necklace chain at individual points and dangle from the sterling silver chain. At a comfortable sixteen inches, this choker style will rest at the base of the throat instead of being taut against your neck.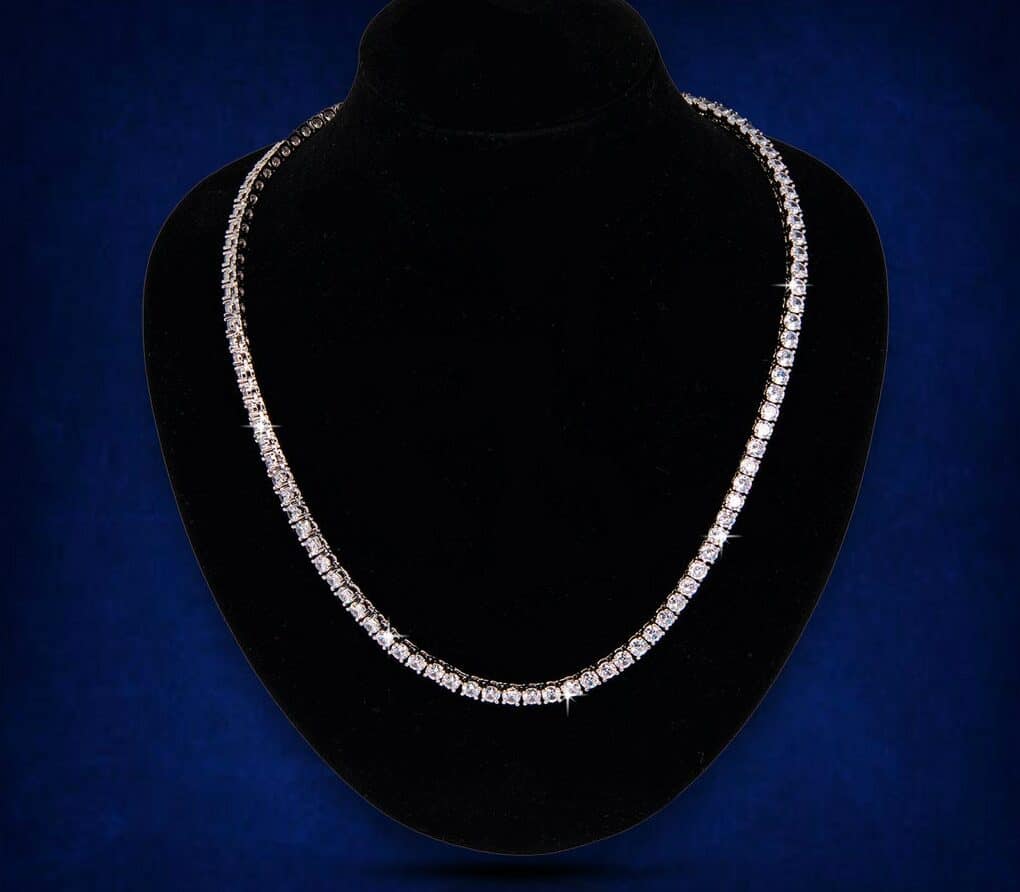 This is the typical style of choker that comes to mind when looking for a gemstone tennis necklace. These Moissanite are all sized to the same size to create a beautifully sparkling tennis necklace. This necklace has a variety of sizes and metals that can be chosen to be customized, and the sterling silver is my favorite as it blends in with the white sparkle of the stones.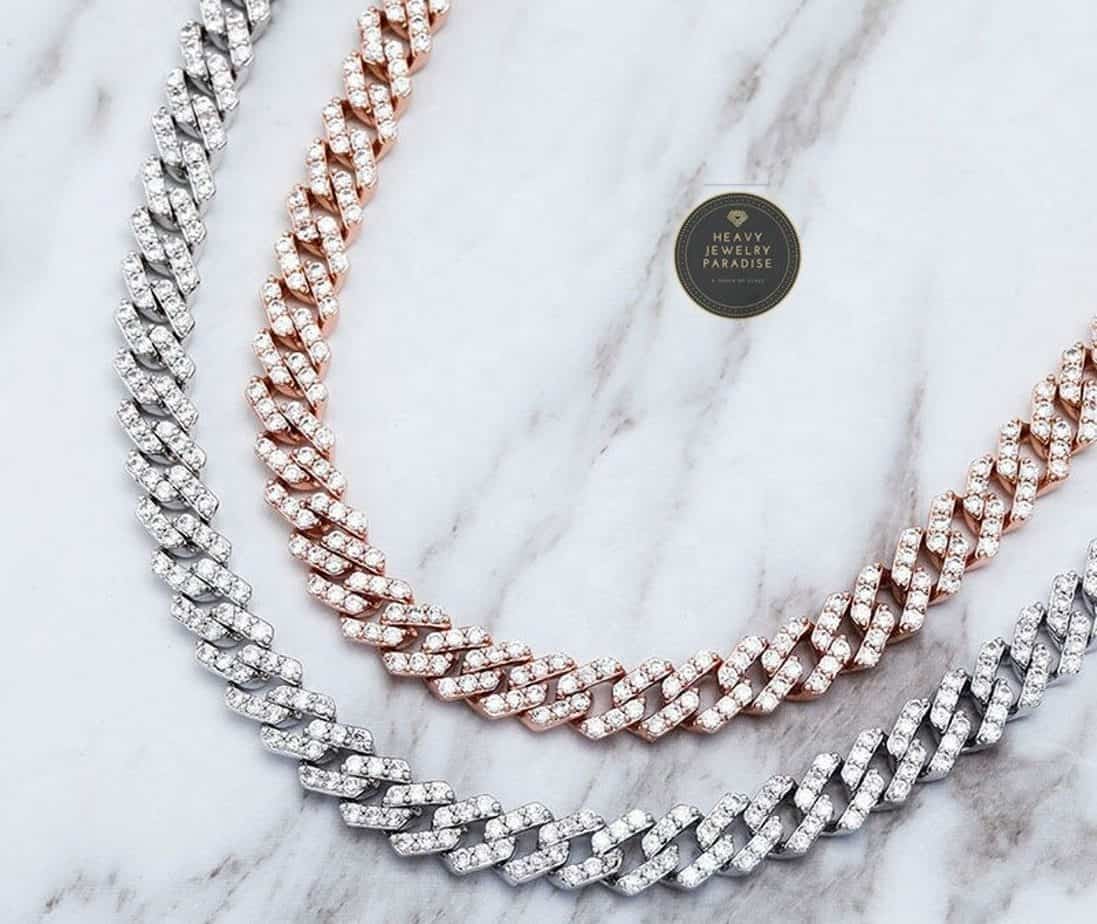 This choker has Moissanite gems on every flat surface of the necklace. Each link of the necklace glitters with three pave Moissanite gems. The clasp is also covered in gemstones to have a completely glittered choker. The double clasp ensures that the necklace will be secure on your neck, no worrying about accidentally losing it while you are out on the town. This heavy chain choker is a definite statement piece with tons of sparkle.
Three Stone Necklaces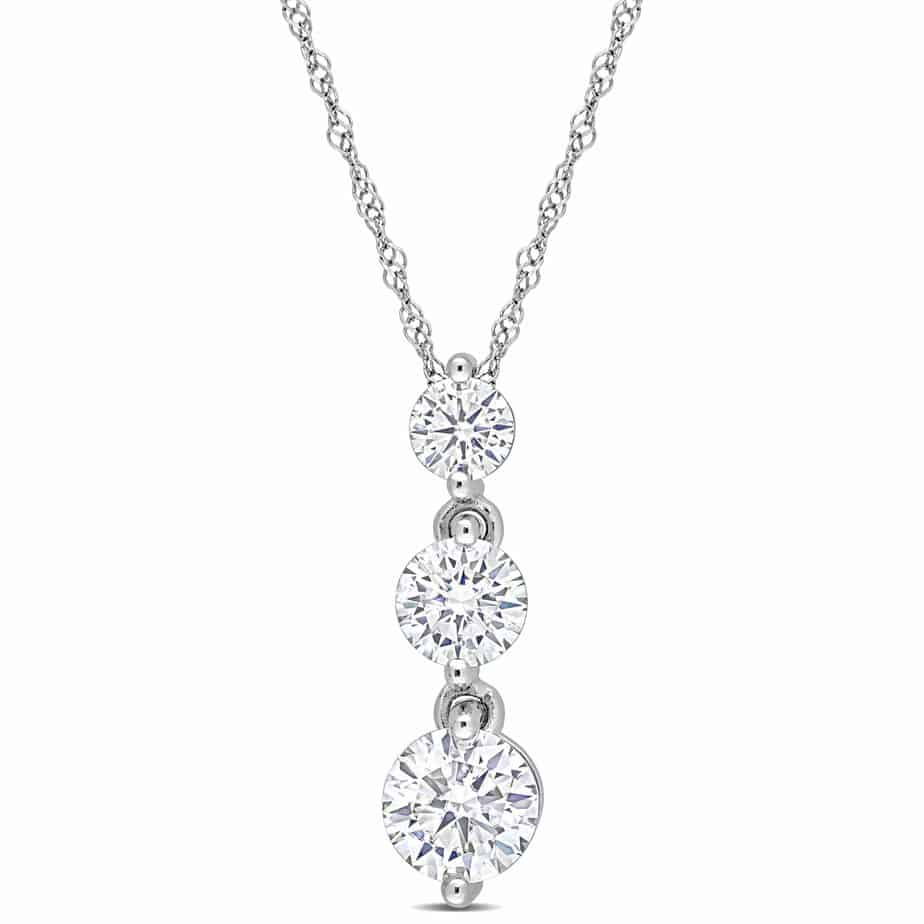 This graduated stone necklace has a teardrop effect, with the stones layering the smallest at the top to the largest at the bottom of the necklace. The Moissanites measure from four millimeters to six millimeters in diameter. The polished sterling silver setting holds the stones securely while allowing the glittering Moissanite to shine from the eighteen-inch cable chain. The open and raised backings of the gemstones allow light to enter from the sides and reflect the rainbow fire out of the front of the gemstone.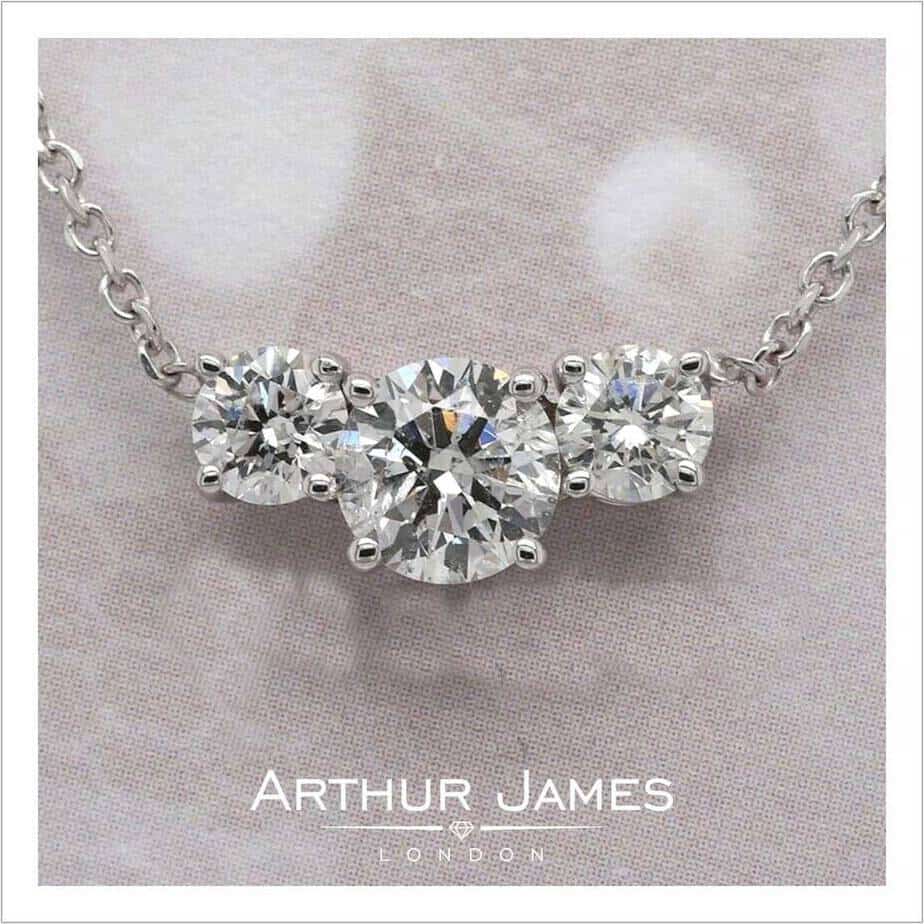 I like that this three-stone necklace isn't the typical vertical setting but is side by side, much like a ring would be. The two side stones are smaller than the center stone and act as accent stones. The pendant does not come with a necklace, so that is customizable to your own choice and metal color. The bales on the necklace are on the sides of the pendan so that the necklace loops through the two bales to hold the pendant horizontally. Essentially, the pendant slides along the necklace center point, giving the pendant uniqueness and a different way to catch the light.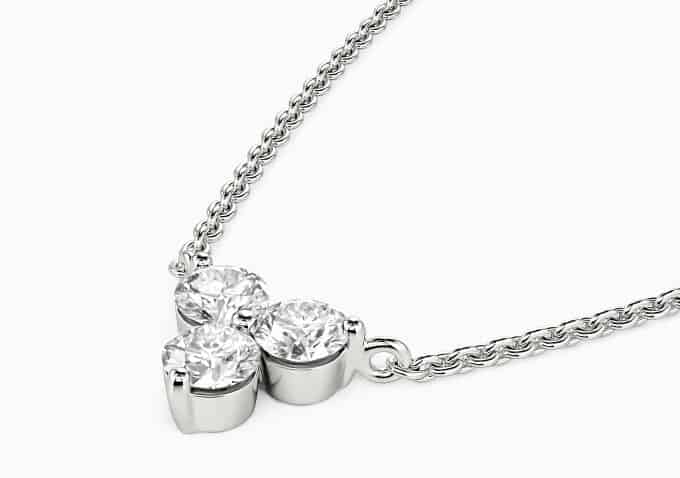 A three-stone triangular design is both fun and unique. Three equal-sized Moissanite stones form a pyramid to catch and throw the Moissanite brilliance. This necklace isn't pendant-style, as the necklace is attached to the bales and is approximately 18 inches long. The bottom stone creates a center point on the stone trio to place the necklace at the perfect spot on your breastbone.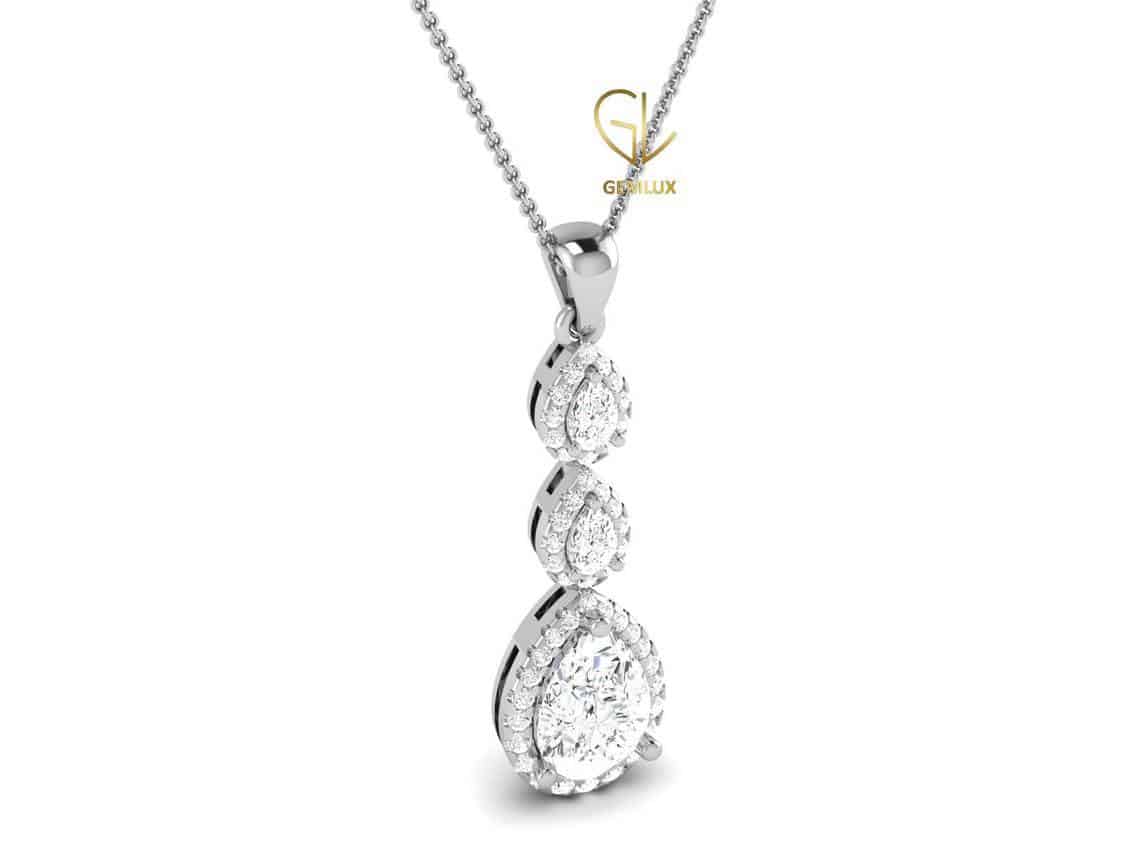 This beautiful tear dropped shaped pendant features three pear-shaped Moissanites, that each stone has a matching teardrop halo. The pendant is a mix of Moissanite and Diamond. The large stone is an almost two-carat pear-shaped Moissanite with a diamond halo. The two smaller stones are a little over a quarter carat in total weight, and there are forty-six small diamonds in total, including in the halos of the larger gemstones. The stones are set in a white gold prong setting that is raised from the setting to allow light to enter from the sides of the pendant to add additional sparkle to the stones. The included beaded chain is eighteen inches long and is a matching metal color.
FAQS
Question: Can the average person tell the difference between Moissanite and diamond?
Answer: The average person is highly unlikely to be able to tell the difference between a diamond and Moissanite. As processes to create Moissanite quality improves, the harder it will be for the differences to stand out without a jewelers expertise. Comparing the two gems side by side, you may be able to tell there is a slight difference, such as color or rainbow fire; Moissanite is known for having more of a rainbow sparkle where a diamond sparkles with white light.
Question: Can you spot Moissanite in comparison to a diamond?
Answer: The average person would find it difficult to determine this quality, but there is a way to see into a Moissanite to determine the difference to a diamond. Using a jeweler's loupe, look down through the crown or on top of the gemstone at an angle. Double refraction is an inherent quality of a Moissanite stone; it is two slightly blurry lines that are responsible for the additional sparkle moissanite is known for.
Question: What does it mean when your diamond turns blue under UV light?
Answer: Diamonds can fluoresce when they are exposed to sunlight and fluorescent lights; the UV or ultraviolet rays can cause the gemstones to have a blue, orange, or yellow light that glows from within the diamond. The diamond will stop fluorescing once the UV light is removed. Depending on the color value of the diamond, this fluorescence can increase or decrease the value of the diamond. Mostly when the value is increased, it is because the fluorescence of a yellowish diamond appears more white when the diamond has a blueish fluorescence, increasing the color value of the diamond.
Question: Does hand sanitizer damage diamonds?
Answer: Hand Sanitizer is an alcohol-based antibacterial soapless cleaning agent; this gel will not damage your diamonds. To be safe, when it comes to your jewelry, it is recommended that you remove your ring, use the sanitizer, and allow your hands to dry before replacing the jewelry on your finger. The sanitizer will not etch or cloud your diamonds if it isn't safe for you to remove your ring at the time you use the sanitizer.
Question: What's a negative with Moissanite?
Answer: Moissanite tends to have a mirror ball effect the larger the stone is. This means that the rainbow effect that Moissanite displays become more pronounced as the gemstone size increases. The color flashes are caused by the refractive index of Moissanite, which is more than 0.2 greater than a diamond's refractive index.
Bottomline
Moissanite, lovely Moissanite, how I love thee. From the hardness that allows it to be worn daily to the lovely glittering sparkle, I honestly have decided I never need another diamond in my life as long as I can have Moissanite. With the cost savings, I can genuinely say that Moissanite is so much more affordable than Diamonds but looks so similar. For the price of one Diamond necklace, you can purchase quite a few Moissanite necklaces. I have a hard time choosing favorites, so having a few beautiful gemstone necklaces is something I'm excited about. I suggest buying a few pendants and a good quality chain in your favorite length and switching out your pendants daily. This is such a beautiful way to show off your favorite pieces and a nice way to incorporate Moissanite into your daily wardrobe.
Looking for more interesting readings? Check out: