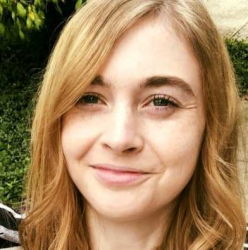 Latest posts by Erin Jamieson
(see all)
As the demand for diamond alternatives continues, many customers find themselves guided to moissanite, not just any moissanite. Forever One is nearly synonymous with moissanite rings, with superb reviews and enchanting styles. But is its climbing popularity merited or just another fad?
Forever One Moissanite just got another push as Charles & Colvard is expanding its presence. At the end of September 2021, Charles & Colvard, most associated with Forever One moissanite, began construction on their first retail and showroom location. The online store has been selling rings since 1995, and the showroom is a sign of just how well the company is doing.
When many retail stores have closed, are closing, or refocusing on online sales, Charles & Colvard is making a gamble that customers are longing to see their Forever One collection in stores. The new showroom will be located in Research Park in North Carolina. The objective is to allow customers to see Forever One moissanite and lab-grown diamonds created in person.
Touted as a way to expand multifaceted customer service, Charles & Colvard aims to spread even more awareness about their sparkling Forever One moissanite rings and fine jewelry.
But is Forever One moissanite truly worth your time, or just a marketing ploy? I'll review and guide you through exactly what Forever One moissanite is and how it compares with other options on the market.
What is moissanite?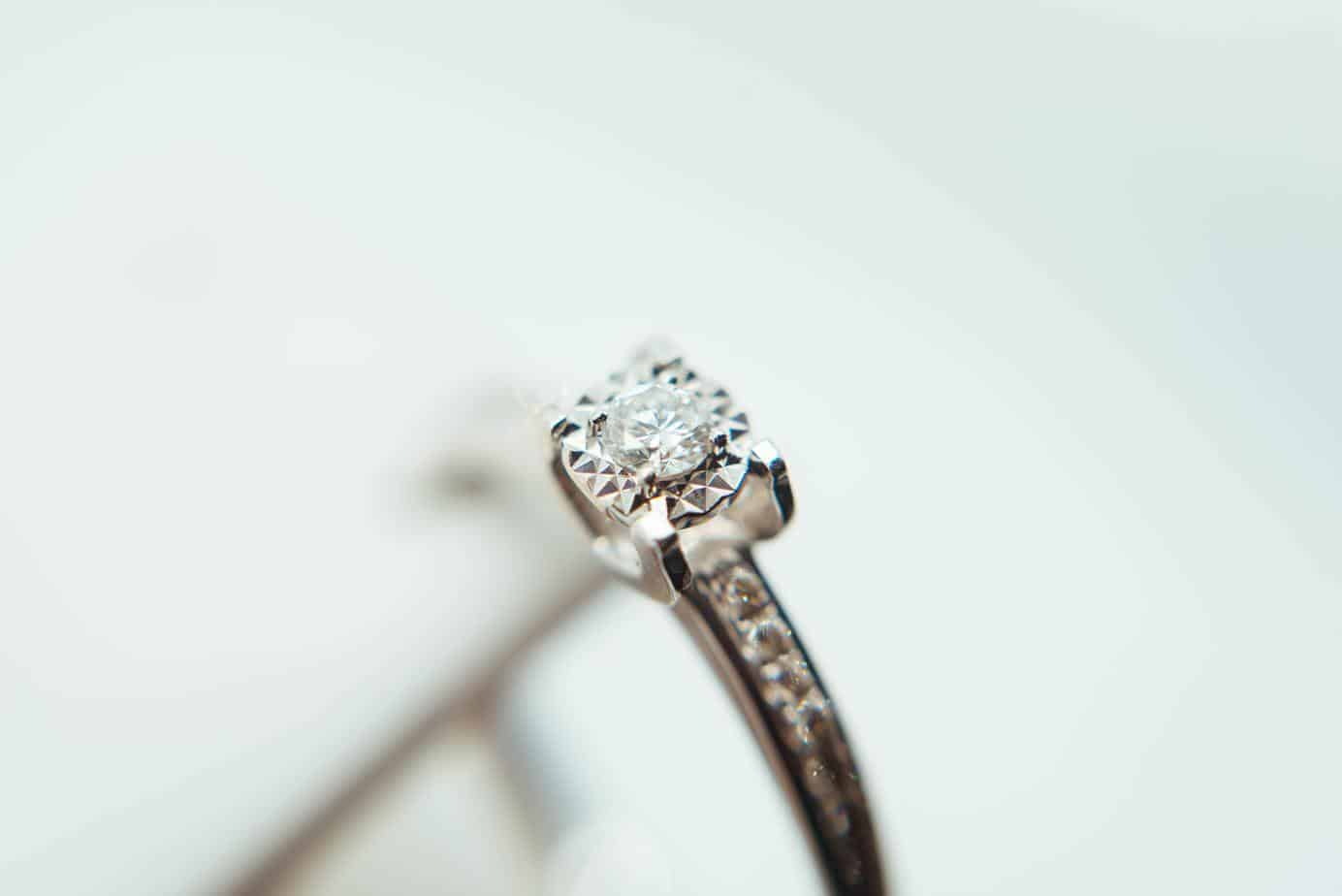 There are many myths about moissanite, from being a 'fake' diamond to being the same as cubic zirconia. Moissanite is easily one of the best and most popular diamond alternatives. Though it's a naturally occurring form of silicon carbide, natural moissanite is quite rare. Most of the moissanite sold today– including Forever One- is lab-grown. Lab-grown indicates that the gemstones are produced in a lab but have the same physical properties and structure as natural gemstones. This is quite different from stimulants (at times deceptively called lab-created), made out of less durable materials and of next to no value.
Is moissanite durable?
Aside from the highest quality moissanite resembling diamonds with a clear stone that can be cut in myriad ways, it's also durable. Moissanite is scratch-resistant, with a Mohs hardness rating of 9 to 9.5. It's also a tough, not brittle stone and resistant to both chipping and shattering. It does not lose its sparkle or become cloudy.
Can moissanite be colored?
Moissanite, like diamonds, does come in colors besides clear. These include gray, green, brown, gold, purple, yellow, and other colors. Some colors are artificial, applied using a chemical vapor deposition that coats the bottom and bonds. But fine jewelry moissanite ranges from faint yellow to colorless, with colorless being the most valued.
Why does my moissanite look yellow?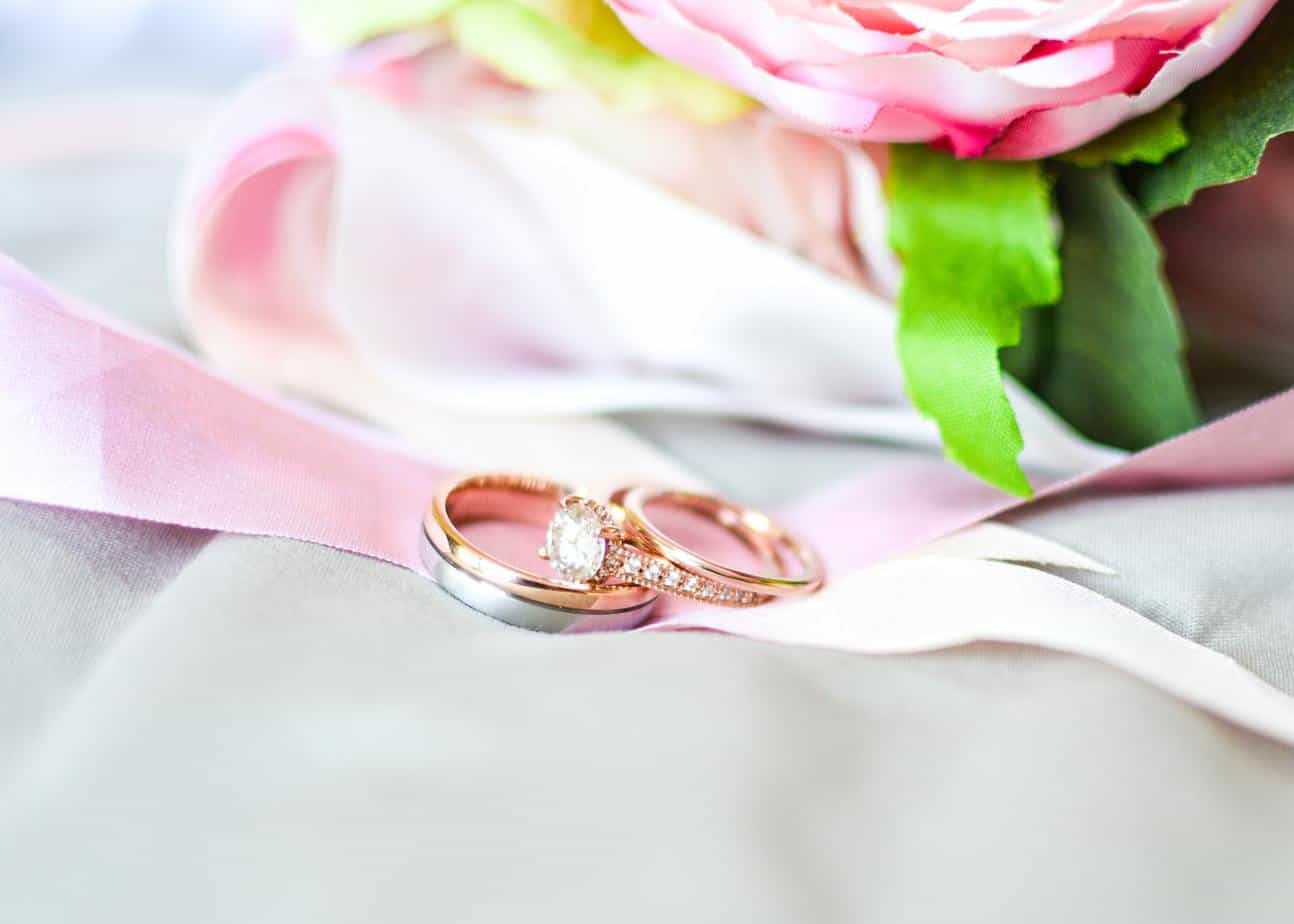 Yellow moissanite, like yellow diamonds, is not desirable. Some clear moissanite has a faint yellow tint, and that all has to do with the color grade. The greater the carat, the more obvious a yellow tint will be. Yellow tinted moissanite indicates a stone of poor quality and a low color grade.
What are the different grades of moissanite?
| | |
| --- | --- |
| Grade Name | Grade Range |
| Colorless | D, E, F |
| Nearly Colorless | G, H. I |
| Faint Yellow | J, K, L |
Moissanite sold by jewelers falls into a few categories. These moissanite color grades impact the beauty, quality, and even sparkle. Ideally, it would be best if you bought a colorless grade, especially for large carat sizes or deep cuts, like emerald cut moissanite. Smaller carat sizes may also look beautiful in one color grade down– nearly colorless. Avoid faint yellow moissanite. It's unlikely anyone will advertise that their moissanite is faint yellow, so you must pay attention to or inquire about the color grade, as seen in the table above.
Does moissanite have black spots?
| | | |
| --- | --- | --- |
| Clarity Name | Clarity Range | Description |
| Flawless, Internally Flawless | FL, IF | Internally Flawless |
| Very Very Slightly Included | VVS1, VVS2 | Very slight inclusions under magnification |
| Very Slightly Included | VS1, VS2 | Light inclusions under magnification |
| Slightly Included | Sl1, Sl2 | Noticeable inclusions under magnification; can impact sparkle but are generally not easily visible to the naked eye |
| Included | I1, I2, I3 | Obvious inclusions visible to naked eye |
The other way moissanite is judged is through clarity. Clarity has to do with the degree of inclusions–imperfections- on the stone. Imperfections can be in the form of clouds, bubbles, threads, and even spots. The more inclusions, the more the clarity and, subsequently, sparkle is impacted.
Included moissanite is where you can easily see inclusions with the naked eye. But even though slightly included clarity is not immediately obvious, the flaws can impact brilliance. It's a matter of personal preference and budget, but I recommend very slightly included and above for clarity.
What is meant by Forever One Moissanite?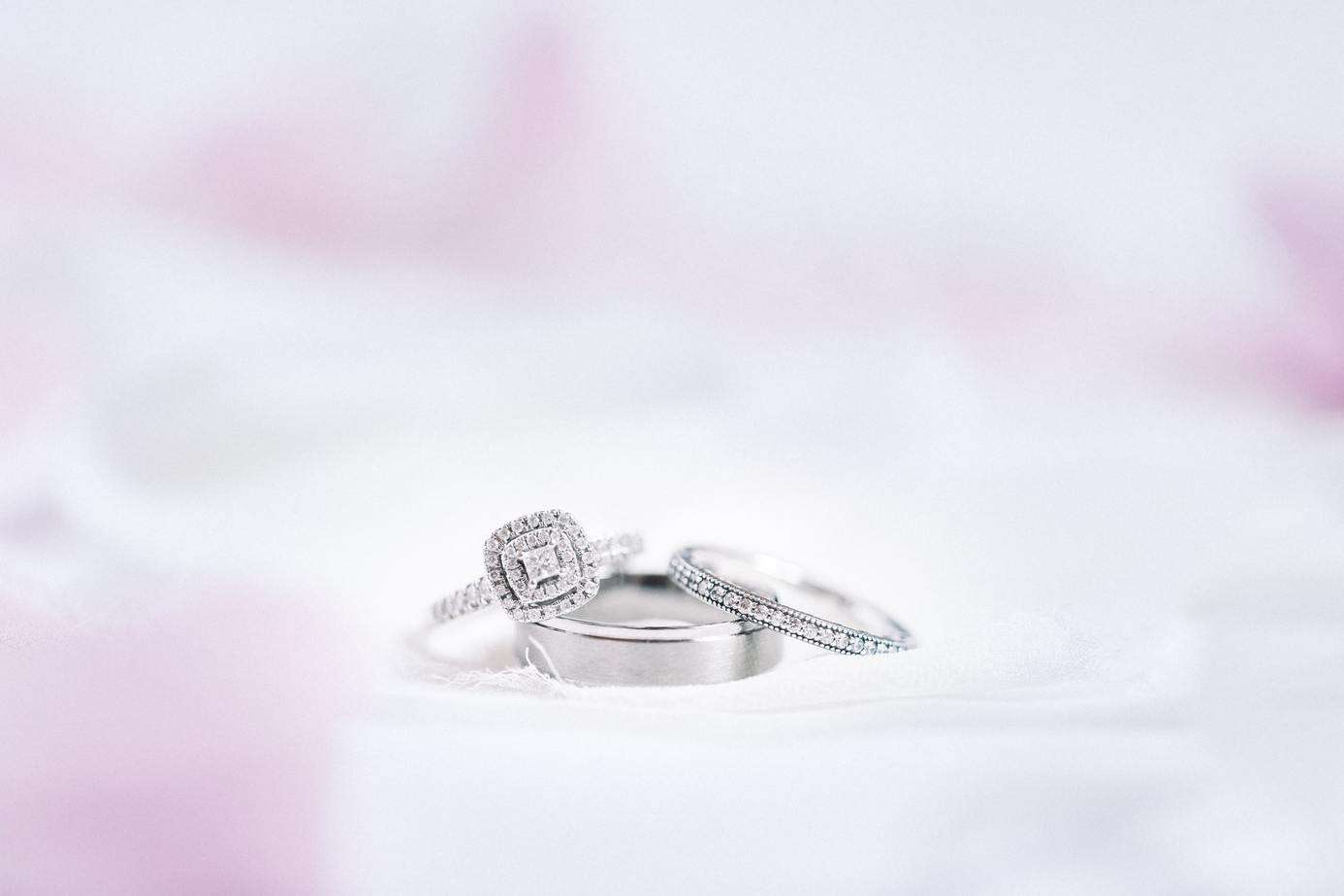 Discussion of clarity and color is especially important to understand my honest review of Forever One Moissanite. That's because, behind the marketing, what everyone needs to consider most is the quality of moissanite being sold. The good news is that Forever One Moissanite isn't popular just due to clever marketing. Rather, this form of moissanite has proven its value, with beautiful, high-quality moissanite.
Forever One was coined by Charles & Colvard and is lab-grown moissanite. It's chemically the same as natural moissanite but manufactured uniquely to optimize color and clarity. The way the carbide is stacked is one factor. The use of 6H polytype silicon carbide holds less color.
Is Forever One Moissanite good?
In short, yes. Forever One well earns its name for beautiful, high-quality moissanite. Forever One moissanite is colorless and usually offered with high levels of clarity. Compared with the average moissanite on the market, Forever One is exceptional for color, clarity, and brilliance. It's also just as hard and tough as natural moissanite, making it durable enough for an engagement or wedding ring.
Charles & Colvard also introduced a second grade of Forever One in recent years. This second grade of moissanite is of G-I quality and is nearly colorless, with an icy hue, compared with the warmer hue of the original Forever One. It's not quite as brilliant, but still of reputable quality, and offered at a lower price point.
What is the difference between Forever One and Forever Brilliant Moissanite?
You may also come across a few other terms with a moissanite, one of which is Forever Brilliant. Forever Brilliant simply refers to the original line of Forever One, which is the most brilliant and highest quality offered. Forever Classic is the second color grade quality–nearly colorless– offered by Charles and Colvard.
Is there anything else special about Forever One Moissanite?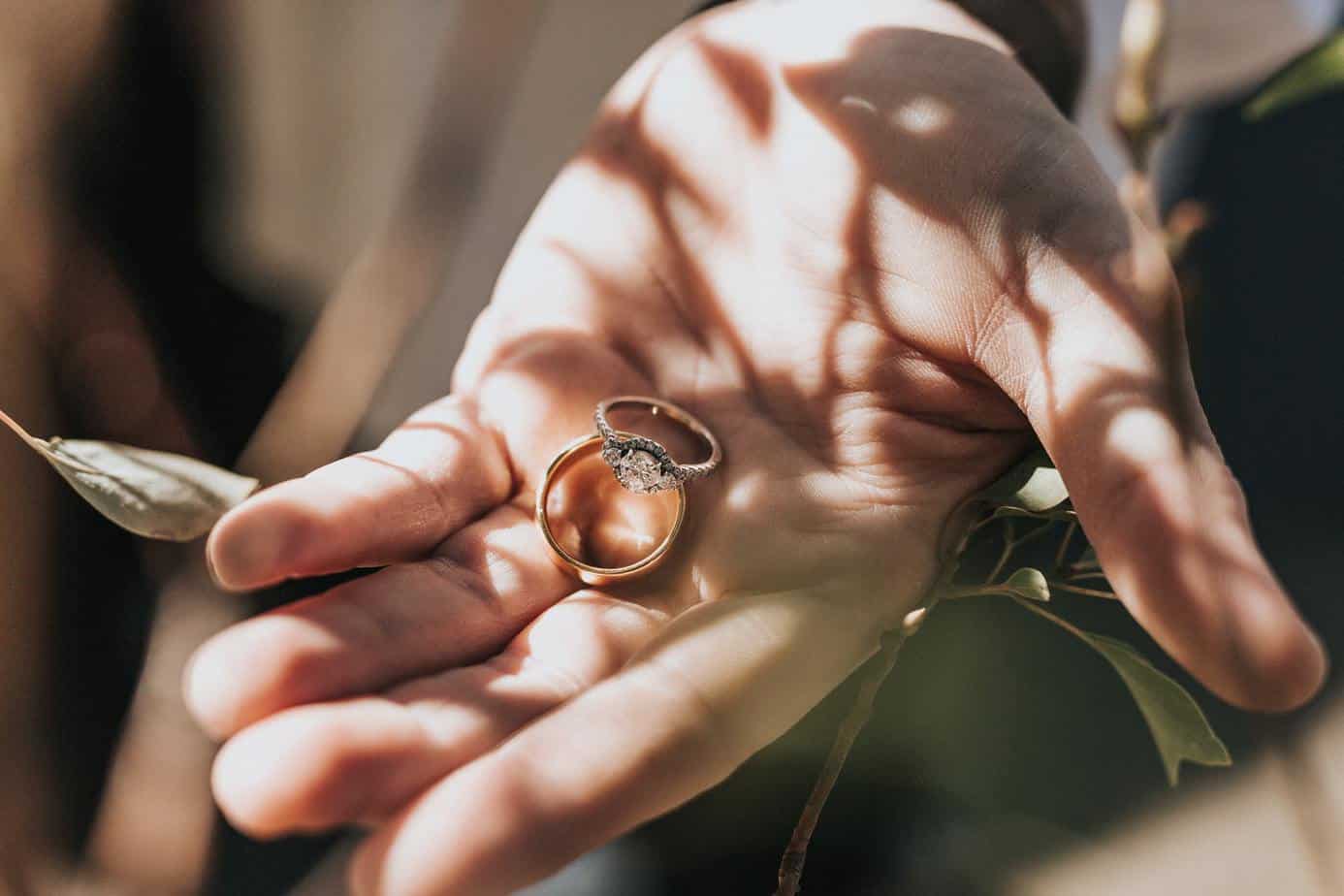 While Forever One is a brilliant, beautiful form of moissanite, it also earns its name: forever. While no gemstone is guaranteed to last forever, Forever One is prized for its exceptional durability. The stones can reportedly withstand up to 2000 degrees Fahrenheit without any damage. The company also has a strong commitment to excellence, as seen in several categories.
Does Forever One Moissanite retain value?
Forever One is in high demand and of exceptional quality and retains or increases in value, so long as it's in good condition. The highest tier of Forever One will retain its value the most.
Will Forever One Moissanite change color or lose sparkle?
Forever One Moissanite also never fades, changes color, or loses its sparkle. These qualities are part of the reason why your ring or jewelry will retain value over time. A professional cleaning every once in a while is a good rule of thumb, but you won't have to worry about cloudy moissanite stones.
Do other gemstones have more fire than Forever One Moissanite?
Fire is the way light is dispersed and showcases a spectrum of color, depending on the gemstone. Forever One Moissanite has a fire that exceeds nearly every well-known gemstone, including diamonds, sapphires, emeralds, and rubies. Of course, the type of fire is a matter of personal preference. Diamonds are highly valued for white fire, but moissanite instead has multicolored fire. The fire is quite noticeable with Forever One Moissanite. As beautiful as Forever One is, it's obvious, in sunlight, that it's not a diamond.
How do you maintain Forever One Moissanite?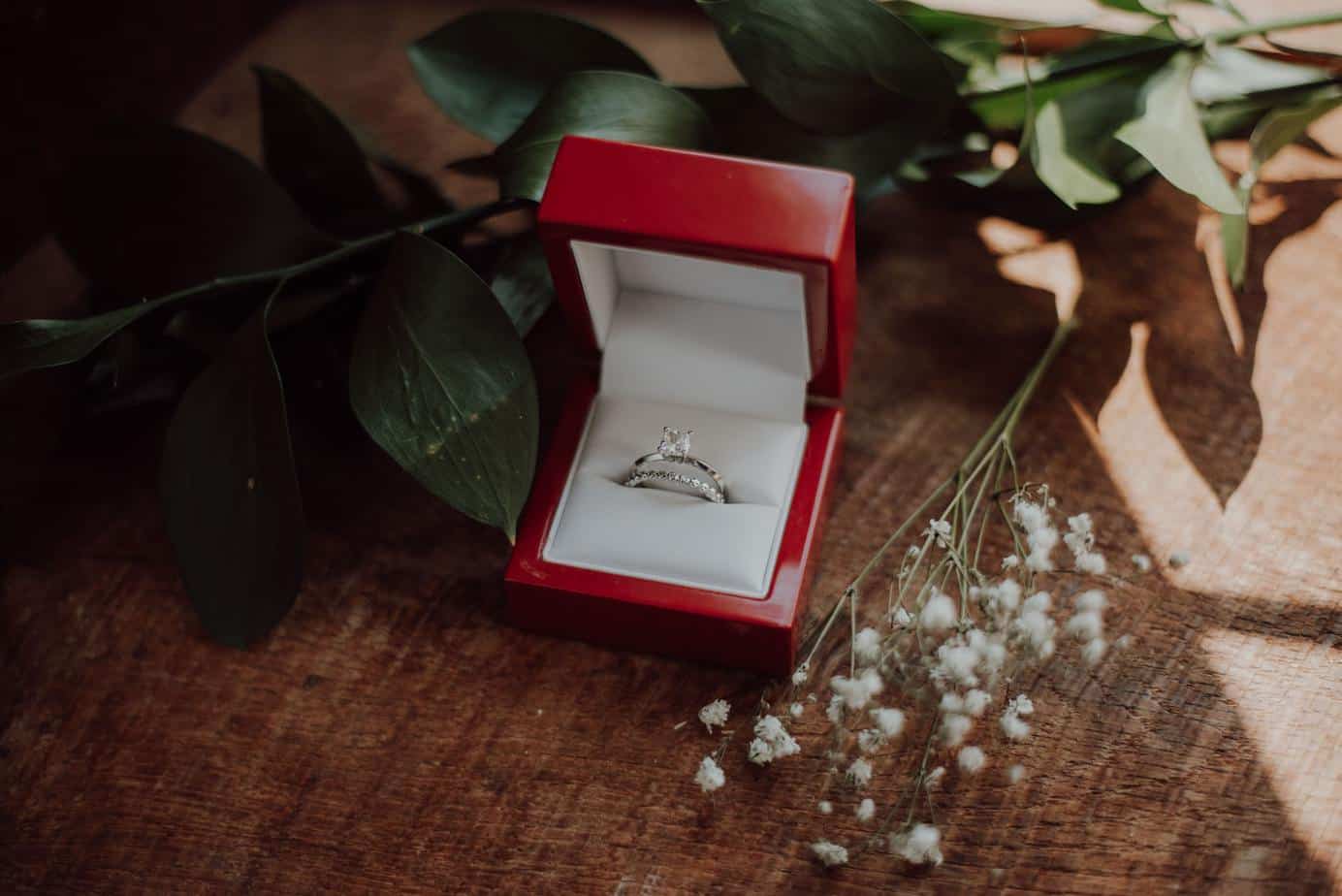 Forever One Moissanite is low maintenance, so long as you use common sense. You can clean your fine jewelry or ring as you would with other fine gemstones, and since Charles & Colvard only uses precious metals that won't tarnish, you don't need to worry about water ruining your jewelry. Use water and mild soap or a jewelry cleaner. A soft cloth can be used, and a soft toothbrush may be used for grooves.
How do I remove a film or haze on my moissanite?
While your moissanite won't become cloudy, a film or haze can occur as a form of natural build-up. This is due to everything from soap to skin to even air exposure. This happens gradually and it is natural. The good news is that it's not permanent. Jewelry cleaners, as well as professional cleanings, can be removed. It's also helpful to have a polishing cloth. Regular soap and water don't usually remove the film.
Can Forever One Moissanite be resized and repaired?
Forever One Moissanite is stable and durable and thus can withstand any resizing or repairs you might need. This is also due to its high heat resistance. Granted, it's hard to chip or scratch even regular moissanite with everyday wear. But the good news is that you can repair or resize without damaging your jewelry. Charles & Colvard also allows you to engrave stones, both before and after purchase. Just note that any engraved pieces are not eligible for free returns.
What are the best Forever One Moissanite products I can buy?

If you stick with Forever One Moissanite, all pieces will be of a reputable quality. Remember that there are two grades of quality, which is the difference between colorless and nearly colorless. If you're buying a small carat size and still buying a high clarity level, you can get by with nearly colorless. For larger carat sizes and deeper cuts like emerald cuts, I recommend colorless moissanite when possible.
While Charles & Colvard is best known for its Forever One Moissanite engagement rings collection, they also offer exquisite wedding rings and fine jewelry. Here's a brief preview of each collection, and just a handful of my favorite picks.
Forever One Moissanite Engagement and Wedding Rings
There's no shortage of options for gorgeous moissanite engagement rings and finding your perfect fit is easy with helpful filters, 3D video, and multiple pictures of each ring. Many also include customer reviews and pictures. Rings are priced from starting prices of just over $200 through about $9,000, with a total of around 2,000 unique rings.
Rings are crafted mostly in 14K white, yellow, or rose gold, with just three rings available in 18K gold and 42 in platinum. In the future, I'd love them to expand their selection of 18K gold for those who want a higher luster but aren't interested in platinum.
You can find nearly any stone shape and cut imaginable. Stone shapes include: round, oval, cushion, emerald, radiant, elongated oval, pear, marquise, Asscher, princess, square, heart, trillion, and elongated cushion. Stone cuts include: brilliant (which comprises more than half of the collection), hearts & arrows, rose, Old European, princess, step, modified brilliant, and duet rose.
Note that they only have a little over 580 in-stock engagement rings. The rest must be custom ordered and will take a little longer to ship to you. I cannot begin to cover all of the excellent choices, so here are a few in each metal type that gives you an idea of what the Forever One Moissanite rings are like. Each of these is a bestseller and showcases attention to detail and quality.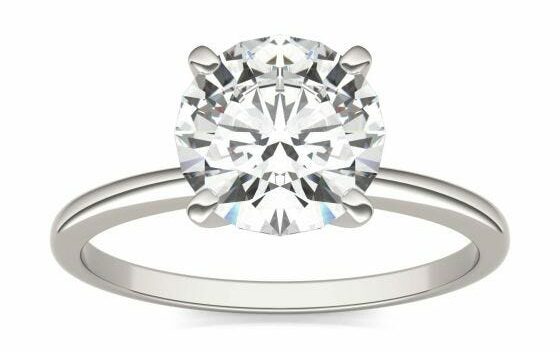 This stunning solitaire ring is simple, elegant, and versatile. The round moissanite stone is nestled in a classic four-prong setting and set on a slim 14K white gold (other varieties available) band. Priced at $1,699 to $2,019; Buy Here.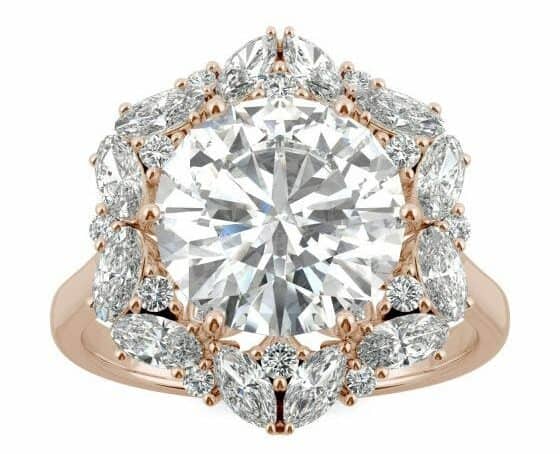 This gorgeous, colorless Forever Moissanite ring enchants in 18K rose gold. The rich luster of the romantic rosy hue is the perfect accent to the glamorous halo ring design. A round hearts and arrows stone is surrounded by marquise and oval stones for show-stopping brilliance. Priced at $4,919; Buy Here.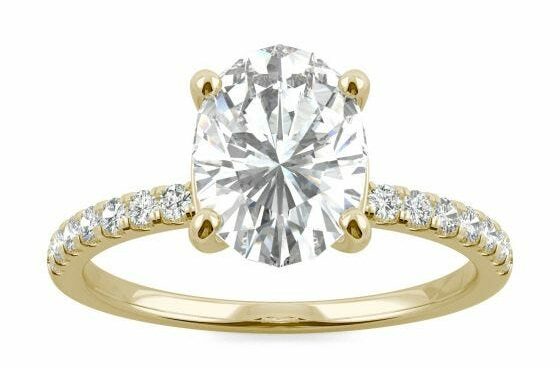 This gorgeous 14K yellow gold ring adds classic sparkle to a solitaire style. The oval center stones are adorned with rows of round accent stones along the perimeter. The band is at once dainty and luxurious, for a classic but alluring engagement ring. Priced from $1,889 to $2,259; Buy Here.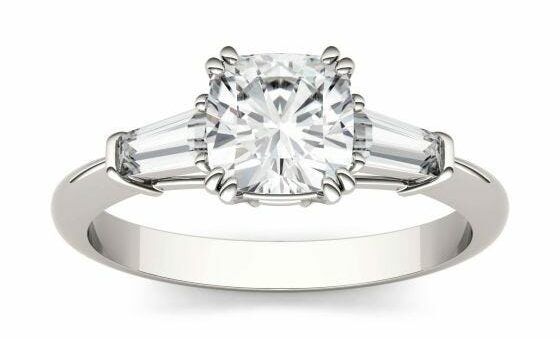 Three-stone engagement rings are one of the most popular options, even if it may not seem like it. For some, a three-stone ring has a spiritual connection. In Christianity, three stones represent the Holy Trinity. For others, the three-stone look is simply unique and elegant. This Forever One ring is just that; baguette diamonds flank the cushion-cut moissanite stone. The founded edges on the platinum band provide a vintage-inspired appeal. Priced at $2,169; Buy Here.
Forever One Fine Jewelry
For fine jewelry, you can select from earrings, necklaces, and bracelets for a total of around 900 unique options. Of these, there are just 50 bracelets, so most of the collection is devoted to necklaces and earrings. Nearly all are crafted in 14K white, yellow, or rose gold. There's a single option for two-toned 14K gold, 21 platinum, and 19 for white 925 silver. Prices start at $36 through $15,000, so it's safe to say there's a wide range.
I recommend sticking with 14K gold or platinum. Here's a standout necklace, bracelet, and pair of earrings– all bestsellers and made with excellent craftsmanship.
This Forever One bangle is a beautiful new addition– and already a bestseller. Highly versatile with classic sparkle, this bangle is also available in 14K yellow gold or rose gold. 26 round cut moissanite stones dazzle along the perimeter of a flexible ba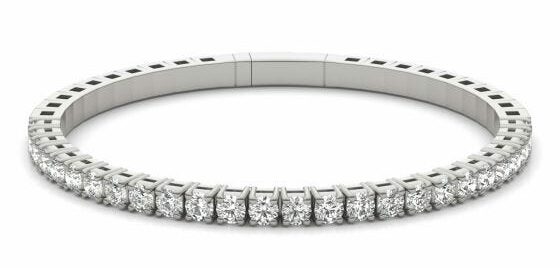 ngle with a comfortable clasp. Priced at $2,499; Buy Here.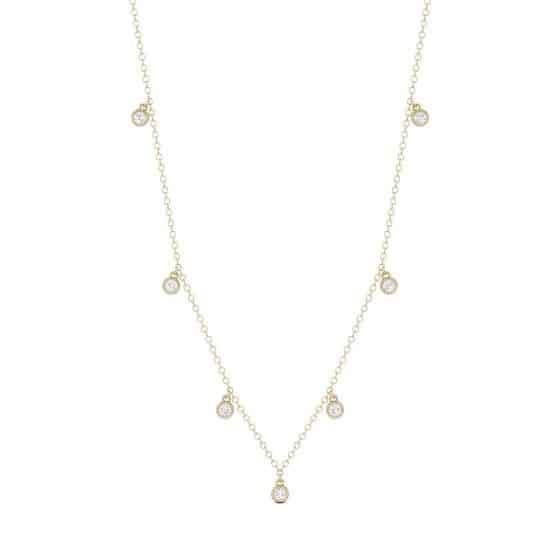 This dainty Forever One Moissanite necklace is both versatile and elegant. The brilliant round stones dangle and move with you, offering splendid sparkle. The 18-inch length is adjustable to suit different necklines. The bezel-set, station-style necklace adds a touch of beauty to casual and formal outfits alike. Priced at $489; Buy Here.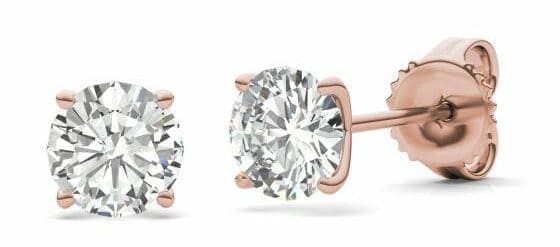 This elegant pair of stud earrings is crafted in 14K rose gold (and other 14K gold) for a classic, romantic accent. Forever One Moissanite round stones sparkle in striking four-prong settings, complete with friction back for a secure fit. Priced from $1,039 to $1,296; Buy Here.
Frequently Asked Questions
Question: Can I pass off my moissanite as a diamond?
Answer: Moissanite looks like diamonds from a distance, especially high-quality moissanite like Forever One. However, the fire is multicolored vs. the white fire of diamonds. Under the light, it's apparent that moissanite isn't a diamond. 
Question: Is it bad to get a moissanite engagement ring?
Answer: There's nothing bad about getting a moissanite engagement ring. It's durable, has a beauty of its own, and is loved by many. Of course, if someone has their heart set on a diamond, it isn't a direct substitute. 
Question: Why shouldn't you get a moissanite ring?
Answer: Of course, even the finest moissanite isn't the right option for everyone. Forever One Moissanite does hold value– but it's not nearly as valuable as a diamond. Moissanite has a different type of brilliance than diamonds. All in all, it depends on what matters most to you or your partner. See moissanite as an alternative to diamonds, but not a perfect or direct substitute. 
Final Thoughts
Forever One Moissanite, in short, holds up to its excellent reputation. The collection is a sustainable and affordable alternative to diamonds, from elegant engagement rings to charming earrings and necklaces. While not the best option for everyone, it's something to consider if you love the look of a clear gemstone but aren't sold on diamonds.
Shop All Forever One Moissanite from Charles & Colvard Here
For more interesting readings check out: