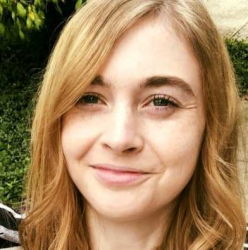 Latest posts by Erin Jamieson
(see all)
From wedding guests to bride-to cocktail parties, there's no denying that diamond earrings are a beautiful, classic accessory. But online and in cities like Seattle, moissanite earrings are being touted as one of the best ways to save money and still look spectacular.
The pandemic has been challenging for jewelry shopping, forcing customers to tweak their shopping plans and companies to change their marketing strategies. For small boutiques, that means enticing customers for in-person shopping with unique jewelry options. Some of the best Seattle jewelry stores are hoping that their own-of-a-kind pieces will help them stay afloat. And by opting for diamond alternatives like moissanite, they may appeal to those with tight budgets.
Meanwhile, larger companies continue to expand their online options. That includes the acclaimed Charles and Colvard, who announced it would expand its offerings through a new moissanite outlet. The news outlet, announced Spring 2021, offers a bevy of moissanite products, including gorgeous earrings, with promos and other incentives to get shoppers to fill their digital carts.
Of course, moissanite earrings are nothing new. While perhaps less conventional, they've been worn as diamond alternatives for a while. So is 2022 the year to buy a pair of moissanite earrings? Or simply a way to save money?
In this article, I'll tell you what you need to know about the pros and cons of moissanite earrings. I'll also give you tips for finding the best moissanite earrings and my picks– so you're ready whatever occasion you're headed to.
Are moissanite earrings worth buying?
Moissanite earrings can be beautiful. At their best, they're a budget-friendly diamond alternative that adds classic sparkle to your outfit. But they aren't exactly like diamond earrings by any means– and there are several factors to consider before buying.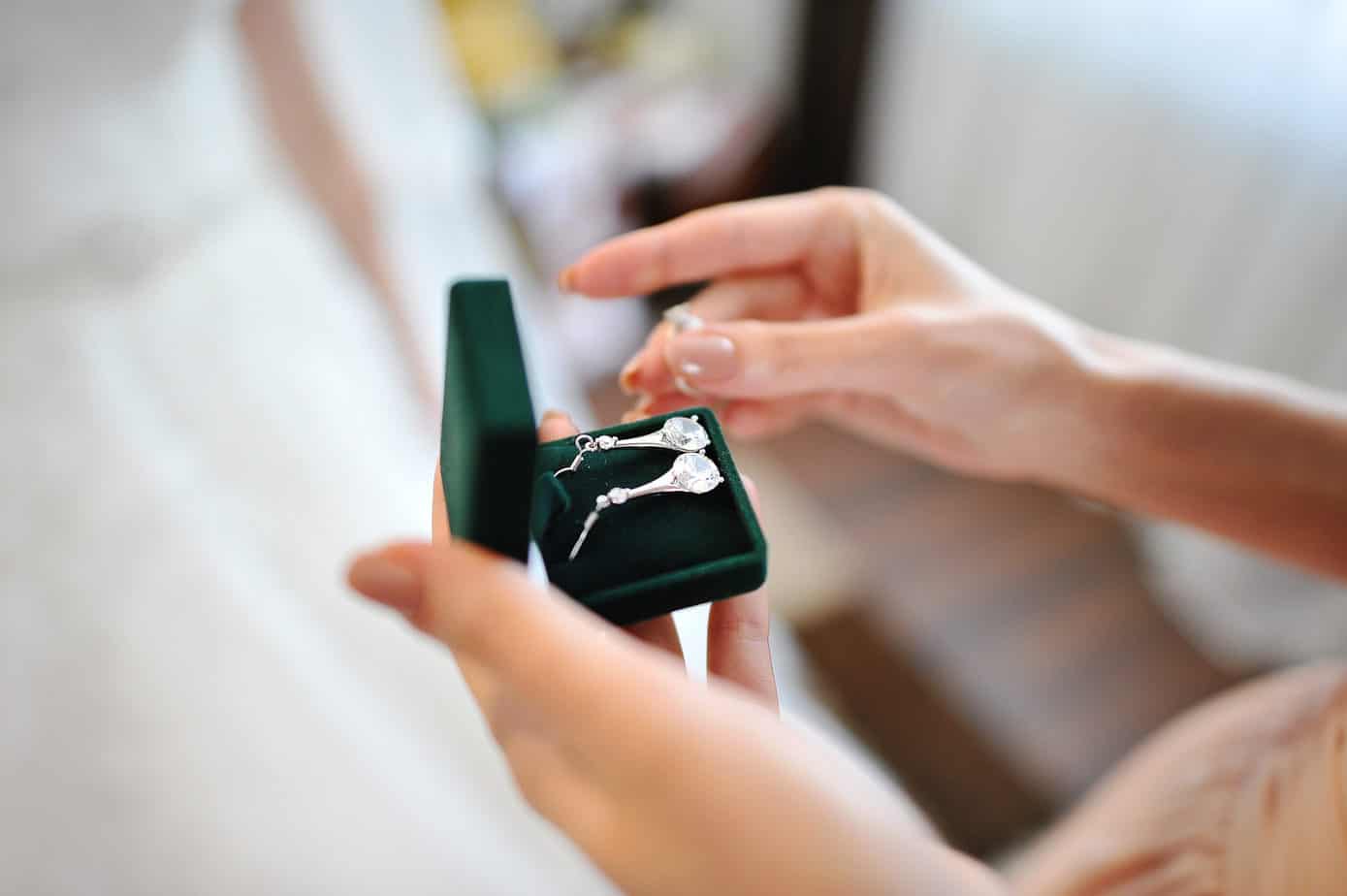 Can you tell the difference between moissanite and diamond earrings?
While often cited as a diamond alternative, the truth is that some can tell the difference between moissanite and diamond earrings– but not all will. To be sure, moissanite does mimic diamonds. At its finest quality, moissanite can be clear like diamonds and offer sparkle. At first glance, they look quite similar, which is a large part of the appeal. The biggest difference is in refraction; diamonds have single, clear refraction. Moissanite earrings have brilliant sparkle– even more so than diamond earrings– due to double refraction. Instead of light to clear, that color will be rainbow hues for moissanite earrings.
Do moissanite earrings last?
Moissanite earrings can last well if treated well. Moissanite is rated at a 9.25 to 9.5 out of 10 on the Mohs hardness scale, meaning it's quite hard to chip or scratch. While not quite as hard as diamonds (10), you likely won't notice the hardness difference much at all. Moissanite has been named as perhaps the best diamond alternative for a good reason. Moissanite earrings should last you a long time, provided you're buying genuine moissanite and durable materials for the earring backings.
Can moissanite earrings get wet?
Moissanite can get wet without becoming damaged. It is possible that hot water over time can cause damage, but this is unusual. The main reason not to get your earrings wet would be if they include metal that corrodes, such as brass, copper, or silver. I also wouldn't recommend wearing them to a swimming pool. Not only could they become lost, but chemicals like chlorine can impact gemstone quality.
Do moissanite earrings lose their sparkle?
While it's rare for moissanite earrings to lose their sparkle entirely, they can become dull over time if frequently exposed to cleaning agents and soaps. Soaps and even everyday wear may eventually dull the appearance– but this is almost always reversible for professional cleaning or polish.
How do you select the best moissanite earrings?
Of course, as is the case with diamond earrings, not all moissanite earrings are equal. One debate you won't have to have to lab-grown vs. naturally. Nearly all moissanite earrings on the market– and moissanite rings– are lab-grown. Keep in mind that lab-grown gemstones are not stimulants—lab-grown share the same properties as natural gemstones. While not as valuable, they're just as durable and can appear nearly identical. But there are lower and higher quality moissanite earrings.
What is the highest quality moissanite?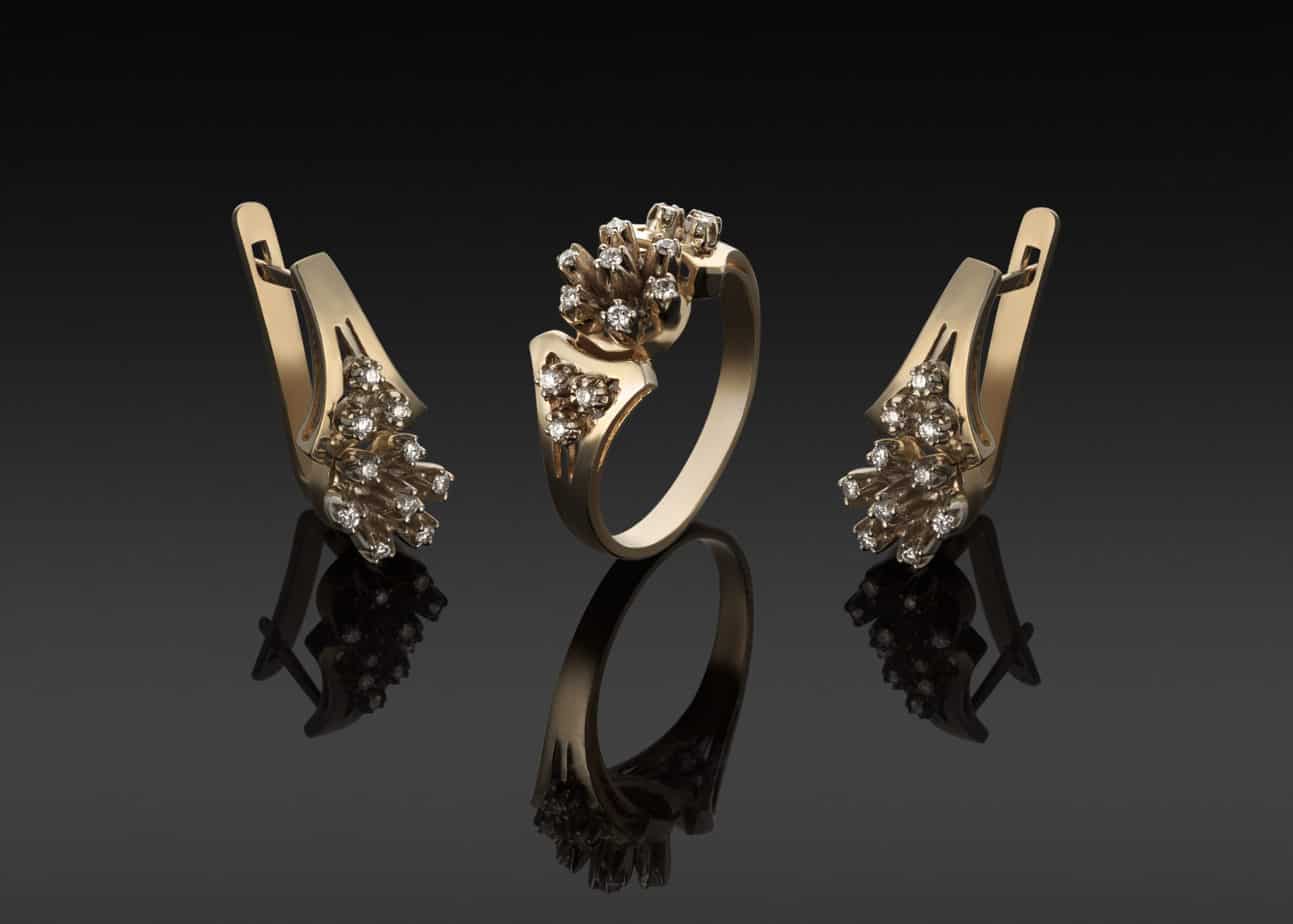 Forever One is often cited as some of the highest quality moissanite on the market. Produced by Charles & Colvard, their moissanite tends to rank in the highest grades and their company enjoys rave reviews. That said, you don't have to buy from Charles & Colvard to buy the highest quality– nor is that the best parameter.
Color Grading
Like diamonds, moissanite stones are graded by the GIA. But moissanite grading is a little easier to learn. The most important thing is color. Moissanite is lumped in one of three categories: colorless (D, E, F), Near-Colorless (G, H, I), and Faint Yellow (J-K). Anything below faint yellow shouldn't be sold. If you want a diamond alternative, you should aim for no worse than near-colorless– with colorless being the ideal. I recommend spending a little more on color and less on carat size or shape for earrings. You may not notice sample differences within the same range, so opting for an F color vs. a D color can save you a little money without sacrificing too much.
Inclusions
Inclusions impact the clarity and brilliance of your moissanite earrings. The most common inclusions are needles, which are thread-like imperfections and the biggest concern for luster. Mineral crystals, tiny knots, cloudiness, and small cavities may also appear as inclusions. Clarity ratings fall into five categories: Flawless (FL, IF); Very, Very Slightly Included (VVS1, VVS2); Very Slightly Included (VS1, VS2); Slightly Included (SI1, SI2) and Included (I1, I2, I3).
For earrings, you don't need to be as selective as you would for a moissanite ring, but I do recommend staying away from any included earrings. Very to slightly included is likely your best value, as the imperfections will not be noticeable and you'll spend much less than you would for higher clarity moissanite.
Cut and Shape
For earrings, I recommend you be open to different cuts and shapes to achieve your desired style. That said, the rules, so to speak, are no different than selecting the best diamonds. Round brilliant cuts will provide the most brilliance, but there are many other excellent cuts. Oval, square, oval, emerald, cushion, pear, radiant, marquise, and heart cust are all beautiful choices and still offer plenty of sparkles.
What type of moissanite earring metal is best?
If you want your moissanite earrings to last, I recommend opting for a metal that doesn't corrode. Excellent options include 14K to 18K gold, platinum, and palladium. Stainless or surgical steel is lightweight and lasts well but is simply difficult to find. None of these metal types will fade or tarnish and require simple care and polish.
Moissanite Earrings: My Picks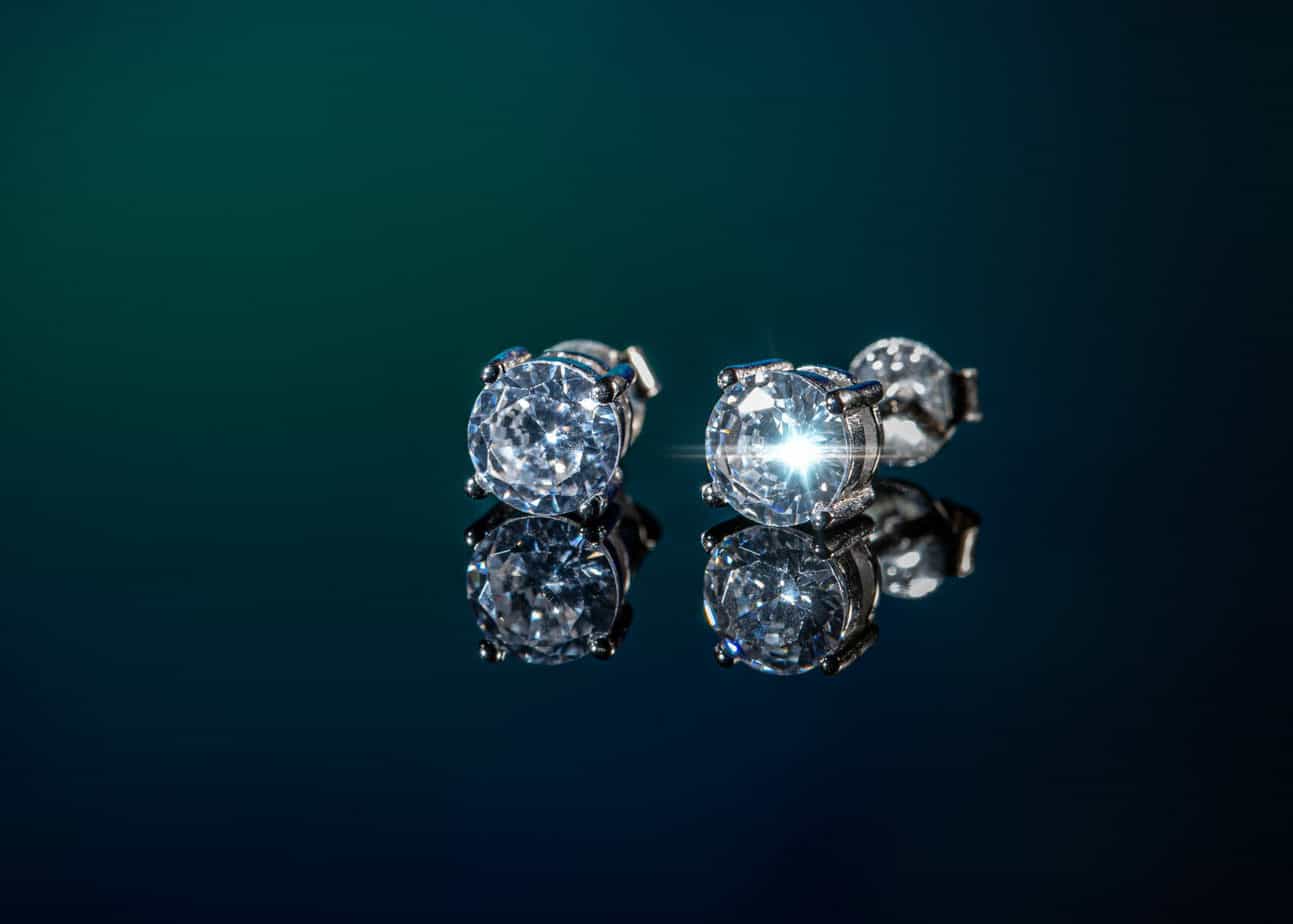 Now I'll give you my top picks for beautiful moissanite earrings. All of these moissanite earrings are made from fine jewelers that are highly regarded. While most of my suggestions come from Charles and Colvard, I've also slipped in some picks from Angara and Brilliant Earth. I've followed my selection criteria mentioned above to ensure that all moissanite earrings will be at least nearly; colorless and of acceptable clarity. From dongle to the hoop to stud moissanite earrings, these are some of my favorite options.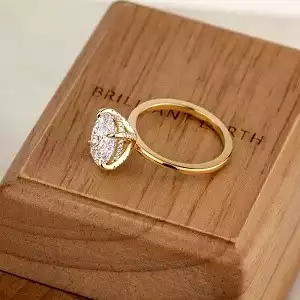 Planning a Proposal?
Make that proposal happen! Get started designing and create an engagement ring as unique as the wearer. To help pull off the perfect engagement, head over to Brilliant Earth's proposal guide.
Check Prices
We earn a commission if you click this link and make a purchase at no additional cost to you.
Moissanite Dangle/ Drop Earrings
Dangle and drop earrings add length to an outfit and are perfect for statement earrings. For a bridal look, dangle and drop earrings can add interest to a planer bodice and also can fill the gap with low, illusion, and v-necklines– or even sweethearts. Wow, with sparkle and a beautiful accent to any formal look with these picks, no matter the style.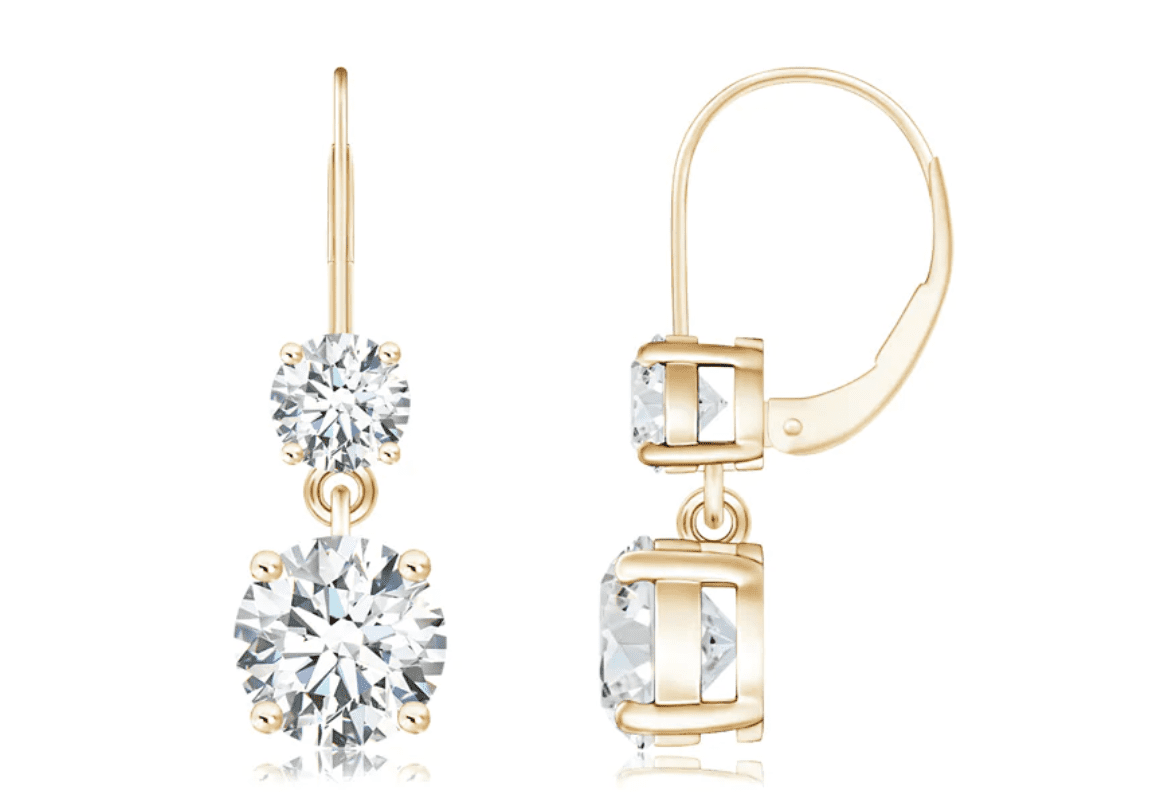 These gorgeous lever-back dangle earrings are occasion-worthy. Opulent, elegant, and alluring, two round, prong-set moissanite stones grace each earring. The Forever Brilliant grade moissanite is brilliant and especially alluring set with 14K yellow or rose gold. Also available in 14K white gold and platinum, these earrings can be purchased in 0.58 carats, 1.20 carats, and 1.92 carats. Priced from $557 to $1,700. Buy Here.
1.72 CTW Round Forever One Moissanite Duo Leverback Drop Earrings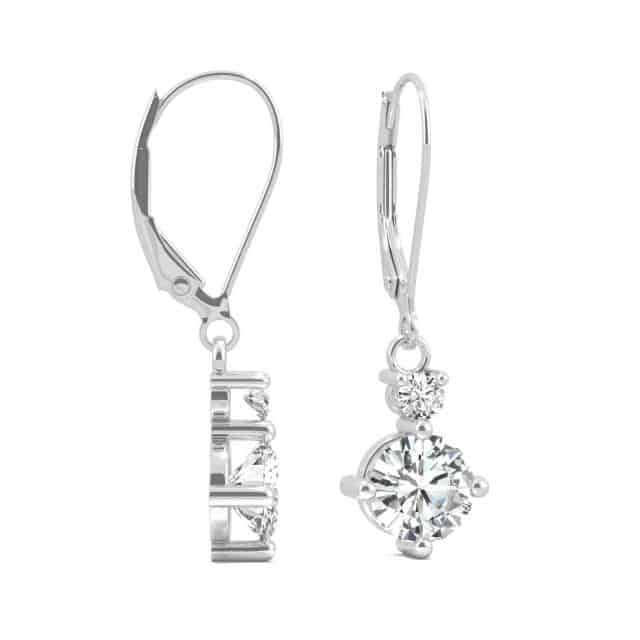 These statement earrings are crafted in 14K white gold for an impressive but understated, classic style. These petite drop earrings are stylish, with a duo lever back design and tension backs. The Forever One moissanite sparkles for just a touch of elegance and is priced at $1,479. Buy Here.
2.18 CTW Round Forever One Moissanite Duet Rose Triple Tier Halo Drop Earrings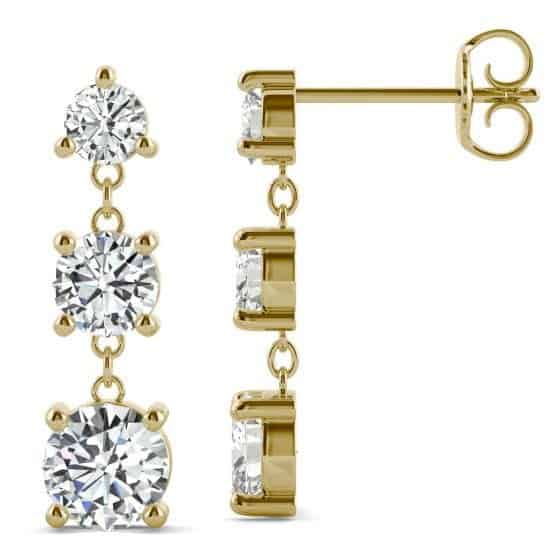 Looking for a glamorous touch? These moissanite drop earrings are dramatic and add a vintage accent to any outfit. Available in nearly colorless grades, a tier of three halos accentuates sparkle for a breathtaking touch to a low neckline. Priced from $1,899 to $2,139. Buy Here.
Pear and Round Drop Moissanite Earrings 1.06CTW in 14K White Gold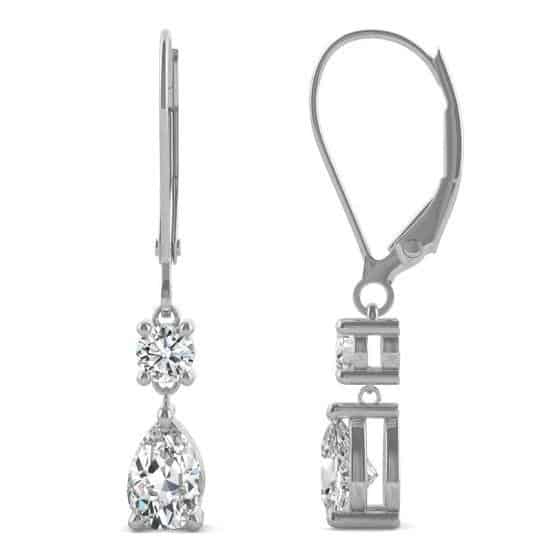 Are you looking for an occasion-worthy moissanite drop earring for under $1.000? These colorless Forever Moissanite drop earrings feature round and pear gems with classic prong settings and beautiful shine. Crafted in 14K white gold and priced at $889. Buy Here.
Moissanite Hoop Earrings
Moissanite hoop earrings are a bit more versatile in some ways– they can be dressed down for everyday looks but also dressed up for occasions. Hoop earrings may also suit boho-themed and more casual weddings. Wear these with any neckline, but opt for smaller moissanite hoop earrings for higher necklines.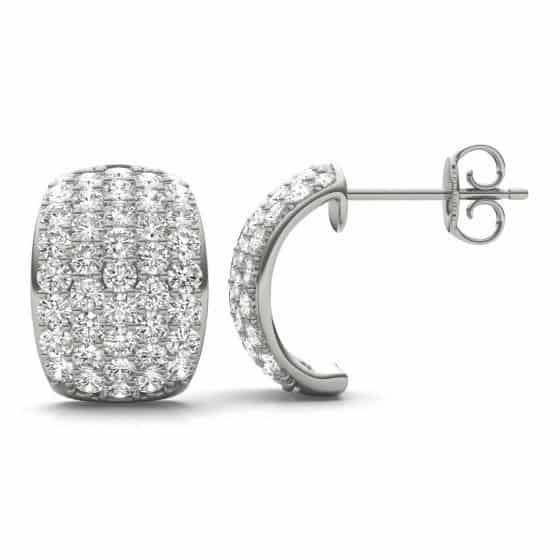 Think hoop earrings are just for casual occasions? Think again with these gorgeous, brilliant moissanite hoop earrings. Available in 14K yellow gold or 14K white gold, round, colorless moissanite radiate on polished gold. The stunning J-hoop style and friction back make these stand-out choices. They are priced at $1,069. Buy at the links above.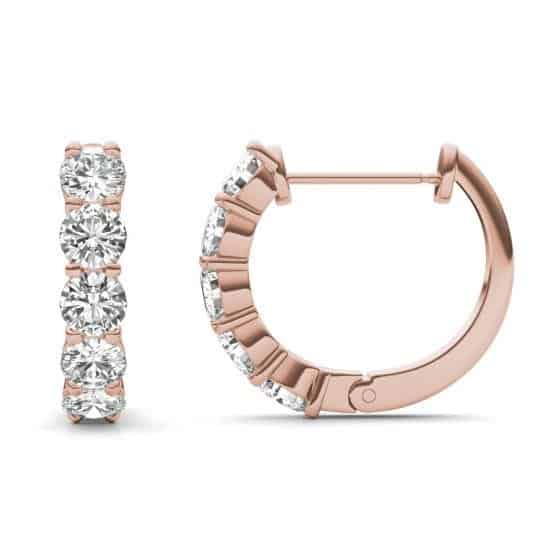 These earrings are dainty and subtly romantic, crafted in 14K rose gold. Round, brilliant, colorless moissanite stones accent a classic mini hoop. These earrings are a beautiful option if you want more of a statement than stud earrings but don't want overly bold earrings. Priced at $899; Buy Here.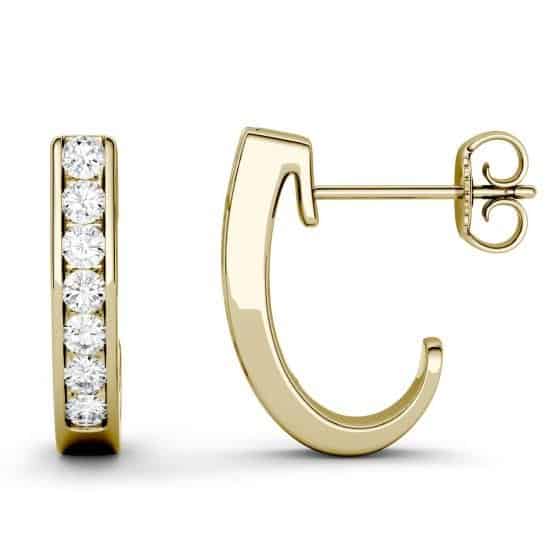 You don't need a large carat size to make an impression. These J-Hoop earrings are not only suited for formal occasions but just may become your new go-to earrings. Brilliant round cut, colorless moissanite graces a classic design, crafted in 14K yellow gold.
Priced at $399; Buy Here.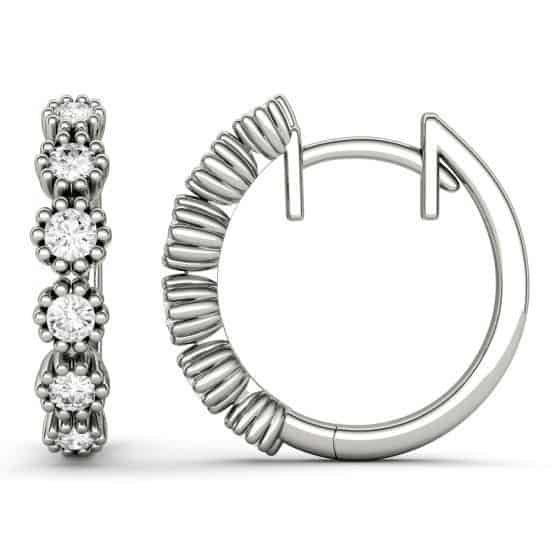 Are you looking for a boho touch? These unique moissanite earrings are the most popular of all hoop earrings Charles and Colvard sell. Intricate beaded details surround round, brilliant moissanite stones. The bezel setting is more careful but still has an elegance of its own, crafted in 14K white gold. Priced at $549; Buy Here.
Moissanite Stud Earrings
There's little more classic than a sparkling stud earring. Moissanite stud earrings These are beautiful, simple, and the perfect go-to earring for a classic diamond alternative. Pair these with higher necklines, scoop necks, and some illusion necklines; these are also perfect if you're wearing a dress or gown with heavy detailing on the bodice or are planning on other statement pieces.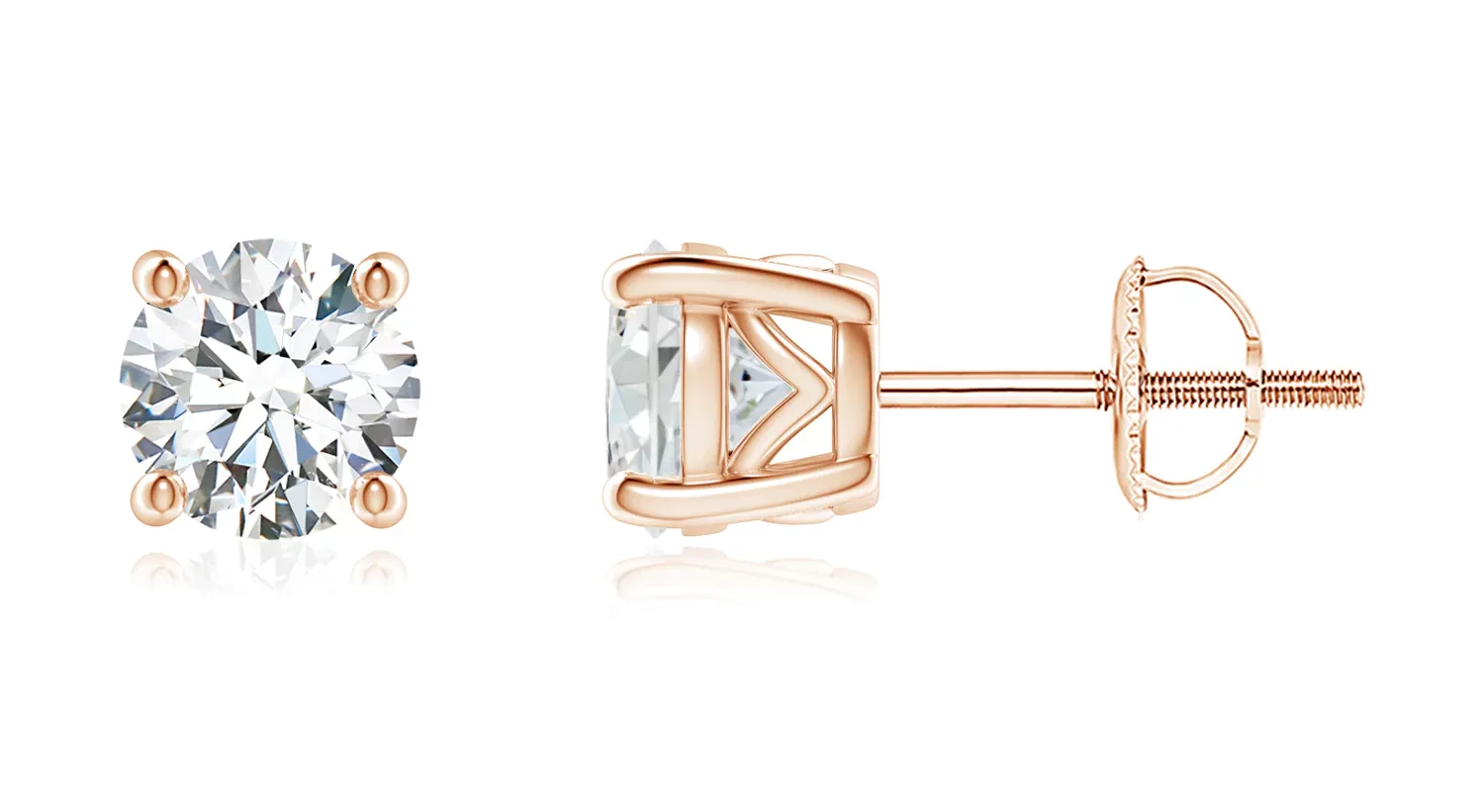 These vintage-style round moissanite earrings are at once enchanting and timeless. Solitaire studs are accented with delicate scrollwork on the sides. Brilliant round moissanite gemstones radiate sparkle in a four-prong setting. Crafted in your choice of 14K rose, yellow or white gold, as well as platinum. Choose from 0.66 carats to 2.00 carats.
Priced from $503 to $1,745; Buy Here.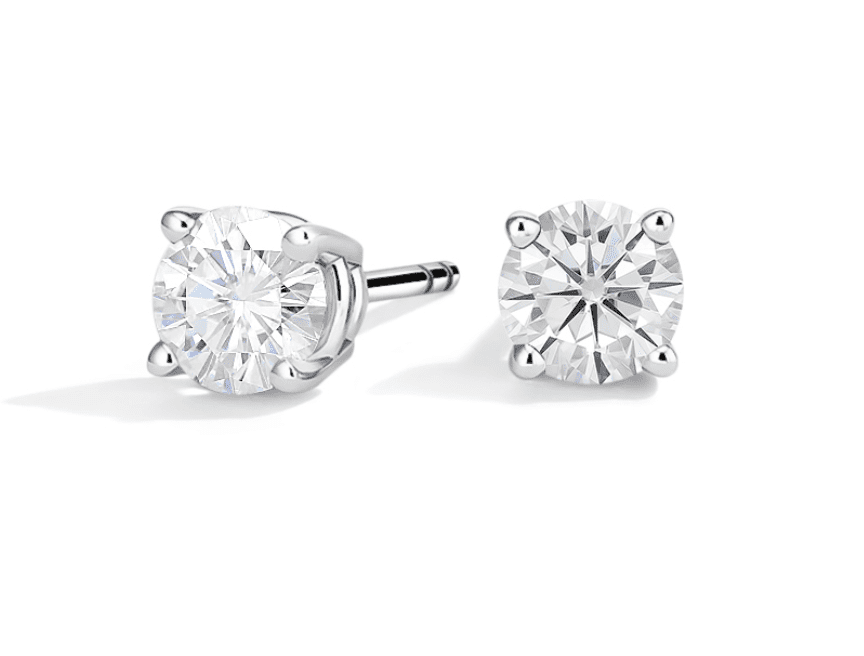 Brilliant Earth is one of my favorite fine jewelers, and they don't disappoint here. It hardly gets more classic than simple prong-set earrings. The 14K white gold and minimalist design are striking and highly versatile, crafted with precious recycled materials. Colorless, very, very slightly included gemstones add a beautiful sparkle to any gown or outfit.
Priced at $1,090; Buy Here.
Princess cut is one of the most popular shapes for precious gemstones. Offering a modern touch with plenty of brilliance, you can see what a beautiful style it is for moissanite earrings. Shimmering colorless moissanite gemstones are set in push-back earrings- all made with recycled and ethically sourced materials. Priced at $1,990; Buy Here.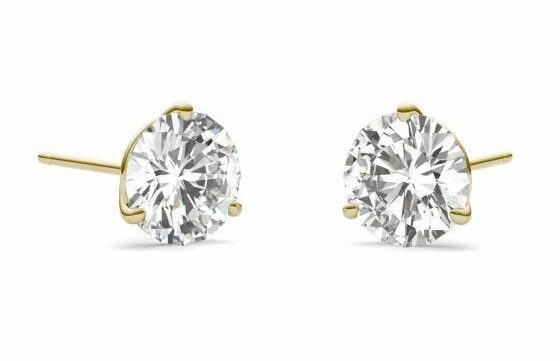 Available in 14K yellow gold and white gold, these dazzling stud earrings keep things simple and classic. Round brilliant moissanite gemstones sparkle in a classic three-prong setting, with martini details for an elegant accent. Priced at $1,899; Buy Here.
Frequently Asked Questions
Question: Does salt ruin moissanite earrings?
Answer: Salt will not immediately ruin moissanite, but it can damage it over time– as it can from any type of jewelry. For this reason, it's not a great idea to wear moissanite earrings in the ocean (even aside from the fact they could easily become lost as well). Generally, you don't need to worry about single exposure, but exposure over time ruins your jewelry. 
Question: Does sanitizer ruin moissanite?
Answer: Of course, it's unlikely you're using enough sanitizer to have it on your hands and then somehow ruin your earrings. It is possible that sanitizer can affect moissanite– or any gemstone ring– over time. The concern is that chemicals can build up over time and result in a duller appearance. Most of the time, cleaning and care can get rid of this issue. 
Question: Will moissanite last forever?
Answer: No gemstone– even diamonds– is guaranteed to last forever or look as excellent as the day you purchased them, as a lot of this does have to do with care. That said, moissanite earrings should last you a long time and could even be passed down generations if bought at a high quality. 
Question: What's wrong with moissanite?
Answer: There's nothing wrong with moissanite. It's one of the most durable gemstones and can be quite beautiful in colorless and high clarity variations. The one downside is when it's directly compared with diamonds. The larger the carat size, the more apparent the multicolored scintillation is. Some may be fine with this, while others may see it as a diamond "knock-off." It comes down to a matter of personal preference. Don't expect moissanite of any form to appear exactly like a diamond. Rather, appreciate it for its own beauty. If you're concerned, I'd opt for a smaller carat size and also consider if it's the right option for you. 
Final Thoughts
Moissanite earrings can be beautiful. Far from tacky, moissanite earrings can even be an alternative to diamonds for bridal earrings or any formal occasion. Make sure you're buying lab-grown, not stimulants, and pay attention to the quality. I've focused on fine jewelry moissanite earrings, and you can find even more by shopping the entire Charles & Colvard Moissanite Earrings Collection.
Want to support independent artists and online boutiques? You can also shop Etsy Moissanite Earrings Here.
Looking for more inspirational readings? Check out: