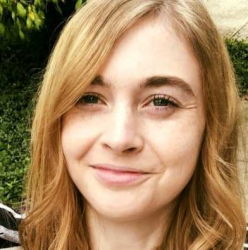 Latest posts by Erin Jamieson
(see all)
Though there are larger rings, some of the most luxurious and glamorous rings are 3 carats; that includes Queen Elizabeth II's ring, which was created from a tiara that once belonged to the late Prince Phillip's mother. But in 2022, many want the 3 carats to look without the cost; this is why a 3-carat moissanite ring may be the best option for some.
With a 3-carat diamond ring averaging anywhere between $19,000 and $35,000, it's safe to say that not everyone can afford a ring that size. But for those longing for glamour, there's another option with sacrificing carat size.
The rise of larger carat moissanite rings is twofold: one is the price point, and the other is a trend towards environmentally conscious rings. While lab-grown diamonds do offer an alternative to some of the concerns associated with mining, they still are quite expensive– and data suggest that millennials long for diamond alternatives more than previous generations.
3-carat moissanite rings are glamorous– and unique. They are also a sign that, while many still cling to sparkle and statement rings, the way we buy rings is changing.
But is a 3-carat moissanite ring right for you or your partner? And is saving money worth it? In this article, I'll share my insights into whether a 3-carat ring is a right size and the pros and cons of moissanite. I'll also provide my recommendations for selecting the best 3-carat moissanite ring, so your money is well-spent.
TL;DR: I've identified a wide variety of 3 carat moissanite rings, but these are my top recommendations in a nutshell…
What is the ideal carat size for an engagement ring?
Before you get your heart set on specific carat size, it's essential to consider the budget and what makes sense for you. There's a myth that there's an ideal carat size or ideal amount to spend. The truth is, it depends on your situation. The average size for an engagement ring was between 1 and 1.5 carats in 2019.
Is three-carat moissanite big?
Three carats is considered a large ring. It's an eye-catching look– and, as a single-center stone, more dramatic than the average ring size. At the same time, it's not so large that it's impractical or gets in the way of everyday life. For those longing for a statement-worthy ring, 3 carats may be a suitable size. Even if you buy Moissanite online, you could shop in-store and see what a ring that size looks like or seek out a site that allows you to visualize different carat sizes on a finger.
How much money should I spend on an engagement ring?
Price should also be a factor. As you can imagine, carat size– but also color, clarity, and cut– play a role in how much you'll pay. While there used to be an understanding that one should spend three months' salary on an engagement ring, this was advice being promoted by fine jewelers.
Now, more are looking to spend what they feel comfortable with and factoring other things into their budget. Spend what makes sense about debt, wedding expenses, and down payments. A more expensive ring does not correlate with the success of a relationship.
How much is a 3-carat moissanite ring?
A 3-carat moissanite ring varies quite a bit in price. Perhaps an easier way to start is to consider the average price of 3-carat moissanite gemstone. While the average price of a 3-carat diamond is $25,980, a 3-carat moissanite stone averages just $2,960. While moissanite is not the cheapest diamond alternative, it's a mere fraction of the cost of natural diamonds– and even far more affordable than lab-grown diamonds. How much you spend varies on clarity, color, and the ring's band itself.
Are moissanite rings worth it?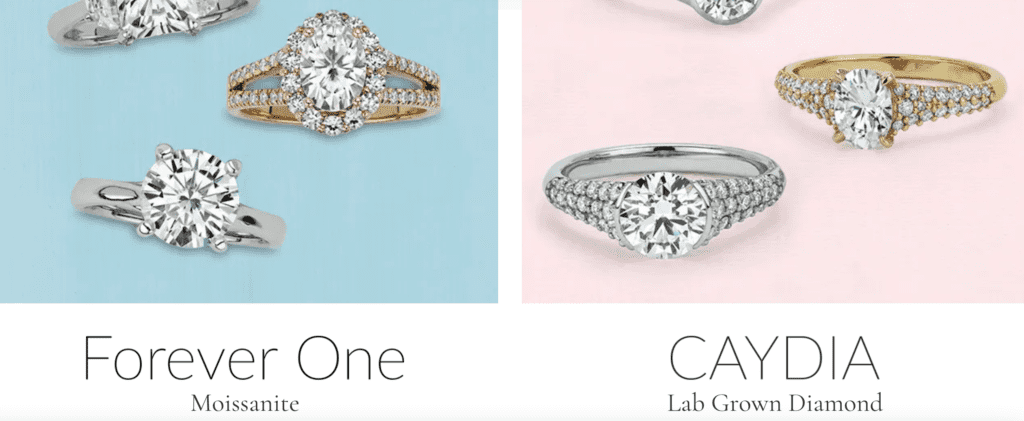 The bigger question is: is a moissanite ring right for you? I, as well as others, frequently minion moissanite as one of the best diamond alternatives. And while there's some truth to that, it's important to have realistic expectations about your ring– no matter what carat size you're eyeing. Here's what to consider, especially if you're thinking about moissanite vs. diamond rings.
Is a moissanite diamond a natural diamond?
Moissanite is a precious natural stone, but it's certainly not a diamond. Moissanite is a naturally occurring (and lab-grown) stone that was first discovered in the 1860s. It's a form of silicon carbide and has several forms. In its natural form, it's considered rare. It; is noteworthy for its high refractive index and multi-colored scintillation.
Can people tell moissanite from a diamond?
Moissanite appears, at first glance, not that different from a diamond. With the highest color and clarity grades, many may not notice the difference. However, the difference lies in the scintillation. Diamonds emit white light, whereas moissanite emits rainbow-hued light. This is more noticeable the larger the carat size. Hence, a moissanite ring under 1 carat may be easier to pass off as a diamond than a 3-carat moissanite ring.
How long do moissanite rings last?
The plus side is that moissanite rings can last as long as diamond rings. They're rated at a 9 to 9.5 on the Mohs Hardness scale, second only to diamonds. They're difficult to scratch with everyday wear. Moissanite is a tougher stone than a diamond, making it less susceptible to chipping.
Do moissanite rings get cloudy?
Genuine moissanite rings shouldn't become cloudy. Wear them wisely, and try not to swim in chlorinated water. They also don't discolor, turn yellow, or lose their brilliance. Moissanite rings can be worn just as diamond rings and can last you a lifetime. The key is to make sure you're selecting high-quality materials for the band as well. Some metals, such as sterling silver and copper, can tarnish.
How do you find the best 3-carat moissanite ring?
Finding the best 3-carat moissanite ring involves selecting the highest quality moissanite and metal that's suitable for it. You want to make sure you're focusing on overall quality– not just the large carat size. If you find that the 3-carat moissanite ring selection is a little expensive, you can save money by buying a slightly lower carat (such as 2.75). This provides the illusion of a 3-carat ring but saves money. It could also allow you to upgrade the color and clarity of the moissanite.
Which cut of moissanite is best?
The brilliant round cut is the most popular for moissanite, as it also is for diamonds. This provides the greatest degree of brilliance. Other excellent cuts that are a little less expensive include oval cut, emerald cut, cushion cut, pear cut, marquise cut, and radiant cut. All exhibit beautiful sparkles, just in different ways.
General types of cuts include brilliant or crushed ice cuts. A brilliant-cut has definitive facts and brilliant sparkle radiating from the center. Crushed ice cuts have facts in multiple directions. The effect is more shimmering and softer facets, but there's still plenty of brilliance.
Is there natural moissanite?
Chances are, you'll be choosing a lab-grown moissanite ring. While natural moissanite exists, it's exceptionally rare. Keep in mind that lab-grown gemstones are as durable as natural gemstones, with the same physical and chemical properties.
What is the highest quality moissanite?
The highest quality moissanite is sold by professional jewelers and has excellent color and clarity grading. For coloring, aim for colorless (D-F). Faint yellow (J+) is a poor choice, especially for a 3-carat ring.
For clarity, the most important thing is to avoid Included (I1, I2, I3). At this level, imperfections will be visible to the naked eye, harm sparkle, and be quite noticeable on a 3 carat stone. For a 3 carat stone, I recommend aiming for very, very slightly included if possible, and very slightly included if not. The larger the carat size, the pickier you should be about clarity because imperfections are amplified.
3 Carat Moissanite Rings: My Picks
Here are some of my favorite 3-carat moissanite rings online. My picks come from two companies: Helzberg Diamonds and Charles & Colvard.
Both hold an A+ with the Better Business Bureau and are established sellers of moissanite.
Though Charles and Colvard do have better ratings amongst customers, both offer a compelling collection of rings– including 3-carat rings– with fine metals and thoughtful craftsmanship.
Charles & Colvard 3 Carat Moissanite Rings
Charles and Colvard specialize in moissanite and offers beautiful classic ring styles. Rings are offered in 14K white, yellow, and rose gold for the most part– and just a handful in 18K gold and platinum. You have found a wide variety of stone shapes, as well as setting styles.
The collection is respected for a reason, from glamorous halo to three stone to side stone and solitaire. Polished bands serve as the backdrop for sparkling moissanite. All prices listed are starting prices, based upon your selection of colorless vs. nearly colorless stones.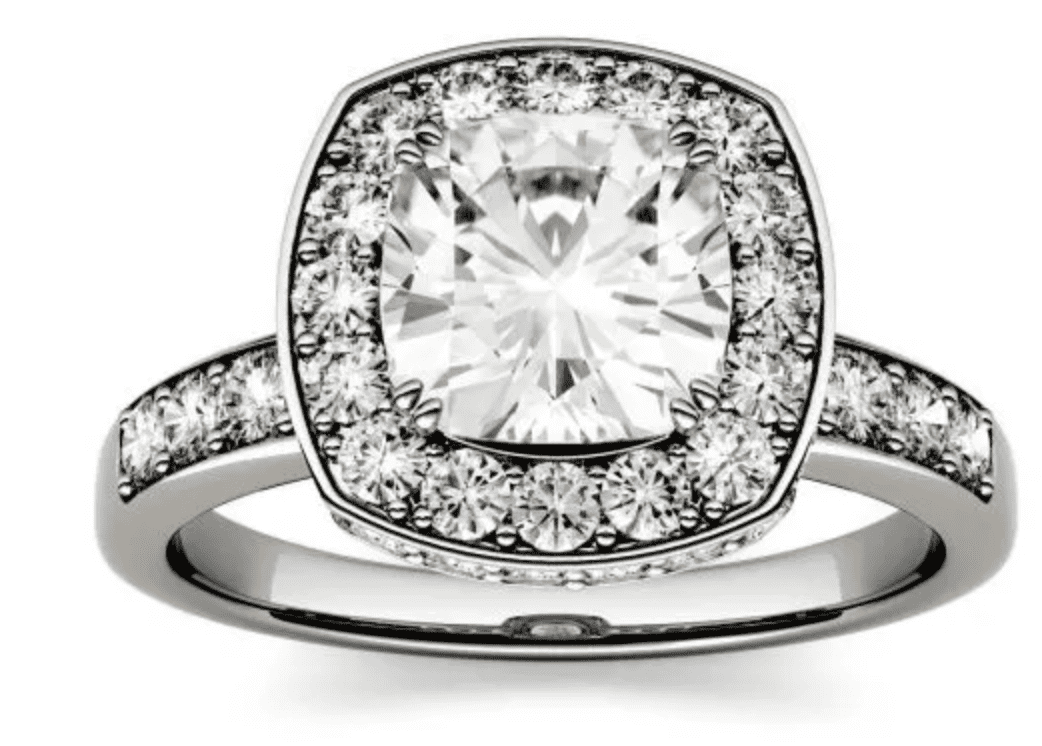 A cushion cut exhibits beautiful sparkle and enchanting glamour. This ring radiates from every angle, with the center cushion cut accented with side stones. The halo style is truly timeless, with magnificent detailing. This glamorous moissanite ring starts at $3,799 or $2,469 on sale, crafted in your choice of 14K white gold or 14K yellow gold.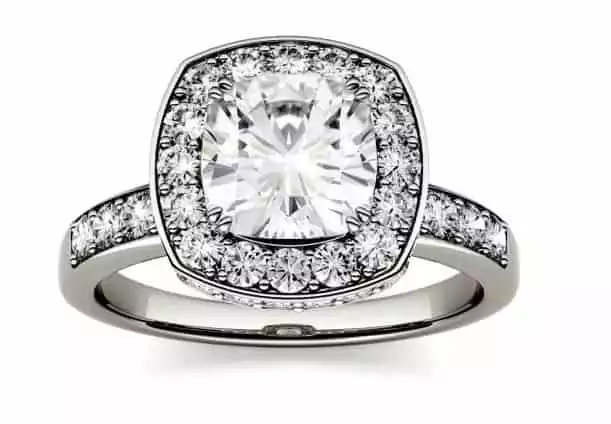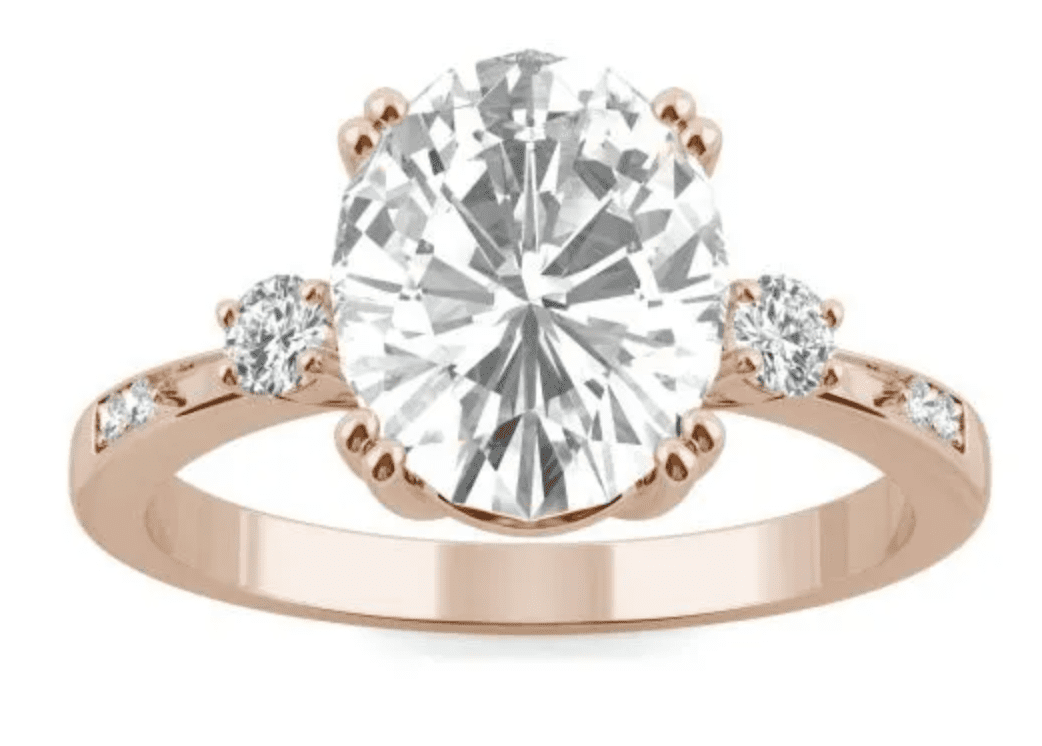 This exquisite engagement ring enchants with an elaborate solitaire style. An oval-cut moissanite center stone is accented with side stones and melee on the shoulders. The classic style is given an update, with complex radiance and a gorgeous design. Starting at $2,549 and available in 14K rose gold, 14K white gold, or 14K yellow gold.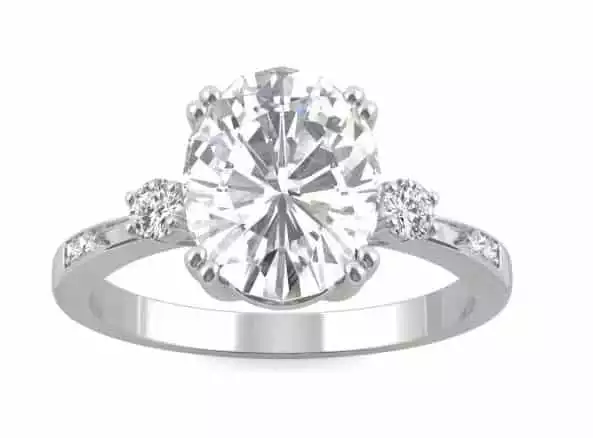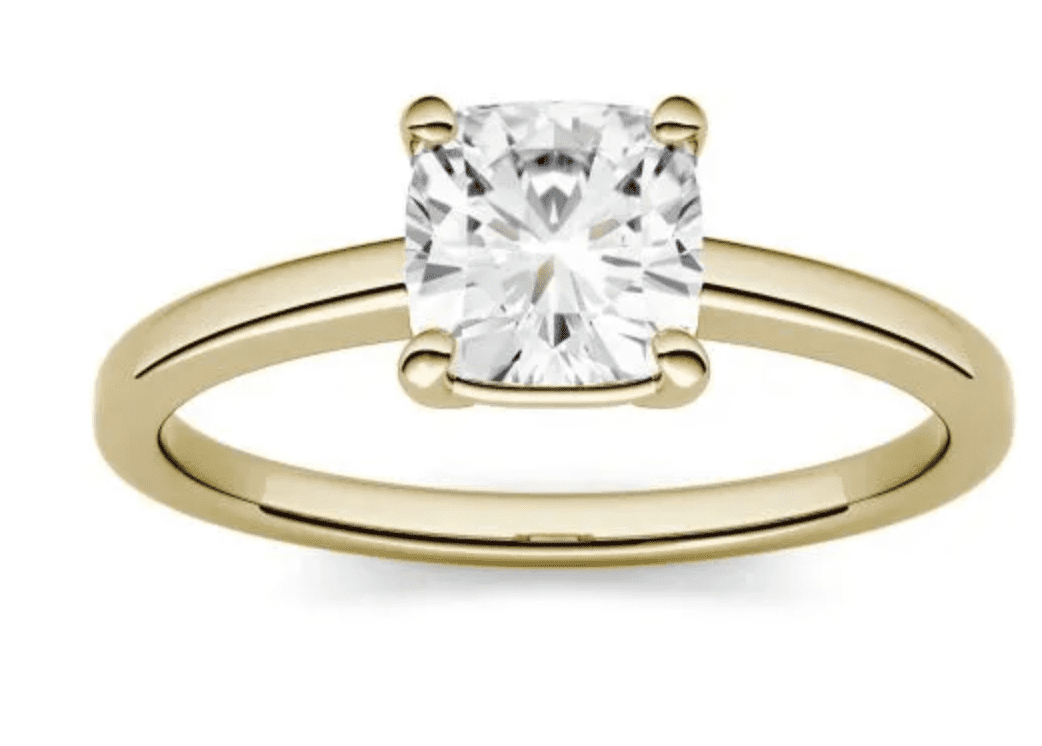 Classic and simple. This elegant solitaire moissanite ring features a four-prong setting with a beautiful cushion cut center stone. Classic sparkle is all you need for a timeless, unforgettable ring. Starting at $2,559 and available in 14K yellow gold, 14K white gold, and 14K rose gold.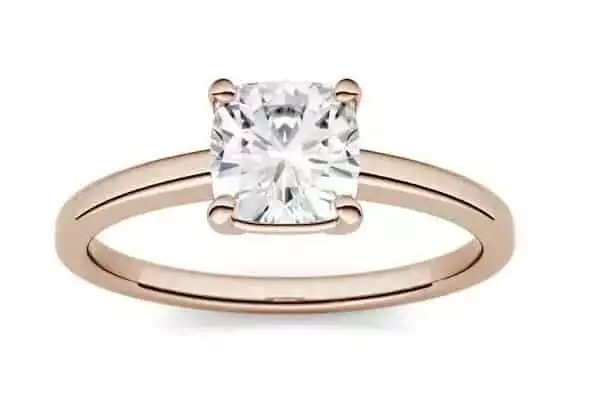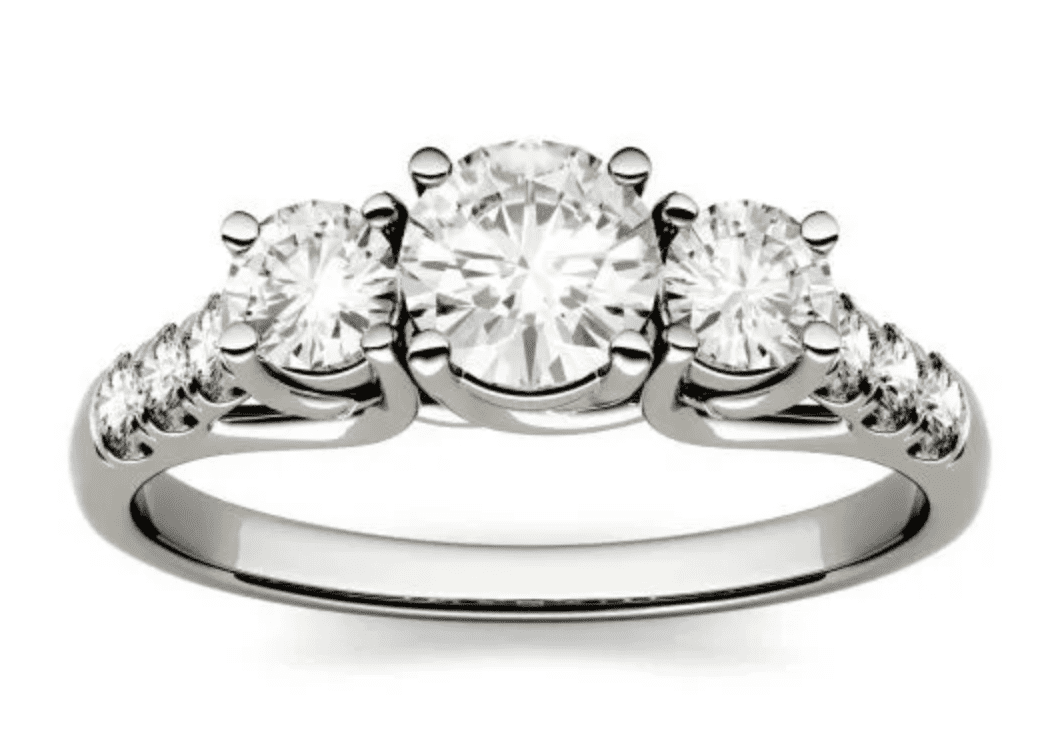 A three-stone ring is one of the most popular styles for an engagement ring. A rich history– and even religious symbolism with the holy trinity– set this style apart from solitaires.
The three-stone style can also have a vintage or classic appeal to it, and this moissanite ring is a perfect example. The trio of dazzling brilliant stones has an heirloom feel to it, with a starting price of $3,129. Crafted in your choice of 14K white gold, 14K yellow gold, or 14K rose gold.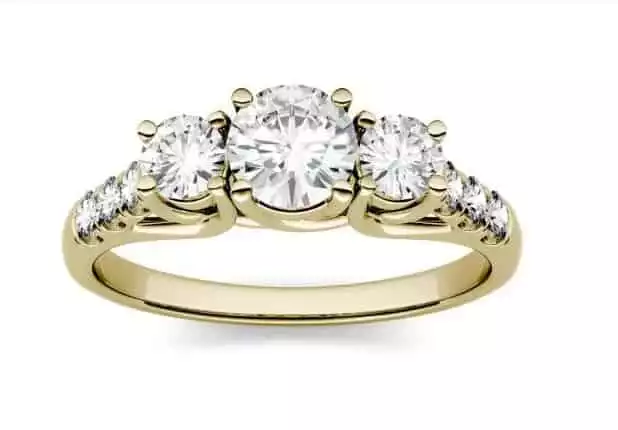 Helzberg Diamonds 3 Carat Moissanite Rings
Helberg diamonds don't just sell diamonds but also moissanite. Their ring collection leans sleek, polished, and classic or modern. Halo rings, solitaire rings, and radiant cuts are highlights. They also offer glamorous styles, and rings are crafted in 14K white or yellow gold. Modern, sparkling, and dazzling, the 3-carat moissanite rings they have are truly enchanting.
The moissanite rings Helzberg diamonds sell Charles & Colvard rings– just a slightly different selection than you may find in their regular collection.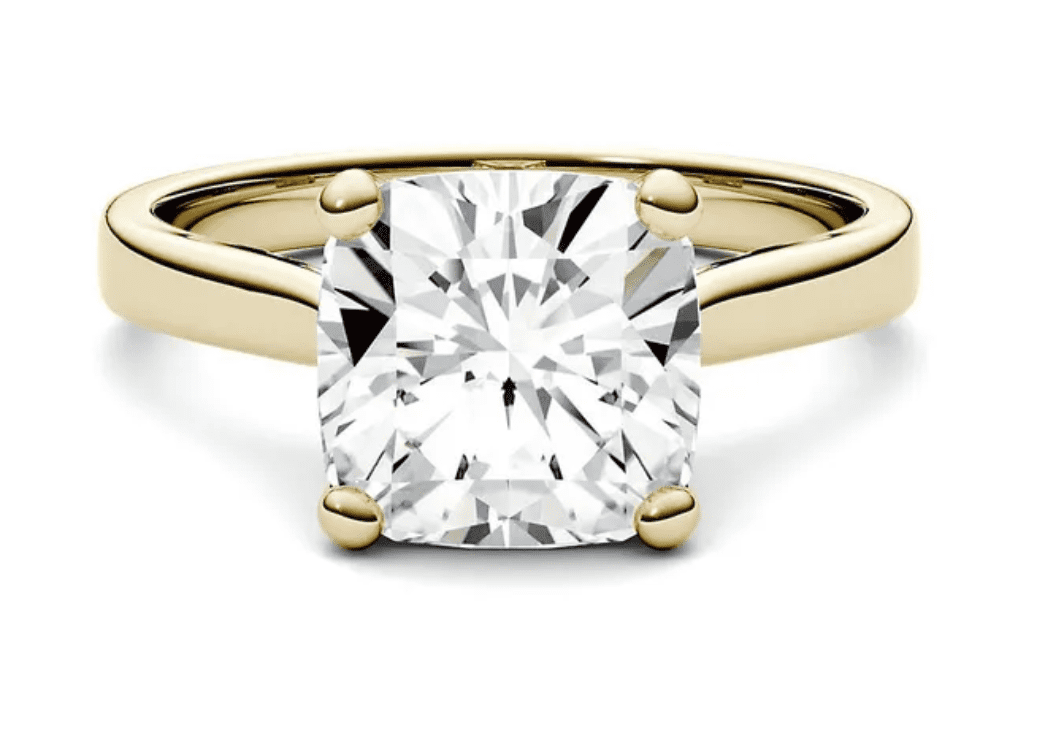 This solitaire ring features a chic, clean design for modern allure. A cushion cut colorless moissanite stone is set on 14K yellow gold. Classic, timeless and beautiful, this ring won't go out of style. It is priced at $3,499. Buy Here.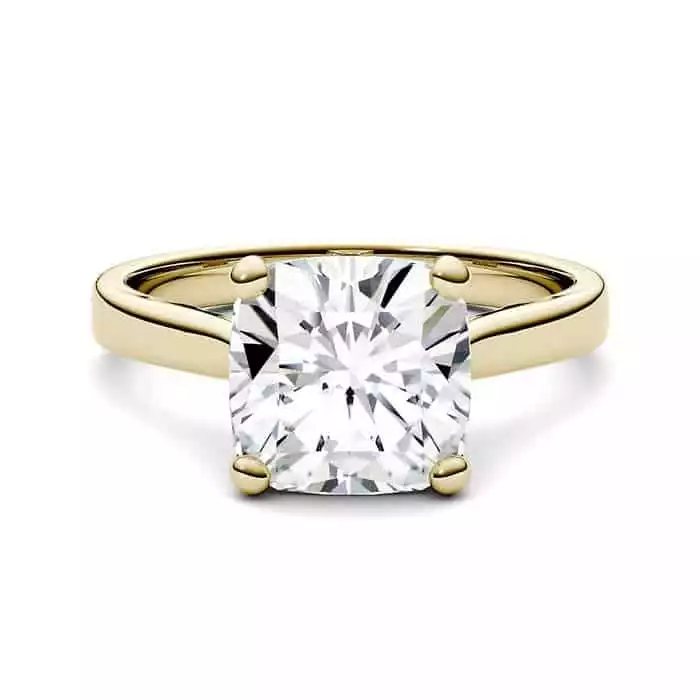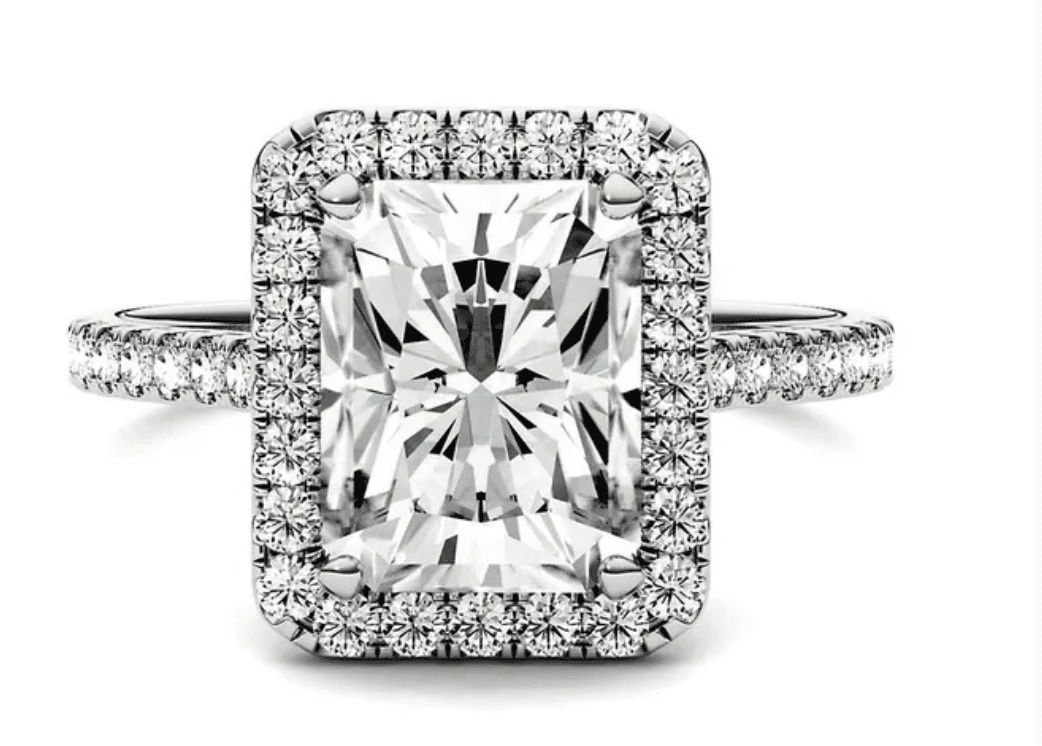 The enchanting halo engagement ring optimizes sparkle and accentuates the 3-carat size. Colorless radiant-cut moissanite has accents with a pave halo and band. This ring offers gorgeous sparkle at every angle and has a maximalist appeal. Crafted in 14K white gold and priced at $2,999; Buy Here. (Also available in 14K rose gold)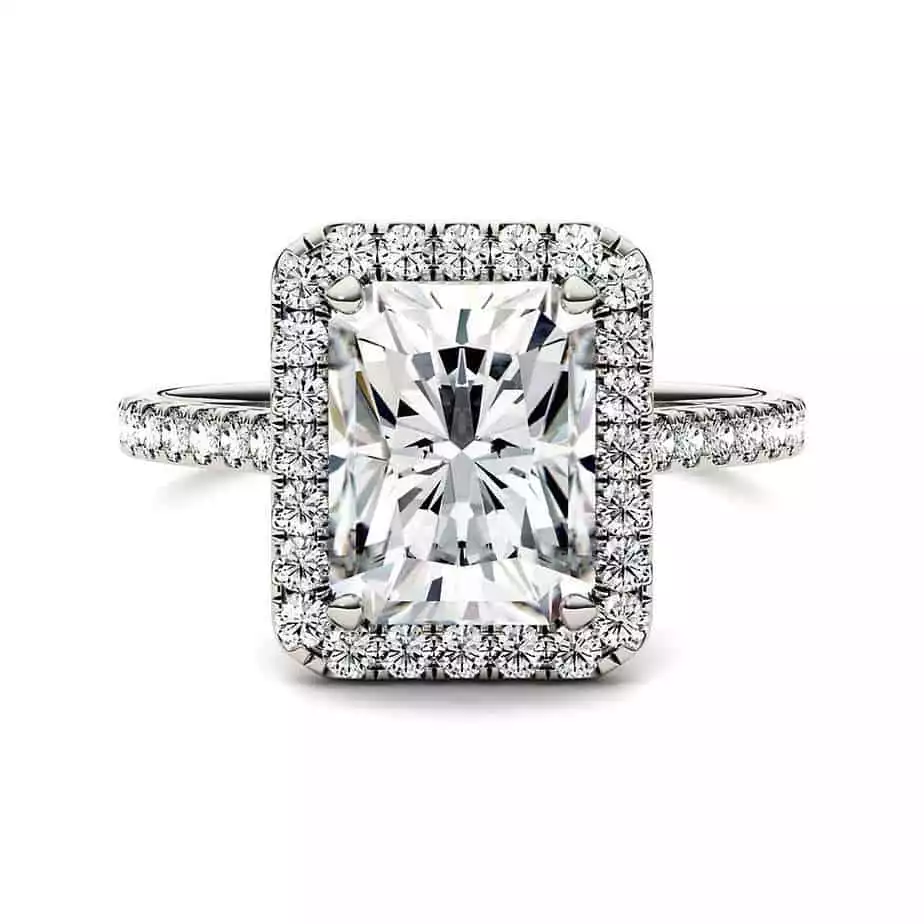 Looking for a unique, artistic moissanite ring? This ring delivers all of those requests. This moissanite ring features twenty-seven round colorless moissanite stones for a unique play on sparkle. The enchanting bands are accompanied by a round center stone, all set on a 14K white gold. Priced at $2,999; Buy Here.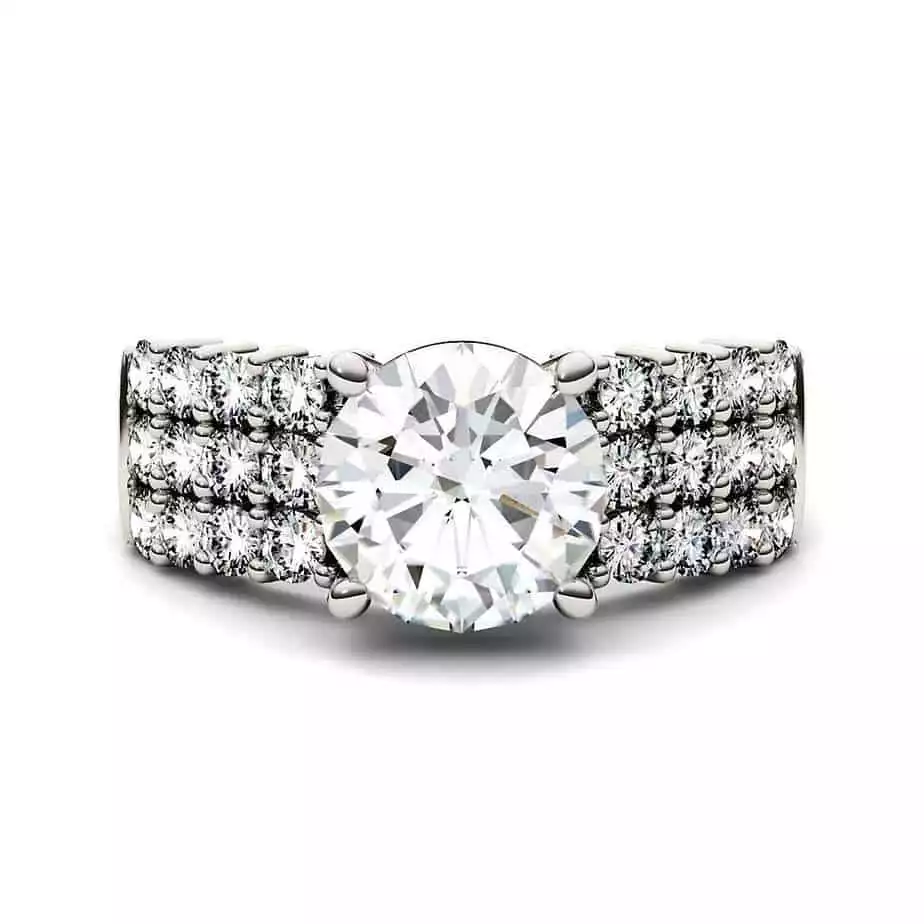 Forever One Round Moissanite Ring with Triple Band | Helzberg
This 14K white gold round moissanite ring has an irresistible charm perfect for your one and only. Stylishly trending with 27 moissanite gemstones in a triple-row band, a round colorless moissanite center stone exhibits maximum sparkle.
Check Prices
We earn a commission if you click this link and make a purchase at no additional cost to you.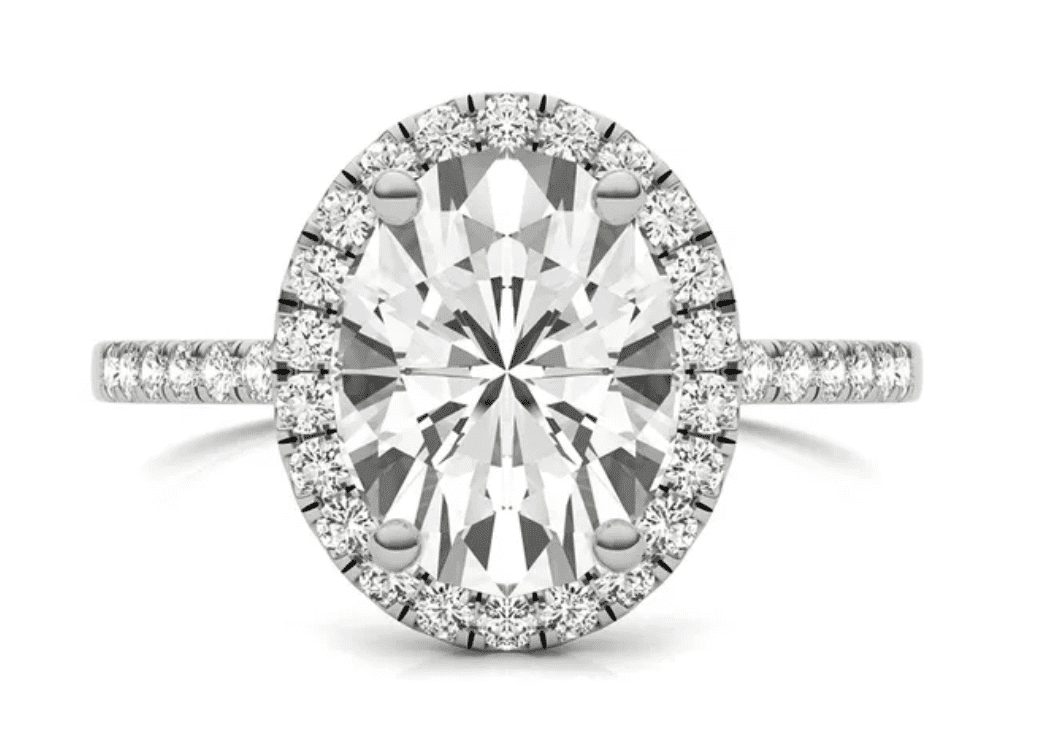 A nearly-colorless oval moissanite center stone is elevated for unique sparkle. Thirty-four round moissanite gemstones form a pave halo for a dazzling look. This unique ring balances playful sparkle with an elegant slender band, crafted in 14K white gold and priced at $2,999. Buy Here.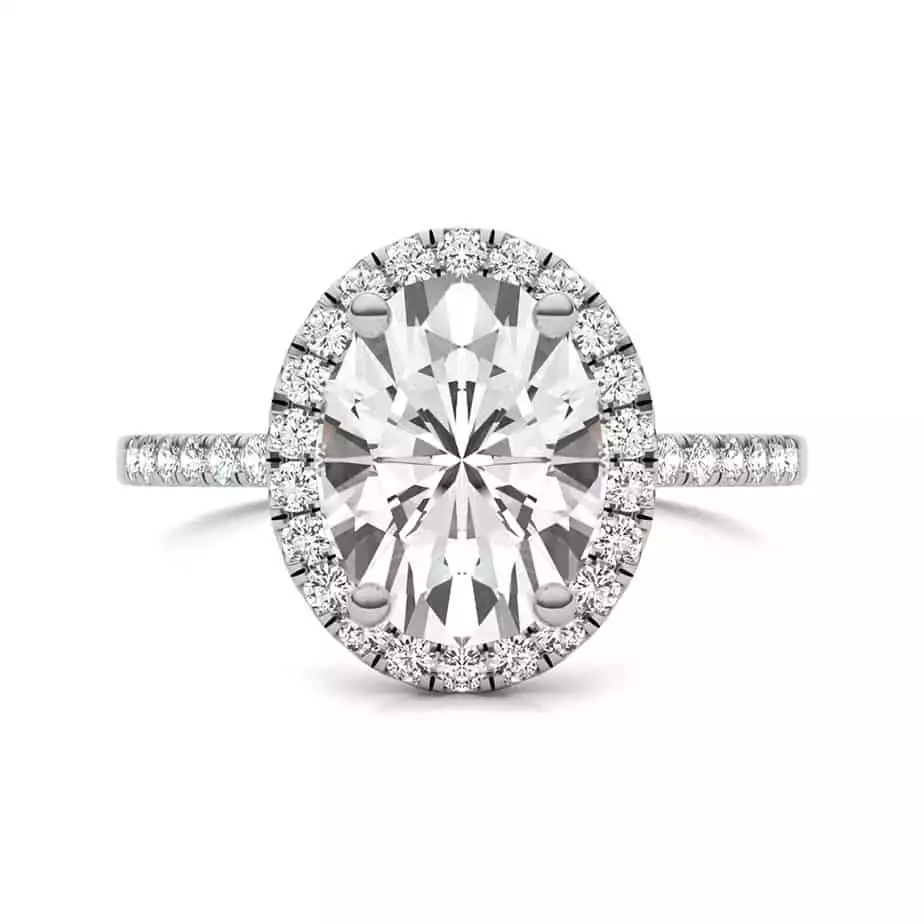 Frequently Asked Questions
Question: Which moissanite looks most natural?
Answer: A round cut generally is considered to appear the most natural. Of course, there is nothing wrong with other moissanite shapes. Focus on color and clarity and you should be satisfied with your purchase. Remember that moissanite is a naturally occurring gemstone, though almost all moissanite sold on the market is lab-grown. Lab-grown moissanite provides the same appearance as a natural gemstone. 
Question: What does natural moissanite look like?
Answer: The truth is, even as rare as natural moissanite is, most natural moissanite isn't the quality you might expect. The bulk of natural moissanite has a naturally yellowish, greenish, or grayish tint, with a color grade falling around K on the GIA scale. Colorless moissanite in its natural state is challenging to find– hence, the need for lab-grown moissanite for rings and other fine jewelry, including tennis bracelets. 
Question: How can you tell fake moissanite?
Answer: The most common form of 'fake' moissanite is cubic zirconia. CZ is a stimulant that is far cheaper than moissanite and is a softer material. It can chip and has much duller brilliance. If the price seems too good to be true, this is a good sign it may be a fake. But the best idea is to buy from a professional jeweler who sells genuine gemstone rings. Simulants won't offer the same beauty and aren't worth much. 
Question: Do you regret getting moissanite?
Answer: Most people do not regret getting moissanite, provided they purchase high-quality moissanite and go in with realistic expectations. Moissanite is durable and beautiful in its own right. If you expect moissanite to sparkle exactly like a diamond, then you may be disappointed. Yet, all told, moissanite is an excellent diamond alternative if you want to save money. You should always compare and decide what gemstone is right for you based upon your expectations, lifestyle, and budget. 
Final Thoughts on 3 Carat Moissanite Rings
A 3-carat moissanite ring is truly stunning but also quite different from a diamond ring. Durable, with a unique beauty of its own, few regret moissanite rings.
If you are on a tight budget and have to decide between a 3-carat ring with a low color or clarity rating and smaller carat size, I would always recommend opting for a smaller carat size.
Keep in mind that the larger the carat, the more noticeable imperfections will be.
Other Moissanite Ring Ideas
If you are considering some other carat sizes, consider the following guides:
Or, consider moissanite ring ideas by shape and style: