Latest posts by Kristen Swain
(see all)
Infinity rings, or eternity bands as they can also be identified as well, are a well-known and well-loved style of ring. These rings are often purchased by jewelry lovers and I am here to help you find the Best Moissanite Infinity Rings and give you ideas on the type and style that best meets your needs.
Moissanite is a beautiful option when considering Infinity rings. Infinity rings are a band inset with gemstones that carry completely around the band so that there is no beginning or end to the start of the stones. These bands are typically anniversary-style rings, but function well as thumb rings, wedding rings, or subtle statement rings in the style of your choice.
Bottom Line Upfront
The price points for Moissanite compared to diamonds are about 10 to 1 in cost. My first choice recommendation is this Luna Diamond Eternity Ring. This ring is the epitome of an infinity ring with small stones that encircle the ring completely, a small prong set with minimal metal setting showing. My other top recommendation pick would be this Luxe Versailles Diamond Ring, I love the mix of cuts in a delicate setting. Please continue on to see more beautiful infinity ring choices.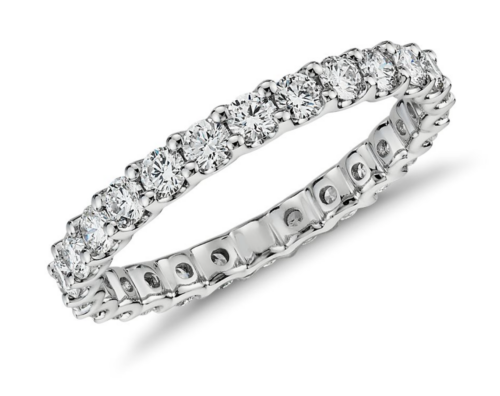 A little about Moissanite
Moissanite may be the new upcoming diamond replacement. This isn't widely accepted, especially by the diamond dealers who want to keep their place as Top Dog in the engagement ring business. Many buyers are breaking away from the traditional gemstone choices and are enchanted with this ecologically friendly stone. Hands down, sparkle for sparkle, a Moissanite diamond will give you far more glitter per carat than a diamond.
I have become obsessed with Moissanite since researching and writing about them. Several months ago I purchased my first Moissanite pieces and continue to expand my collection, including buying necklaces, rings, and earrings. I simply adore Moissanite's sparkle and fire and hope to continue to add to my Moissanite collection.
Moissanite is a gemstone alternative to diamonds. This gemstone is known for its bright clarity and shine. Moissanite is almost as hard as a diamond, a 9.25 on the MOH scale of hardness. Moissanite is also considered to be brighter than a diamond in the rainbow coloration of the sparkle that diamonds are so well known for. When comparing white sparkle, diamonds and Moissanite are about equal, but overall, a Moissanite does outshine a diamond.
Tips
Color Choice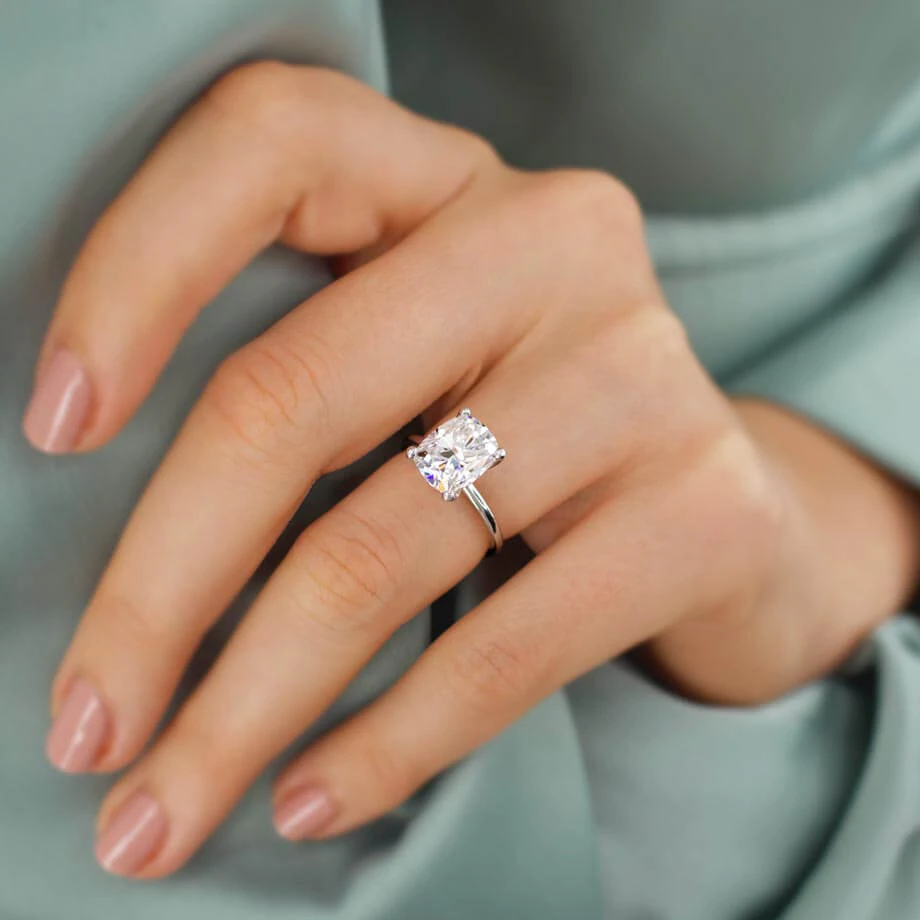 Moissanite can have a bit of color to it, although most companies will call stones Colorless, there are still chances that there will be a slight tint of color to the stone. No two stones are alike even for the same version of the ring. If ordering online, you may not have much of a choice.
However, if you are buying in person, make sure to look at the ring in several lighting situations to determine if you are buying the stone that you want. Classic Moissanite has a yellow-green tinge to the stone, but the newer versions of Moissanite have had the process improved to be less tinted.
Bigger is not always better
Moissanite is so much less expensive than diamonds that the chance to buy the largest stone available is tempting. Bigger Moissanite tends to have more play of color than diamonds, almost to what is termed a 'disco ball effect'. If you are hoping to pass your Moissanite off as a diamond look-alike, less than two carats is the recommended sizing of a Moissanite stone.
Resale Value
Moissanite may look and be close to the hardness of diamonds, but it is not a diamond, and the resale value is just not going to be the same as a natural diamond. Moissanite is a lab-created gemstone that can be reproduced again and again in a mechanical setting. This lowers the resale value, however, the newer more colorless Moissanites are seeing a growing rise in resale value.
My Selection Criteria
Sparkle-Number one on my list of selection criteria will always be the sparkle of the jewelry. Sparkle comes from both the gemstones and the setting, the shine of the metal as well as the glitz of the stones.
Value- I'm a thrifty person and I like to make sure my jewelry is more value per dollar, with the thought that the perfect ring may cost more, as long as it is exactly the right piece for me.
Style- A comfortable ring is very important, something that won't snag on sweaters, or your favorite jeans. I also love small details in a ring, my favorites often have tiny details like scrollwork or tiny accent gemstones. Tiny gemstones and details that are so quietly personal, when others look at your ring, they may not notice, but you are aware of those little touches that feel so personal to you.
Size- The thickness of a band makes a big difference in comfort. I have worn several thick infinity bands and found that they push my fingers apart, which can hurt when my hand is compressed. They have also rubbed against my pinkie-finger knuckle and caused abrasions. Therefore in this article, I will not be recommending any thick rings.
Product Picks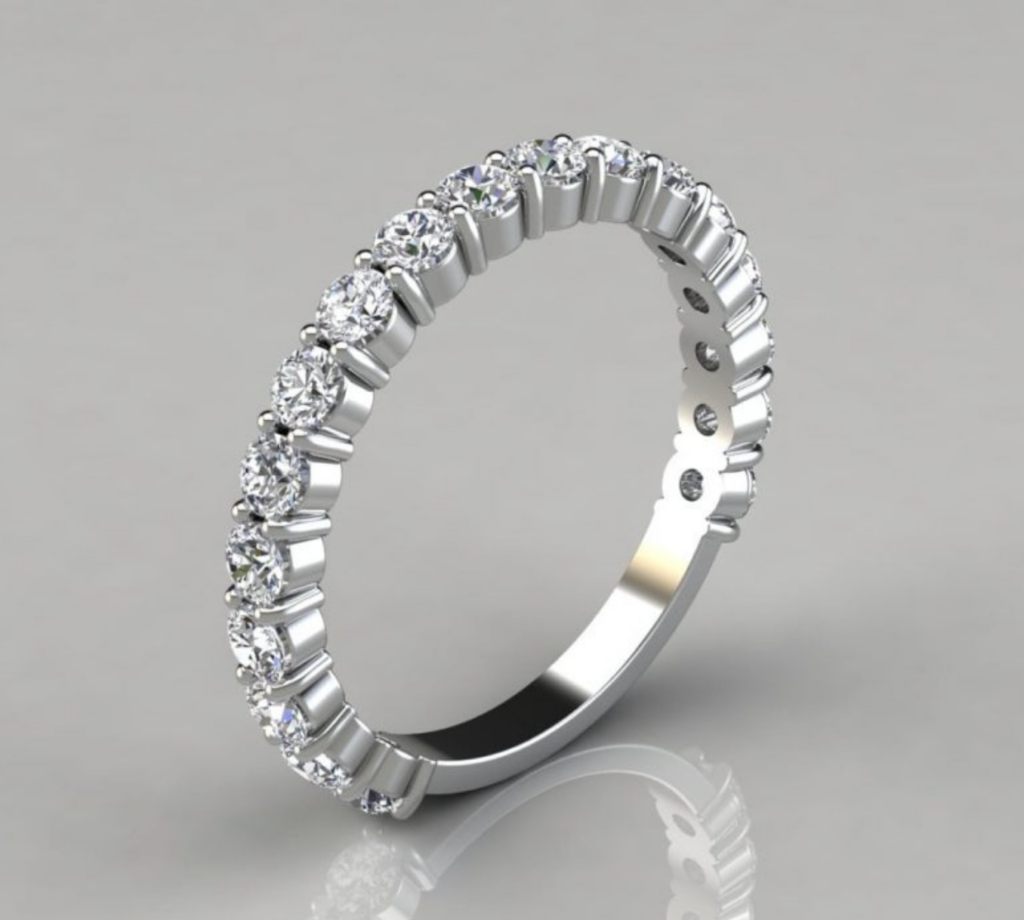 This over one-carat infinity band has prong settings holding the stones. These prongs are rounded and less likely to catch on clothing. The stones carry through to about 3/4ths of the way around the ring, and the bottom is without stones to scratch or damage on surfaces as you move through your day. I like that the stones are the showcase of the ring, letting very little of the setting metal show from the top viewing of the ring. This can also be the negative of the ring, as the stones will take the brunt of any hitting or banging that happens on the ring.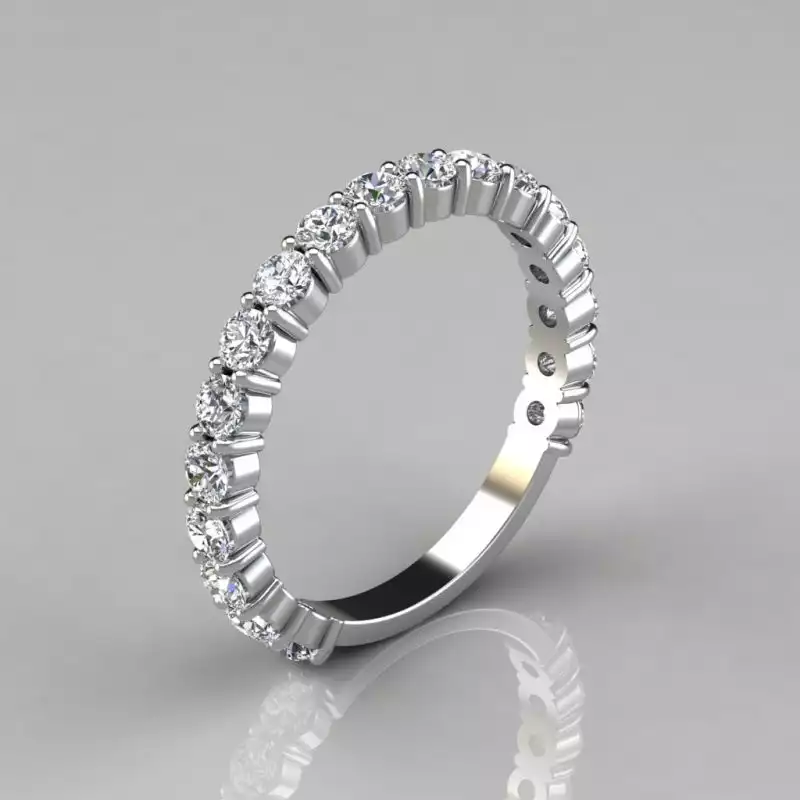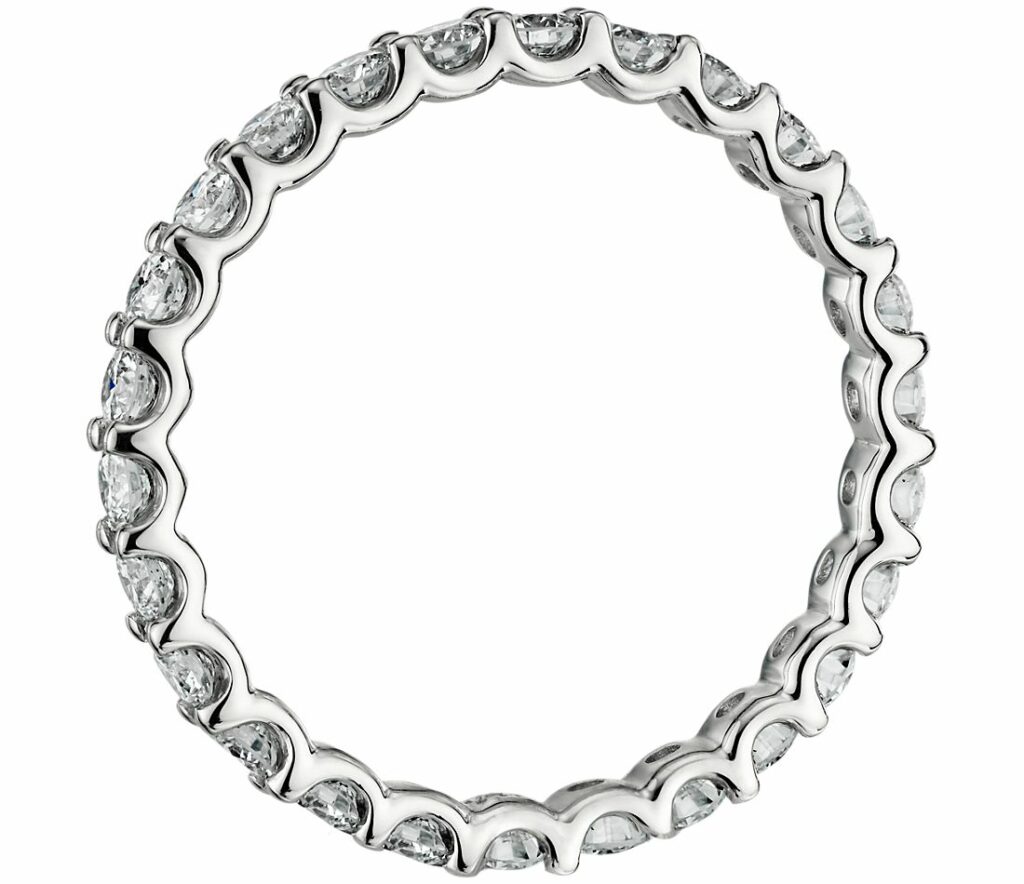 This ring really is the ultimate eternity band. With the gemstones circling the entire band, this ring has a full one-carat total weight of Moissanite. This ring is made with White Gold, which is a better quality choice for a ring over the slightly softer Sterling Silver. The price point is about average for a Gold setting. The really neat design of this ring shows off the gemstones from the side as well, most rings hold smaller gems in a channel setting, or the prongs encase the gems more along the sides, and this ring shows off the sides of the stones instead. I love that feature because it allows so much more light to come into each stone, The metal of the ring is actually scalloped along the sides to feature this.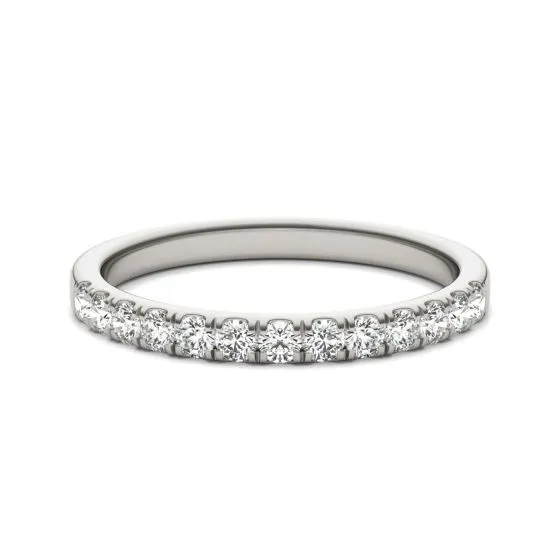 The french set prongs on this band give the ring such a unique look. With each prong cradling the stone it is holding, the prongs form a design of their own, and create a look of a plus sign or cross look of each stone. The overall design of the ring is smooth without rounded prongs sticking up from the rings to catch on clothes. I feel that the four prongs to each stone really give the wearer extra protection from stone loss, instead of the more typical shared prong settings. At just over two hundred and fifty dollars the price of the ring is very affordable as well.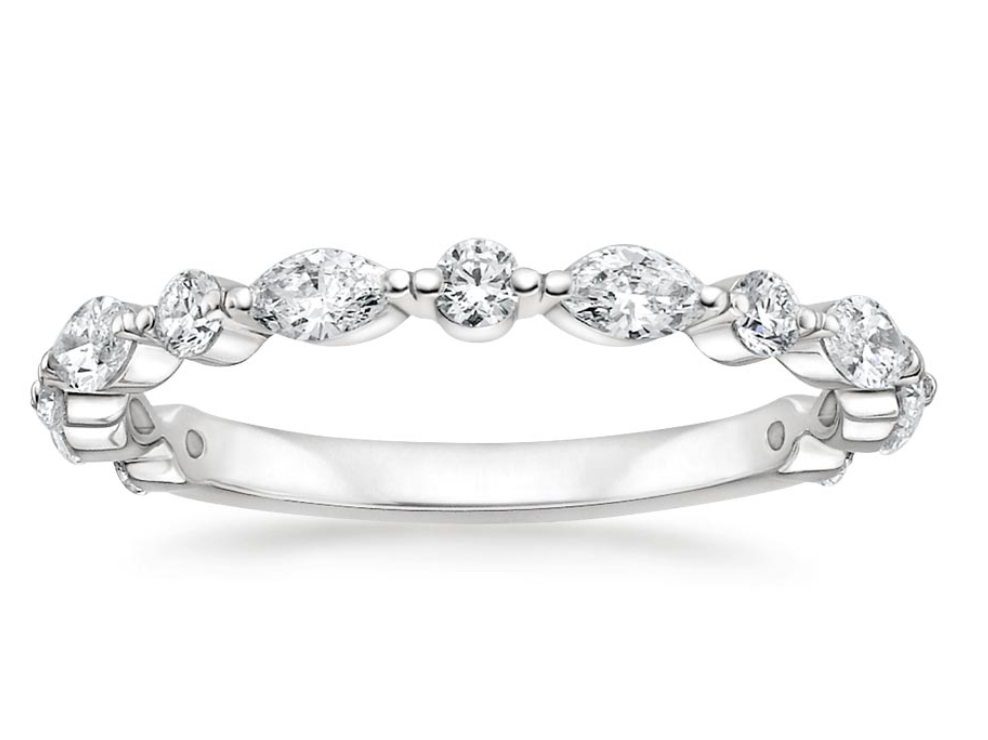 Wrapped three-fourths of the way around the band, this band features marquise and round-cut Moissanites. The prong sets act as decorative elements and resembles small beading between each stone. The marquise cut stones are laid horizontally to give a single narrow line of stones, again, the thickness of rings is always a priority for bands to me. The price point is a little high for me for the carat weight, but the settings are all metal and can be changed to coordinate with another piece of jewelry.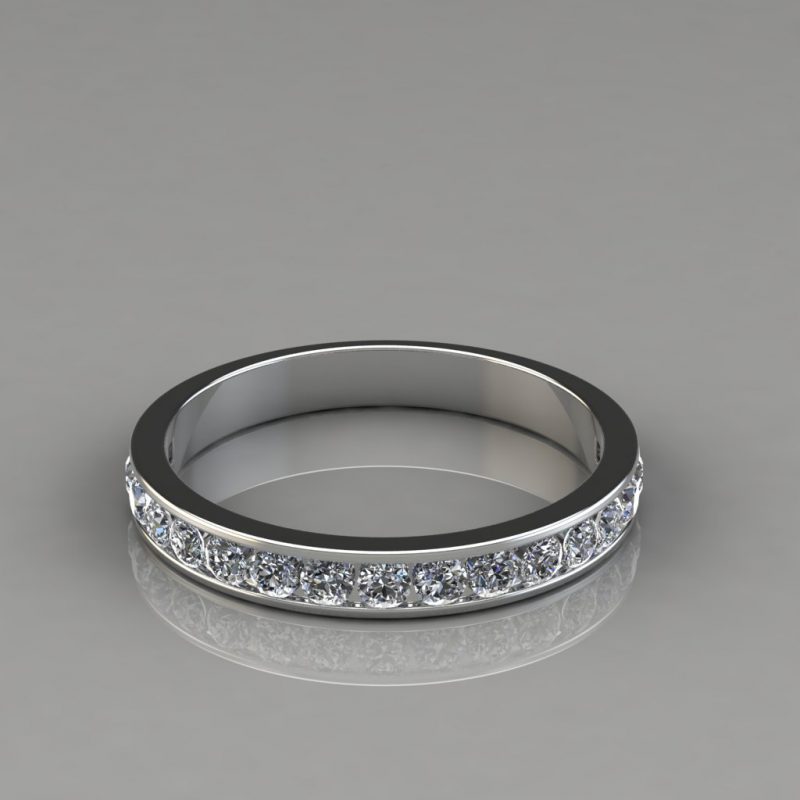 The french set prongs on this band give the ring such a unique look. With each prong cradling the stone it is holding, the prongs form a design of their own, and create a look of a plus sign or cross look of each stone. The overall design of the ring is smooth without rounded prongs sticking up from the rings to catch on clothes. I feel that the four prongs to each stone really give the wearer extra protection from stone loss, instead of the more typical shared prong settings. At just over two hundred and fifty dollars the price of the ring is very affordable as well.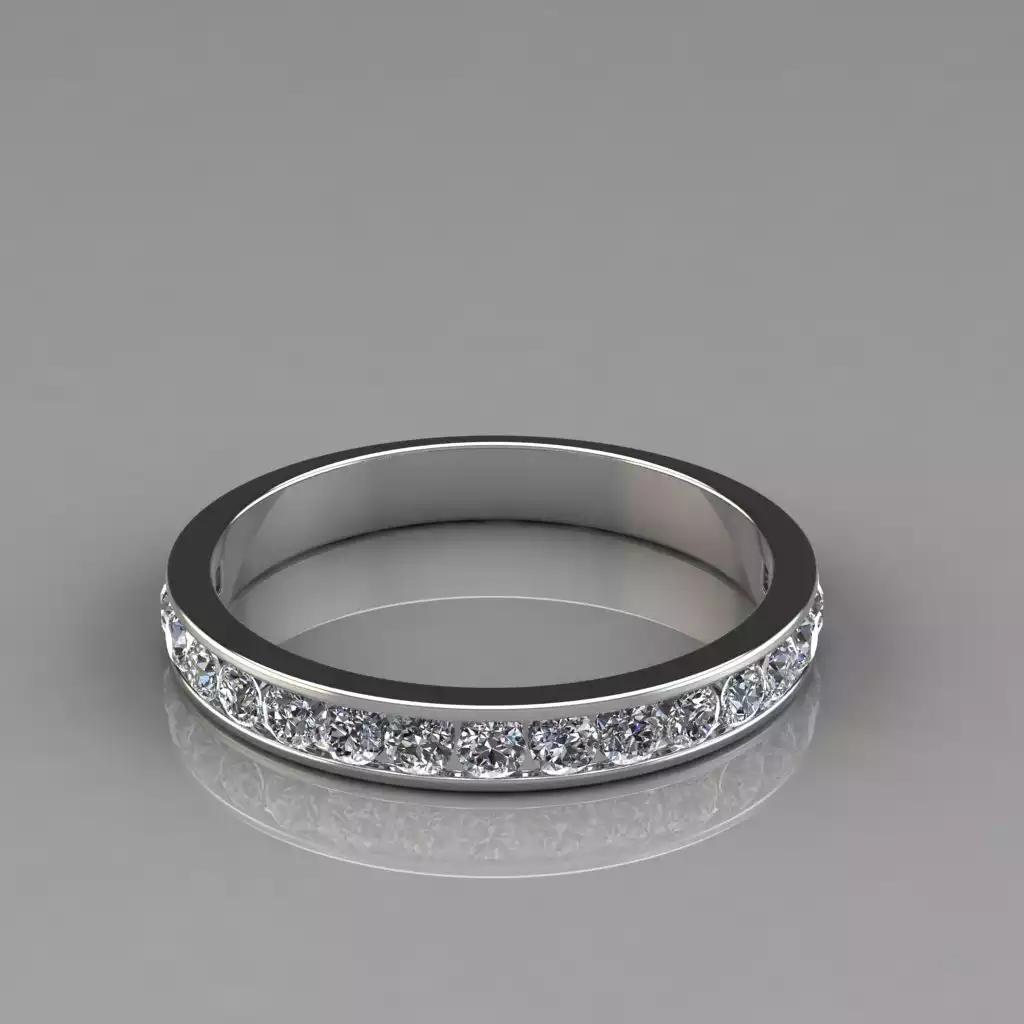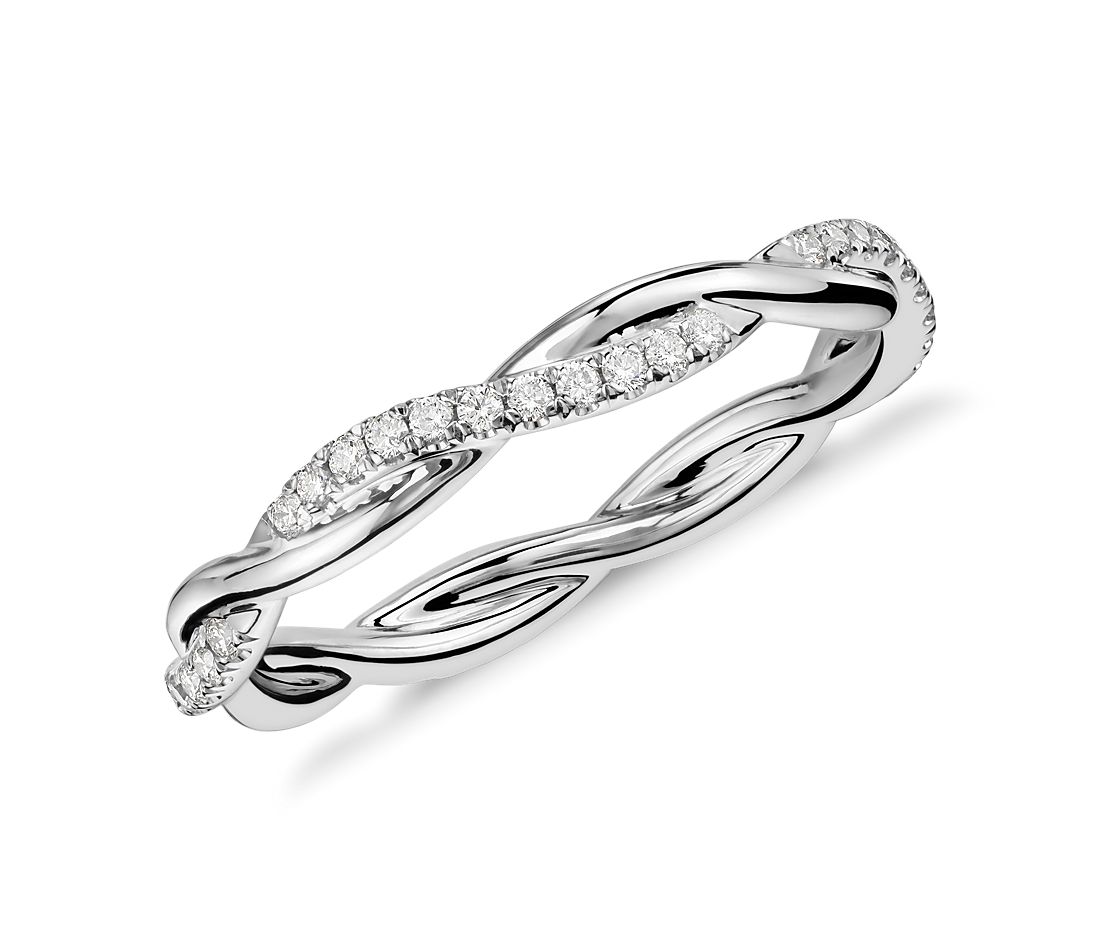 An undulating line of stones woven with a line of shining gold makes for a beautifully symbolic ring. Although the carat weight at one-fifth of a carat is on the smaller side, the cost is quite good at just over five hundred and fifty dollars. When I speak of symbolism, it reminds me of two lives, different threads that compliment each other and accent the other while weaving themselves around each other to become one. That is absolutely a beautiful thought to me.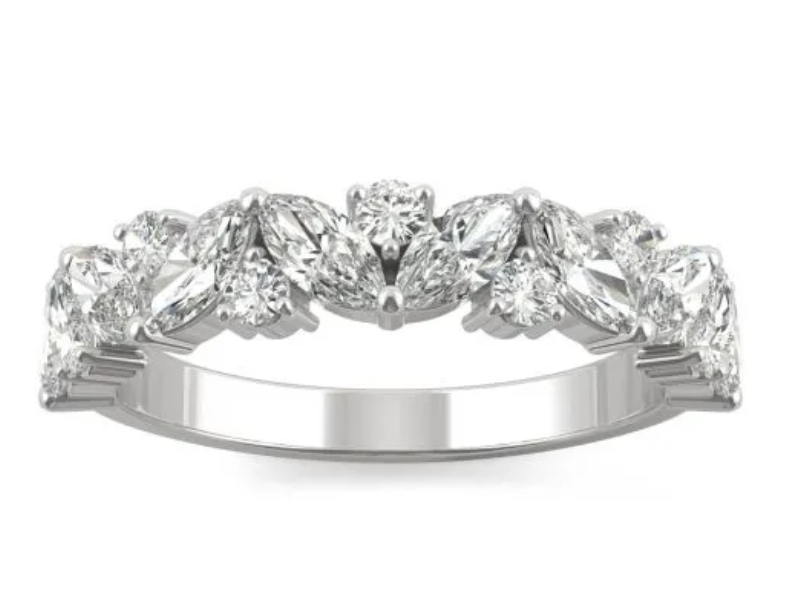 With a mix of round and marquise cut stones, this infinity band features the marquise gems in an up-down pattern, accented with round cut stones. The ring is made with all Moissanite stones and is set in 14k White Gold. This ring is a little wider than most of my picks, but I loved the unique stone cuts and setting. Also even though this ring is styled as an infinity band, it is actually more finger friendy not having the stones along the sides to rub against your other fingers.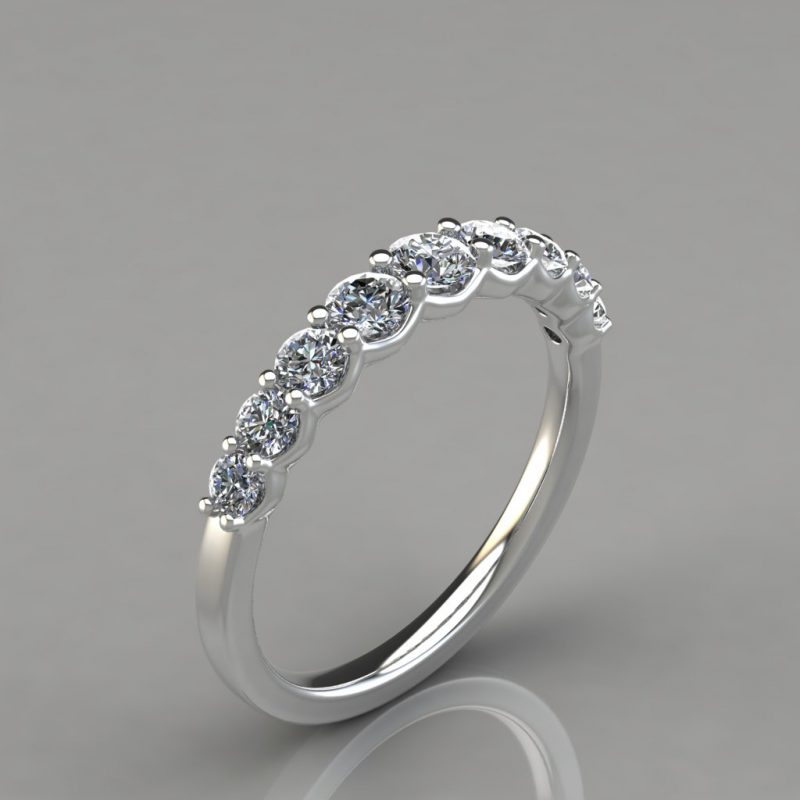 A larger center stone, that is not a solitaire that is graduated down from the center by descending-sized stones is one of the more unique infinity bands I have seen. Too pretty not to include, this over half carat ring features nine round Moissanite gems. The moderate pricing includes shared prongs that hold the stone on either side of another gem. I love the idea of a few larger stones on the top of the ring, with small stones descending down the sides still showing a bit of sparkle but reserving the best and largest stones for the best spots to showcase the Moissanites.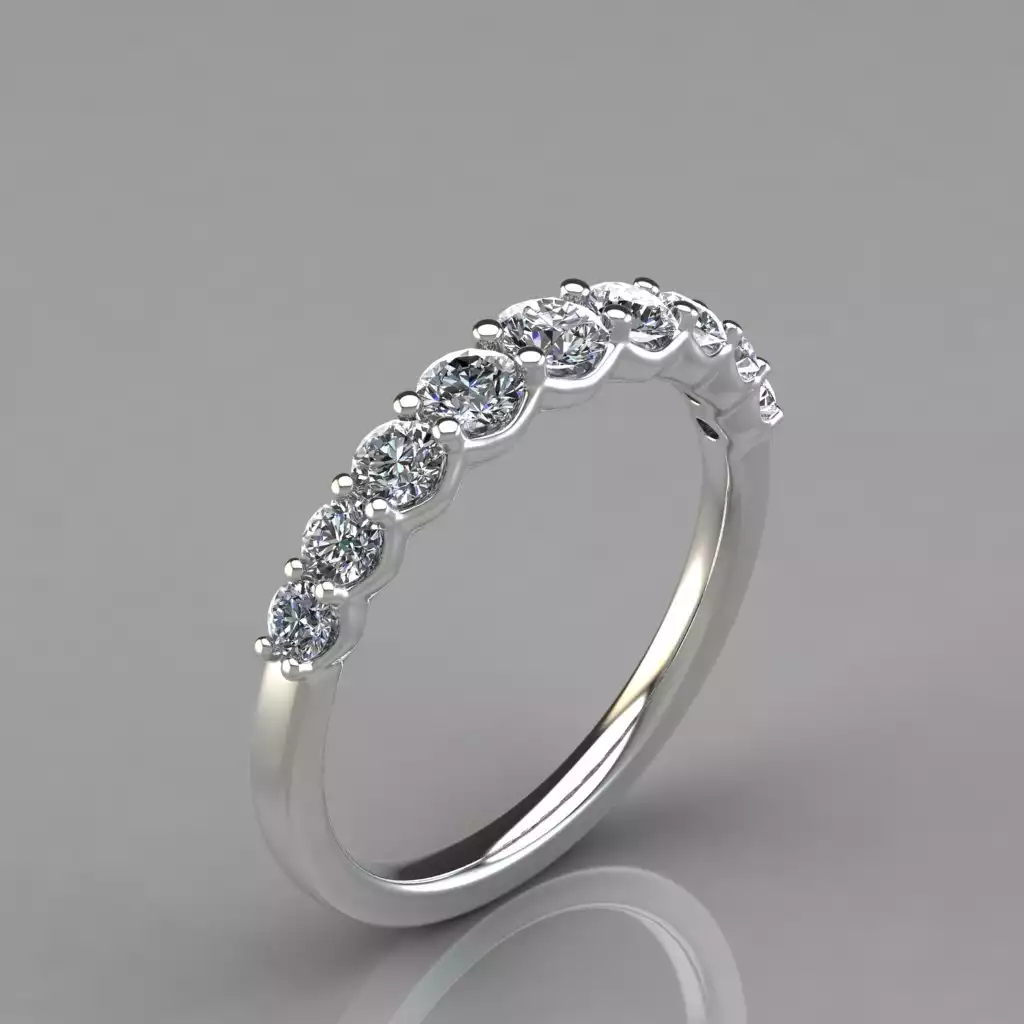 FAQS
Question: What is the difference between Moissanite and Forever One Moissanite?
Answer: Moissanite is the general term and name of the gemstone. Forever One is the brand name created by the company Charles and Clovard, a gem that is known for its colorless grading. The Forever One Moissanite is the improved process in creating the gemstone, a process that stacks the silicone carbide materials so precisely that it reduces the yellow-green tone of the first Moissanite created gems. 
Question: Does moissanite get cloudy?
Answer: While not as hard as a pure carbon diamond, Moissanite ranges just below diamonds on the MOH gemstone hardness scale. It is very scratch resistant and durable, so durable it is a great choice for a daily wear ring. Moissanite does not cloud or become dull, but other diamond alternatives can- stones like White Sapphire and Topaz need to be polished from time to time to restore the clarity to the stone as they do scratch easily. 
Question: Are lab-grown diamonds the same as moissanite?
Answer: Lab-grown diamonds and Moissanite are both created gemstones. While lab-grown diamonds begin with a natural diamond seed which is then subjected to pressure and heat. Moissanite is created in a thermal pressure process. Lab-grown Diamonds and Moissanite are different minerals and although look similar, are different stones. 
Question: Is there poor-quality Moissanite?
Answer: While it is not that hard to find cloudy and visibly imperfect diamonds, with Moissanite being lab-grown, all the gemstones that are created are of very good quality. Large imperfections would be discarded at the lab, and then Moissanite has graded on its coloration more than its clarity. 
Question: Which moissanite cut is closest to a diamond?
Answer: The round-cut, or Brilliant Round Cut, is the shape that makes a Moissanite gemstone most closely resemble a Diamond. The round-cut stone is very specifically cut into certain facets as well as proportions. When cut into this shape, Moissanite can be cut so that when it reflects light it does so in almost the same way that a diamond does. 
Conclusion
Beyond any other conclusion or advice that you might take from this article, trying a ring on, and seeing how that ring looks, feels, and fits on your hand as well as with your other jewelry is the most important part of your choice. Make sure that your rings won't scratch each other if there is a chance they will be worn stacked or together, so side detailing is an important concern. I wear several infinity bands on my thumb and love the look of a sparkling one in the mix. As stated, I already own a few infinity rings and would love to continue adding to my jewelry collection. My recommendation is to go for a ring that is moderately thick to avoid the bending that can occur to a ring when worn daily. I love a solid line of gems as well, something that shows lots of glitter in the sun or a low-light setting. No matter your choice of styling, when you purchase an infinity ring with Moissanites you are going to love the fire and sparkle of this beautiful white gemstone.
Looking for more interesting readings? Check out: