Latest posts by Kristen Swain
(see all)
Moissanite vs Lab Diamond
Diamond alternatives are becoming the most sought-after gemstones for wedding and engagements rings due to the issues with natural diamonds. You can find both Moissanite and Lab-Created Diamonds at far less cost and environmental impact than diamonds, but which is better? Let's compare Moissanite and Lab-Created Diamonds.
The Main Differences Between Moissanite and Lab-Created Diamonds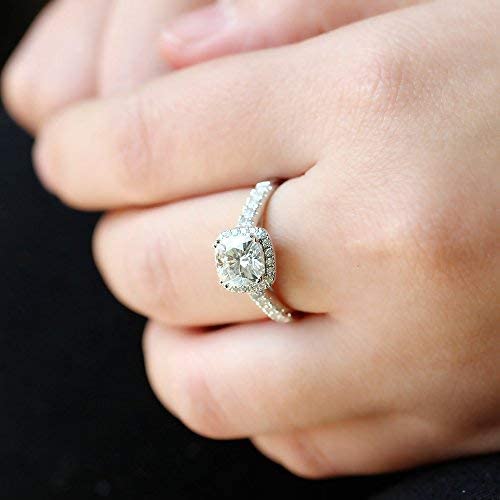 Moissanite is silicon carbide, whereas Lab Created Diamonds are carbon.

Moissanite is formed from processes to create a large crystal, whereas Lab-Created Diamonds form around a natural seed diamond.

Moissanite's hardness on the Moh scale is around nine points five, whereas Lab Diamonds are the same hardness as natural diamonds and are a perfect ten on the Moh scale of hardness.

Moissanite is a diamond alternative; it is not a diamond, whereas a lab-created diamond is still one hundred percent a diamond.

Moissanite is mostly colorless, whereas a lab diamond can be any color of the rainbow.

Moissanite is grown specifically so that it doesn't have inclusions, whereas Lab Diamonds can have inclusions.
What is Moissanite?
Moissanite is silicon carbide, a colorless, sparkling gemstone that Henri Moissan discovered. He initially thought that crystals that he found in a meteorite depression were diamonds. Still, after studying the crystals for several years, he discovered they were silicon carbide instead of carbon. Later a research facility created a process to create silicon carbide single crystals, and a gemstone company named Charles & Clovard patented the use of Moissanite in jewelry. Recently those patents have expired, and the use of Moissanite has been opened up to the world through any jewelry company that wishes to market it. Only in the last few years have you been able to purchase Moissanite from companies other than Charles & Clovard.
What is Lab-Created Diamond?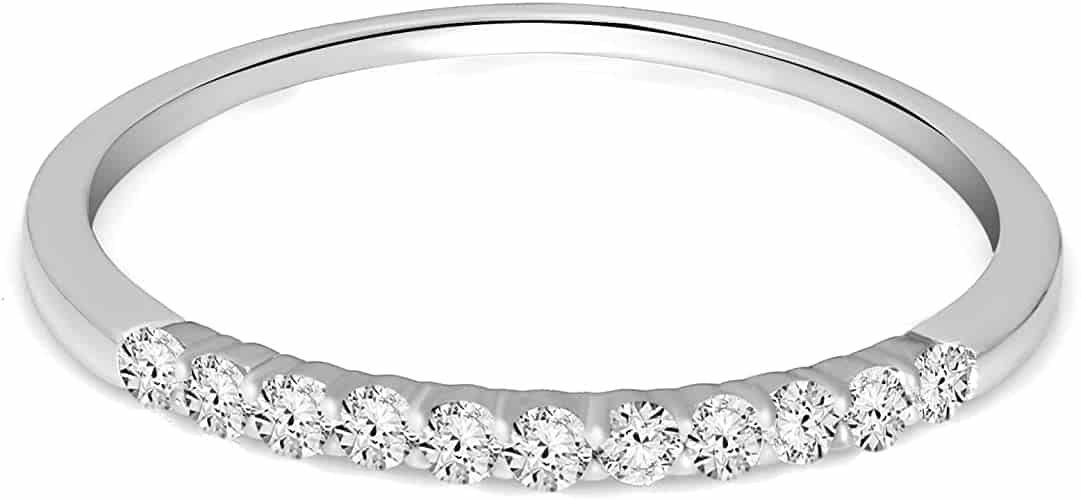 Lab-Created Diamonds are diamonds in every way except in where they are created. Natural diamonds were made billions of years ago deep underground and were brought to the surface through volcanic eruptions and earthquakes. Lab Diamonds are seeded using small diamonds put into machines that create the heat and pressure that natural diamonds were subjected to. Atom by atom, they grow in size and form the lab-created diamond. Lab diamonds are not valued as much as natural diamonds because, essentially, they are man-made and can be created on-demand. However, lab-created diamonds are diamonds in hardness, color, clarity, carat, and element.
Similarities Between Moissanite and Lab-Created Diamonds
Both gemstones take approximately six to ten weeks to grow and form in the lab. Diamonds are billions of years old; they were formed long, long ago and were created thousands of miles under the surface of the planet. Lab-Created Diamonds do use real diamonds to seed the diamond to grow around. Moissanite is lab-created in a process that creates large crystals to form.
Both Moissanite and Lab-Created Gemstones are thermochromic, a test that the gemstones can change color under intense heat. Heat both gemstones to over one hundred fifty degrees, and they will change color for a length of time until either they are exposed to UV light, or they cool down to room temperature. This process rarely turns the gemstone that color permanently.
Both gemstones are incredibly hard gemstones and are appropriate to wear every day as they will withstand the bumps and knocks, chemicals, soaps, and skin oils that are a part of everyday wear. Moissanite is a little easier to keep clean because it is a form of silicon, but either stone repels chemicals and dirt without being damaged by them.
Suggestions for Moissanite Rings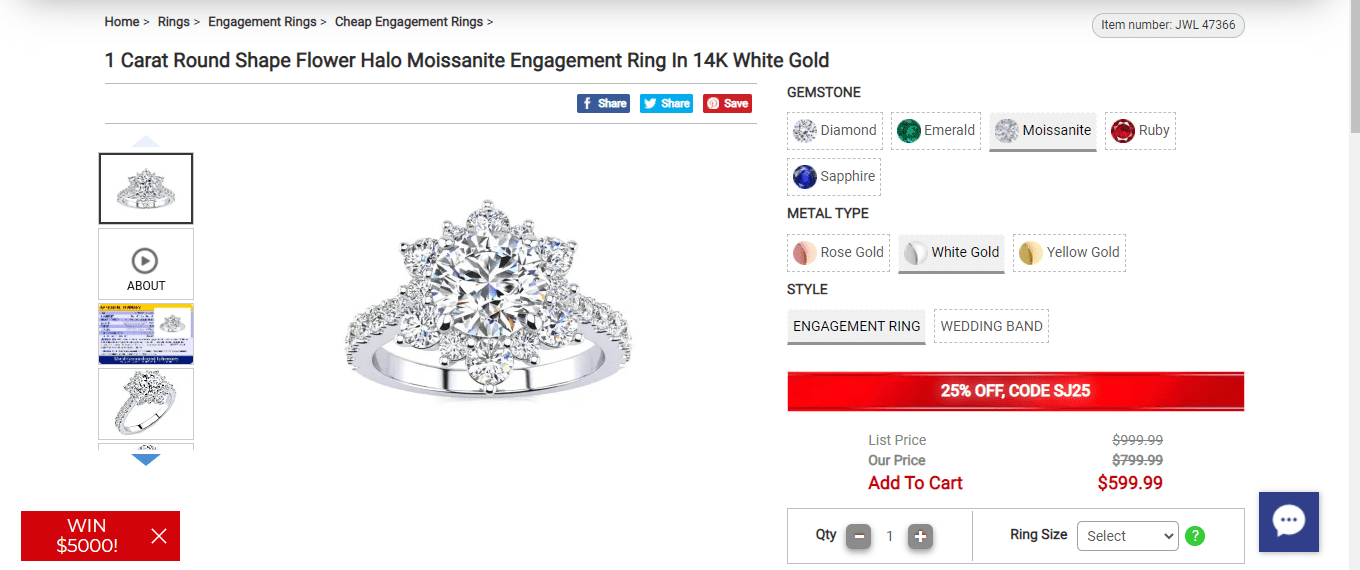 A total one-carat gem weight of Moissanite is the highlight of this ring. A half-carat center round cut Moissanite sits inside a flower-shaped halo of smaller round-cut Moissanites. Twenty-seven stones adorn this ring, with smaller and larger stones every other stone in the halo. The shoulders of the band are also decorated with additional small stones to create even more sparkle. This ring is beautiful and looks incredibly like a snowflake or flower, which could be the perfect holiday ring as it's similar to a poinsettia.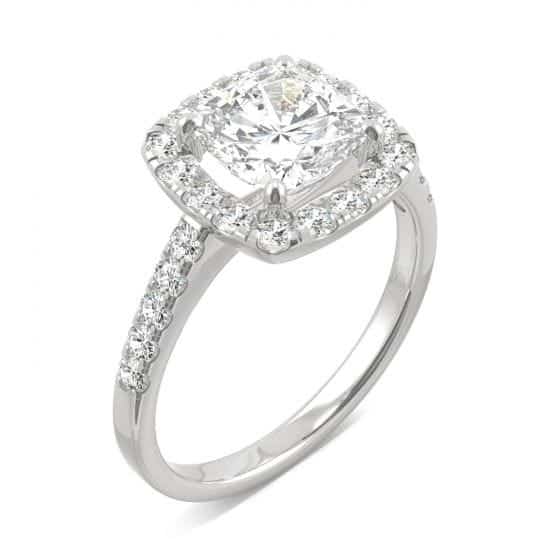 This lovely solitaire style ring comes from Charles & Clovard, the premier Moissanite manufacturer and dealer. Their forever one line of Moissanite is the best quality colorless Moisannite available. The center stone is a huge two-carat-sized round cut stone and is surrounded by a cushion-cut shaped halo as well as Moissanite decorated shoulders on the band. This style of ring sparkles so much more as the smaller pavé stones catch the light and surround the center stone with so much brilliance. These additional stones are over a half-carat additional weight of Moissanite, enhancing this ring.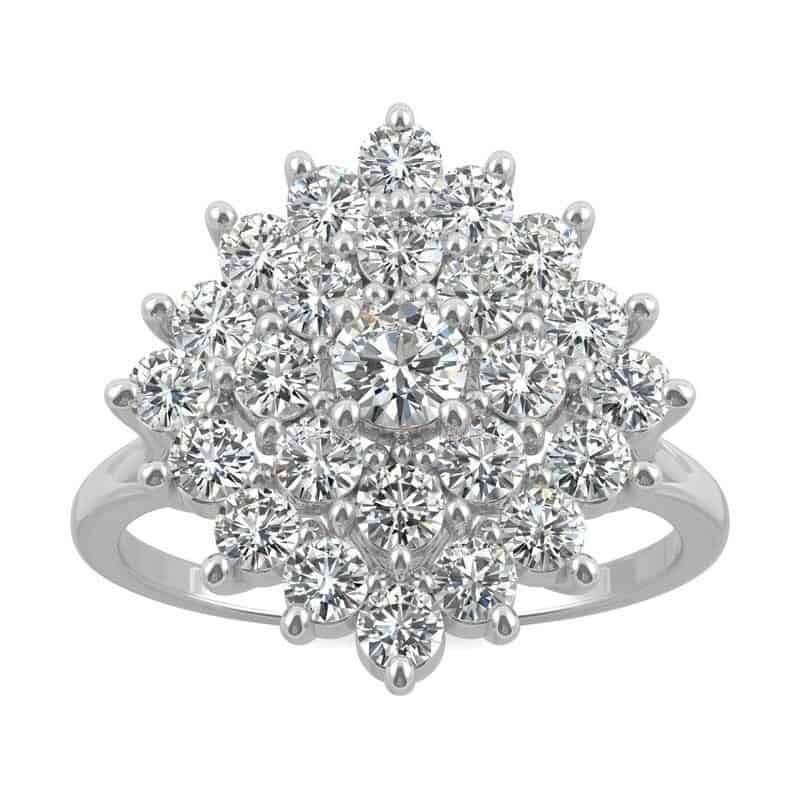 Cluster rings are such beautiful statement rings; the sparkle from all the smaller stones that make up the total of the ring is absolutely breathtaking. While many cocktail rings are often too large to wear daily, this piece is perfect as a statement ring for any occasion. A larger center stone is surrounded by a double halo of equally sized Moissanites. The on-point square setting allows for a more feminine orientation of the setting, and the white gold metal of the setting blends in with the Moissanites color to create a smooth-looking ring. The band of the ring is slightly thicker to hold the ring on your finger without being too thin to feel like it might not hold the head securely.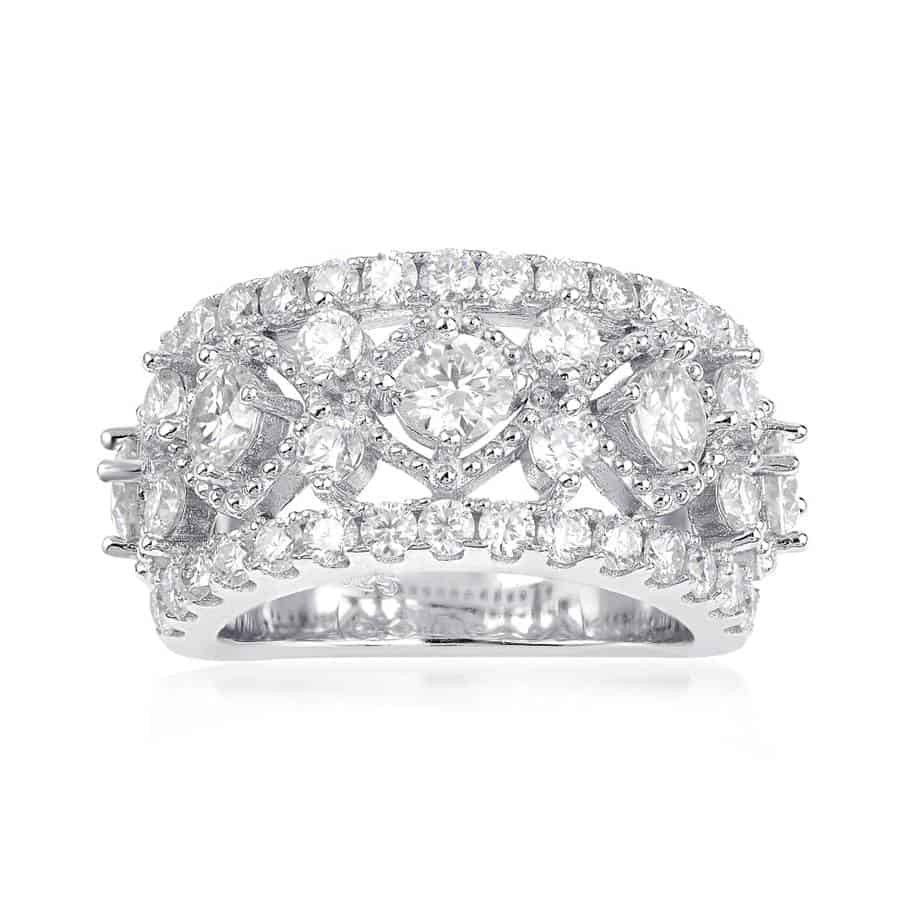 Millgrain detailing, sterling silver, and over two carats of Moissanite is what is so eye-catching about this ring. The detailed band can function as a wedding ring, cocktail ring, or everyday ring. Two rows of small round cut stones frame the center decorative cutwork of this ring. Five large stones are the center points of the ring, are accented with two small stones between each of the five stones. The diamond pattern center is accented with millgrain detailing that will catch the light off of the metal.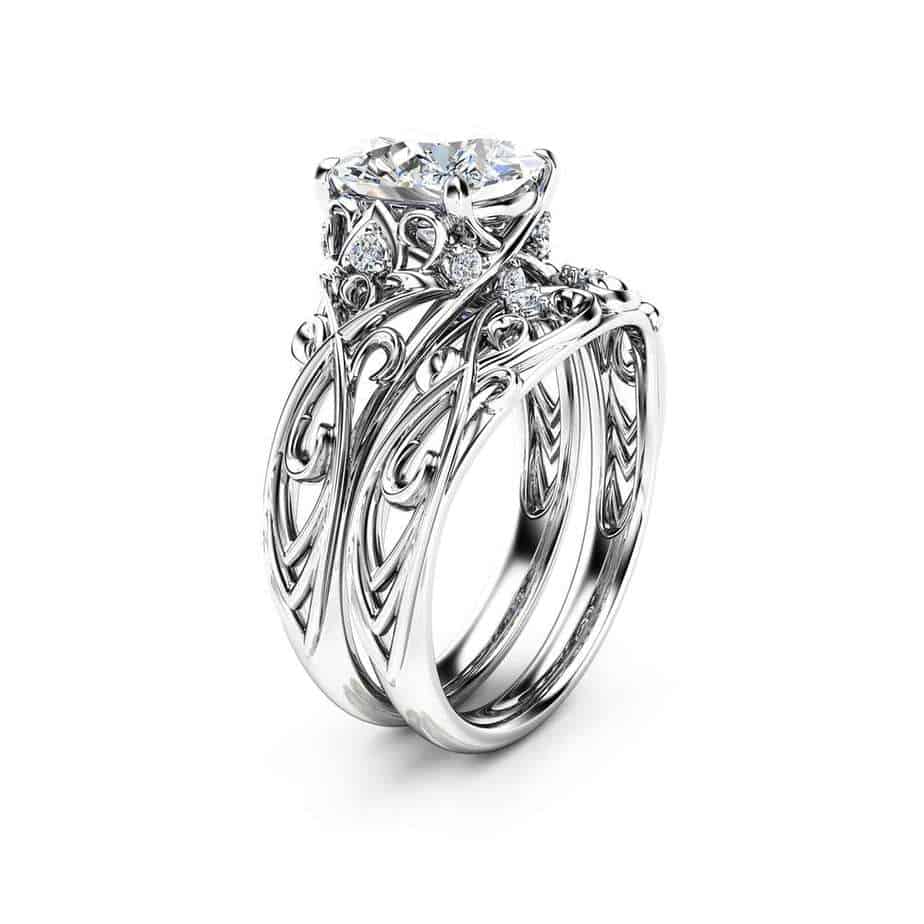 A beautiful two and a quarter round-cut Moissanite sits atop a swirling vine detailed band. Small side stones align on the top of each shoulder of the band, as well as two points on both the front and the back of the head of the ring. The band and wedding band on this set have details of vines undulating along the sides of the ring. Both the engagement and the wedding band have small Moissanite accent stones that are about point one three in carat weight. This beautiful setting in white gold looks like a fantasy wedding set.
Suggestions for Lab Diamond Rings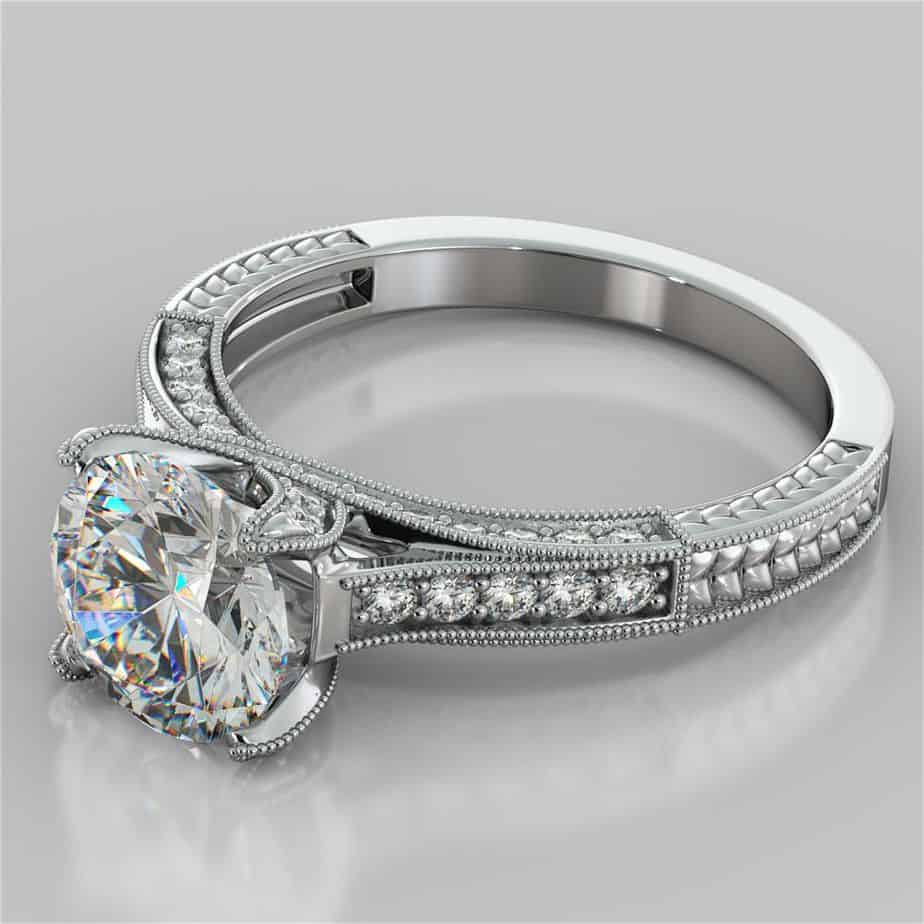 This vintage-style ring has class. With millgrain detailing, and an abundance of side stones to add dimensional sparkle, there is so much to look at with this beautiful solitaire style ring. The large two-carat center brilliant cut diamond is nestled in the prong-set head. The head of the ring features a criss-cross style ribbon with side stones. Each shoulder of the ring is detailed with fine millgrain, detailed leaves, and edging as well as additional stones. The carat weight of this ring is a full two and a half carats total of lab-created diamonds.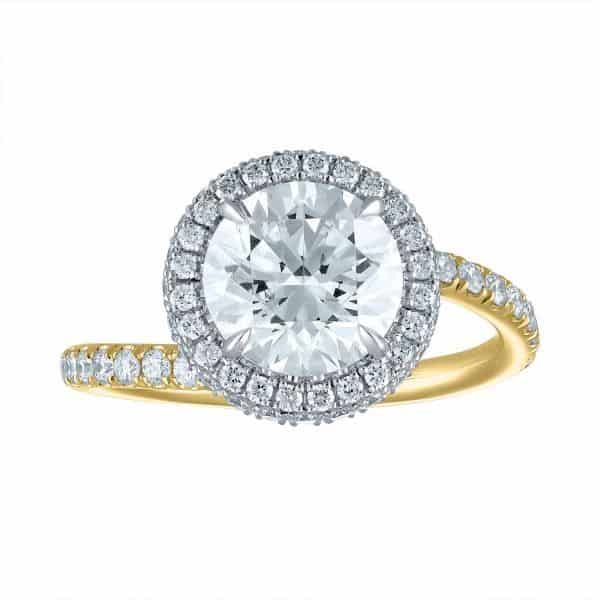 This beautiful twisted shank ring is handmade and features a halo that is accented with diamonds both on top and on the side. The center stone is a two and a quarter carat lab diamond, and the ring has both sterling silver and plated 14K gold. The shoulders of the ring are adorned with additional stones and arch up into a twist that sets the head of the ring up off your finger. The sterling silver head blends well with the clear lab diamond and expands the size of the stone visually into an even larger-looking gemstone.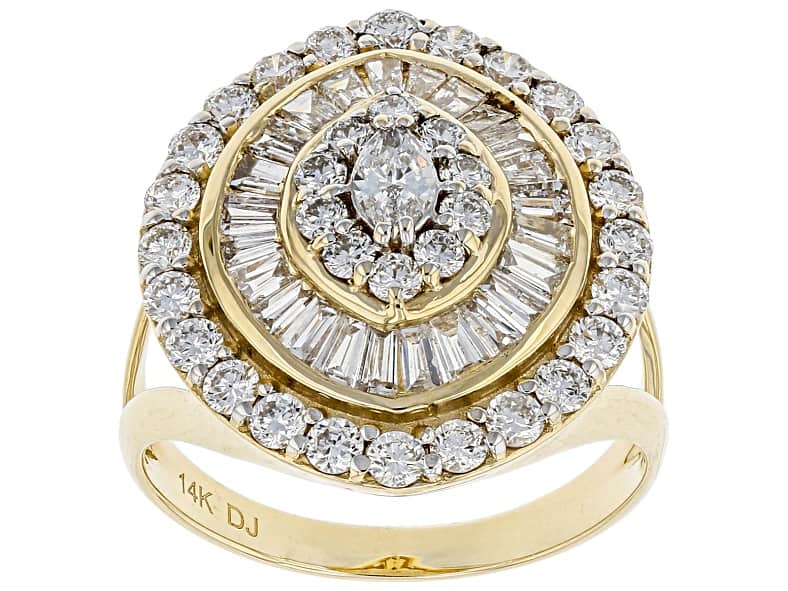 This is a gorgeous cocktail-style ring. The center stone is surrounded by several halos that show off different cut styles of diamond. The marquis cut point one five-carat stone is surrounded in the first halo with ten round cut diamonds; a thin band of gold frames those diamonds and is then the border to another halo, this time with baguette-cut stones, which is then framed again with another gold border. The final halo is twenty-four brilliant-cut round diamonds. This head sits on a sturdy split shank band that will feel sturdy enough to hold the large ring head but not so bulky that it's heavy to wear on the finger. The shape of the ring is a bit of a pinched circle, and the fine detailing will surely catch the eye.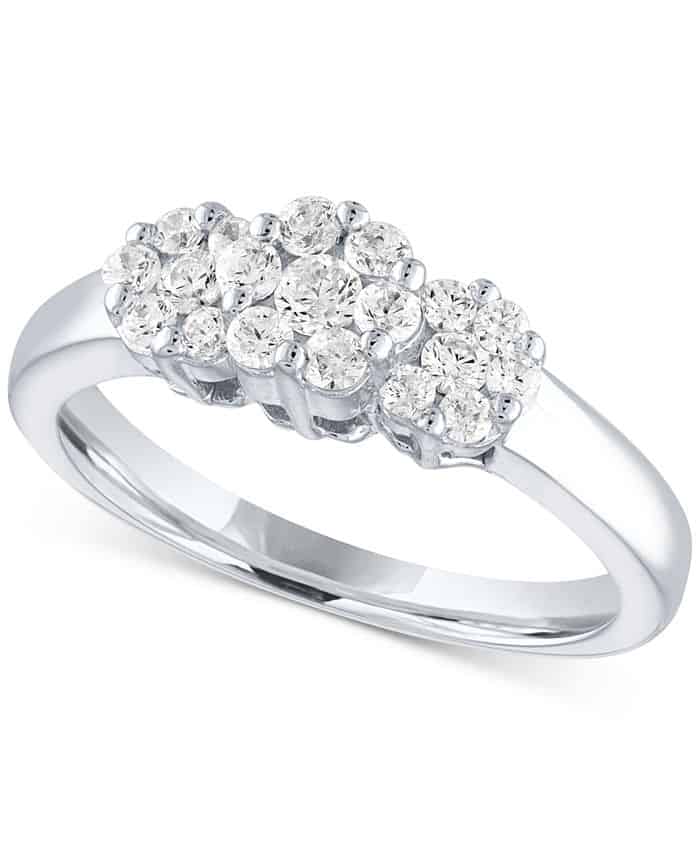 Three little flowers made of diamonds are the focus of this pretty ring. The center flower has the largest round diamond center and is surrounded by five additional accent stones to create the flower. The two side flowers have smaller centers and five accent stones, giving them the appearance of being tucked slightly underneath the main flower. These little diamond flowers look like a three-stone ring, The total carat weight of the ring is a half-carat of diamonds, and the sterling silver band is a sturdy thickness to give weight to the ring.
Approximately a quarter carat of lab diamonds decorates this heart-shaped ring. It is too sweet not to include. Perfect as a small ring to gift for love or as a little ring to wear daily, this cute little heart ring is sparkling with lab-created diamonds. While the glitter of this ring won't be as bright as a disco ball, it will be a pretty little ring to wear. The head of the ring is shaped like a heart and is pavé diamonds along with both the heart and the shoulders of the ring. This ring could be a birthstone ring or promise ring and would make a lovely sweet-sixteen ring gift.
FAQS
Question: How Long Does it Take for Lab Diamonds to Grow?
Answer: Lab diamonds take about a month to grow. The longest to grow are white diamonds; the larger the size, of course, the longer the time frame is needed. It takes about two weeks to grow a diamond to a one-carat size. On the other hand, blue and yellow diamonds only take five to ten days to grow. This is all much faster than the billions of years that it took for natural diamonds to grow. 
Question: Will Lab-grown Diamonds Get Cheaper?
Answer: With advances in technology, lab-grown diamonds may continue to get cheaper and cheaper as the process is developed over time. Currently, although lab-created diamonds are about fifty percent cheaper than mined diamonds, they will lose all their value immediately when purchased. Natural diamonds currently lose only about fifty percent of their value. Lab diamonds are not an investment stone whatsoever. 
Question: Does Moissanite Come From Space?
Answer: Moissanite was first discovered in a meteorite crater and has been determined to come from outside of our solar system. It has since been discovered that it does occur naturally on earth in minuscule amounts, making it one of the rarest natural minerals, even though it is lab-created for jewelry and industrial uses.
Question: Why Do Lab-created Diamonds Have Inclusions?
Answer: Lab-created diamonds may have inclusions in them because some cheaper ways to make the stone involve using molten flux. When this is used, metal impurities get trapped in the stone and create the inclusions that are seen in lab-created diamonds. The stones can also have a metallic reflection from the inclusion as well.
Question: Which Moissanite is Closest to a Diamond?
Answer: A round-cut or Brilliant cut Moissanite is the cut that resembles a diamond most closely. Brilliant cut stones reflect light and sparkle in a specific way, and Moissanite can be cut to closely resemble the same reflective pattern and fire that a diamond has.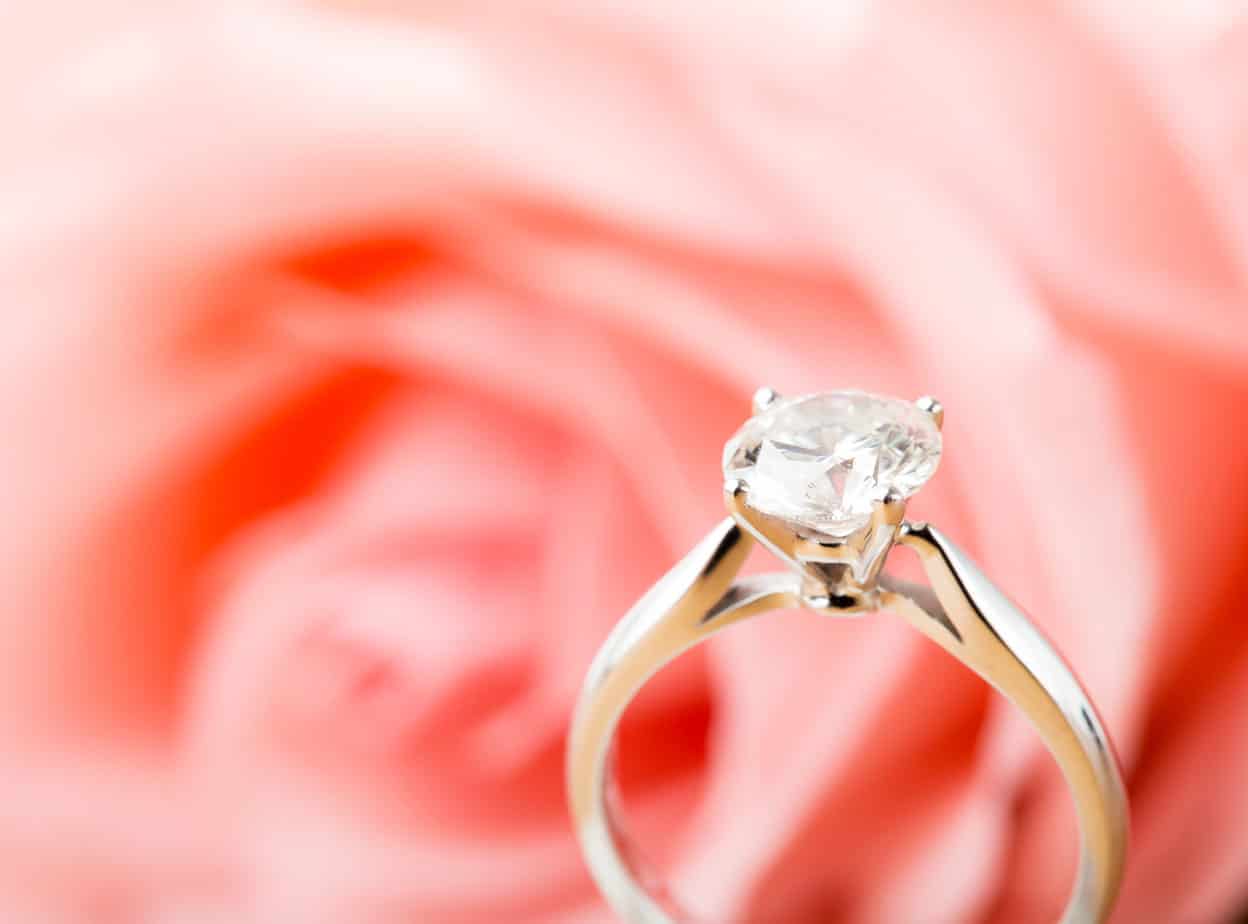 Conclusion
I have been and always will be team Moissanite. I do love the sparkle and glitter of a diamond, and lab-created diamonds are just as beautiful, special, and unique as a natural diamond. However, Moissanite is more reflective, sparkling, and rainbow glitter than diamond, which is my favorite thing about them. My second favorite thing about Moissanite is its incredible cost value. Lab diamonds are still much more expensive than Moissanite, and I prefer to spend less money on beautiful quality jewelry. Neither gemstone will reflect a heritage piece or investment gemstone, but to wear daily and get pure enjoyment out of your jewelry, Moissanite is the definitive choice.
Looking for more interesting readings? Check out: