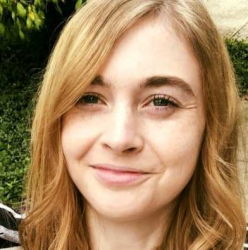 Latest posts by Erin Jamieson
(see all)
Something is alluring about a gorgeous tennis bracelet, whether worn with a formal outfit or casual wear. But as Americans become more thrifty and socially conscious, many are looking to diamond alternatives like moissanite. Moissanite tennis bracelets may be one of the best ways to achieve a similar elegant look- at a fraction of the price.
Social media, a global pandemic, and an ever-changing online shopping landscape continue to transform the fine jewelry industry. A report by Forbes claimed that these factors serve as not just current trends but hallmarks of the future.
Of the top trends, consumer-centric jewelry is a significant change. More and more consumers are seeking quality and durable products. But it's not the most expensive thing. Customers want durability but at a reasonable price. They also are seeking more sustainable materials, from recycled metals to ethically sourced or produced gemstones.
If it sounds like checking all of these boxes is too good to be true, the good news is that it no longer is. Lab-grown diamonds are more available than ever, trimming back on ethical concerns and offering the same durability as natural diamonds. But now consumers are more open to innovation, sticking with classic styles– but with a twist.
That includes iconic tennis bracelets, but with dazzling moissanite in place of the standard diamond look. Sparkling and more affordable and lab-grown, moissanite tennis bracelets are the unexpected trend that just may stick.
But is a moissanite tennis bracelet the best option for you? This article will tell you the pros and cons of moissanite tennis bracelets and how to select the best ones, so you don't waste your money.
What is a tennis bracelet?

A tennis bracelet is a classic, flexible band consisting of a row or multiple rows of sparkling gemstones. Traditionally, those gemstones are diamonds. Tennis bracelets are at once glamorous and versatile and undoubtedly a beautiful accessory. Most commonly worn on the left wrist, tennis bracelets can be paired with other accessories or worn alone.
Why are tennis bracelets so popular?
Tennis bracelets are popular because they're beautiful but also practical. The flexible bland is typically lightweight and comfortable for all-day wear. Unlike most precious diamond jewelry, tennis bracelets have also become popular for wearing outfits as simple as jeans and a t-shirt.
The origins of a tennis bracelet also play a role in how popular they are. Tennis bracelets were popularized in the late 1980s when professional tennis player Chris Evert wore a diamond bracelet during the 1987 US Open. Other tennis players began copying the trend, and, in time, tennis bracelets became popular outside of tennis.
How many diamonds are in a tennis bracelet?
Depending on how many rows, and how the rows are arranged, there can be as many as 55 diamonds on a tennis bracelet. Of course, the number of gemstones is not prized as much as the sparkle and overall beauty of the bracelet.
Why are tennis bracelets so expensive?
This, of course, leads to a downside of most tennis bracelets. Diamonds in themselves are expensive– and a row of diamonds, even more so. Dozens of diamonds linked together are costly, and then you also have to consider that the band is crafted in precious metal. Add on to that the high demand, and you have a pricey bracelet.
How much does a real tennis bracelet cost?
Tennis bracelets can be made more affordable by opting for lab-grown vs. natural diamonds. Both would be considered "real" tennis bracelets. The term "fake" tennis bracelet likely refers to bracelets made with diamond simulants, which are cheap, do not truly look like diamonds, and can easily scratch or chip. A diamond tennis bracelet ranges between $1,000 up to around $100,000.
The price depends on if it's natural or lab-grown diamonds, the color of those diamonds, the clarity of the diamonds, the precious metal, the overall carat weight, and who made the bracelet.
Is a moissanite tennis bracelet as good as a diamond tennis bracelet?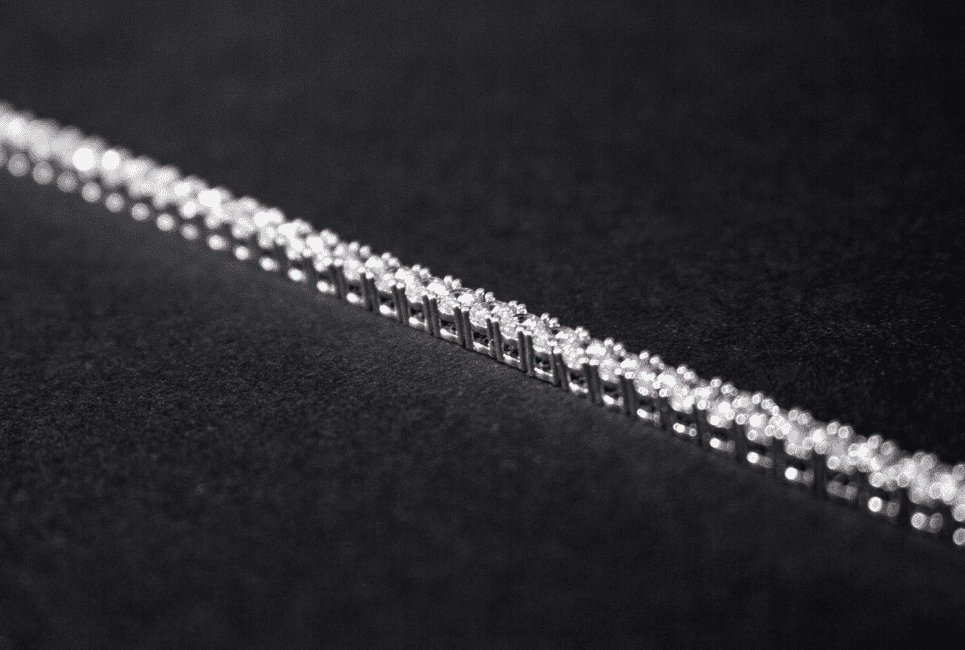 If you love the look of diamond tennis bracelets– but not the price– it's possible you've considered moissanite. That's no surprise, as moissanite is often mentioned as a diamond alternative. While it's true that it makes a solid alternative, it's still not the same as a classic diamond tennis bracelet. Here's what you need to consider.
Can I pass off my moissanite tennis bracelet as a diamond bracelet?
At first glance, a colorless moissanite bracelet may look like a diamond bracelet. If you buy a high color and quality, many may not notice. But the play with light is quite different. Diamonds emit clear to white light, and moissanite emits multiple colors. This becomes more noticeable the larger the carat size. Thus, a smaller carat moissanite tennis bracelet will be more convincing than a diamond tennis bracelet. If your goal is to pass it off, I'd focus strongly on color and clarity and opt for a modest carat size.
That said, I don't think that buying a moissanite tennis bracelet to pass off as a diamond tennis bracelet should be the number one reason you're buying. While one of the best alternatives to diamonds, if you insist, it looks just like diamonds, the truth is that the only stone identical to diamonds is diamonds themselves. You can also opt for lab-grown diamonds, which, though still expensive, will slash the cost vs. a natural diamond tennis bracelet.
Do moissanite tennis bracelets have resale value?
Moissanite tennis bracelets have fair resale value, so long as they're in good condition. Moissanite resale value can be up to 50 to 60 percent of the original price. Shockingly, the average (not rare) diamond bracelet usually resells for just 25 to 35 percent of its original value. Thus, moissanite has a higher resale value percentage than diamonds in many cases.
Do moissanite bracelets last as long as diamond bracelets?
Moissanite is not as hard as a diamond, but it's been called one of the best diamond alternatives for a good reason. Moissanite has a Mohs hardness rating of 9 to 9.5 out of 10, compared with 10 out of 10 for diamonds. This means it's quite hard to scratch or damage with normal wear. Moissanite is a tougher stone, making it less brittle, and thus, harder to crack or chip than a diamond.
Moissanite also won't lose its sparkle, so long as it's cared for and professionally cleaned and polished from time to time. Stay away from harsh chemicals and don't wear when swimming and your moissanite tennis bracelet can last just as long as a diamond tennis bracelet.
How expensive are moissanite tennis bracelets?
Moissanite tennis bracelets range from around $150 to $10,000. It's far easier to find a moissanite tennis bracelet around $1,000 or even well below vs. diamond tennis bracelets. The cost, of course, comes down to a few factors: color, clarity, cut, carat, and the precious metals used. But you can expect to pay a fraction of the price of even a lab-grown diamond tennis bracelet.
How do I find the best moissanite tennis bracelet?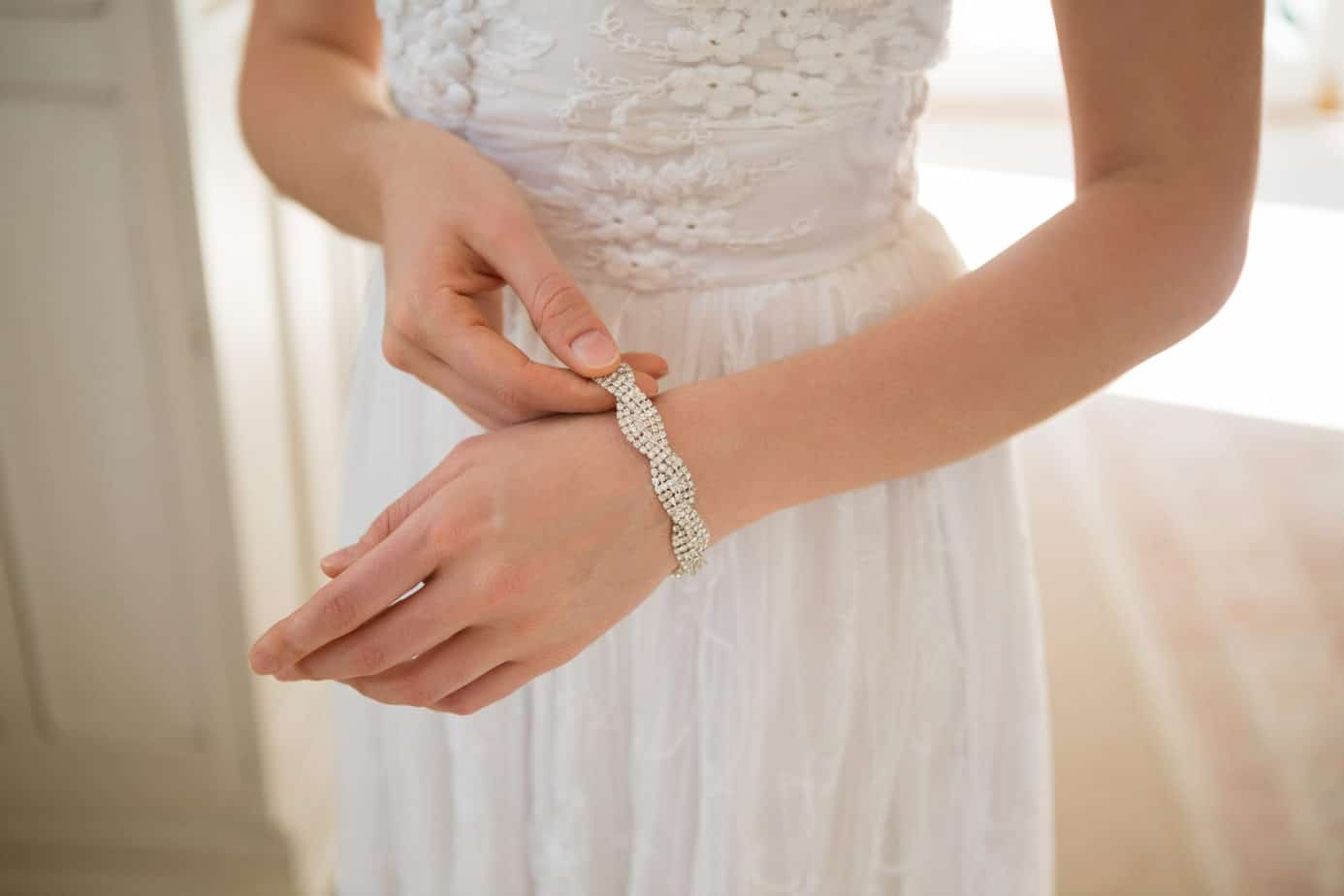 Finding the best moissanite tennis bracelet is in some ways a little easier than selecting a diamond tennis bracelet. There are far fewer options, and, luckily, one source is especially reputable for buying the best bracelets. You'll need to consider who makes the bracelet, the materials used, and, of course, the quality of the moissanite itself.
What is the best setting for a moissanite tennis bracelet?
For a classic sparkle, you want to aim for a channel, bezel, or prong setting for tennis bracelets. All of these provide a timeless look while optimizing sparkle.
Are there different quality moissanite bracelets?
More important than the moissanite setting itself, however, is the quality of the moissanite used. Moissanite, like other gemstones, is graded by the GIA. Color, cut, clarity, and carat all factor into the quality of moissanite. For a tennis bracelet, pay most attention to the color and clarity– these factors into the sparkle the bracelet exhibits.
Best Color
For color, moissanite bracelets should be considered in three categories: colorless (D, E, F), nearly colorless (G, H, I), and faint yellow (J-K). While for a diamond bracelet, I might recommend a nearly colorless option to save money, for moissanite, which has a lower price tag, I recommend opting for D, E, or F graded stones, especially if you're buying a larger carat size.
Best Clarity
Clarity is also quite important– especially if you value sparkle. See the chart below for guidance. I recommend you aim for very slightly included as a minimum for optimal sparkle. Flawless is quite hard to find, and likely you won't notice a difference between flawless and very, very slightly included.
| | |
| --- | --- |
| Clarity Rating | Description |
| Flawless/ Internally Flawless (F, IF) | Flawless has no blemishes, even under 10X magnification. Internally flawless only has minor blemishes under 10X magnification. |
| Very Very Slightly Included (VVS1, VVS2) | Minor defects can be seen under 10X magnification. |
| Very Slightly Included (VS1, VS2) | Inclusions, such as crystals, clouds, knots, and cavities and The diamond contains inclusions (clouds, included crystals, knots, cavities, and feathers) that are easy to notice under ten times magnification, but not to the naked eye. |
| Slightly Included (S1, S2) | At this level, it's much the same as very slightly included; only some of those inclusions are more noticeable and beginning to impact sparkle. Most imperfections remain more visible under a microscope. |
| Included (I1, I2, I3) | Imperfections are noted with the naked eye. Transparency and brilliance are impacted. |
What company has the best moissanite bracelets?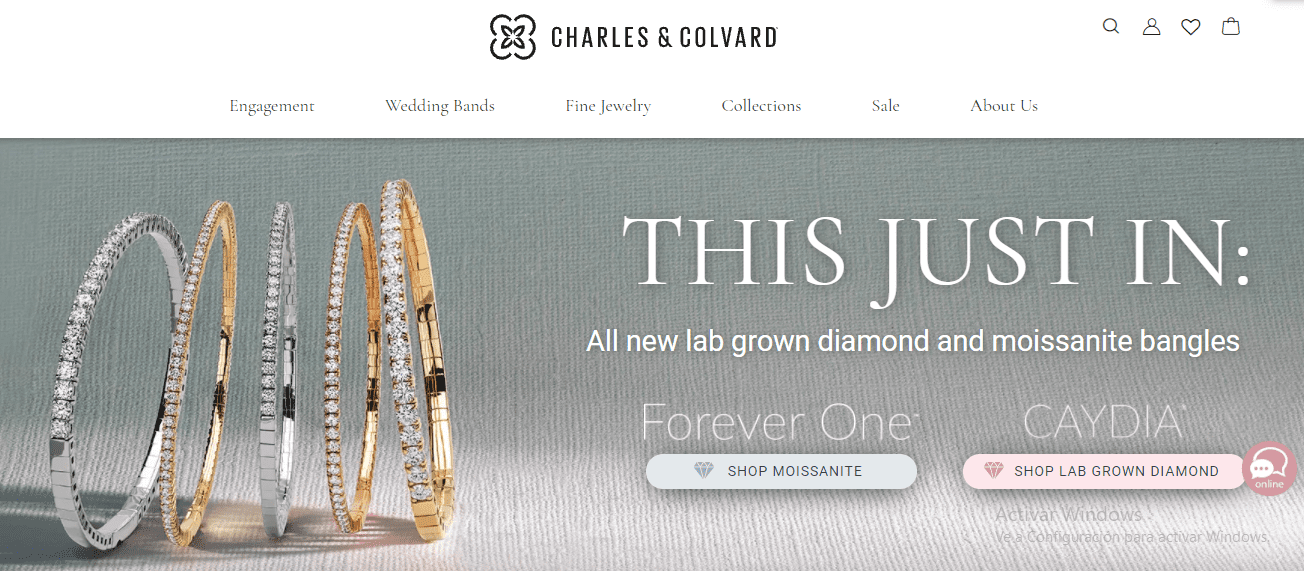 Normally I wouldn't recommend one company alone, but when it comes to moissanite tennis bracelets, my favorite option by far is Charles and Colvard. This company specializes in moissanite and is acclaimed for Forever Moissanite, a collection of high-quality gems. Their tennis bracelets live up to the same standards, with colorless, high clarity for beautiful sparkle. They're highly rated and respected by customers and within the industry.
You can buy moissanite tennis bracelets from a few other sources, but there's no collection to truly compete with Charles and Colvard.
What is the most durable metal for tennis bracelets?
While there are more durable metals in general, such as tungsten and steel, your options for tennis bracelets are likely to be limited to: sterling silver, 14K to 22K gold, and, occasionally, platinum. For moissanite tennis bracelets, that selection may be even smaller. Of these, I most recommend 14K to 18K gold. Platinum is more durable, but it's hard to find. 22K gold is beautiful, but it's a softer metal and easier to scratch. Between 14K vs. 18K gold, 14K is harder, but 18K has a higher luster.
Sterling silver is not a terrible choice– but it will tarnish, even when taken care of. It requires more upkeep as well.
Charles and Colvard Moissanite Tennis Bracelets: My Picks
My favorite moissanite tennis bracelets come from Charles and Colvard. The company holds an A-plus rating on the Better Business Bureau, an average rating of 4 to 5 out of 5 stars amongst customer review sites, and has earned an excellent reputation within the industry. Their collection also includes engagement rings and other fine jewelry– both moissanite and lab-grown diamonds.
While the entire tennis bracelet collection is respectable, I've opted only for brilliant-cut, high-quality moissanite so you'll enjoy the optimal sparkle. My selections are priced from least expensive to most expensive.
I'll give you a few of my favorites, but you can Shop All Moissanite Tennis Bracelets Here.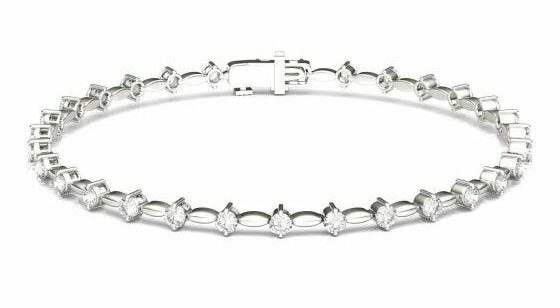 For a brilliant-cut tennis bracelet, this exquisite style is also the most budget-friendly. Priced at $799, the bracelet features 31 sparkling moissanite stones with a classic link style. Crafted with your choice of 14K white gold, 14K yellow gold, or 14K rose gold.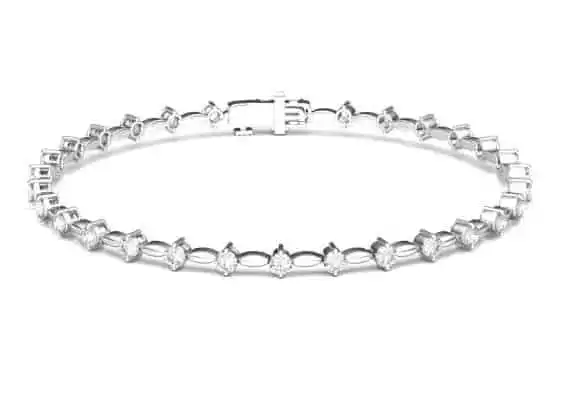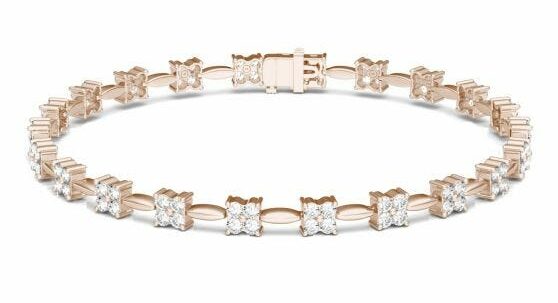 This beautiful tennis bracelet adds floral motifs for a graceful, romantic touch. Eighty-eight brilliant moissanite gemstones are arranged in floral petals, connected with beautiful 14K gold ovals. Vintage-inspired and timeless, this bracelet retails for $1,199 and is available in 14K yellow gold, 14K white gold, and 14K rose gold.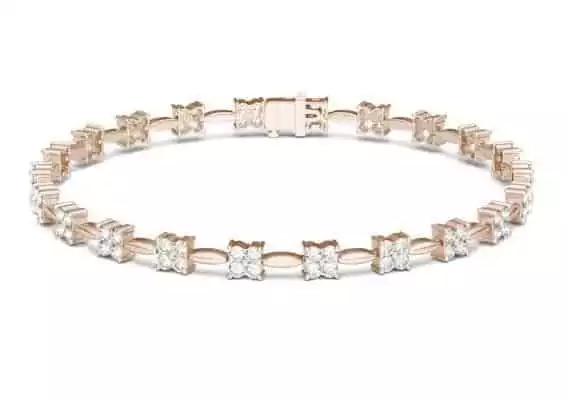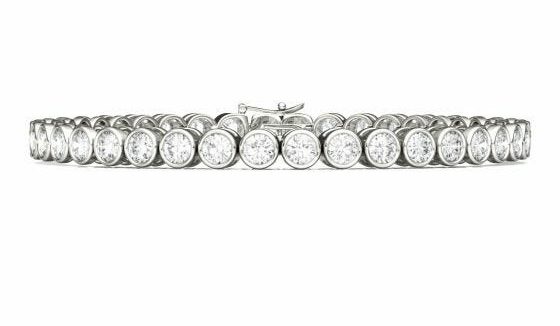 If you're looking for a classic look, search no further than this moissanite tennis bracelet. Forty brilliant, round-cut moissanite stones are bezel set on a 14K polished gold band. Ample sparkle and a versatile style make this a crowd-pleasing bracelet, priced at $2,669. Crafted in your choice of 14K white gold, 14K yellow gold, or 14K rose gold.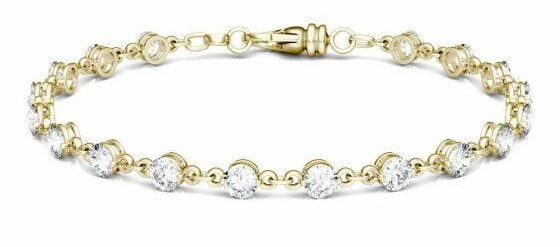 A versatile bracelet with plenty of sparkles? This moissanite tennis bracelet is both, and the dainty link style is fantastic for layering. 18 round, brilliant moissanite gemstones sparkle on an exquisite and unique bracelet, complete with a cable clamp. Priced at $3,449 and available in 14K white gold, 14K yellow gold, and 14K rose gold.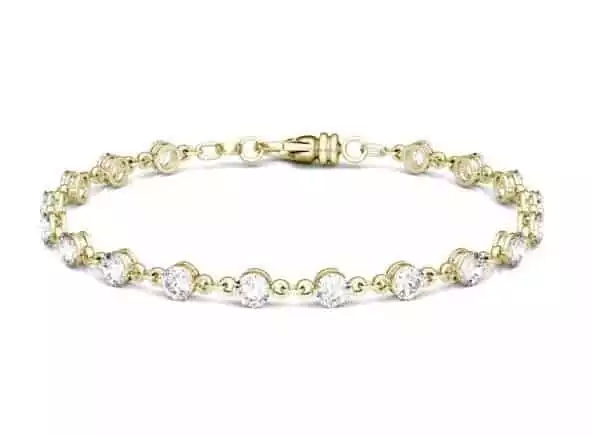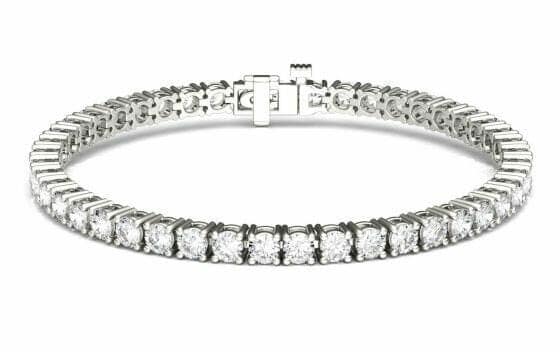 This timeless moissanite tennis bracelet is sure to be worn for years to come. The classic, simple style dazzles with 45 round Forever One moissanite gemstones, with a comfortable design that drapes around your wrist. The four-prong setting is stylish and traditional. Priced at $3,999 and crafted in 14K white gold or 14K yellow gold.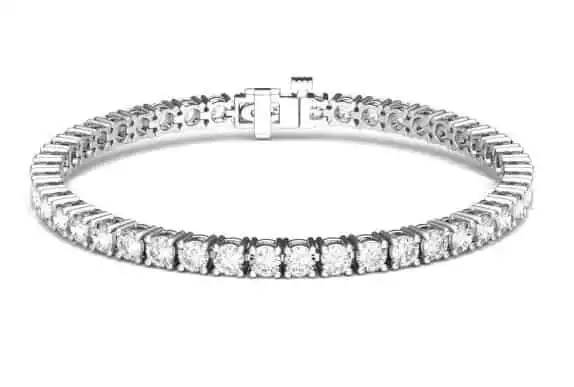 Frequently Asked Questions
Question: Can you sleep on a tennis bracelet?
Answer: Technically, you can sleep in any bracelet you want to. A tennis bracelet is tempting to sleep in because it tends to be more comfortable and lightweight than the average gemstone bracelet. But you could lose or even chip your bracelet in your sleep. Both are unlikely, but the best practice is to place it in a safe place.
Question: Do people still wear diamond tennis bracelets?
Answer: Diamond tennis bracelets remain extraordinarily popular. You may see them at weddings and even with an outfit as casual as jeans. Now, there are also alternatives to diamonds for this bracelet style. While not yet quite as popular, the lightweight design and sparkle are likely to remain popular for years to come– if not much longer. There's something quite timeless about tennis bracelets.
Question: Do tennis bracelets hold value?
Answer: Tennis bracelets made with precious gemstones hold value to an extent. Of course, that value is greatly dependent on the quality of your bracelet. As an in-demand style, tennis bracelets will remain popular and valuable, but I don't think buying a tennis bracelet purely on an investment basis is the best idea.
Final Thoughts & Alternatives
There's little doubt that moissanite tennis bracelets are gorgeous and elegant. In their best quality, I'd argue they rival the beauty of some diamond tennis bracelets. Focus on color and clarity– not carat size–, and you'll be happier with your purchase.
Are you still looking for more options? You'll want to carefully check moissanite quality, but you can shop highly-rated sellers via Etsy's Moissanite Tennis Bracelet Collection.
Looking for more interesting readings? Check out: