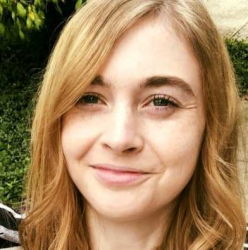 Latest posts by Erin Jamieson
(see all)
Brilliance, fire, and an elegant hue. No, I'm not talking about a diamond but a much more affordable gemstone that's sure to give you a unique look for a fraction of the price. Now's the time to embrace elegance with emerging ideas for blue moissanite necklaces, bracelets, and rings.
While data from the National Jeweler suggests that 85 to 90 percent of engagement rings are diamonds, that still points to a growing number of rings that are diamond alternatives. For one Michigan couple, that meant a blue moissanite ring.
Shying away from convention and embracing love in times of uncertainty, Michael Schomisch and Kristine Crummel were engaged at a hotel, where Michael proposed not with a halo diamond ring but a gorgeous blue moissanite ring.
In light of the pandemic, the couples exchanged vows in a small ceremony in a sculpture park after postponing their wedding date two times. The blue moissanite ring looked spectacular paired with the bride's unique wedding dress. The dress featured a lace top and a cobalt blue high to a low skirt, proving beautiful doesn't have to be conventional.
But whether you're looking for a diamond engagement ring alternative or just a beautiful and durable piece of jewelry, it's time to consider blue moissanite. I'll tell you how to find the best blue moissanite and give you my ideas for truly elegant necklaces, rings, and bracelets.
What is Moissanite?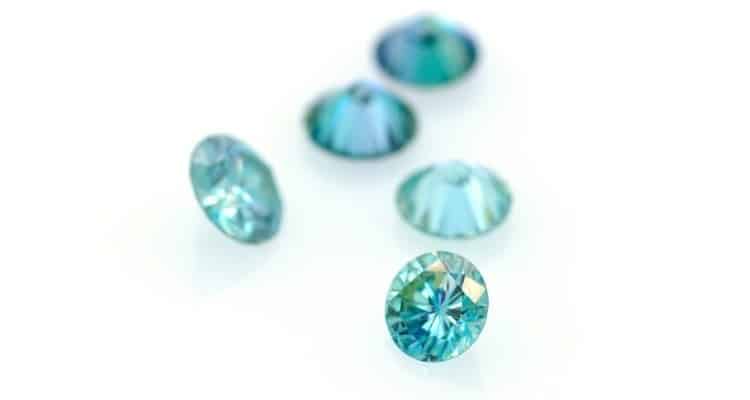 Moissanite is more prevalent than ever, but many still don't understand what it is or get it mixed up with cubic zirconia. But there's a reason why it's become more popular, and why it's so eye-catching.
Is Moissanite a Crystal?
While cubic zirconia is a synthetic material, moissanite is a naturally occurring crystal. Moissanite is a form of silicon carbide and was first discovered in Arizona as a derivative of meteorite.
Is Moissanite Lab-Grown?
Moissanite may naturally occur – but it's quite rare. As such, nearly all moissanite on the market is lab-grown. This is important to distinguish between the term "lab-created." Lab-created, or man-made, usually describes a stimulant. Lab-grown moissanite is not as valuable as natural moissanite. Still, it shares the same chemical and physical properties and thus can be just as durable and beautiful.
Why is Moissanite so Popular?
Moissanite is affordable compared to diamonds and other gemstones, such as emeralds or rubies. It's also known for its fire and brilliance, as well as its durability. Of course, it's not the same as a diamond, even though clear moissanite is sometimes sought as a diamond alternative.
Is Moissanite as Good as a Diamond?
If you have your eyes set on blue moissanite, chances are you don't expect it to be the same as a diamond. But if you are considering blue moissanite over diamonds– for a ring or other jewelry– it's important to understand that, despite first impressions, the two are certainly different.
Can You Tell Moissanite From a Diamond?
While clear moissanite looks like a diamond from a distance, you'll notice a difference when the two are held up in the light. Diamonds have single refraction, while moissanite features double refraction. While diamonds flash white light, moissanite sparkles rainbow. This effect is more noticeable the larger the carat weight.
Is Moissanite Prettier Than Diamonds?
This is honestly a matter of personal preference. Moissanite is more brilliant with more obvious fire than the average diamond– but it's also a different form of brilliance. Many prefer the clean sparkle of a diamond, while others prefer the rainbow array of light-emitting from moissanite.
Is Moissanite Cheaper than Diamonds?
Moissanite is cheaper than diamonds by as much as 80 to 90 percent. By comparison, a nearly alternative, moissanite, is considered durable.
Does moissanite get cloudy? colorless diamonds with very slight inclusions average a little over $4,000 per carat. Forever One Moissanite, the highest quality of colorless moissanite on the market, averages $500 to $600 per carat.
Which is Better: Moissanite or Lab-Created Diamonds?
Lab-created diamonds share the same physical properties as natural diamonds– they're just less valuable and more affordable. See the chart below for the same differences between diamonds vs moissanite.
| | |
| --- | --- |
| Moissanite | Diamonds |
| Mostly Lab Grown (Natural= Very Rare) | Natural or Lab Grown |
| Double Refraction/ Rainbow Light | Single Refraction/ White Light |
| Mohs Hardness 9.25 to 9.5 | Mohs Hardness 10 |
| Average $500-$600/ carat | Average $4,000/ carat (Colorless) |
Will Blue Moissanite Hold its Value?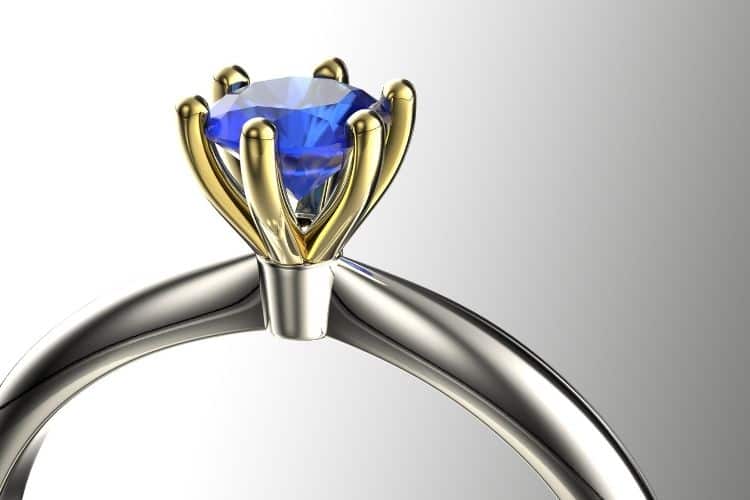 If you love the look of blue moissanite, it's important to keep in mind the pros and cons of durability– some of which are determined by your care and treatment. Moissanite of any color simply doesn't have value to the extent you'd consider it an investment. The good news is that, when treated well, moissanite of all colors tends to hold its original value.
Will Moissanite Last Forever?
Any gemstone or crystal isn't guaranteed to last forever. However, compared with most diamond alternatives, it's considered quite durable.
Does Moissanite Scratch Easily?
With a Mohs hardness of 9.25 to 9.5, moissanite is second only to a diamond in terms of how hard it is to scratch. You won't get scratches from everyday use, meaning you can wear moissanite every day. Moissanite is strong enough to scratch glass and is nearly impossible to scratch just with regular wear.
Does Moissanite Crack Under Heat?
Another great thing about moissanite is its extraordinary ability to hold up under heat. You don't need to worry about temperature fluctuations, as moissanite is quite stable. Moissanite withstands up to 1,000 degrees Fahrenheit, so no need to worry about leaving it in a hot car by accident.
Does Moissanite Lose its Sparkle?
Unlike many diamond alternatives, Moissanite will not become cloudy and lose its clarity, nor will it lose its brilliance or sparkle. However, regular and proper cleaning may be needed to retain its appearance.
How do You Look After Moissanite?
Luckily, moissanite is fairly easy to care for. A little common sense and knowledge go a long way in protecting your elegant blue moissanite jewelry.
Can I Wash My Hands with my Moissanite Ring/Bracelet On?
Washing your hands with moissanite jewelry isn't a big concern, as moissanite isn't damaged by mild hand soap or water. However, perfumes and lotions can cause build-up. While this can be removed with professional cleaning, try not to directly apply perfumes or lotions directly on moissanite jewelry.
Can I Shower With my Moissanite Ring?
Again, mild soap and water shouldn't damage moissanite. The biggest risk is some build-up from shampoos. The only other thing to keep in mind is your metal type. Sterling silver and base metals, such as copper or brass, can tarnish with water immersion, so I'd remove those before showering and dry your hands thoroughly after washing in the sink.
What Can Chip Moissanite?
It's quite hard to chip moissanite with daily wear, but it is possible. A contact sport and a hard collision can chip moissanite–it's simply not something you typically need to worry much about.
Can Moissanite Go in an Ultrasonic Cleaner?
Many professional jewelers use ultrasonic cleaners for a deeper clean for moissanite. It still likely makes the most sense to bring your moissanite jewelry in for a deep clean. I recommend having it professionally cleaned once or twice a year for a ring.
Can you Clean Moissanite with Rubbing Alcohol?
Rubbing alcohol normally can be used on gemstones and crystals, but you need to be careful. If you're using it, dab just a little with a soft cloth and then wipe away when you're finished. That said, it's not the best way or usually necessary. I recommend using a soft cloth, lukewarm water, and mild soap if needed.
What Can Ruin Moissanite?
You do want to avoid heavy cleaning agents, including bleach. I also wouldn't swim with moissanite, as chlorine can impact its quality and durability.
How do I Select the Best Blue Moissanite?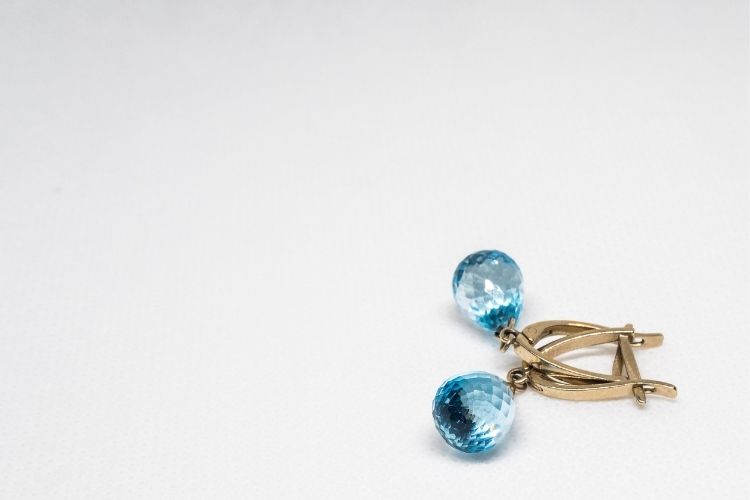 Blue moissanite can be truly elegant. But it's also hard to find. The truth is that most moissanite on the market is clear or white– but that doesn't mean you can't find blue moissanite. Here are my selection criteria for moissanite color and quality.
What is the Highest Quality Moissanite?
For the finest moissanite, color, cut, and clarity come into play- like diamonds but on a different scale. The most valuable quality of moissanite is colorless, followed by nearly colorless. The colorless moissanite is the one that looks most like a diamond. Forever One Moissanite is considered to offer the highest quality.
After that, moissanite has a slightly yellow hue or is a different color entirely. Thus, the best color grade is colorless. Still, colored moissanite is judged differently, with an even greater emphasis on clarity and cut.
Can Moissanite be Colored?
While moissanite may be most prized for its clear hue, it comes in a variety of colors. These include: black, pink, orange-red, crimson, champagne, lime green, olive green, lavender, violet, amethyst, brown, green, and various shades of blue.
Can Moissanite be Blue?
Moissanite can indeed be blue, from icy blue to aquamarine to a cobalt blue. I most commonly;y see a lighter blue. It's a matter of personal preference if you're opting for a colored vs colorless, so I recommend focusing on cut and clarity after you've spotted a color that suits you. Colors that you should consider include: icy blue, baby blue, cobalt blue, blue-green, cyan blue, and sapphire blue.
What is Moissanite Fire?
Fire is the way light reacts with moissanite. This is why you need to pay close attention to the quality of the blue moissanite you're selecting.
What is the Clarity of Moissanite?
I'd look for moissanite that is labeled for clarity, and VS is fairly typical. There are very slight inclusions at this level that can be seen at 10 times magnification, and the clarity is still beautiful. However, you can find some at VVS clarity.
Which cut is Best for Moissanite?
If you're buying a ring, look for an excellent quality cut. Like diamonds, a round cut is considered best for brilliance. Still, other great cuts include hearts and arrows cut, cushion cut, oval cut, princess cut, radiant cut, pear cut, emerald cut, baguette cut, and Asscher cut.
Elegant Moissanite Jewelry: My Criteria
Here are my ideas for elegant blue moissanite earrings, engagement rings, bracelets, and necklaces. My criteria include:
A beautiful blue hue that's evenly dispersed

Only genuine lab-grown moissanite

Highly rated seller

Listed details, such as clarity and cut

Beautiful craftsmanship
By using these criteria, you can be sure that you're buying elegant moissanite that's genuine, sparkles, and is of a reputable quality. Due to my criteria and the relatively small selection of blue moissanite available, I was a little more lenient with metal types. I included some sterling silver for fashion and statement jewelry. Sterling silver should be stored in a cool, dark place that's dry, and you shouldn't wear it in water to limit tarnishing. In cases of tarnish, take to a professional cleaner's or buy a tarnish remover.
Blue Moissanite and White Moissanite Sunburst Stud Earrings in Platinum Over Sterling Silver 1.65 Carat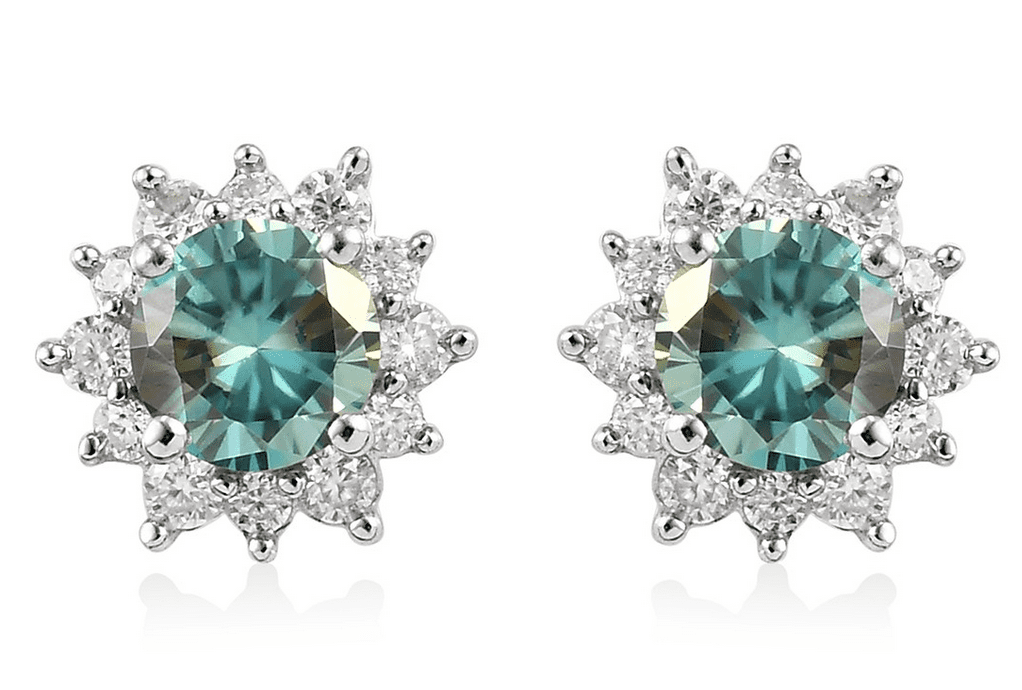 These stunning stud earrings are sure to make an impression. Halo stud earrings optimize brilliance. A sunburst design is symbolic of something everlasting. Two blue moissanite stones are surrounded by sparkling white moissanite. Push posts provide a comfortable fit, exemplified with beautiful platinum and sterling silver settings.
Pros
Great Price

Stunning Platinum

Beautiful Fire
Cons
Sterling Silver Requires More Care

Clarity Specs Could be More Transparent
Where to Buy
Buy these stunning moissanite stud earrings Here.
Blue Moissanite Earrings Natural Gemstone Earrings 18k/14k White Gold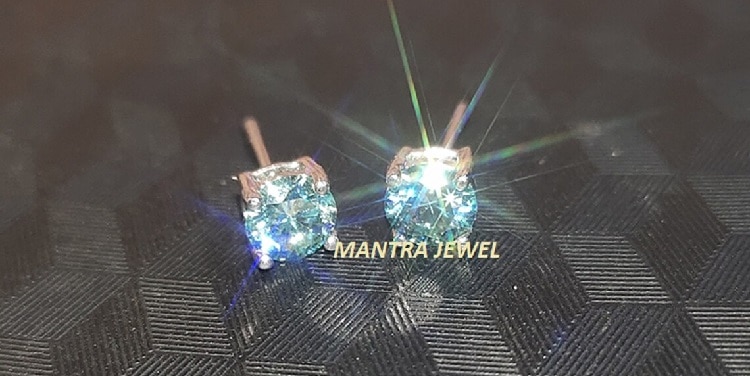 Something borrowed, something blue– these classic blue moissanite stud earrings are elegant enough for a wedding. Choose from 10K to 18K white, yellow, and rose gold is 925 sterling silver. A brilliant cut and high level of clarity make these truly gorgeous, and they're made to order. It's a unique blue-green dreamy hue.
Pros
Stunning Clarity

Versatile and Timeless

High-Quality Precious Materials
Cons
Can Be Pricey

My Take Time to Make and Ship
Where to Buy
Buy these handcrafted blue moissanite earrings Here.
Portuguese Cut Cyan Blue Moissanite Earrings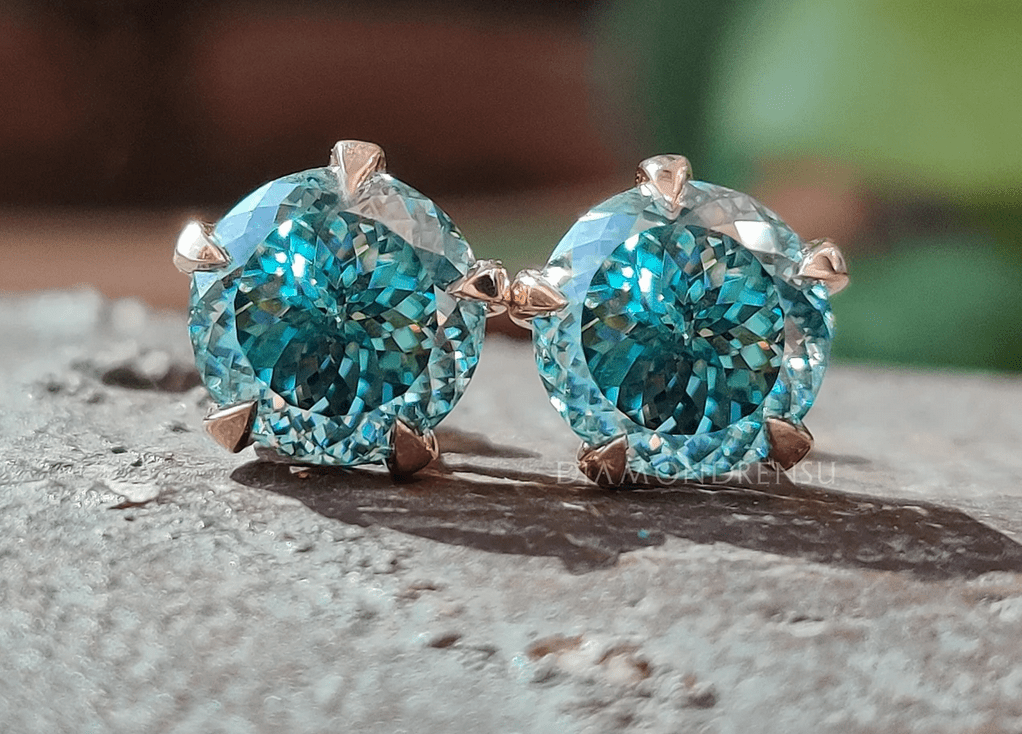 These cyan blue moissanite earrings are one of a kind. The mid-century style features a unique round Portugues cut with excellent lust and clarity, all crafted and polished by hand. A five-prong setting is made with your choice of 925 silver or 10K/14K/ 18K rose, yellow or white gold. Meanwhile, the screw back ensures a secure fit.
Pros
Beautiful Luster and Clarity

Elegant and Versatile

High-Quality Craftsmanship/ Materials
Cons
Expensive

My Take Time to Make and Ship
Where to Buy
Buy these handcrafted blue moissanite earrings Here.
1.60CTW, Blue Moissanite Half Bezel Set Earring Studs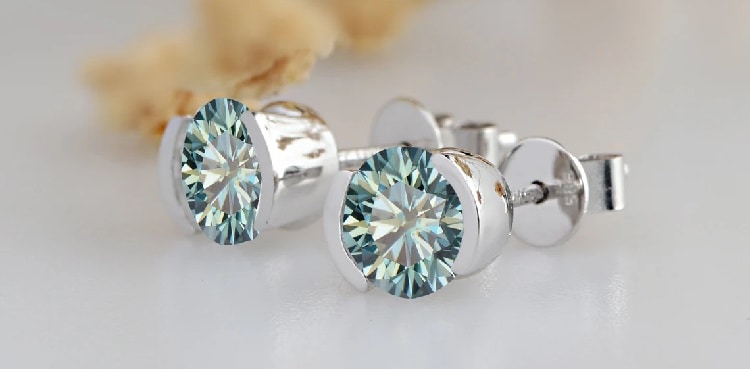 These modern and sleek stud earrings feature baby blue moissanite. A push-back style is easy to take on and off, and you can customize your order. Select from 14K yellow, white, or rose gold. The handmade item features exquisite clarity.
Pros
Excellent Clarity

Handmade to Order

Sleek Modern Design
Cons
Expensive

Takes Time to Make and Ship
Where to Buy
Buy these baby blue moissanite earrings Here.
Baby Blue Moissanite Tennis Bracelet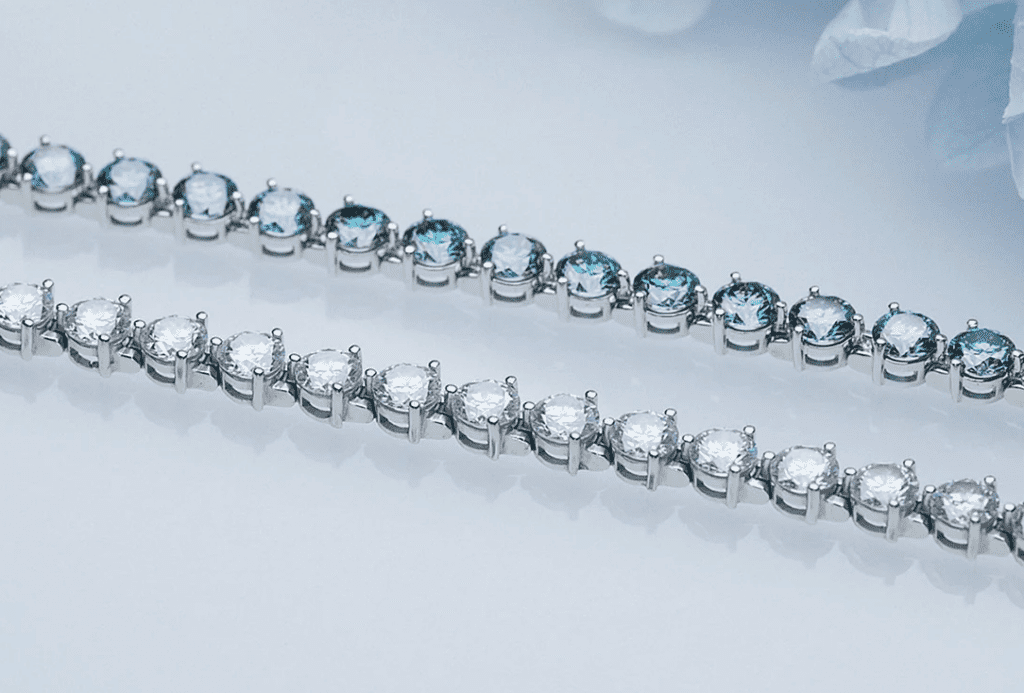 Tennis bracelets are usually made out of diamonds, but moissanite has become the leading alternative. This tennis bracelet, available in both white and cyan blue, is at once versatile and elegant. Select from a 4 to 8.5-inch chain, set with 9K to 18K gold. The classic tennis bracelet design is truly timeless, and the hue is stunning.
Pros
Beautiful High-Quality Color

Timeless and Elegant Style

Great for Formal and Everyday Wear
Cons
Could Have Greater Attention to Clarity

Pricey
Where to Buy
Buy these baby blue moissanite earrings Here.
Deep Blue Moissanite Eternity Bracelet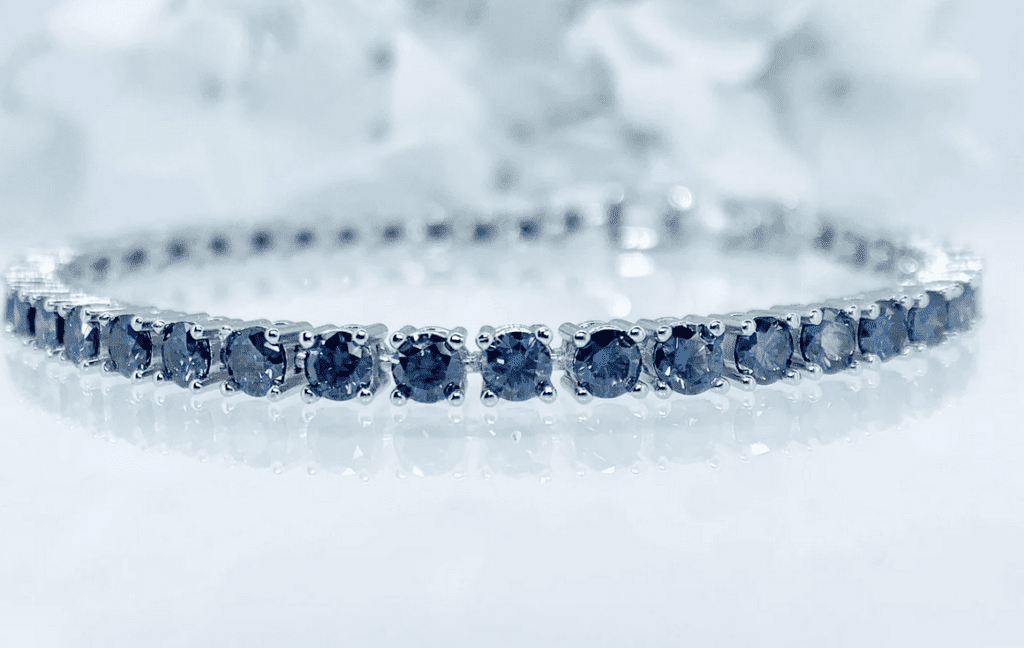 Love a deep blue as I do? This stunning eternity bracelet is elegant enough for a wedding. Round cut moissanite is set on a silver, 10K, 14K, or 18K band. The elegant round brilliant cut stones exude brilliance and fire for an alluring bracelet, all handcrafted and polished.
Pros
Stunning Clarity and Color

High-Quality Materials

Never Goes Out of Style
Cons
Takes a While to Ship

Expensive at Larger Sizes
Where to Buy
Buy these baby blue moissanite earrings Here.
Solitaire Half Carat Light Ice Blue Moissanite Necklace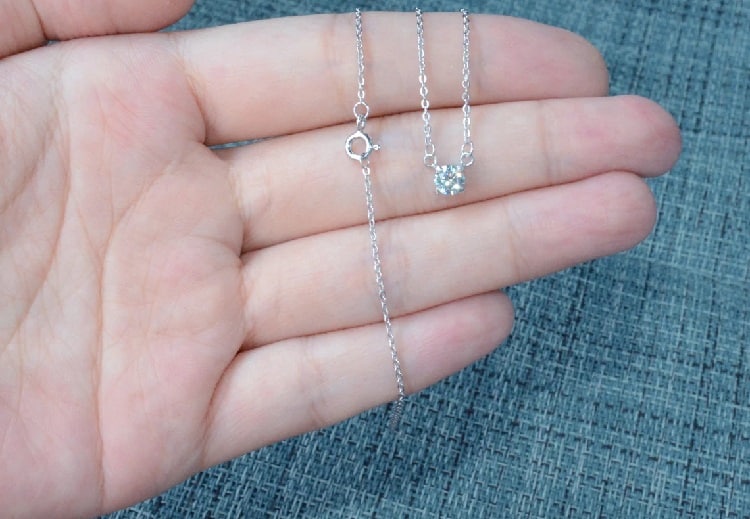 Icy blue moissanite pairs with platinum and sterling silver for a simple but enchanting look. The round-cut moissanite exhibits beautiful clarity with a prong-set solitaire style. Wear this 18-inch pendant necklace from day to evening or gift it as a beautiful alternative to a diamond necklace.
Pros
Icy Blue Hue

Beautiful Clarity

Fair Price
Cons
Sterling Silver Can Tarnish

'Diamond' Term is Listing is Misleading
Where to Buy
Buy this icy blue solitaire moissanite necklace Here.
Blue Green Moissanite "Diamond" Tennis Chain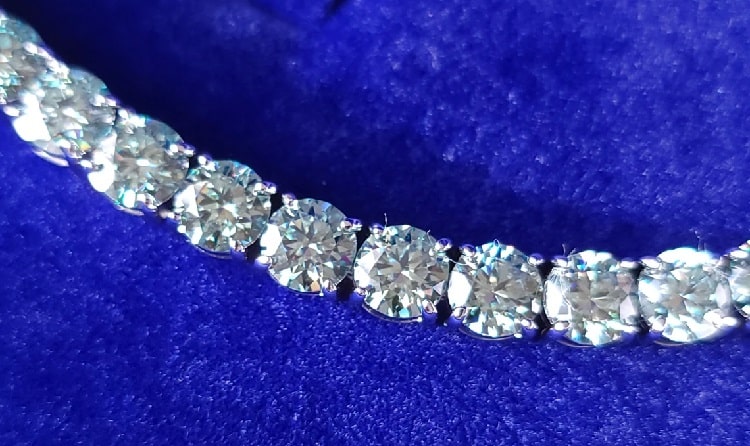 A diamond tennis necklace is a gorgeous timeless look– and this offers a unique touch. Rare blue-green moissanite is round cut and set on a traditional tennis chain. The 6.5 mm necklace features a high clarity level, with professional polish and exquisite symmetry. This necklace is crafted with 925 sterling silver and comes in multiple lengths and in the form of a bracelet.
Pros
Rare Blue Green Hue

Enchanting and Timeless Style

Beautiful Luster and Clarity
Cons
Sterling Silver Chain Can Tarnish

Very Pricey
Where to Buy
Buy this glamorous moissanite tennis necklace Here.
Blue Moissanite and White Moissanite Cocktail Pendant Necklace (1.90 Carats)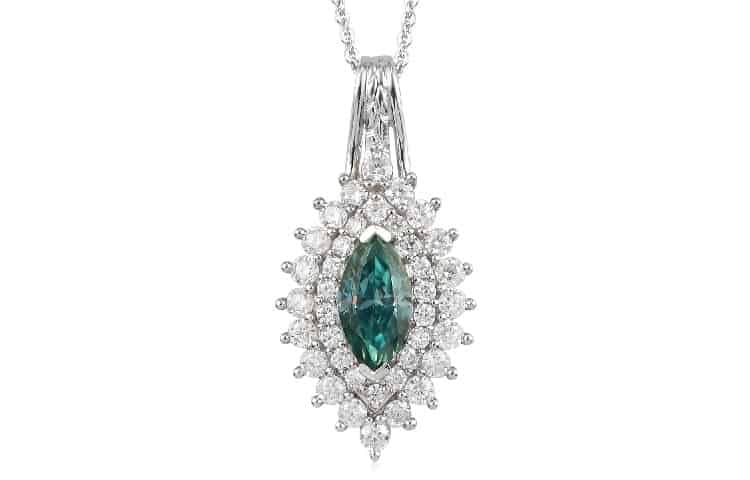 This blue and white moissanite necklace is both affordable and cocktail-worthy. A round-cut blue moissanite stone is surrounded by white moissanite. The halo design would pair perfectly with the earrings I mentioned earlier. The platinum over sterling silver chain measures 20 inches, and the necklace comes with an extended returns guarantee.
Pros
Beautiful Halo Style

Affordable

Extended Returns Policy
Cons
Platinum over Sterling Silver Isn't as Durable as Platinum

Could Have More Details about Clarity
Where to Buy
Buy this occasion-worthy blue and white moissanite necklace Here.
Doveggs Art Deco Blue Moissanite Engagement Ring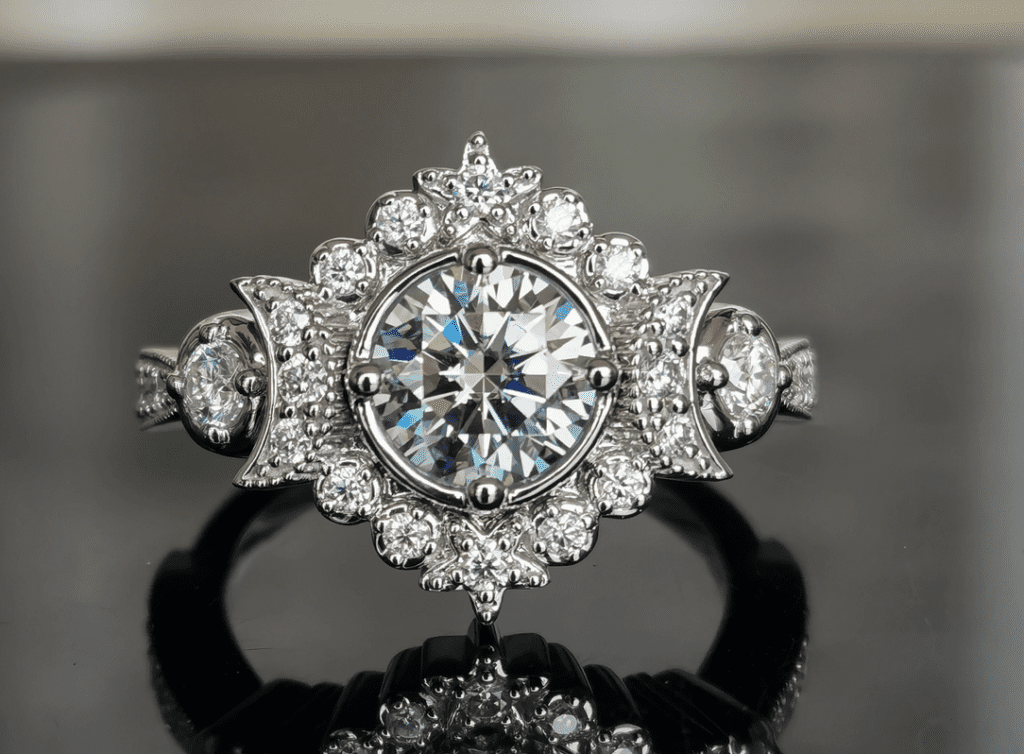 This exquisite Art Deco engagement ring is truly remarkable. A one to five-carat pale blue moissanite features your choice of a Round H&A Cut, a Crown Arrow Round Cut, a Round Astro Cut, a Round Nova Cut, or a Round Portuguese cut.
The band is crafted in your choice of 10K, 14K, or 18K white, yellow, or rose gold. You can even add diamond accents to your ring. The very good to excellent clarity exudes the sparkle you'd expect.
Pros
Iconic Art Deco style

Highly Customized Ordering

Fair Price for High Clarity Quality
Cons
Blue is Very Pale

Shipping and Process Takes up to Two Weeks
Where to Buy
Buy this Art Deco-inspired engagement ring Here.
DovEggs Blue Vintage-Inspired Halo Pear Moissanite Engagement Ring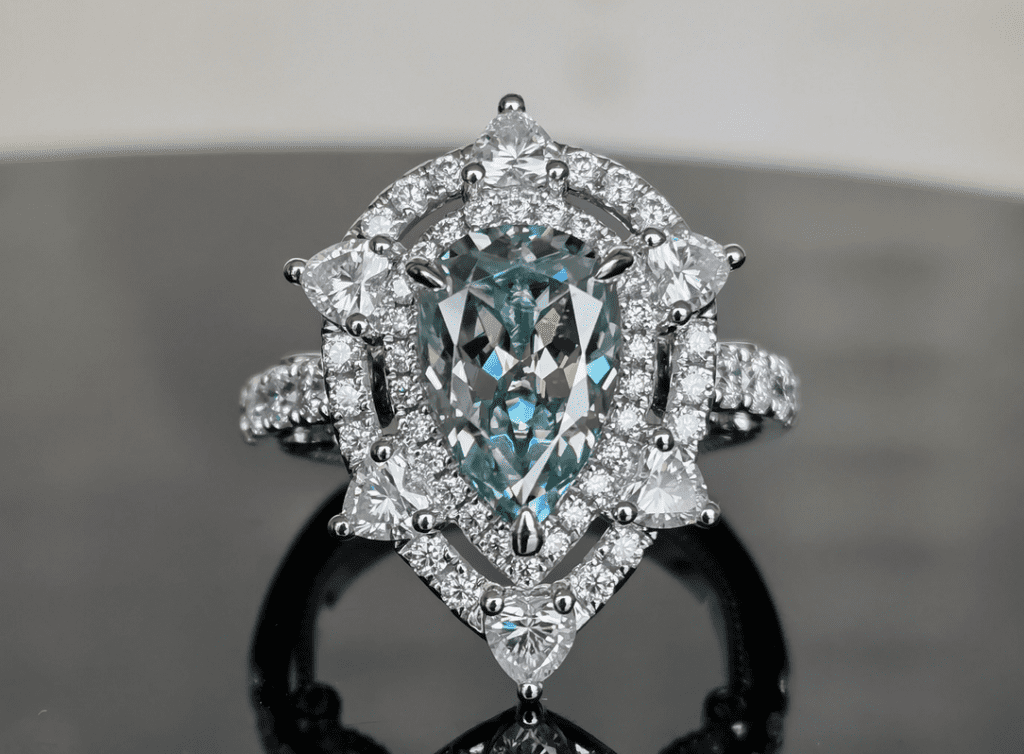 Stun with this gorgeous vintage-inspired blue moissanite ring. Suitable as an engagement ring or a cocktail ring, you'll get much of the same customization options as my pick above. Select from three pear-shaped cuts for the one to five-carat blue moissanite stone. Your metal options include 10K, 14K, and 18K yellow, rose, or white gold, as well as platinum. Add moissanite or diamond accents for extra sparkle for this high-quality moissanite stone.
Pros
Gorgeous Vintage Style

Highly Customized Ordering

Excellent Quality Stone and Metals
Cons
Pear-Cut Not Quite As Brilliant as Round Cuts

Shipping and Process Takes up to Two Weeks
Where to Buy
Buy this vintage-inspired blue moissanite ring Here.
1.49 CT Cushion Cut Cyan Blue Moissanite Ring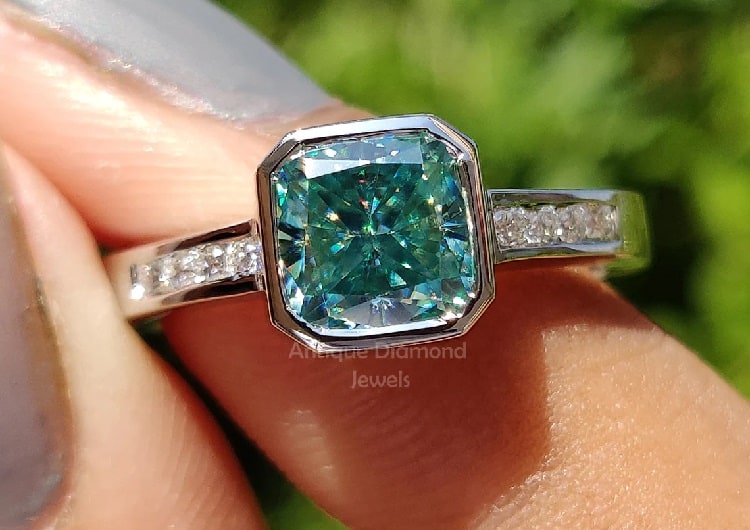 This handcrafted blue moissanite ring sports a mid-century style and is made to order. Select from a silver, 10K, 14K, or 18K white, yellow, or rose, gold band. The cyan blue exudes luster and clarity without any color enhancements or heat treatment. Round a brilliant-cut white moissanite sparkle on the band for a dramatic flair.
Pros
Stunning Mid-Century Style

Custom Orders

Quality Materials
Cons
Cyan Blue May Not Be For Everyone

Shipping and Processing May Take A Few Weeks
Where to Buy
Buy this cyan blue moissanite ring Here.
Frequently Asked Questions
Question: Is Moissanite More Expensive than White Sapphire?
Answer: Moissanite may be more affordable than diamonds, but it's also more expensive than a white sapphire. White sapphire has white sparkle, while moissanite has rainbow sparkle. White sapphire is slightly softer (9 Mohs hardness). For more information, read about the main differences between moissanite vs white sapphire
Question: Is moissanite good for an engagement ring?
Answer: Moissanite is a reasonable choice for an engagement ring. It's cost-effective compared with a diamond and nearly as durable, with exquisite brilliance and fire. Moissanite can be cut and shaped like a diamond as well. The larger the carat size, the more noticeable the rainbow scintillation. 
Question: Does Moissanite Shine in the Dark?
Answer: You may be able to notice a slight luster in the dark from moissanite, with a rainbow fluorescence. 
Question: Is Moissanite Better Than Morganite?
Answer: Morganite is another diamond ring alternative. Like moissanite, it's cheaper than a diamond, but it's quite different in many ways. Morganite ranges from pink to salmon, vs the clear to the white appearance of moissanite. While morganite is around half the price of moissanite, it's also far softer, with a hardness rating of 7.5 vs 9.25. Read about moissanite vs morganite here. 
Question: Is Cubic Zirconia Better Than Moissanite?
Answer: Another common comparison is cubic zirconia vs moissanite. Cubic zirconia is not naturally occurring, like moissanite, nor lab-grown. Cubic zirconia is manufactured and not as durable, with a hardness rating of 8 to 8.5 vs 9 to 9.5.
Moissanite is far more brilliant and has more fire, as the refractive index of moissanite is 25 percent higher. Moissanite is considered more beautiful and durable but also far more expensive than cubic zirconia.
Final Buying Recommendations: Forever One Moissanite
Blue moissanite is unique and elegant. But if you want even more options, high-quality colorless moissanite is also a great idea. Forever One is considered the finest quality moissanite on the market. Charles and Colvard has a history of excellence and sells both engagement rings and moissanite jewelry. Shop All Forever One at Charles and Colvard Here.
Looking for more interesting readings? Check out: