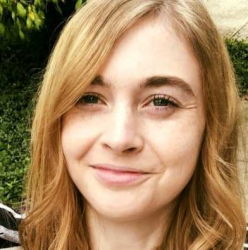 Latest posts by Erin Jamieson
(see all)
According to some statistics, as much as over eighty percent of engagement rings are diamonds, despite a recent trend towards diamond ring alternatives, including gemstones like sapphires, rubies, and morganite, and moissanite. But what many people don't realize is that some of the popular engagement rings are not from natural diamonds, but from lab-grown diamonds, as is the philosophy at Agape Diamonds.
The trend towards the lab-grown diamond vs natural diamond is not new, but it seems to be gaining momentum. In Silicon Valley, lab-grown diamonds are seen as a way to cut back, or even eventually eliminate mining practices. Diamond mining has been linked to a number of both ethical and environmental concerns. In Angola, for instance, careless and aggressive mining has led to deforestation and soil erosion.
As is the case with places around the world, diamond mining has often also been tied to unfair or abusive labor practices, and even financing civil wars. Fortunately, not all natural diamonds fall in this category. The Kimberley Process is a stamp on the best diamond sellers that their diamonds do not help support finance civil wars.
Some companies, such as Brilliant Earth, also apply more standards to ensure better practices, including a commitment to local economies and humane labor practices, while Blue Nile adheres to responsible mining practices.
But there's still plenty of other reasons many might opt for lab diamond jewelry over natural diamonds, and companies like Agape Diamonds are proving that these options can be just as appealing to many consumers.
But what is Agape Diamonds, and is it a reputable place to buy diamonds or engagement rings from? In this review, we'll investigate Agape Diamonds as a retailer, and see whether or not they're a good option for finding diamonds online.
What is an Agape Diamond?
An Agape diamond is artificially created in a lab – they are specially designed to minimize imperfections and are nearly flawless. Agape diamonds can also be cut into any shape or style, just like a regular diamon.
First, let's discuss the intricacies of lab-grown vs natural diamonds.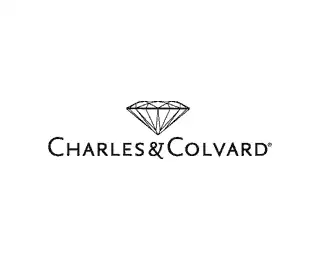 I Actually Prefer Moissanite via Charles and Colvard
Agape has significant controversy surrounding the company, marketing, and product. The safe choice in my view is to go with a trusted company like Charles & Colvard. Their Moissanite rings are second to none.
View Collection
We earn a commission if you click this link and make a purchase at no additional cost to you.
What are natural diamonds, and where do they come from?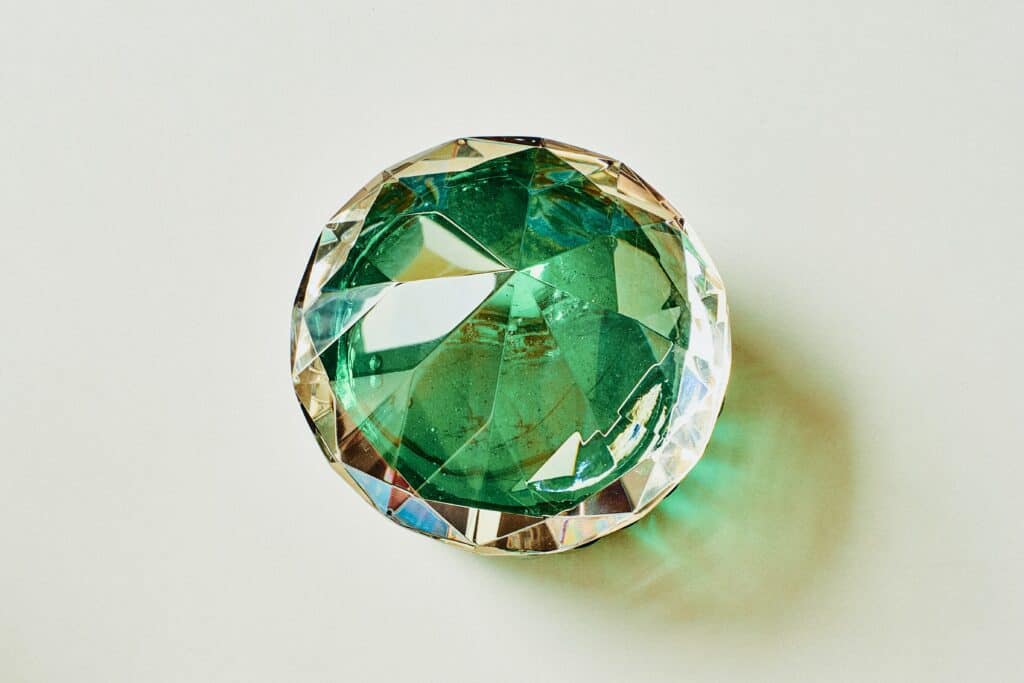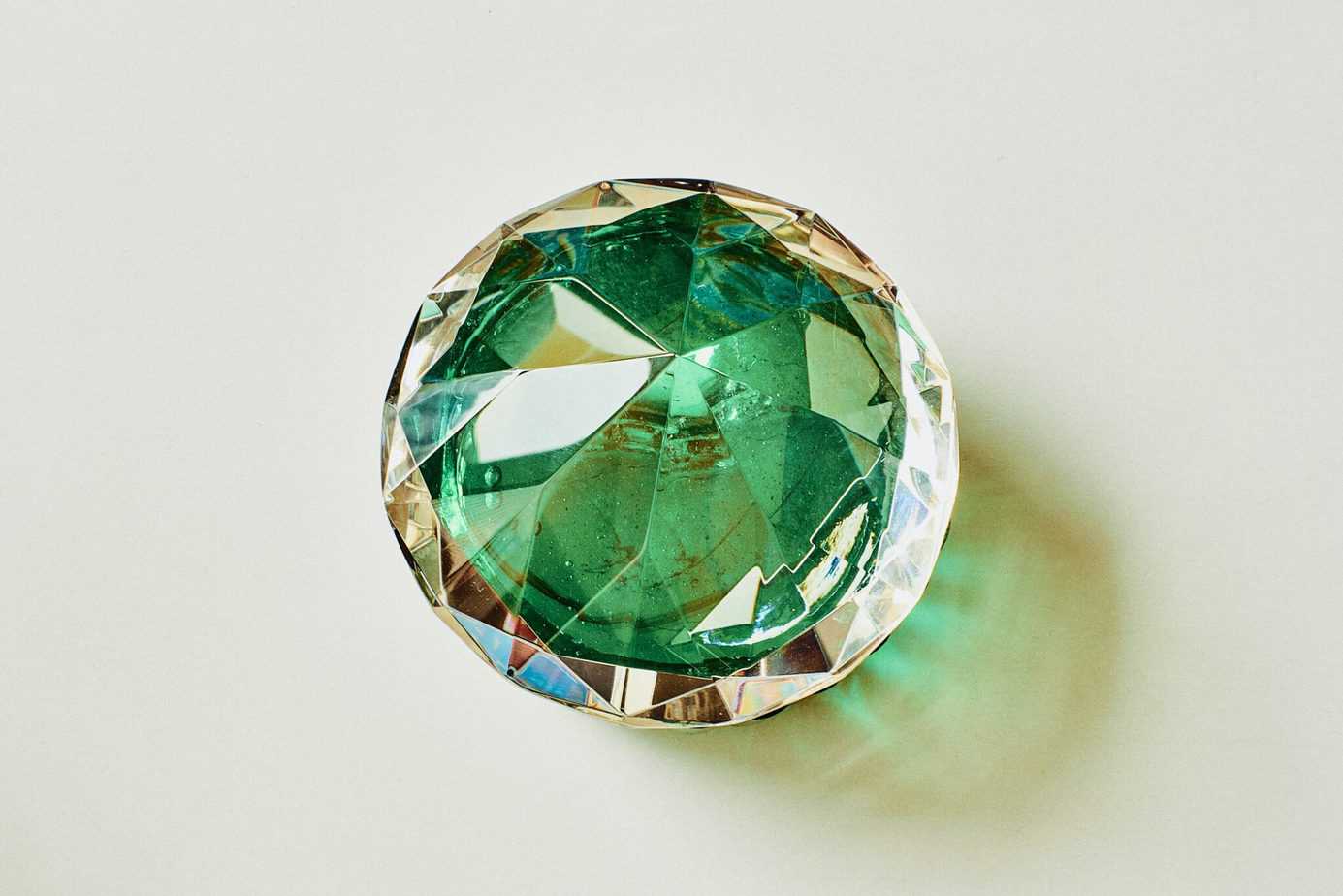 Natural diamonds, as the name implies, occur naturally and must be mined for, as they are formed in subduction zones of the Earth's mantle.
Today, natural diamonds are mined in around twenty-five different countries, but Africa, Russia, and Canada account for as much as ninety percent of diamonds sold. Botswana, Angola, South Africa, and Congo account for fifty percent of market-ready diamonds.
What makes natural diamonds desirable?
One of the most desirable aspects of natural diamonds is simply the idea many like the concept of a natural diamond. However, there are other advantages to a natural diamond vs a lab-grown one.
As a whole, natural diamonds:
Are more valuable
Have lower carbon emissions (lab-grown diamonds emit as many as three times carbon during the production process)
Are more supportive, when conflict-free and ethically sourced, to local economies around the world.
What is a lab-grown diamond?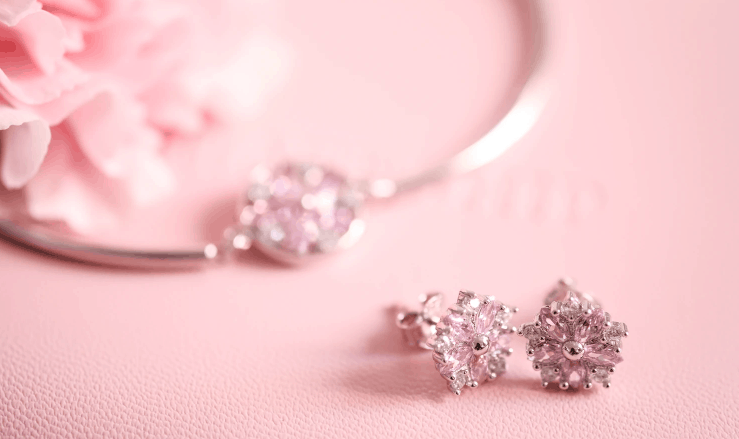 Lab-grown diamonds are carefully grown in temperature-controlled labs in a way that mimics how natural diamonds develop. Lab-grown diamonds have identical physical and chemical components to natural diamonds and also look similar in appearance.
This is not to be confused with diamond simulant choices, such as cubic zirconia, which mimick a diamond's appearance but are not the same in terms of physical and chemical properties.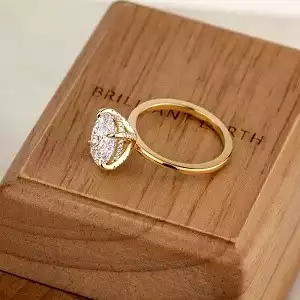 Planning a Proposal?
Make that proposal happen! Get started designing and create an engagement ring as unique as the wearer. To help pull off the perfect engagement, head over to Brilliant Earth's proposal guide.
Check Prices
We earn a commission if you click this link and make a purchase at no additional cost to you.
Lab-grown diamonds, compared with natural diamonds ("real" diamonds), are less valuable but have these advantages:
Are more affordable. Lab-grown diamonds cost about eighty to sixty percent of the cost of natural diamonds.
Are easier to get a hold of. Because lab-grown diamonds can be grown all over the world, you'll have a wider selection.
Are conflict-free, while some diamonds are not.
Tend to have more even appearances (more brilliance) and less blemishes. Natural diamonds have naturally occurring imperfections, may be uneven in color and clarity, and have surface-level infractions. Depending on your perspective, this could be more or less beautiful. Lab-grown diamonds, however, can and should be uniform and without defects, for a flawless appearance.
Cut quality ranges less; most lab-grown diamonds are very good to ideal, while natural diamonds can display poor cuts.
How popular are lab-grown diamonds?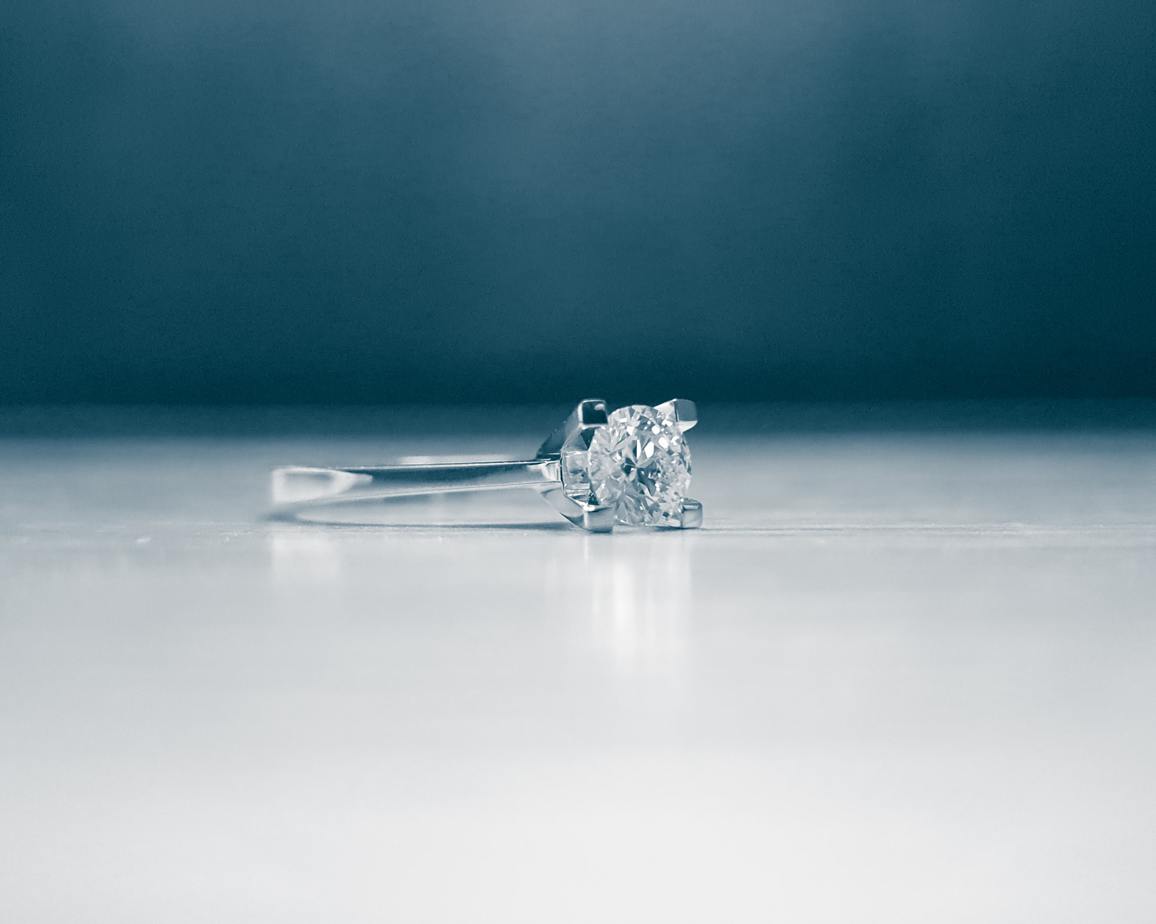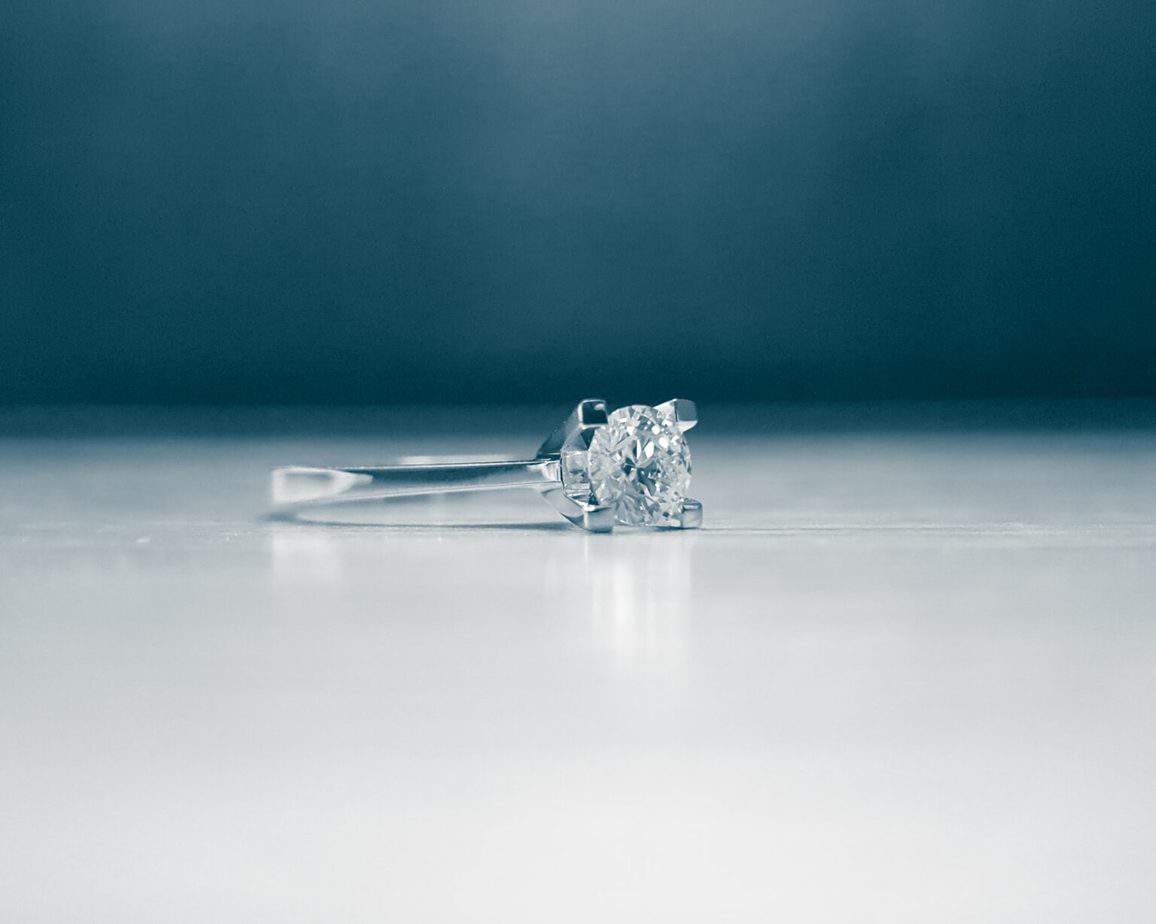 To be sure, lab-grown diamonds still have a while to catch up to the popularity of natural diamonds. Lab-grown diamonds, for now, make up a modest portion, estimated at under five percent of all diamond and diamond ring sales. Still, there are signs that may grow in the coming years and may play an important role in the years to come.
In fact, Paul Zimnisky, an industry expert interviewed by NPR, estimates that the now modest sales for lab-grown diamonds could rise from two billion dollars a year to fifteen billion over the next fifteen years which could be good news for a company like Agape Diamonds.
What's the difference between lab-grown and synthetic diamonds?
For now, there's a more popular alternative to natural diamonds: synthetic diamonds. Synthetic diamonds are far cheaper than lab-grown and natural diamonds and can easily be made and thus are readily available. The very best synthetic diamonds mimic the appearance of diamonds and are budget-friendly.
Compared with both lab-grown and natural diamonds, synthetic diamonds:
Are far cheaper. Synthetic diamonds can fit almost any budget.
Are less durable and hard. While lab-grown diamonds are the same on the hardness scale (Mohs hardness scale) as natural diamonds, synthetic tend to be softer and more prone to damage.
Is Agape Diamonds a Decent Company to Buy From?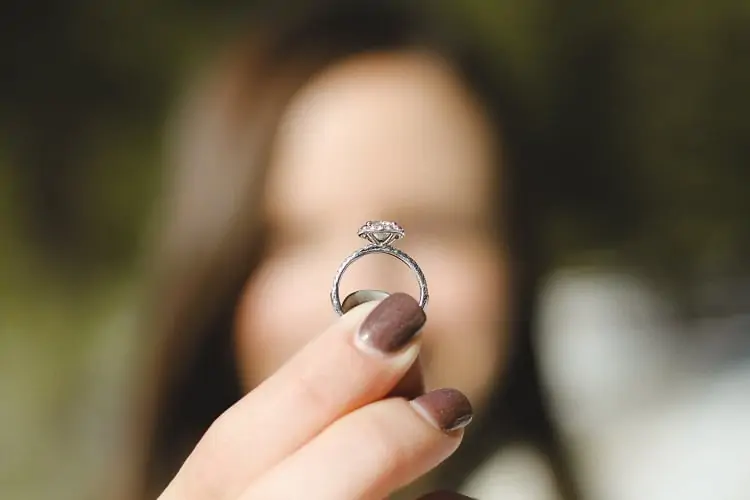 Shopping for diamonds online can have many benefits, including lower prices and greater variety. But shopping online can pose risks as well, especially for retailers that are solely online and don't have a physical showroom. In order to determine whether or not Agape Diamonds is a good option, we'll be looking at the following factors:
Contact information
While it's perhaps not the most exciting way to start off, you should always make sure that the company has contact information, and, in the case of a company selling diamonds, the more the better. Look for a direct phone number, email address, and preferably some kind of physical address.
Customer policies
It's also important to understand not only what diamonds the retailer sales, but the conditions that come with them. Keep your eye out for shipping policies, warranties, returns or exchanges, and how the company collects and uses your data. Some companies will also offer incentives, just as a discount for referring a friend, diamond upgrade programs, and price matching with competitors.
Site navigation
While not the very most important feature, a reputable company should have a fairly organized site. For your own shopping purposes, different sections should be neatly labeled and there should also be easy to use filters by characteristics, such as price, carat, color, clarity, metal type, and whatever else is applicable to the specific product.
Diamond sourcing
Normally, for natural diamonds, the ideal would be to select diamonds that are adhering to the Kimberley Process, which ensures that diamonds are not being used to finance civil wars. We might also look for other standards, including commitments to environmental and economic stability, fair labor practices, and ethical mining practices. For lab-grown diamonds, we are looking information as to how and where the diamonds are grown. Ideally, we'd also like to see lab-grown diamonds that have been certified through a professional third party, just as the GIA institute, to ensure that they are indeed lab-grown diamonds and not simulants.
Selection and offerings
This section is perhaps the most subjective, in that it depends on what you, as the customer, are looking for. More diamond and diamond rings, necklaces, earrings, and other products are not always better. For this section, we'll simply be looking at what you can expect to find, and pointing out limitations for different categories.
Pricing
Pricing can go both ways–while you, of course, want to find reasonably priced diamonds, cheaper isn't always better. In terms of pricing, we're simply looking for pricing that makes sense when you look at competitors and the overall market. We also want to look into pricing transparency, or how easy it is to determine the price.
Company accreditation and history
Not all e-commerce businesses are accredited through Better Business Bureau, but it's a plus if they are. As far as company history, do they mention it at all on their site? Has the company been established for at least a few years, with a record of sales and few officially filed complaints?
Customer feedback
Finally, how much did customers find that the products delivered as advertised, both in terms of quality and overall service? It's also important to note any consistent patterns in terms of complaints.
Is Agape Diamonds a good place to buy from?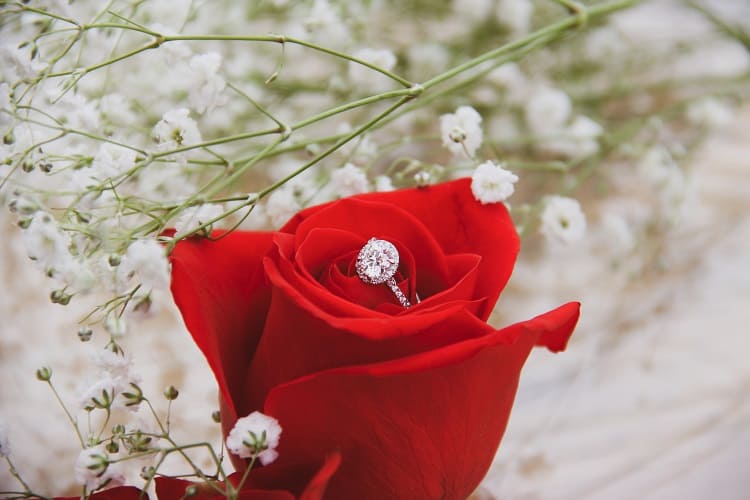 Now onto our review of Agape Diamonds, where we'll be investigating all of the features we've mentioned so far. We'll start with first impressions. The first page is rather promotion-heavy, featuring current sales, bestsellers, and a few featured collections.
Their claim is that they hope to create beautiful lab-grown diamonds that serve as an alternative to the ethical concerns with natural diamonds, but within the first lines of "About Us" there are a few problems with their claims. Let's take a look at them.
What is the claim, and why is it concerning?
By and large, Agape Diamonds advertises as a company that sells lab-grown diamonds. As we've already discussed, lab-grown diamonds, while not the same as natural diamonds in every way, do share the same chemical and physical properties as natural diamonds. However, let's take a look at the statement made by Agape Diamonds:
"In addition to the Agape Simulated Diamond, we offer Synthetic Diamonds, which are also known as Lab Grown Diamonds or Lab Created Diamonds."
There are issues with this assertion for a few reasons. While lab-grown are synthetic diamonds, it quickly becomes clear that the marketing is, at best, messy, and at worst, misleading. As a company that touts itself as selling lab-grown diamonds, the reality is, while they do sell lab-grown diamonds, they also sell a large collection of diamond simulants, which is very different in terms of value and physical and chemical properties.
The Federal Trade Commission seems to agree. In April 2019, Agape Diamonds was one of eight companies sent a letter warning against false claims. In the case of Agape and other places selling simulants, they were warned to "avoid describing their products in a way that may falsely imply that they have the same optical, physical, and chemical properties of mined diamonds." The web address, diamondslabcreated.com, which Agape diamonds uses was part of what they pointed to as misleading.
Best Online Moissanite Retailer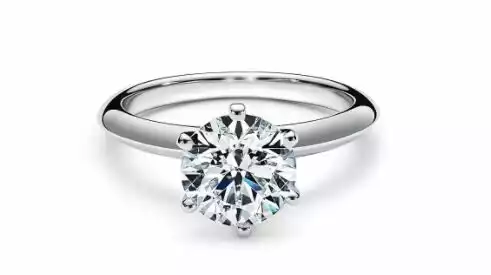 Is there any contact information for Agape Diamonds?
Agape Diamonds provides two main ways to contact, either through a phone line or a web inquiry form. They do also have a physical address linked to their showroom in Tampa, Florida.
What customer and general policies do Agape Diamonds have?
All jewelry comes with a lifetime warranty against any manufacturing defects but does not cover loss or theft. In addition, if any repairs or work is done on fine jewelry by someone else, the lifetime warranty is void. It also cannot be transferred to someone else.
You have the option to have your jewelry serviced. Agape Diamonds recommends you do this every year, though it is unclear if this is free or if there are any additional costs involved.
You may return or exchange any purchases within thirty days. Items must be in new, unworn condition with receipts in order to be accepted.
At first, glance, if you read too quickly, it sounds as if Agape Diamonds does not share any information with third parties. However, if you read more closely, you'll notice that they include the term "any non-related" information. At best guess, this means they do in fact share basic information for marketing purposes. While this is not considered unusual, once again this feels like slightly misleading wording on Agape Diamond's parts.
Financing is available; you can opt for three, six, or twelve-month payments.
How easy is it to navigate, and shop on Agape Diamonds?
Agape Diamonds features an easy enough to use, if not advanced interface. At the top of the webpage, you can peruse tabs for the main categories of products they sell. Scroll down on the home page and you'll come across current deals and bestsellers. At the very bottom of the home page, you'll find a link to information about the company and company policies.
Within each product section, options are a bit more limited. There are sections for the type of rings, for instance, but within those, you can only filter by price point or position. Overall, the search features are not nearly as user-friendly as some competing sites.
What products are sold?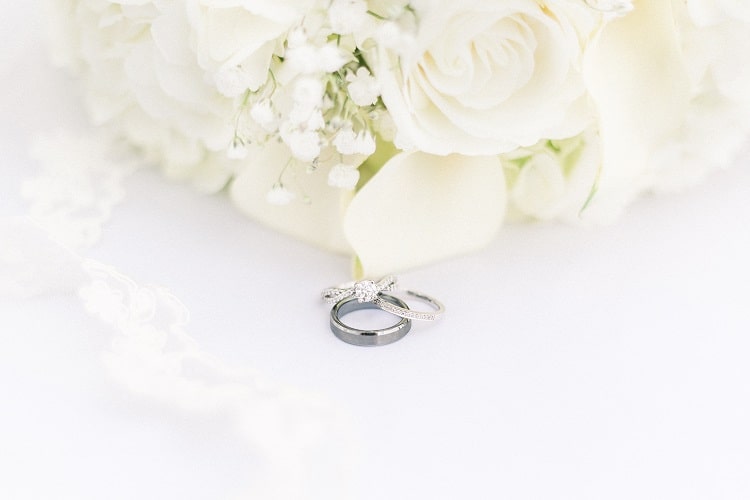 Of course, what you're probably wondering most is what kind of products you can purchase from Agape Diamonds. Agape Diamonds sells engagement rings, earrings, pendants, bracelets, and loose stones.
Engagement Rings
Engagement rings fall under several categories: designer, wedding sets, solitaires, three-stone, Tiffany solitaires, cathedral-style solitaires, regular cathedral, and trio wedding sets.
For every engagement ring, you are able to select your desired metal type, which normally comes in 14K white or yellow gold. Something a bit misleading is that you'll find costs add up quickly if you use the drop-down menu to select 18K gold or platinum, which can easily add several hundred dollars or more to the listed price.
It seems two and three-carat sizes are common, but you only see the carat size after clicking on the item; there is no way to filter or sort by carat.
As to the designer rings, it is unclear as to what makes the designer. Prices run around one thousand dollars to fourteen hundred dollars at regular price, which is quite inexpensive. Every engagement ring tells you the cut and style, but when you look at the details, you'll see it's not a natural or a lab-grown diamond.
In fact, most, if not all the engagement rings offered feature simulated diamonds, which is not the same quality as a synthetic diamond. You have to read closely under product information to see this information.
Earrings
Earrings fall under studs, halos, or colored earrings. There are just six stud earrings to choose from, and all have a base price of a little under five hundred dollars. Princess, radiant cut, Asscher, cushion and oval cuts are available for simulated diamonds.
For Halo cut, carats fall from one to five carats, and you'll get more or less the same options you saw with studs and metal options like what you saw with engagement rings.
Colored earrings are available in a variety of cuts and styles. Double tier halo, oval, and milgrain are available, and all are available in white, emerald, ruby, topaz and citrine colors, but note these too are not actual gemstones. Expect to pay five hundred to around a thousand dollars for earrings; they are not that different from the prices of engagement rings.
Bracelets
Bracelets fall under a single category, which is designer tennis bracelets. There are just four options, ranging in price from about one thousand to thirteen hundred dollars when not on sale. Round and princess cut are available, in 14K white gold.
Loose Stones
Loose stones are the only category you'll find anything beyond simulated diamonds and gems. Here, at least we can appreciate that it's immediately transparent when you're shopping for simulant, lab-grown, or natural diamonds.
Simulant diamonds are all priced at one hundred and twenty dollars normally and available in oval, round, princess, cushion, and marquise cuts.
Natural diamonds are priced at around nine thousand dollars, for a one carat round cut, to forty thousand dollars for a two-carat round cut. You will get information about the diamond grade, cut symmetry, polish, and every natural cut diamond comes with AGS or GIA certification, which is a big step up from what we've seen so far. That said, the collection is quite limited. There is no information about the standards or origin where these diamonds are sourced, either.
Lab-grown diamonds are now available only by request, apparently due to waiting lists and limited supply, which is quite strange, especially given that so much of Agape Diamond's marketing is geared towards lab-grown diamonds (when in reality most are simulants).
What is the overall pricing like?
We've already mentioned price ranges for nearly every category, but let's look at pricing as a whole. It may just be a coincidence, but nearly every item is currently on sale, which makes the sale sections arbitrary. It's unclear whether this is a special, limited occurrence or if it's a marketing ploy. Pricing mostly, for engagement rings, does not seem unreasonable, but keep in mind that you are buying stimulants, as opposed to natural or lab-grown diamonds. It does not appear to be the best value.
Is the company accredited?
Agape Diamonds has been accredited by the Better Business Bureau for eight years, with an A-plus rating, which is quite interesting. Filed complaints include some issues with shipping and returns, as well as customers upset they did not understand they were buying cubic zirconia.
There were also reports of stones falling out of engagement rings; however, these did not compromise a large number of complaints. Outside of Agape Diamond's own website, it's quite hard to find any reviews at all.
Do we recommend Agape Diamonds?
In many of our reviews of online diamond and gemstone sellers, there is no one easy answer, but that is not the case here. By and large, with a lack of selections, no customization, poor search filters, and, worse of all, highly misleading marketing, we cannot recommend you shop Agape Diamonds.
The fact of the matter is that you simply have far superior options. If you are looking for cubic zirconia, that is perfectly fine, but the company needs to be transparent as to what is being sold. Customer service options too are a bit vague, and lack of reviews and customer complaints, despite accreditation overall mean that until or unless Agape Diamonds changes its model, we won't be recommending you shop there.
Are there any viable alternatives to Agape Diamonds?
As we've already mentioned, the good news is that there are alternatives, whether you're looking for lab-grown or natural diamonds or simulants.
Brilliant Earth and Blue Nile are both excellent sources for ethically sourced, both natural and lab grown diamonds and diamond accessories. They also have decent customer reviews.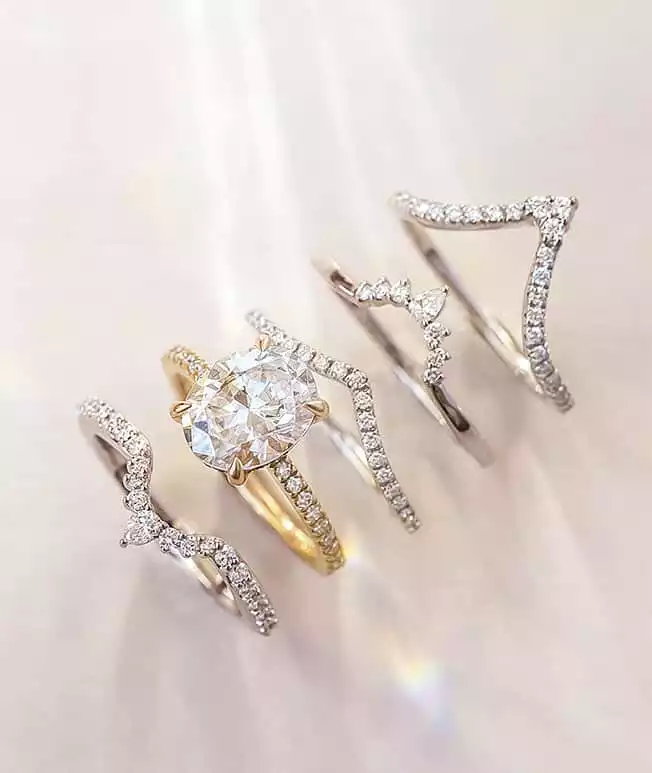 Our Top Pick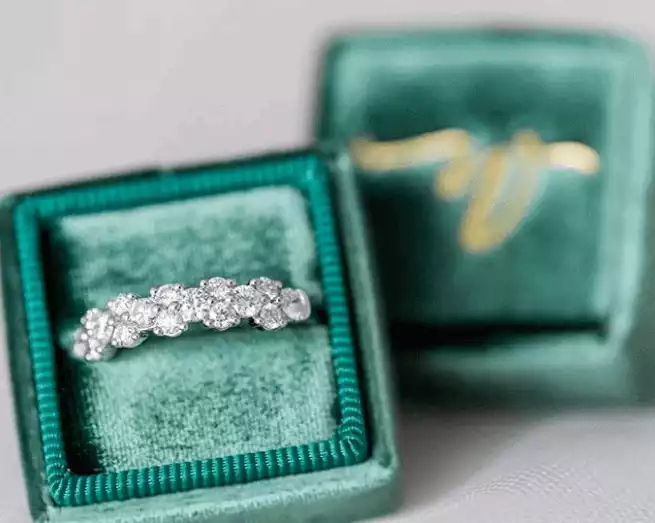 I Personally Prefer Blue Nile
Blue Nile understands online jewelry shopping. They have the deepest inventory of diamonds and settings for ALL BUDGETS. They offer 360 degree REAL diamond images online, so you know exactly what you are getting. Best of all, they've mastered the art of securely shipping jewelry and handling returns or issues with ease.
See Current Deals & Selection
We earn a commission if you click this link and make a purchase at no additional cost to you.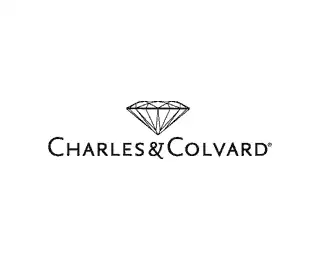 I Actually Prefer Moissanite via Charles and Colvard
Agape has significant controversy surrounding the company, marketing, and product. The safe choice in my view is to go with a trusted company like Charles & Colvard. Their Moissanite rings are second to none.
View Collection
We earn a commission if you click this link and make a purchase at no additional cost to you.
FAQs
Question: Are Agape diamonds real diamonds?
Answer: Yes, Agape diamonds are real diamonds, but this company also offers lab diamonds and synthetic diamonds as well, according to all types of price ranges.
Question: Is Agape Diamonds a reputable company?
Answer: Yes, Agape Diamonds is a reputable company and they have plenty of great reviews from customers who have shopped from there and excellent customer service rates which makes this company a great place to shop your diamonds.
Question: How do you clean Agape diamonds?
Answer: In order to clean Agape diamonds, you don't need any special liquids, and you just need a simple vinegar and six parts of water, and a gentle brush to scrub the diamond with.